Click To Go Back To The Main www.GlenStephens.com Stamps Homepage

Welcome! You are visitor
to www.GlenStephens.com




Glen Stephens
Monthly "Stamp News" Market Tipster Column


December 2011

---
An Error Is Born ......
They do always say - "the last word in philately is NEVER written".

This week a perfect example of that old adage turned up.

Phoenix Auctions in Melbourne on November 26 offered the interesting cover shown nearby. A souvenir cover in 1937 To Germany from NSW.

It was described in Lot 1391, as a "1934 1/6d Hermes No Wmk Dull Lilac, Plate Proof"

"On a highly surfaced white paper (small fault) distinct from the normal, together with 3d and 6d Airmails tied by Catherine Hill Bay cds to 1937 (Jul 12) souvenir philatelic cover prepared by W.H. ("Bill") Hornadge, whose mother was Postmistress at this Post Office.

A new discovery, and believed to be a unique usage. [It is believed that this stamp came from special display boards of current Australian stamps. These were made up in 1935 and used for display in Post Offices. Only one example, other than this lot, exists in private hands.] "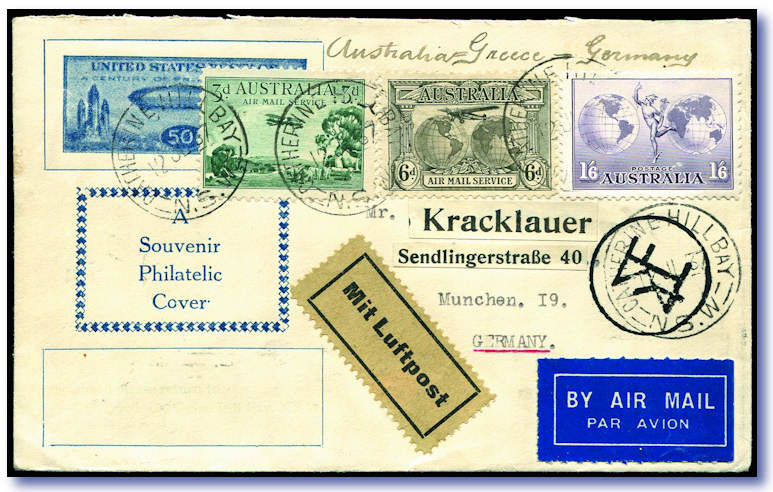 Unusual shade on 1/6d Hermes
The estimate was an impressive $A5,000. As the auction took place after this column was written, I am unaware of the price it obtained.

tinyurl.com/HermesFFC is the very lively and long discussion started on stampboards about this cover – well worth a read over a LARGE coffee!
Just sun-faded?
I must confess I was rather sceptical at first that it was anything other than a sun faded stamp.

Affixed by the 19 year old Bill Hornadge to the special souvenir cover he had printed, and then over-franked to Germany.

(Bill Hornadge later went on to found "Stamp News" and Seven Seas Stamps. and is now aged 93 and still living in Dubbo NSW. One of the all-time stamp dealer legends. )

A leading cover collector I spoke to strongly shared my initial view, as I am sure did others.

The ACSC says: "there is some question whether the dull lilac shade represents the colour as originally printed".

ACSC also call it a "Plate Proof" which seems a silly and highly inaccurate term to use. Well known philatelist and Judge, David Benson agreed with me.

Dealer Rodney Perry soon entered the debate on stampboards, and whom may have more than a casual passing interest in the ownership of the piece, in my view.

Perry stated – "This item was recently purchased on eBay for a very modest sum, from a vendor in Germany, where it's probable that the item has reposed since 1937.

It was offered as nothing special, just an airmail cover. The buyer recognised the 1/6d variety, and it was subsequently shown at a meeting where Geoff Kellow, Paul Fletcher (present proprietor of ACSC) and myself were present."

Perry stated that apart from the shade, the paper surface was unusually shiny, was thicker than the normal stamp when measured, and did not react unusually under UV light.

Rod chose to describe the unusual shade as "Dull BLACKISH lilac" and stated it differed noticeably from the issued stamps.
A Whale of a mistake!
Perry stated he was in error calling these a "Plate Proof" in the ACSC, and "Trial Printing" might have been a more accurate term, as per the 1981 60c Whale issue shown nearby.

However that variety was not only a different colour, but a differing design. AND certainly existed in full mint sheets.

There were quite a few full sheets of 100 discovered of that Whale stamp.

Auctioneer Charles Leski bought them under face as postage not long after issue, and used them to mail out goods.

The "unissued" Whale trial printing
Indeed I received a used pair of these on a Certified Mail packet from him at the time, that I recall getting many $100s for months later when re-sold at auction.

A MUH gutter block of 10 of this same 60c Whale error was in the same Phoenix sale. Most striking.
Richard Breckon assistance.
Phoenix Auctions owner David Wood then entered the discussion, and advised he had enlisted the assistance of Richard Breckon - Australia Post Philatelic Archivist, to unravel the puzzle.

Breckon unearthed 2 large display boards created pre-war, showing all the current stamp issues. David Wood posted up photos of both on the discussion.

One behind a glass fascia, that sadly did not photograph well due to reflections, shows the same 1/6d no watermark single line perf stamp as on the cover, and in the strange shade.

This board has all the earlier Commemorative issues up to 5/- Harbour Bridge, and is most impressive.

All stamps are, like in the other frame, recess "matted" via 45 degree chamfered board.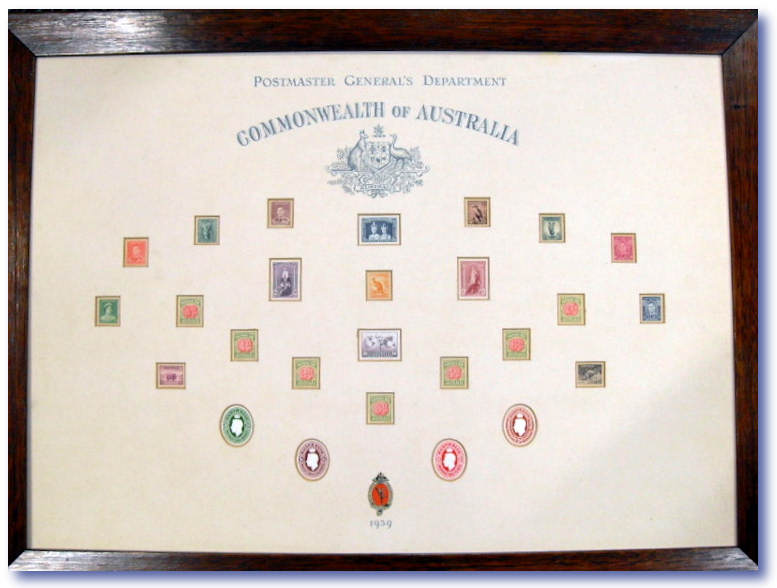 The Centre Of Attention"
The glass board has the 1936 South Australia Centenary set as the latest issue shown.

Richard Breckon suggested this frame may have been on display at the Seventh Australian Philatelic Exhibition, Adelaide, which commenced 20 October 1936.

That frame has the 1934 1/6d Hermes in line perf 11 (SG 153) – in the curious shade.

The other frame is dated boldly 1939 at base, and shows the same distinctive shade – clearly unfaded right in the centre.

The surrounding stamps are also bright and unfaded as you can see. More detail at tinyurl.com/HermesFFC

Both were recess "matted" in the nature of Die Proofs of the era, and checking whether either 1/6d did or did not have a watermark, clearly was not possible.
A new discovery is made
However a major discovery was made – the stamp in the "1939" frame was in the comb perforation of the 1937 Hermes – 13.75 x 13.25 (SG 153a) visually far different from the line perf 11 of the 1934 unwatermarked issue.

The slightly blurry photo nearby David Wood took at Australia Post. It shows a normal mint no watermark 1/6d from the archives – i.e. the "issued" shade.

This is placed atop the recess matted perf 13.75 stamp, and under that – all in same photo – is the no wmk stamp on the Phoenix cover.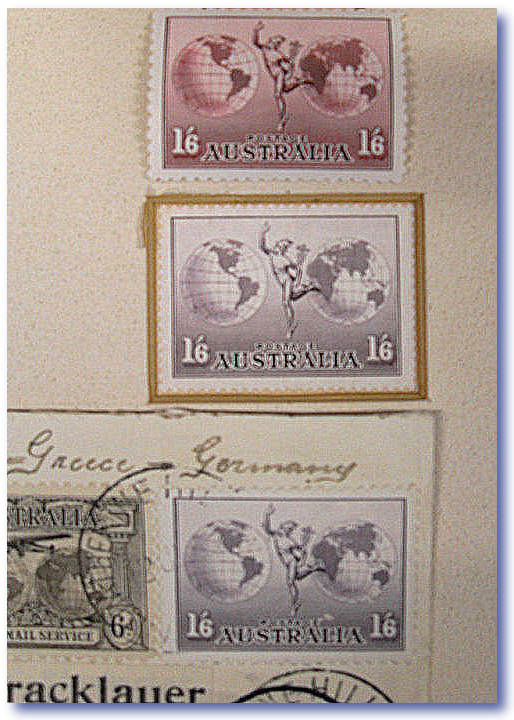 Interesting colour comparisons
So on balance, I'd concur that there was some kind of trial printing of the 1/6 Hermes in a curious colour on highly surfaced paper – in both perforations.

ALL readers are urged to look out for more examples now this has been discovered. If the Phoenix cover finds a home at anything like $5000 - WELL worth looking out for!

Another stampboards reader had a cover posted to the discussion where the 1/6d no watermark was also of a strange shade – but not near as different as the Phoenix cover.

Rod Perry summed up the discussion –

"Congratulations to the diligent members of Stampboards who participated in, and others who followed this thread as interested bystanders. Yet another example of Stampboards usefulness to Philately.

You have witnessed the birth of at least one new major Australian variety. The research will continue, and the hunt for more examples (two perforations to watch for) is now officially on!"
Meter Madness
"Meters cancels are near worthless" - I can hear many readers say.

We all know China POSTAGE STAMPS get good prices, often $10,000+ for better items.

How about meter franks?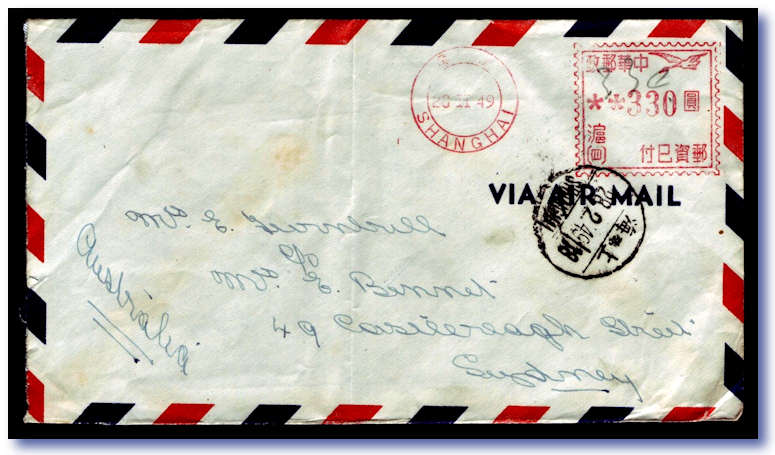 Fodder for the junk box?
This 1949 commercial cover to Sydney shown nearby I'd have tossed in the bin, or a junk box, 2 years back.

These days is that still the same? I've never had a meter cover from anywhere, in 30 years of dealing, that sold for more than $1 or so.

Common Shanghai origin, common commercial Sydney destination. No backstamps. Toned, creased, tatty.

Not from a President, or to a film star. No sender shown, and the recipient of no interest. How much value would you place on it if you had it?

I started a stampboards poll asking just that - check it out - tinyurl.com/49Meter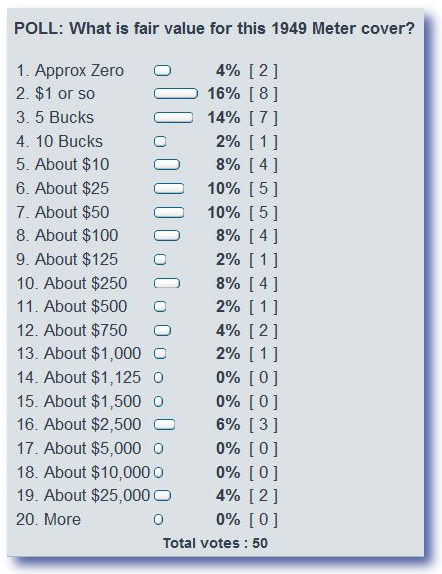 What was YOUR vote?
After 50 votes we had the results shown nearby in a table.

54% voted it was worth $25 or under. 82% voted it was worth $250 or under in their view.

And the usual few lunatic fringe votes for '$25,000' were also there, reminding me we need to have mandatory IQ tests for all new members!

The correct answer - well NO-ONE got it correct! It sold November 10 for $A1,125 on ebay – lot 280763507410

A dealer colleague of mine listed it up ONLY because: "almost anything China seems to be selling". He agreed with me that 5 years ago he'd have tossed it in the bin.

His detailed and informative description was: "CHINA - 1949 AIRMAIL COVER - SHANGHAI TO SYDNEY, AUSTRALIA"

Australia's leading cover collector told me today, if he saw it in a dealer "dollar box" even today he'd not even look twice.

The seller spoke to me a day before sale the closed - over the MOON it had bids of $250. He nearly collapsed to see the final price of $A1,125!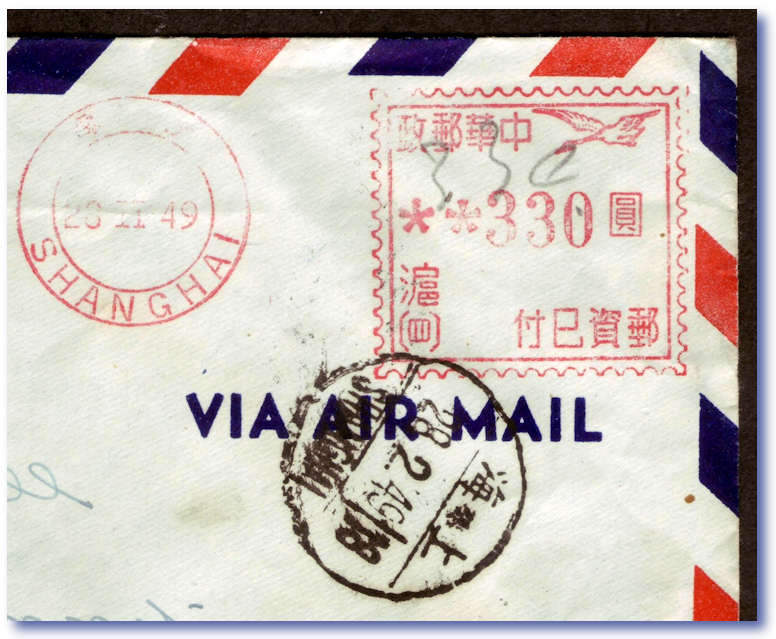 No errors etc on the cancel.
Rod Perry helpfully posted up a very handy web resource pricing all kinds of world meters - these China types included, for huge prices – bookmark it - tinyurl.com/MeterCat

Sydney collector Richard Peck's lifetime collection of Australian meters must be worth several Billion based on this.

Why the high price? Well 1949 was the era meters were first getting wide use in China, and precious few have survived. Supply and demand at work!

Quite a few are rated at 4 figures plus type figures on Rod's web link.

As I type incessantly – "Knowledge Is Power".
Victoria takes top prize in USA
Each year the huge American Philatelic Society has its large annual show. In 2011 it was held in Columbus Ohio, in mid-August.

Current APTA President Michael Eastick was there, and reported "live" on stampboards that the "Champion Of Champions" Award went to – "The Half-Lengths of Victoria, 1850-59."

More discussion on that here - tinyurl.com/BarwisAPS

Exhibited by John Barwis. Now for America that is a most impressive win. Especially when a competing exhibit – of the USA 1847 first issue, was valued at countless millions

The "Champion Of Champions" competition is a vote off among the Grand Award winners from 34 APS (and RPSC) shows.

The heavy pre-race favorite was Bill Gross' exhibit of the US 1847 first issue, so the John Barwis award is a real major accomplishment.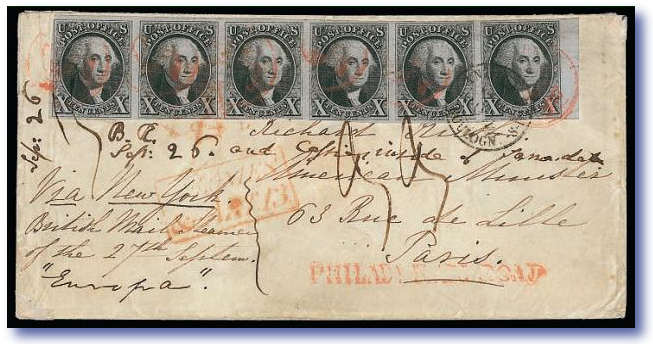 Sold for a cool $US1,380,000
The Gross Exhibit was mega powerful, as the owner is a multi-billionaire bond trader.

It contained "The Rush Cover" - the largest 10c multiple on cover, that Gross paid $US1,380,000 for at auction in May 2006.

Anyway, the all-conquering exhibit title is also the subject of a superb hardbound book - "The Half-Lengths of Victoria, 1850-59."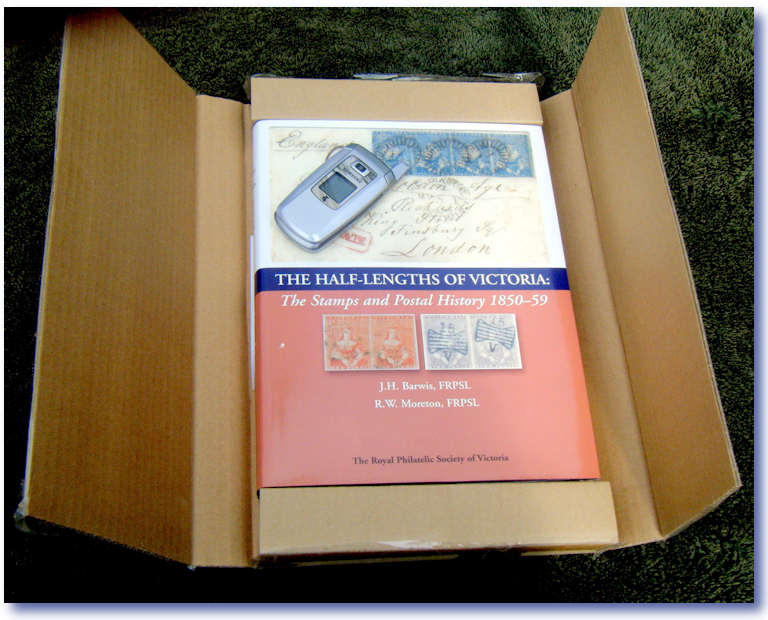 Barwis "Half-Lengths" Opus
| | | |
| --- | --- | --- |
| | This book outlines the magnificent Barwis "Half Lengths" collection. It is the best colour matching I have EVER seen in a philatelic publication. | |
A library "MUST HAVE"
One of the finest quality Philatelic books ever produced. It covers the stamps, census of covers, forgeries, cancels, complete platings – the WORKS!

Published by the RPSV - each volume comes in its own custom made special shipping/storage box.

I've sold boxes of them so far, and have them in stock at under issue price should you desire one. Hint at one for a Xmas gift perhaps!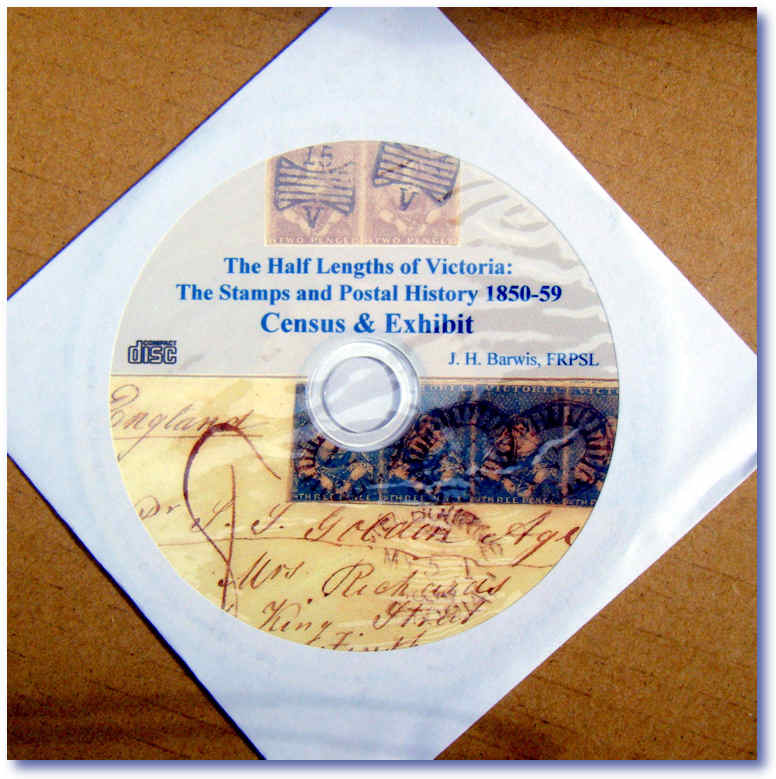 Comes with its own CD Rom
About 500 pages in large A4 size, full colour, hard cover, on top-quality, glare free paper. Even comes with the accompanying CD Rom!

Absolutely mind boggling material on every page, and an amazing amount of photos and detailed info.

It is indeed a superb coffee table book - whether you really collect this field or not!

Stampboards Moderator Greg Ioannou, from Toronto Canada was instrumental in ensuring the super high quality colour matches were achieved.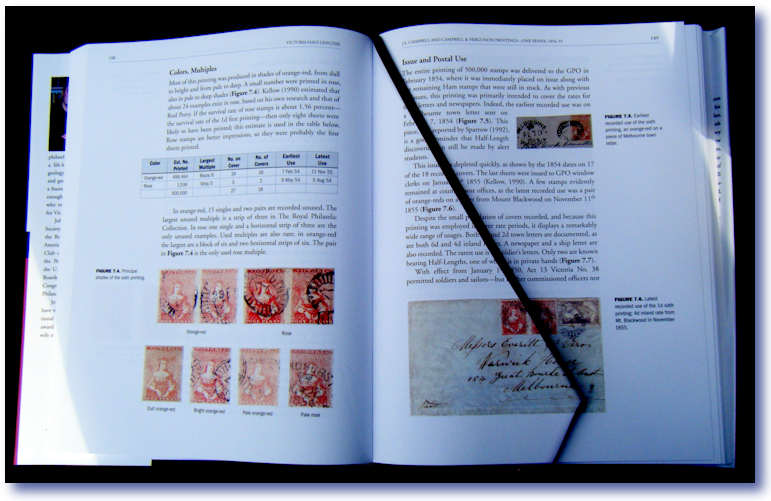 "Just a hint less red please"
Ioannou's company did all the design and production work on John's book. Here is how it worked -

"John arranged for the original scans, and we tweaked the colours from the scans.

John couldn't bring the stamps across the border (for security and other reasons), so we had to operate remotely, using scans and, in some cases, even verbal descriptions ("can you make it just a hint less red?" sort of thing).

"We knew the printed books would match the output from our printer, which we were colour-calibrating frequently. So we'd send printouts to John to check against the actual stamps.

"Over and over and over, until the printout of each image exactly matched the actual stamp" Ioannou concluded.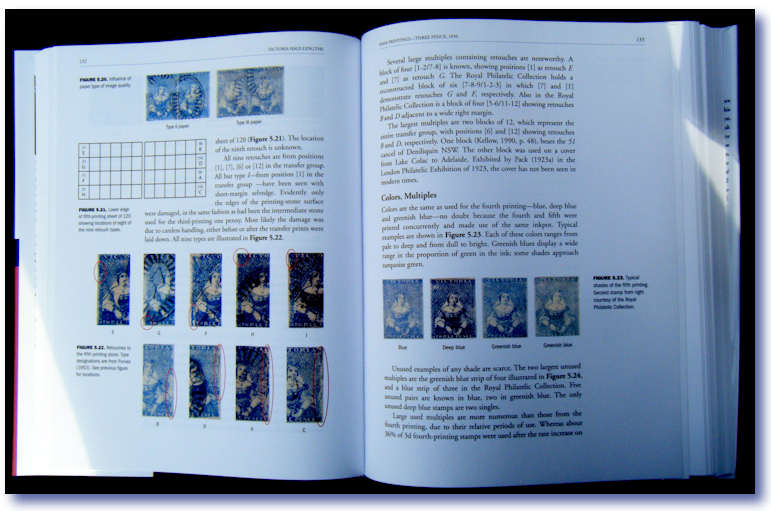 Unbeatable detail
The dust cover fly notes have Barwis mentioning that meeting Rod Perry and Geoff Kellow inspired him to collect the "Half Length" series, as their enthusiasm rubbed off.

A wonderful book to own, even if this is not your main collecting subject. Many more photos here – tinyurl.com/BarwisHL


Instant Currency Conversion


FREE! Just click here...




If you would like to be notified of updates to this website,

Click HERE. If have any questions,
or comments regarding my site, please email me at glen@glenstephens.com



| | |
| --- | --- |
| | Search all my 300+ web pages! Simply type in what you are looking for. "Penny Black", "Latvia", "Imprints", "Morocco", "Fungi" "Year Books", etc! Using quotes ( " ) is more accurf used with no quotes. Search is NOT case sensitive. Tip - keep the search word singular - "Machin" yields far more matches than "Machins" etc. |


I am a Dealer Member in Good Standing Of:

Full Time Stamp Dealer in Australia for over 25 years.

Life Member - American Stamp Dealers' Association. (New York)
Also Member of: Philatelic Traders' Society. (London) ANDA. (Melbourne) American Philatelic Society, etc

GLEN $TEPHEN$

Full Time Stamp Dealer in Australia for over 25 years.

Life Member - American Stamp Dealers' Association. (New York)
Also Member - Philatelic Traders' Society. (London) ANDA. (Melbourne) American Philatelic Society, etc


ALL Postage + Insurance is extra. Visa/BankCard/MasterCard/Diners/Amex all OK, even for "Lay-Bys"! All lots offered are subject to my usual Conditions of Sale, copy upon request BIGGEST STAMP BUYER: Post me ANYTHING via Registered Mail for my same-day cheque. Avoid the GENERALLY 40% Auction " Commissions" (15% + 17½ + GST, etc.) AND their five-month delays! Read for details.

"Lothlórien4 The Tor Walk, CASTLECRAG (Sydney), N.S.W. 2068
Phone: (02) 9958-1333&n Fax: (02) 9958-1444 (Both 25 Hours, 7 Days!)
E-Mail: glen@glenstephens.com
Web Sites: www.glenstephens.com www.glenstephens.net or www.australianstamps.net

Sign up AUTOMATICALLY to my world renowned bi-weekly stamp gossip mailing list!

Click here to see MANY 1000s of stamp lots for sale at low $A Nett prices

Click here for all you need to know re SELLING your stamps for SPOT CASH

Click here for the current Monthly "Internet Only" special offers - CHEAP!

to read all my recent International stamp magazine articles. Click here to get back to the main www.GlenStephens.com Homepage

Click here to ORDER on-line ANY items from ANY of my dozens of lists

Click for all info on Conditions Of Sale, Payments, Shipping, Returns &c

Click here for the complete library of my very unusual world travels!

How to PAY me. I accept EVERYTHING - even blankets and axes and beads!

Australia Post Annual YEAR BOOKS - massive stock - '27% off' discount offer today!



Visit my new page on RARITIES - Roos & other expensive photo items.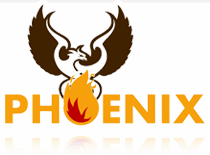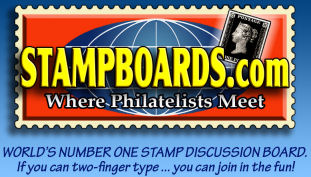 Instant Currency Conversion


FREE! Just click here...



E-mail me at glen@glenstephens.com -

Every credit card shown is accepted WITHOUT fee.
Earn Frequent Flier points while buying at bargain prices!
ALL prices are in weak Ozzie Dollars. I charge NO nasty, nasty
"Buyer's Commission" on stamps like nearly every "Auction" does.