Click To Go Back To The Main www.GlenStephens.com Stamps Homepage

Welcome! You are visitor
to www.GlenStephens.com




Glen Stephens
Monthly "Stamp News" Market Tipster Column


December 2012

| | | |
| --- | --- | --- |
| | | |
---
Morgan Collection fetches Millions

I am writing this column mid November from Hobart Tasmania, where the national Stamp Show is being held.

The Hugh Morgan sale on November 13/14 has just concluded in London, and Nick Startup from Spink kindly emailed me some figures of prices obtained.

Arthur Gray flew to Hobart from the sale, and today was able to give me a first-hand commentary – "a great success, and good news for the Australian stamp market."

The sales totalled £2,287,218 on the day, and doubtless there will be a number of sales after the auction, of unsolds - taking this figure higher.

A total figure of around £2½ million or higher seems likely, getting up around $A4 million when converted. Who said there was "no money in stamps"!

Cat $75,000, sold for $A93,000
The figures below all show the sale price in the room, with the nasty "Buyer Fee" added on.

A large chunk of this material was bought by Australian collectors, and to these figures needs to be added Australian GST of 10% on import.

So for Australian collector buyers, 10% generally needs to added to all figures quoted below, a fact overlooked by many bidders I feel sure.

Spink would not allow the goods to leave the sale room in person to any Australian or Foreign buyers unless the 20% English VAT was added I understand.

If Spink mailed the goods to Australia no UK 20% VAT applied, but their insurance fees would be huge on say a £10,000 purchase, and their invoice figure of £10,000 on Fedex/DHL package would have 10% GST levied here.

Australian vendors consigning overseas always have this massive disadvantage, as savvy buyer adjust their bids DOWN by that amount. Sold locally the GST is only 1.5% on the "Buyer Fee".
Essay fetches $A167,500
One of the sale highlights is shown nearby - a 10/- brown-buff essay in vertical format, with a Kangaroo on a map of Australia and no Tasmania, with two value circles at the top.

This essay was saw-toothed roulette 14½ on thin white card. Estimated at £70,000-90,000, it was invoiced for a staggering £108,000 – or around $A167,500.

Commenting on the sale, Spink stamp specialist Nick Startup said: "We are delighted to have had the opportunity to offer such a unique and exceptional collection."

"To have been able to offer collectors the opportunity to obtain such rarities has been a pleasure, and a testament to Hugh Morgan and his trusted aide Tom Carter."

"My hope is that the buyers treasure these rare examples with the same enthusiasm and passion as Hugh Morgan and his father, who began the collection, did. This truly was a historic sale, and one that I will remember for a long time to come."

"Stamp collectors from around the globe were bidding furiously in the room, via mail, on the internet, and on the telephones" Startup concluded.
Imperforate 3d Roo Pair
| | | |
| --- | --- | --- |
| | Another exceptional result was for a Kangaroo showpiece, of which only eight mint examples have ever been recorded. | |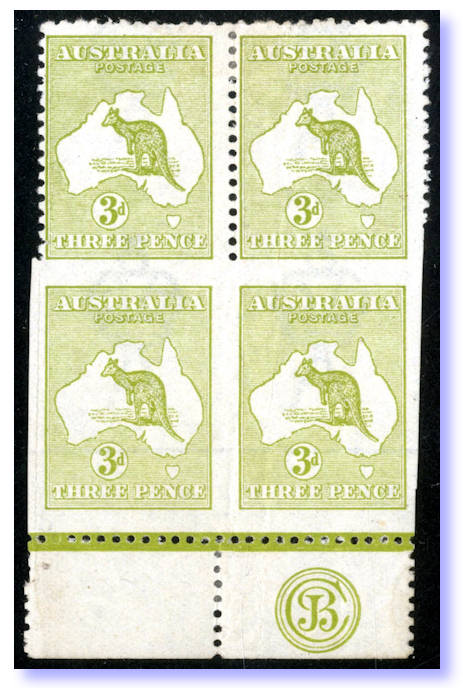 Missing perfs mean money!
The marginal block of 4 x 3d Olive Die 1 stamps, with 'JBC' Monogram, is a major rarity of the Kangaroo issues.

This interesting looking block was invoiced for £84,000 ($A130,000+) against an estimate of £30,000-40,000

Another die proof in the collection was the 1/4d KGV head, in the issued Turquoise colour shown nearby. Ancient ACSC value is $50,000.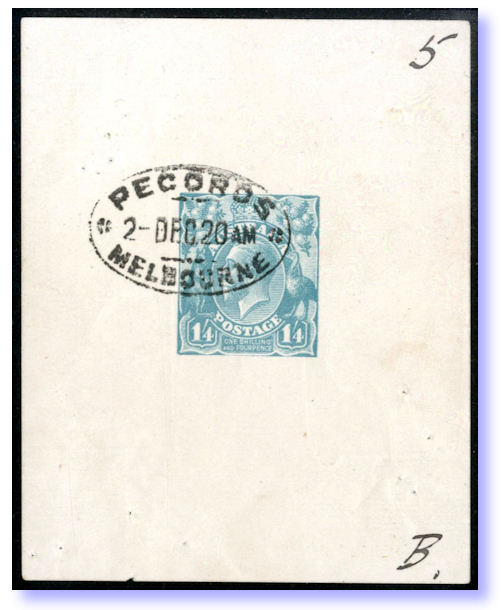 "RECORDS MELBOURNE" cancel
It was invoiced for £42,000 – or over $A65,000. Well above the full ACSC value. A pretty looking piece, and I know someone who really wanted it, and missed out in the bidding frenzy.

Little is known of the unusual "RECORDS MELBOURNE" oval cancel, or its usual purpose – it seems to have been used on all sorts of strange things.

I have it on some Kangaroo blocks, and detailed discussion on L has unearthed several other examples on issued stamps. Several variances are known of the cancel. tinyurl.com/RecordsME
Inverted "OS" on front
| | | |
| --- | --- | --- |
| | Of particular note was the CofA watermark 2d red KGV, with inverted "OS" overprint. On a large 1933 OHMS" cover front, from Ardelethan NSW, with a few blemishes. | |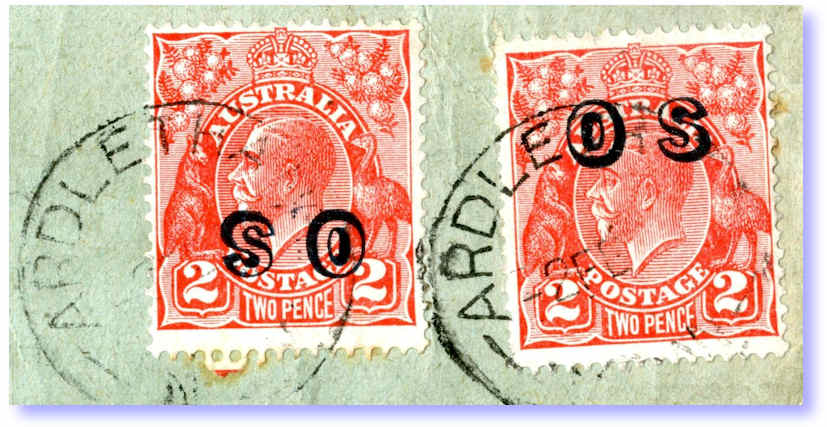 Invert fetches £66,000
Three examples of this error are recorded, but this is the only example known on entire.

The error is illustrated nearby, with the close-up detail of the inverted overprint stamp shown.

Full ACSC is $A75,000 and the invoice price of £66,000 converted to well over $A100,000. A very full price for a cover front.

As to standard issued stamps, the £2 Kangaroo 3rd watermark imprint block shown nearby had "fluffy" perfs and was it seems hinged on all units. Cat $A75,000 - it sold for £60,000 or $A93,000.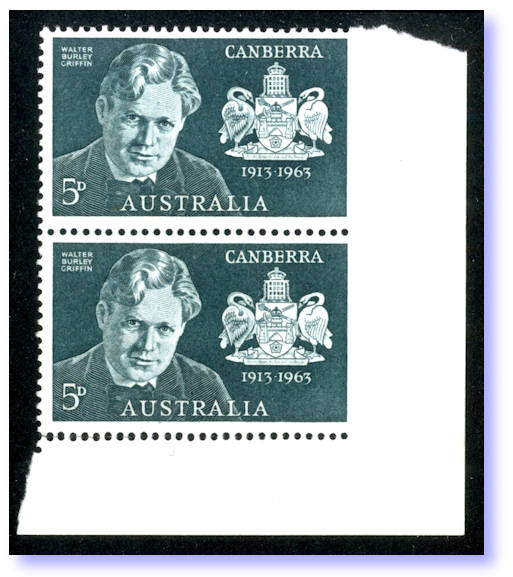 Walter Burley Griffin smiles
Even QE2 era scarce stamps often got high prices. The 1963 5d Walter Burley Griffin stamp is close to my heart, as he bought and founded, indeed fully planned the suburb I live in - Castlecrag in Sydney.

This attractive pair imperforate at side sold for £21,000 (around $A33,500) - a great price given the ASC value of $A30,000. Gibbons does not list or price imperforates on 1 side only, for any issues.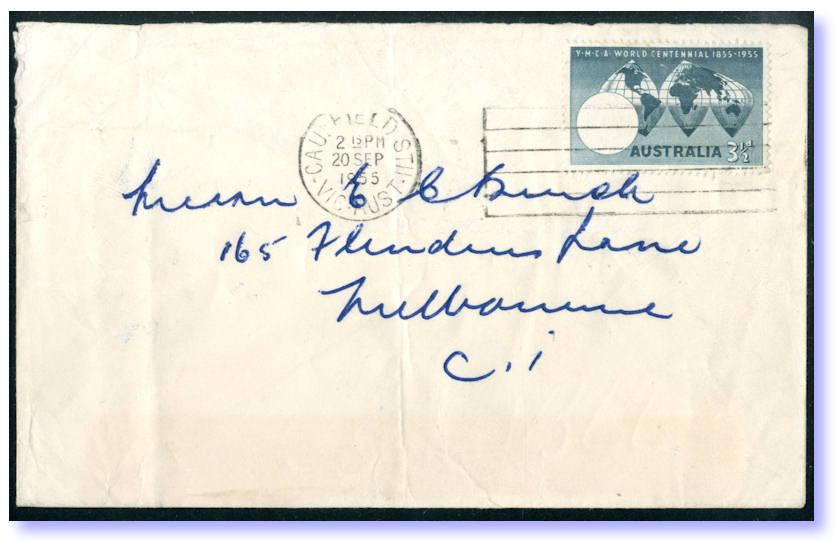 Missing Colour on cover
A rather dog eared and creased envelope with a used 3½d YMCA stamp, with missing red triangle, was invoiced for £20,400 - around $A31,625 - ACSC Catalogue value for used is $A5,000.

I am advised the stamp had a large tear through it, that was not mentioned in the Auction sale catalogue.

All in all a great result, that attracted a VAST amount of national media - that is fantastic for the hobby.

The ABC TV national news had a long piece on day of sale with interviews with Tom Carter, Hugh Morgan and Nick Startup, and had footage of the saleroom action.

The 100% clearance rate of the recent Stuart Hardy Australia (Sale #1) at Phoenix that also got well into 7 figures, and now this bullish result shows just how strong the Australian market is.

One large dealer is rumoured to have spent over a million dollars in a month at various stamp auctions, so the trade believes quality material is worth securing, even at today's prices.
Freeman "NSW Cancels" sells out
The Freeman "NSW Cancels" book was a massive success, as only about half as many were printed as there was world demand for – exactly as I predicted.

Only 220 numbered copies GLOBALLY were printed. A ridiculously small number.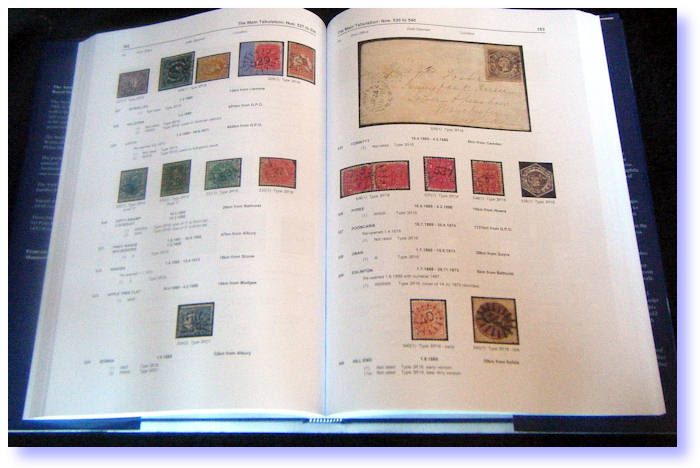 Rapid global sell-out
A detailed review of this was in a recent magazine - tinyurl.com/Oct-SN and my advice to secure one early was heeded by many. One book is offered on ebay as I type this, for $A500.

Status International Auctions ran one in their November 1st 2012, auction - Lot #90, and it was invoiced with all fees etc, for around $A430 after a spirited bidding battle. SEVERAL times the reserve, and many times issue price - to the owner's great delight I am sure.

It underpins the old adage that good quality reference books are often worth near as much as the stamps they refer to! "Knowledge Is Power" as I have typed 1000 times.

I still have a couple of high resolution full colour CD Roms of the entire 400 page book, as several clients were happy for to me to retain these, if they got free shipping on the huge book.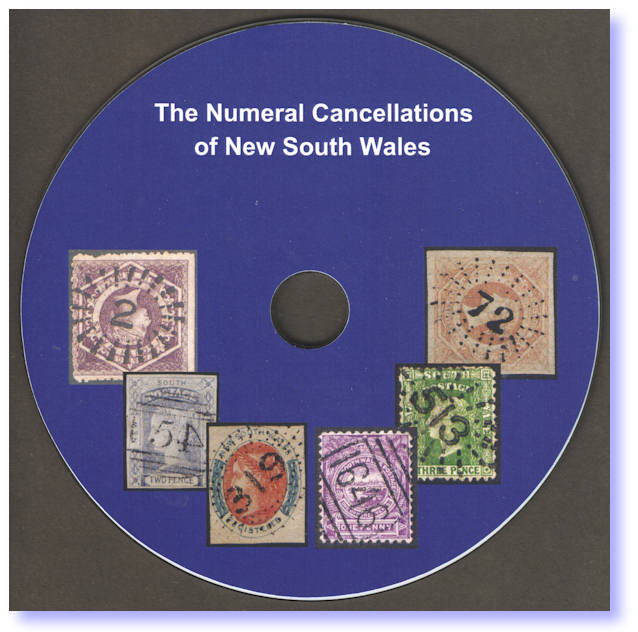 400 pages of detailed info
| | | |
| --- | --- | --- |
| | If you need the data let me know, as once they are sold, there will be no other reference obtainable. Scarce NSW cancels are getting up near the 4 figure mark already, and heaps of "finds" are still out there. | |
USA Numerical Grading Madness
The rather nondescript stamp shown nearby is SG 291 - £6.25, Scott 285 - Cat $US7.50 used, in the 2013 Scott.

It is the lowest face value in the 1898 "Trans-Mississippi" or "Omaha" set, and vast numbers were printed and sold and used.

Few real dealers on the globe would give this stamp a second glance, if it were in a stockbook or album.

I'd leave it on album page in ANY collection I was selling, and allow a dollar for it maybe, in my figuring.

Diagonal machine cancel, short/nibbled perf at base, and an ugly, folded over, "hang nail" perf at top left - that I'd probably flick off with my tweezer tip if it were loose in front of me.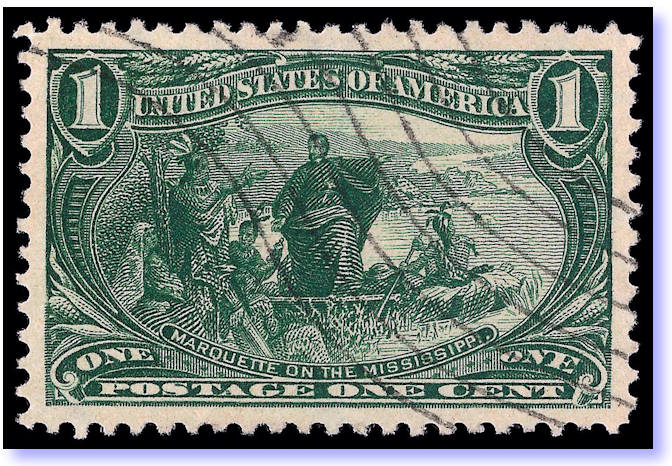 $1 stamp Auctions for $862
Some genius with far more money than sense, just paid $US862.50 for it before shipping costs in October 2012, at Siegel's "Nick Kirke" auction in New York.

And many other pretty common stamps got similar high prices.

WHY?

As the "PSE" grading company gave this unremarkable stamp the VERY highest grading they have given to any Scott #291 stamp.

You CANNOT even begin to grade this stamp as anywhere near "perfection". No-one sane could.
PSE System is broken
The grading system is broken, and the lemmings paying well over 100 times Scott catalogue for things like this, will be sobbing copious tears of dollar bills down the track.

Mark my words.

A rep from PSE, Caj Brejtfus politely tried to explain on stampboards how such a high grading was given to such an ordinary stamp.

PSE's own guidelines say a bent over or creased corner attracts a 5 point deduction, and short perfs 10 or 15, so how this ends up at 98 out of 100 is a mystery.

tinyurl.com/OmahaPSE has 160 comments on this and other graded stamps, and makes for very interesting reading.

I wrote 5 years back on this madness, where the 20c retail value Mount Rainier 3c stamp shown nearby was graded a perfect '100"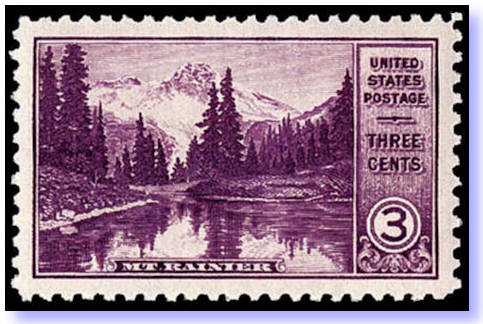 Sold for 6037 times full cat!
This stamp had just sold at public auction for $US1,050 plus the ubiquitous 15% "buyer fee" = $US1,207.50. The kind of money that I had just sold a reasonable mint 1913 £1 Kangaroo for as $US was strong then.

That was 6,037 times full Scott value at the time. For an exceedingly common stamp of which over 95 MILLION were sold.

Clearly many THOUSANDS of identical copies exist - simply as no-one has (yet) bothered getting numerical grading Certs done on them!
NOT a "perfect" stamp
The stamp was graded 100 out of 100. I certainly would not give it anything like a perfect grade, as I personally hate "hang-nail" corner perfs like this has at top right. In fact 3 of the corners I do not really like.

They visually detract from a "perfect" looking stamp. Well-formed corners most certainly DO exist on perfect centred 3c stamps. THEY might get a 100 score. But this one could most certainly be improved upon very readily.

The folks writing these Certs need to rapidly get a grip on reality. A "100/100" score indicates no finer copy can exist. With this copy I'd disagree with them most strongly.

Thousands of copies would look better than this example. So how on earth did it get a perfect "100" score?
ppp;;;
PSE appear to place no real importance whatever on ugly, short or untidy looking perfs or corners, in its "eye appeal" descriptor.

That in my view is a fatal flaw in their numerical grading system, if it is ever to be taken seriously on a global stage, and not become a laughing stock - tinyurl.com/PSEgrade

This was how Siegels described the 1c Omaha stamp illustrated above:

"1c Trans-Mississippi (285). Outstanding centering with Jumbo margins, bright shade on fresh paper, light wavy-line machine cancel, Extremely Fine Gem, an absolutely superb used example of the 1c Trans-Mississippi, with 2011 P.F. and 2007 P.S.E. certificates (Superb 98 Jumbo, unpriced in SMQ above the grade of 98, SMQ $830.00 as 98), this is the highest grade awarded and it is shared by no others"

The Kirke collection had some very pretty stamps, don't get me wrong – and most of them sold for VERY many times full Scott, but PSE needs to look at their own grading system
Australia Post hikes Rates QUIETLY
On October 22, 2012, Australia Post raised many overseas postage rates and local parcel charges. And a week later many more were raised, including domestic Express etc.

It appears they told almost no-one of these changes, and there was certainly no advance notice given to most clients.

One that will affect MANY dealers and collectors is the abolition of the long established "second weight step" band for letters weighing 50 to 150 grams.

This rate now vanishes, and any mail piece weighing over 50 grams, and up to 250 grams will cost $A6.20 for Europe, Americas, and "rest of world". /.n

A week after the changes, at end October there were still no Post Office printed rate booklets showing these new charges.

A stampboards.com member who works at a Post Office was not even aware of these new rates, a week after implementation.

The disappearance of the 50 to 150 grams step is a large blow for most stamp mailers. Near all the small sendings I make are in the 100 gram type level when a stiffener is added.

51 grams is not heavy. It is less than 2 ounces for our American cousins, who use funny weights! (Two ounces is 56.67 grams.)

3 or 4 small stockcards of stamps, a few PO packs, or a few FDCs, or a few sheets of paper or want-lists or invoices all exceed 50 grams.

These will now cost $A6.20 to Europe or the Americans or "rest of the world" - a 32% increase over last's week rate, if they weigh 55 grams.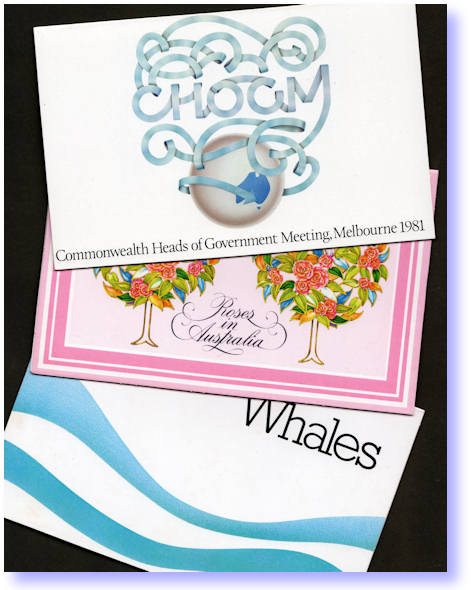 Mail cost $6.20 overseas
For those selling or selling on ebay etc, if $A6.20 is the real PO cost of mailing, a Hagner sheet of material will be charged out as $A7 or more postage ... even if the stamps inside are not worth anything like that.

Which for a few thematic FDC is often the case. So buy $3 of goodies, and pay $7 to mail/receive it. Pointless, as it triples your real cost.

Ever a very large size Christmas card with envelope will very often exceed 50 grams. And guess what - greeting card mailing season is upon us.

I find it outrageous that this increase was snuck in, and some PO's had not even been advised as of late October when I typed this.

As an example a client in USA ordered these 3 small Post Office packs shown nearby off me today.

Cost to him $3.50, as they are common. Weight a little over 50 grams.

Post and pack cost to him $A7 ... I am too embarrassed to tell him $3.50 of Packs will cost him $10 total.



Instant Currency Conversion


FREE! Just click here...




If you would like to be notified of updates to this website,
Click HERE.
If have any questions,
or comments regarding my site, please email me at glen@glenstephens.com
| | |
| --- | --- |
| | Search all my 300+ web pages! Simply type in what you are looking for. "Penny Black", "Latvia", "Imprints", "Morocco", "Fungi" "Year Books", etc! Using quotes ( " ) is more accurf used with no quotes. Search is NOT case sensitive. Tip - keep the search word singular - "Machin" yields far more matches than "Machins" etc. |


I am a Dealer Member in Good Standing Of:

Full Time Stamp Dealer in Australia for over 25 years.
Life Member - American Stamp Dealers' Association. (New York)
Also Member of: Philatelic Traders' Society. (London) ANDA. (Melbourne) American Philatelic Society, etc
GLEN $TEPHEN$
Full Time Stamp Dealer in Australia for over 25 years.
Life Member - American Stamp Dealers' Association. (New York)
Also Member - Philatelic Traders' Society. (London) ANDA. (Melbourne) American Philatelic Society, etc

ALL Postage + Insurance is extra. Visa/BankCard/MasterCard/Diners/Amex all OK, even for "Lay-Bys"! All lots offered are subject to my usual Conditions of Sale, copy upon request BIGGEST STAMP BUYER: Post me ANYTHING via Registered Mail for my same-day cheque. Avoid the GENERALLY 40% Auction " Commissions" (15% + 17½ + GST, etc.) AND their five-month delays! Read for details.
"Lothlórien4 The Tor Walk, CASTLECRAG (Sydney), N.S.W. 2068
Phone: (02) 9958-1333&n Fax: (02) 9958-1444 (Both 25 Hours, 7 Days!)
E-Mail: glen@glenstephens.com
Web Sites: www.glenstephens.com www.glenstephens.net or www.australianstamps.net