Click To Go Back To The Main www.GlenStephens.com Stamps Homepage

Welcome! You are visitor
to www.GlenStephens.com




Glen Stephens
Monthly "Stamp News" Market Tipster Column


December 2013

---
Jenny Flies Again!
Seldom do postal administrations come up with new issue ideas I agree with.

It is nice to see someone using some marketing savvy for a change, that has attracted mass media Internationally.

All collectors know the story of the purchase in 1918 of one sheet 100 of these USA 24¢ airmail stamps with the centre inverted.

On September 22, to celebrate the opening of the William H. Gross stamp gallery at the Smithsonian's National Postal Museum in Washington, the USPS reissued the "Inverted Jenny", this time with a face value of $2.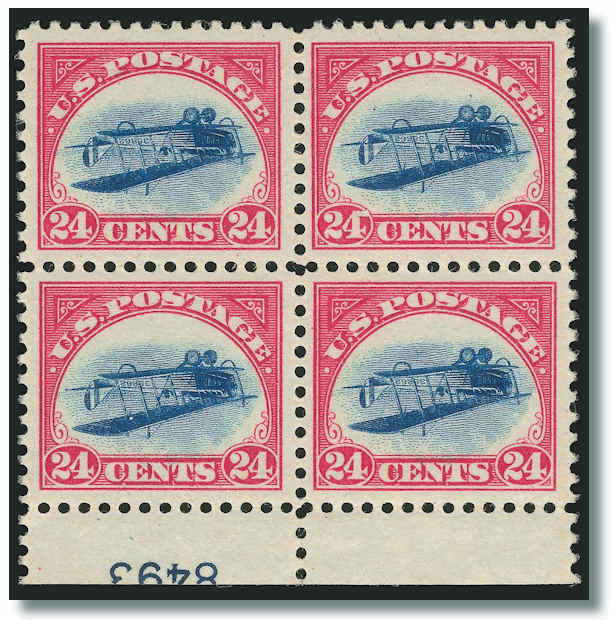 The $4 million stamp swap
Gross of course owns many of the original 1918 24¢ "Inverted Jennies", including blocks - and famously "swapped" one block 4 for the 1¢ Franklin "Z" Grill he needed to complete his USA collection.

Gross had just paid $A4 million for the Plate number block 4 in October 2005 at auction. I wrote a detailed column on this in the January 2006 magazine.

The original 24¢ dies were used as a basis for the design of the new stamp, and the stamps were printed using the same recess/intaglio engraving process as the originals.

"We thought, wouldn't it be funny if some of the inverts came out wrong, and actually got printed right side up?" the US Postmaster General, Patrick R. Donahoe, said in an interview.

"And we started thinking, what a great way to recreate the excitement Robey must have felt when he found that first sheet" Donahue concluded.

As a result, 100 of the new sheets actually show the airplane flying upright. Each sheet is individually wrapped, so no one can see the stamps before they are bought.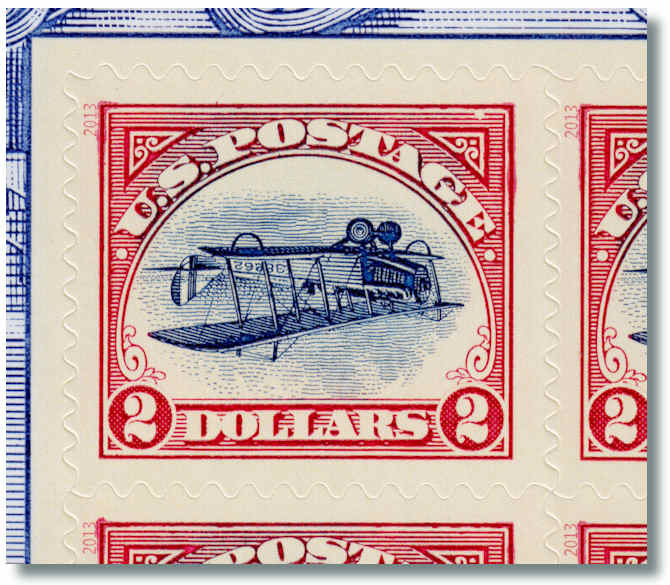 Superb raised print intaglio
| | | |
| --- | --- | --- |
| | A note is included with the right-side-up rarities, alerting buyers to their true nature. Lucky finders can apply and obtain a certificate signed by the Postmaster General. | |
"Our last one was Elvis"

"The last time we had a stamp issue everybody got excited about was the Elvis stamp, 20 years ago" Mr. Donahoe said.

As it was a fun item, and out of the ordinary, I started offering them at $A15 each, if folks wanted them added to orders - tinyurl.com/SellSB

These have sold surprisingly well for me, and I ordered 200 more "Jenny" packs off USPS this week.

Folks that wanted one of two for their collection got them off me at $A15 each, far lower than buying direct off USPS direct would cost them with the flat $US6.50 shipping.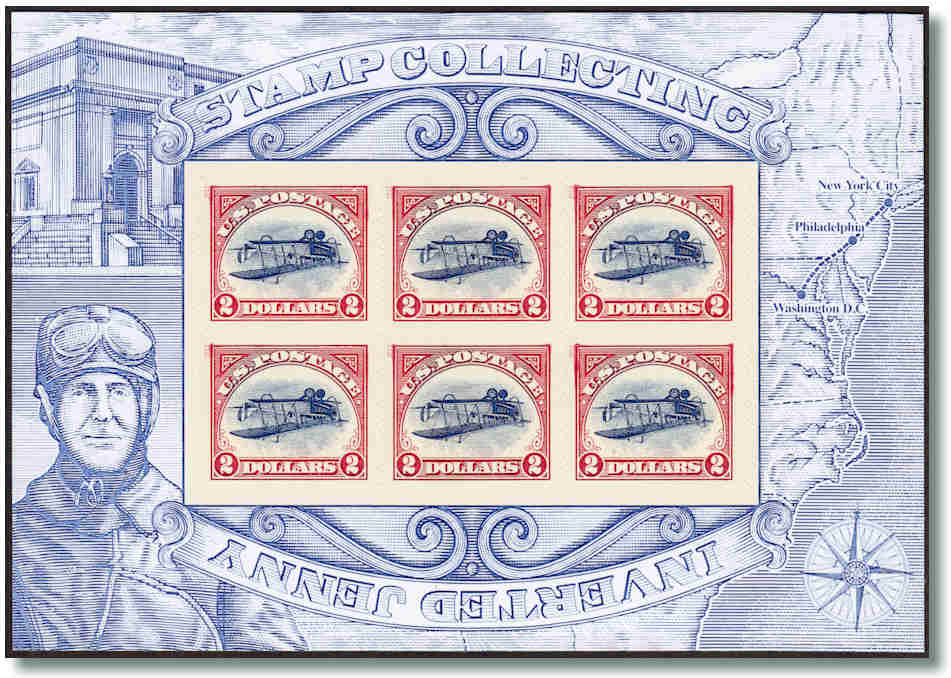 INVERTED plane is the COMMON one!
One client ordered 10 sealed packs to mail to all his stamp pen-pals as Xmas gifts. Light to mail, and the perfect stamp gift really.

A "scratch Lotto" type fun gift .... that MAY be worth $15,000, and if not, has $US12 of very attractive stamps inside.

The end result is a superb production, with raised intaglio/recess printing, that is ink ribbed as you run your finger over it.

Someone emailed me asking how they "knew for sure" the packs I am supplying had not been "peeked" at by me or others before they left for him!
Super secretive packaging!
A fair enough question really, and if the sheets were supplied in a glassine envelope etc, he'd have a good point.

I just now busted open 2 packs in nearby photo, to show just how many layers of "anti-peeking" protection that USPS has added, exactly to prevent that occurring!

I am using these sheets a lot to send over to USA mailers of stuff to me, and asking them to glue stick them to packet outers, and ask they be nicely cancelled at PO.

I got one Express parcel last week that cost $US60 shipping. The sender got light cancels on them (thank you!) and they all arrived in perfect shape.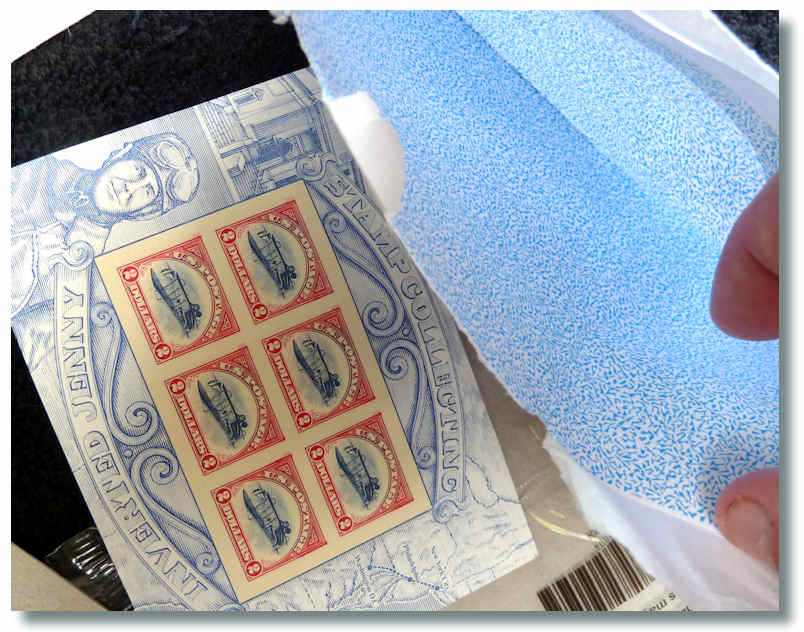 Even the inside is security patterned!
I snipped off the Hagner size piece with the 6 sheets on it, along with Reg'd label and addresses etc, and sold it for $A70 to a joyful collector of postally used modern USA.

So my heavy box of goods here actually cost zero - indeed MADE me money!

These $2 stamps/$12 sheets are valid forever, so maybe tuck aside a supply if you get things mailed to you from the USA now and again, as they will not be on sale for long.

And if you get lucky, one of your packs will have the $15,000 "Error" sheet in among them!

The whole deal all comes sealed in a cello outer with crimped heat sealed ends to prevent any tampering, as that would be immediately evident.

Then there is a large piece of thick grey cardboard. Even if held up, with the world's brightest light behind it, nothing could be seen through that.
Wrapped up like an Egyptian Mummy
THEN the $12 mini sheet is in a licked down small envelope of about 120 gsm thick grade paper. Those envelopes are also printed with blue "security wove" pattern on all the insides.

Even if the sheet was alone in the white envelope you not see design detail if held to light. The front of the white envelope has small font writing on the front of it, to make seeing inside even harder.

The sheetlet also has small writing all over back so the other side is hard to make out even when sheet alone is held to light, as the paper on mini sheet itself is very thick, being self-adhesive.

HOWEVER that is not all! Inside each sealed white envelope is a mini sheet size piece of thick white dense card .. about 300 gsm I'd guess.

So holding up just the sealed white envelope to the strongest back lights helps you in no way. I'd defy the FBI or CIA to see which way the plane was up from the outside!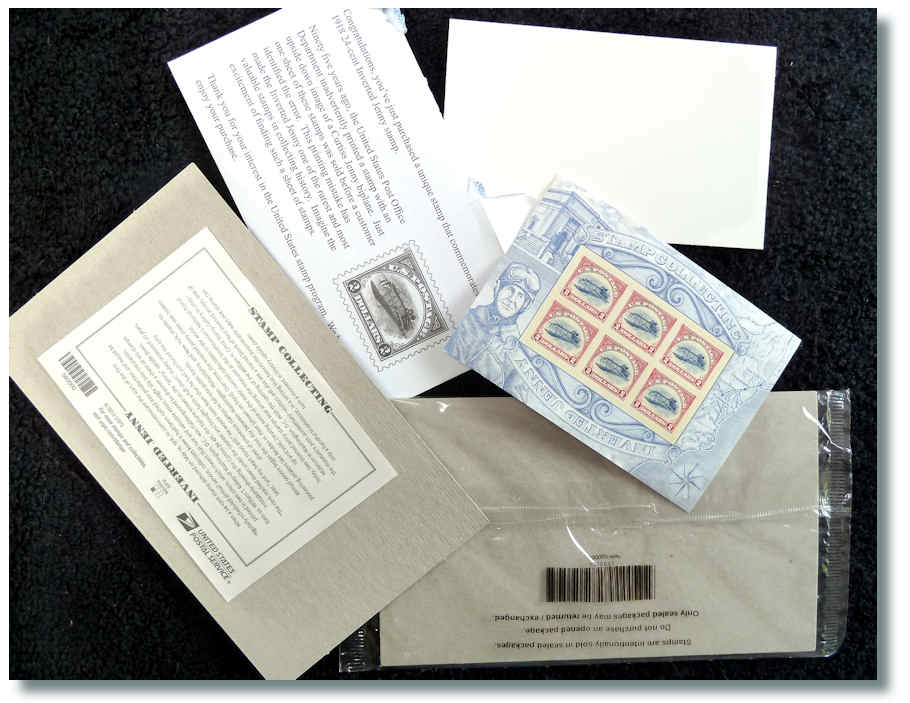 Super elaborate packaging
A great deal of thought and expense has gone in the packaging of these clever sheets.

So there are many, many, layers of careful security - that ensures PO staff, dealers and re-sellers have absolutely no idea what is in each white envelope, until the buyer tears it all open.

A lot will STAY unopened. You would not believe how many Australia Post year albums I buy, where the stamps are still sealed 20-30 years on, untouched in the "temporary" wallets ex Post Office.

There were only 100 of these "Inverted Jenny" items sold – a decent % will probably stay unopened in new issue packages to collectors.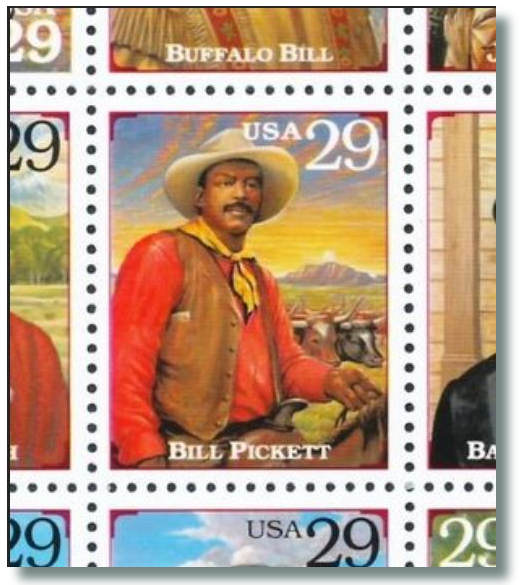 Meet BEN – not Bill!
In the USA, population 320 million, 100 possible of anything is tiny.

In 1994 the USPS sold 150,000 "Legends Of The West" sheets of 20. The detailed stamp image of the error is shown nearby. It depicted Bill Pickett's brother BEN!!

These used the photo of Bill Pickett's brother, and despite 150,000 panes being sold at face - entirely to collectors and dealers, they are still listed $US240 in current 2014 Scott catalogue.

Indeed Scott notes that all these panes were shipped in the blue USPS folder and that value is noted as being higher if retained in the folder - illustration nearby.

Despite the huge number sold, they still readily fetch $200 a sheet, so the Jenny panes will be into 5 figures for CERTAIN, right from the get-go ... mark my words.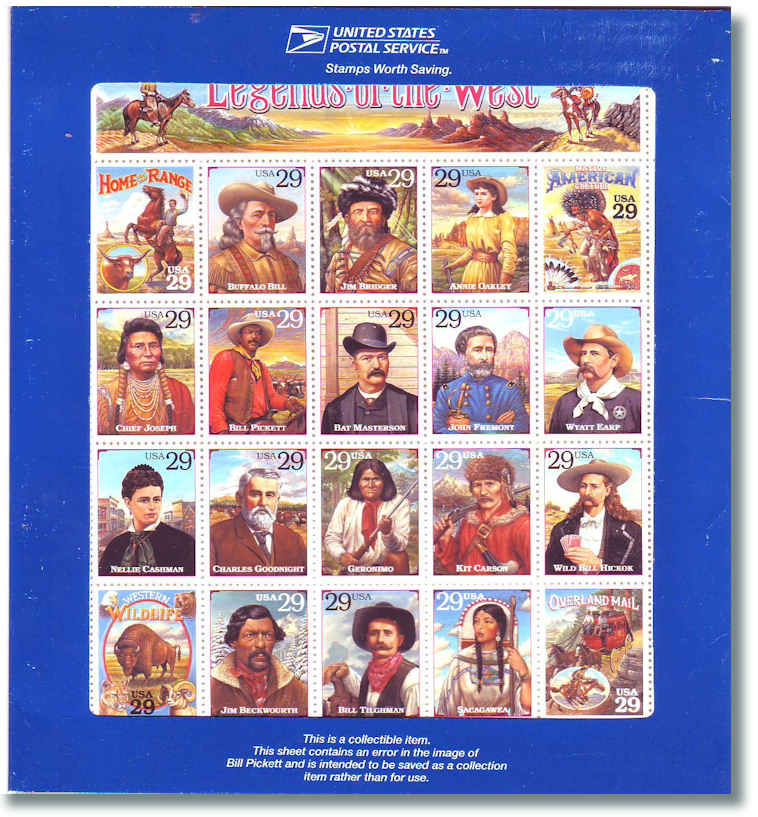 Scott Cat $US240+ in pack
There were after all only 100 sheets ever printed with aeroplane UPRIGHT, the USPS has stated that publicly.

I hosted a stamp dealer Christmas Dinner this week in Sydney and raised this item, and asked those there what they thought the FIRST one sold would bring.
Will sell for "about $US15,000"
Stewart Wright the owner of Status International Auctions predicted: "about $US15,000".

As none have been on the market yet - way after a month since issue, that figure would not surprise me at all. Might be a lot higher.

Most dealers there agreed that near ALL found by collectors will stay in their possession. Hence for some years few will ever be sold. But lots will seek one.

For most finders it will be their once in a lifetime WIN and they'll retain it as a bragging piece for the rest of their days to fellow collectors and family members.

With only 100 made, even $10,000 is a great deal. It was sold by USPS at face, and that is all most will care about.

No dealer can "corner" these, so it will be a free for all hunt.

This issue has created a ton of news globally and when the first one DOES hit the market place a ton more news coverage will ensure.

GREAT for stamps, and GREAT for the hobby in my view.
NZ Post using stamps?!
Also great for the hobby is ANYONE using stamps that never used to.

New Zealand Post has a new head of the Philatelic Division.

After decades in the chair, Ivor Masters retired in August.

His deputy for about a decade Simon Allison stepped into the position.

On stampboards in mid-October reports appeared that mailings from NZ Philatelic were bearing stamps - tinyurl.com/StampsNZ - and not just ANY stamps, but Gandalf "Hobbit" Middle Earth stamps!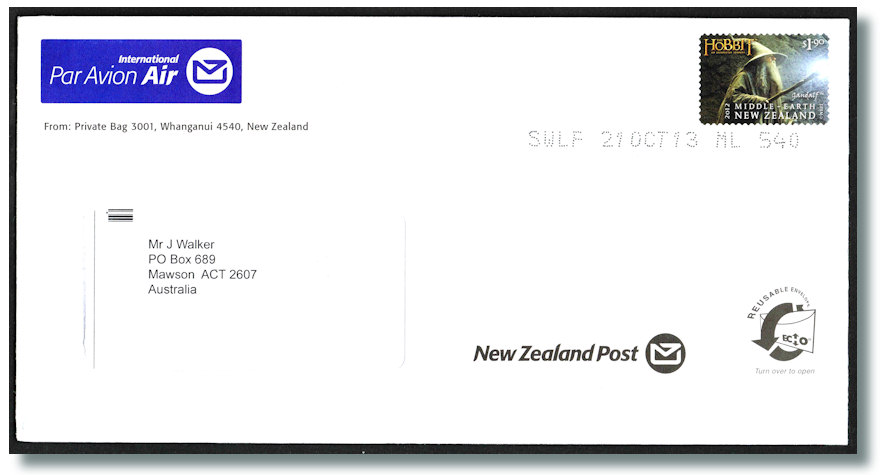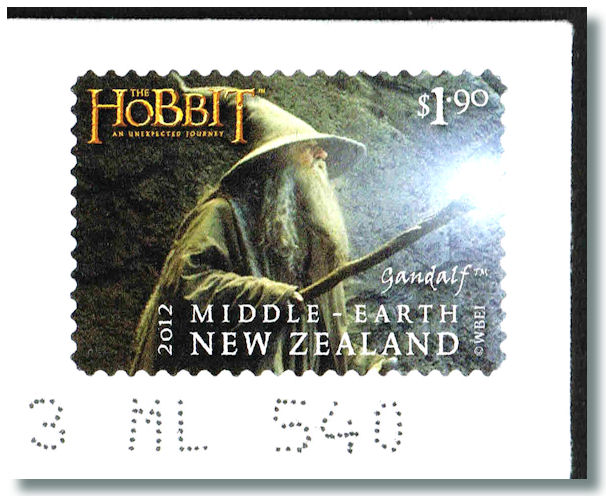 REAL stamps being used again!
Stampboards members from various countries soon confirmed this was occurring on mailings from NZ Post.

Great to see and I wish a LOT more Bureaus followed this lead.
Write to YOUR Bureaus!
If Stamp Bureaus do not care to use stamps, what hope do we have for the rest of the community to bother?

Write to YOUR Bureaus you support, and tell of this and ask WHY they are not doing it now!

Sure it takes more time, but if that means more folks retain their expensive Standing Order Accounts - well who cares about an affixing cost?

Mr Allison might look at using a decorative laser printed cancel on the mailings, as most appeared unfranked, and the one illustrated just escaped the pink ink spray cancel in Australia.
Gibbons "Part One" released.
For me the "event" of this month was the arrival of the new 2014 Stanley Gibbons "Commonwealth & British Empire Stamps 1840-1970" catalogue.

This volume is known to old-timers and the trade as the "Gibbons Part One" - as once, the other Volumes were numbered, and were "Americas" and "Asia" etc.

The average collector buys a new major catalogue only once every few years as they are expensive, and for many collectors, being a few years out of date is no big deal.

For about 100 years Gibbons published the "Part One" - a detailed priced listing of ALL British Commonwealth stamps from 1840.

It got thicker and thicker with all the WALLPAPER new issues from places like Guyana - where literally scores and scores of pages were filled with this new issue junk.

Yet all of us needed to pay for a thick complicated catalogue listing of it, that we never looked at.

The "Part 1" book got to be two massive hard cover volumes - so Gibbons simply stopped printing them. And seemingly had no plan "B" in mind.
Most unsatisfactory
For a good while afterwards all that one could use to look a 1953 Commonwealth definitive was to lug out the huge Simplified SG "World" cat from one of FIVE (now 6!) hard to handle soft cover volumes, and look it up there.

No mini-sheets were at the time listed in there, no perf varieties, no watermark errors, no booklets, no "on cover" rates etc.

Near enough totally useless for anything except simplified use.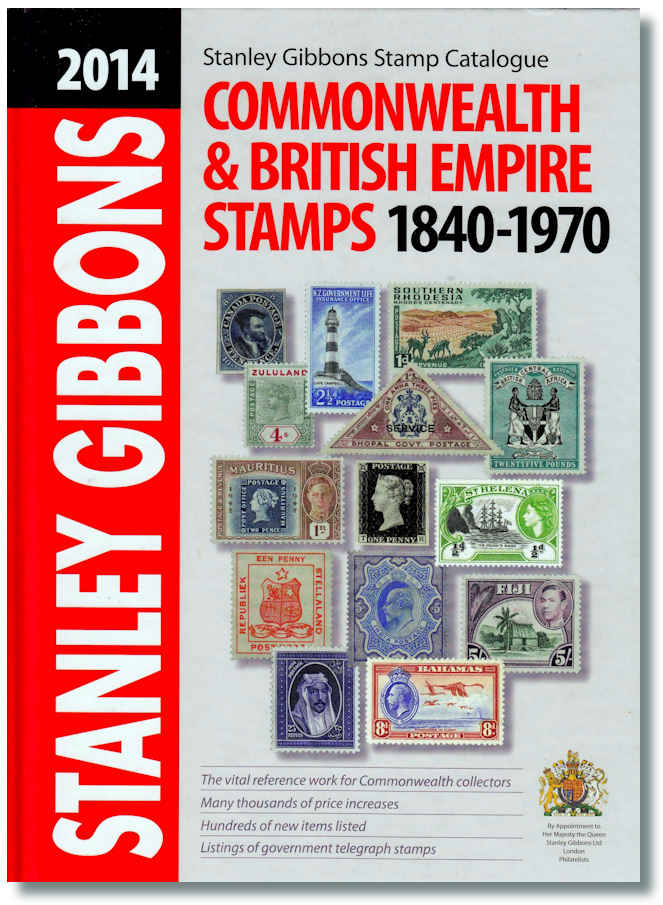 New SG Commonwealth a "Must Buy"
Then someone at SG finally had the bright idea to issue a single volume for all Commonwealth stamps "1840 to 1952" - i.e. pre QE2.

Handy and welcome, but it still did not cover the VERY popular early QE2 issues
At LAST - a new SG format!
This all changed in 2007 with the way overdue issue of what I suggested years before - an 1840-1970 single volume.

Which contains the welcome DETAILED info on the early QE2 reign. Booklets, Postage Dues and watermark errors etc.

In the interim the dreary black and white photos printed on grey paper stock have been gradually upgraded to full colour photos, on bright white paper.

SUCH a difference when I compare the 2 issues side by side, with only a few years difference in time frame.
Colourful and vibrant
Printed on a nice crisp fresh white paper stock. Cheery and "alive" compared to my already VERY yellowed 2002 SG pages with sad grey illustrations.

A nice crisp clean sans serif font has been used for the last few editions, and makes it so much easier to read.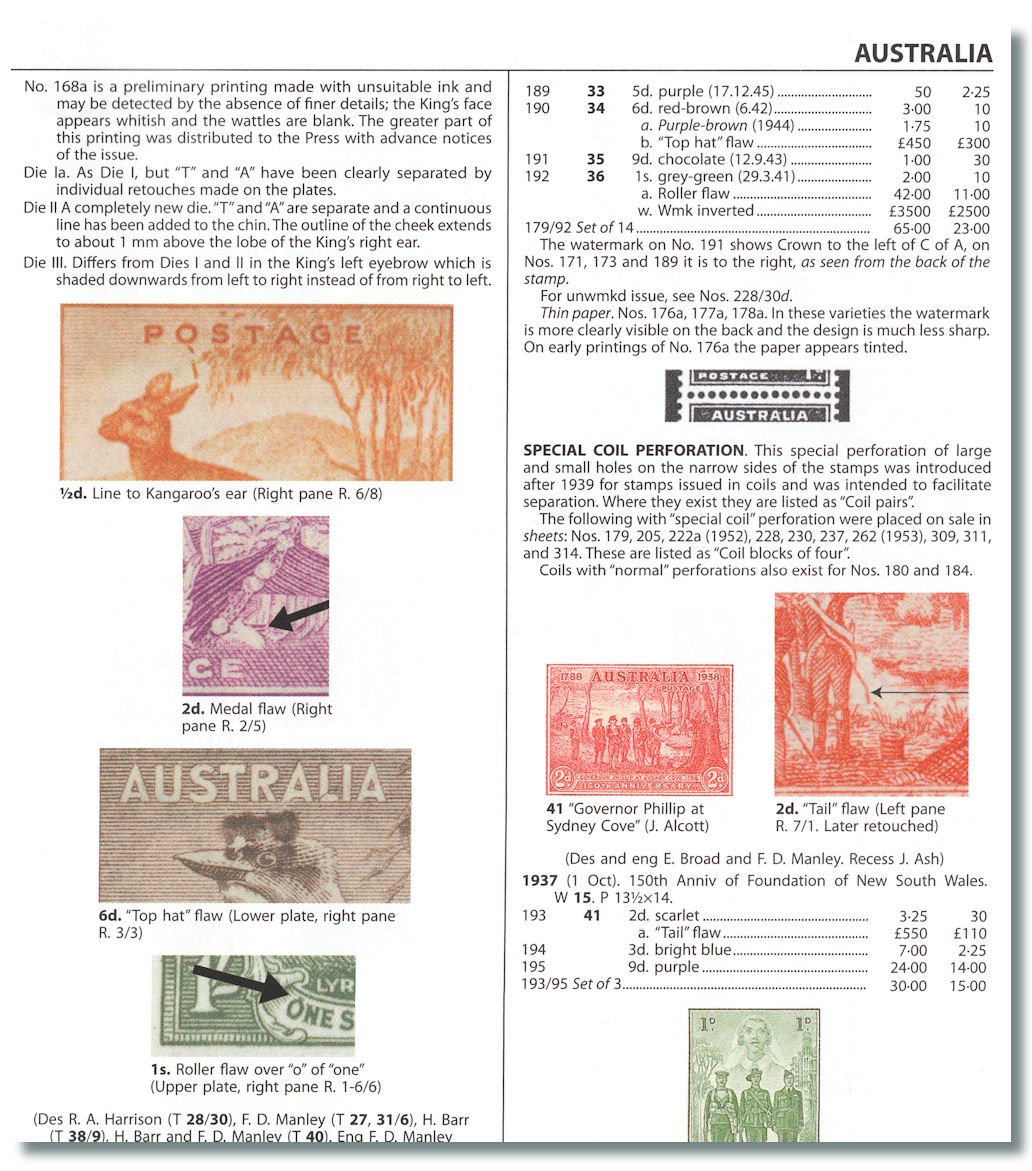 Lots of flaws shown and priced
Lots of constant plate flaws, and booklets are now listed. And lots of inverted watermarks - find just a medium one from a country like Australia and the entire book will be readily paid for!

Did you know the "Top Hat" flaw on the 6d Kookaburra was cat £550 - a very rare flaw, and very seldom offered.

Or the "Man with Tail" on 1937 2d NSW is £650 - nearby photo shows old prices, as listings now straddle 2 pages!

Did you know the 1941 1/- Lyrebird with inverted watermark is Cat £4,000 mint, and £3,000 used - but just 10p in normal used etc.

A weakness for some years in this catalogue was that no Australian stamp booklet covers before 1952 were illustrated.

Arthur Gray has easily the best collection of these booklets extant, and kindly loaned then to me, so I could scan the covers to pass onto SG.

The booklet field is complex, and 5 new covers are now added – not all are there, hence not perfect, but a good start at least. And long overdue.
Rises in GB prices.
GB is never quiet and the 1840 2d Blue is up to £875 used, and the shades are all increased in price too.

Some on cover prices are up a lot - the 1847 1/- green on cover is up from £1,350 to £1,800.

The controversial 1865 1d Red "Plate 77" is up to £600,000 from £550,000 a used single. Good news for the owner of the Victor Hugo written cover shown nearby, that bears THREE copies!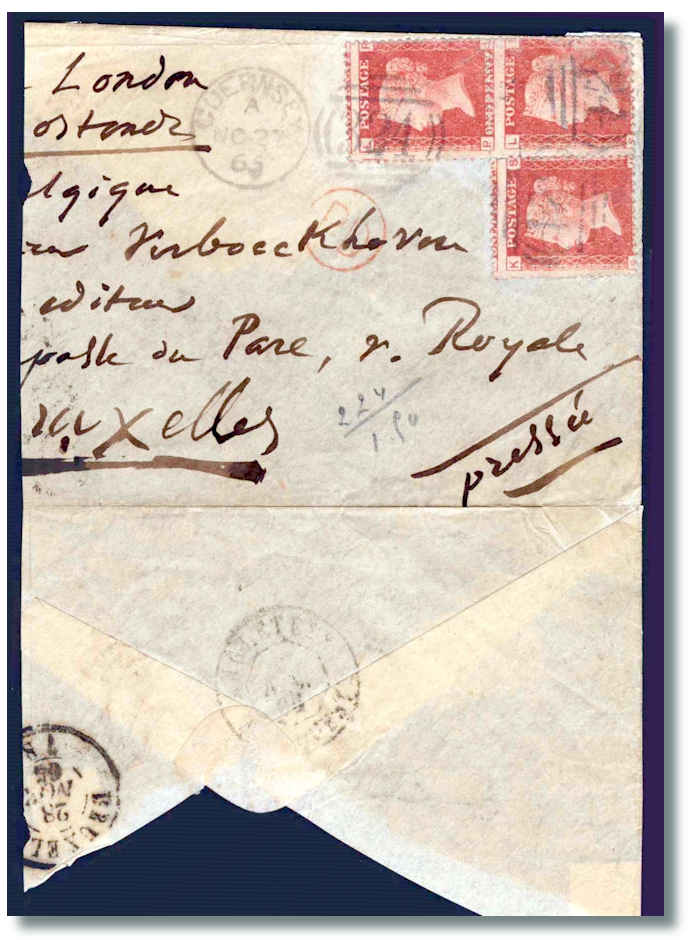 Now a million dollar 'ugly'?
I always opined it was 100% genuine, and now the Philatelic Foundation in New York has just OVERTURNED its totally absurd earlier Certificate that the "7s" were 'painted in', and have issued a new "genuine" Cert.

Hopefully the RPSL will now follow suit. Any other owner would have tossed it in the bin in despair years ago. What a find.

The stampboards thread on this has 2,500 messages, and about 100,000 global page views, and largely turned the global tide on this cover. Tinyurl.com/plate77 has the full discussion – do have a read.
Australasian Prices UP
I studied the prices for the Australasian stamp listings for an hour or so today.

My general impression is that there were increases sighted nearly everywhere across the board, versus the 2013 Edition.

Looking at "SG #1" listings is usually a very useful litmus test.

All the Australian "States" seem up or unchanged overall. EVERY Australian State SG #1 is up mint. SG #1 from Victoria in USED doubles from £5,000 to £10,000.

NSW Sydney Views seems up near across the board. SG 14 is up from £9,500 to £12,000 and the 2d, SG 15 soars from £9,500 to £15,000 mint.

The WA 1879 6d Lilac Telegraph is up from £75/£50 to £450/£200. Even with that 4 or 6 times hike it is far too low. I have a nice fine postally used one just in stock for $400 and it will sell fast at well over full SG.

Queensland stamps appear to have had strong increases right across the board, on a quick look starting with SG 1, 2 and 3 all up mint.

There is a re-vamp of sorts of the Victoria Postal Fiscals. The 1884 £6-£9 "Rugs" were all £11,000 mint and £1,500 used. Now all are unpriced except in fiscal used, which is sensible.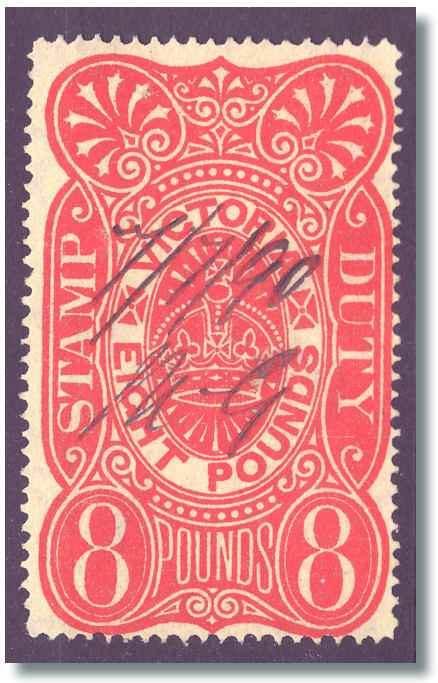 SG removes M+U prices
| | | |
| --- | --- | --- |
| | The one shown nearby I sold for a lot more than the SG full cat £150 for fiscal used. They do not exist genuinely postal used or mint, but many fakes of both exist | |
20% price reduction
The GOOD news for Australian buyers is that due to the super strong Australian dollar, the even thicker than before 2014 SG edition is still around $A145 RRP this year.

The UK retail price on back cover says £82.50, and being a super heavy book, the local RRP is most attractive, as shipping ex UK is £25, and SG use worthless meter franks.

The 2011 locally was $A180 RRP so this is around a 20% price drop since then.

I've sold a lot of airfreight copies on pre-order, and if you ever were to choose a single year to update, "2014" is that year.

Quite simply, an ESSENTIAL volume to sit on the desk of every collector, every auction, and every dealer who ever handles British Commonwealth stamps.

I have to say even with the price increases, many of the stamps at full SG are under local retail given the weaker Sterling in recent months.

It was a good compromise idea taking the catalogue listings up to 1970. It can be price updated each year, and yet not greatly affect the overall book size.

An 1840 to 2014 detailed set would easily run 4 of 5 volumes, and essentially no-one could afford to buy it.

Personally if I ever need to look up modern Guyana (and I never have!) I'll do that via the massive 6 volume SG "Stamps Of The World."

This new "2014" SG is a huge hard covered book, being well over 600 large format pages in full colour, and this year is quite cheap - and trust me, you'll do well to invest in one.

Seamail stock from England will be just about to arrive in Australia as you read this, and all major dealers will stock it - I had good pre-orders for the airfreight copies.

Many collectors only buy a "Part 1" each 5 or 10 years, and the cost amortised annually, runs into what a small Pizza will cost you!

A great effort from editor Hugh Jefferies and his team - how they get the vast swag of Catalogues out beats me!

Hugh is sadly phasing out of catalogues after a very long time at the helm, and I hope he stays connected there for longer than he plans!









Get my regular market update emails FREE. Stamp gossip, price trends, record sale prices, and many one-time stamp specials, wholesale bargains, and exciting offers and breaking philatelic news. A mini stamp magazine in every email! "KNOWLEDGE IS POWER". The ONE stamp list you MUST be on, to keep in touch with the rapidly changing world market. One client made $65,000 profit in a few months after following my specific advice. Sign up securely and quickly by clicking HERE to access my automated data base. And wiser still ADD your home AND work email, if I only have one right now. Add a stamp friend's email address if you wish. One short click and you are subscribed to probably the most read email list in the stamp world!


Instant Currency Conversion


FREE! Just click here...




If you would like to be notified of updates to this website,

Click HERE. If have any questions,
or comments regarding my site, please email me at glen@glenstephens.com



| | |
| --- | --- |
| | Search all my 300+ web pages! Simply type in what you are looking for. "Penny Black", "Latvia", "Imprints", "Morocco", "Fungi" "Year Books", etc! Using quotes ( " ) is more accurf used with no quotes. Search is NOT case sensitive. Tip - keep the search word singular - "Machin" yields far more matches than "Machins" etc. |



I am a Dealer Member in Good Standing Of:

Full Time Stamp Dealer in Australia for over 30+ years.

Life Member - American Stamp Dealers' Association. (New York)
Also Member of: Philatelic Traders' Society. (London)

GLEN $TEPHEN$

Full Time Stamp Dealer in Australia for over 25 years.

Life Member - American Stamp Dealers' Association. (New York)
Also Member - Philatelic Traders' Society. (London) ANDA. (Melbourne) American Philatelic Society, etc


ALL Postage + Insurance is extra. Visa/BankCard/MasterCard/Diners/Amex all OK, even for "Lay-Bys"! All lots offered are subject to my usual Conditions of Sale, copy upon request BIGGEST STAMP BUYER: Post me ANYTHING via Registered Mail for my same-day cheque. Avoid the GENERALLY 40% Auction " Commissions" (15% + 17½ + GST, etc.) AND their five-month delays! Read for details.

"Lothlórien4 The Tor Walk, CASTLECRAG (Sydney), N.S.W. 2068
Phone: (02) 9958-1333&n Fax: (02) 9958-1444 (Both 25 Hours, 7 Days!)
E-Mail: glen@glenstephens.com
Web Sites: www.glenstephens.com www.glenstephens.net or www.australianstamps.net