Click To Go Back To The Main www.GlenStephens.com Stamps Homepage

Welcome! You are visitor
to www.GlenStephens.com




Glen Stephens
Monthly "Stamp News" Market Tipster Column


December 2014

---
Wooden Stamps!
Many would agree with me that the Victoria "Woodblock" stamps will not win any beauty contest prizes!

They were pretty crude looking stamps, primarily printed and issued in the mid to latter 1850s period.

The 6d Oranges do nothing whatever at all for me really, but the stamp shown nearby, SG 58, recently sold for around full SG catalogue at over $A4,500.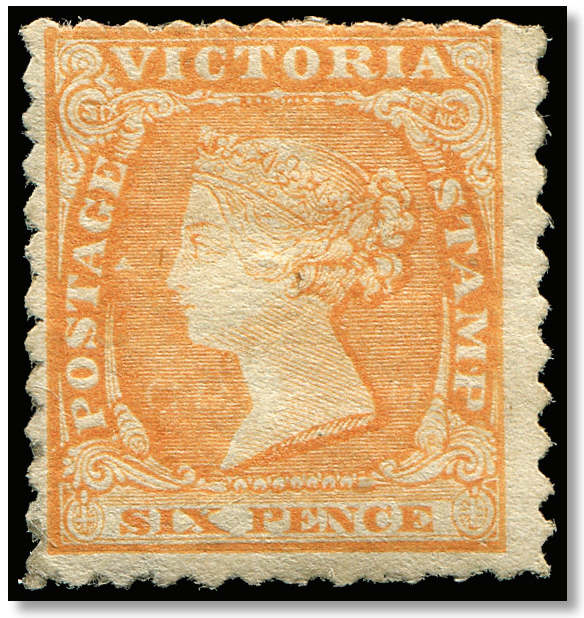 THIS sold for over $A4,500!
They were literally printed from designs individually carved multiple times into "the best hardened Turkey boxwood" (his words on official PO quote) by Samuel Calvert.

The 2/- green was the first "Woodblock" stamp to be issued, and they were printed directly off the wooden "plates" of 25 that Calvert hand-engraved.
A million stamps for £275.
The wooden plates lasted remarkably well - Calvert printed, gummed, and delivered 1 million of these 2/- stamps for £275 - including all paper, and the engraving of 3 plates of 25 - only 1 of which was actually used.

Despite the large number sold, multiples are not common. The used strip of 3 shown nearby was invoiced at double estimate for $A2,385 despite being SG 44 £570, so way over twice SG.

Sold for way over double full SG.
The far more famous "Woodblocks" - the very valuable Cape Of Good Hope Triangle pair from this era, SG 13/14, were not in fact printed from wood at all, but from engraved steel plates the SG Catalogue tells us.

Phoenix Auctions on October 25 had a dedicated auction of one man's collection of these stamps - local identity Roland Geitenbeek's International Gold Medal "Woodblocks of Victoria".

On stampboards.com Rodney Perry (who once owned many of these rare pieces) made the following comments, and it says it all really:

"Very few auctions occur in Australia which present the very best the world has to offer. The Geitenbeek Victoria Woodblocks is an exception. There is no better collection of its type in the world.

Within this collection are many, many items which are the best extant of their kind. Not the second or third best … the very best extant."
Auction with 4 stamp designs
| | | |
| --- | --- | --- |
| | While only four face-different stamps were involved, this collection covered the fascinating transition period from imperforate to perforated stamps, with all the experimental separations that were used, before finally settling down to standard perforators. | |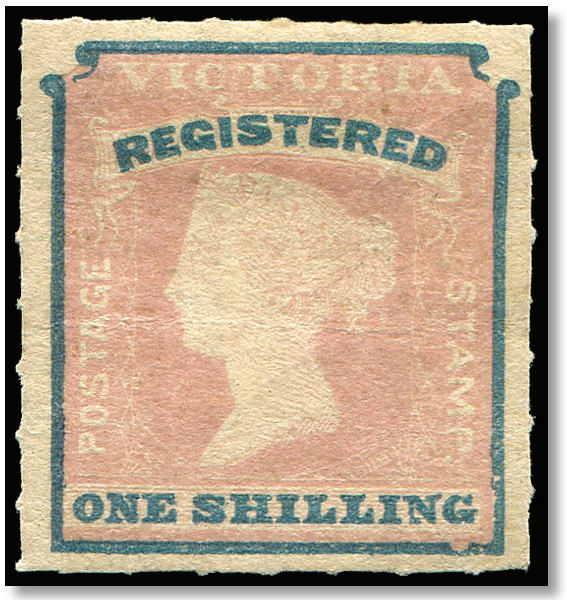 "I'd have Bulldozed all before me"
The 1/- 1857 "Registered" bi-colour roulette did well I thought, being invoiced at $A17,000, and hence way above the full SG cat of £8,000.

Perry commented: "the Registered 1/- roulette unused (Lot 207), ex Pack & Dale-Lichtenstein, is one of the most remarkable stamps of the British Empire. Just two unused examples are recorded - the other is in The Royal Collection.

This stamp was on my "must have" list when I collected Victoria. Fair to say, had it have been offered publicly in my era, I would have bulldozed all before me to ensure I would call it my own."

The number of different perforators used was quite surprising, with the 6d orange having nine different types offered in the Auction, far more than are catalogued.

In the past many of these roulettes were considered un-official or private, however most specialists now consider that nearly all of them were officially sanctioned.
Victoria first in the world.
Victoria was the first country anywhere to issue specific "Registered" and "Too Late" stamps - indeed it was the only country anywhere, to ever issue the latter.

This 6d was the PO fee to lodge mail for 15 minutes AFTER the official PO closing time, so it could be rushed to the ship's dock, or train station etc.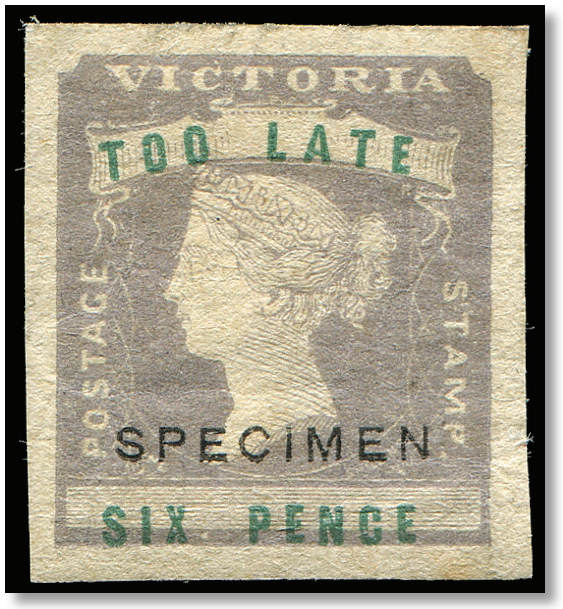 The only copy obtainable.
These two were also both "Woodblocks", and also hand-engraved on boxwood, and both were bi-coloured, unusual for anywhere globally at that time, in 1855.

The TOO LATE 6d "Specimen" with part gum and light crease shown nearby, was invoiced for about $A6,000, and appears to be the only buyable example.

One is in the Royal Collection, and the Bill Purves example was incinerated in the "Ash Wednesday" horrific bushfires. $A6,000 for a "unique in private hands" stamp does not seen very steep to me.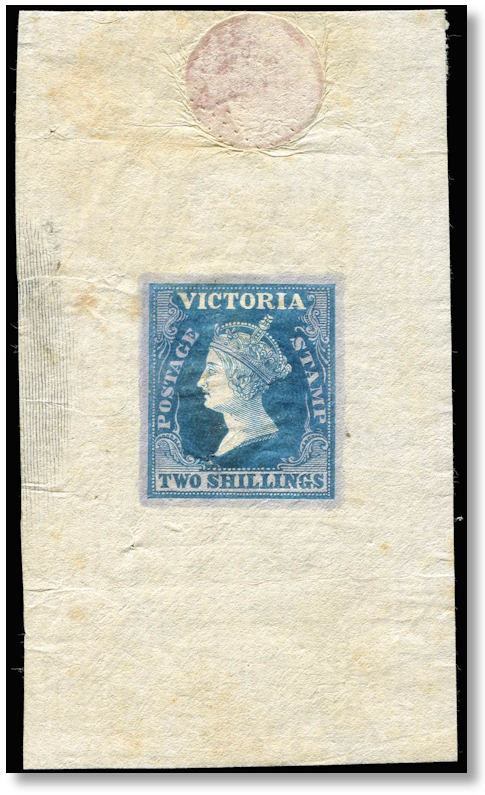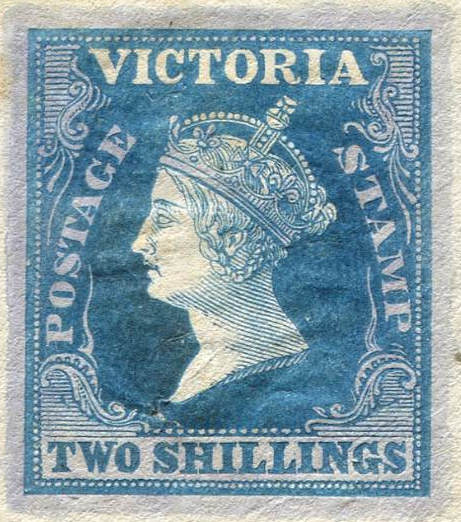 "Make her more Queenlike."
One item in the Auction that was unsold at time of writing was the Calvert 1854 essay for the 2/-, and detail of it is shown nearby - amazing skill for WOOD engraving!

The official comments on this essay still exist and note that the design was too large, and needed to be: "a little more Queenlike".

How removing the large Royal Crown from the accepted design made Her Majesty "More Queenlike" I am not sure, but that is exactly what occurred.

The sale did quite well I'd surmise looking at the results, with not many unsolds, and a few nice "flyers". For a rather niche collecting area, I'd assume all parties were pleased with the end results.
"Sydney View" Essay $A175,000
Essays for early States issues can bring big money. The one shown nearby was auctioned by Prestige in Melbourne on November 14, just after this piece was typed, so I can't update you on price obtained.

Prestige produced a 16 page A4 size colour catalogue just for this piece. Engraved by John Carmichael in 1849, it is rather similar to the issued stamp.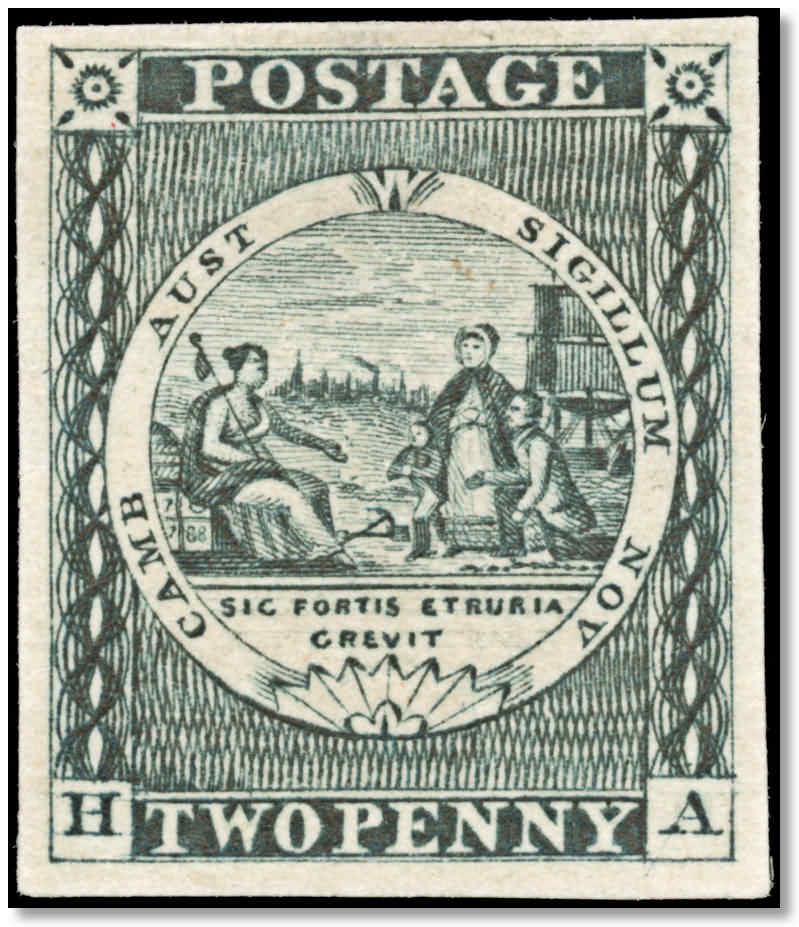 "Sydney View" Est. $175,000
Sydney is shown as a thriving industrial city with Birmingham-like smokestacks across the horizon, and not as the fledging little convict town it truly was, so soon after settlement.

It was last sold for $US12,100 in November 1995 in the USA - then $A16,133, by Robert Siegel in New York, as part of the well-known "Manwood" collection, as the colour catalogue points out.

14 years later, it has a reserve of $A150,000 and estimate of $A175,000 (plus commissions) and it will be interesting to see how it fares in the local market.
Guinness by the GALLON!
I was driving around Ireland for most of October. Tootling aimlessly around Éire (via Northern Ireland of course) on the smallest backroads possible. Drinking Guinness, and enjoying live Irish music in pubs at night!

Visited the most Northern, Western, and Southern points of Ireland. Choosing letter October was a BIG weather risk, as many places close for Winter at end of October when clocks are adjusted back an hour.

Whomever said Ireland has four seasons in each day lied - there are at least FIVE I discovered. All involve rain.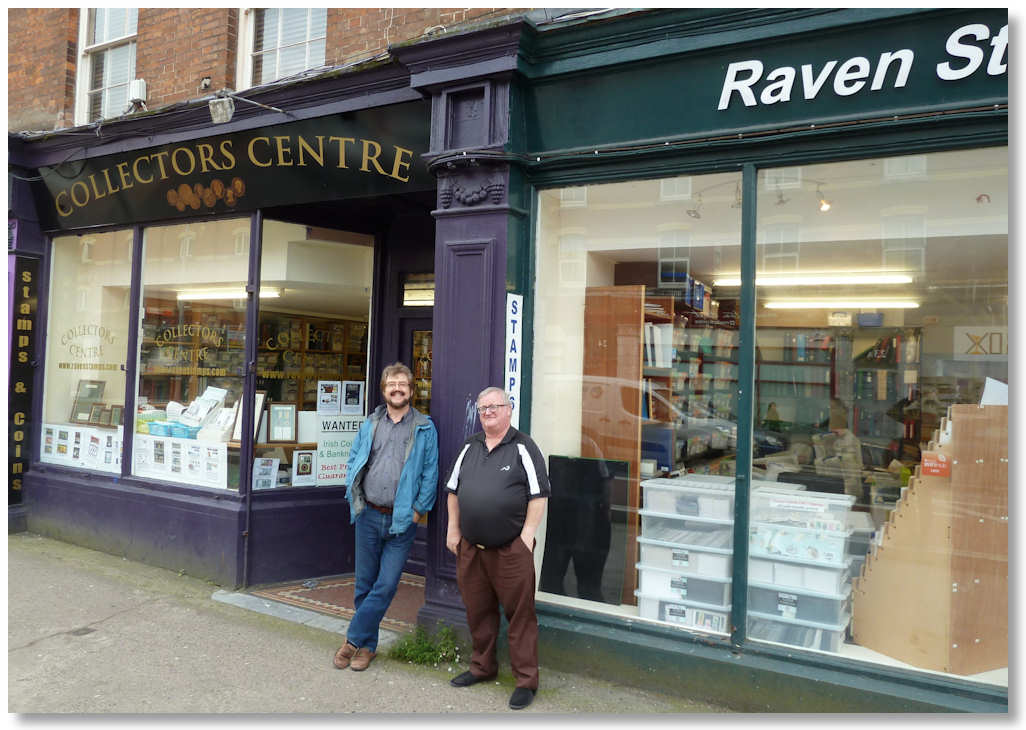 The last stamp shop in Ireland?
| | | |
| --- | --- | --- |
| | When in Cork we visited Padraig (pronounced "Podrik") O'Shea, who runs Raven Stamps, and is a stampboards member, and is someone I have dealt with for many years. | |
Not one, but TWO shops.



When in Cork we visited Padraig (pronounced "Podrik") O'Shea, who runs Raven Stamps, and is a stampboards member, and is someone I have dealt with for many years.

Padraig tells me he now runs the only retail stamp shop in Éire and Northern Ireland. Indeed he has TWO shops next to each other in downtown Cork, the second largest city in Éire.

One shop for retail stock, and one for messier stuff to be sorted, and he has more stock stored nearby!

I am pleased to say Padraig has a filing and organisational style very much after my own neat and patented filing system - tinyurl.com/stampmess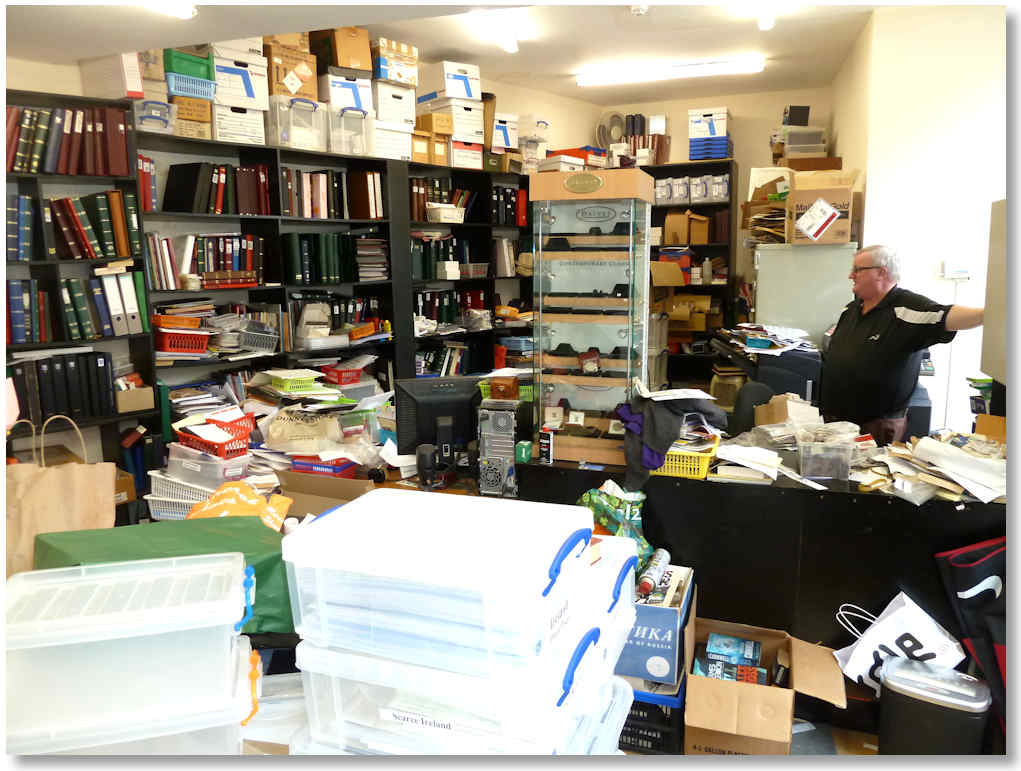 He stole my filing system!
| | | |
| --- | --- | --- |
| | All male readers should click on that stampmess link and show it to your dear lady. You will *NEVER* get any grief about your untidy stamps and mess ever again, trust me! | |
Unissued KEVII Block sells £260,000



| | | |
| --- | --- | --- |
| | My last column was typed a week or so before the October 16, Spink London sale of the unique and unissued Australia KEVIII 2d Red block of 6, from the Vestey Collection. | |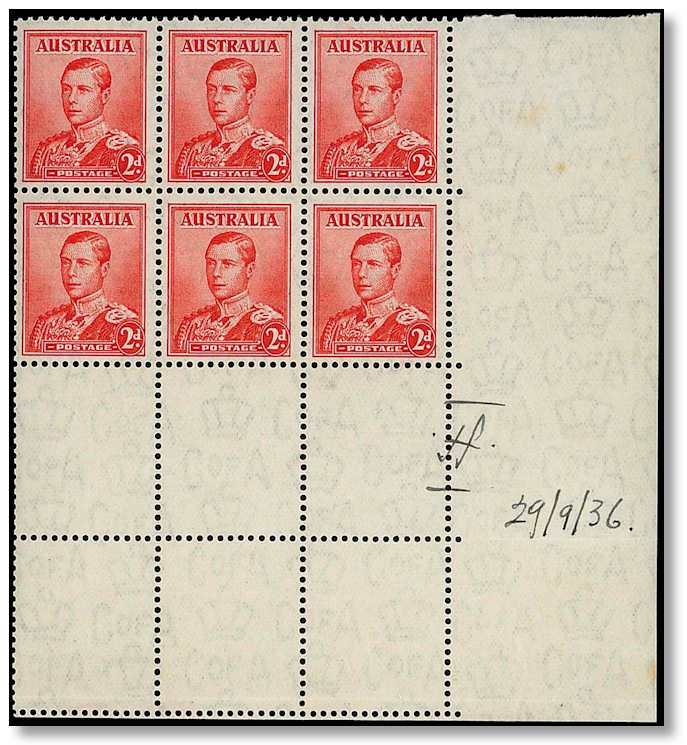 Invoiced for about $A500,000
The block fetched about half what some VERY experienced observers had predicted, but still was invoiced for £260,000 - around $A500,000 at that time, as the dollar had sunk badly.

To this day I understand nothing remains in the Australia Post Archive collection. No stamps, and no proofs. And even stranger, NOTHING of this issue resides in the Royal Collection of Her Majesty The Queen.

Full catalogue value for the 6 stamps shown nearby is $A150,000, so this result was over 3 times the full ACSC catalogue value. Amazing.
World record price for Australia.
This is a world record price for any Australian philatelic item, beating out the $A326,000 that Phoenix Auctions got for the 1928 Kookaburra imperforate mini-sheet ex Stuart Hardy in November 2012.

I spoke to the KEVIII buyer today - well known Victorian dealer Mark Knothe, who was in Sydney today calling the PHILAS Auction.

He is happy to be named as being the buyer, acting on behalf of an expatriate Australian, now living overseas. Knothe flew over to London for the sale.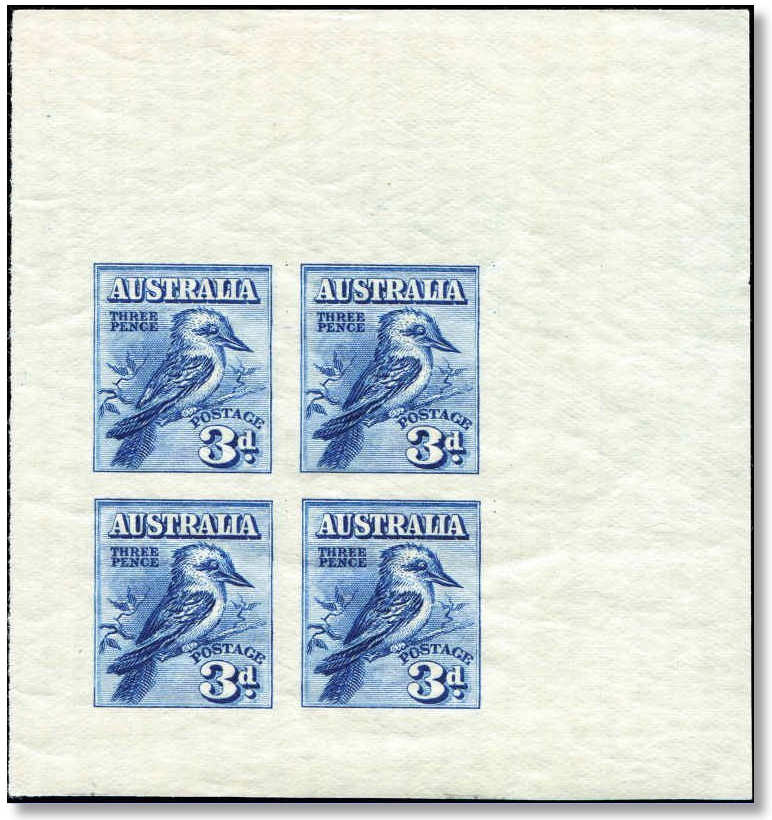 Auction record $326,000 broken.
Mark said his buyer still had "plenty of gas left in the tank" at £200,000 plus fees. So in the apparent absence of serious (or any?) bids from Australia Post and Her Majesty, he got a terrific buy, at the lowest end of the estimate band.

He advises the 2 left hand stamps are available for sale to well-heeled collectors or investors, if anyone cares to contact him! gknothe@bigpond.com
Two KEVIII stamps for sale.
This sale clearly shows there is plenty of money out there for top end Australian stamp material, and the price records keep getting broken.

As the sale is completed, it can now be revealed that the person to whom Victoria Governor Huntingfield mailed the 6 stamps to in 1936, was none other than Sam Vestey's great-grandfather, Sir William Vestey - the First Baron Vestey.

The Government demanded the printer destroy all copies, proofs and plates of this stamp after the abdication, and clearly Governor Huntingfield did not try very hard (if at all) to obtain the stamps back.

The Vestey Family earned some notoriety in Australia, due to disputes with the aboriginal Gurindji people, and their land rights, and appalling pay and working conditions.

In August 1966, Vincent Lingiari, a Gurindji spokesman, led a walk-off of 200 Aboriginal stockmen, house servants, and their families from Wave Hill station in NT, as a strong protest.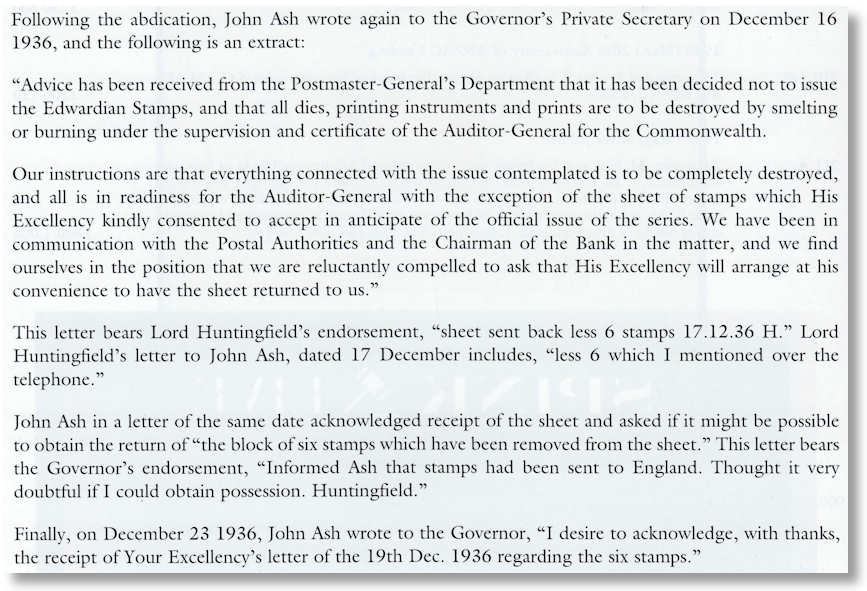 Governor's make their own rules!
| | | |
| --- | --- | --- |
| | This "Wave Hill Walkout" was a famous and historic event in Australian indigenous relations history. | |
Vesteys and the Gurindji People.
The strike was part of a widespread campaign begun by workers on Brunette Downs Station, and supported by non-Indigenous people, including unionists, and the prominent author Frank Hardy.

In 1972, PM Whitlam announced that funds would be made available for the purchase of properties that were not on reserves, and Lord Vestey offered to surrender 90 square kilometres to the Gurindji people.

Daguragu was acquired by the Aboriginal Land Fund Commission and on 16 August 1975. then PM Whitlam transferred leasehold title to the Gurindji, symbolically handing soil to Vincent Lingiari.

The Gurindji campaign was an important influence on the events leading to passing the Aboriginal Land Rights Act (Northern Territory) 1976.

Those who watched Gough Whitlam's State Funeral this week are keenly aware of the ongoing national importance of that Whitlam initiative.
Gibbons "Part One" released.
For me the "event" of this month was the arrival of the new 2015 Stanley Gibbons "Commonwealth & British Empire Stamps 1840-1970" catalogue.

This volume is known to old-timers and the trade as the "Gibbons Part One" - as once, the other Volumes were numbered, and were "Americas" and "Asia" etc.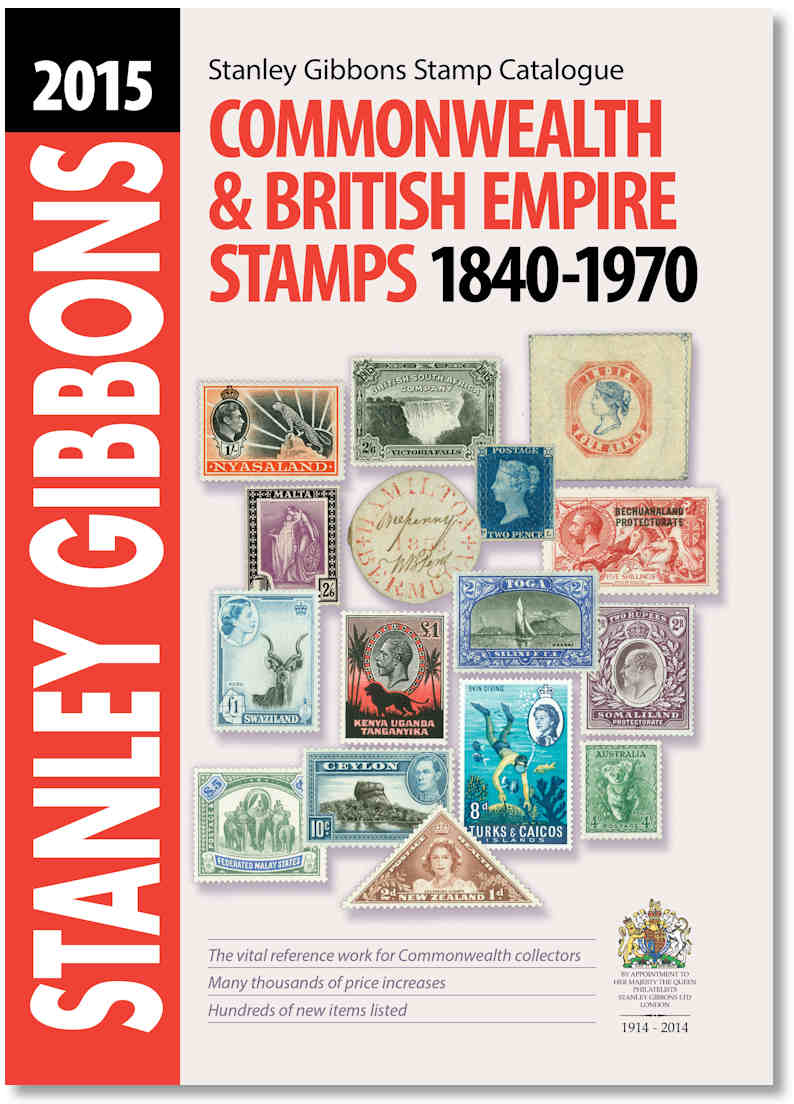 New 2015 Gibbons Cat.
| | | |
| --- | --- | --- |
| | The average collector buys a new major catalogue only once every few years as they are expensive. For many, being a few years out of date is no big deal. THIS is the year to update! | |
Colourful and vibrant SG.
Printed on a nice crisp fresh white paper stock. Cheery and "alive" compared to my already VERY yellowed early 2000's SG pages, with sad grey illustrations.

A nice crisp clean sans serif font has been used for the last few editions, and makes it so much easier to read.

Lots of constant plate flaws, and booklets are now listed. And lots of inverted watermarks - find just a really medium one from a country like Australia, and the entire book will be readily paid for!

Did you know the "Top Hat" flaw on the 6d Kookaburra is now cat £1,000 mint - up from £550 just last year? A very rare flaw, and very seldom offered. Buy off someone using last year's cat, and YOU win!

Or the "Man with Tail" on 1937 2d NSW is now £700 mint and £130 used. I found 2 used copies this week in a kid's collection - those 2 literally paid for this catalogue.

Were you aware a ½d Orange Kangaroo Coil Block of 4 is now Cat in SG at £950 mint? "Knowledge Is Power" - as I have typed here 1000 times!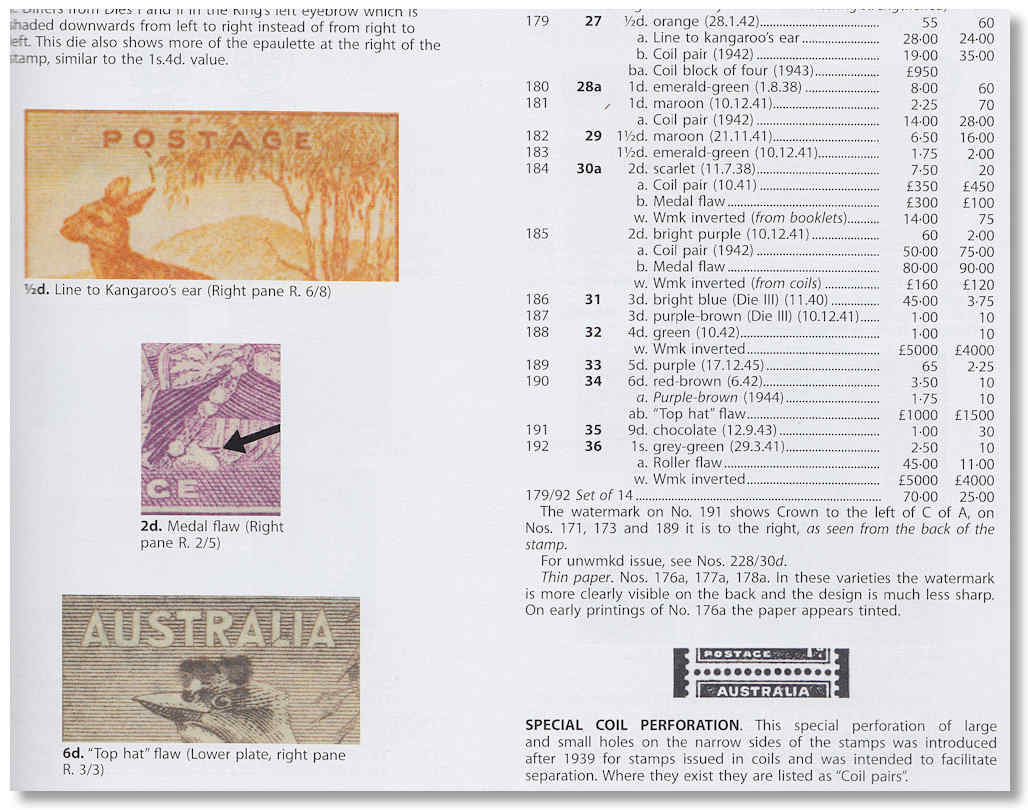 "Top Hat" from £550 to £1000.

Did you know the 1941 1/- Lyrebird with inverted watermark is Cat £5,000 mint, and £4,000 used (up from £4000/£3000) - but just 10p in normal used etc?

GB is never quiet, and there are price rises spread across the listings in here, ditto for the British Commonwealth.
Australasian Prices UP

I studied the prices for the Australasian stamp listings for an hour or so today in this new catalogue.

My general impression is that there were many increases right across the board, versus the 2014 Edition.

All the Australian "States" seem up or unchanged overall once again - this is a VERY strong area, and demand is high, as my Geitenbeek results above prove.

NSW "Sydney Views" seems up near across the board again. SG 14 mint is up from £9,500 to £12,000 to £14,000 in the past 3 editions, was one example I spotted.

The GOOD news for Australian buyers is that despite the suddenly weak Australian dollar, the even thicker than before 2014 SG edition is just $A180 RRP this year - exactly what they sold for here way back in 2011!
Same retail price as 2011.
The UK retail price on back cover says £84.95 (=$A160) and being a super heavy book, the local RRP is most attractive, as shipping ex UK is £25 extra, and SG use worthless meter franks sadly.

I did a client special on these at $A170 and got a lot of response. Let me know if you need one, as this is a "must buy" volume.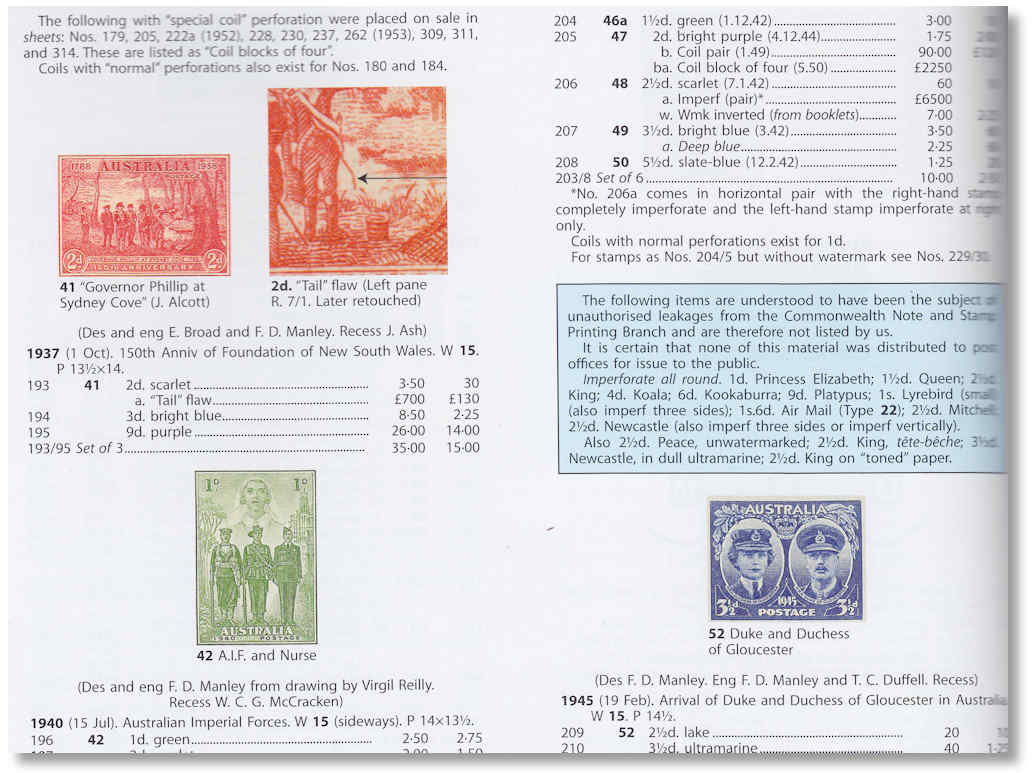 "Man With Tail" Flaw £700


Quite simply, an ESSENTIAL volume to sit on the desk of every collector, every auction, and every dealer who ever handles British Commonwealth stamps.

It was a good compromise idea taking the catalogue listings up to 1970. It can be price updated each year, and yet not greatly affect the overall book size.

An 1840 to 2014 detailed set would easily run 4 or 5 volumes, and essentially no-one could afford to buy it.

Personally if I ever need to look up modern Guyana (and I never have!) I'll do that via the massive 6 volume SG "Stamps Of The World."
Now 630 large pages.
This new "2015" SG is a huge hard covered book, being well over 630 large A4 format pages in full colour, and this year is quite cheap - and trust me, you'll do well to invest in one.

Seamail stock from England has just arrived in Australia as you read this, and all major dealers will stock it - I had very good pre-orders.

Many collectors only buy a "Part 1" each 5 or 10 years, and the cost then amortised annually, runs into only what a small Pizza will cost you!

A great effort from editor Hugh Jefferies and his team - how they get the vast swag of SG Catalogues out beats me!

Hugh is sadly phasing out of catalogues, after a very long time at the helm, and I hope he stays connected there for longer than he plans!









Get my regular market update emails FREE. Stamp gossip, price trends, record sale prices, and many one-time stamp specials, wholesale bargains, and exciting offers and breaking philatelic news. A mini stamp magazine in every email! "KNOWLEDGE IS POWER". The ONE stamp list you MUST be on, to keep in touch with the rapidly changing world market. One client made $65,000 profit in a few months after following my specific advice. Sign up securely and quickly by clicking HERE to access my automated data base. And wiser still ADD your home AND work email, if I only have one right now. Add a stamp friend's email address if you wish. One short click and you are subscribed to probably the most read email list in the stamp world!




If you would like to be notified of updates to this website,
Click HERE.
If have any questions,
or comments regarding my site, please email me at glen@glenstephens.com
| | |
| --- | --- |
| | Search all my 300+ web pages! Simply type in what you are looking for. "Penny Black", "Latvia", "Imprints", "Morocco", "Fungi" "Year Books", etc! Using quotes ( " ) is more accurf used with no quotes. Search is NOT case sensitive. Tip - keep the search word singular - "Machin" yields far more matches than "Machins" etc. |


I am a Dealer Member in Good Standing Of:

Full Time Stamp Dealer in Australia for over 30+ years.
Life Member - American Stamp Dealers' Association. (New York)
Also Member of: Philatelic Traders' Society. (London)
GLEN $TEPHEN$

Full Time Stamp Dealer in Australia for 35 years.

Life Member - American Stamp Dealers' Association. (ASDA - New York) Also Member - Philatelic Traders' Society

(PTS London) and many other philatelic bodies.

ALL Postage + Insurance is extra. Visa/BankCard/MasterCard/Amex all OK, at NO fee, even for "Lay-Bys"! All lots offered are subject to my usual

Conditions of Sale, copy upon request .

Sydney's

BIGGEST STAMP BUYER: Post me ANYTHING via Registered Mail for my same-day cheque. Avoid copping the Now normal 45% Auction "Commissions" (15% Buyer + 20% Seller + GST, etc) AND their five-month delays!

Read HERE for details.

"Lothlórien", 4 The Tor Walk, CASTLECRAG (Sydney), N.S.W. 2068

Australia

Phone 7 Days: (02) 9958-1333

PO Box 4007, Castlecrag. NSW. 2068


E-Mail: glen@glenstephens.com The Number #1 Web Sites: www.stampboards.com

This line is 12 point
This line is 13 point
This line is 14 point