Click To Go Back To The Main www.GlenStephens.com Stamps Homepage

Welcome! You are visitor
to www.GlenStephens.com


December 2015


---
Arthur Gray "KGV Era" Sale
The stamp "event" in Australia this year, was without doubt the mossgreen auction of the "Arthur Gray Australia KGV Era" stamp collection, on October 30 in Melbourne.

I flew down for the day long sale, and the dinner the evening before. It was a great success, with Auctioneer Gary Watson advising me as this column went to press, that some 96% of the lots had found new homes, with less than 20 being unsold at that time.

A good number of pieces were snapped up after the sale, with many 5 figure items among them - often at the exact same price as offered unsold in the room. Not sure why that pattern occurs, but you see it a lot at stamp auctions here.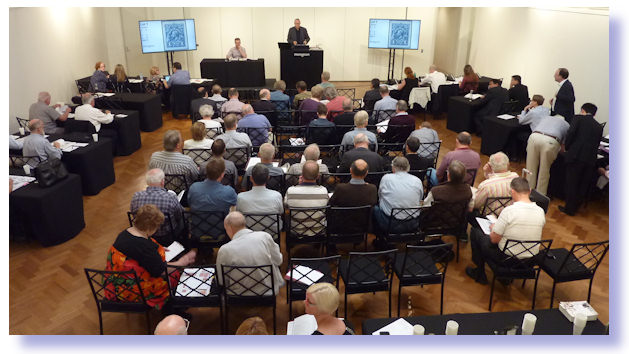 A Full House for Arthur.

The auction "Hammer" prices were at time of typing this, over $2.3 million already and some still being negotiated, and with the inescapable auction "add ons", the buyer invoices are many $100,000s more, on top of that figure.

Most of the lots were sold to Australian buyers, who paid 20.9% of top of the "Hammer Price". i.e. a "$1,000" lot was invoiced to me at $A1,209 before shipping and insurance. Credit card use attracts an extra, and quite excessive 2.2% for Visa/MC, and 3.3% for Amex, GST inclusive.
Sneaking up to $3 million mark.
So invoice totals were nudging up toward the $A3 million mark when all "adds on" were included. Even the mossgreen website shows the actual sum invoiced incorrectly, as for all local bidders the 10% GST upon "Buyer Fee" is not shown on their "official" prices realised list, for some very strange reason. So all my purchases are showing as costing me far less than they did!

A very impressive result, as this sale literally had 100s less lots than the Gray "Kangaroos" sale in 2007, and far less 6 figure "Super Star" type pieces, as that section of Arthur's Gray's collection possessed. It contained to Kangaroo stamp lots at all.

Indeed this sale established an Australian record price for a single stamp auction here, nudging out the Phoenix Auctions May 2013 "Stuart Hardy Kangaroos" which invoiced at $2,587,000. And that figure in turn more than DOUBLED the previous best sale here - by any auction, at any time.

So good Aussie pre-war stamps are powering along, and this result shows the global strength and depth of this type of material. That is good for the market. Indeed as much of the sale was bought by local dealers, the material is already selling for way above the auction figures. I bought many lots, and those I've offered have sold fast.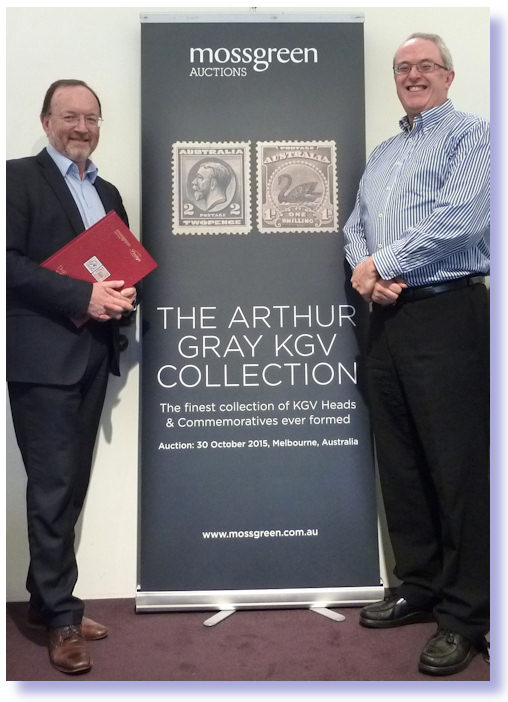 Two VERY happy auctioneers!

I must say I was very impressed at the smooth and professional way the sale and viewings and social arrangements were handled by mossgreen, and I took the photo nearby of Charles Leski (left) and Gary Watson, looking VERY pleased with the outcome.

Arthur passed away on May 22, and this sale was in the pipeline well before that. Wife Nancy and daughter Rebecca flew down for the sale. This sale was only of the "Exhibits" - the balance of his vast "KGV" stamp holding will be offered early 2016, doubtless also bringing a very large figure.

This recent sale was a combination of just two of the very many Arthur Gray "Exhibit" collections – the "Australia KGV Definitive Stamps" and the "KGV Commemorative stamps".
TEN International Large Golds.
They earned TEN International Large Golds between them. And many International Golds, and many top national awards too. Not bad for a bloke who had never exhibited until 17 years back.

The sale contained not only the "KGV heads" issues in huge depth, but all the KGV era Commemoratives, the 5/- Harbour Bridge in full sheet etc, many 1927 Canberra imperfs, and corner Plate Numbers and retouches, and re-entries, and Officials etc.

tinyurl.com/GrayKGV is the detailed ongoing discussion on stampboards of this sale, and was the first report anywhere on this major event. Many of the other stamp photos from his good friend Geoff, and mossgreen, are on that link, for those interested, plus the high prices obtained.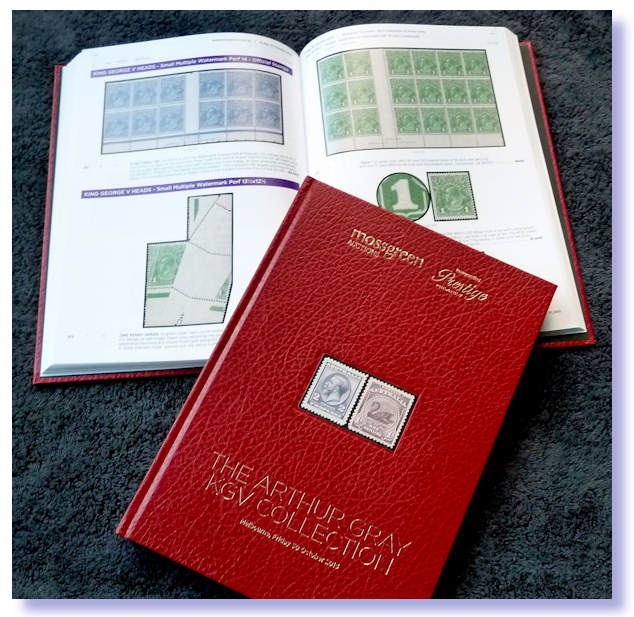 An essential reference book.

"KGV" ran to 270 pages in hardbound form, and no other stamp auction catalogue from ANYWHERE globally is of better quality. This is truly a "KGV" handbook, with large detail colour scans on every page. When the prices realised pages are added, it becomes an essential reference book to own. I ordered and sold many.

The sale attracted a "full house" in the mossgreen salerooms, and I took the photo nearby from the rear of the room, just before it started. Gary Watson on podium, and which does not show the dealers and bidders sitting to either side of this view.
Intense bidding at times.
There was active internet bidding globally, plus many "book" bids, and the usual room bids, and quite a deal of phone bidding at times too, so the sale took quite a while, as some lots were very hotly contested, sometimes via all these platforms.

The catalogue front cover item, the unissued 1914 pair, sold for around $A185,000 after add-ons, and was bought in the room by Phoenix Auctions identity Ken Pearson, acting on behalf of a client. I got to hold them for a photo, before they were whisked away to a new home!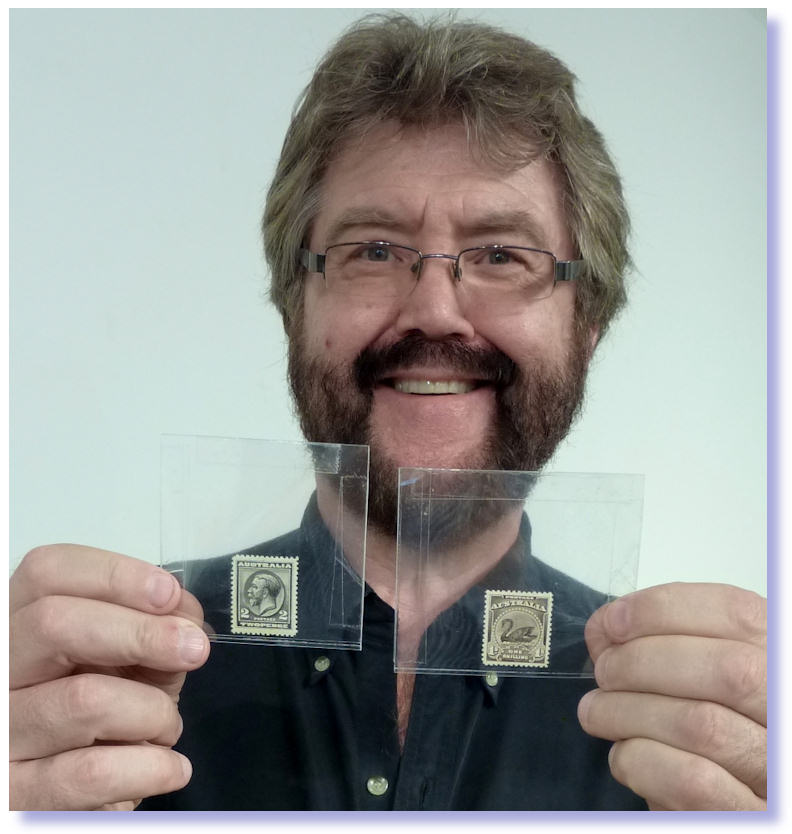 Found a new home at $A185,000.

I bought the only Die Proof of either of these stamps that exists in private hands. Even the Royal Collection does not own one, NOR the Australia Post archives. ACSC Cat $25,000, with Drury Cert, it is $A9,950 on my Rarity Page, and even at that level, in my view, was the absolute bargain of the sale. Many of the later 1d KGV Proofs sold for over double that, and yet often exist in multiple copies.

I was in the room at Harmers of Sydney in 1979 when the Herbert McNess collection was being sold. I bought a lot of material at that sale too, and was an under-bidder on the 1914 pair. Much of it is still buried here untouched on Harmers stockcards! This pair were the front cover item then as well. In the McNess sale, this pair sold for $20,500. This month it sold for over NINE times that.

Major auctions then somehow managed to get by wonderfully with a 10% Buyer Fee, and yet still pay city rents, staff, ads, overheads, printed catalogues etc. Fast forward to 2015, and the Buyer Fees are over 20%, to cover the exact same overheads - on FAR higher realisations!

There were price highlights and indeed many world records all through the sale, and there are far too many to mention here in depth. My fellow columnist Rod Perry will I am sure have a few favourites of his to outline in detail elsewhere.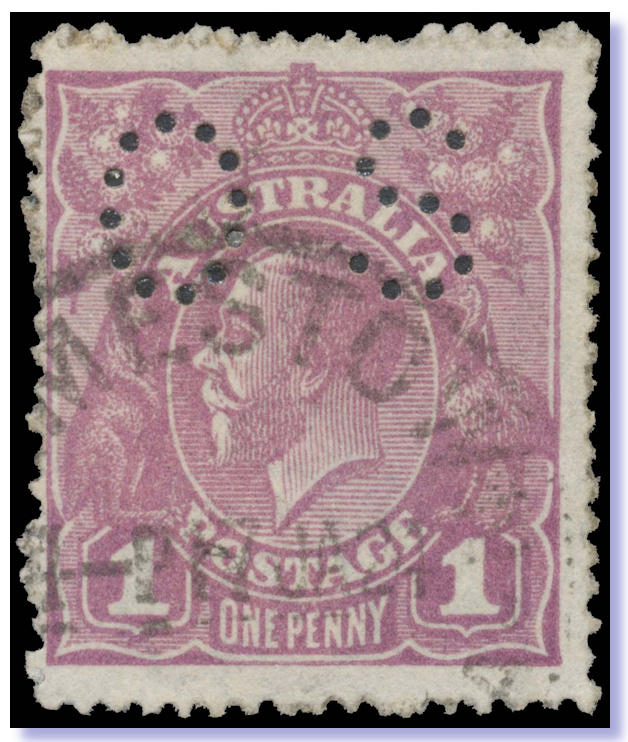 Ugly stamp sells way over cat!

| | | |
| --- | --- | --- |
| | Many things got well over the recent ACSC "KGV" catalogue prices, so never assume paying "Full Cat" is wildly overpaying! The rather ugly looking 1d violet shown nearby with inverted watermark, was invoiced for near $A46,000 - well over full SG cat, and indeed is 30% more than the ACSC value of $A35,000. | |
Inverted Watermarks very strong.
Many of the key KGV inverted watermarks sold for ABOVE the recent ACSC "KGV" where many said the new prices were 'overly high'. So much for those saying inverts are a passing fad! Lot 238, a 4½d Violet used sold for about $26,000, and Lot 308 1/4d Blue getting about $34,000 (ACSC Cat $25,000, and est $12,000) are worth mentioning.

There were several FDC in this Gray sale that got World Record prices. Pre-War FDC are HOT this year. The 1935 Silver Jubilee trio nearby on a standard Mitchell cover I'd have priced at full cat or $300 if it were mine, and new into stock. It was invoiced for over $A900! Estimate only $200.

A 1d Red line perf Fred Hagen cacheted FDC to NSW, sold in the room for $33,850 to someone who really wanted it, at 35% OVER the full ACSC of $25,000. A World Record price for an Australian FDC I have no doubt. I foolishly sold a quite superb and unique Hagen FDC to Germany of the 1913 1d Engraved KGV, along with ½d and 1d Roos, for under $9,000 last month!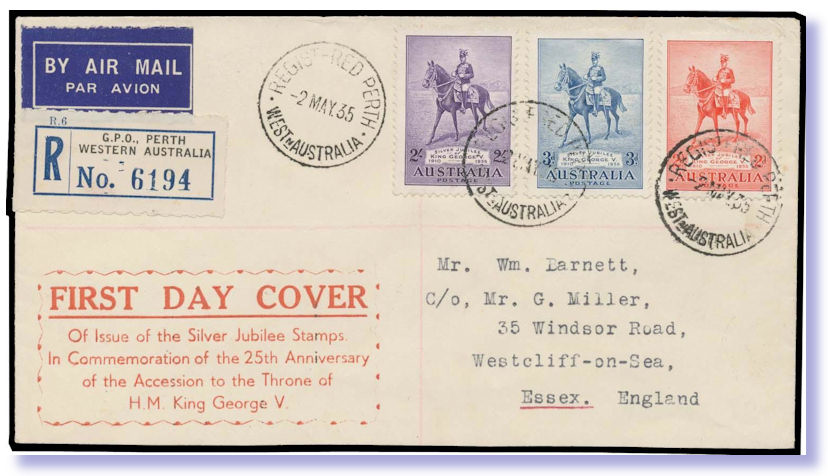 Cat $300, Invoiced for $A900+

Even a 1932 Sydney Harbour Bridge total forgery FDC sold for over $A2,500. A GENUINE set on Opening Day cover with N.E.Pylon cds, sold for $450 less! A postally used 5/- Bridge single stamp got near $800 - they are on the rise lately, as they are 100s times scarcer than CTO.

There are many more highlights of course, and tinyurl.com/GrayKGV contains many of them for those interested in seeing where the trends are, and reading up on the "Hot" areas to collect, and track down. Many lessons to be learned here.

A great result in the end, when after auction sales were processed, and it illustrates yet again after the gang-buster Stuart Hardy KGV and Kangaroo sales, and the Hugh Morgan sales, that this pre-war good material has FAR more buyers than any supply, and has stayed incredibly strong.

Arthur would be smiling down on the results, and the keen support I am sure. His fervent belief was that major collections should NEVER be locked away in damp and dusty institutions, where essentially no-one can see or enjoy or display them. This sale ensures that fate will not occur.
USA Stamp Expo, May 2016.
At the biggest stamp show in the USA this year, the United States Postal Service (USPS) issued new stamps celebrating what promises to be the biggest stamp show in the country next year. Indeed the largest in the world.

The two new "World Stamp Show-NY 2016" stamps went on sale August 20, the opening day of the American Philatelic Society's annual Stampshow, which took place this year in Grand Rapids, Michigan.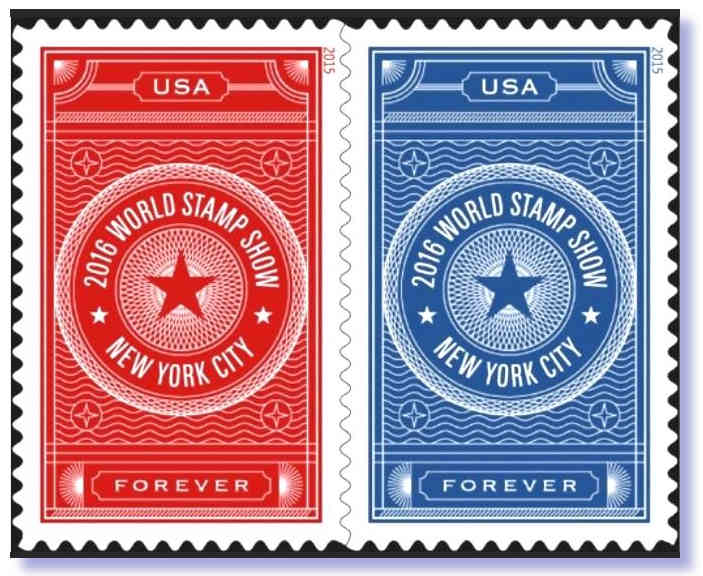 Saudi Arabia Revenue Stamps!?

The once-every-decade international stamp show, "World Stamp Show-NY 2016", will take place in New York City next year, from May 28 to June 4, at the Jacob Javits Convention Center, downtown Manhattan.

The stamp PO pane gives the show a nice promotional boost for the Expo, with text across the top reading, "Come explore exciting new worlds at the World Stamp Show-NY 2016, May 28-June 4, 2016, New York City, NY."

Though printed in different colors, red and blue, the two individual stamps share an identical vertical design that positions a single star within a circle at the center, surrounded by intricate geometric patterns resembling engine turning.

Around the circle is the text "2016 World Stamp Show" and "New York City" separated by two smaller white stars. Additional patterns, lines and ornaments fill the remaining vignette, with "USA" lettered inside a tablet across the top of the stamp, and "FOREVER" within a second tablet at the bottom.
"Inspired by 19th Century Issues"
In "Linn's Stamp News", Matthew Healey reported that the stamp design was "inspired by early 19th-century banknotes and stamps," particularly newspaper stamps, according to USPS creative director for stamps William J. Gicker.

The stamps also bear some resemblance to certain U.S. revenue stamps of the 20th century, such as the ¾¢ and 75¢ potato tax stamps of 1935 (Scott numbers RI1 and RI10, respectively), which have a central vignette showing a young woman.

In a recent news release, the Postal Service reaffirmed Gicker's observation, describing the stamps as "reminiscent of classic engraved 19th-century stamps and banknotes." The self-adhesive stamps, however, are offset-printed in panes of 20, arranged in a checkerboard pattern, that alternates the red stamps with the blue stamps.

Personally I think these new stamps look pretty TERRIBLE - more like Saudi Arabia Revenue stamps, or something pedestrian and boring like that! They are "Forever" stamps, hence they are good for USA domestic letter rate postage. Forever.

Two stampboards members got a cover created and franked with both stamps, postally used, and cancelled in September in Texas. Will there be many real covers bearing both stamps used postally - I doubt it! It is illustrated nearby, to Melbourne Australia.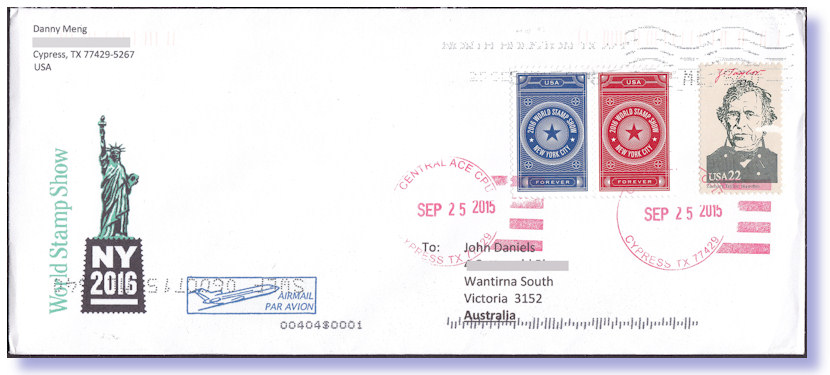 Not many of these will exist.

The highly anticipated "World Stamp Show-NY 2016" will be the first international show in the USA since the very successful "Washington 2006" show 10 years earlier. The show will include international exhibits, with some of the world's top philatelic rarities on display - many from Australia.

More than 200 dealers (Australians included) are booked to take stands at the show, including the U.S. Postal Service with a huge presence of course, and some 50 postal bureaus from around the world. Visit their superb website (ran by Michael Eastick in Melbourne !) for more details - http://www.ny2016.org

I have decided to fly over for a few days for the show and then drive around the Smoky Mountains in Tennessee and Kentucky, and come back home via Japan. For anyone reading this, and wants to catch up for a group dinner there, please chime in here - tinyurl.com/Expo2016
Tip of the Month



Dr. Geoff Kellow has in recent times unearthed the number printed and sold for many of the Australian Colony stamps, that had never been known or published before. There were many surprises to me among them.

The 1902 South Australia "Thin" Postage set is the big surprise. It appears there were only 9,600 printed of the £1. And small numbers also of the 2/6d, 5/- and 10/-. The 5/- apparently only had 24,000 printed, yet sells for peanuts anywhere on earth, mint or used or CTO.

I saw one of these 1902 5/- SA "Long Tom" stamps in official PO cancel CTO condition, in a dealer price list for $15 in recent times. It is really worth TEN times that - even now.

And of these small numbers printed, not all were necessarily issued or sold, as the replacement set to £1 with the word 'Postage' in much thick letters was issued only a year or so later. Additionally much of the use of these high values was on Telegrams, and bulk postage charges, and those copies typically did not enter the stamp market, but were destroyed by Post Offices after audit.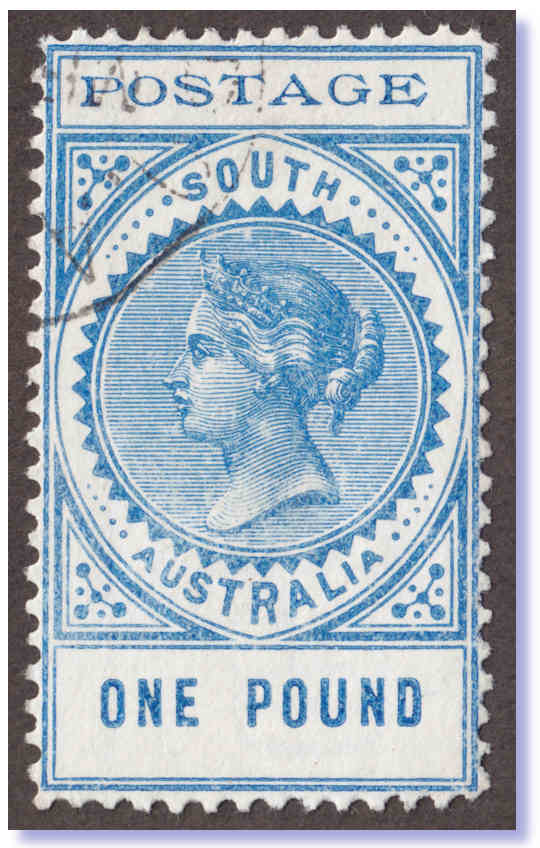 Buy this stamp NOW!

For a 100 year old definitive set to have had less than 10,000 sets printed, a value of many times current levels should be prevailing. You can even today buy complete mint sets for about $A500 and somewhat less for used - most of which existing are CTO cancelled - which perversely are catalogued MUCH higher than Mint in the ACSC!

This set is my absolute 'Blue Chip Tip' for 2015. Buy every set you can find in nice condition at TODAY'S prices (of up to about $600 very fine mint) - mint, used or better still CTO. The retail price of all three types really should already be 2 or 3 times today's levels.
Chase down any set you can!
Do NOT be misled by dealer lists here offering "simplified" sets - you want the set where the word "Postage" is in the far thinner letters on all values. The latter issue 'Thick' £1 is 6 times more common. If both Gibbons and Scott can clearly list them as separate sets - so can local dealers.

The obvious individual standout is the £1 'Thin' postage stamp on its own. Some of the lower values in the set have similar print numbers to the 'Thick' Postage, but to me, the £1 is the clear gem in the entire 'State' issue high values - no doubt about it.

As a good example, the Western Australia £1 QV issue in the same era had 156,000 copies printed, yet has a similar catalogue and retail value. More tellingly, the 1913 £1 Kangaroo had 240,000 copies printed, and yet sells for about 10 times the value either mint or used than this £1 South Australia, which had under 10,000 printed.

The South Australia 1902 £1 "Postage" value is a sleeper among our early issues. It is now widely regarded as an "Australian" stamp, as it was first issued on or after 1901, and as such is in a small but increasingly popular group of high values in that category.

As is generally known, Australia became a "Commonwealth" on January 1, 1901 - the month Queen Victoria died. For postal arrangements, the amalgamation of the six different state Post and Telegraph services was required. This occurred on March 1, 1901. That date can be regarded as the date after which any stamps issued, were done so by the Australian Commonwealth Postmaster-General's Department.
Modern German stamp set sells $A130,000!
| | | |
| --- | --- | --- |
| | A set of 4 postage stamps from the Federal Republic of Germany was sold by Schlegel Auctions in Berlin on October 5/6, 2015 for a huge price. They were invoiced for 86,000 Euro, or just over $A130,000 as I typed this. | |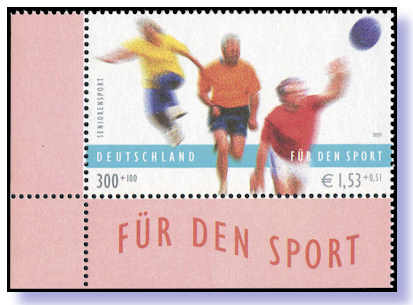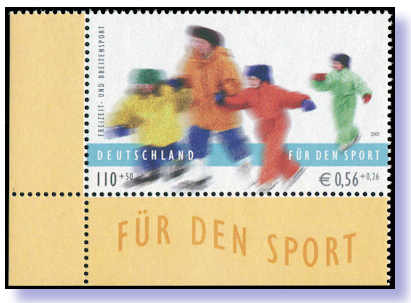 Set of 4 sells $A130,000.

Among the lots was the set of 4 Charity or "semi-postal" stamps shown nearby. As you can see, the stamps are all denominated in both Deutschmark currency, and Euro currency, as the practical changeover to the new currency was just occurring as these stamps were issued in 2001.

Many countries do not routinely issue "Charity" stamps - Australia included. They are long established in Germany and several other countries, and as you can see on the lower value, your 150 Pfennigs went as 100pf to pay for postage, and 50 Pfennig was a donation toward funding German sport.

The set of stamps from 2001 depicts ordinary German citizens engaged in amateur athletic activities. The scans are not deliberately blurred by me, and your eyesight or computer screen is not defective - that was the finished and approved "design"!
Check your Kiloware!
The set of 4 may look familiar to many readers - as the issued set had the exact same designs and sells for a few dollars mint. With one difference. The ribbon band across the lower part of the stamp saying "Deutschland - fur den Sport". This loosely translates to: "Germany - For Sport".

On the issued set, this banner was in a light violet colour. See the USED set 4 shown nearby - that is the common issued set. The MINT set auctioned had the band in a bright turquoise blue as you can see. A very subtle and minor difference, and most would not detect it. Check your Kiloware!
The normal issued set 4.

I have little doubt the normal mint sets exposed to bright sunlight, or even artificial light, or airborne solvents etc, might well turn see the violet bands turn to blue. So, anyone paying huge bucks for these is a brave person, that is for sure! I for one would never be doing it. Far too easy to fake.

According to Schlegel's auction catalog, 10 mint sets of the turquoise blue version were presented to, and approved by, Germany's Stamp Committee. However the stamp designer, Fritz-Dieter Rothacker, apparently changed his mind, and later ordered the final banner color be altered to violet on the stamps that were issued.

Why these unissued sets were not handed back by the Committee I have no idea, but Schlegel Auctions claim this is the first mint set to appear at auction in those 14 years, and they note a cancelled set sold about 5 years back for 50,000 Euro, or about $A76,000 as I type this.
Max Stern shops to close.
A stamp industry icon Max Stern MBE, will see his arcade of shops closed soon, as the central Melbourne arcade they are located in, will be demolished, in the name of "progress".

Max has an impressive bunch of adjoining combined stamp and coin shops - 6 or 7 of them as I recall, in the Port Philip Arcade in Melbourne, next to the busy Flinders Street Station, on Swanston Street.

Rents being what they are in any large city downtown area, it is thought sourcing a large number of adjoining retail shops at a favourable rent will be an impossible ask these days.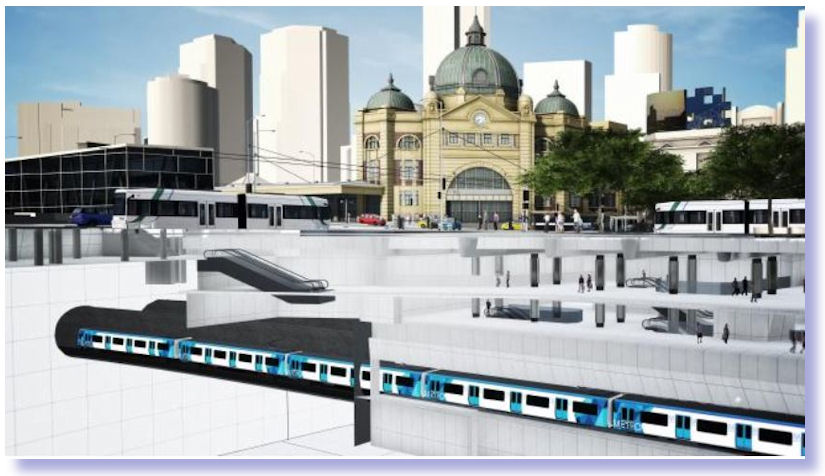 Shops make way for this.

The Victoria Government plans a new underground rail network, to build twin 9km rail tunnels from South Yarra to Kensington, which will pass under the CBD, right under Max, and work on them is expected to start in 2018.

The only good news for collectors, is that the many properties required for this new work will not be compulsorily acquired until at least 2017. So nothing will change in the short term. The deep tunnelling will take place literally from where Max is located!

The Melbourne residents and shop owners who will lose their properties to make way for the Melbourne Metro Rail project, were shocked to find notices left on their doorsteps as their first inkling of any changes coming in the future.

Well known retailer, Max Stern, aged 94, learned he would lose his stamp business Max Stern and Co in Port Phillip Arcade. He started the large and famous stamp and coin empire there 60 years ago.
"I had to read it twice."
"I had to read it twice before I realised what was going on'' Mar Stern was quoted as saying in a Melbourne media interview on the day of the announcement. "I don't know what I'm going to do - I might not be alive."

Stern's shops are among 94 to be compulsorily acquired to build tunnel entrances and stations as part of the $9-$11 Billion project. "I started with just one shop during the Olympics in 1956" Stern said.

Max Stern received a letter in latter October from the Melbourne Metro Rail Authority, to say his business would very likely have to make way for the project.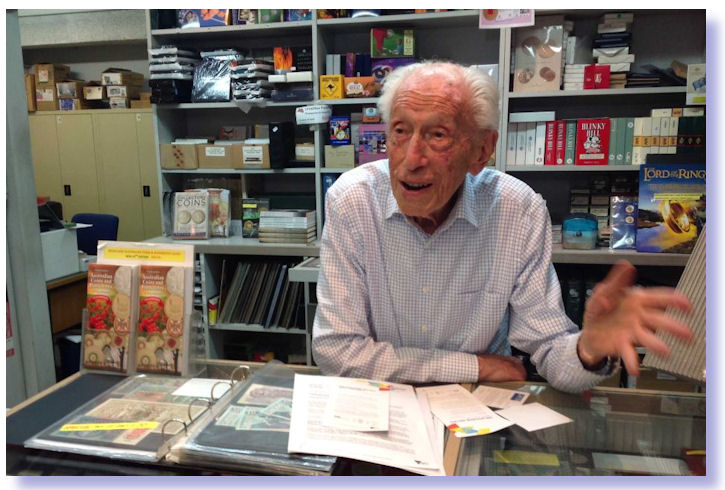 Max Stern in shock and disbelief.

"I rang the agent, he didn't know, I rang the owner, he didn't know - it just came out of the blue" Stern said. "Shock and disbelief - I just had to read it twice before I could realise what was going on."

Max Stern told the media he was not interested in financial compensation. "I'm not after the money. I want to stay right here, because we are an icon in this city" Stern concluded.









Get my regular market update emails FREE. Stamp gossip, price trends, record sale prices, and many one-time stamp specials, wholesale bargains, and exciting offers and breaking philatelic news. A mini stamp magazine in every email! "KNOWLEDGE IS POWER". The ONE stamp list you MUST be on, to keep in touch with the rapidly changing world market. One client made $65,000 profit in a few months after following my specific advice. Sign up securely and quickly by clicking HERE to access my automated data base. And wiser still ADD your home AND work email, if I only have one right now. Add a stamp friend's email address if you wish. One short click and you are subscribed to probably the most read email list in the stamp world!




If you would like to be notified of updates to this website,

Click HERE. If have any questions,
or comments regarding my site, please email me at glen@glenstephens.com



| | |
| --- | --- |
| | Search all my 300+ web pages! Simply type in what you are looking for. "Penny Black", "Latvia", "Imprints", "Morocco", "Fungi" "Year Books", etc! Using quotes ( " ) is more accurf used with no quotes. Search is NOT case sensitive. Tip - keep the search word singular - "Machin" yields far more matches than "Machins" etc. |


I am a Dealer Member in Good Standing Of:

Full Time Stamp Dealer in Australia for over 35+ years.

Life Member - American Stamp Dealers' Association. (New York)
Also Member of: Philatelic Traders' Society. (London)
GLEN $TEPHEN$

Full Time Stamp Dealer in Australia for 35+ years.

Life Member - American Stamp Dealers' Association. (ASDA - New York) Also Member - Philatelic Traders' Society

(PTS London) and many other philatelic bodies.

ALL Postage + Insurance is extra. Visa/BankCard/MasterCard/Amex all OK, at NO fee, even for "Lay-Bys"! All lots offered are subject to my usual

Conditions of Sale, copy upon request .

Sydney's

BIGGEST STAMP BUYER: Post me ANYTHING via Registered Mail for my same-day cheque. Avoid copping the Now normal 45% Auction "Commissions" (15% Buyer + 20% Seller + GST, etc) AND their five-month delays!

Read HERE for details.

"Lothlórien", 4 The Tor Walk, CASTLECRAG (Sydney), N.S.W. 2068

Australia

Phone 7 Days: (02) 9958-1333

PO Box 4007, Castlecrag. NSW. 2068


E-Mail: glen@glenstephens.com The Number #1 Web Sites: www.stampboards.com