Click To Go Back To The Main www.GlenStephens.com Stamps Homepage

Welcome! You are visitor
to www.GlenStephens.com




Glen Stephens
Monthly "Stamp News" Market Tipster Column


February 2006

---
Buy Catalogues
Over my 25 years in selling stamps full time I have made an absolute fortune by "arbitraging" catalogue listings.

It may surprise many readers, but not all catalogues are created equal.

And the best part is, collectors and dealers in many regions stick strictly to their local catalogue.

In Continental Europe Michel catalogue listings rule the roost overall. However in Switzerland Zumstein is used, and Italy, Spain and Holland have very strong local catalogues used far more widely than Michel.

In the USA Scott catalogue are used almost exclusively by collectors and dealers and auctions alike.

If you collect Israel you use Bale almost exclusively - no matter where you live.

In the UK and in many Commonwealth countries Stanley Gibbons (SG) is king.

If you buy in one market and sell in another you can make excellent profits if local catalogues have under-rated .... or totally omitted many stamps or errors. Which often occurs.

Curious mix locally
In Australia we have a rather curious hybrid catalogue mix. SG is the most widely used for general use. For collectors of Australia - Seven Seas 'ASC' (reviewed below), and the 'Comprehensive' are both big sellers.

Renniks "Stamps Of Australia" does good business via newsagents, and the new edition is out around Easter. And finally, no specialist can live without a ACSC set.

Totally updated KGVI and QEII 1952-66 ACSC volumes are just being printed and I hope to review them next column.

Catalogues are often expensive. We all know that. The current SG "1840 -1952" alone retails for about $A180 for a book only an inch thick. I sell lots as it is now (thankfully) in colour, and lists all the material in specialised form.

Material in this volume has experienced large price jumps. I noticed some Cape Of Good Hope triangle stamps a friend has, had doubled from £20,000 each to £40,000 each in the one edition. He did not mind paying $180 to discover that!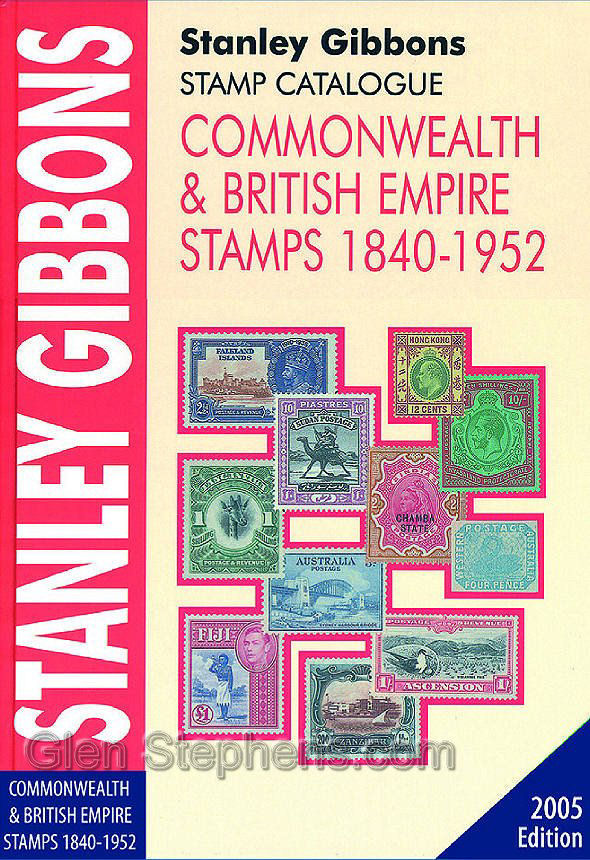 Retail $180 for 2006
Each volume of Scott are now about $A125 retail and there are 7 different volumes a year. They are big and heavy and shipping costs a ton. A full set fills a dozen wine size carton.

I fly to the USA several times a year and regularly bring back a few cartons of the current Scott set, and let the airline pay the shipping! I am a Platinum flyer member and am allowed 3 or 4 pieces or cartons of checked baggage at no cost. This can regularly save me $600-$1000 in air shipping.

I often check through several 20 Kg cartons of Australian "Commems Only" kiloware for clients in the USA. It costs them under half from me than it does in the USA. One large Auction often orders 80 Kgs.

I just hand them to the concierge at the first Hotel with a $10 bill, and they ship cheap Fedex ground "collect" to the US client, saving them very many $100s on air shipping. So my airline ticket cost is often effectively "paid" by the shipping I save.

Sadly as a dealer I need ALL catalogues pretty much. And recent ones. My annual spend on catalogues and reference works is often about $2,000. I generally offer last edition sets in my monthly internet lists for about half retail which for most collectors is a great trade-off!

Think laterally
So to the point of this article - you can often buy VERY cheaply if buying in a country where stamps are not correctly - or not accurately listed and priced.

Scott for instance does not list any Australian inverted watermarks - and Gibbons does. I often see Australia inverted watermarks in American auctions with the NORMAL Scott value next to it - as if the invert is of no account.

See my columns from the last 2 months about otherwise common Australia KGV heads selling for huge 5 figure sums with inverted watermarks and you will see the wisdom of buying in the USA!

The highest price at auction for an inverted watermark Australian stamp is the $A39,100 that Status got for the KGV 1d Red single line perforation at auction on July 21, 2004.

The next highest price was the 3d blue Die 2 Small Multiple watermark mint illustrated nearby that was invoiced at just over $A32,000 in the Prestige Philately Rarity Auction in April 2005.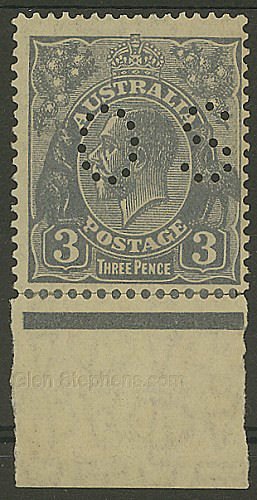 Sold for over $32,000
The illustrated $32,000 error stamp is not unique, is perf "OS", has brown gun toning, is way off centre, and the margin is totally re-joined. No matter. These are the dizzy prices Australian watermark errors now bring.

Now both these stamps are quite common with normal watermarks. The INVERT is where these huge figures are coming from.
New 2d KGV orange
I had a reader mail me this week a 2d Orange KGV head used with inverted watermark and lovely upright dated WA small town cancel. I am hoping to get him 5 figures for that stamp - that he found among his duplicates, after reading my column last month.

Until he read my article he had no idea he owned this error, and 5 figures is not a cheque any collector would sneeze at!

Seeing many KGV heads run into 5 figures for inverted watermarks, and only a few dollars for normal watermark one can and does make superb buys if sourcing material from the USA or countries that do not use Gibbons!

BUY Catalogues - and as often as you can afford.

Whether you are a dealer or collector, they re-pay you MANY times their cost if you get an advantage by having them over other purchasers looking at the same material who do NOT.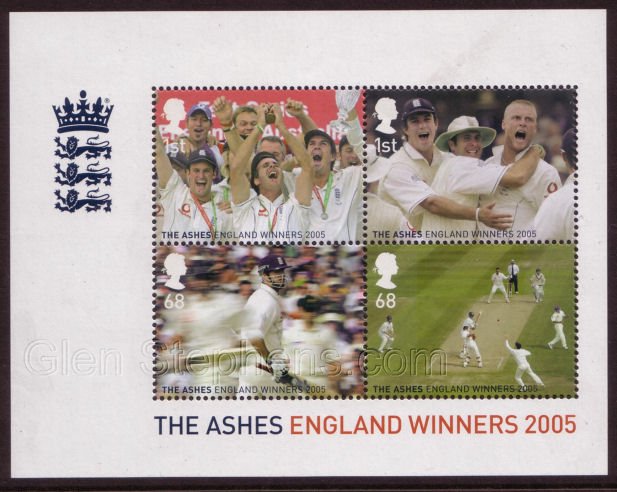 Howzat?
You have to feel a touch sorry for British sporting fans. There is precious little to celebrate there most years.

For a large country of over 60 million they have a rather appalling sporting record.

As an Olympic nation their medal winning tally is often eclipsed and overshaded by countries like Zambia, Laos, Bolivia and Mongolia. Well maybe I am exaggerating slightly - about Laos.

Take out the Caribbean born "British" athletes and they have not won an Olympic Gold medal since 1896 I believe. But I may be slightly wrong there too.

(I can hear the indignant emails being typed now! Heck the editor is British, so all this may be edited out anyway.)

So when England do occasionally win anything of note in the sporting arena the entire country goes berserk and stays that way for a long time. Takes their mind of the weather and the weak warm beer I imagine.

Britain needs to savour each win, as they know from experience that it will be am long time until the next one!

To demonstrate this truism, the same cricket 'conquering heroes' got compressively whupped by lowly Pakistan a couple of months later in the one day and test series in late 2005.


"Oops" ...
One such jubilant over-reaction was on October 6 2005 when Royal Mail issued a miniature sheet depicting a very rare post-war occurrence - a British cricket team winning anything other than a wooden spoon.

A miniature sheet of 4 stamps was rush-released on October 6 showing the members of the winning team - the alleged 'star' of which bombed quite miserably in the "Super Series" held soon after that played Australia.

The miniature sheet is illustrated nearby.

And rush-released in such a hurry someone in Royal Mail forgot the age old restriction that NO identifiable living person be depicted on British postage stamps, except the monarch and Royal Family members.

To be accurate, living people have been depicted on British stamps before in recent years as part of crowd scenes. The May 1995 Peace and Freedom 19p value, and 1998 Notting Hill Carnival issues are 2 good examples. But in those cases they were not readily identifiable public figures depicted.

A red faced Royal Mail needed to confess to the embarassing cricket stamp error soon after the stamps were issued.

One stamp has the full faces of Kevin Pietersen, Michael Vaughan and Andrew "Freddie" Flintoff clearly visible on the entire design.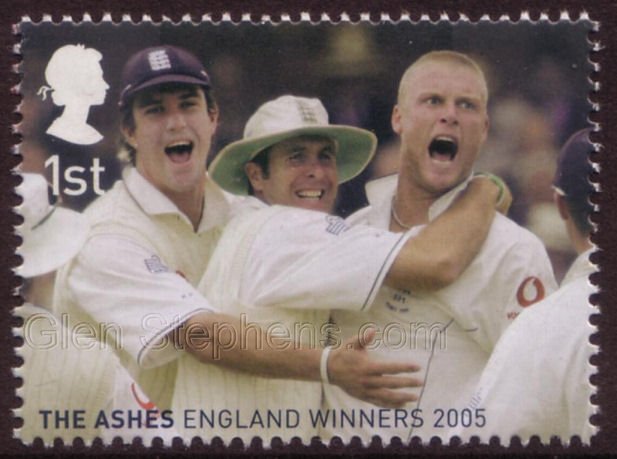 New Royal Family?!
A Royal Mail spokesperson was quoted as saying: "this is the first time that famous living people other than the Royal Family have been clearly identifiable on a set of special stamps".

Max Stern is the Australian agent for Royal Mail and kindly sent me the sheet to illustrate. The issue was keenly sought by both collectors of Australian and British stamps. "We have sold large numbers of these sheets" Max told me today.

The "Ashes" series against Britain in Australia this coming summer will be keenly fought. I understand Australia Post has almost completed the artwork for our own miniature sheet to commemorate the inevitable winning of them back.

I imagine they are nearly printed and stockpiled already. Perhaps Max Stern will produce a special folder containing both country Miniature Sheets?!
New ASC Catalogue
I received a copy recently of the new 30th Edition of the Australian Stamp Catalogue in - commonly referred to as the "ASC".

The new edition covers Australian stamps from 1913 right to the end of 2005. At 312 pages in colour, for $A36.50 RRP it is a very useful addition to the library of all dealers and collectors.

Stamps for the AAT, Cocos and Christmas Islands are also included in separate sections. And postal stationary and PO packs of all three are also listed and pieced - a very valuable resource.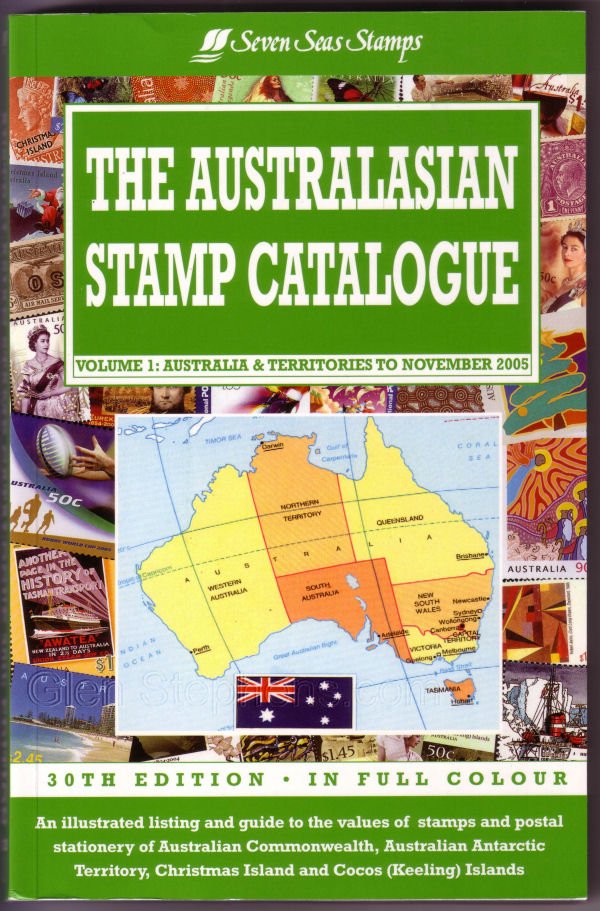 Essential buying
This new edition has a listing of all the counter printed stamps (CPS) and all the Special Event Sheetlets of 10 - called SES. I counted near 200 different sheets issued since 1999! I understand these items are listed nowhere else.

It is the ONLY catalogue available that lists and prices postal stationary, and many price increases are evident. Some of the Registered Envelopes run to $1000s each, so all dealers should own this catalogue.

Many of these items look VERY similar, and this catalogue is the only way to be sure of what you have. A used R7 is $50 and a used R8 is $1,000 and are very similar animals.

Even several normal issue postcards and letter cards are in the 4 figure price band, and scores are in the $100s league. Did you realise that?

One useful page are the "wartime issues." I find lots of these envelopes, lettercards, aerograms and cancels in collections and estates and the owners usually have no idea of the value of most of these things. Many are in the $100s region - even from the WW2 era.

The listing of Maximum Cards is pages long and is also a very valuable resource. And the long listings of FDC and PO packs for Australia all in the one place is the best in the business.

The only thing I really dislike about this catalogue is that the photos do not always face the applicable text. I get the feeling this year is an improvement over previous years, so maybe steps are being taken on that front?

The ASC is a very useful and very comprehensive catalogue for its size and price. No dealer or collector should be without one.

The price guides given seen quite accurate from my study of them. For readers overseas that is important as SG and Scott are often well out of touch.



Want to see (or print out) this column EXACTLY as it appears in 'Stamp News'? If so click snfebruary06.pdf - it may take around 30 seconds to load. You will need the Adobe Reader program installed to view it.
Adobe Reader is a FREE application and may be downloaded safely from here.

v 7.0 is the latest release, get it now.








Get my regular market update emails FREE. Stamp gossip, price trends, record sale prices, and many one-time stamp specials, wholesale bargains, and exciting offers and breaking philatelic news. A mini stamp magazine in every email! "KNOWLEDGE IS POWER". The ONE stamp list you MUST be on, to keep in touch with the rapidly changing world market. One client made $65,000 profit in a few months after following my specific advice. Sign up securely and quickly by clicking HERE to access my automated data base. And wiser still ADD your home AND work email, if I only have one right now. Add a stamp friend's email address if you wish. One short click and you are subscribed to probably the most read email list in the stamp world!


Instant Currency Conversion


FREE! Just click here... see exactly what my lots cost in your currency.




If you would like to be notified of updates to this website, Click HERE.

If have any questions,
or comments regarding my site, please email me at glen@glenstephens.com


I am a Member Of
Full Time Stamp Dealer in Australia for over 25 years.
Life Member - American Stamp Dealers' Association. (New York)
Also Member of; Philatelic Traders' Society. (London) ANDA. (Melbourne) American Philatelic Society, etc

GLEN $TEPHEN$
Full Time Stamp Dealer in Australia for over 25 years.
Life Member - American Stamp Dealers' Association. (New York)
Also Member - Philatelic Traders' Society. (London) ANDA. (Melbourne) American Philatelic Society, etc

ALL Postage + Insurance is extra. Visa/BankCard/MasterCard/Diners/Amex all OK, even for "Lay-Bys"! All lots offered are subject to my usual Conditions of Sale, copy upon request BIGGEST STAMP BUYER: Post me ANYTHING via Registered Mail for my same-day cheque. Avoid the GENERALLY 40% Auction " Commissions" (15% + 17½ + GST, etc.) AND their five-month delays! Read for details.
"Lothlórien," No. 4 The Tor Walk, CASTLECRAG (Sydney), N.S.W. 2068
Phone: (02) 9958-1333 Fax: (02) 9958-1444 (Both 25 Hours, 7 Days!)
E-Mail: glen@glenstephens.com
Web Sites: www.glenstephens.com www.glenstephens.net or www.australianstamps.net

Sign up AUTOMATICALLY to my world renowned bi-weekly stamp gossip mailing list!
Click here to see MANY 1000s of stamp lots for sale at low $A Nett prices
Click here for all you need to know re SELLING your stamps for SPOT CASH
Click here for the current Monthly "Internet Only" special offers - CHEAP!
to read all my recent International stamp magazine articles.
Click here to get back to the main www.GlenStephens.com Homepage
Click here to ORDER on-line ANY items from ANY of my dozens of lists
Click for all info on Conditions Of Sale, Payments, Shipping, Returns &c
Click here for the complete library of my very unusual world travels!
How to PAY me. I accept EVERYTHING - even blankets and axes and beads!
Australia Post Annual YEAR BOOKS - massive stock - '27% off' discount offer today!
Visit my new page on RARITIES - Roos & other expensive photo items.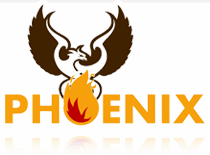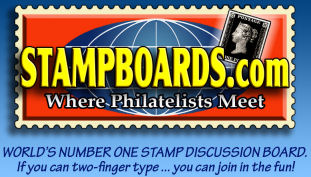 Instant Currency Conversion


FREE! Just click here...


E-mail me at glen@glenstephens.com -
Every credit card shown is accepted WITHOUT fee.
Earn Frequent Flier points while buying at bargain prices!
ALL prices are in weak Ozzie Dollars. I charge NO nasty, nasty
"Buyer's Commission" on stamps like nearly every "Auction" does.