Click To Go Back To The Main www.GlenStephens.com Stamps Homepage


Welcome! You are visitor
to www.GlenStephens.com




Glen Stephens
Monthly "Stamp News" Market Tipster Column


February 2007

---
Gray's Kangaroos to smash sales records
A collection of Australia Kangaroo stamps will be auctioned next month and I have little doubt the invoice totals for them when the "Buyer Fee" is added will be in the $A10 million region.

As far as I can determine this will be THE most valuable "single issue" stamp collection ever sold. From any country, in any era, by any person.

Solely Kangaroo stamps - not the Brazilian "Bulls Eyes", or Switzerland Cantonals, or English 1840 Penny Blacks and 2d Blues, German States, or USA imperfs, Hawaiian "Missionaries" or "Inverted Jenny" Airmails.

The fact this is a totally 20th Century issue about to set such a record is even more remarkable, that it outranks in dollars all the great 19th Century "Classics" collections sold in the past.

The lucky auctioneer selected to handle the task is Shreves Galleries of New York. The sale will be held over 2 days in their Manhattan offices - February 22 and 23, 2007.

I will fly across and cover the sale for this magazine. And hopefully buy a little portion of it too! I will also be bidding in person for several clients - let me know if you wish me to act on your behalf.

Mark my words - this sale will put "Kangaroo" stamps on the global philatelic stage. It will raise awareness of the issue - and prices - like no other single event in history, since their issue date in 1913.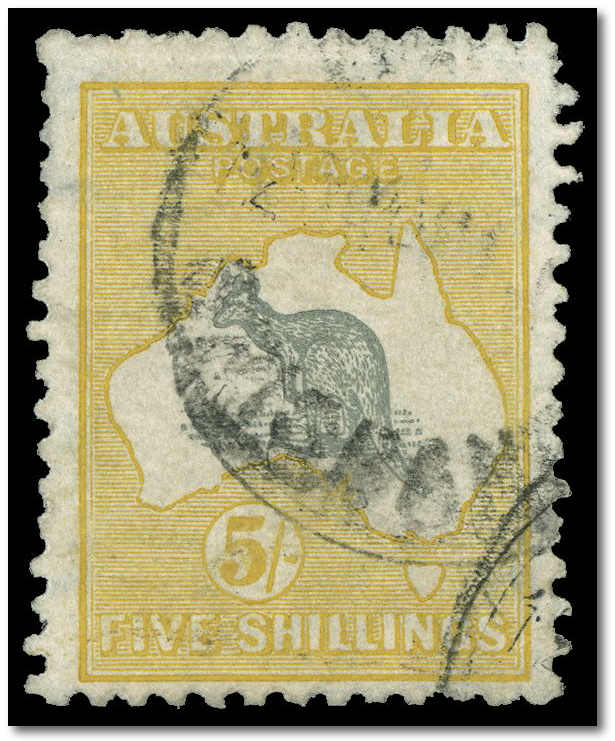 Unique
A lot of collectors overseas who have never looked twice at this issue will show interest, and some will buy them and start to collect them. Prices for the better Kangaroo material will continue to rise - just as it has risen very strongly and steadily over the past decade.

All stamps being much less than 100 years old there has been a perception among many philatelic purists overseas that these Kangaroos are "modern" stamps.

Readers of this column who have nice pieces in their stock, or in their collections, can smile inwardly as this sale just increased your nett worth!

The collection owner, 67 year old Sydney based Arthur Gray has collected for 55 years. He recalls cycling around as a young lad to every post office in his area buying up corner "Imprint" blocks with his pocket money.
Olympic Record
He told me one kindly Postmaster handed him some imprint blocks one day from under the counter and said he could have these at face value - the 1937 "Robes" issue high values.

Young Arthur broke an Olympic cycling record getting back home to raid his piggy bank and negotiate a fast unsecured loan with his parents!

Gray had a long business career as investment banker, and later on in the health food/vitamins business, and slowly pieced together this remarkable Kangaroos Collection.

The Kangaroos collection is nearly entirely mint, and for the issue is virtually complete - with proofs, essays, FDC, monograms, imprints, "Specimens", inverted watermarks, imperfs, and all the major plate flaws and misprints.

I took photos and ran them in magazines, of David Maiden presenting Arthur with the Australia Post "Grand Award of the Show" during the hugely successful "Australia 99" in Melbourne.

GOLD, GOLD, GOLD
These Kangaroo stamps won Large Golds the three times they were exhibited internationally in FIP events. London 2000, Philanippon 2001 and PhilaKorea 2002.

After that point of perfection, one cannot exhibit competitively any more, and it was thus shown in the Championship class in Thailand during 2003. It won the "Grand Prix" in Perth in 2004. I last saw it in the Court Of Honour at "Pacific Explorer" in Sydney in 2005, and spent an hour drooling at the superb range on display.

Several of the pieces on display there I sold Arthur over the decades, and it is great to see such a vast array of mouth watering Roos back on the open market again.

Much of this material will not be offered again for another generation. World interest will be enormous.

I will be howled at by many purists here, but MANY of the medal winning exhibits at large Internationals bore me to bears.

Frame after frame of the dreary Registration labels of Zanzibar, the censored and underpaid POW military mail of the 1868 Bolivian/Ecuador War or whatever, and pages and pages of the first issues of Saxony or Spain give me the serious yawns.

Frames of bright and colourful bi-colour Kangaroos really does catch the eye when mixed among material like the above, let me tell you.
Six figures?
Gray has the bi-colour printer monogram pieces for every stamp possible. Several are expected to challenge the $A six figure mark in this auction, including the "JBC" monogram 1913 £2 Roo illustrated nearby - the only one in private hands.

This stamp WITHOUT the selvedge monogram marking would not sell for even close to 10% what this copy will bring. Making this tiny piece of paper the most valuable selvedge in the world! The selvedge itself is worth more than most major world rarities when you think on it. In NO other country's stamps is this true.




5/- Sideways Watermark

Some stamps are unique - in and out of private and public collections. One such stamp is the 5/- Kangaroo with sideways watermark illustrated nearby. Only one example has ever been recorded.

In fact for way over half a century leading dealers and collectors firmly believed it did not exist, as it had been reported in 1919, soon after issue, but never seen afterwards. Catalogue value is $A50,000 and I suspect it will be invoiced at double that figure.

I have little doubt the invoices for the sale will run to about $10 million when buyer fees etc are added. I have spoken at length many times to auctioneer Charles Shreve and Arthur Gray about this sale, and they are both upbeat about the success of the collection.

The pre-sale estimates are about $US5 million (approx $A6.4 million) and are very conservative they tell me.

Shreves are known for handling many superb collections, and yet this sale will gross more than their highest ever auction result in my view. That result was the William Floyd sale of classic USA in 2001 which had a hammer price of about $US5.5 million.
Why choose to sell the stamps offshore?

Gray told me he was introduced to Charles Shreve about two years ago at an World Stamp Championship where he was exhibiting, in September 2004 in Singapore.

Shreve is known for handling many fine "one country" Gold Medal type collections, and expressed genuine interest in the Kangaroo stamps, and said he would be delighted to have a chance to discuss offering them if they were ever for sale.

Charles Shreve told me in conversation when he first saw the Gray Kangaroo collection he was "knocked out" by the beauty of the bi-colour Kangaroos, and had not realised what enormous "eye-appeal" this series could have when massed together, especially in multiples.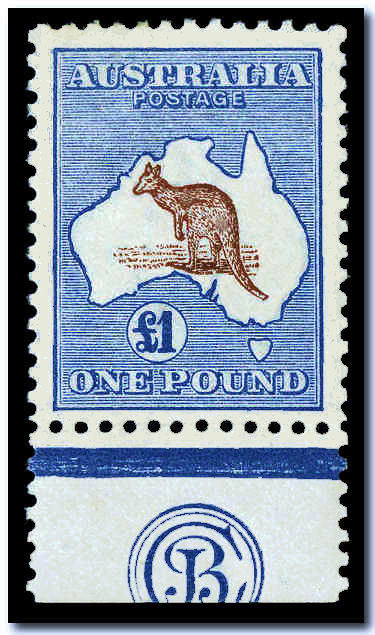 "The Most Beautiful"

Arthur Gray told me in his view the most beautiful Australian stamp ever issued was the 1913 £1 Brown and Blue Kangaroo, and I'd have to agree with him. And always have. That single printing (unlike many of the 3rd watermark issues) was uniformly in deep vibrant colours, and it really is the visual highlight of their entire series for certain - in mint condition most especially.

Shreve bought out part of the amazing Bill Gross USA collection to "Pacific Explorer 2005" in Sydney, and the Kangaroos sale was discussed further. Shreve and Gray met again at Washington 2006, and had more in-depth discussions.

With a background in senior management Arthur Gray is not a man easily impressed by a sales pitch, as anyone who has met him will readily concur.

He told me: "Charles flew out to see me in latter 2006 to make his final pitch, and bought with him no less than eight different full colour front cover graphics for the front cover of the sale should they be favoured with it. These were detailed and very professional mock-ups done by their graphic designer, and to go to that length really impressed me."

"Charles Shreve has at all times been professional, knowledgeable, polite and businesslike. Most importantly, he has also shown a genuine passion and knowledge for these stamps I'd collected for a lifetime" he said.

"Live" internet auction
Gray told me he also was impressed with the leading edge computer internet technology Shreves have used successfully for recent auctions where bidders can sit at their computer anywhere in the world, and take part in the "live" auction as it occurs.

Bidding on your keyboard just as if you are sitting in the sale room. With sound and photos of the sale room and auctioneer.

"I am near computer illiterate myself, but can see that this feature gives the auction using it a massive advantage over ones that do not" Gray told me today.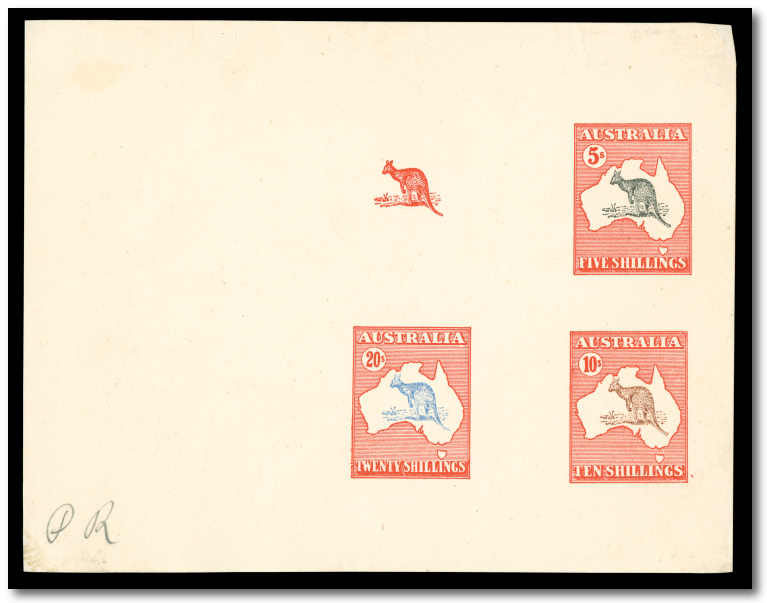 Proofs Galore
For these and other reasons the stamps were consigned to New York, although not before leading local auction houses were actively invited to outline their marking plans and thoughts to Arthur Gray - and several did.

The auction is notably strong in proofs and essays. Prices for this material has gone ballistic in recent times on Kangaroo issues.

As I reported and illustrated in my June 2006 column a single 2½d Kangaroo essay was auctioned by Prestige Philately Melbourne in April this year for $A172,500 - on an ACSC catalogue value of "only" $75,000. That is near $100,000 MORE than full catalogue value. That stamp was consigned by Arthur Gray.

The essay in bright blue is on thick ungummed unwatermarked paper roughly rouletted percé en scie gauging 14½. This same design is known to exist in several different colours.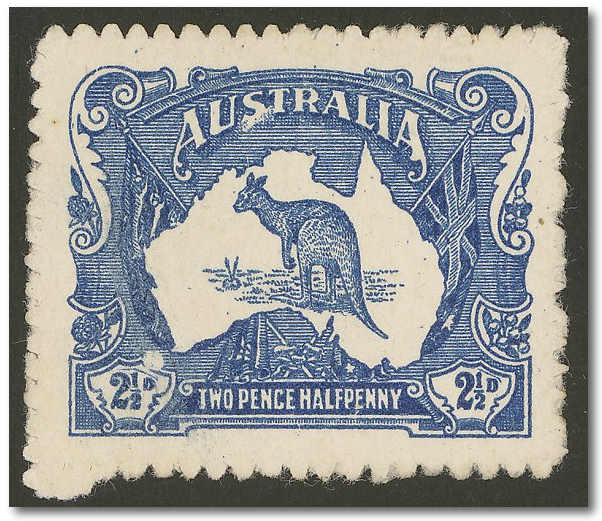 Sold for $A172,500
| | | |
| --- | --- | --- |
| | Shreves have set the Gray Auction start to be 2pm NY time each day, thus suiting Australian bidders - as it is wake up time in the morning here. Each day about 450 lots will be offered, in a sale that will take about 5 hours each day. | |
The sale does not of course contain only 6 figure items. Charles Shreve assures me there are many lots of nice material that have estimates of around $US150, so there is material to suit every budget in the sale. Gray consigned 500 x large written-up pages, so there is all manner of group lots on offer.

Descriptions have been meticulous, taking a month of work, and leading Kangaroo experts have assisted the Shreves team describe each item. This guarantee of fine detail was another reason Gray chose Shreves.

The February 22/23 auction catalogue itself will be a keenly sought collectible for decades to come. It is a large, thick, very heavy coffee table size tome, hardbound, and hand stitched. As you would expect it has detailed descriptions and superb illustrations. Copies cost $US75 or $A100 or £40 by Express Courier Mail.

Orders should go to

shreves@shreves.com

who accept credit cards, and they will be something that is always sought in the future as the ultimate Kangaroo reference book.

The Shreves website of course has the entire catalogue on-line, for those who do not need the printed reference catalogue or are too late to secure one in time.

Even the pre-sale advance notice brochure for the sale, with heavily embossed cover, waxed interleaving and page of glorious photos was more lavish than MOST regular auction catalogues! For anyone who collects such things please let me know as I have a few spares. These Americans certainly know how to present these "Name" auctions.

This brochure went to a bunch of serious and very wealthy collectors who to this point have never purchased one Kangaroo stamp in their life. Some spend literally millions a year on stamp purchases. Even just one of two of those taking an interest in buying here will add a new market dynamic.
Charles Shreve told me he has already set up a stand-alone dedicated website to remain in place for years after the sale, at

www.arthurwgraycollection.com

which will feature the stamps, the prices realised, local anecdotes, photos from the day, and links to stories in this and other magazines and media covering the sale.

Prospective vendors of major collections should note such small but very important points, as it ensures their carefully assembled material is on view for eternity to interested students and fellow collectors - worldwide. More power to Shreves - I wish all auctions did that for name sales.

I am a firm believer in the power of the internet for selling and promoting stamps. My website recently passed the one million visitor mark - a first for any dealer in the Southern Hemisphere.

I still see some of Australia's VERY largest stamp dealers with awful websites that most outback Boy Scout sub-branches would be ashamed to call their own. A few four year out of date pages is their sole contribution to on-line philately in the 21st Century.

Sadly many large auctions (the British in particular) also have appalling websites, and often do not archive past sales, which does not assist students or researchers referring back on them for much needed detail and information, and prices and illustrations.

Such "lazy" sites offers little in the way of a permanent testimony to sellers of fine collections, of their lifetime efforts.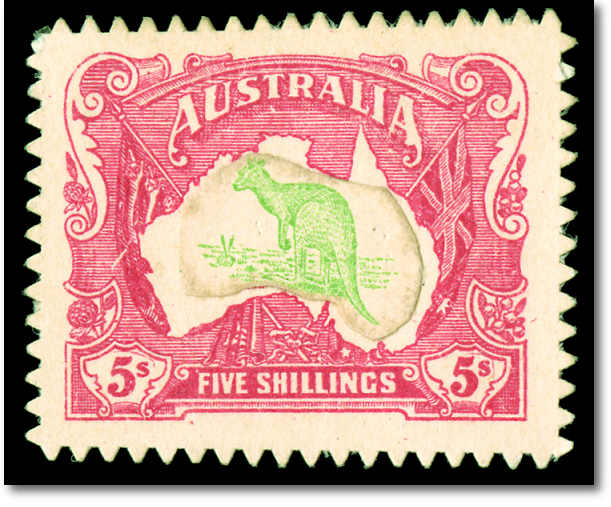 A $75,000 paste-up!
The Australian auction to come closest to recognising the importance of good presentation, and archiving past sales for posterity is Prestige Philately in Melbourne. It was no surprise to me to see Gary Watson's company is a consultant to this sale. Watson assures me adding earlier sales to the archive is "an active work in progress."

My own website has well over 300 separate pages. My monthly stamp columns for 10 years are all archived there on glenstephens.com/column - in many cases offering the ONLY web record worldwide of the details and photos from those stories, discoveries, auctions, sales, scandals etc.

Most especially since Linn's Stamp News removed their own superb archive resource, which was very sad to see vanish, when leaving it up as it stood was presumably of totally negligible cost, as all the work had already been done.

The Gray Collection stamps are scheduled to be available for viewing in Australia in Sydney and Melbourne and London and New York before the sale, and the times and locations are found on

www.shreves.com
I asked Arthur Gray the obvious question - "why sell them?"

He is a very active collector and I was interested why he wished to sell such a superb collection. It seems he wanted to devote his energies to his many other world class collections, and had found there was little new to add to the Kangaroo collection.

The "Kangaroos" are only the tip of Arthur's interests. "KGVI Issues of Australia 1937-1952" won Gold in November at Kiwipex 2006.

Arthur Gray has won top end medals not only for his King George VI, but "Booklets of Australia 1904-1973" his "King George V Heads Australia" and "Australian Commemoratives 1927-1936" - all during the past year or so alone.

I saw the latter exhibit at "Washington 2006" where it gained high acclaim - and Large Gold recognition in the very toughest of International company. Several of those items I also sold him!

"The best person to decide on the sale of any collection is the person who formed it. I was keen to be part of the selling process" Gray told me today.

"I've collected these stamps all my life and enjoyed every moment of assembling them. I was desirous that others might have that pleasure of owning and exhibiting them, and thus wanted them sold on the open market, and not locked up in a vault or dusty safe in some institution" he said.

"I was disappointed when Ray Chapman's superb collection was purchased by Australia Post, as future collectors will never have the chance to own those stamps. I was determined the same fate would not befall my Kangaroos, and Shreves will disperse them to a new generation of keen collectors, and the thought of that delights me."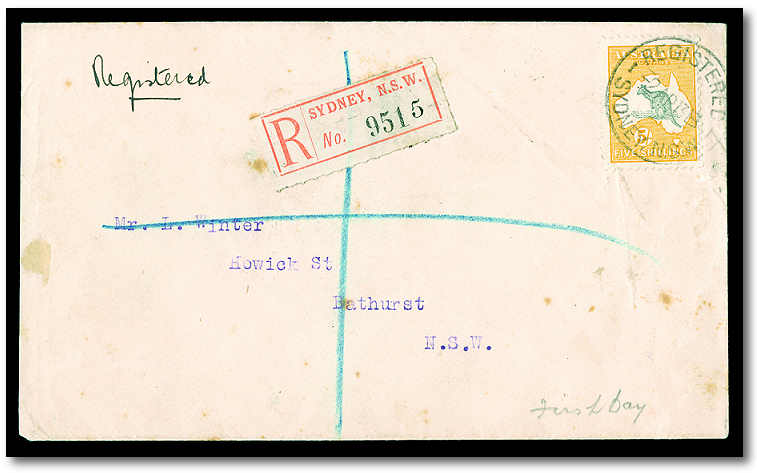 A $100,000 set?
| | | |
| --- | --- | --- |
| | Realisations of some areas will be of interest to all the trade - and collectors. In some cases there is no guidance whatever on market value - as it has been decades since they were last offered. | |
Earliest Australian FDC

There is a complete set of twelve 1913 Kangaroo "First Day Covers" to 5/- in the Gray collection. These are all addressed to "Mr. L Winter" in Bathurst NSW. The actual first date of SALE for most of the Kangaroo series is not certain - even to this day.

These are thought by many to be first day of issue covers, but no-one will ever know for certain.

The Royal Collection has the same set - only to 5d, serviced by the same leading Sydney dealer Fred Hagen who mailed this set as each value came on sale. Those came from the Bill Purves collection.

No other collector has any other values of any watermark on cover except for the 1d red - of which about 12 are recorded. (The ½d green is recorded on a Jan 14 postcard to USA but I have no knowledge if this is a date slug error or not.)

In fact no other collector has ANY other Kangaroo on FDC other than those outlined above. None exist from ANY watermark which truly amazes me. Not even for colour or major die changes like 2/- Maroons etc.

So here we have a set of covers that might readily sell for $A100,000-$125,000 all up - time will tell. Someone forming an exhibit of Australian FDC's who does not collect the mint stamps will need to consider these, as the covers (except for the 1d) are all unique in private hands.

A wonderful and exciting Kangaroos collection, the sale of which will probably do more for putting Australian stamps on the world philatelic map than any other single event since 1913.

I would have to say the printed Shreves Catalogue for this sale must surely take the award for THE finest stamp auction catalogue ever published anywhere. By anyone. At any time.

Over 25 years I have received 100s if not 1000s of sale catalogues from masses of auction houses in Australia, Europe and the USA. Nothing is this classy.

We are talking a huge hard bound tome here, near the size of a Stanley Gibbons catalogue. It weighs in at 2½ pounds or 1¼ kilos.

Deeply grained leather-look dark brown front cover, with cover and spine richly gold blocked and embossed. The catalogue was HAND-BOUND to ensure this high standard final finish. My rushed digital photos here do it no justice.

Arthur Gray's favourite stamp of all time - the 1913 £1 Brown and Blue Kangaroo is hand inserted larger than full size on the front cover, in a custom bordered recess.

Heavy grade archival art paper, and 280 large A4 sized pages. Key stamps often have an entire page of detailed background detail and description devoted to them. The foreword itself is a fascinating read!

Copious write up on every lot. A reference treasure trove for decades to come. Any collector ANYWHERE with a top end collection who sees this catalogue will not hesitate to consign it to Shreves. They simply do the job better than anyone else, and this volume is proof of the pudding. The $A7 million+ final invoice price and EVERY one of the 849 lots being sold is further proof.

The COLOR match on this catalogue is the best I have ever seen for Kangaroos. From anyone, anywhere. Absolutely perfect in my professional opinion. The ACSC of course has as its major weakness that it is monocolour. This volume is a "must buy" if for no other reason that that - you get 100% accurate COLOUR reference for every Kangaroo stamp.

Want to see what a TRUE 1/- Deep Dull green 2nd watermark looks like for reference? This is the book for you. Ever seen an accurate colour photo of the 9d, 3d wmk Indigo Violet cat $A1,250 ACSC #27Cba - well here is your perfect reference copy. Both copies offered in Gray sold for WAY above full cat, in fact one got well over double ACSC, (=$A2,700 for a diabolically centred example) so this book could repay handsomely, as few know exactly what this stamp looks like.

To be honest the years out of date "Kangaroos" Volume of ACSC is now all but useless as a pricing guide after this sale. MANY items such as the 9d violet quoted above got multiples of current full ACSC prices. Some, like the £2 1913 Large OS sold for SIX times full ACSC ($A60,000 for $A10,000 cat.) The 1/- Small Multi watermark inverted, cat $A20,000 with corner creases and a tear sold for nearly $A40,000. I can quote you DOZENS more similar instances, having sat in the room for 2 long days.

The 10/- Small Multi perf 'OS', cat $A4,000 sold for $A20,000. Likewise the £2 -

cat $A10,000 sold for $A46,000.

Even "basic" stamps like a used 1913 £2 sold for $A5,625 - and I sold a

far

superior one recently for $A4,000 - see here:

www.glenstephens.com/kangaroos

So buying just ONE stamp off an un-informed dealer by using this catalogue's prices realised will save you MANY times the cost.

Even if you do not really collect Kangaroos this book will be a standard coffee table reference for years to come. They will always change hands at high prices. I urge you to order your personal copy today direct from Shreves, or myself.

I have a few copies left, and mine also comes with a copy of the lavish pre-sale colour brochure - itself a most expensive A4 production, and of course I include a complete prices realised list. Price $A125 the lot.
Selected photo montage from the

Arthur Gray Kangaroo Auction Sale.

Shreves New York - February 22 and 23, 2007.

All photos copyright 2007 © Glen Stephens. For more detailed run-down of the sale click HERE.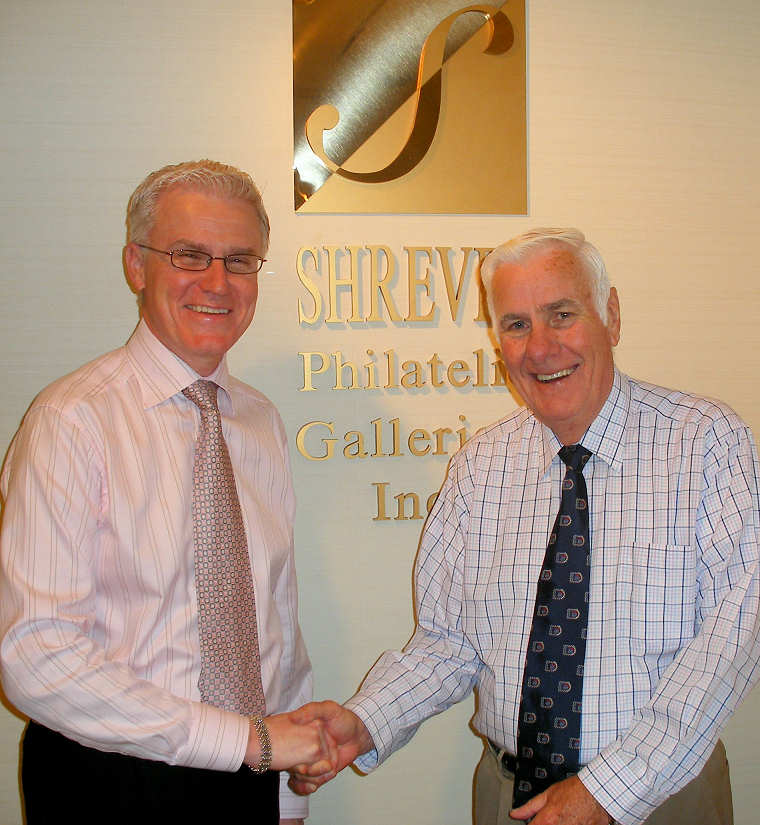 Charles Shreve and Arthur Gray shake hands after the record breaking sale.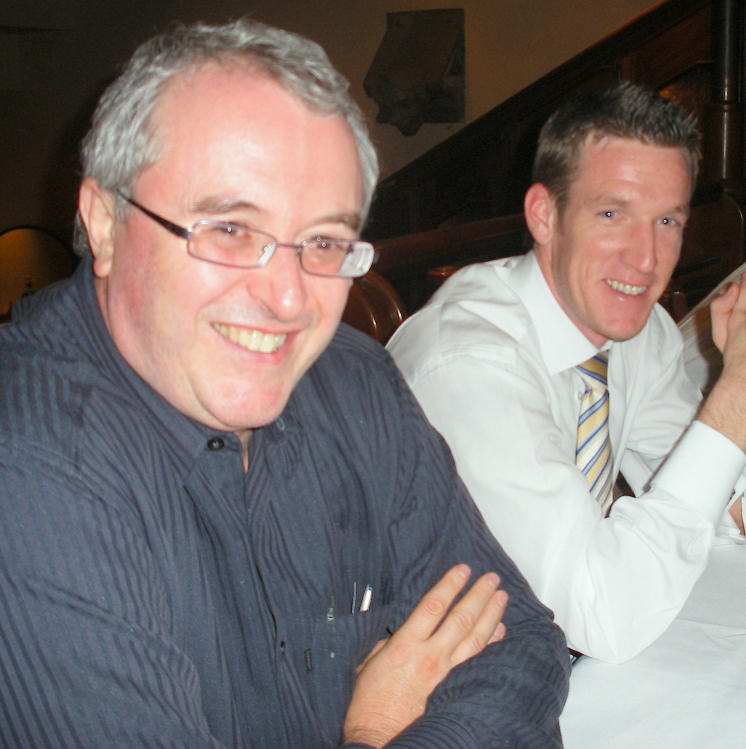 Gary Watson Prestige Philately, and Jeff Mayfield, Shreve's Operations Manager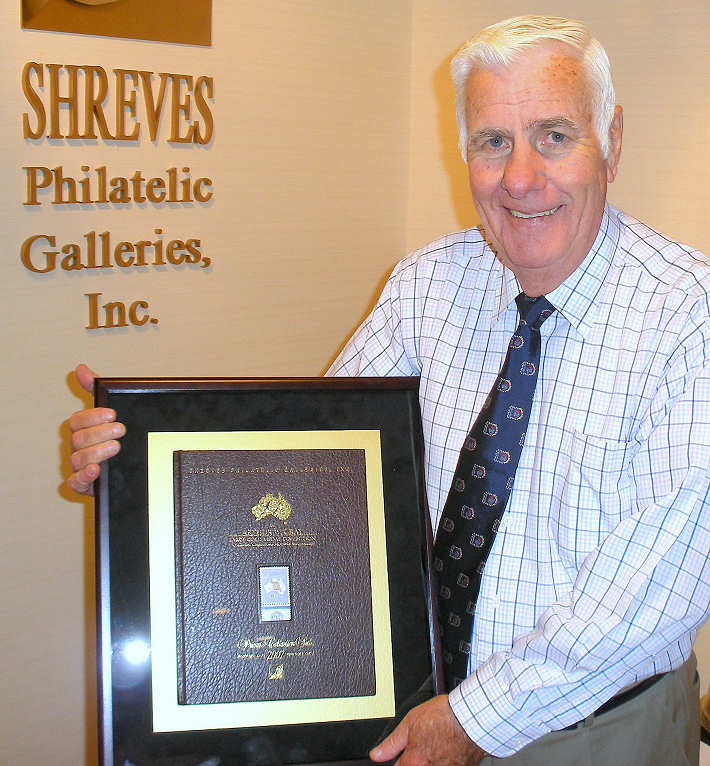 Arthur Gray holding the presentation framed copy of his hardbound sale catalogue.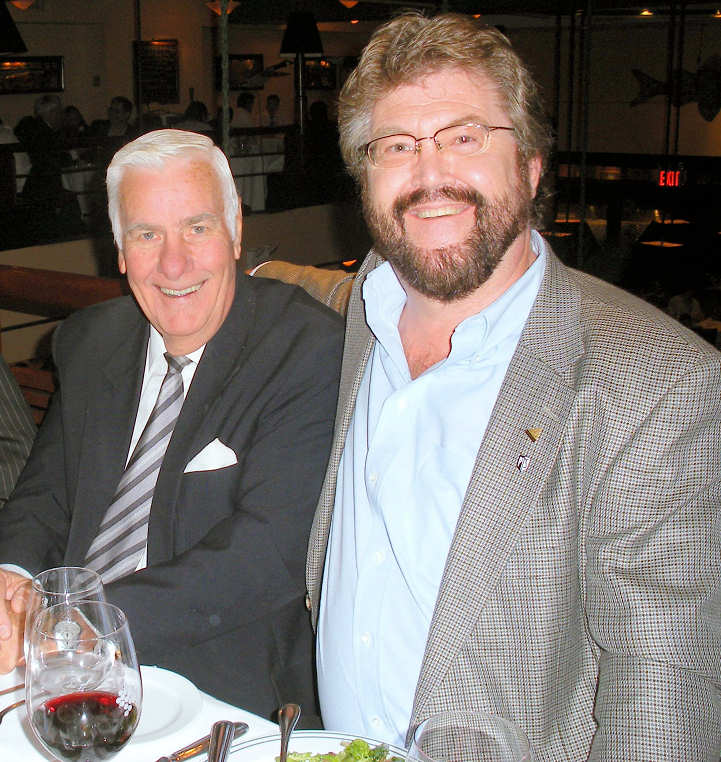 Arthur Gray and Glen Stephens, Sydney, chatting at the pre-auction dinner.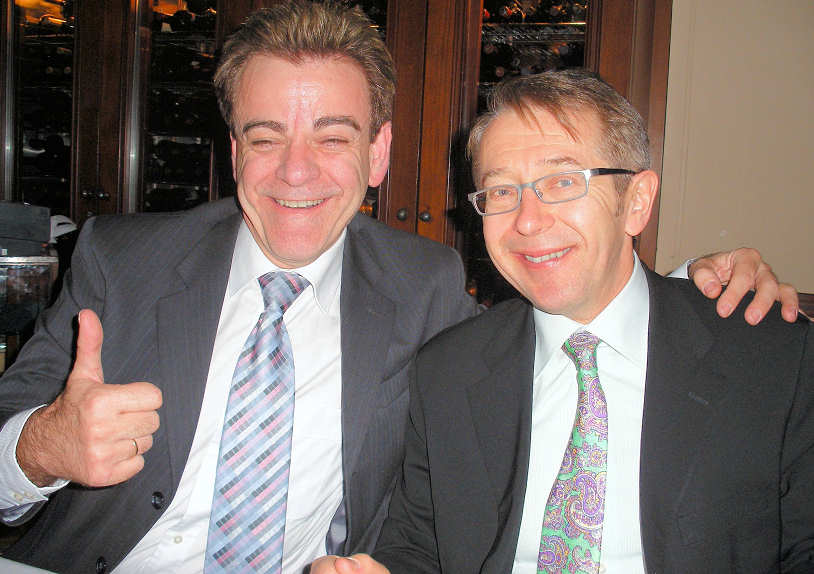 Dealers Simon Dunkerley and Richard Juzwin at pre-sale dinner.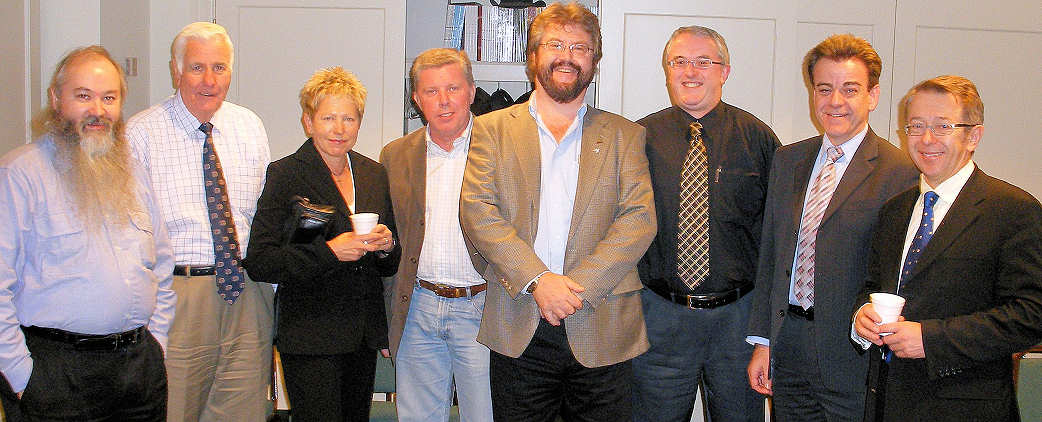 The Australian self-styled "Gum Leaf Mafia" who attended the New York Auction. One to sell - seven to buy!
Arthur Gray and Charles Shreve, Sheraton Sydney Feb 13, 2007.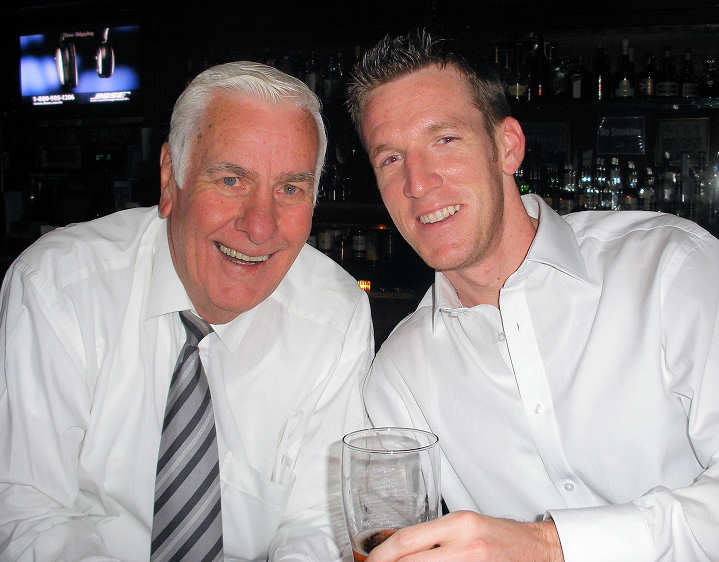 Arthur Gray and Jeff Mayfield at 3am - two legendary Harp Ale drinkers!
Charles Shreve, Arthur Gray and Tracy Shreve enjoying the pre-sale dinner.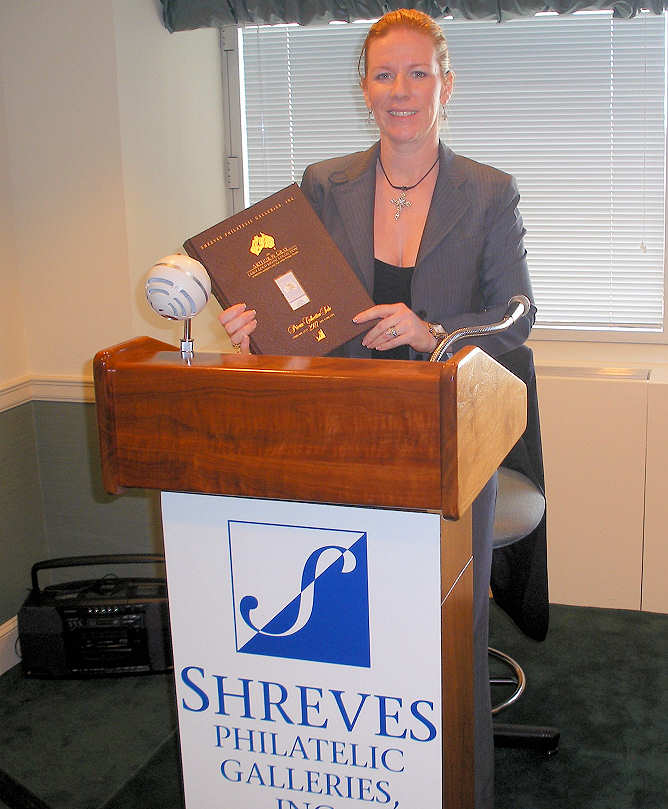 Auctioneer Tracy Shreve about to call the record breaking Gray sale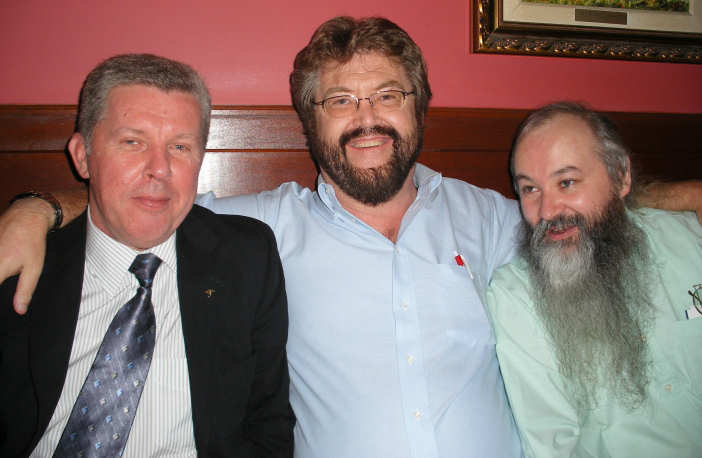 Paul Fletcher, Glen Stephens and Stewart Wright at an Irish Pub - 4am.
Jeff Mayfield from Shreves, and alleged mystery bidder, Margaret Pavincich.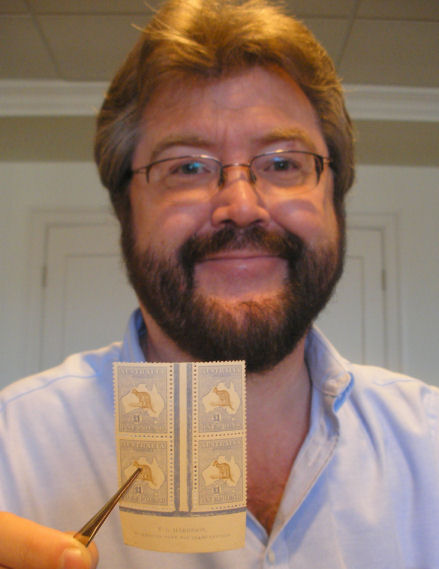 World Record Price for any Australasian stamp item - $US207,000, shown by Glen Stephens.
Charles Shreve, Arthur Gray and Tracy Shreve at the pre-sale dinner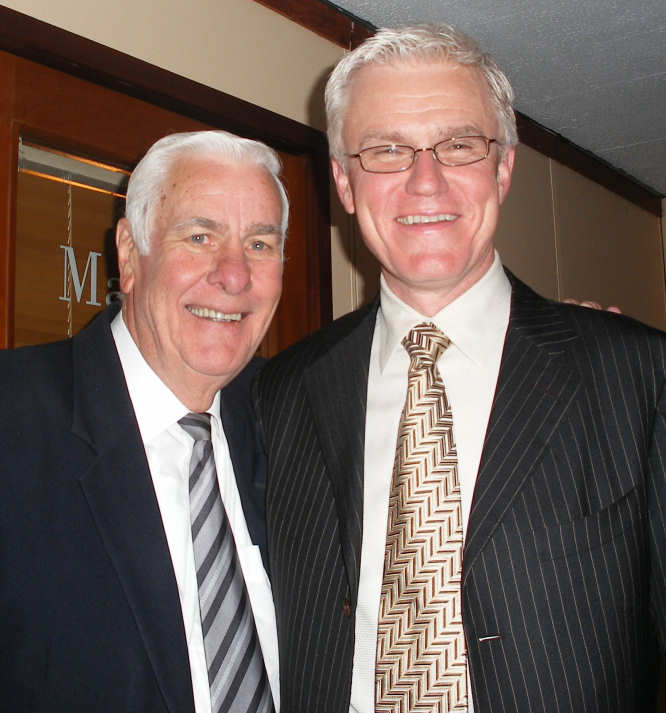 Arthur Gray and Charles Shreve after the sale.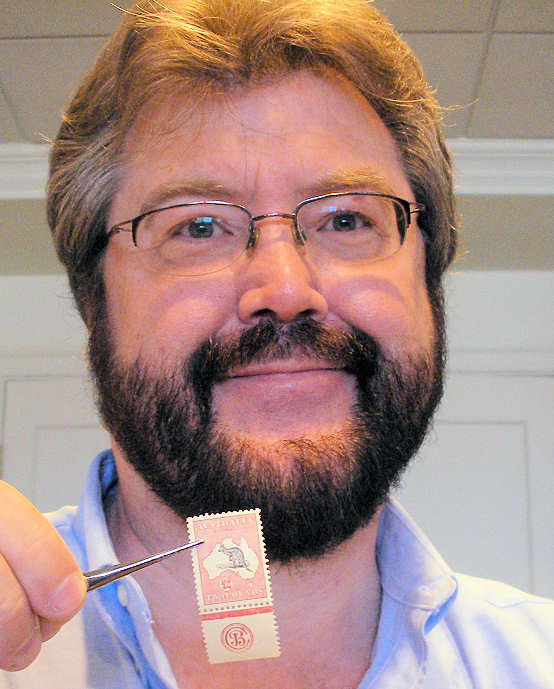 World Record Price for a single Australian stamp - held very gingerly by Glen Stephens.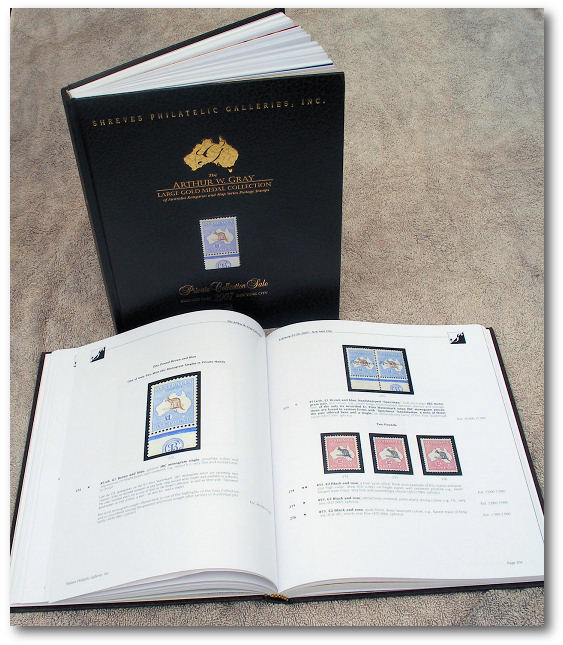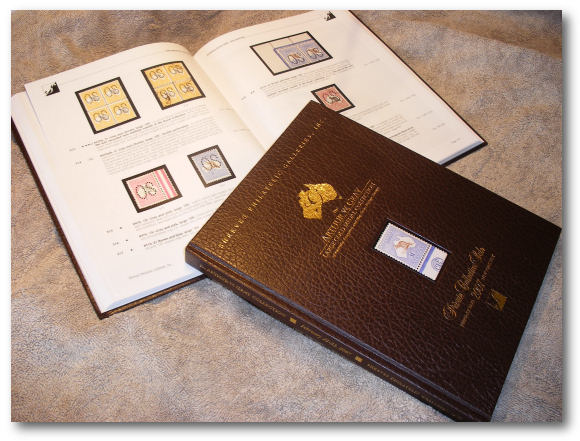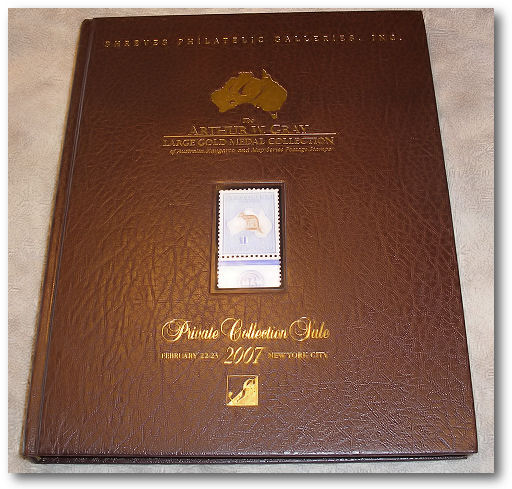 All photos copyright 2007 © Glen Stephens. For more detailed run-down of the sale click HERE.

https://www.glenstephens.com/GrayRoos front cover February Stamp News.pdf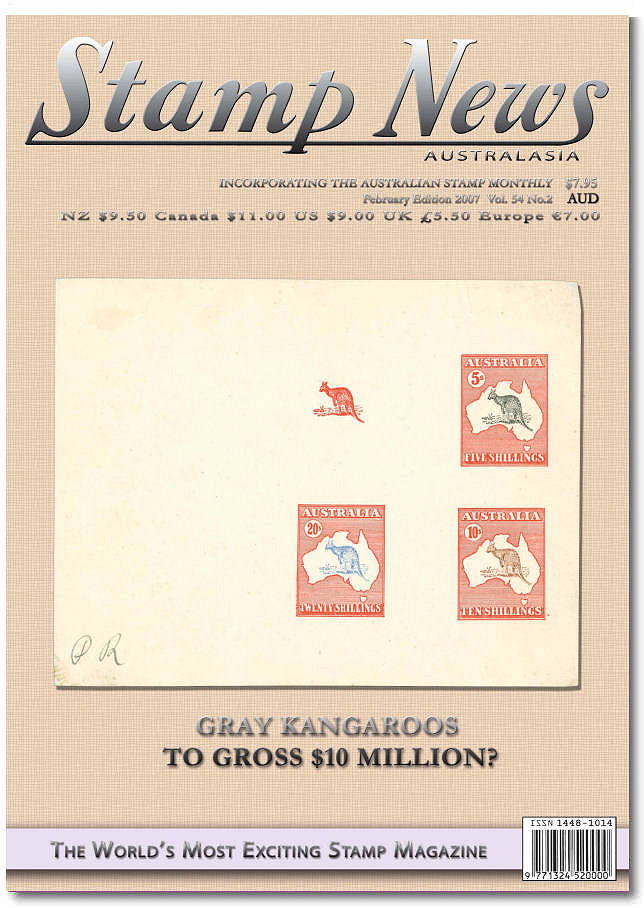 Front cover "LInns Stamp News" Feb 6, 2007.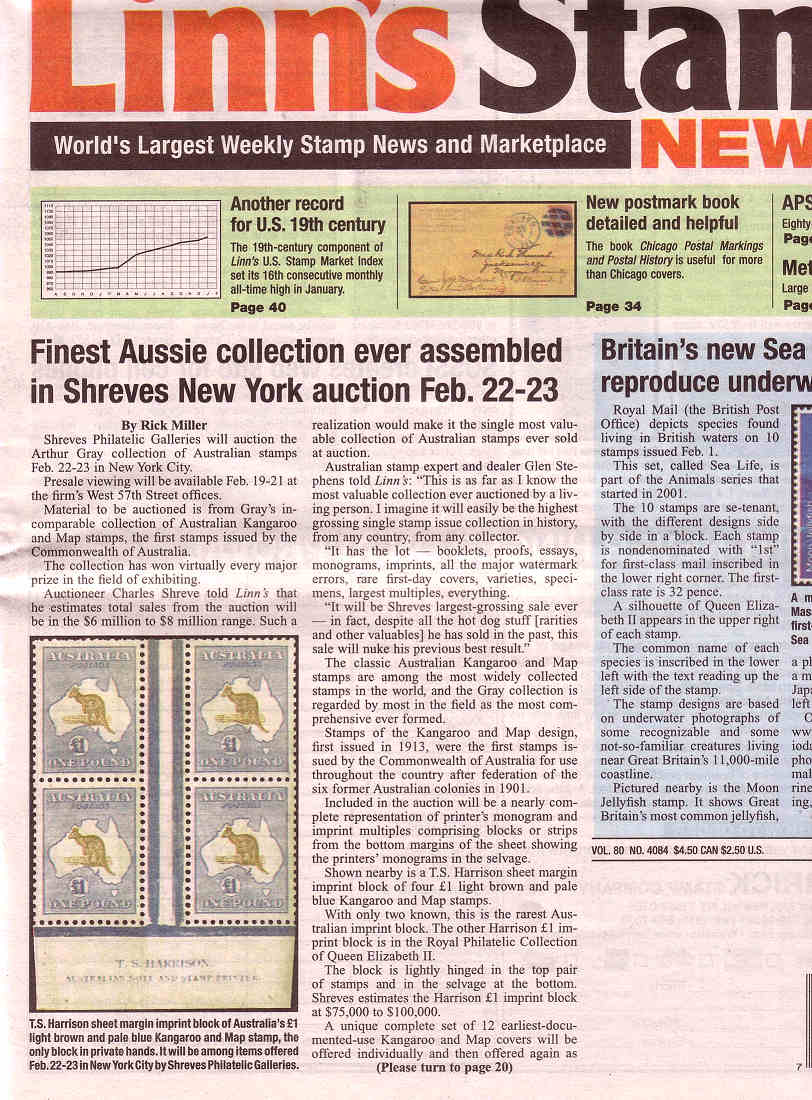 Get my regular market update emails FREE. Stamp gossip, price trends, record sale prices, and many one-time stamp specials, wholesale bargains, and exciting offers and breaking philatelic news. A mini stamp magazine in every email! "KNOWLEDGE IS POWER". The ONE stamp list you MUST be on, to keep in touch with the rapidly changing world market. One client made $65,000 profit in a few months after following my specific advice. Sign up securely and quickly by clicking HERE to access my automated data base. And wiser still ADD your home AND work email, if I only have one right now. Add a stamp friend's email address if you wish. One short click and you are subscribed to probably the most read email list in the stamp world!


Instant Currency Conversion


FREE! Just click here... see exactly what my lots cost in your currency.




If you would like to be notified of updates to this website, Click HERE.

If have any questions,
or comments regarding my site, please email me at glen@glenstephens.com


I am a Member Of
Full Time Stamp Dealer in Australia for over 25 years.
Life Member - American Stamp Dealers' Association. (New York)
Also Member of; Philatelic Traders' Society. (London) ANDA. (Melbourne) American Philatelic Society, etc

GLEN $TEPHEN$
Full Time Stamp Dealer in Australia for over 25 years.
Life Member - American Stamp Dealers' Association. (New York)
Also Member - Philatelic Traders' Society. (London) ANDA. (Melbourne) American Philatelic Society, etc

ALL Postage + Insurance is extra. Visa/BankCard/MasterCard/Diners/Amex all OK, even for "Lay-Bys"! All lots offered are subject to my usual Conditions of Sale, copy upon request BIGGEST STAMP BUYER: Post me ANYTHING via Registered Mail for my same-day cheque. Avoid the GENERALLY 40% Auction " Commissions" (15% + 17½ + GST, etc.) AND their five-month delays! Read for details.
"Lothlórien4 The Tor Walk, CASTLECRAG (Sydney), N.S.W. 2068
Phone: (02) 9958-1333 Fax: (02) 9958-1444 (Both 25 Hours, 7 Days!)
E-Mail: glen@glenstephens.com
Web Sites: www.glenstephens.com www.glenstephens.net or www.australianstamps.net

Sign up AUTOMATICALLY to my world renowned bi-weekly stamp gossip mailing list!
Click here to see MANY 1000s of stamp lots for sale at low $A Nett prices
Click here for all you need to know re SELLING your stamps for SPOT CASH
Click here for the current Monthly "Internet Only" special offers - CHEAP!
to read all my recent International stamp magazine articles.
Click here to get back to the main www.GlenStephens.com Homepage
Click here to ORDER on-line ANY items from ANY of my dozens of lists
Click for all info on Conditions Of Sale, Payments, Shipping, Returns &c
Click here for the complete library of my very unusual world travels!
How to PAY me. I accept EVERYTHING - even blankets and axes and beads!
Australia Post Annual YEAR BOOKS - massive stock - '27% off' discount offer today!
Visit my new page on RARITIES - Roos & other expensive photo items.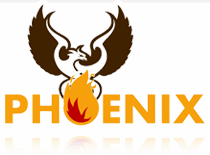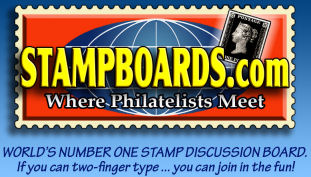 Instant Currency Conversion


FREE! Just click here...


E-mail me at glen@glenstephens.com -
Every credit card shown is accepted WITHOUT fee.
Earn Frequent Flier points while buying at bargain prices!
ALL prices are in weak Ozzie Dollars. I charge NO nasty, nasty
"Buyer's Commission" on stamps like nearly every "Auction" does.