Click To Go Back To The Main www.GlenStephens.com Stamps Homepage


Welcome! You are visitor
to www.GlenStephens.com




Glen Stephens
Monthly "Stamp News" Market Tipster Column


February 2008

---

World Record Price for a USA stamp

On November 14, Robert Siegel auctioned an "Inverted Jenny" 24¢ U.S. airmail stamp of 1918 for $US977,500, at the firm's galleries in midtown Manhattan, New York.

This is a record price for any single USA single stamp sold at auction, beating out the $US935,000 paid way back in 1998 for the 1868 1¢ blue "Z Grill" - that has since been "swapped" for a block of 4 "Inverted Jennys".

This stamp just sold had a certificate, but it was not independently numerically graded as seems the current American passion. Siegel rated it as "Extremely Fine" with "only a trace of a hinge."

It is position 58 on the sheet of 100 discovered. As I have typed many times the "Inverted Jenny" is not "rare" at all - just famous! Scores if not hundreds of Kangaroo stamp printing varieties are far numerically rarer - for instance.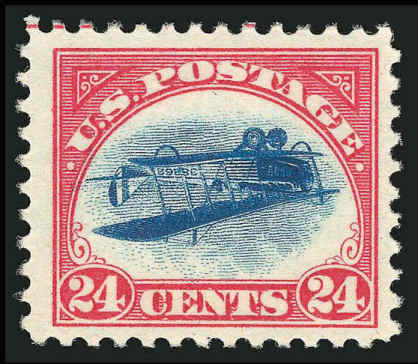 Scarce - NOT rare Jenny!
A well known NY collector, Charles Hack bought the stamp. Mr Hack, 60, collected stamps in his youth, but decided to pursue fine art as he began making money in residential and commercial real estate around the country.

Hack has now returned to philately with a dedication comparable to his passion for art.

"Stamps have a parallel quality to fine art - this thing gives a satisfaction, it's a great piece of Americana,"

Mr. Hack said last week.

Under-bidder was Greg Rohan from Heritage Galleries, a large numismatic dealership.

Rohan stated that he "had a customer in mind" for this stamp if he bought it. When asked if Rohan's potential buyer was a coin collector, Rohan said: "yes, and he also collects paper currency, paintings, sculptures, and movie posters."

Rohan went on to say that many Heritage clients have expressed an interest in rare stamps.

This is Charles Hack's second "Jenny". He purchased the other in 2005 for $US297,000. There's inflation for you!
SG "Australia" Cat



A welcome addition to the new catalogues on the market this month is the Stanley Gibbons "Australia" specialised.

Sea mail copies were expected to arrive late December, and it really is a handy volume to have around the place.

Most dealers stock it, and retail price for the seamail copies is a tad under $A70.

This a LARGE size catalogue ..... full A4 size. This "Australia" catalogue includes the Colonial "State" issues Of New South Wales, Queensland, South Australia, Tasmania, Victoria and Western Australia.

As you would expect all the stamps of the Commonwealth of Australia are here, from the 1913 Kangaroos right up to October 2007.

And best of all it is SPECIALISED. Many flaws are now priced and illustrated in colour. Watermarks - both inverted and sideways, Specimens, dies, perfs, papers, booklets, postage dues, you name it - they are mostly in here. In full colour on bright white paper.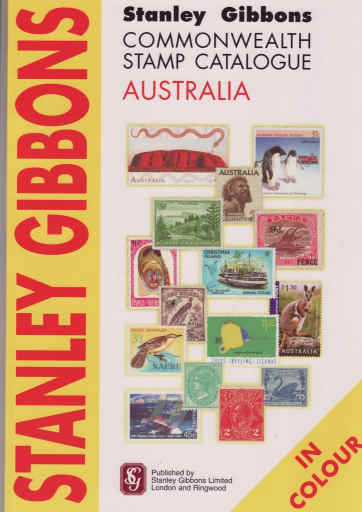 A Great Buy



The volume lists and prices all British Commonwealth Occupation Force (Japan) stamps, and all issues from Australian Antarctic Territory, Christmas Island, Cocos (Keeling) Islands and Norfolk Island.

Also here are the popular listings for Nauru (to 1968) New Guinea, Papua, GRI, NWPI, and Papua New Guinea (to 1975).

Prices for issues up to 1970 have been taken from the new 2008 Commonwealth & Empire stamp catalogue. Later issues have been specially re-priced for this volume.

A very handy book. I mentioned it on

www.stampboards.com

and sold ten air freighted copies very fast, so it seems to be a "must get" volume for folks who like to keep totally abreast of prices.

There are absolutely masses of upward price adjustments. If you are using an older SG be careful .... you'll be WAY out of touch if you do that.

most important - the prices for the Australia and States area DO quite accurately reflect our ever changing market here, so this is a recommended book to get your hands on!

This book is something SG really do "right" so I do hope it is very successful for them, and at the price it is really very good value for money.

The pimple faced "Marketing" kids with MBA's did however breathlessly announce December 7 that this same cat is now available in DIGITAL format on line.

All this excitement for a "mere" £19.95 - or about $A45. These kids simply do not understand this business, or their client's average age and computer illiteracy, and I hope they get a job at Starbucks or Quicksilver or Red Bull very soon, as this grand idea of course will be a giant flop.



Stanley Gibbons Sydney had an Auction November 28th which had a nice range of Kangaroos formed by Dr John Eckert.

Sadly the collection was in overall terms, in appalling condition, due to poor storage by Dr Eckert. Heavy rust and toning totally ruining some otherwise wonderful pieces.

Nonetheless the sale did well, realising over $1 million, most of that due to the strong Kangaroos section. The mind boggles at the final figure had the material been well looked after!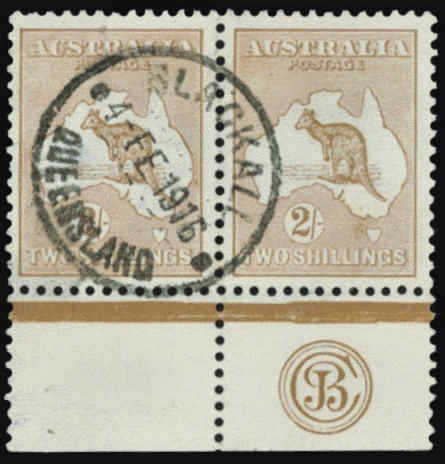 Sold for near $40,000!
A realisation that caught my eye was the nearby used 2/- brown Kangaroo "JBC" monogram on the 1915 2nd watermark. Stamp is SG 29, and without the monogram would be a $200 region stamp in used condition.

I have not seen a used monogram copy before, although I did witness two different mint singles of this identical item get sold when in New York this year for Arthur Gray's Kangaroo sale.

The universal rule of thumb is that used monograms get far less than mint ones. Often a half or a quarter, as only mint are catalogued and used are not - and most monogram collectors seek mint.

The Arthur Gray mint examples sold for about $A25,000 (way above ACSC catalogue) for a quite exceptional centred MLH example, and about $A13,500 for a well centred example with a gum thin.

Consequently SG estimated the used example at $A2,500. They neglected to mention toning in many of the Eckert item descriptions, this one included, but from the photo it does appear to be toned on the monogram stamp.

It sold for $A39,352 when all the commission and taxes were added! An amazing price, getting up to near double what Arthur Gray's superb mint copy realised in New York.

Long time readers will know for 30 years I have written that attractive fine used Kangaroos are far harder to secure than mint, and yet usually cost a fraction the price.

I have always been keen on them, and their day is just dawning it seems. Items with nice clear cancels like this one to me have a TON more appeal than their mint cousins, but that is just my personal view!

I sold a client this same stamp on a lovely parcel piece earlier this year, used along with other values of the elusive 2nd watermark series. Neither were previously recorded as being used on parcel piece or cover. I imagine his purchase has just trebled in value based on this sale!
FDC's go mad.
| | | |
| --- | --- | --- |
| | Stanley Gibbons Melbourne auction on October 20 had some attractive Ogden hand painted FDC's for sale. | |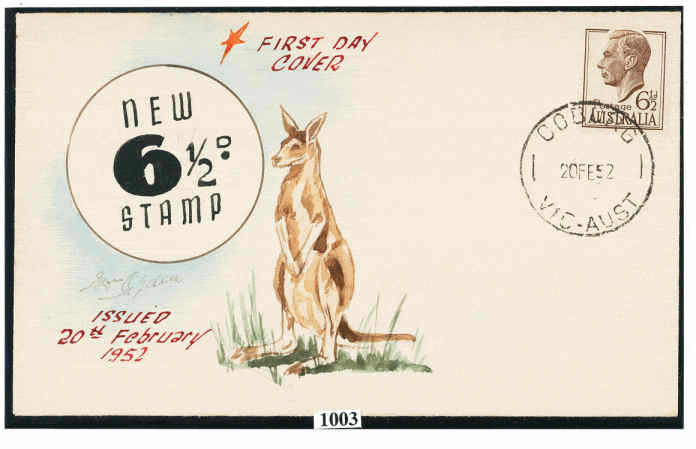 Massive Ogden price.

These were created in smallish numbers and always sell well for a few $100 each. The one illustrated is a nice example. This 1952 6½d KGVI definitive on a normal FDC is worth only a few dollars. On a hand painted Ogden it always rates a good premium.

Gibbons estimated it at $300 which most times is right in the ballpark. However at this auction all the Ogden's went berserk, and this one was invoiced for over $2,200!

And to prove the scarce 1950s FDC price madness was not restricted to SG, Prestige Auctions Melbourne also got huge prices for hand painted Jack Peake FDC's on December 1st.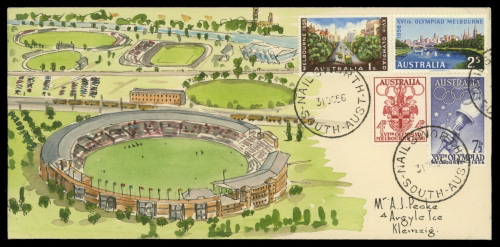 Olympic FDC sells $2,645
A record price of $2,645 was paid for the 1956 Olympics set on a hand painted cover that featured the Melbourne Cricket Ground. Estimate was only $200! Another selection of these Peake covers is in the next Prestige auction.

Hand painted limited edition covers of recent issues have not been available on the Australian scene for some time as far as I know.

An American member of

stampboards.com

using the handle "nirlay" from Massachusetts started producing them this year.

He is hand-painting them for selected new issues, and hand numbering them 1 to 10. that is a REALLY small edition number as is self-evident.

He is selling them for $A45 and to my mind would have to be one the other best buys around, and as the 1950s covers above show, the value can get into the $1,000's mark down the track.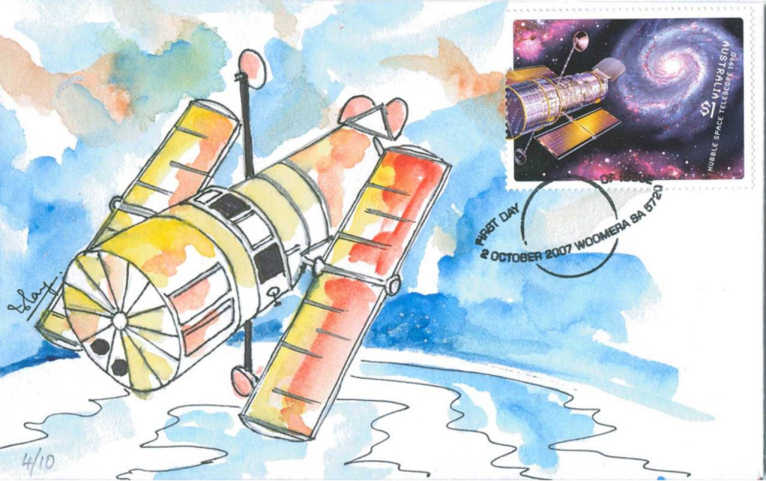 Hand painted in USA!

One of the October 2007 "nirlay" Space covers is shown nearby. Dealers like A-One Stamps and Geoff Sherrington stock these covers for anyone interested in owning something unusual and very artistic!

I like them a lot, and the time and skill and pre-organisation involved in making each one is clearly significant.

More important, being from a new cachet maker, getting a COMPLETE set of something like this often does well in the future, if only 10 exist.

I am not involved in selling or stocking these, but I'd guess that say a set of 20 numbered and signed hand-painted FDC from issue #1 would sell for $1000s in the future if the edition stayed at ten for each FDC.

AND are beautiful to look at in the meantime whilst you owned them!

The new 2007 Christmas set of 3 FDC's are really delightful looking - see the images on

www.stampboards.com

- simply search for "nirlay"
Revenues go Nuts!
The December 1 Prestige Auction also had some other surprises.

A small group of South Australian stamp duty issues from 1977 - only 30 years ago, sold for $2,530!

This mixed mint and used set of 15 stamps from 5c to $20 were estimated at just $200. If they were in my stock I'd have gladly taken less than $200, I can guarantee you that.
Amazing Prices

A collector who had travelled from Adelaide for the sale forced this set up to $2,530, with the book bidder still having "plenty of steam" in him auctioneer Gary Watson assured me afterwards. What a wasted trip that surely was for that collector - he must have been devastated on his long journey home.

These issues are fully covered and priced in the "Australian Revenue Catalogue" on State Duty stamps, and I am still working through the new editions to add a review here.

This catalogue has 138 large A4 pages just on State and Territory duty issues, with a TON of detail that is useful. All in full colour, on bright white stock, and all stamps are priced,and all volumes have lots of photos.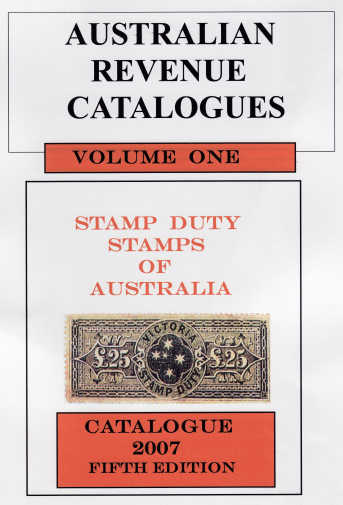 Essential Revenue Reading

Not especially cheap at $A95 plus shipping, but I guess at 68c a page you only need to find one small overprint or watermark or scarce printing variety and it will VERY soon pay for itself!

Good to see some new blood in the catalogues business, and these Revenue/Rail/Stamp Duty books really are quite something.

This area in the past was patchily covered with a range of pretty amateur looking catalogues. Well intentioned for sure, but scattered and the info was not always in one place.
The American Civil War blockade run cover I wrote up last month here was of course the big surprise at auctions in the past month.

Bullishly estimated at $A3,000 in the December 1 auction, it was finally invoiced for a BLOCKBUSTER $A33,350.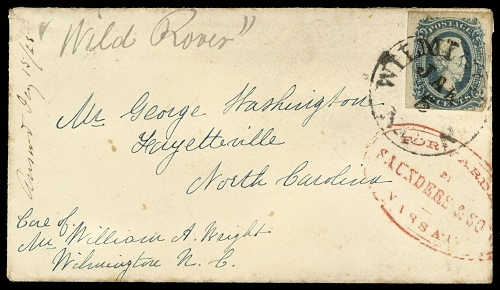 World Record Price
I wrote a feature article on this in "Linn's Stamp News" 2 weeks before the sale, and that generated a great deal of interest in the cover from American collectors.

Buyer was leading cover dealer Richard Frajola, who bought it for a client. The under-bidder does not even collect the USA, but West Indies!

He said: "I believe that the amount paid for the cover in Prestige is the record for a public sale of a blockade cover. One sold on ebay around $17,000 last year I think.

The more routine inbound blockade-run covers that are stampless, with entry markings of Charleston or Wilmington, without name of ship endorsements or forwarding cachets, usually sell in the $US2,500 to $US5,000 range" Frajola concluded

Gary Watson from prestige told me after the sale he was delighted that a record price for such a cover could be obtained at an Australian - not an American auction.
Season's Greetings!

Most readers will likely read this column over the Christmas/New Year holiday break.

I wish you and your family a restful and peaceful holiday, and many thanks to the readers who have contacted me through the year.

I have been travelling a lot this year as always - way over 110,000 flown miles. I visited about a dozen different countries, which is about usual. Many of my recent exploits are on-line at

www.glenstephens.com/travel

along with photos.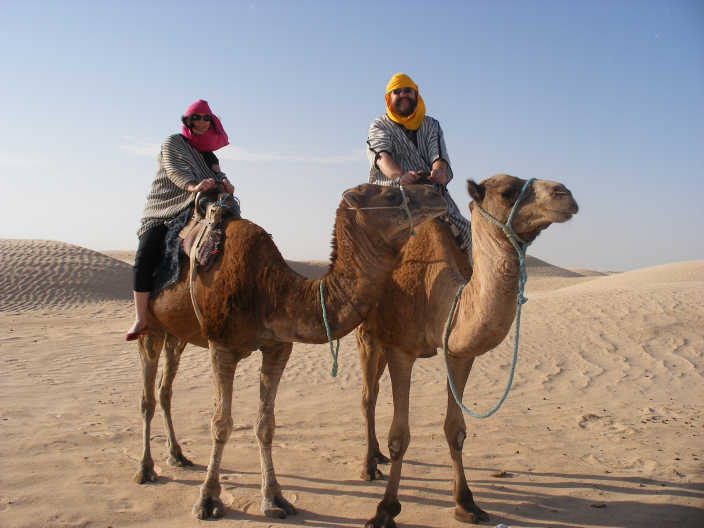 Sahara Desert in Tunisia

During 2007 at different times I visited Vietnam, Switzerland again for the chilly but amazing Basel "Fasnacht" Carnival, Puerto Rico, Thailand and even Paris during the Rugby World Cup.

I rode a camel into the Sahara in Tunisia, North Africa, and stayed in a Troglodyte hotel cut out of rock which was certainly different!

Went to the USA many times, including my 4th visit to Alaska, and of course to New York for the record-breaking Arthur Gray Kangaroo sale in February.

I'll spend Christmas and New Year again in Burma for a fortnight .. a wonderful place to visit. Look forward to catching up with readers in 2008!












Get my regular market update emails FREE. Stamp gossip, price trends, record sale prices, and many one-time stamp specials, wholesale bargains, and exciting offers and breaking philatelic news. A mini stamp magazine in every email! "KNOWLEDGE IS POWER". The ONE stamp list you MUST be on, to keep in touch with the rapidly changing world market. One client made $65,000 profit in a few months after following my specific advice. Sign up securely and quickly by clicking HERE to access my automated data base. And wiser still ADD your home AND work email, if I only have one right now. Add a stamp friend's email address if you wish. One short click and you are subscribed to probably the most read email list in the stamp world!


Instant Currency Conversion


FREE! Just click here... see exactly what my lots cost in your currency.




If you would like to be notified of updates to this website, Click HERE. If have any questions,
or comments regarding my site, please email me at glen@glenstephens.com
| | |
| --- | --- |
| | Search all my 300+ web pages! Simply type in what you are looking for. "Penny Black", "Latvia", "Imprints", "Morocco", "Fungi" "Year Books", etc! Using quotes ( " ) is more accurate for multi word searches - i.e. "Australian FDC" gives FAR more specific matches than simply Australian FDC if used with no quotes. Search is NOT case sensitive. Tip - keep the search word singular - "Machin" yields far more matches than "Machins" etc. |


I am a Dealer Member in Good Standing Of:

Full Time Stamp Dealer in Australia for over 25 years.

Life Member - American Stamp Dealers' Association. (New York)
Also Member of: Philatelic Traders' Society. (London) ANDA. (Melbourne) American Philatelic Society, etc

GLEN $TEPHEN$

Full Time Stamp Dealer in Australia for over 25 years.

Life Member - American Stamp Dealers' Association. (New York)
Also Member - Philatelic Traders' Society. (London) ANDA. (Melbourne) American Philatelic Society, etc


ALL Postage + Insurance is extra. Visa/BankCard/MasterCard/Diners/Amex all OK, even for "Lay-Bys"! All lots offered are subject to my usual Conditions of Sale, copy upon request BIGGEST STAMP BUYER: Post me ANYTHING via Registered Mail for my same-day cheque. Avoid the GENERALLY 40% Auction " Commissions" (15% + 17½ + GST, etc.) AND their five-month delays! Read for details.

"Lothlórien4 The Tor Walk, CASTLECRAG (Sydney), N.S.W. 2068
Phone: (02) 9958-1333 Fax: (02) 9958-1444 (Both 25 Hours, 7 Days!)
E-Mail: glen@glenstephens.com
Web Sites: www.glenstephens.com www.glenstephens.net or www.australianstamps.net

Sign up AUTOMATICALLY to my world renowned bi-weekly stamp gossip mailing list!
Click here to see MANY 1000s of stamp lots for sale at low $A Nett prices
Click here for all you need to know re SELLING your stamps for SPOT CASH
Click here for the current Monthly "Internet Only" special offers - CHEAP!
to read all my recent International stamp magazine articles.
Click here to get back to the main www.GlenStephens.com Homepage
Click here to ORDER on-line ANY items from ANY of my dozens of lists
Click for all info on Conditions Of Sale, Payments, Shipping, Returns &c
Click here for the complete library of my very unusual world travels!
How to PAY me. I accept EVERYTHING - even blankets and axes and beads!
Australia Post Annual YEAR BOOKS - massive stock - '27% off' discount offer today!
Visit my new page on RARITIES - Roos & other expensive photo items.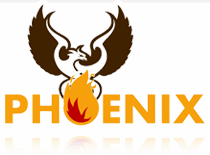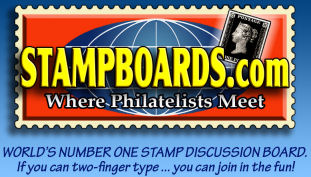 Instant Currency Conversion


FREE! Just click here...


E-mail me at glen@glenstephens.com -
Every credit card shown is accepted WITHOUT fee.
Earn Frequent Flier points while buying at bargain prices!
ALL prices are in weak Ozzie Dollars. I charge NO nasty, nasty
"Buyer's Commission" on stamps like nearly every "Auction" does.