Click To Go Back To The Main www.GlenStephens.com Stamps Homepage


Welcome! You are visitor
to www.GlenStephens.com




Glen Stephens
Monthly "Stamp News" Market Tipster Column


February 2010

---



Fakes of Modern China on ebay



Readers should be VERY careful when buying any of the pricey post war China stamps.

And most especially from venues like ebay.

There was a lively discussion on these issues on stampboards this month - http://www.tinyurl.com/chinastamp

One experienced member there stated 9 out of 10 of such key modern stamps such as the 1980 "Year Of The Monkey" offered on ebay were forgeries in his view.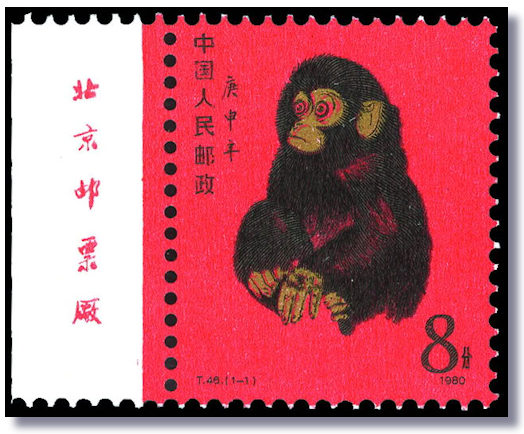 Does this look OK to you?
He posted up a photo of his selvedge copy of the stamp, he'd bought off a well known Hong Kong auction for many $100s as reference point of what a genuine looks like.

I pointed out it appeared to be re-perforated on 3 sides – which he and others later agreed with.

Check the photo nearby and see if YOU would have picked that manipulation. These guys are clever.
Most readers will realise many modern China stamps sell for big money, but are you aware of HOW much?

This rare 1968 issue nearby showing Taiwan as a separate country sold at auction in latter 2009 for $HK3,680,000.

That is well above $A500,000 or about $US500,000 - more money than nearly any single imperforate "Classic" gets, from any country.

And in a few years that will double is my guess.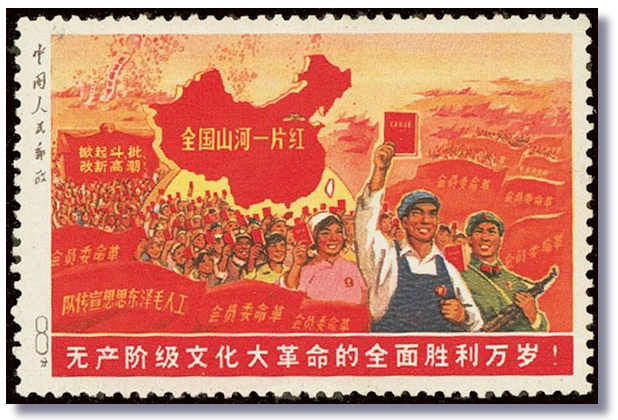 Sold for over $A500,000
Wan Wei Sheng was commissioned to design a series of stamps during the Cultural Revolution, a decade-long period of mass political and social upheaval in China starting in the mid-sixties.

It was designed to depict to the Chinese masses that - "Everywhere in China is Red" – and the smiling armed soldier was probably placed there, to make sure the message got across!

One 1968 stamp depicted nearby features a worker holding a book filled with leader Mao Zedong's quotations, and showing an entirely red China map in the background.
Major political blunder

However, Wan had left the Taiwan map uncoloured red, a major political blunder that sparked a recall of the stamps just half a day after their release.

Taiwan split from China in 1949 at the end of a civil war, and has been ruled separately since.

However Beijing still considers the island as a "Renegade Province" and a part of its territory, awaiting "reunification".

On the day of issue, Chen Chao from the Map Publishing house of China, Beijing Branch noticed the problem in this stamp. The design had a major error.

It did not uphold the party slogan - "Everywhere in China is Red", since the map of Taiwan island at lower right was drawn in white color.

The Military Managing Committee decided to stop issuing this stamp, withdrew all the copies unsold and ordered them destroyed. Some offices had just starting selling them before that order, hence the few existing copies.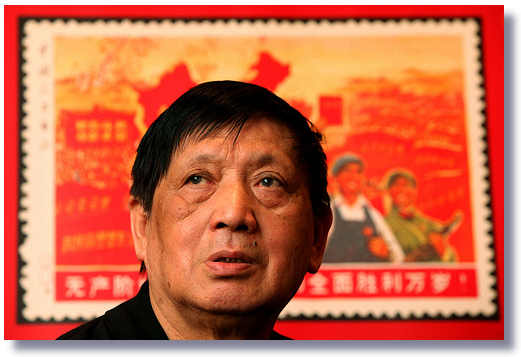 He Still looks worried!
Stamp designer Wang Wei Sheng poses nearby in front of an enlarged copy of the rare stamp he designed, commonly known as "The Whole Country is Red".

He attended the sale of it at a John Bull Stamp Auction in Hong Kong for it and others from the set, on November 1, 2009.
Feared a jail sentance

For years Wang Wei Sheng worried that he would be jailed, after the stamp he designed was quickly pulled out of circulation because it failed to include Taiwan as part of China in the design.

Designer Wang Wei Sheng, who watched the hammer fall on the record price, said he had feared he would be punished for his mistake.

"For a long time I was really worried that I would be jailed," Wang said.

"Officials told me that it was a really big mistake, but in the end nothing happened."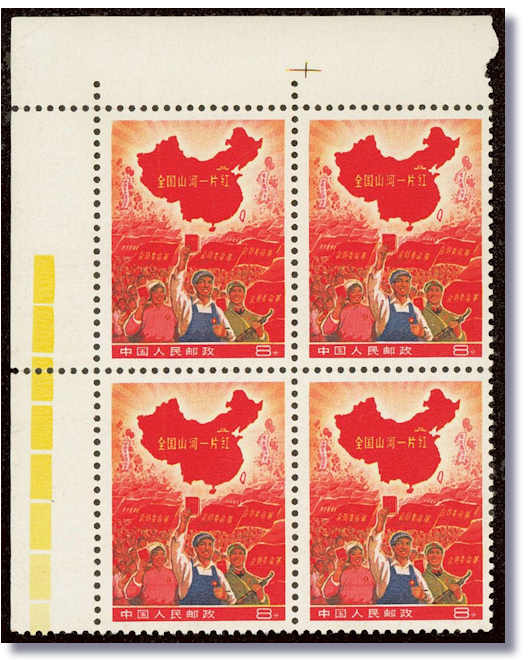 Taiwan is also not Red!
The vertical version of this stamp is illustrated nearby in a block of 4. That block sold for $HK2.3 million at the same sale.

Modern China is going from strength to strength, and in my view will continue to do so for the forseeable future.
An interesting question, and one may collectors do not dare spend much time calculating!

A stampboards member from Dubai posed this very question, "How much a year do you spend annually on stamps" and a member voting poll was set up.

How do YOU compare with this?
The voting of the poll as I typed this had 165 votes from collectors all over the world. As you can see over 70% of respondents spent over $1,000 a year.

Nearly a third of all voters spent over $5,000 a year on stamps.

Remember these votes are entirely anonymous, and in that setting are generally quite accurate.

Many of the members added their own comments to the poll, which are very interesting – you can read the results here - http://www.tinyurl.com/stampspend
Dealers never notice EVERYTHING!

A great story unravelled recently. I sold a large carton of junk on stampboards around Xmas for $A150.

I'd bought it an hour before, and it was crammed with old stamps in cigar boxes, tins, envelopes, shoeboxes, and even a WW2 Army Ammunition box!

The elderly seller drove over with it, and said much of it was from a relative who had lived in New Guinea for a time before the War. He had planned to toss it all in the bin, until he saw my Yellow Pages ad.

It was a hot day, so I took photos of this one carton, loaded them up for sale, and it found a new home to Sam Kelly, a collector I've dealt with for decades.

Indeed Sam once mailed me 10 cartons of his own spare cover material, so it is true that what comes around, goes around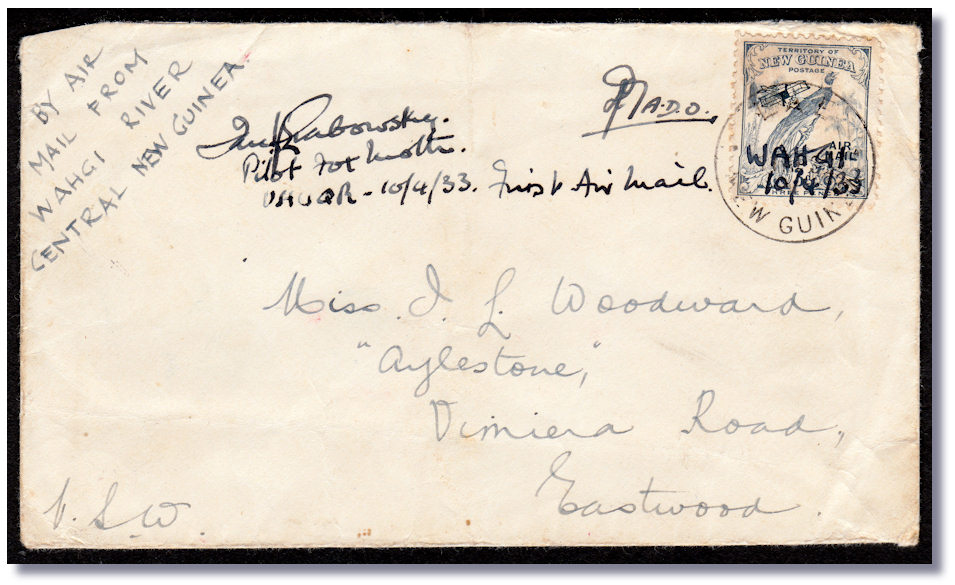 A $2,000 bonus find in my box.
Anyway, upon receipt Sam noticed a handful of New Guinea early 1930s covers that I'd only briefly glanced at when buying the box, and he posted them up on stampboards

One nice cover was addressed to the Edie Creek Goldfields, and there were other nice pieces – Sam's full report is here - tinyurl.com/NGcover

One was the illustrated nearby Air Mail cover from Wahgi River, Central New Guinea. Signed by the pilot, with his aircraft rego number, and sent by first air mail in 1933.
Cat is $2,000 in the Eustis AAMC.
That one cover is cat $2,000 in Eustis as P59, which for items of that ilk, means it is WORTH around that figure, as there are far more buyers than sellers at this scarcity level and AAMC = retail pretty much.

The interior highlands area of New Guinea was unknown to Westerners until the early 1930s – see tinyurl.com/GoldNG for the report by The Royal Geographical Society, in 1934.

I've been to the NG highlands a couple of times, and it is still the Wild West even today. I've been threatened with a machete by a betel nut/cheap spirits deluded tribesman, up a rutted muddy path to nowhere.

Three Police with shotguns needed to come and defuse the issue.

I needed 2 paid security men and a driver in an armoured Land Rover, to drive from Goroka to Mount Hagen.

It is only a generation back where they had never seen Europeans, and many of the natives there are still of the fierce Warrior class.

I've spent time with the Huli Wig Men, and trust me, these are huge guys you would NOT want to mess with.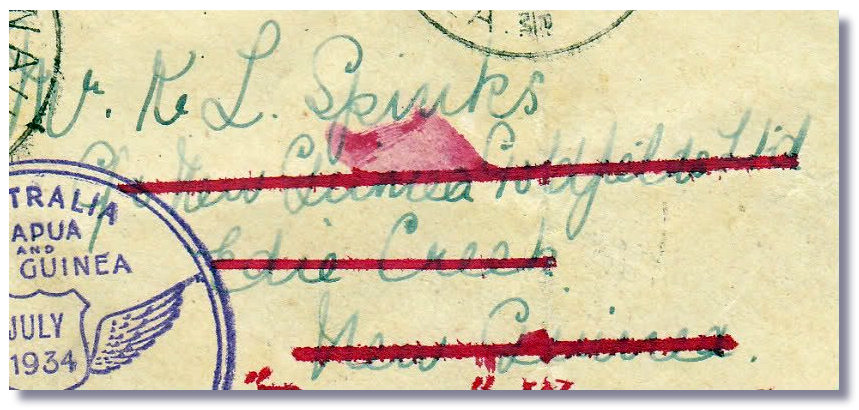 Cover TO the New Guinea goldfields.
I saw the folder of New Guinea covers when buying it, and had meant to take a closer look, but it was down the bottom of box as I recalled, which I'd all sealed up, so could not be bothered to be honest.

I had literally bought about 40 cartons that day from 2 different estates, and my garage was full, so was not quite sure what was where to be honest, and I just wanted to start moving them out fast.
Only 5 covers created.

The Eustis AAMC states only 5 such covers were carried in 1933.

The rule of thumb is that more than half of such things from the pre war era vanish over the decades - being sold, or more often, tossed out by folks cleaning up an estate, (as these very nearly were) who have no idea they have any real value.

So five carried we know is a fact. One is illustrated in Eustis, plus this one, may very likely be the only ones extant.

Clearly it is rare - the Nelson Eustis collection Auction at Leski did not contain a copy.

I'd bet the house this cover has not left that family for those 75 years, and can truly be regarded as "new stock" to the market.

It all goes to show dealers overlook things all the time. I never care, as I made a profit anyway on the box.

Always check bulk lots carefully – you never know WHAT is in there! Great to see a keen cover collector ended up with this lot.
Cunning 1d Black Fake
An envelope sent to an address in Cornwall is believed to be the world's first recorded attempt at postal fraud – and was expected to fetch up to £40,000 at a UK auction in late 2009.

The "highly important" and decorative Mulready envelope from the dawn of postal history in 1840 bears two uncancelled portions of different, previously used 1840 1d Black stamps.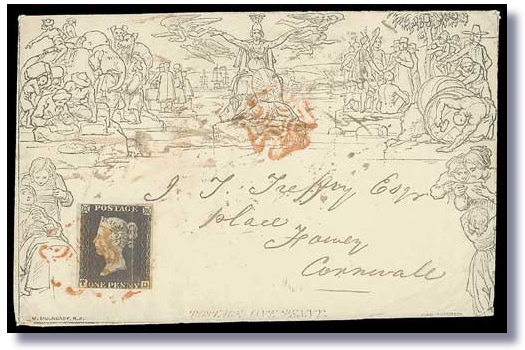 World's first postal fraud attempt?
The two parts had been cunningly joined and stuck to the envelope to form an apparently unused single stamp.

The Mulready was Stereo A176, and dated 9 June 1840, and additionally franked with 1840 1d. black, the left "half" from Plate 1A lettered TD, and the right part was lettered "D" joined together in an apparently successful attempt to defraud the Post Office.

Both portions were tied by red Maltese Cross cancellations.

The ruse obviously worked - because the envelope, with the stamp bearing a red Maltese Cross cancellation, was delivered without question by the UK Post Office.

Stamp specialist Dominic Savastano, of London auctioneers Spink, said: "It is believed to be the earliest recorded attempt at postal fraud involving the use of a Mulready envelope anywhere in the world. It is a rare and highly important envelope."

The envelope, accompanied by a B.P.A. Certificate, was expected to fetch £35,000-£40,000 at Spink's London Auction on November 11, but appeared not to sell on the day.
"Knowledge Is Power"

| | | |
| --- | --- | --- |
| | "Knowledge Is Power" has been my mantra for 30 years as a dealer. Often the entirely obvious is overlooked by sellers - even informed ones. | |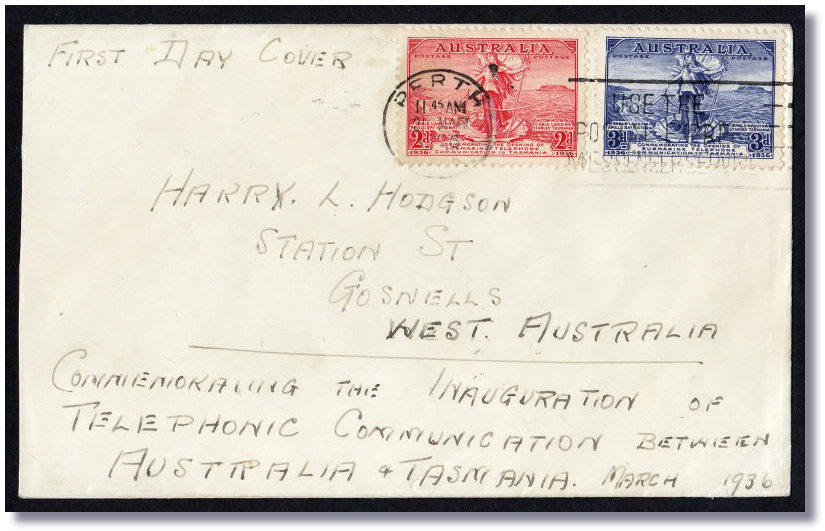 Cancelled day BEFORE issue.
A UK dealer had this cover shown nearby for fixed sale on their website. I pounced on it, and it arrived here his week. MOST interesting.

This is how they described it, and they were large professional dealers, and like me, members of the PTS.

"01/04/1936 Australian FDC Opening of Submarine Telephone Link to Tasmania, home made with wrong date."

It is clearly machine cancelled at Perth GPO 11.45am, March 31, so backdating is not an issue, as with many small town hand cancels.

Back in this era, FDC were a generally un-collected novelty.

In the entire period of Kangaroo issues from 1913 to 1936 there are only two FDC's recorded - despite the myriad of face values, of ever changing watermarks, and even many colour changes. No collectors seemed to care.

The same is true of our KGV heads - very few issues have genuine FDCs recorded. For some, the earliest recorded date is often assumed to be the day of issue.
John Gower summary of the 1930's
"Mr Wesley Covers", John Gower wrote in the 1960's - "prior to 1936 as far as I can remember, "First Days" and the collecting of same, has very few friends among the philatelists at that time.

"Very few seemed to be interested in that branch of the hobby, and the reason for this I think was on account of no printed or cacheted covers being available to the few collectors who were interested."

Even April 1 FDC's of this are not common at all to check against, and are listed in the ASC at $125, and indeed I've seen them sell for far more.

There were virtually no illustrated covers at that time for anything (see Gower quote above) - that aspect all largely started later in 1936, mainly with the August 1936 SA Centenary trio, and then really took off in mid 1937.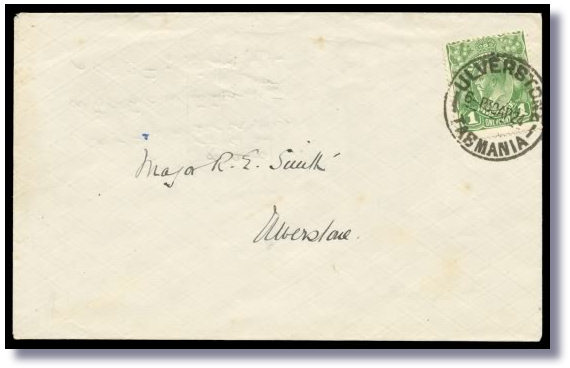 This sold for $5,125!
Some genius bid $A5,125 for an apparent simple date-slug error on a commercial cover. It was franked with a 1d green KGV head at auction in February 2009, that had a shopping list scrawled across the back.

This cover was stated as being cancelled the "DAY BEFORE ISSUE" and was allegedly unique thus -- and the keen bidders pushed it up to $A5,125 – so at least 2 collectors appeared to agree.

In my view and the view of some senior FDC collectors, it was a simple wheel slug error on the town hand cancel. Good luck to them, when they try and re-sell it!
Cancelled the day BEFORE issue
| | | |
| --- | --- | --- |
| | There is NO such chance the Perth GPO machine cancel was likely to be wrong at the GPO at 11.45am. And a simple month or day error was not possible, as THREE wheels then needed to be wrong. | |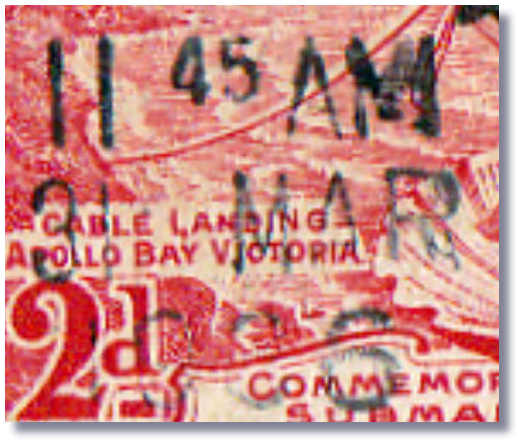 A clear March 31st cancel.
The date is clearly showing "Perth/11.45am/31 MAR/1936/W.A." - the OFFICIAL release date seems to be agreed by catalogues as April 1.

Clearly this is dated a day BEFORE. The morning of the day before in fact. March 31, 1936 was a Tuesday, so very plausible it was used March 31.

If the keen buyer or under-bidder of the rough looking 1d green "Day Early" FDC, would like to send me just 20% of what was cheerfully paid for that, for $A1,000 he'll have a UNDISPUTED "Day Before" cover for the money!

Interestingly enough there was a vigorous discussion on the 1d green cover on stampboards.com before the auction, and later, on the 1936 Cable cover. Follow all that here -http://www.tinyurl.com/36cable
Another example surfaces.
Australia's leading FDC collector Frank Pauer of Melbourne saw it, and phoned me today to say he had an IDENTICAL cover for the 1936 cable – same addressee, same handwriting, same notes at base ... and better still - the identical 11.45am Perth GPO cancel.

Pauer's example is illustrated on the on-line discussion for those interested - http://www.tinyurl.com/36cable

Frank bought it many years back, and had never seen or heard of another until sighting my cover on stampboards.

Australian pre-war FDC cover collecting is still very much in its infancy.

When the Pauer/Walker detailed FDC catalogue finally gets issued, interest in all these sort of major left field items will increase enormously.










Get my regular market update emails FREE. Stamp gossip, price trends, record sale prices, and many one-time stamp specials, wholesale bargains, and exciting offers and breaking philatelic news. A mini stamp magazine in every email! "KNOWLEDGE IS POWER". The ONE stamp list you MUST be on, to keep in touch with the rapidly changing world market. One client made $65,000 profit in a few months after following my specific advice. Sign up securely and quickly by clicking HERE to access my automated data base. And wiser still ADD your home AND work email, if I only have one right now. Add a stamp friend's email address if you wish. One short click and you are subscribed to probably the most read email list in the stamp world!


Instant Currency Conversion


FREE! Just click here...




If you would like to be notified of updates to this website, Click HERE. If have any questions,
or comments regarding my site, please email me at glen@glenstephens.com
| | |
| --- | --- |
| | Search all my 300+ web pages! Simply type in what you are looking for. "Penny Black", "Latvia", "Imprints", "Morocco", "Fungi" "Year Books", etc! Using quotes ( " ) is more accurf used with no quotes. Search is NOT case sensitive. Tip - keep the search word singular - "Machin" yields far more matches than "Machins" etc. |


I am a Dealer Member in Good Standing Of:

Full Time Stamp Dealer in Australia for over 25 years.
Life Member - American Stamp Dealers' Association. (New York)
Also Member of: Philatelic Traders' Society. (London) ANDA. (Melbourne) American Philatelic Society, etc
GLEN $TEPHEN$
Full Time Stamp Dealer in Australia for over 25 years.
Life Member - American Stamp Dealers' Association. (New York)
Also Member - Philatelic Traders' Society. (London) ANDA. (Melbourne) American Philatelic Society, etc

ALL Postage + Insurance is extra. Visa/BankCard/MasterCard/Diners/Amex all OK, even for "Lay-Bys"! All lots offered are subject to my usual Conditions of Sale, copy upon request BIGGEST STAMP BUYER: Post me ANYTHING via Registered Mail for my same-day cheque. Avoid the GENERALLY 40% Auction " Commissions" (15% + 17½ + GST, etc.) AND their five-month delays! Read for details.
"Lothlórien4 The Tor Walk, CASTLECRAG (Sydney), N.S.W. 2068
Phone: (02) 9958-1333 Fax: (02) 9958-1444 (Both 25 Hours, 7 Days!)
E-Mail: glen@glenstephens.com
Web Sites: www.glenstephens.com www.glenstephens.net or www.australianstamps.net