Click To Go Back To The Main www.GlenStephens.com Stamps Homepage

Welcome! You are visitor
to www.GlenStephens.com




Glen Stephens
Monthly "Stamp News" Market Tipster Column


February 2011

---
British Guiana 1¢ to be sold?
One interesting piece of news that will impact on the stamp market is the death in custody of John E. duPont, in latter 2010.

Mr duPont was the owner of the "World's Rarest Stamp" – the British Guiana 1856 1¢ Black on Magenta.

The stamp was purchased in 1980 at Robert. A. Siegel auctions in New York by John E. duPont, for $US935,000.
This stamp was auctioned on June 17, 2014 in New York by Sothebys, and the invoice was over $A10 million on the day. Making it worth $US350 BILLION a Kilogram! The most valuable object on earth by far. Full details are here, with live accounts, and video from the sale room - http://tinyurl.com/lq87ql5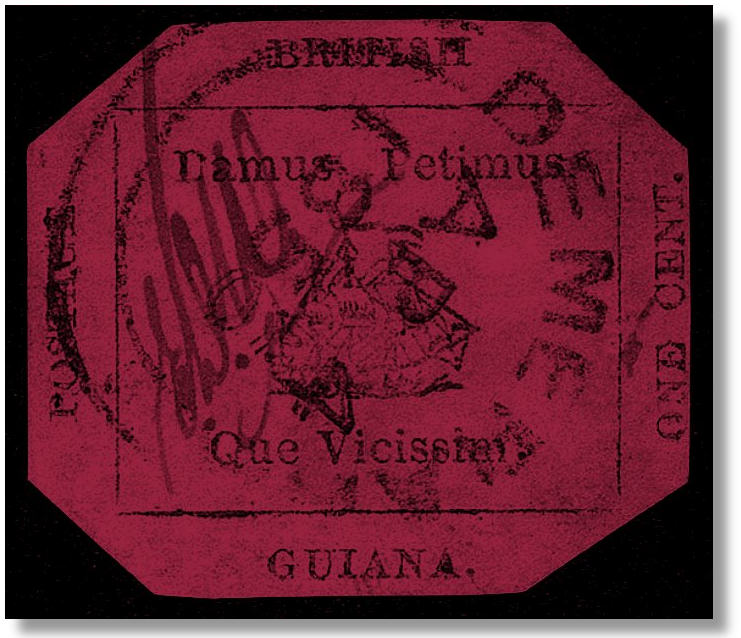 The unique 1856 1c British Guiana Black on Magenta stamp photo
It was sold and last shown so long back, no really good quality images exist of it.

Only a scan from the sale catalogue of the time exists, hence the rather poor photo shown nearby.

It is the best image available, and even that took ages to source! The stamp is cut to shape, and is said to be scuffed and defective.

31 years back that was clearly a lot of money. Adjusted for inflation it is around $US3-4 million today.

I have little doubt that if marketed correctly - and intelligently, by a media savvy action house like Shreves/Spink etc, it will be invoiced out for around $US5-10 million. (June 2014 detailed update of the historic Sothebys auction of this stamp - tinyurl.com/ncqvgpd )
He was convicted of the 1996 slaying of Olympic wrestler David Schultz.

The murder occurred whilst duPont was legally deemed to be mentally ill, thus sparing him a life sentence.

Mr duPont was aged 72 when he died in custody in a prison for the mentally ill in Philadelphia USA in December 2010.

www.tinyurl.com/J-duPont contains more interesting detail on the stamp, and parts of the rather bizarre life of John duPont!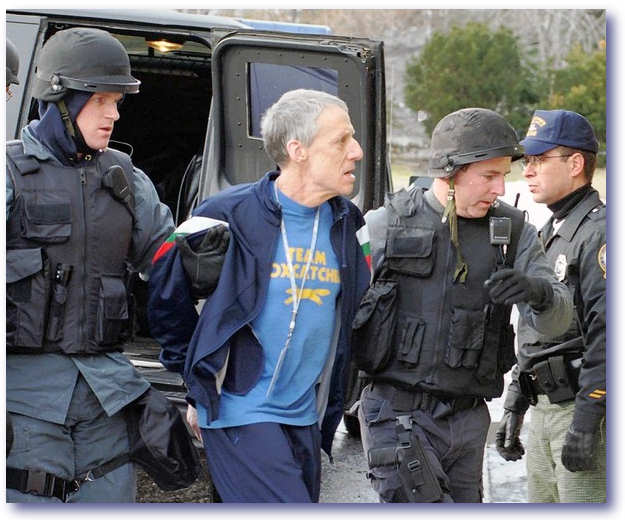 DuPont being arrested
The British Guiana 1¢ served as the centrepiece for duPont's British Guiana exhibit that won the Grand Prix International at "Ameripex 1986" in Chicago.

It is a rather ugly stamp, and is also in defective condition, but it has the recognition by most as "the rarest stamp existing".

Which of course is quite untrue - many other unique stamp pieces also exist – and logically are all equally rare and unique.

And these sometimes sell for just a few $100s or $1000s each, if from unpopular countries or fields. I sold one from Victoria last month for $500!
Stamp World's "Glamour Item"
However the "British Guiana 1¢" has been the undoubted "glamour" item over the past century or so in the stamp world.

The exact present whereabouts of the 1¢ Magenta is unknown - but is believed to be in a bank vault in Philadelphia.

When this stamp next comes on the market is anyone's guess, but it is realistic to assume "sooner rather than later" will be the answer, with this death.

I think this stamp has enough status and intrigue attached to it, to be keenly sought by several wealthy stamp enthusiasts and/or entrepreneurs.

Keen to own something famous and newsworthy they can be publicly associated with owning, and loaning to International Exhibitions etc.

American Bill Gross is the type of person for whom this sum is small change, and I suspect if it does sell for a record price, it will probably get far more, soon down the track.

Even a Corporation buying it would not surprise me, or even a savvy dealer like Stanley Gibbons, who would gain millions in publicity alone while they offered it at a profit.
Discovered in 1873
The stamp was discovered in 1873 by a 12-year-old schoolboy, Vernon Vaughan, in the Guyanese town of Demerara, amongst his uncle's letters.

There was no record of it in his stamp catalogue, so he sold it some weeks later for a few shillings to a local dealer, N. R. McKinnon.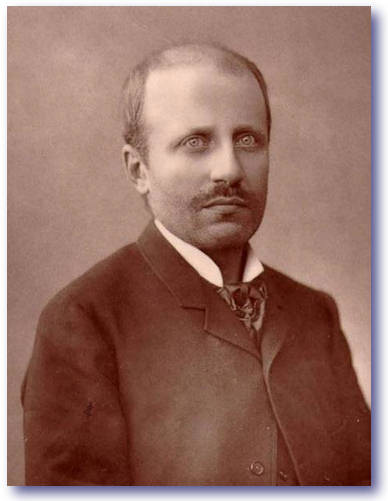 British Guiana 1¢ bought by Ferrary
After that, the price escalated. It was bought by a succession of collectors before being bought by Philippe von Ferrary in the 1880s for US$750.

Ferrary was one of the wealthiest men in Europe, but mostly dressed like a hobo, never married, and did not drink, smoke or party or have friends.

He was obsessed with stamps, and had a mansion full – including many of the world's rarities! He never sold a stamp, and showed them to almost no-one.

Arthur Hind's agent bought the Guiana during the series of fourteen Ferrary auction sales in 1922, for 352,500 Francs.

This was £7,343, a world record then, and he reportedly outbid Maurice Burrus, and 3 kings - including King George V.

A second copy reportedly turned up in the 1920s, and sold to American Hind. Rumour says Hind lit a match under it and said: "I still possess the only copy".

Australian Frederick Small bought it off Hind's widow in 1940, and sold it at Siegal Auction NYC in 1970.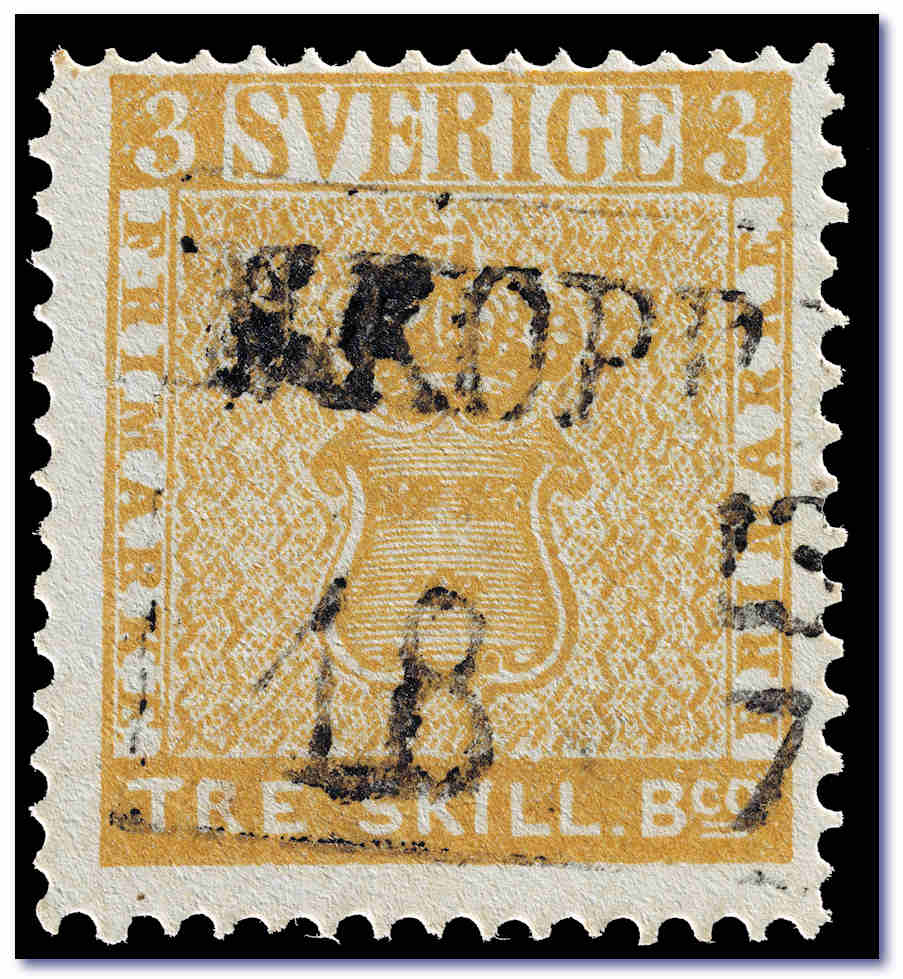 Tre Skilling offered again in 2010.
I feel sure The Guiana will sell for a great deal more than the Sweden "Tre Skilling Banco" has been reported as getting in recent times.

That stamp seems to have been dogged with rather bad press for decades.

Being offered and 'sold' several times by Feldman's, but full payment never occurring and being defaulted upon repeatedly etc.

No buyer name, and no price!

The most recent May 2010 alleged "sale" was via a sworn to secrecy non-public "auction" by Feldman of Switzerland to an undisclosed buyer consortium (again!), and readers can form their own views upon that.

One of the rules of that special private "auction" was essentially that publication of the alleged sale price was at the discretion of the buyer, and all others involved were sworn to total secrecy.

Also the "auction" was essentially by invitation only, to pre-qualified bidders. Feldman named no price paid, but vaguely alluded it was around the SFR 2,875,000 paid in 1996.

No surprise to me - at the end of the "sale" it was stated the buyer was staying private, and was not confirming the sale price, and nor could anyone else it seems!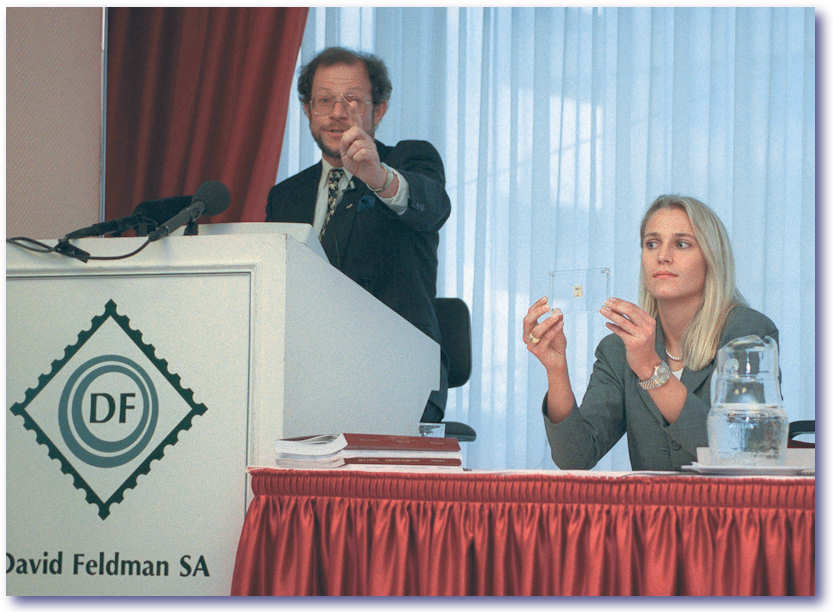 Last publicly auctioned in 1996
I believe I have written more on this stamp than anyone else has - in the English language at least.

In the past I spent days researching this stamp and its sales history, from the original discovery, to the web of alleged "buyers" in recent decades who never paid for it etc.

It you type Sweden "TreSkilling yellow" into google, my detailed article comes up as match number one.

I do not believe any Expertising Committee at any time has ever given this Sweden "Tre Skilling Yellow" a Certificate as being a genuine error of colour.

I have never examined it, but my deep research into the stamp's history makes me feel it is a genuine error - if I had to venture an opinion.
"Did not have the funds"

David Feldman said in the superb book on the stamp, produced by the last owner consortium:

"It's simple - I came up against three buyers in a row, all of them Swedes, who did not have the funds to redeem the stamps they'd purchased at our Auctions."

Despite what most dealers and collectors think, neither of these 2 famous stamps are the world's "most valuable" stamp items. Not by a LONG way.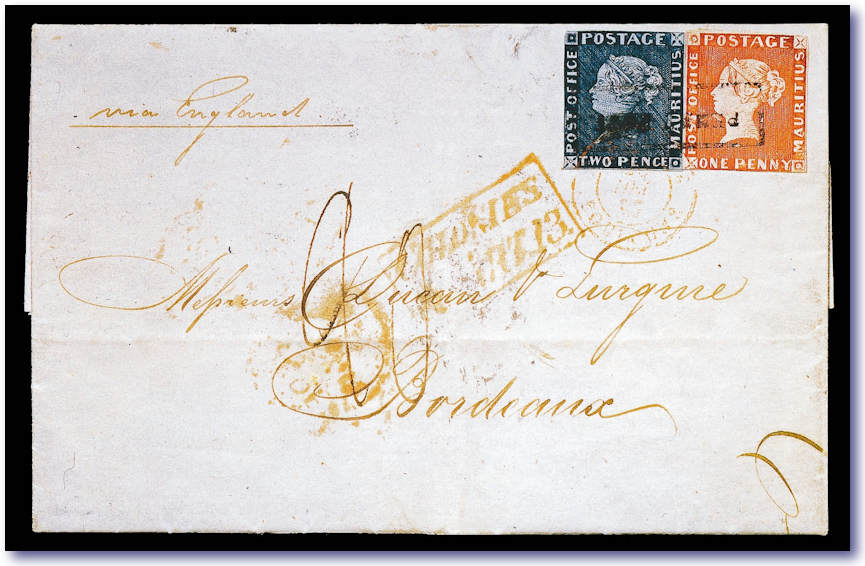 Sold for 5.75 million Swiss Francs
That distinction belongs to the November 1993 Feldman "Kanai" auction piece shown nearby.

The 1847 envelope is franked with the 1d and 2d "Post Office" Mauritius stamps, and mailed to Bordeaux France - ordering 30 barrels of wine!
Priciest stamp item ever
Illustrated nearby, The "Bordeaux Letter" sold for 5,750,000 Swiss Francs to a Singapore collector in 1993.

Adjusted for 18 years of inflation, this is around 10 million Swiss Francs in today's money - or about $US 10 million.

How many readers were aware of this record price?

The "Bordeaux Letter" was purchased by European collector-dealer Guido Craveri, who also paid over $US2 million for a 1851 Hawaii cover in a Siegel Auction in New York in 1995.

And close behind in price to the Mauritius, is the GB 1840 1d Black on May 3 cover that sold by Harmers Lugarno Switzerland for at that time 3,400,000 Swiss francs in March 1991.

Both these sales FAR eclipse what either the Swedish or British Guiana stamps have so far obtained.

And that would surprise most in the stamp trade I imagine - and certainly nearly all collectors.
GUYANA or bust!
As sheer co-incidence has it, I am typing this column about the British Guiana 1¢ 1856, in the very country where it was printed!

I am in Lethem GUYANA, a dusty sleepy speck of a border town with Brazil, sipping a locally brewed Banks beer, in the searing savannah heat here.

Which is pretty funny as this is the NORTHERN hemisphere here, and TV news is showing white outs and deep snow in American and European cities and airports!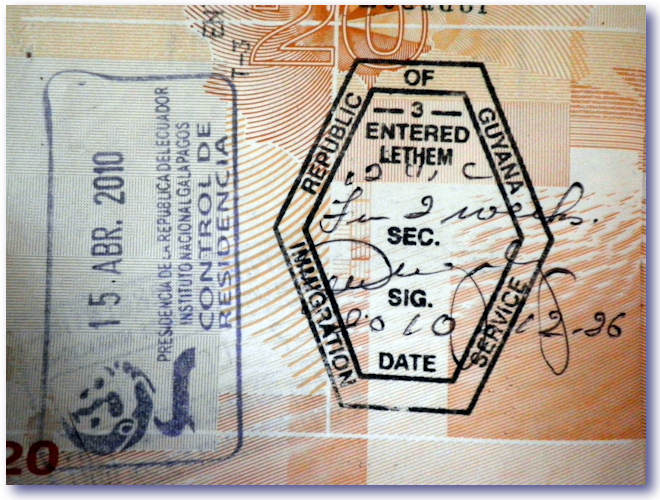 Made it to Guyana at last!
I've been lucky to have visited all the other 12 countries in South America ... most several times, but had NEVER made it to Guyana for some reason.

So this Boxing Day, after spending a Christmas Day on the Amazon fishing for Piranha fish, I snuck in via public bus over a remote border crossing.

From the wild west north-east tip of Brazil to get a passport stamp for country 13 in South America, from a Customs Officer whose name badge (I swear!) said "PUGSLEY"!

Many do not realise Brazil is a FAR larger country in area, than all of Australia or the Continental USA.

99% of tourists visit only Rio/Iguassu Falls/São Paulo in the south – all 4 or 5 hours flying to this remote Amazonas Boa Vista region.

Stamp collectors are far more Geography savvy than nearly any other collector group.

But I suspect many would have had no idea that Venezuela, Suriname, Guyana and French Guiana are all totally Northern Hemisphere countries.

All 4 border Brazil of course, which is partly in that Hemisphere, and all 5 countries speak 5 quite different major European languages.

That would be a great trivia night question, as many people assume Spanish is the only language spoken in South America!

Indeed Spanish is the primary language spoken by only 50% of residents on this continent.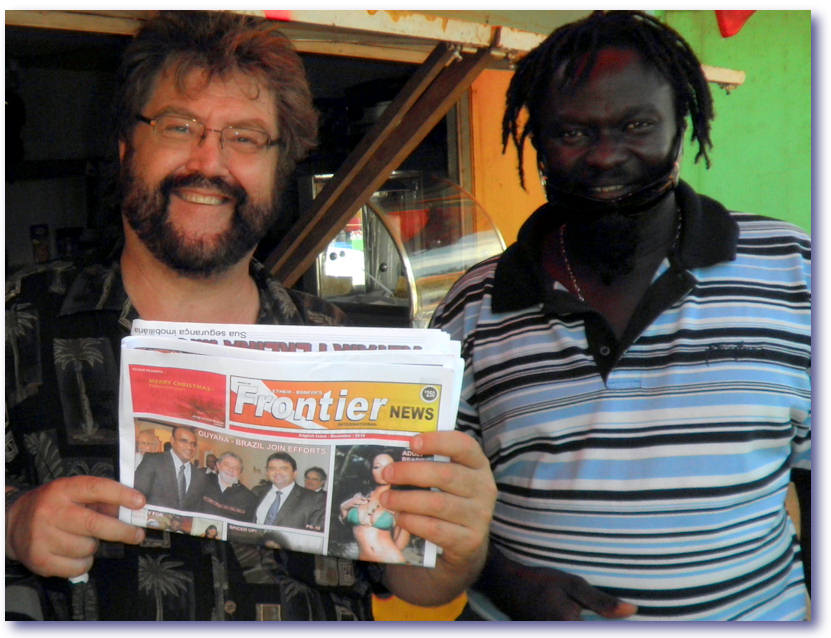 "The Frontier News" indeed!
To be only a few miles from Brazil, and surrounded by dark, dread-locked, ganja puffing locals, speaking only thickly accented Caribbean English is pretty neat.

Unique in South America, they all drive RH drive vehicles – all on the left hand side of the road, as in Australia and the UK and Japan etc.

Near everyone non stamp related who I told I was going to Guyana assumed it was in Africa – perhaps mixing it up with Ghana or Guinea?

Zero email/internet contact for a week here in Lethem Guyana, as a thunderstorm "hit something" and the entire sleepy town was knocked out. Giving me a chance to type this. "Low Tech" does not ever begin to describe this part of the world!

This region is rife with Yellow Fever, Malaria and Dengue Fever, and I got eaten alive by Mozzies. The "Tropical Strength" repellent rubbish they sold in oz was like a taste treat for them.

The "Frontier News" has a photo of politicians promising to tar the main road "soon" - next to a barely clothed very bosomy local lady!

www.tinyurl.com/GlenMap shows the 116 countries I've visited – a fair while since I added a new one as I keep on covering familiar places!
Iceland uses stamps on orders!
Well good to see at least someone reads these columns! I reported back in July 2010 on the clever new "Volcano Dust" impregnated stamps.

On 22 July, Iceland issued the three stamps shown nearby, showing the eruption of the Eyjafjallajökull Volcano, which as we know closed much of Europe's air space for weeks.

All three stamps were silk screened printed by Enschedé, with very fine-grained ash taken from the volcano!

Are you game to soak these?
Enschedé printed the three stamps in sheets of ten. The stamps are inscribed (from left to right) 'Local Letter 50g' (75kr), 'Letters to Europe 50g' (165kr), 'Letters to Other Countries' (220kr)

Bureau Manager Vilhjálmur Sigurðsson took on board my comments then re using real stamps on client mail, and recently sent me this email –

"Dear Glen – we are now using real stamps on deliveries to customers. We would appreciate if you mention this in your columns.

This additional process of placing stamps onto envelopes, cancelling them by hand to standing order customers, and all others as well, delays deliveries of orders a bit.

However we hope customers will be patient now when are doing this extra work – with the same staff numbers. Best regards, Vilhjálmur Sigurðsson, Iceland Post" - she concluded.

www.tinyurl.com/AshStamp contains a lively discussion of this trio on stampboards and confirms the VFU stamps now used, are often many times the shipping cost charged.

Iceland issues truly beautiful stamps, and in very conservative numbers, keeping the annual cost low.

Now that you get up to TREBLE in VFU face value than you pay shipping, I hope many readers sign up for New Issues.

It is a disgrace that EVERY Philatelic Bureau globally does not use real stamps on ALL standing orders.

How many still do? Please drop me a note if you can advise of any.










Get my regular market update emails FREE. Stamp gossip, price trends, record sale prices, and many one-time stamp specials, wholesale bargains, and exciting offers and breaking philatelic news. A mini stamp magazine in every email! "KNOWLEDGE IS POWER". The ONE stamp list you MUST be on, to keep in touch with the rapidly changing world market. One client made $65,000 profit in a few months after following my specific advice. Sign up securely and quickly by clicking HERE to access my automated data base. And wiser still ADD your home AND work email, if I only have one right now. Add a stamp friend's email address if you wish. One short click and you are subscribed to probably the most read email list in the stamp world!


Instant Currency Conversion


FREE! Just click here...




If you would like to be notified of updates to this website, Click HERE. If have any questions,
or comments regarding my site, please email me at glen@glenstephens.com
| | |
| --- | --- |
| | Search all my 300+ web pages! Simply type in what you are looking for. "Penny Black", "Latvia", "Imprints", "Morocco", "Fungi" "Year Books", etc! Using quotes ( " ) is more accurf used with no quotes. Search is NOT case sensitive. Tip - keep the search word singular - "Machin" yields far more matches than "Machins" etc. |


I am a Dealer Member in Good Standing Of:

Full Time Stamp Dealer in Australia for over 35 years.
Life Member - American Stamp Dealers' Association. (New York)
Also Member of: Philatelic Traders' Society. (London) ANDA. (Melbourne) American Philatelic Society, etc
GLEN $TEPHEN$

Full Time Stamp Dealer in Australia for 35 years.

Life Member - American Stamp Dealers' Association. (ASDA - New York) Also Member - Philatelic Traders' Society

(PTS London) and many other philatelic bodies.

ALL Postage + Insurance is extra. Visa/BankCard/MasterCard/Amex all OK, at NO fee, even for "Lay-Bys"! All lots offered are subject to my usual

Conditions of Sale

, copy upon request .

Sydney's

BIGGEST STAMP BUYER

: Post me ANYTHING via Registered Mail for my same-day cheque. Avoid copping the Now normal 45% Auction "Commissions" (20% Buyer + 15% Seller + GST, etc) AND their five-month delays!

Read HERE for details.

"Lothlórien", 4 The Tor Walk, CASTLECRAG (Sydney), N.S.W. 2068

Australia

Phone 7 Days: (02) 9958-1333 PO Box 4007, Castlecrag. NSW. 2068

E-Mail:

glen@glenstephens.com

The Number #1 Web Sites:

and www.stampboards.com

Sign up AUTOMATICALLY to my world renowned bi-weekly stamp gossip mailing list!
Click here to see MANY 1000s of stamp lots for sale at low $A Nett prices
Click here for all you need to know re SELLING your stamps for SPOT CASH
Click here for the current Monthly "Internet Only" special offers - CHEAP!
to read all my recent International stamp magazine articles.
Click here to get back to the main www.GlenStephens.com Homepage
Click here to ORDER on-line ANY items from ANY of my dozens of lists
Click for all info on Conditions Of Sale, Payments, Shipping, Returns &c
Click here for the complete library of my very unusual world travels!
How to PAY me. I accept EVERYTHING - even blankets and axes and beads!
Australia Post Annual YEAR BOOKS - massive stock - '27% off' discount offer today!
Visit my new page on RARITIES - Roos & other expensive photo items.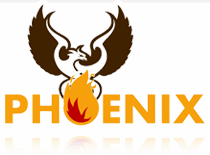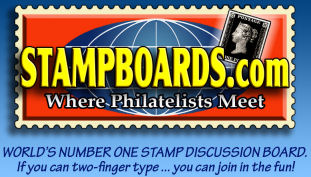 Instant Currency Conversion


FREE! Just click here...


E-mail me at glen@glenstephens.com -
Every credit card shown is accepted WITHOUT fee.
Earn Frequent Flier points while buying at bargain prices!
ALL prices are in weak Ozzie Dollars. I charge NO nasty, nasty
"Buyer's Commission" on stamps like nearly every "Auction" does.