Click To Go Back To The Main www.GlenStephens.com Stamps Homepage

Welcome! You are visitor
to www.GlenStephens.com




Glen Stephens
Monthly "Stamp News" Market Tipster Column


February 2012

| | | |
| --- | --- | --- |
| | | |
---
Dutch Post Office Duped

Just after Christmas a media report there indicated the Dutch Postal Service had been defrauded of "millions of Euros" via forged stamps being sold for postage.

All readers should check kiloware and snippings from latter 2011, as ANY of these stamps postally used will of course be most collectible, and rather valuable.

The under face postage had been offered on various websites – all it appears glued onto white adhesive labels, ready for mailing.

All except 1 stamp is fake
One of these labels bearing 6 stamps is shown nearby. It has a December 2011 postmark as can be seen. Stampboards Dutch based member "frimaerker" owns it.

He explains franking adds to 14G + 0,44 euro = 6,42 + 0,44 euro - slightly above the amount of 6,75 Euro, needed to send a standard package to a Dutch destination. Around $A10.

All stamps on it are forged except the 50c – which has a corner torn off – so most likely that corner once bore a postmark.

All the Queen stamps are COIL issues each with 2 straight sides. I overexposed the scan colour to show perfs ends a little better.

Oddly most of the faked stamps on it are denominated in GUILDEN – the old currency of a decade back before the Euro.

Holland for some reason, like a few other Euro countries, allows these old stamps still to be used for current postage.
"Almost indistinguishable" Fakes
tinyurl.com/DutchFake links to the debate on stampboards, which raged for a while as to whether this was simply PostNL clumsily stopping old postage stamps being used.

Commercial Director at PostNL, Mr Ger Jacobs said : "At first sight, these stamps are almost indistinguishable from the real stamps issued by PostNL."

"So I am glad to see that our security system was able to identify these counterfeit stamps, and that we were able to stop shipment of the mail items concerned."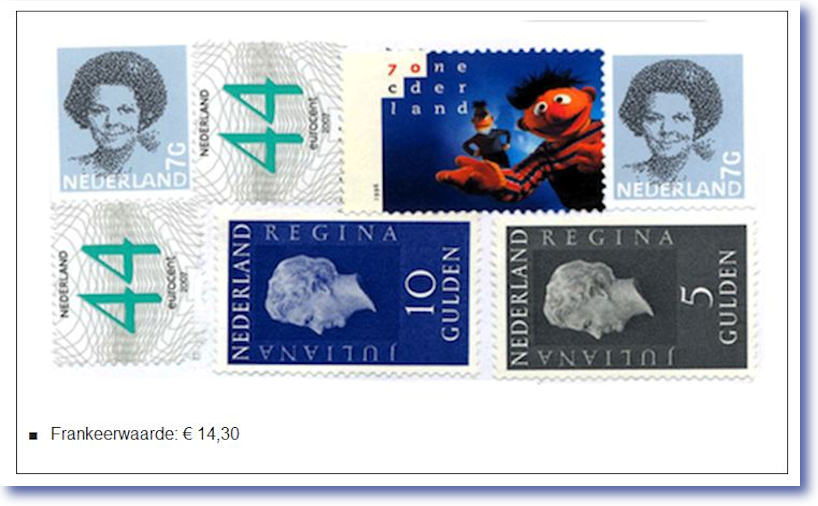 Image off PostNL website.
The low-res image shown nearby is taken off the PostNL website showing these stamps – allegedly all except for Muppet 70c are fake, paying 14.3 Euro postage.

The high value 10 Guilder blue Queen was issued decades back and for about 10 years of that, on non phosphorised paper, so how one picks them apart is a mystery.

Stampboards.com has a number of Dutch based members, including those who had received labels with the fakes affixed, and others bought labels of "mint" fakes to use on mail.

The 2007, 44c green stamp on label nearby was denounced a fake by Dutch member "rein" who is an expert on printing techniques.

He posted – "All the fake stamps are in offset-litho instead of in photogravure. The screen of the turquoise green is tricky and might fool you!"

The Queen sheet stamps all have a funny "dimpled" top right corner as can be seen on the image nearby, examined by "rein" in person.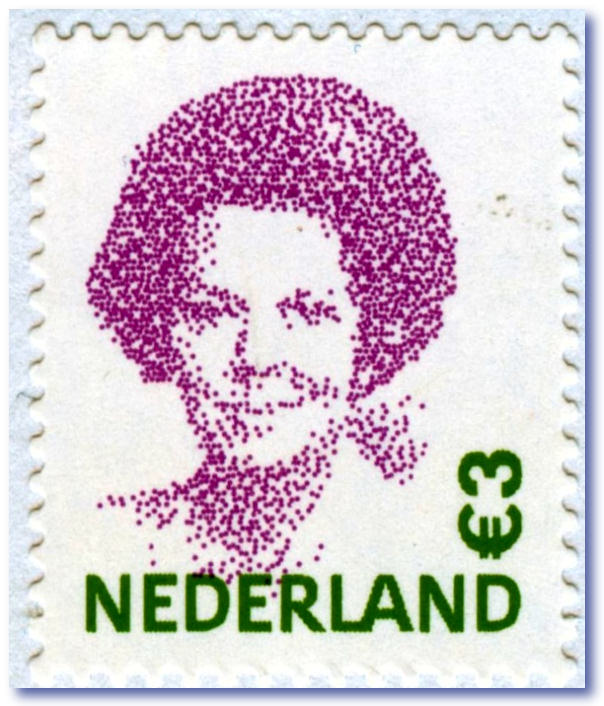 Top RH corner is the key
The stamp design of that Defin, now one looks at it, was so simplistic it was almost begging to be forged – just 2 color printing.

The Queen Guilder coil stamps are good copies, but the fakers did not get the top left perf teeth correct the experts say.

Again - tinyurl.com/DutchFake – has the full ongoing discussion, with heaps of very detailed photos, and new revelations as they come to light.
Canada Booklets faked too.
I repeat – postal fakes are VALUABLE – and decent numbers appear to have been used, so check your mail snippings.

Anything on a rectangular white self-adhesive label as shown above, will almost certainly be forgeries.

I bought three different stamp designs of Canada stamp booklets of self-adhesive letter rate stamps recently. Booklets and stamps all forged, and quite superbly done.

Had I not bought a few sets of them as fakes for a rather high price to on-sell, I'd have not looked twice at them – they appear to be exactly as per PO issues.

Have not got around to advertising them yet, but complete booklets being done, and a range of them, is a wake-up call for PO's globally to be vigilant.
New GB error found after 30 years
As I often type - The last word in Philately is NEVER written.

And NEVER assume all major errors and varieties on stamps are reported at the time of issue.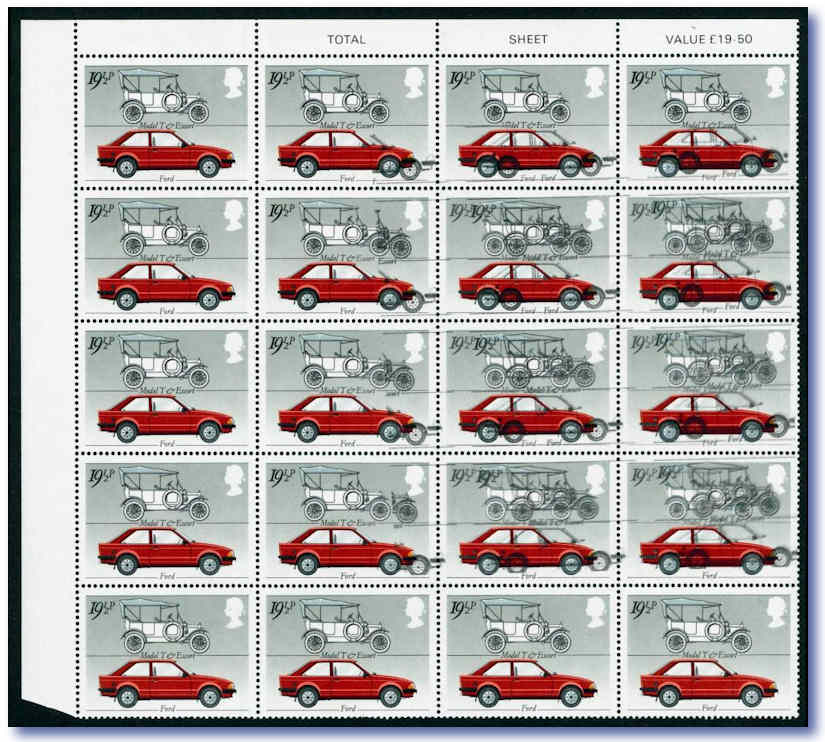 3,000 times face value.
One instance in point - a spectacular printing error on a GB stamp issue – never documented in the 30 years since issue, has just sold.

The previously unlisted error affecting twelve of a sheet of twenty of the 19½p 1982 British Motor Cars was offered at auction by UK stamp dealers Stanley Gibbons late in 2011, and realised £10,925.

Featuring a previously unrecorded "double grey" printing error, the block of 20 was sold for nearly three thousand times its original face value.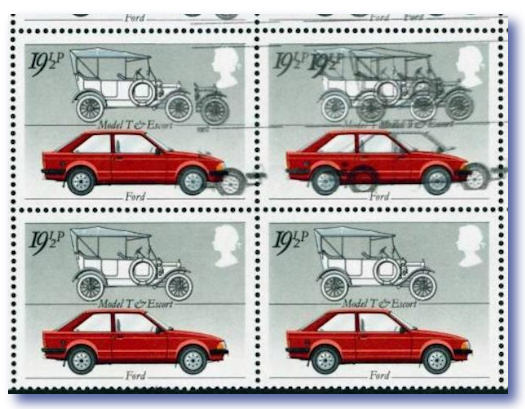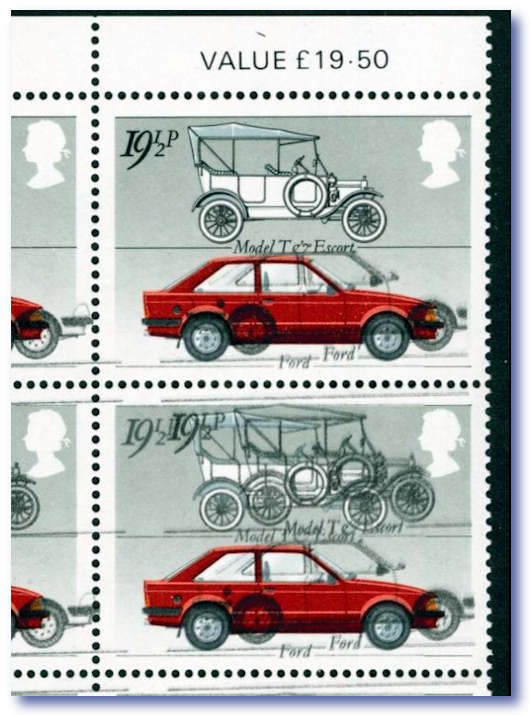 Spectacular new error
Originally issued on 13th October 1982, as part of a set of four stamps commemorating British Motor Cars, a single normal example of the 19½p value featuring the Ford Model T and Escort is catalogued at just 75p.

In the same Auction, a marginal block of ten 1968 British Paintings 4d with the Queens head, value and phosphor omitted, was also offered - realising £25,300.

So GB error material remains very strong, from the QE2 era especially.
Holey Stamps
Stamp designs no longer need to be just a boring little squares or rectangles.

Creative stamp designers have come up with a wide range of clever tech features to liven up otherwise mainstream issues.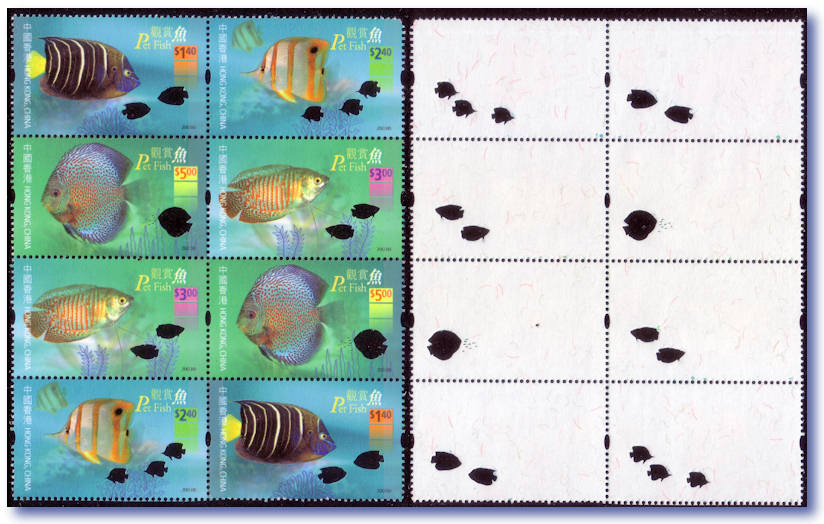 Clever Hong Kong issue
Modern printing technologies have allowed all sorts of nifty things to be done at minimal cost.

Stampboards.com recently had a discussion on "stamps with holes in them".

tinyurl.com/HolyStamps was the discussion, and was started by Tonga specialist Greg Jorgensen of Queensland.

As can be seen there, Greg and others added many images of modern stamps where all manner of holes and designs and symbols have been punched into issued stamps.
Issues from UK, USA and others
Even countries like the USA and the UK had done that, which I had forgotten about.

In 2003 Hong Kong issued a set of 4 stamps depicting colourful reef fish – the small "black" fish on every stamp are actually fish shaped holes, cut into each stamp.

They are shown nearby – the small oval cut-outs along the perf line are a normal security feature found on many Hong Kong stamps.

If you look carefully at the reverse of the block you will see the paper has tiny coloured silk threads embedded in it.

Yet another security feature that dates back many decades – indeed is used in USA currency paper money to this day.

In 2004, Argentina issued the stamps shown nearby with large central holes showing how their trees are disappearing.

I am typing this column from Argentina actually, sipping a Quilmes Cerveza in 100 degree heat – small world really! J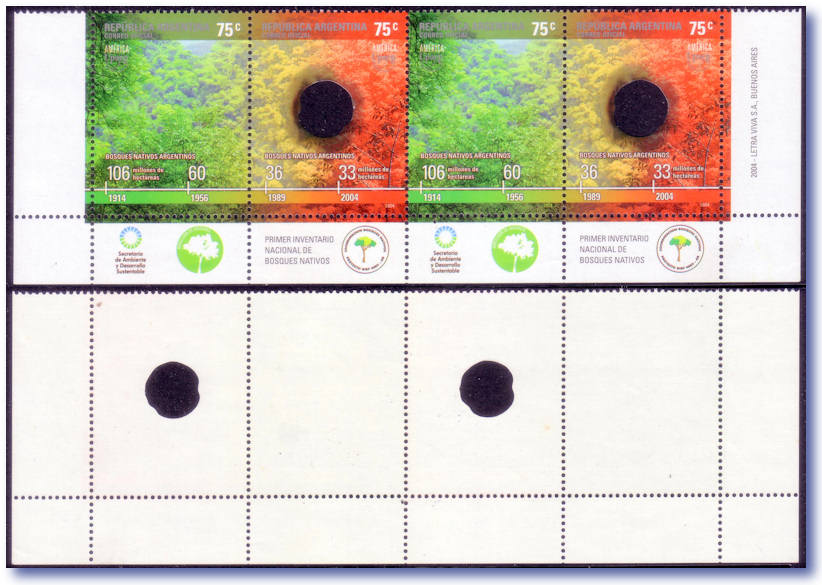 Argentina warning re lost forests
There were heaps more photos posted on that link – too numerous to show here, but well worth a read - tinyurl.com/HolyStamps

I often get collectors asking me for a suggestion for a "fun" sideline collection, that is easy to compile, not expensive, and has no completion parameters.

You could do a lot worse than this sideline, and it will offer a nice little challenge to assemble 50 or 100 sets and items - many of them not expensive at all.

There are wonderful Butterfly mini sheets from Malaysia and Taiwan with Butterfly shaped cut-outs.

One I particularly liked was an attractive soccer sheetlet from Indonesia in 2006 (which mentioned Australia) with the football players being cut-out etc.
PNG Registered Envelopes
Some otherwise non-descript looking items are a lot harder to find than you may imagine.

The PNG 1959 1/7d "Registered" pre-paid envelope is one such item.

A used example is illustrated nearby. Known to collectors as "RE4" it was issued on September 1, 1959.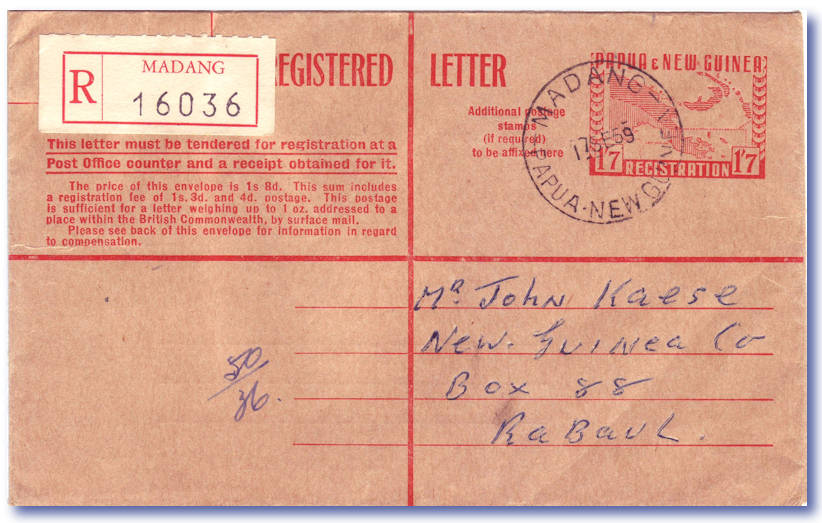 Only FOUR of these recorded.
Mint copies are not especially hard to locate, and quite a few others have first day cancellations.

The envelope had a rather short life and was withdrawn on October 1961.

Only 2,450 envelopes were ever sold. They were not popular as they cost 1d more than face value to buy – 1/8d cost.

Try finding a genuine commercially postally used example!

Stampboards member "Wolfgang" has been keeping a census for 10 years on the number of used copies sighted.
31 Envelopes logged
At the time of writing he has recorded 31 examples existing as postally used – after his ten years of searching.

Only 4 of these are solo use. One such usage is showed nearby posted from Madang in 1959, from Wolfgang's own collection.

The solo use covered Registered fee and postage wholly WITHIN PNG. Even to Australia extra post was needed, and to USA and Europe a lot more.

To USA was 2/- extra postage, and to Europe was 2/3d extra. Australia cost 10d extra for first weight step.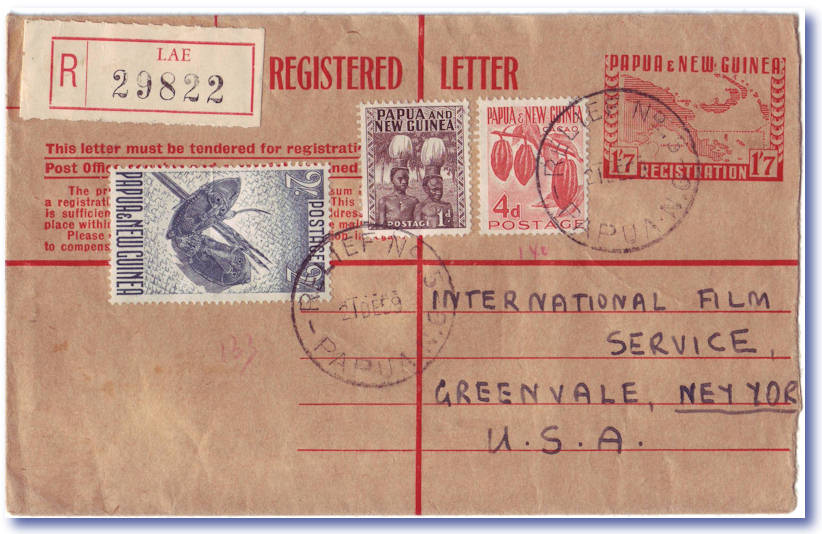 Showing new Registered fee
The RE4 date of issue was 1 September 1959. At that time standard postage inland was 4d, and the Registration Fee was 1/3d.

On 1st of December 1959 Registration fee was increased to 2/-. The latter December cover to USA shown nearby illustrates that, bearing 4/- in total franking - 2/- postage and 2/- Fee.
Add to the PNG Census!
If any reader is aware of any other of these covers, than those shown on the discussion thread, please update him at - WolfgangHoelzl@gmx.de

Wolfgang is one of the office holders of the German specialist society for all things Papuan - http://i-ng.org/en - which is now also available in English.

A most interesting and well organised specialist site, that even has annual gatherings of their global membership.

tinyurl.com/RE4PNG - for those interested, tracks the RE4 census thus far. Some of the apparently used covers are addressed to the Reverend A. H. Voyce, and are of course philatelic in nature.

"Voyce" material from the Pacific region in the circa 1960s era is very extensive - he must have spent every waking hour dreaming up material to be sent to him!

Much of the stationary items from New Guinea and Papua are greatly under-rated by today's market, and history will show that current prices are very underdone.


Instant Currency Conversion


FREE! Just click here...




If you would like to be notified of updates to this website,
Click HERE.
If have any questions,
or comments regarding my site, please email me at glen@glenstephens.com
| | |
| --- | --- |
| | Search all my 300+ web pages! Simply type in what you are looking for. "Penny Black", "Latvia", "Imprints", "Morocco", "Fungi" "Year Books", etc! Using quotes ( " ) is more accurf used with no quotes. Search is NOT case sensitive. Tip - keep the search word singular - "Machin" yields far more matches than "Machins" etc. |


I am a Dealer Member in Good Standing Of:

Full Time Stamp Dealer in Australia for over 25 years.
Life Member - American Stamp Dealers' Association. (New York)
Also Member of: Philatelic Traders' Society. (London) ANDA. (Melbourne) American Philatelic Society, etc
GLEN $TEPHEN$
Full Time Stamp Dealer in Australia for over 25 years.
Life Member - American Stamp Dealers' Association. (New York)
Also Member - Philatelic Traders' Society. (London) ANDA. (Melbourne) American Philatelic Society, etc

ALL Postage + Insurance is extra. Visa/BankCard/MasterCard/Diners/Amex all OK, even for "Lay-Bys"! All lots offered are subject to my usual Conditions of Sale, copy upon request BIGGEST STAMP BUYER: Post me ANYTHING via Registered Mail for my same-day cheque. Avoid the GENERALLY 40% Auction " Commissions" (15% + 17½ + GST, etc.) AND their five-month delays! Read for details.
"Lothlórien4 The Tor Walk, CASTLECRAG (Sydney), N.S.W. 2068
Phone: (02) 9958-1333&n Fax: (02) 9958-1444 (Both 25 Hours, 7 Days!)
E-Mail: glen@glenstephens.com
Web Sites: www.glenstephens.com www.glenstephens.net or www.australianstamps.net

Sign up AUTOMATICALLY to my world renowned bi-weekly stamp gossip mailing list!
Click here to see MANY 1000s of stamp lots for sale at low $A Nett prices
Click here for all you need to know re SELLING your stamps for SPOT CASH
Click here for the current Monthly "Internet Only" special offers - CHEAP!
to read all my recent International stamp magazine articles.
Click here to get back to the main www.GlenStephens.com Homepage
Click here to ORDER on-line ANY items from ANY of my dozens of lists
Click for all info on Conditions Of Sale, Payments, Shipping, Returns &c
Click here for the complete library of my very unusual world travels!
How to PAY me. I accept EVERYTHING - even blankets and axes and beads!
Australia Post Annual YEAR BOOKS - massive stock - '27% off' discount offer today!
Visit my new page on RARITIES - Roos & other expensive photo items.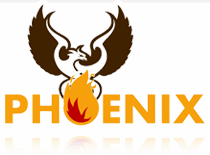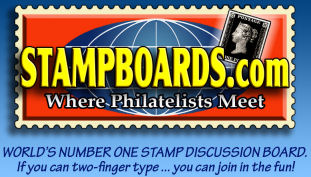 Instant Currency Conversion


FREE! Just click here...


E-mail me at glen@glenstephens.com -
Every credit card shown is accepted WITHOUT fee.
Earn Frequent Flier points while buying at bargain prices!
ALL prices are in weak Ozzie Dollars. I charge NO nasty, nasty
"Buyer's Commission" on stamps like nearly every "Auction" does.