Click To Go Back To The Main www.GlenStephens.com Stamps Homepage

Welcome! You are visitor
to www.GlenStephens.com




Glen Stephens
Monthly "Stamp News" Market Tipster Column


February 2014

---
Overlooked Revenues
Stamp collectors often regard revenue stamps as of little or limited value, especially ones of low face value.

As a general comment that is true. The stamp shown nearby I'd not have given a second glance to.

In late 2013 it sold on ebay for £4,901 - then $US7,887, and had 30 bidders. That is near $A9,000.
Worth near $A9,000!
The stamp was a Hong Kong green and violet KEVII 1903 1¢, with CC watermark, and perforated 14.

It has the common vermillion orange "crimp" embossed cancel, used for fiscal purposes on many of the HK (and other Asian and African country) stamps of this era.
Would YOU have looked twice?
I have owned strips 3 of the Kenya £100 shown below, with the same type of orange "crimp" cancel. Wish I had never sold those!

It has no catalogue entry, as John Barefoot records this HK is of proof status, with no used copies having been reported.

It is claimed by the seller "Momenstamps" that this is actually the second one they sold - the first was in 2002.

The ebay number was 400574953781 for anyone who cares to look it up.

I wonder if this is actually a world record price for a purely revenue stamp – can any reader suggest a higher priced one?

Any revenue getting 5 figures from Australasia is very unusual.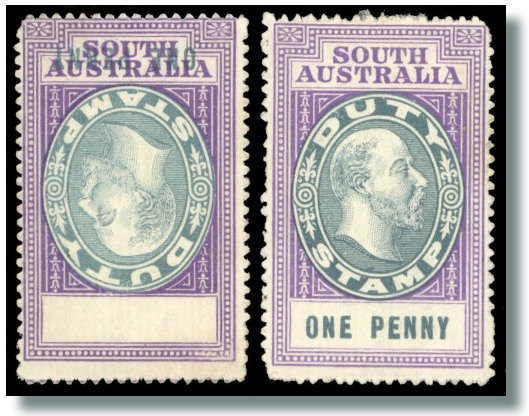 A 5 figure local classic.
The only one I can think of is the South Australia stamp shown nearby in the September 1, 2007 auction of Prestige Philately in Melbourne.

It is a 1902 KEVII 1d Stamp Duty stamp with inverted centre. The central King's head vignette, and the value panel is inverted, as you can see.
Seven examples recorded
At least 7 are recorded, which in the "scarce" Revenue orbit is a rather large number usually.

Often Revenue items with only a couple of copies known to exist still change hands for rather modest 3 figure sums, when compared to their "postage stamp" cousins.

The SA estimate was $A4,000. The buyer bid $A10,000 which with all the ubiquitous auction add-ons and GST, saw it invoiced to him for $A11,650.

Many countries had stamps inscribed "Postage & Revenue" as many of the Australian States certainly did.

This meant the stamps could be used for EITHER postage purposes, or simply to pay duties or revenues.
Postage OR Revenue use.
Some countries like Kenya/Uganda did not say 'Revenue' on the stamps, as indeed is the case with the £100 shown nearby, but they are unknown postally used.

I absolutely love those KUT 1922 KGV Definitives. It is a very long and colourful set, and all the values from £1 up are bi-coloured, in strong attractive shades.

The £100 is of course the "Big Daddy", and top value of this long set, and is seldom seen offered. Postally used are unknown, but "Specimens" are affordable.

Margo Campbell's "Stamps In the News" in the November 2013 magazine reported the upcoming sale of this stamp on October 31st.

A Dutch firm with the short and really catchy name of - "De Nederlandsche Postzegel - en Muntenveiling BV" auctioned the stamp with €50,000 estimate, and it was invoiced for €208,000 - or $A313,201..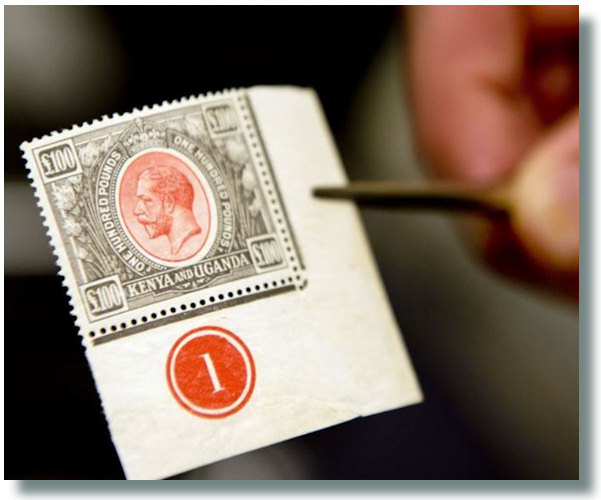 Kenya KGV goes for $A313,031
Stanley Gibbons full catalogue at the time was £110,000, and it sold for a very impressive 60% margin higher than that at - £178,152, converted.

tinyurl.com/KGVKUT is a story on this stamp, and shows an image of the SE corner block FOUR, Control block "1" of this, in the Queen's Collection!

I think the Royal Collection has a set of ALL the series in corner blocks 4 …. the "lower" values like £50 and £75 are each worth a fortune of course.
Tip Of The Year
Sometimes the stamp markets price things in no rational way.

I was recently processing an order for some mint Australia £1 Robes on the scarcer "Thin" ordinary paper - SG 178a.

I mused aloud to myself I always have ten times more of the "Thick" paper in stock (SG 178) than the thin, despite very similar prices for both.

Asked around to a few other large dealers, and they all agreed - one seems about 10 times more numerous than the other.

I sell "Thin" for about $A125 in fresh well centred MUH, and NICE copies of the "Thick" for about $A100.

Of course the correct technical distinction is "Ordinary" and "Chalk Surfaced" paper, but "Thin" and "Thick" are terms we use almost exclusively locally.

The two stamps are VERY easily picked apart visually - the "Thin" being a deeper colour, and printed FAR less crisply and sharply than was possible on the superb smooth, chalk coated "Thick" paper.

On the photo nearby the "Thin" paper is the stamp on the bottom. The differences in appearance are readily visible.
Easily picked on reverse.
Looking at the reverse, the "Thin" paper shows the watermark far more clearly and sharply on both mint and used copies.

I referred to the excellent Australasian Commonwealth Specialist Catalogue ("ACSC") "KGVI" edition to see if print figures tell us anything. I was amazed.

These figure have NEVER been public or published before, as Editor Geoff Kellow keeps coming up with new data for each new ACSC edition based on his archival research.

I spoke with Geoff Kellow, and he assures me his new research is correct, and that this tiny print run for the £1 "Thin" paper is totally accurate.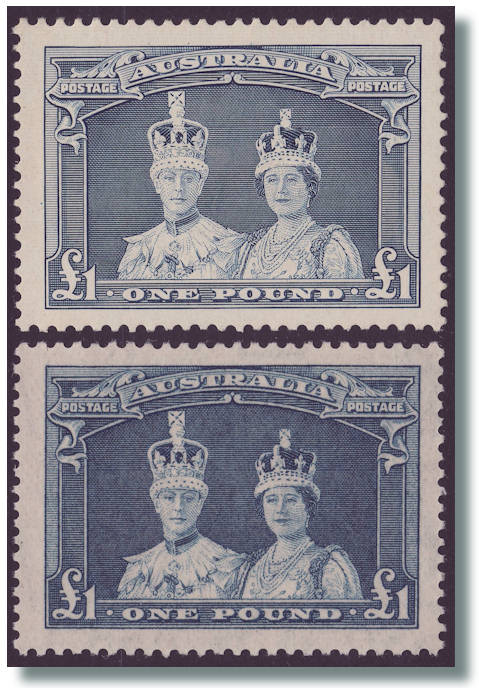 Worth 3 Times Today's Level?
Only 160,000 were ever printed in just a single printing, of the £1 1949 "Thin" paper - versus 1,920,000 of the "Thick Paper" (Chalky surfaced) issue of 1937.

My typical stock levels over the past 30 years of around ten to one are borne out rather perfectly by the printing figures above.

Remember that the 1937 issue was HEAVILY bought up mint by immediate post-war "Black Money War Profiteer" type speculators.

Older dealers can confirm these traded under face wholesale for decades until we changed to decimal currency in 1966.

Indeed many dealers swapped them face for face for the new Decimal issues, as the PO permitted such deals back then.

The 1945 Duke Of Gloucester issue was bought up nearly entirely by "Black Money" speculators for the same reason by the same folks.

Even today it sells wholesale for under face value! I still get offered 1000's sets in MUH sheets from relatives of these people.
Buy £1 THIN paper NOW!
The "Thin" paper £1 stamp not being face different, did not attract much interest at all from the stamp trade, much less any speculators, as the "Hot Money" was long gone by mid-1949.

The proof of the fact scant attention was paid to the paper change by collectors of the time, is that only 3 FDC's of this £1 "Thin" stamp are recorded. It is rare - being cat in ACSC at $7,500 on FDC.

This top value on "Thin" paper was first issued only in April 1949, and was replaced in latter 1949 by the £1 "Arms", so useage was truly minimal – a few months.

Much of that use was on telegrams, and for bulk postage payments - neither of which generally reached the stamp market as used copies.

As if to prove that point, truly genuine dated fine USED copies of the "Thin" are nearly non-existent.

Many hinged or toned copies get "CTO'd" across corners even to this day, but to my mind, a lovely 1950s era dated example is worth at TWICE as much as a MUH copy.
Genuine USED copies rare
Indeed exactly as a superb 1930s postal used 5/- Bridge is today worth twice or treble a CTO copy, these £1 Robes "Thin" are equally scarce - in my view.

Geoff Kellow agreed with me that in period dated copies are quite scarce, and pointed out Rodney Perry advised he has only ever seen one or two £1 "Thin" Robes on cover or parcel piece in 40+ years of searching.

Rod confirmed that with me, and agreed that there should be a significant premium for correct cancel used copies over Mint.

Perry said double the mint price was not out of line for a genuine dated contemporary cancels.

Conversely a used "Thick" stamp sells for about a third of a MUH copy. Which in my view is about correct.

In short, my "TIP OF 2014" for anyone who likes a challenge, is to tuck away a little supply of this stamp in fresh well centred MUH, or in VFU circa 1950s dated used.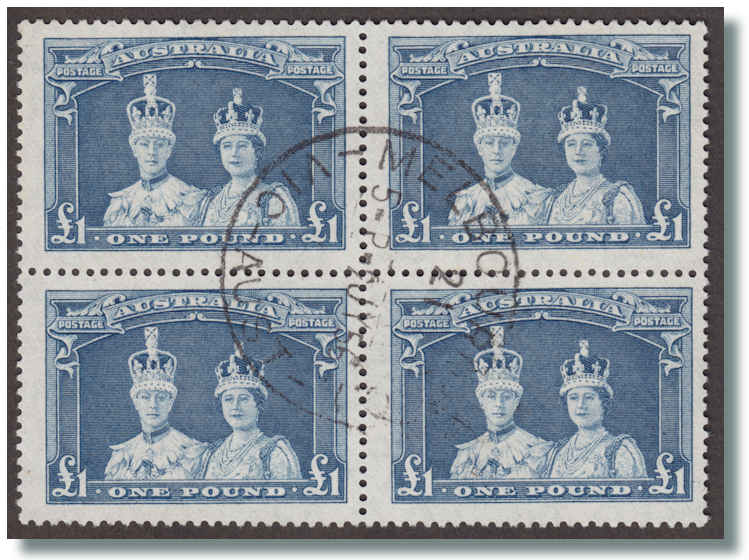 Blocks most uncommon.
The current Stanley Gibbons quotes for the £1, SG 178a is £70 MUH and £75 used …. both absurdly low.

I was pricing up a used set in blocks this week, and it occurred to me this is the ONLY set of used blocks of thin paper I've ever handled.

£7 was an absolute fortune at that time. Two weeks wages for a working man.

One wise word when purchasing "Thin" paper Robes issues - buy from REPUTABLE and experienced dealers only.
Avoid ebay sellers.
Some of the cowboys on places like ebay delight in mis-describing "Thick" paper copies as "Thin", and getting treble what they should.

Sadly the vast army of clueless ebay Bunny Buyers as always, hoover up the fiction, and grab the "Bargains". Do not join them!

tinyurl.com/RobesTute is a detailed discussion with many images, on how to accurately sort Thick from Thin in this tricky issue.

Please do not ask ME for either, as I have almost no stocks. This is not an ad, but a genuine tip for readers about a wildly under-rated stamp.

The market price for the MUH "Thin" really should be at least DOUBLE the "Thick", i.e. at about the $A200-300 level for nice copies.
This worth 30 times Robes?
Let's be sensible about price levels - the 1935 £1 Grey "CofA" Kangaroo (SG 137) that preceded this Robes stamp sells for $3,000 in MUH.

ACSC value is $A3,250. Even so it is rather plentiful, and 600,000 were printed.

Yet it is valued THIRTY times more than a MUH £1 Robes of the same year???

Used copies of the £1 CofA Kangaroo are still pretty plentiful, and yet a nice VFU one is getting around the $500 mark these days.

There is no reason in my mind that a "Thin" paper genuine FU £1 Robes should not be a similar price, as it certainly is many times scarcer.

At bare MINIMUM they should be $A200 with cancels circa 1950s, so snap up any you see at today's silly low prices.
Canada spreading Community Boxes
Canada Post is pushing to spread "Community Mail Boxes" to many more households in city areas.

Why? As it saves them huge money. One central drop point, and not dozens or hundreds in a small area.

To your door in the city costs them $C283 .. to an ugly bunch of metal boxes somewhere near your door is only $C127 an address - annually.

5,094,694 people get door to door delivery in Canada, and 3,804,574 get mail through group mail boxes.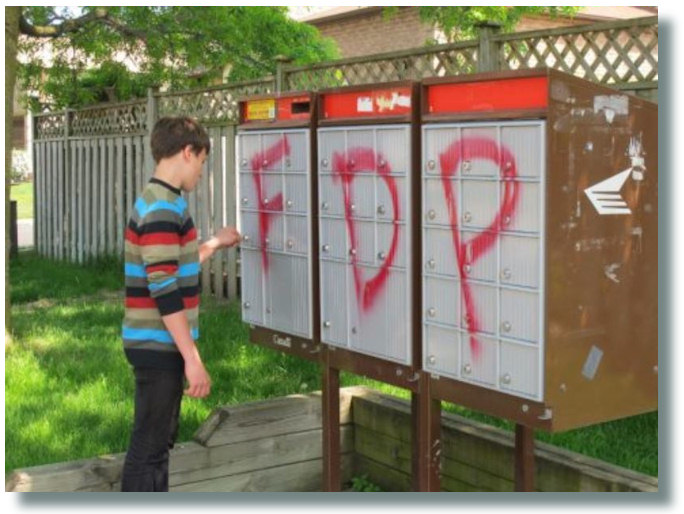 An urban eyesore!
CBC News in Canada reported the following breakdown, in mid December 2013.

Door to door mail delivery service - now offered to about 33% of Canadians, costs them $C283 per address to fulfil.

Centralised delivery point, such as an apartment block lobby lock box is used by about 25% of Canadians - cost of these is $C127 per address
Winner with Canada Post.
The one Canada Post likes best is the Group/Community mailbox (CMB) now inflicted on about 25% of Canadians. Costing the PO just $C108 per address - and is set to grow fast

The "Collect In Person" Delivery facility such as a Post Office Box is now about 12% of Canadians - and costs the PO $C59 per address.

"Rural Mailbox" covers just 5% of Canadians, and costs the Post Office about $C179 per address.

The Community boxes come in various modules – each typically of 15 boxes per module as can be seen.

From a small group of 30 or 45 boxes like the graffiti ones shown, to large groups of many 100s like the other one illustrated nearby in suburban Toronto.

The large modules generate vast amounts of litter, as the junk mail is lazily tossed away on the ground, as can be seen on the photo nearby.

A strong wind and this rubbish would spread everywhere. The boxes are a favourite target for graffiti artists too it is said.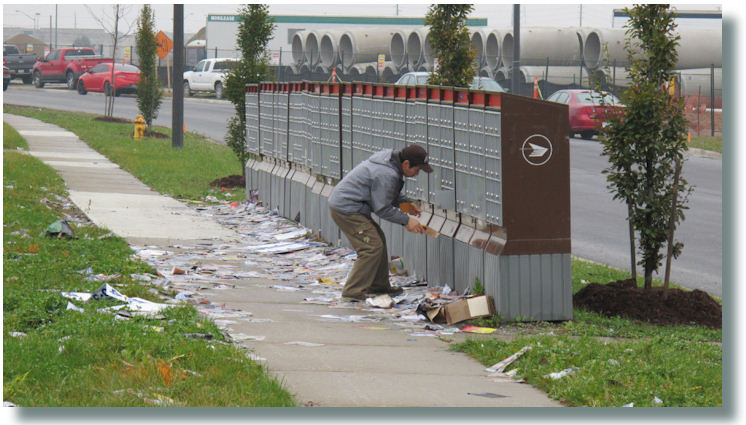 What a charming sight.
| | | |
| --- | --- | --- |
| | Thieves target them to steal credit cards, passwords, bank account details, and other data they can fake your ID from. | |
A goldmine for thieves.
The fronts of the boxes open in one master-key movement for the Contractor to add mail quickly, and thieves just crowbar that open at night.

The stampboards thread has news stories and Police photos of large quantities of stolen mail that thieves were caught with.

tinyurl.com/CanadaCMB is a heated 150 post discussion on stampboards of the CMB spread, and postal rate increase.

"This change will provide significant savings to Canada Post and will have no impact on the two thirds of Canadian households that already receive their mail and parcels through community mailboxes, grouped or lobby mailboxes or rural mailboxes" Canada Post claimed.
Canada letter rate hike
The bad news for Canadians continues!

Canada Post will also significantly increase the price of stamps as of March 31, 2014.

Stamps bought in booklets or coils will now cost 85¢ per stamp, and stamps purchased one at a time will now cost $C1. Both are PLUS taxes.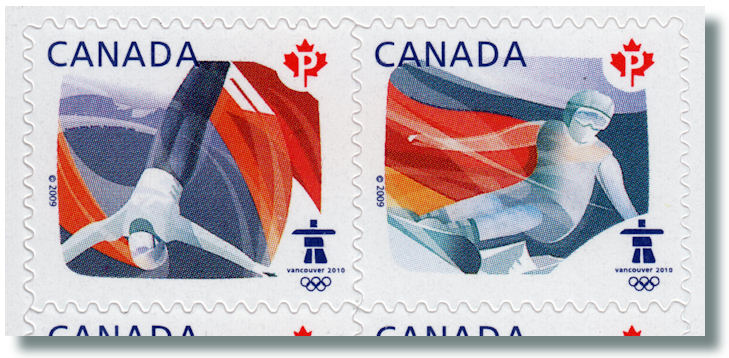 Canada "P" stamps
With HST (Harmonized Sales Tax) of 13% added, the full cost of a domestic stamp will be 96¢ unless you just buy one. And then it will cost $C1.13. I kid you not.

Canada has for some years issued "P" (=Permanent) stamps. i.e. they are like the USA "Forever" stamps - good for first class mail "Forever".

In December when this was announced, it cost just 63¢ to buy a "P" stamp in Canada.
Canada "P" Stamps withdrawn
The PO got cunning and withdrew from sale all "P" stamps from POs and from its website. Even collector packs with them in were withdrawn.

This was to stop savvy folks buying up $100,000s of them at 63¢, knowing they were going to cost $1 or so come March!

Any older "P" Stamps you own are of course, still good forever.

The Canada Postal service also says it will permanently reduce its workforce.

With nearly 15,000 employees expected to retire or leave the company in the next five years, Canada Post says the job cuts can be accomplished through attrition.

Australia Post may also follow suit with a rate increase but that is expected to be far more modest, rising from 60¢ to 70¢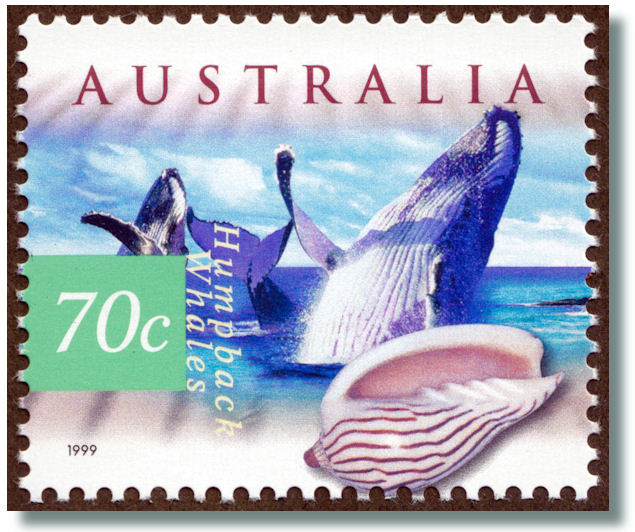 WHALE of an increase.
"The Australian" newspaper reported on December 29th –

"Australia Post has asked the Federal Government for an increase of 10¢ a stamp next year as it seeks to limit growing losses from its letters business.

The national postal service has warned that as electronic communications slash letter volumes, "it is no longer financially sustainable for Australia Post to continue holding letter prices at below inflationary levels".

The "Herald Sun" reported that Australia Post's overall after-tax profit last year was $312 million, up 11 per cent.

The Abbott Government will get a $244 million dividend to boost its Budget.

AP CEO Mr Ahmed Fahour, said that the number of letters delivered had dropped by 263 million, to 4.5 billion in the past year alone.
Australian rise – "of course"
Asked if domestic stamp prices would have to rise at some point, Fahour replied: "of course".

The only rate AP needs Government approval for is the now 60¢ domestic letter rate.

Other rates it has hiked massively in recent years - each 6 months there is a new rate sheet, generally with no advance warning, and increases of 40% over previous figures are not unknown.

Parcels, Express, Registered and box fees all have experienced massive price hikes. It gets little media.

I mailed a standard 1.6 kilo stockbook of thematics to England this week - $A75.90 unregistered and uninsured cheapest air.

Cost of stockbook was $A60 to my client. He nearly died when he saw the cost. Thank goodness for him that I use superb franking.

A heavy unregistered ROAD mail parcel Sydney to WA can take 3-4 weeks and is $A114.35. Add $3.50 for a Registered label. Near $120 for very cheapest option.
Too many Cooks … ?!
Five icons of Australian cooking were immortalised on stamps January 17, as recipients of the 2014 Australia Post "Legends" Award.

This year's "Legends" are the culinary greats Margaret Fulton OAM, Maggie Beer AM, Stephanie Alexander OAM, Neil Perry AM, and Kylie Kwong.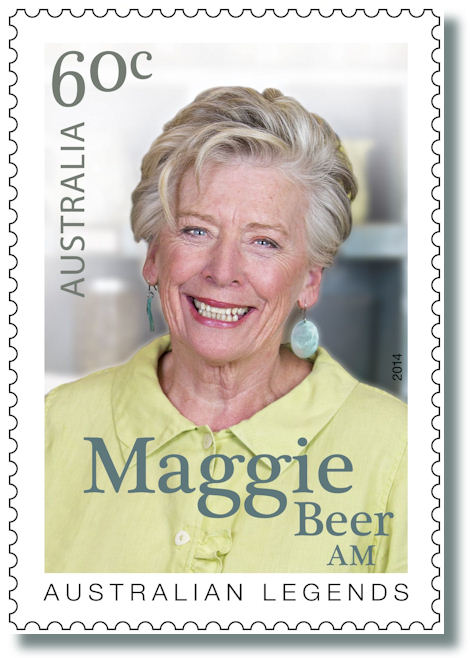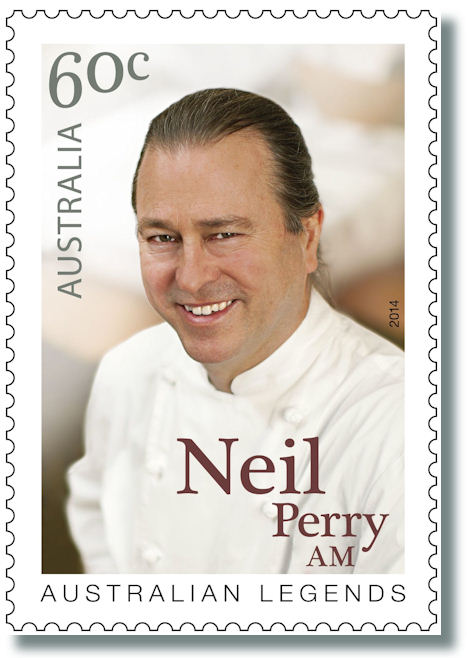 Two of 2014 "Legends"
The "Legends" series began 16 years ago when Sir Donald Bradman was the first living Australian to be honoured on an Australian stamp.

Prior to that, the only living people honoured on Australia's stamps were members of the Royal Family.

Even today, the only other living Australians to feature on stamps are Australian Olympic and Commonwealth Games gold medallists.
2% Australians collect stamps
Not my wild guess, but the official result of a survey of near 100,000 Australians.

Roy Morgan Research are the leading research company in this country, and the graph nearby show their findings.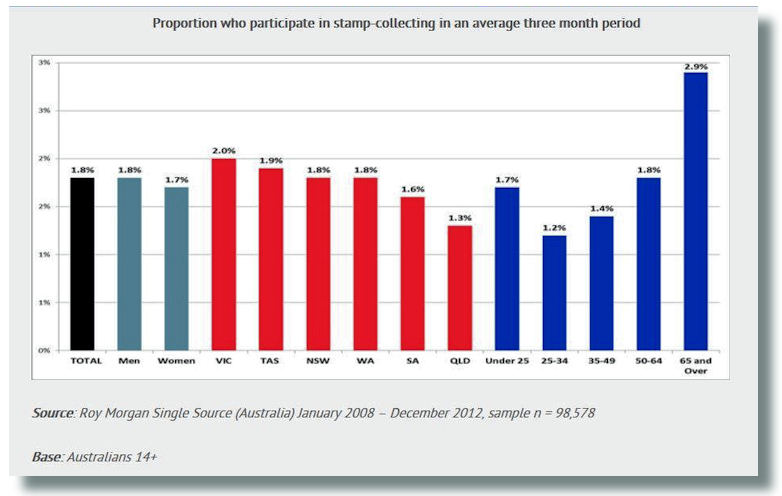 This surprised me
I must admit it surprised me, but 100,000 people polled is a quite large and meaningful sample size.

tinyurl.com/OzStamp contains more detail and commentary from Roy Morgans which includes -

"Research conducted over the last five years shows almost 1 in 50 Australians aged 14+ list stamp-collecting as an activity they've done in the last three months.

The hobby is almost gender neutral, with a 51/49 split between men and women.

Over the five years, Victoria is the stamp-collecting capital, with 2% of Victorians involved, with NSW, WA and Tasmania about average.

Only 1.6% of South Australians and 1.3% of Queenslanders collected stamps."
USA Inverts getting $US25,000
My recent story on the USA $2 "Non-Inverted Jenny" issue received a lot of response.

I have had many emails asking if any were found yet, and what they are selling for.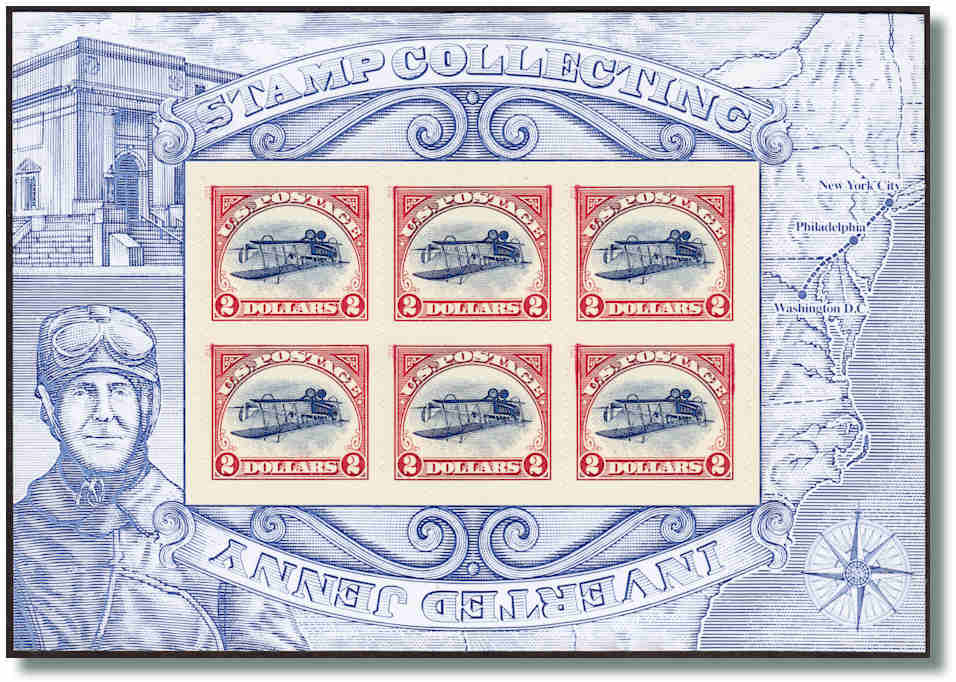 "Free Postage" when used!
The answer is – EIGHT are reported found so far, and dealers are advertising to buy them for $US25,000 apiece - see ad nearby.

Sam Malamud of Ideal Stamp and Coin (see his large ad) has purchased at least 2 of the errors for $US25,000 each.

This clearly means the retail price is a lot higher, to cover his profit and display ads cost - I am guessing $US30,000 is what he asks.

Collector Fred Everett of California was the second person to discover the intentionally created "Non-Inverted Jenny" pane of six.

These show the airplanes on the stamps flying CORRECT side up. Everett told USPS he will use the funds for a vacation to Australia!

To re-cap, the USPS deliberately printed 100 of the sheets with the plane CORRECT way up.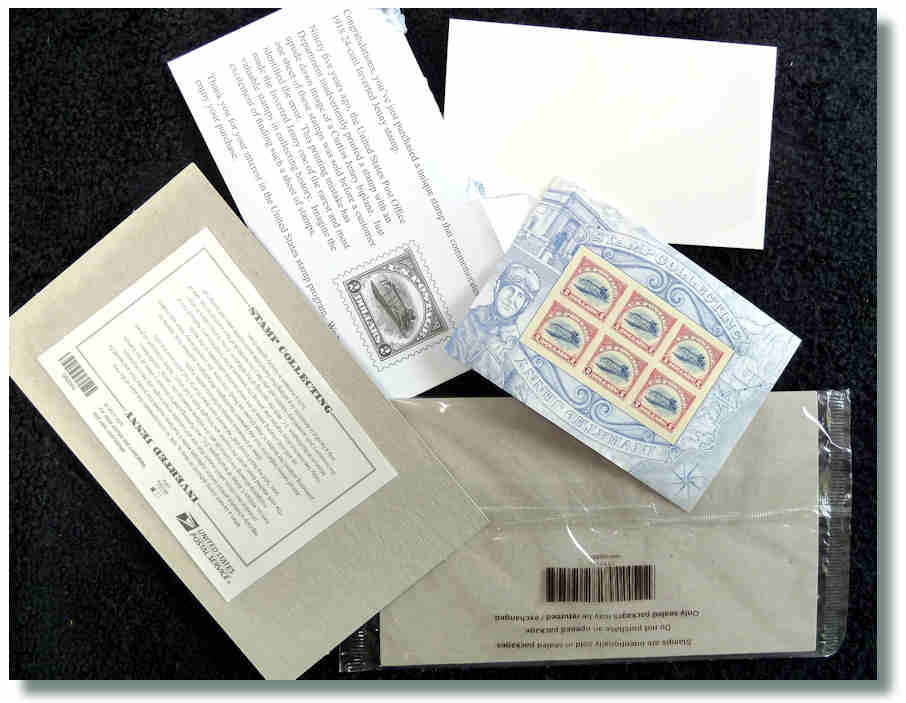 92 Error packs left.
They sealed up the sheets in all manner of secretive packaging, so that one simply cannot tell from outside, the sheet orientation.

One of the packs I busted open is shown in photo nearby. Secretive lined envelope printed on outside, heavy piece cardboard, white card insert and all in heat sealed cello.
"Scratch Lotto" stamps!
I bought a few cartons of 100 packs for fun as a client "Scratch Lotto" ticket basically, to sell at less than USPS cost when mailing orders.

Unlike a worthless scratchie - if you "lose" on this lottery, you still have $US12 of USA stamps valid for use forever!

"Linns Stamp News" have been following discoveries closely, and if 92 of the 100 are yet to surface, the odds are high they are in dealer stock etc.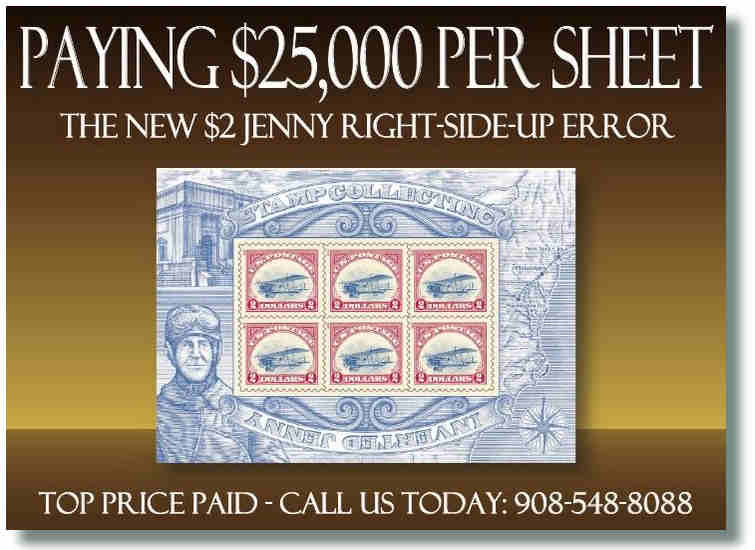 Only 8 panes reported found.
I am sending blocks of 6 to USA suppliers, and asking they glue-stick them down on Express Parcels to me.

4 x $12 panes is $48, and that is around what an Express Mail carton costs these days to Australia, and I buy many of those.

Therefore, I am getting back full face for that sending, so "Free Post" essentially on a heavy airmailed box to Australia.

Oddly postally USED sheets 6 will be 100 times scarcer than mint. Maybe 1000 times, so might be worth looking out for them at club auctions etc?









Get my regular market update emails FREE. Stamp gossip, price trends, record sale prices, and many one-time stamp specials, wholesale bargains, and exciting offers and breaking philatelic news. A mini stamp magazine in every email! "KNOWLEDGE IS POWER". The ONE stamp list you MUST be on, to keep in touch with the rapidly changing world market. One client made $65,000 profit in a few months after following my specific advice. Sign up securely and quickly by clicking HERE to access my automated data base. And wiser still ADD your home AND work email, if I only have one right now. Add a stamp friend's email address if you wish. One short click and you are subscribed to probably the most read email list in the stamp world!


Instant Currency Conversion


FREE! Just click here...




If you would like to be notified of updates to this website,

Click HERE. If have any questions,
or comments regarding my site, please email me at glen@glenstephens.com



| | |
| --- | --- |
| | Search all my 300+ web pages! Simply type in what you are looking for. "Penny Black", "Latvia", "Imprints", "Morocco", "Fungi" "Year Books", etc! Using quotes ( " ) is more accurf used with no quotes. Search is NOT case sensitive. Tip - keep the search word singular - "Machin" yields far more matches than "Machins" etc. |


I am a Dealer Member in Good Standing Of:

Full Time Stamp Dealer in Australia for over 30+ years.

Life Member - American Stamp Dealers' Association. (New York)
Also Member of: Philatelic Traders' Society. (London)

GLEN STEPHENS

Full Time Stamp Dealer in Australia for over 25 years.

Life Member - American Stamp Dealers' Association. (New York)
Also Member - Philatelic Traders' Society. (London) ANDA. (Melbourne) American Philatelic Society, etc


ALL Postage + Insurance is extra. Visa/BankCard/MasterCard/Diners/Amex all OK, even for "Lay-Bys"! All lots offered are subject to my usual Conditions of Sale, copy upon request BIGGEST STAMP BUYER: Post me ANYTHING via Registered Mail for my same-day cheque. Avoid the GENERALLY 40% Auction " Commissions" (15% + 17½ + GST, etc.) AND their five-month delays! Read for details.

"Lothlórien4 The Tor Walk, CASTLECRAG (Sydney), N.S.W. 2068
Phone: (02) 9958-1333&n Fax: (02) 9958-1444 (Both 25 Hours, 7 Days!)
E-Mail: glen@glenstephens.com
Web Sites: www.glenstephens.com www.glenstephens.net or www.australianstamps.net