Click To Go Back To The Main www.GlenStephens.com Stamps Homepage

Welcome! You are visitor
to www.GlenStephens.com




Glen Stephens
Monthly "Stamp News" Market Tipster Column


February 2015

---
CTO Australia very strong



In a few recent columns I have outlined the huge prices that some of the CTO Australia stamps have been achieving at public auction, and that trend continues strongly.

In the past I have mostly highlighted Kangaroos, so this month I'll take a look at a couple of interesting KGV heads realisations.

The December Phoenix Auction in Melbourne saw this pair of 4d Violet KGV being invoiced for about $600, with the "Queensland" CTO cancel.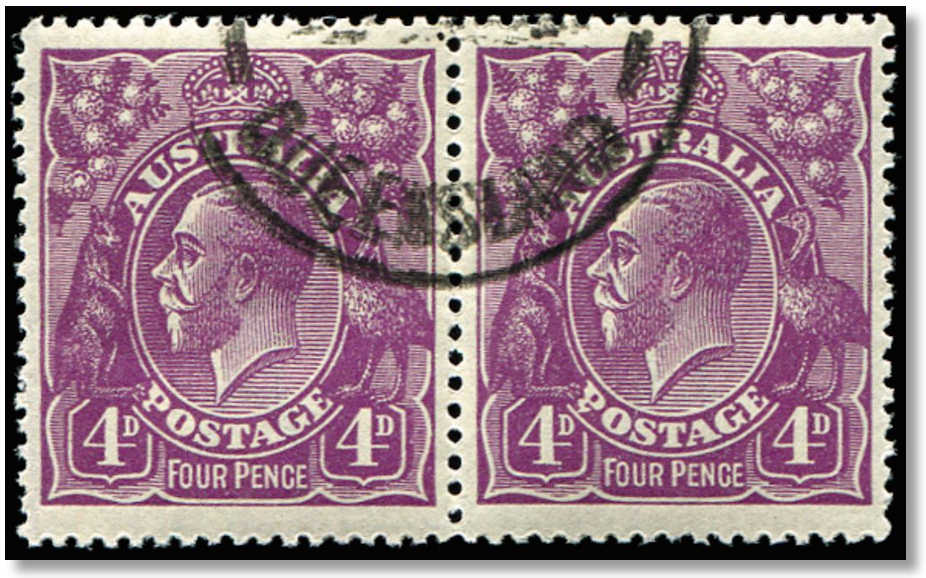 KGV pair sold for $A600.
Retail price as a pair, with any other cancel would be about $20! Indeed if torn in 2 singles, I doubt anyone would take a second glance at either.

Another mind-blowing price was the $2,000+ invoice for a used block of 4d Oranges, also with the Brisbane cancel. Nearly treble the $725 estimate, and many I am sure thought THAT was very high!

There are no varieties on this block, no inverted watermark, no scarce shade, no other magic ingredients except the cancel. If this was in a dealer box in the UK or the USA it would be marked at $10-$20 retail.
Retail $20 – Auction price $2000!
| | | |
| --- | --- | --- |
| | 1915, SG 22, they are cat £2½ each used, so £10 for 4, and with this poor centering I am SURE you'd not see them priced much above $A10 from overseas dealers or circuit books. | |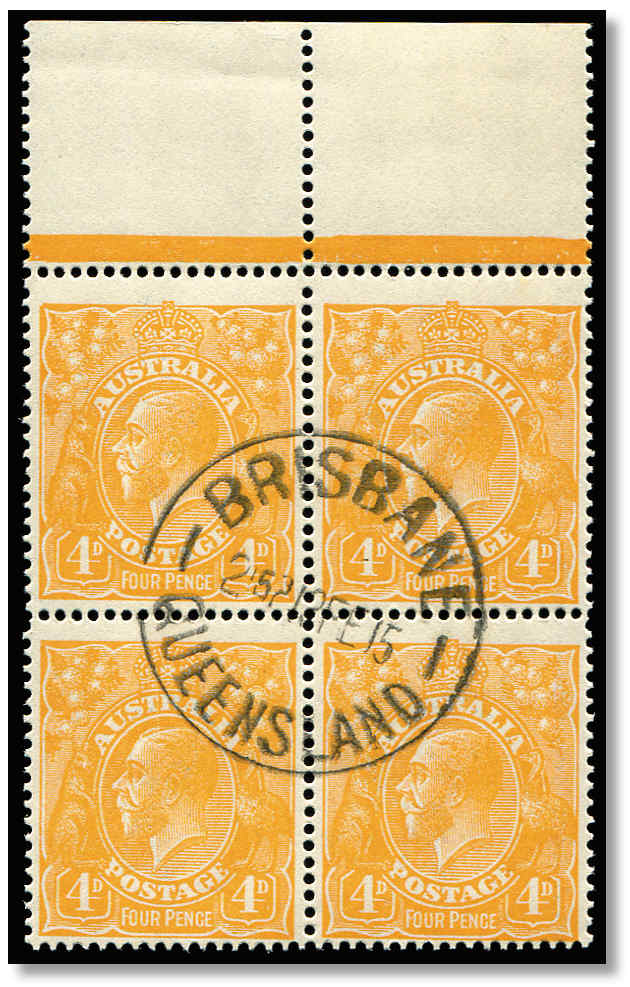 Invoiced for over $2,000.
"Knowledge Is Power" applies here in spades, and those short sighted collectors and dealers who choose NOT to buy the latest catalogues, that list and price these things, are the ones that miss out, not the savvy ones.

Stampboards has had superb detailed discussion on these CTO's - many 1000s of posts, and all of that info, with 1000s of pix is transcribed here - tinyurl.com/ozCTOs

I sold a set of 1913 Roos to 1/- this week for many $1000s, each with a very rare CTO cancel type on them, that unless you read that thread, you'd not know ever existed.
GB £5 Orange Extravaganza!
The huge and iconic £5 Orange Queen Victoria stamp from 1882 is THE glamour items of any GB collection, and is missing from fully 99% of them.

Hence whenever one appears for sale, anywhere on the globe, there is always plenty of bidding, and prices are always strong.

For many years, a somewhat "cheaper" option to fill the space, was to buy the same design stamp which had the words "TELEGRAPHS" across the top, and not the word "POSTAGE".

As with buying anything from online auctions, my favourite saying: "Knowledge Is Power" applies strongly here, moreso than most other areas.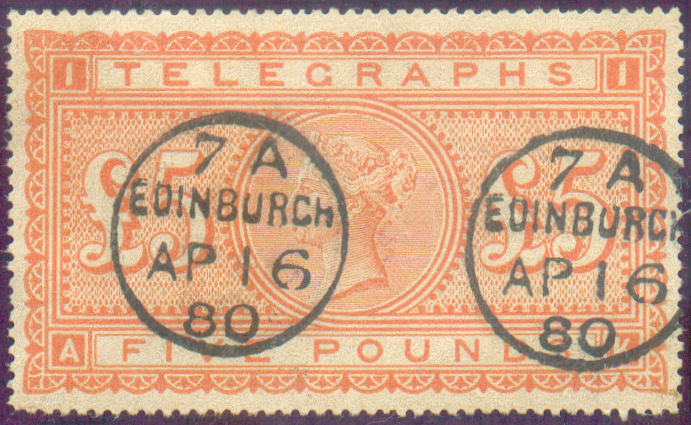 A $A430 online "Bargain".
Belgium online seller "Encorela" offered the £5 Orange "TELEGRAPH" stamp for 299 Euro plus post in December, and used the photo you see nearby in his "auction".

This TELEGRAPH stamp is cat by SG at £2,800. 299 Euro is £230, so why ANYONE sane would imagine they'd be getting a genuine FU key top value stamp for 8% of SG, is something only online buyers can try and explain.
NO refund - what a surprise!
A stampboards member bought it, and was not happy with it. You guessed it - despite the usual hollow "immediate refund if not happy" mantra of most online sellers, there was NO refund appearing!

He showed the image on stampboards, and I posted right away the entire thing was a crude modern Latvian fake, buyable anytime for 1 Euro or so, and to be honest can't believe anyone could have imagined it was a genuine stamp.

Dealers do have a "nose" for many things collectors do not, and in my case 35 years of doing this develops a pretty good "sniff test" - but surely to others this screams "Crude Fake"?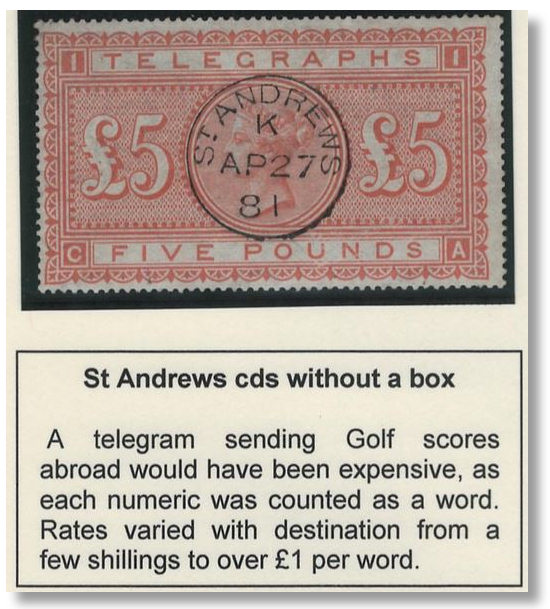 A REAL £5 "Telegraph".
It all comes down to HOW you get a refund in such cases, and this member was asking how to get Belgium Police involved. Good luck with that. "I bought this 125 year old English stamp, and yes I saw a photo, but …."

On-line buying of stamp pieces for many $100s, especially from overseas, is fraught with dangers, as this and 1000s of other documented cases show. But some collectors never learn from the big mistakes of others!

Unless the seller is a member of leading dealer trade bodies, you essentially have ZERO recourse to getting a refund. tinyurl.com/ASDA-PTS is a current stampboards discussion of buying off REAL dealers online.
Buy off Dealer Body sellers.
Well worth a read, as you generally pay the same price level, BUT have an instant pathway to a refund if the dealer sells you an absurd $1 modern laser print fake like this for $A430, and will not refund your money.

The online auctions have long pocketed their ~$A40 fee, and clearly are seldom in a hurry to lose that fee cold, and hand it back, or intervene. A Dealer Trade Organisation would DEMAND that seller refund you - IF he were a member.

Stampboards.com is a great free resource to ask questions FIRST, when thinking of buying such an item for many $100s, to get a range of useful input from lots of experienced eyes globally.

Had this chap asked FIRST, and shown the photo, before hitting "BUY", he'd have read my and other's summation that the entire rag was a laughable laser printed fake, and saved himself $A430.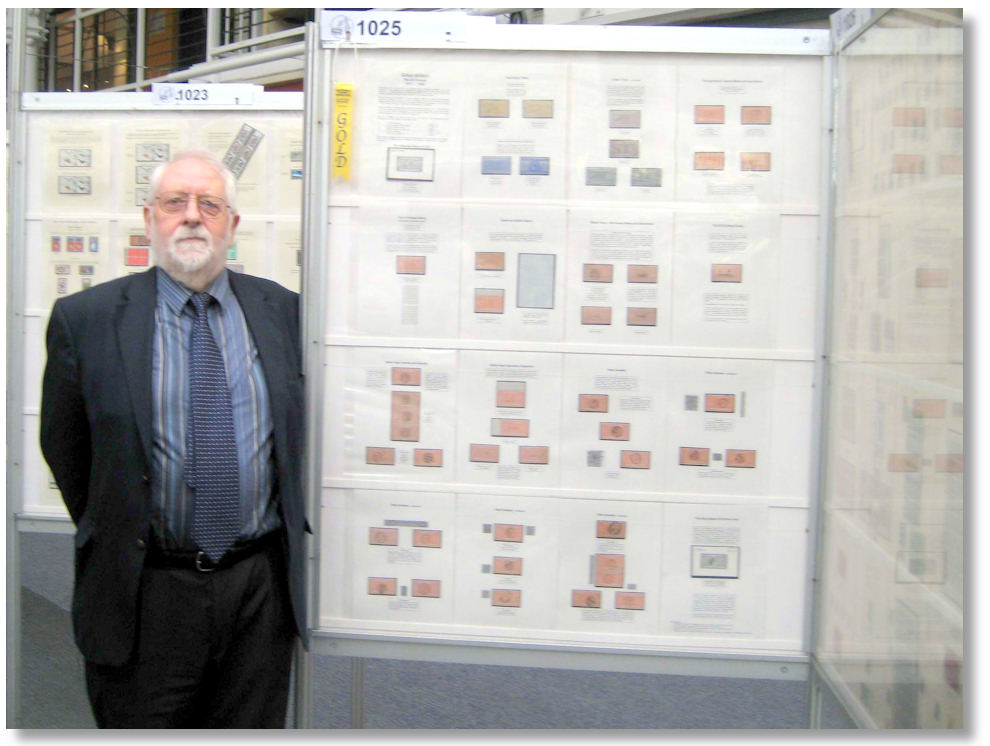 "All that glistens is GOLD!"
| | | |
| --- | --- | --- |
| | One of the regular members there "County" owns the world's largest collection of GB QV £5 Orange stamps. Multiples, proofs, essays and related items, and won a Gold Medal for it - see photo nearby. | |

Gold Medals all round.
"County" is UK based Dr. John Horsey, owner of County Auctions, who was inspired after his medal win to record his collection for posterity in a large 312 page hard cover book in dust jacket, published by Stanley Gibbons, London.

That book "The £5 Orange" was recently awarded a Large Gold medal at Stampex, the National Stamp Exhibition in London. It is a superb read, and well worth chasing - County, SG, and larger dealers will have stock.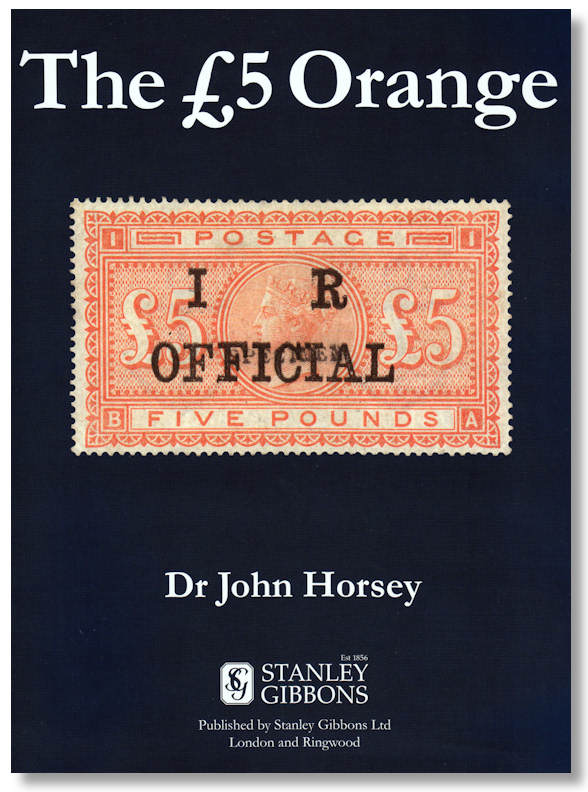 A really superb read.
Being a huge stamp, finding top quality examples without faults has always been a tough call. Did you realise that virtually no POSTALLY used examples of this are believed to exist?

As chance has it, I had the author John Horsey visit me here when on a visit to Sydney, who had his 16 frame exhibit of the 1882 GB £5 Orange, that he showed me, and we got talking about them.
NO postal used £5 Oranges?
Horsey believes virtually all the existing "used" £5 GB Oranges in the global market were NOT postally used.

Even the 1899 "Registered Threadneedle Street" cancel one he has in his collection, that is illustrated on stampboards.

Which he believes was used for TELEGRAM bulk lodgements there, despite the "Registered" cancel which was used, as it was the closest one to the clerk.

He has checked and logged about 3,500 examples of the 7000 £5 he guesses exist globally, and he seen only seen a few £5 he is confident have done genuine postal service of any kind.

These few "maybes" are shown in the book. Fake and contrived ones exist, and are also shown in the book, and some are incredibly cleverly done. But were NOT postally used!

Lots of £5 Oranges exist with crisp neat single cancels, but oddly that is near always a sign of Telegram or Excise payment use. A DOUBLE cds is often a guide to likely postal use in most cases. Long story - read the book.

Horsey advised me that about fully 15% of the £5 Oranges he has seen in his many decades long study, have Edinburgh, Glasgow or Belfast neat cds cancels.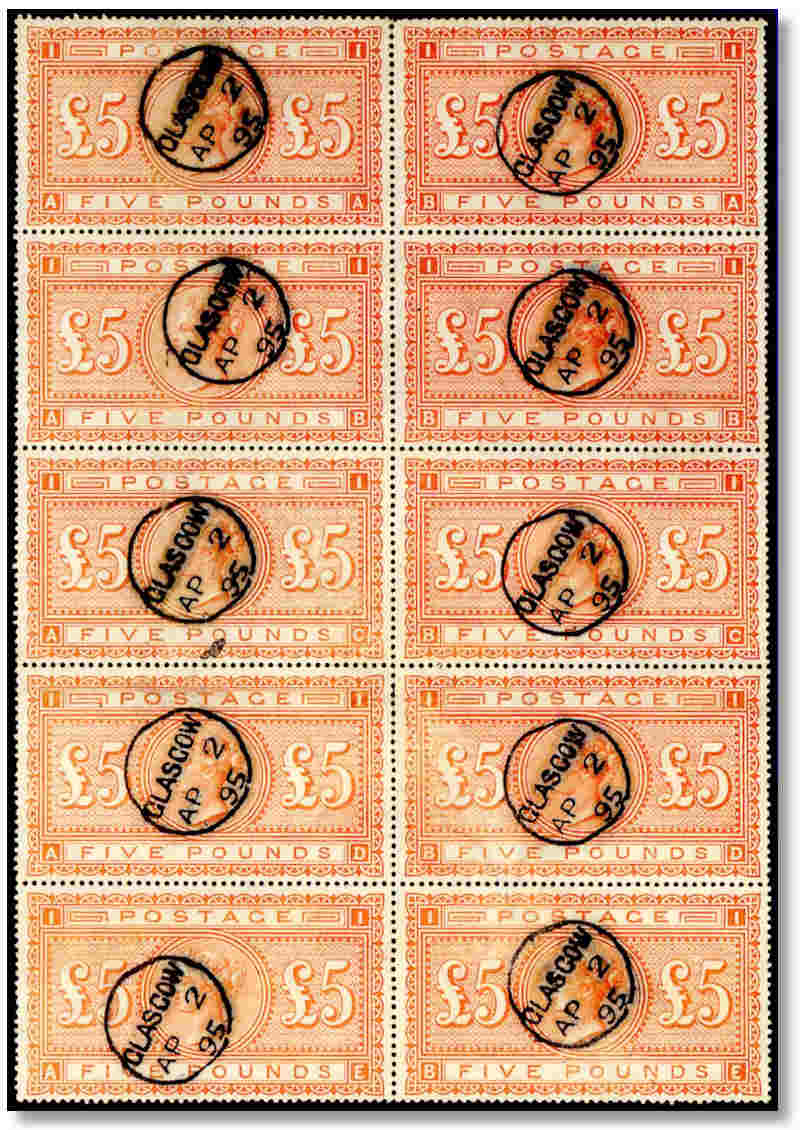 Incredibly, a fiscally used block.
| | | |
| --- | --- | --- |
| | These were it seems, used for the collection and payment of Excise Duty (nearly all whisky) paid by the many distilleries in those places. | |
All 10 fiscally used it seems!
As was the used block of 10 all used with neat "Glasgow" cancels. Illustrated nearby from his collection - excuse the fuzzy scan.

Don't get me wrong - I'd love to have that block in stock, and it would easily sell for 5 figures, but I never knew such pretty things were non postally used only.

tinyurl.com/QV5PD contains masses more images, and much discussion on this interesting topic, many of them from "County" who owns the largest collection of this stamp!

The book, being written by a dealer, has an interesting slant, as all kinds of fakes and alterations, and "irregulars" are also shown - many that fooled the best in this business. Read on.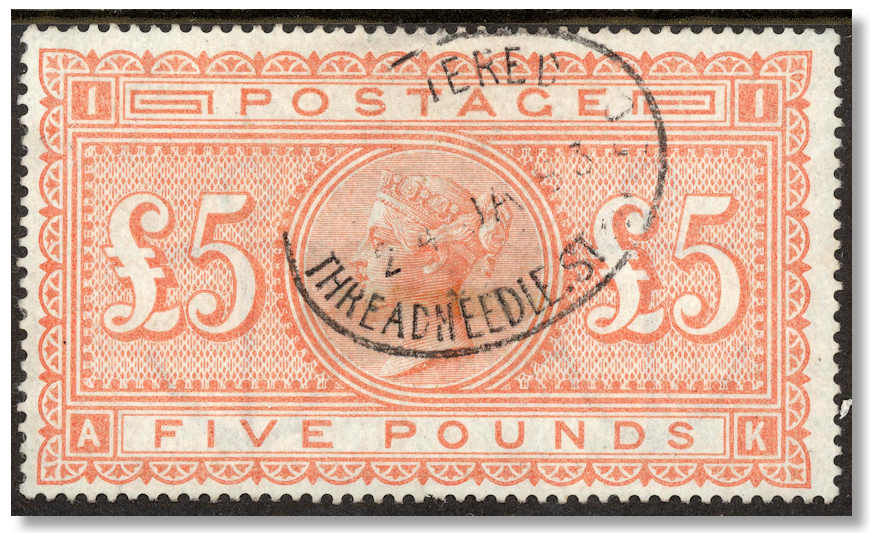 "GENUINE" according to the RPSL.
The stamp illustrated nearby is a truly lovely looking example of a key stamp, I am sure you'll agree. Nicely centred, great colour and perfs, and attractive.

This 1882 GB £5 Orange stamp is cancelled with a neat "Registered - Threadneedle Street London" oval cancel of "24 - JA - 83".

This stamp has the usual large single lined Anchor watermarks on each side. SG 133. Cat £15,000 used.
"SG 133, used, is genuine".



Has a 1985 Royal Philatelic Society London (RPSL) clear photo Certificate of Genuiness saying - "SG 133 £5 Orange on blued paper, used, is genuine".

So a lovely looking stamp, cat £15,000 with a clear RPSL Certificate, should be worth about $A10,000 or more - correct? Wrong - it is a FAKE!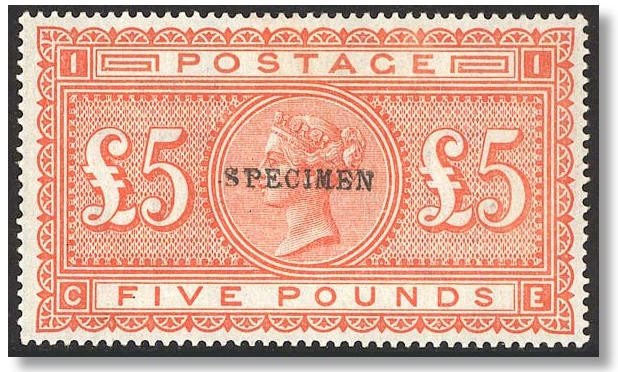 This is how it once looked.
These stamps overprinted "SPECIMEN" are listed by SG in mint, at a small fraction of a used copy. Hence a faker carefully picking/scratching off those letters, and then adding a forged cancel, makes $1000s.

A normal mint SPECIMEN stamp is shown nearby, as well as this altered one held obliquely to the light, showing the removed letters clearly. How the RPSL missed this, is anyone's guess.

All this and much more outlined in this superb book, from where all these photos are used, with kind permission of the author and Stanley Gibbons.

It simply reinforces my age old phrase: "Knowledge Is Power". The more you read and learn, the less chance you have of being conned with stamps. We ALL learn each day in this hobby.
Stampboards Poll on the fake.



| | | |
| --- | --- | --- |
| | I ran a stampboards Poll on this one, and until the true answer was guessed at, the main guess (about 25%) was that the stamp had been "heavily re-perforated". (The perfs are actually untouched!) All here: tinyurl.com/Orange5PD | |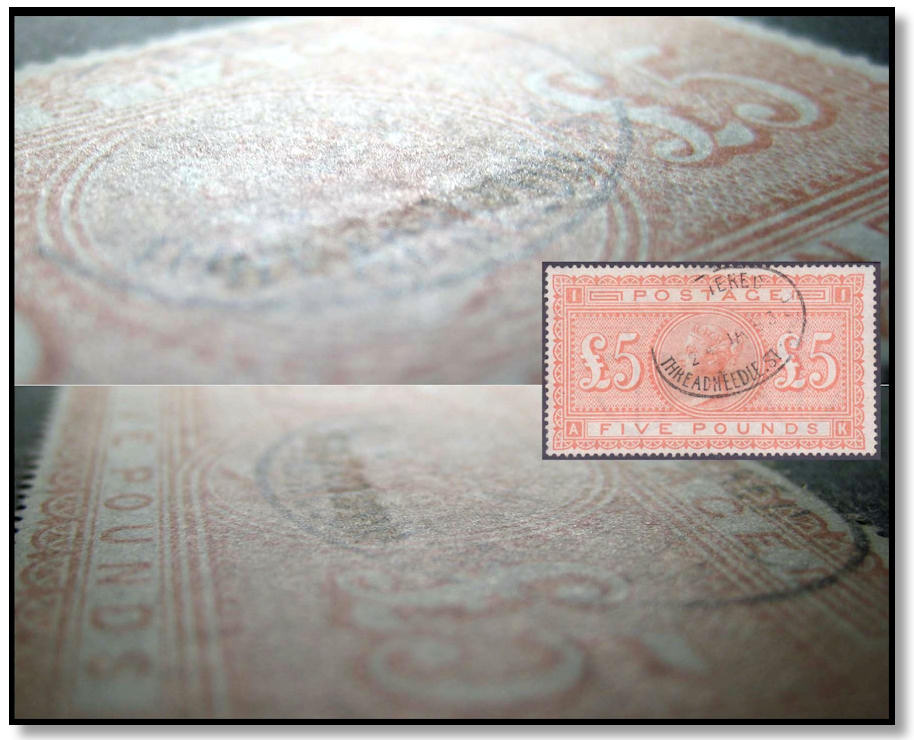 Shows the clever fakery well.

How there is enough to write about, on one stamp, to run to 321 large A4 pages, one should really have to wonder, but this book is proof that it is possible, with enough study material available.

It covers the entire life of the £5. The inception as a "Telegraph" stamp, the conversion of the plate for the £5 Postage stamp, the methods and places of use, and an analysis of the scarcity of the cancellations, and "Specimen" overprint types etc.

It highlights numerous hitherto undocumented plate varieties based on an analysis of over 3,500 £5 oranges. Also included are the little-known "IR Officials", the King Edward VII £5, the forgeries and related Cinderellas, as well as guidance for detecting regummed, re-perforated and repaired stamps.

And contains listings of all known cancels, with 100s of photos, and scarcity of each, and graphs and charts and dates etc - it is truly a detailed textbook on the £5 Orange stamp.
$500 Large Persian Rug Stamp.
There was probably no more spectacular looking stamp issued anywhere, than the USA 1871 "Large Persian Rug" $500 Documentary Revenue issue.

The stamps are absolutely HUGE, and that, combined with the ornate design, gave them the "Persian Rug" nickname that has always stuck!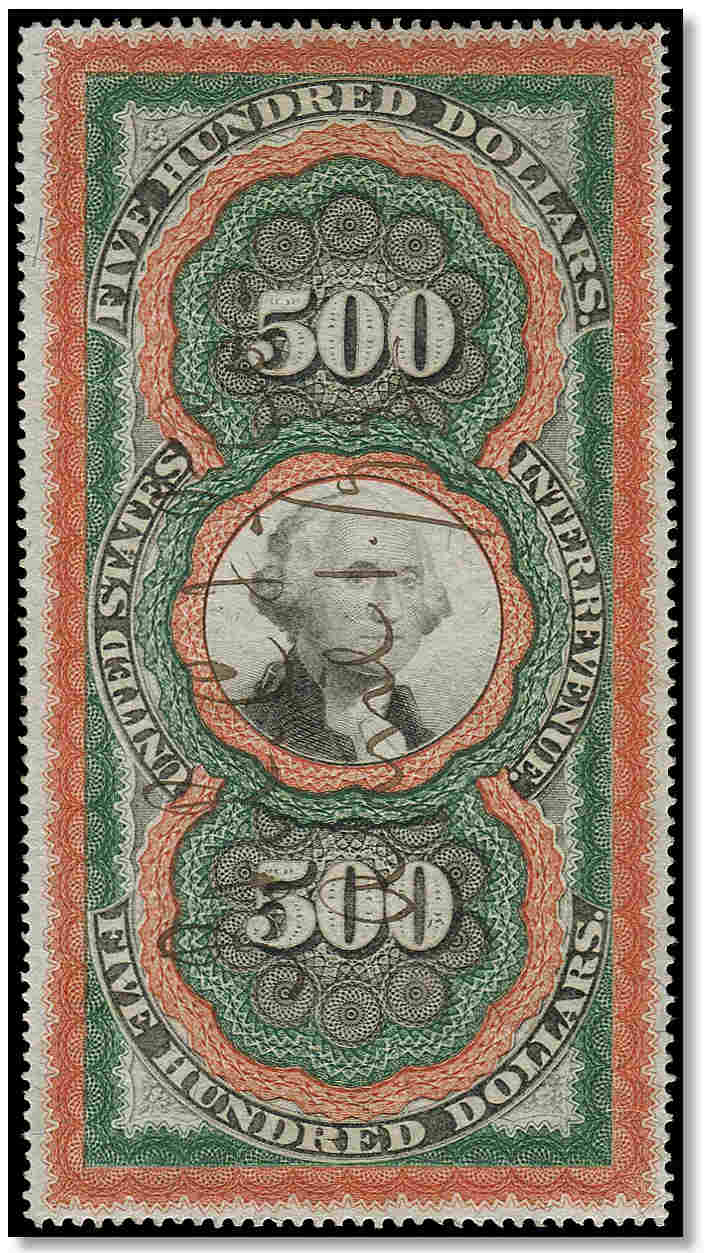 A $500 USA "Persian Rug" stamp.
This lovely example was offered in January for Auction by Regency-Superior (USA), and oddly it did not get a bid. Possibly as the reserve of $US21,000 (plus all the nasty add-ons) was well above the Scott Catalogue value of $US17,500.

Given that US buyers often pay way over Scott for really top end grade of scarce pieces, I am rather surprised it did not find a new home. In 10 years' time if anyone looks back on this article, I suspect they will say: "wish I had seen THAT one"!

Only 210 were ever issued, and not many are known to exist today, the majority of which are faulty. Rich, bright color, nearly full original gum and light manuscript cancel of "R & I. C & I Co., April 1/72".

This "Rug" is Ex-Weill, and has a 1989 PF Certificate and a 2014 PSE Certificate. $500 was the very highest face value of this series, and it is a very pretty piece to show here!
Shiekh Your Lawsuit.
Luckily, stamp transactions and purchases do not often involve lawyers and courtrooms and affidavits etc, and long may that remain the case!

We had that nasty mess in latter 2014 where Prestige Auctions, Charles Leski/mossgreen, Sir Ronald Brierley, Richard Juzwin, John Mowbray - and about $250,000 of expensive Kangaroos, all got intertwined in a nasty family dispute that ended in the Supreme Court.

The top end Kangaroo stamps had been bought in a multi-million dollar buying spree by wealthy Melbourne collector, the late Julius Sterling. An injunction was issued they NOT be auctioned, almost as they went under the hammer.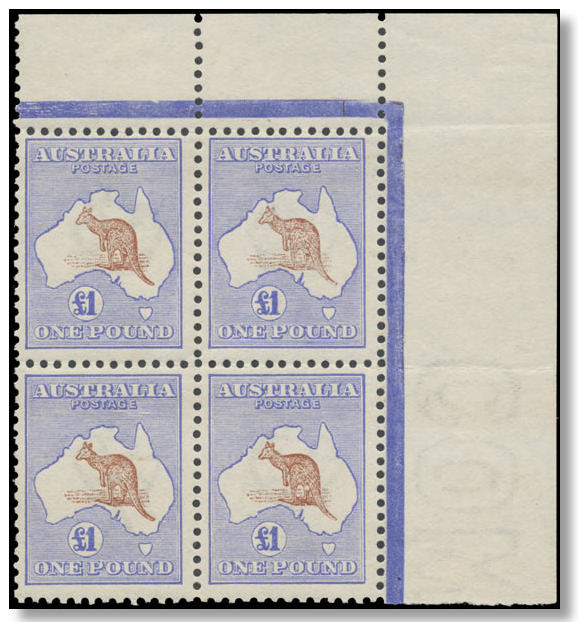 Est $50,000, but Court Injunction.
| | | |
| --- | --- | --- |
| | The family members - Michael, Brian and Marilyn Kino were basically squabbling over who owned them, and doubtless as usual, the lawyers ended up getting more out of the mess, than anyone else did. Sad to see. Full details here - tinyurl.com/1Kino | |
Unpaid stamps - $US7½ million.
A far larger dispute was unfolding in a Manhattan Court late 2014, regarding payment of about $US7½ million for British Guiana stamps, purchased from the John du Pont collection.

These stamps were auctioned by David Feldman in Switzerland in June. That was an amazing auction, and I listened to it live, and the bidding was manic.

The buyer of near all the lots was a totally unexpected visitor to the Auction room, an Arab Sheik - who died suddenly aged 48 in November … BEFORE the stamps were paid for!

Sheik Saud Al-Thani, a member of Qatar's ruling family, had such a reputation as a high-end art collector, that Feldman's departed from its protocol, agreeing to let him pay off the purchase in monthly instalments

That June auction followed only a week after the du Pont 1856 1¢ British Guiana Black on Magenta unique stamp was sold for over $A10 million by Sothebys New York, on June 17, 2014.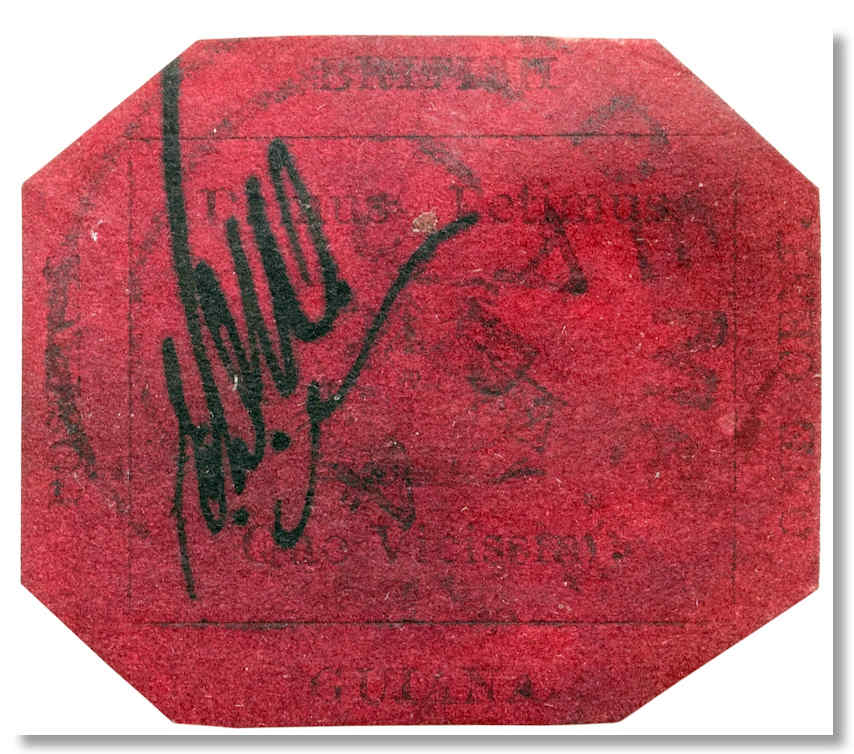 Sold for over $A10 Million
However the Sheik ended up re-negotiating the usual terms, handed Feldmans a down payment of 10% - $US872,000, and failed to make any of the subsequent payments before his sudden death.

Feldman Auctions is suing the Sheik's estate, as well as Sotheby's Financial Services, which holds $US83 million worth of the Sheik's valuables as collateral, for a nearly $US30 million loan. "Pawnbrokers to the Arabs"!

Recent vague Third Party reports are that there are quiet moves being made to straighten out his tangled finances, but it seems the Feldmann legal action is still in place as far as I can deduce.

Once widely regarded as the world's richest and most powerful art collector, Sheikh Saud bin Mohammed Al-Thani of Qatar served as the country's president of the National Council for Culture, Arts and Heritage, from 1997 to 2005.
$US1 BILLION on Art in 8 years.
During his tenure, he spent well over $US1 Billion on art purchases during that period, more than any other individual globally, according to many art-market observers.

However he also had a documented history of buying things on his OWN account and not paying it seems! He later got into legal hot water in Qatar and charged with misusing State funds.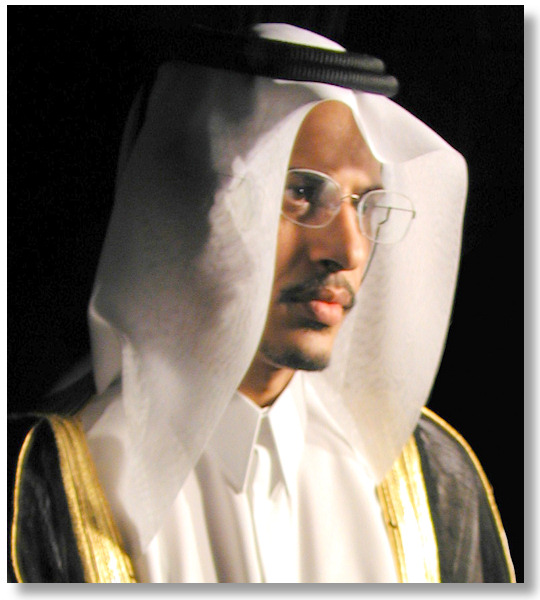 Ask to see the cheque FIRST!
In 2012 Sheikh Al-Thani allegedly defaulted on a $US19.7 million purchase of a group of coins from the so-called "Prospero Collection".

At the time, representatives for the dealers involved in the sale told the "Daily Mail" that the Sheikh was like an "inveterate gambler" - in other words alleging that he was addicted to the very act of bidding, and spending large sums of money.
"He bids, wins, then doesn't pay"
"He bids, wins and then doesn't pay" said the dealers' legal representative, Jeffrey Gruder. "One can only conclude that this is a person acting dishonourably and disreputably. He is bidding when he knows he's not going to be able to pay."

Gruder claimed that, among other lesser debts, Sheikh Al-Thani owed $US42 million to Sotheby's and £4.3 million to Bonhams Auctions in the UK. Much more here - tinyurl.com/SheikhSaud

BBC arts editor Will Gompertz said: "When he was in town - so the rumour goes - art dealers and auction houses would dust down their best stuff, add a nought or two, and await his visit."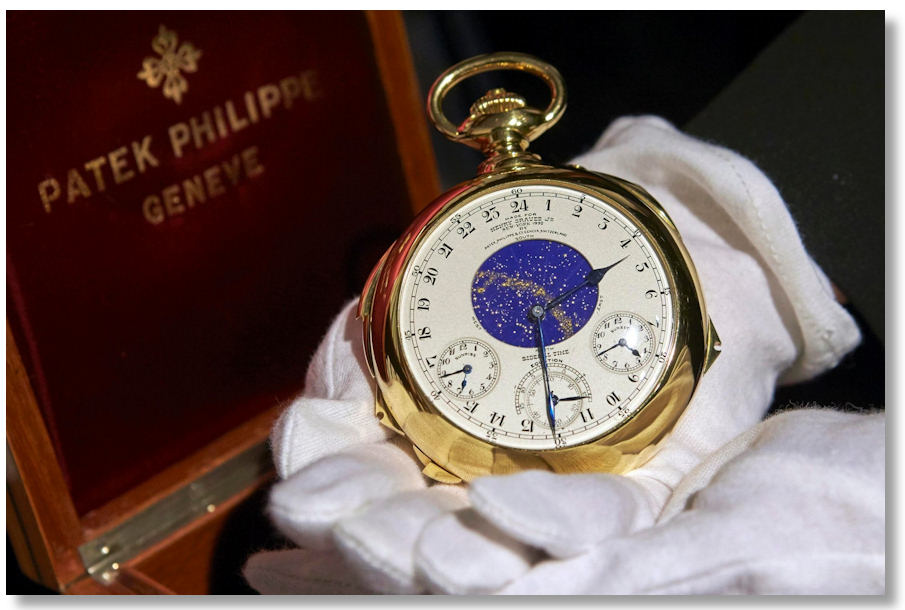 Ever seen a $US24 Million WATCH?
Weeks after his death, to get back some of their money, Sothebys Geneva offered his prize fob-watch for sale, and it was invoiced for $US24 million - well above their $US15 million estimate.

I know this is a STAMP magazine, but I am sure none of us knew a WATCH could be worth $US24 million! Well you do now. How bizarre. That is touching $A30 million as I type this.

The Patek Philippe gold watch, is the unique "Henry Graves Supercomplication", a handcrafted timepiece named after its original owner, a New York banker who ordered it in 1925.
Guiana Stamps smash all records
| | | |
| --- | --- | --- |
| | The record price actually paid for the 1¢ Black on Magenta, after the outrageous 20% auction house "Buyer Fee" was added, came to $US9.48 million, which on day of the sale was $A10,154,536. And that is much higher in $A now. | |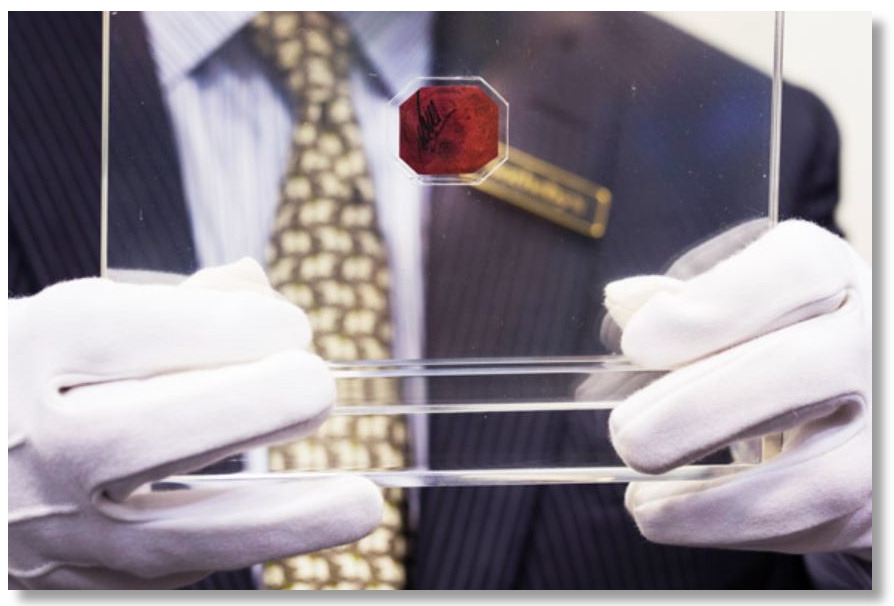 "THE Most Valuable Object On Earth"
FAR less publicity has been given to the small BALANCE of the du Pont British Guiana stamps that sold for near as much!

David Feldman offered the interesting balance of the du Pont award winning British Guiana classics collection in Geneva Switzerland, a week later than the 1¢, on June 27, 2014.

Whilst watching the Feldman Guiana auction live by computer, I had an email from the SG Catalogue Editor thanking me for some info and pix he had requested.
"That's extraordinary! Hugh".

I suggested he drop everything and tune into the Feldman feed, as it meant he'd need to reprice the entire country 19th Century, and after he watched 15 minutes of it he replied - "That's extraordinary! Hugh".

The 130 early British Guiana lots were invoiced for €6,481,380 (plus Swiss GST if not exported.) That base figure on the day was $US8,844,360 - not very far short of what the unique 1¢ realised! EVERY lot sold, and to intense bidding - I listened to the sale live.

Ricardo Verra is a describer at Feldman Switzerland, and a regular on stampboards.com and posted this first hand summary -

"It was absolutely crazy. David has never seen anything like it. Not even the Kanai Mauritius sale we had in 1993 can compare apparently. We had about 30 people in the room, and about the same on the internet who had logged in to bid."

"One client in the room basically bought every single lot. And was underbid by 2 different guys on the phone to these crazy prices. It was completely unexpected. He turned up 15 minutes before the sale was to begin. Pre-sale estimate was €1.1m. Final invoices were €6.481m!"

"The craziest thing was the client who bought near every lot didn't even know the 1¢ was sold by Sotheby's a week ago ... so we're still no closer to knowing who bought that" - Verra concluded.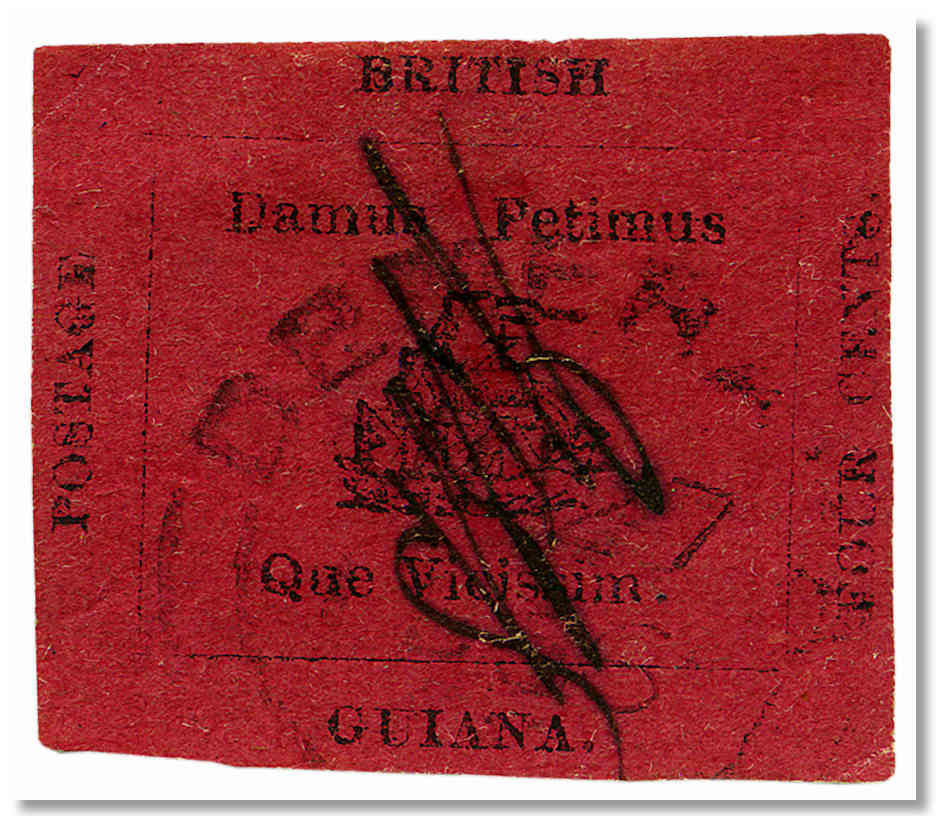 Sold for FIFTY times estimate!
I understand this buyer (the now deceased Sheik) later attempted to buy the 4 lots he did not secure in the room, as he was not paying attention, by offering the buyers a huge profit over what they paid. Incredible story.

Illustrated nearby is Lot 84, the 1856 4¢ standard issue SG 25, Cat £17,000. Very similar looking to the unique 1¢, but many examples of this 4¢ are recorded, indeed several were in this very sale.

Estimated at a sensible 3,000 Euro, it was invoiced for 156,000 Euro. Over FIFTY times estimate. Astounding. The other 4¢ reds of du Pont got similar massive prices.
Sloppy Cert, sloppy description.
It has a 2014 BPA Cert which states it has "thins". Feldman catalogue made no mention of thins. The BPA were also sloppy, as I can see obvious creases to both NW and SE corners, and they do not mention them.

Indeed I'll bet the paper is cut into at many points from the steel nibbed pen used to initial it - also not mentioned anywhere, by anyone. Pretty poor really, for a stamp worth what a new Ferrari costs.

None of this very poor condition detail was in the Feldman sale cat, or on the web, and yet it STILL got 7½ times full SG catalogue price - unheard of for very badly damaged old imperfs!

"In 40 years as auctioneer, I have never had the experience where every single lot was underbid to an astonishing multiple of the original estimate, leaving no lot unsold!", said David Feldman at the end of this historic auction.
Foxcatcher gets Caught
Du Pont died in prison whilst serving a long term for murdering an American wrestler, who was a member of his self-funded "Foxcatcher" USA Olympic Wrestling team.

He is shown here wearing a "Team Foxcatcher" T-Shirt when being arrested. A blockbuster new movie released this month featuring Steve Carell, Vanessa Redgrave and Mark Ruffalo simply called "Foxcatcher", re-lives du Pont's Wrestling fixation.
New "Foxcatcher" movie re du Pont.
It revolves around the extensive wrestler training facility at du Pont's huge 880-acre "Foxcatcher Farm" estate in Newtown Square, Pennsylvania.

It seems very clear du Pont was mentally unbalanced in the decade or so up until the murder. Often high on alcohol and or cocaine, he always carried a handgun, and fired off AK47s on his property etc, but in the USA guns are OK. Until you kill someone.

Under John du Pont's will, 80% of the proceeds from the sale will go to former Bulgarian Olympic Gold Medal wrestler, Valentine Jordanov Dimitrov of Sewickley Pennsylvania, and his family members. He emigrated to the USA in 1990.

The remainder of the proceeds are designated for the Eurasia Pacific Wildlife Conservation Foundation, based in Paoli, Pennsylvania, which du Pont founded. There clearly are very many MILLIONS to spread around here - du Pont was said to be worth $US200 million.

Dimitrov, 54, won a Gold Medal at the 1996 Atlanta Olympics, representing Bulgaria. He gained notoriety in 2013 when he returned his medal to the International Olympic Committee, to protest its decision to drop wrestling from the program.

The will was contested several times by du Pont family members, but was most recently upheld in 2012 in local and state appellate courts. Attorneys involved in the appeal said the last formal deadline to appeal the will expired in November 2013.









Get my regular market update emails FREE. Stamp gossip, price trends, record sale prices, and many one-time stamp specials, wholesale bargains, and exciting offers and breaking philatelic news. A mini stamp magazine in every email! "KNOWLEDGE IS POWER". The ONE stamp list you MUST be on, to keep in touch with the rapidly changing world market. One client made $65,000 profit in a few months after following my specific advice. Sign up securely and quickly by clicking HERE to access my automated data base. And wiser still ADD your home AND work email, if I only have one right now. Add a stamp friend's email address if you wish. One short click and you are subscribed to probably the most read email list in the stamp world!




If you would like to be notified of updates to this website,

Click HERE. If have any questions,
or comments regarding my site, please email me at glen@glenstephens.com



| | |
| --- | --- |
| | Search all my 300+ web pages! Simply type in what you are looking for. "Penny Black", "Latvia", "Imprints", "Morocco", "Fungi" "Year Books", etc! Using quotes ( " ) is more accurf used with no quotes. Search is NOT case sensitive. Tip - keep the search word singular - "Machin" yields far more matches than "Machins" etc. |


I am a Dealer Member in Good Standing Of:

Full Time Stamp Dealer in Australia for over 30+ years.

Life Member - American Stamp Dealers' Association. (New York)
Also Member of: Philatelic Traders' Society. (London)
GLEN $TEPHEN$

Full Time Stamp Dealer in Australia for 35 years.

Life Member - American Stamp Dealers' Association. (ASDA - New York) Also Member - Philatelic Traders' Society

(PTS London) and many other philatelic bodies.

ALL Postage + Insurance is extra. Visa/BankCard/MasterCard/Amex all OK, at NO fee, even for "Lay-Bys"! All lots offered are subject to my usual

Conditions of Sale, copy upon request .

Sydney's

BIGGEST STAMP BUYER: Post me ANYTHING via Registered Mail for my same-day cheque. Avoid copping the Now normal 45% Auction "Commissions" (15% Buyer + 20% Seller + GST, etc) AND their five-month delays!

Read HERE for details.

"Lothlórien", 4 The Tor Walk, CASTLECRAG (Sydney), N.S.W. 2068

Australia

Phone 7 Days: (02) 9958-1333

PO Box 4007, Castlecrag. NSW. 2068


E-Mail: glen@glenstephens.com The Number #1 Web Sites: www.stampboards.com




This line is 12 point
This line is 13 point
This line is 14 point