Click To Go Back To The Main www.GlenStephens.com Stamps Homepage

Welcome! You are visitor
to www.GlenStephens.com




Glen Stephens
Monthly "Stamp News" Market Tipster Column


January 2007

---
Skippy For Sale!
As outlined exclusively in a previous column, the Arthur Gray "Kangaroos" collection will be auctioned in February.

The lucky auctioneer selected to handle the task is Shreves of New York. Sale will be February 22 and 23, 2007.

I will fly across and cover the sale for this magazine. And hopefully buy a little portion of it too! I will also be bidding in person for several clients - let me know if you wish me to act on your behalf.

Arthur Gray is of course a well known Sydney collector, and his Kangaroos exhibit has won several Large Golds at International Level. Indeed 3 Large Golds the 3 times it was shown.

He was given the affectionate nickname "Skippy" by the many Asian judges and fellow exhibitors at these Internationals.

I gazed in awe at it during "Pacific Explorer" 2006 in the Court Of Honour, as I reported at the time.

Several of the pieces there I sold Arthur over the decades, and great to see such a vast array of mouth watering Roos back on the open market again.

I imagine some will not be offered again for another generation. World interest will be enormous.
$10 Million Roos

I have little doubt the invoices for the sale will run to about $US10 million. I have spoken at length to auctioneer Charles Shreve and Arthur Gray and they are both upbeat about the success of the sale.

Shreves are known for handling many superb collections, and yet this sale will gross MANY times their highest ever auction result.

This is as far as I know the most valuable collection ever auctioned by a living person. I imagine it will EASILY be the highest grossing "single stamp issue" collection in history. From any country, from any collector.

It has the lot - booklets, proofs, essays, monograms, imprints, all the major watermark errors, rare FDC's, varieties, "Specimens", largest multiples etc, etc.

Several pieces I think will be invoiced at six figures in $A. The unique in private hands £2 1913 with JBC monogram illustrated nearby will likely be one of those.
A six figure stamp?

The "Kangaroos" are only the tip of Arthur's collections. "KGVI Issues of Australia 1937-1952" won Gold in November at Kiwipex 2006. Arthur Gray has won top end medals for his King George VI, Booklets, and "Australian Commemoratives 1927-1936" during this year alone.

I saw the latter at Washington 2006 where it gained high acclaim - and Large Gold recognition in the very toughest of company.

The catalogues will themselves be long consulted reference works - collectibles in themselves. They will cost $US75 each, and are hard bound, with detailed descriptions and superb photos.

Readers of the January "Stamp News" magazine news can consult the colour centrespread for details of where to subscribe - or email

shreves@shreves.com

and of course all will be loaded on their website during January.

A far more detailed write-up will be in my next column.

Buy Australian!
I have typed this before, but it is true.

Australia has THE best and most detailed stamp catalogues of any major country on earth in my view. No-one else even comes close.

The "Australian Commonwealth Specialists' Catalogue" (ACSC) edited by Dr. Geoffrey Kellow leads the world. Germany, the UK and the USA produce nothing even remotely close. That would surprise many readers I am sure.

The 'Stanley Gibbons GB Specialised' multi volume set is a very sick joke in comparison. That lacks any kind of notes whatever as to numbers extant of errors and varieties, or numbers sold or produced of the basic stamp in most cases. Much other essential detail and constant varieties are also totally lacking.

Even worse is the Scott 'Specialised' USA which is a quite pathetic single volume that purports to cover all USA issues from 1847 in specialised form. Like the SG Great Britain 'Specialised' virtually no detail whatever is given by Scott as to numbers known of key pieces, and details about them.


And even the Michel German 'Specialised' is nowhere remotely near as detailed as the ACSC. And what detailed info there is often written in technical German.
Two updated volumes of the ACSC have recently been published.

1. King George VI, including BCOF issues. (2nd Edition) 264 pages

2. Queen Elizabeth II 1952-66, including Australian Antarctic Territory and Cocos (Keeling) Islands issues. (2nd Edition) 356 pages.

Apologies for the delay in reviewing them, but have finally found time to do them justice. You MUST buy this pair if you sell or collect this era of Australian Commonwealth stamps.

There are now nine different volumes in the complete set.

The previous volume issued - "Kangaroos and The Early Federal Period, 1901-12" was a whopping 548 pages. An opus work. The largest of the series so far. The long awaited "King George V", (3rd edition) will be released as you read this article, and I'll review that in due course.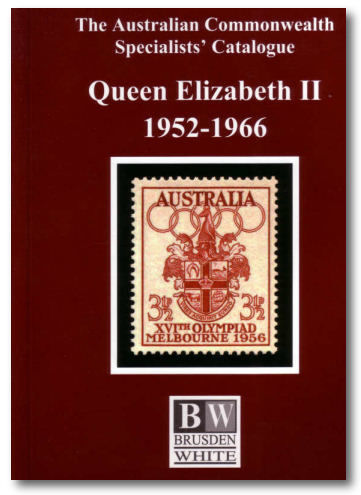 Unissued 3½d - cat $5,000


I offered clients a special "$100 off" offer recently on the full set 9 volumes for $535 and they sold very well. I hope lots of collectors and dealers support this superb undertaking, and secure a set from their favourite dealer today - or at least order these new editions.

These catalogues are not bad value for what they contain - $80 and $85 respectively. The value is certainly there - finding just ONE decent variety you otherwise did not know existed will readily repay that outlay. All leading dealers have stock of this new catalogue.
The previous editions are all but meaningless now.

The first thing you notice is the quite amazing clarity of the photographs depicting retouches and varieties. The previous editions had very muddy and blurry illustrations.

This one has things as crisp and as large as you could ever hope for. Often the photo sizes are double those of the previous editions.

And for the tricky fields like retouches and re-entires, that aspect makes both these books worth their purchase price alone. On complex issues like the 2/6d Aborigine these photos are literally TWICE the size of the muddy forbears, and crisp and sharp.

The 1942 5½d Emu is another excellent example. This stamp is a student's dream. The last ACSC photos of the countless retouches/re-entries were pretty useless to be honest. The new edition has the photos far larger and sharper.

Prices for listings on this Emu stamp jump strongly. A plate number 5 block goes from $600 to $5,000. The specimen overprint on this stamp jumps from $200 to $1,000. Many of the listed flaws treble or quadruple.

The first day price cover rockets from $750 to $5,000.

The basic stamps price of course remains the same, mint or used. Which is why you DO need the catalogue!

Many new items are listed and priced.

New archival information is recorded for the first time. Rare items like the 1948 £2 Arms with 3 x 15mm "Specimen" overprint is now known to have comprised an emergency printing of only 180 stamps, making it Australia's numerically scarcest post war issue by a long way is my guess.

Not all of those 180 were known to be issued, and only about 15 are recorded. Price is now $5,000 MUH. $2,000 in last edition.

I bought one with a photo certificate recently from a client to whom I sold it only a few years back for $1,250. Good stamps just keep increasing strongly in value. That client trebled his money.

FDC collectors will be interested to note the £1 Robes 'Thin' paper on FDC is now up to $7,500 - at least 3 are recorded.

The 1956 Olympics 3½d 'unissued' value is now $5,000 a single, $30,000 a booklet pane and $60,000 a plate block.

The PO sold these off as surplus in a controversial public tender in 1986/1987. Someone got lucky and bought a pane for $2,800 and the unique plate block sold for only $6,500. Those buyers have enjoyed around a 10 fold increase on both.

"On Cover" prices
Rod Perry has written for years that much of this QE2 pre-decimal era material on commercial cover is incredibly difficult to obtain.

The catalogue prices of many of the stamps herein bear this out.

Stamps you would imagine often found on cover as they paid the airmail rate overseas are seldom encountered. The 2/3d commemoratives offer good examples. The Royal Visit is $80, the Anzac $100 (up from $40) and even the humble 1965 2/3d ICY on cover is $75.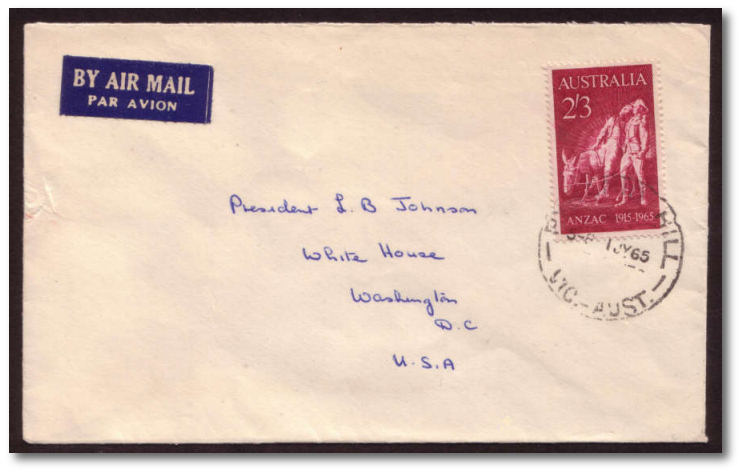 "All the way with LBJ"?
I recently sold a large collection of commercial covers of this 1950s/60s QE2 material to a local dealer A-One Stamps, which contained all the 2/3d values. It was the only complete set of these I can recall seeing in 25 years as a dealer.

The collector had written them all up neatly and in great detail, but had missed one important detail on the one illustrated nearby. The recipient!

This was a 2/3d Anzac commercially used cover addressed to President Lyndon B. Johnson at the White House, Washington, DC.

Mailed July 1st 1965 from Pyramid Hill Victoria - months after issue date, so it is a clear commercial use. The sender was "Hopefield Estate" in Pyramid Hill Vic according to the backflap.

Pyramid Hill is a small town of around 500 people which is named after an adjacent hill. It is located in a wheat-growing area 252 km north of Melbourne via Bendigo and 18 km north-east of Durham Ox which is located on the Loddon Valley Highway 84 km north of Bendigo.


Who knows that the content of the letter was? Possibly a polite request to withdraw our young troops from the silly and murderous and un-winnable mess in Vietnam - who knows?

The sender's message may well have echoed the Australian government's grovelling slogan of the time: "All The Way with LBJ" ..... or then again perhaps it did not.

Using a new stamp depicting Simpson and his donkey at Gallipoli in 1915, evacuating a dead or wounded soldier from another remote conflict that also had nothing to do with us, may well have been symbolic.


Addressed to a ruling USA President, clearly the value increases over normal commercial use. But by how much? By $150 I'd say! I offered it for $250 on - glenstephens.com/rarity and it sold very rapidly.
Some Advice
Here is some advice to readers. If you are looking to start a new collection that will offer enormous challenge and not cost too much, buy the "Queen Elizabeth II 1952-66" ACSC volume and start acquiring as much as you can of what is listed inside.

There is VERY little expensive material here, and much of it will cost you only dollars each for catalogue flaws, re-entries and plate flaws. It has enormous upside, and offers a real challenge.

The illustrations make the job very simple. A real credit to the editor.

Just twenty keen new collectors for this field would cause strong price movements as there simply is no stock out there at all of this material.

A stamp like the 1963 5d Export really shows the 5 retouch types perfectly in wonderful detail. Someone could make an 8 frame exhibit just on the 5d green QE2 or the 8d Tiger Cat!

These were all "REAL" stamps all recess printed by engraved and regularly retouched steel plates, and offer the true student an unlimited field in which to work and collect.

The new illustrations on the latter two issues are just superb.

For the first time, applicable period Cocos Island and AAT issues are listed and priced in the ACSC. This is useful info. Numbers delivered to the PO are recorded for the first time.

AAT base cancel FDC's are repriced for the first time - being $200 a set for the 1959 set for instance. Or even $40 a base cancel set for the 5d green or 5d blue.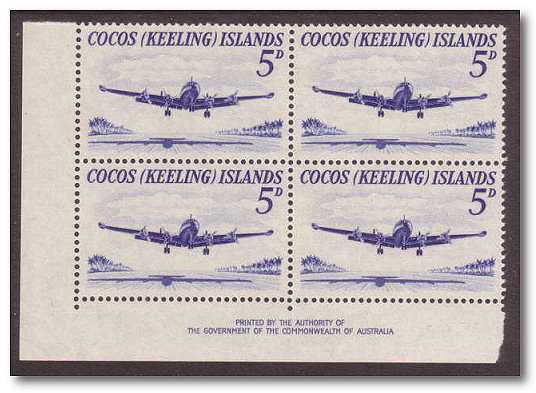 Price Error
There has been a curious mistake made in the prices on the 1963 Cocos set 6 - at $8.7 mint and $8.50 used - for a scarce set that sells for around $45 MUH. The same set used on commercial cover is rated as $185 which seems on the high side.

All the Imprint blocks of the 1963 Cocos are also priced, which is also a welcome move. Again the pricing error has carried forward with an imprint block 4 set 6 rated at only $63, when it might more correctly be rated $200-$250.
Season's Greetings!
Merry Christmas and Happy New Year to all readers of this column - and their families and their loved ones.

Stamp-wise this has been a very exciting and interesting year. Thanks to all readers for the many phone calls and emails with comments for AND against what has been written here!

I travelled a lot as always this year. Full details and photos as always are on - glenstephens.com/travel

The huge "Washington 2006" World Stamp Exhibition kicked off May 27. Wild horses would not have kept me away. I saw many dealer and collector friends whilst wandering about, as well as taking in the touristy things.

An enormous success. After the show we drove up to Gettysburg Pennsylvania to see the Civil War battle scenes which was fun.

I went off on one of my more zany Safaris of all time in late August. 33,180 miles or just on 50,000 kilometres! First to Seoul Korea, where I went right up to the weird DMZ zone and visited Camp Bonifas, and literally went into North Korea.

Then the long flight to Amsterdam. From there to Tripoli in Libya - North Africa. A 105% alcohol free strict Muslim country, even in tourist Hotels, so my liver got a rest.

They have some quite astounding Roman and Greek ruins in Libya, and yet they get virtually no tourists at all. Look up Leptis Magna on Google - it was the second largest Roman city on earth, and it is nearly perfectly preserved.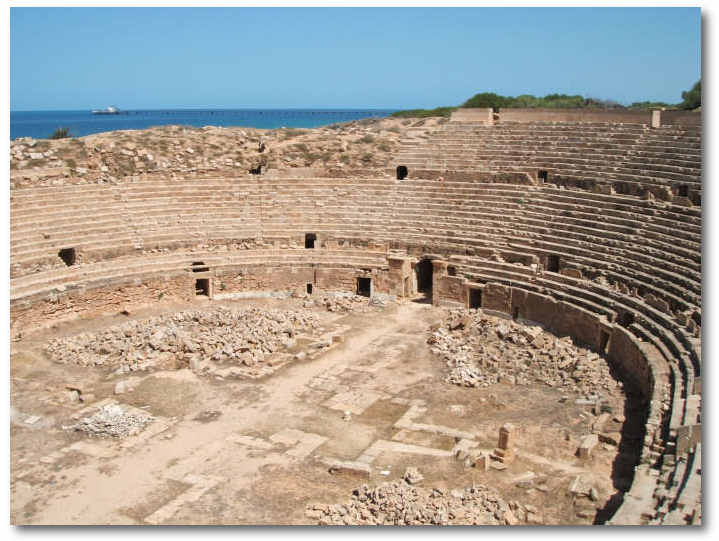 Totally covered in sand

The 2nd Century AD Colosseum on the Mediterranean was covered in sand until a few decades back. The largest outside Rome - it seated 35,000. Gladiators fighting wild animals entertained the locals. We walked around all day around this massive site, and saw 3 other tourists.

Back to Amsterdam and from there another long 9 hour direct flight to Suriname and French Guiana - about the last two South American countries I have not yet visited. Talk about REMOTE and seldom visited places by any tourist.



French Guiana

Needed to get smuggled by dug-out canoe into French Guiana, as we did not have a visa, and only had a single entry visa for Suriname. Some ozzie chocolate to the lone Border Guard did the trick. A fun experience.

In the Treaty of Westminster 1674 between the Dutch and the British, the Dutch got to keep Suriname and the British got to keep Niuwe Amsterdam. Known to most of us as Manhattan - indeed it was then the entire tri-State area. WHAT a deal!

Flying back home was about 80 hours via bad connections on 4 continents, without a stop. Longest stint I've ever done in planes.

November saw another 20,000 miles or 32,000 kms sojourn. First the long 14½ hour stint to LA, then 5 hours across the USA to Washington DC, then flew up near the Canadian border to Portland Maine. All without a hotel stop.

Rented a car for a week and drove around in a large loop through Vermont, New Hampshire, upper NY State, Ontario, Quebec and New Brunswick provinces, and back into Maine, and head slowly back down the coast.

We travelled near the peak of the Autumn "Leaf Turn" season, where the foliage colour changes are spectacular. I've done this a few times before and it is just beautiful. We stuck to the smallest back roads possible,

Back to Washington for dinner with friends, and a visit to the Smithsonian Air and Space museum, then back home on 22 hours of flights.

Barely time to unpack the suitcase and off to Boca Raton Florida early December for a weekend with flyer friends and to watch the launch of the space shuttle "Discovery" from Cape Kennedy. A few days there and back home, after another 20,000 miles on planes.

In December, off on my fourth visit to Vietnam - this time for Christmas and New Year - when you will be reading this! Seasons Greetings to one and all.


https://www.glenstephens.com/GrayRoos front cover January Stamp News.pdf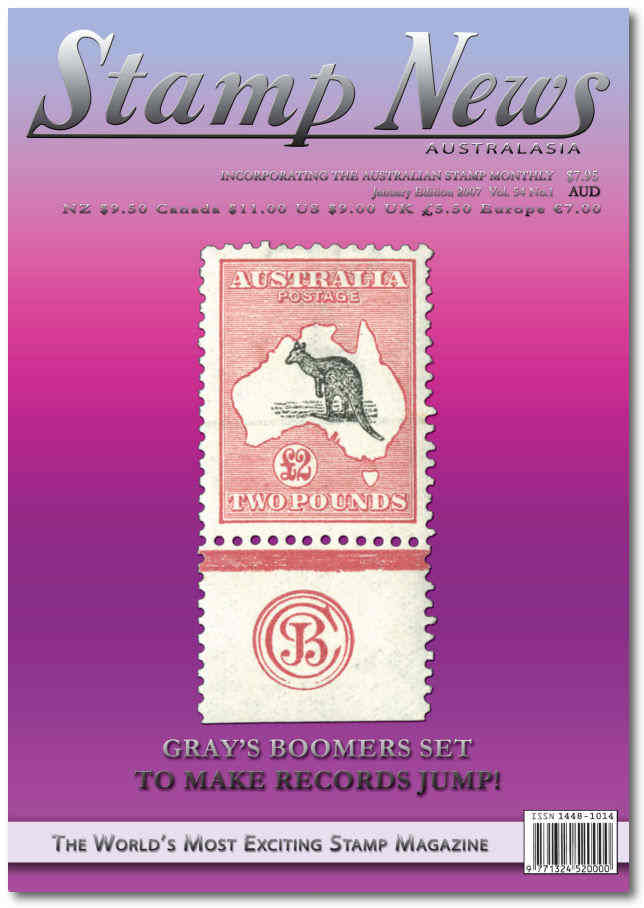 Get my regular market update emails FREE. Stamp gossip, price trends, record sale prices, and many one-time stamp specials, wholesale bargains, and exciting offers and breaking philatelic news. A mini stamp magazine in every email! "KNOWLEDGE IS POWER". The ONE stamp list you MUST be on, to keep in touch with the rapidly changing world market. One client made $65,000 profit in a few months after following my specific advice. Sign up securely and quickly by clicking HERE to access my automated data base. And wiser still ADD your home AND work email, if I only have one right now. Add a stamp friend's email address if you wish. One short click and you are subscribed to probably the most read email list in the stamp world!


Instant Currency Conversion


FREE! Just click here... see exactly what my lots cost in your currency.




If you would like to be notified of updates to this website, Click HERE.

If have any questions,
or comments regarding my site, please email me at glen@glenstephens.com


I am a Member Of
Full Time Stamp Dealer in Australia for over 25 years.
Life Member - American Stamp Dealers' Association. (New York)
Also Member of; Philatelic Traders' Society. (London) ANDA. (Melbourne) American Philatelic Society, etc

GLEN $TEPHEN$
Full Time Stamp Dealer in Australia for over 25 years.
Life Member - American Stamp Dealers' Association. (New York)
Also Member - Philatelic Traders' Society. (London) ANDA. (Melbourne) American Philatelic Society, etc

ALL Postage + Insurance is extra. Visa/BankCard/MasterCard/Diners/Amex all OK, even for "Lay-Bys"! All lots offered are subject to my usual Conditions of Sale, copy upon request BIGGEST STAMP BUYER: Post me ANYTHING via Registered Mail for my same-day cheque. Avoid the GENERALLY 40% Auction " Commissions" (15% + 17½ + GST, etc.) AND their five-month delays! Read for details.
"Lothlórien4 The Tor Walk, CASTLECRAG (Sydney), N.S.W. 2068
Phone: (02) 9958-1333 Fax: (02) 9958-1444 (Both 25 Hours, 7 Days!)
E-Mail: glen@glenstephens.com
Web Sites: www.glenstephens.com www.glenstephens.net or www.australianstamps.net

Sign up AUTOMATICALLY to my world renowned bi-weekly stamp gossip mailing list!
Click here to see MANY 1000s of stamp lots for sale at low $A Nett prices
Click here for all you need to know re SELLING your stamps for SPOT CASH
Click here for the current Monthly "Internet Only" special offers - CHEAP!
to read all my recent International stamp magazine articles.
Click here to get back to the main www.GlenStephens.com Homepage
Click here to ORDER on-line ANY items from ANY of my dozens of lists
Click for all info on Conditions Of Sale, Payments, Shipping, Returns &c
Click here for the complete library of my very unusual world travels!
How to PAY me. I accept EVERYTHING - even blankets and axes and beads!
Australia Post Annual YEAR BOOKS - massive stock - '27% off' discount offer today!
Visit my new page on RARITIES - Roos & other expensive photo items.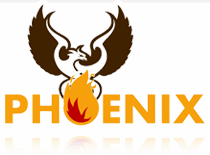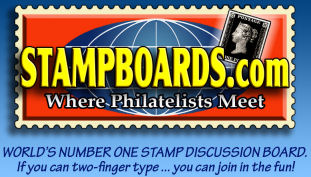 Instant Currency Conversion


FREE! Just click here...


E-mail me at glen@glenstephens.com -
Every credit card shown is accepted WITHOUT fee.
Earn Frequent Flier points while buying at bargain prices!
ALL prices are in weak Ozzie Dollars. I charge NO nasty, nasty
"Buyer's Commission" on stamps like nearly every "Auction" does.