Click To Go Back To The Main www.GlenStephens.com Stamps Homepage


Welcome! You are visitor
to www.GlenStephens.com




Glen Stephens
Monthly "Stamp News" Market Tipster Column


January 2009

---



Ugly stamp sells for over $US1 Million



The 1868 3¢ USA stamp depicted nearby is pretty ugly by any measure.

Miles off centre, with untidy perfs, round corners, and none too attractively cancelled.

Most readers have a stamp looking just like this in their USA collection, or more likely if it looks as bad as this - in their cigar box of near worthless swaps.

Well check them carefully. This is Scott 82, and has just sold at Auction for $US1,035,000.00 at Siegel's of New York on October 29.

What makes this one a million dollar stamp ... and the one YOU have, more than likely a ten cent stamp, is that this one has a "B" Grill.

"Grills" were common around this 1860s era on USA stamps.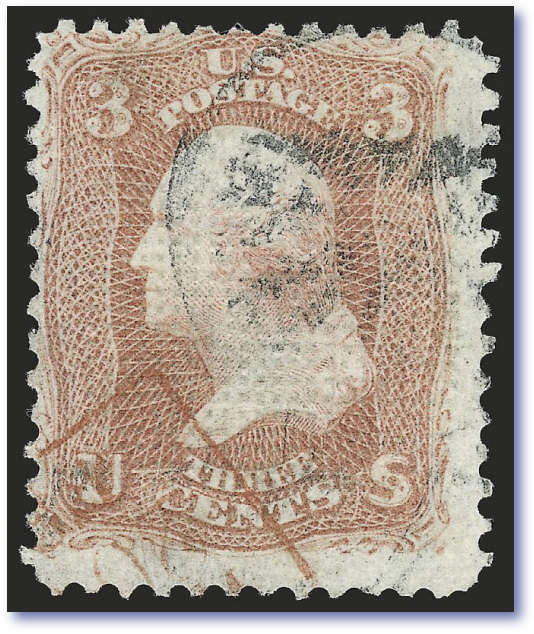 The Million Dollar Grill
This one had a waffle like metal "grill" of pointy tips, 18mm x 15mm impressed at time of printing, into the back of the stamp.

Grills broke the paper fibres, and allowed cancelling ink to be better absorbed - thus making "cleaning" off cancels almost impossible.

The distinguishing characteristics of the "B" Grill are its large size - 22 points wide by 18 points high (18 x 15 mm) - and the 'points-up' orientation of the grill, which shows as a pyramidal (male) grill impression on the back

USA stamps from this 1860s era are found with what collectors and Scott now identify as - A, B, C, D, E, Z, F, G, H, I, and J grills.

The names refer to the number of embossed points and the overall size of the area that the points cover, NOT to the shape of the grills!

For all except the "A" grill, which covers the entire stamp, the grills are more or less square or rectangular. Except for the "Z" grill, the letters are in the order in which they were used.

This stamp shown is centered to upper left as are all the four known examples, with cancels of Mason Texas, and part of red "HAMBURG/20 3 69/FRANCO" German transit date-stamp, struck in pale red across the lower left corner.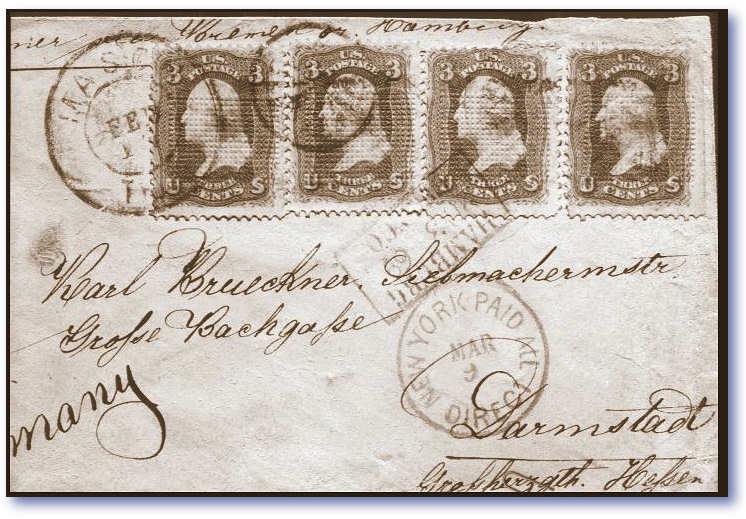 The 1969 'B' Grill Discovery
The only four known "B" Grill 3¢ stamps were all discovered on a cover to Germany (sepia photo shown nearby) as recently as 1969.

Later on, that cover was sold, and the 4 stamps were removed, and this single stamp ended up in the Schilling Collection.

This same stamp was auctioned in the superb "Ishikawa" collection of classic USA stamps by Christie's of New York in September 1993, and sold for $US85,000.

There it barely rated a mention in the later reviews of the sale, which grossed about $US9,500,000 and possessed many absolute gems.

The recent auction price is more than TEN times this sum realised in a major sale in late 1993.

Who says the global recession and stock market downturn would hurt top end stamp prices!

Even in the much later, and heavily publicised 1998 "Zoellner" auction held by Siegels, another "B" Grill example brought 'only' $US155,000 hammer price.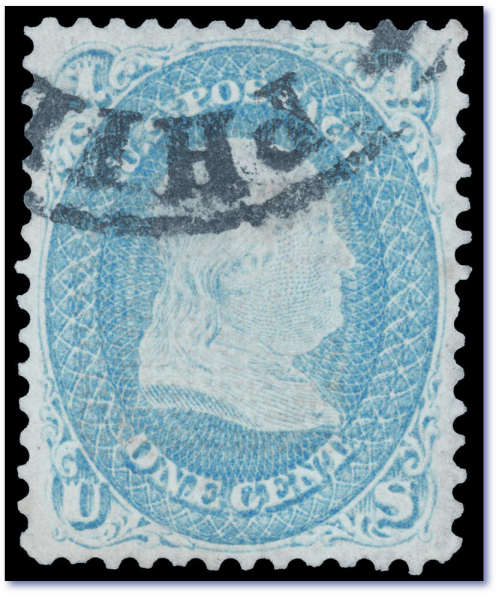 "Z" is for Zillions!
That 1998 auction sale had as the centerpiece, the 1869 1¢ Blue "Z" Grill - Scott 85a - illustrated nearby.

The "Z" grill set a then price record of $US935,000 for the most expensive USA single stamp ever sold.

Only one other copy exists, owned by the New York Public Library, who it is claimed have resisted all attempts at examination by experts as to its authenticity. It was bequeathed to them in 1928 by Benjamin Miller.

As I reported in my January 2006 column, this 1¢ stamp was soon "swapped" with much media fanfare, for a plate block of 4 of the 1918 24¢ USA "Inverted Jenny" airmail stamps.

That block had just been bought at auction a short time earlier for a price of then around $A4 million.

The stamp "swap" on November 2, 2005 was covered in the "New York Times". Reuters newsagency had a story on the deal, and many outlets picked it up including CNN. Three TV crews were at the "swap" at dealer Charles Shreve's Manhattan offices.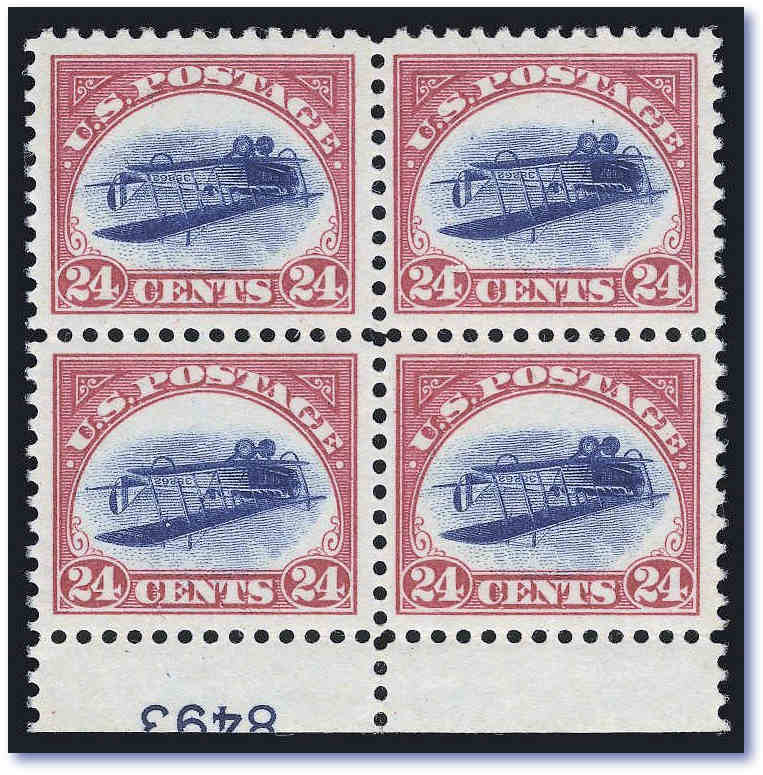 "Let's Play Swap."
It is not as if new owner Bill Gross would have wept in sorrow at parting with this "Inverted Jenny" plate block.

He still owns 4 other blocks of the "Inverted Jenny" from the 6 still intact!

This plate block means he has owned 5 of the 6 blocks of 4. As I have commented before, the 24¢ "Inverted Jenny" is not so much 'rare' - as famous.

I was lucky enough to be able to examine both of the 1¢ blue "Z Grills", and the "Inverted Jenny" plate block at the Washington 2006 International Exhibition.
Used stamps under threat?
Collectors of used stamps have had a tough time this past year.

In the USA nearly EVERY self-adhesive stamp printed during 2008 has been impossible to soak off the paper they were affixed to.

The United States Postal Service advised their three commercial stamp printers they could dispense with the once required water soluble gum layer.

All three companies took up the offer as it saved them money on the special paper - and saved USPS money at the same time of course.

In the past, the stamp paper used had a water soluble layer between the gum and the stamp. This meant stamp mail snippings would float off in water.

Not always perfectly as we all know - but with patience and care, they DID all soak free.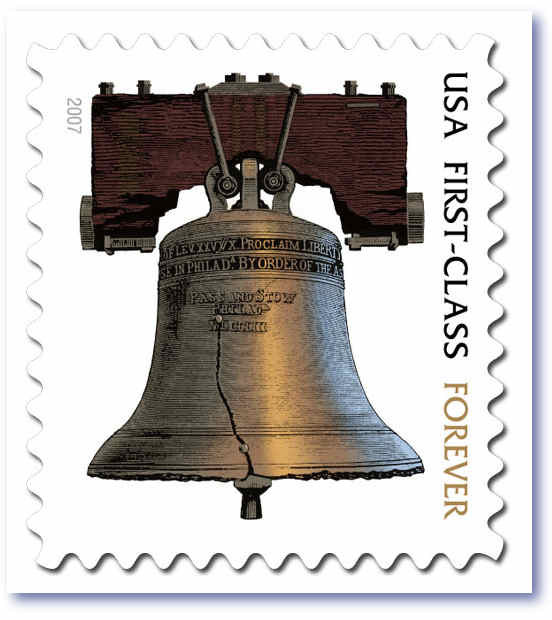 Valid Forever - Sticks Forever
Not any more - current USA stamps no more neatly come off, than descriptor labels from the cello overlay on packs of steak from supermarkets will soak off.

The recently issued USA "Forever" stamp is valid for a domestic letter forever …. and when affixed it stays there - FOREVER.

GB goes into anti-fraud mode.

And speaking of supermarkets, Great Britain will adopt another supermarket tactic to their stamps early next year.

Royal Mail have decided that most of the definitive "Machin" head design stamps sold will be self-adhesive.

And it looks like they plan to release most in a new style - each with four "U" shape slits in each stamp as illustrated nearby.

The idea is, it will be impossible to peel these off an envelope that has not been cancelled, and re-use them again on the mail.

The official reason is this will: "act in the same way as retail price stickers, causing a stamp to rip if you try to pull it off an envelope."

Royal Mail also says these stamps will be overprinted with: "an iridescent ink, with a security pattern on the darker background color around the Queen's head" - presumably when soaked in water, this ink will react, or be evident.

These new "SLITTED" stamps will be released in the UK on February 17, 2009

I was first aware of this issue mid November when stampbcoards.com member "norvic" raise the discussion, and showed the photo.

"norvic" is well known UK new issue dealer Ian Billings, from Norvic Philatelics, and his detailed discussion can be found here - www.tinyurl.com/63jdw2 - for any Machin fans who want more info and photos.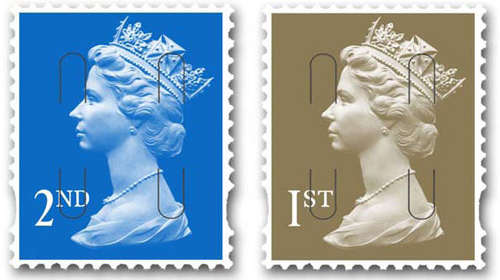 PERMANENT Machins?
Billings outline says the heavily used non denominated Machin heads will get these slits, as will the 50p to £5 high values.

He also confirms these will all have non-soakable PERMANENT adhesive on them.

The "Machin" series has been issued for over 40 years now, the first tranche being released in 1967 – the Queen's head design being approved in 1966.

I'd hate to think how many denominations and colours they can be found in, and how many billions have been sold. Certainly they exist from ½d to £5 - and masses of values in between.

Then you can add endless specialised variations - with various phosphor bands, shades, elliptical perfs and the like, to the list as well.

The vanity of Queen Elizabeth 2 being happy to have the exact same portrait on the most heavily used stamps for 43 years, is near impossible to believe to me, but it endures.

This means of course if you want recent USA stamps, and new GB Machin issues in used condition, you will likely need to save them snipped off the article - remaining on a small piece of it.

I am not sure if other countries are doing this - perhaps readers might let me know?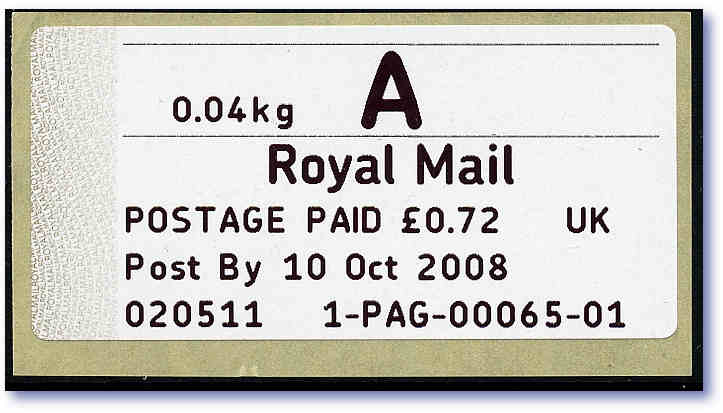 Sadly, the face of future stamps
The GB series is VERY heavily collected. And many Machin fans are NOT happy. One is Michael Baadke, Editor of the mass circulation "Linns Stamp News" in the USA.

Baadke wrote in the November 24 Linns: "Is it really possible that the British also plan to thwart stamp soaking, the one simple activity that leads an individual directly to becoming a stamp collector - and a Royal Mail stamp customer?"

Baadke makes an interesting point in passing. He notes that these slits may: "make canceling stamps irrelevant."

The logic being I imagine, that if the stamps cannot be lifted from the envelope and reused, why bother with the expense of cancelling them at all?

And if this is indeed Royal Mail's plan, that would make these "U" slits a valid form of pre-cancel. I wonder if the catalogues would list them that way?

Strange looking "Post And Go" stamps were also issued October 8 in the UK via self serve machines in major offices.

Many Wincor-Nixdorf Propostal machines have now been successfully put into operation throughout Britain.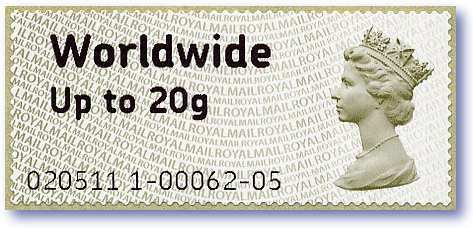 Ever Youthful Lizzy
The unusually long, thin "stamps" dispense that 'unaged-for-42-years' Monarch, in 6 different rate designs covering many main useages.

Shown nearby is the 20 gram international that many letters to Australia will use. There is also a 10 gram version, and a Europe to 20 gram, and two domestic use labels to 100 grams.

Other new series "Post And Go" designs are less attractive. The dreary looking 72 pence "A" label shown nearby originated in Bristol I believe.
Off with Her Head
Whilst researching this article I found a Royal Mail summary of the history of Queen Elizabeth's head on stamps.

It seems clear socialist/leftie Postmaster General Tony Wedgwood Benn fought tenaciously to remove her head OFF all UK stamps.

Benn was very radical, and had fought long and hard to give BACK his hereditary peerage of Viscount Stansgate.

He was the first in Britain to do so, due to the '1963 Peerage Act' being passed - almost entirely due to his efforts.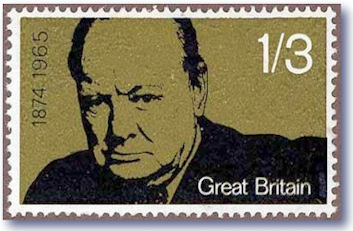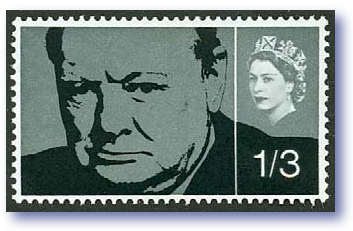 Unissued (left) and issued versions (right)
Benn commissioned essays of the 1965 Churchill and Battle of Britain stamps with no Queen's Head, and tried hard to get them approved.

The 1/3d Churchill essay is shown nearby, with the never before seen words "Great Britain" - along with the issued stamp showing the Wilding head.

Benn Prevails
Postmaster General Benn pushed ahead with his "Off With Her Head" campaign according to Royal Mail:

"At an audience in November 1965 The Queen informed the Prime Minister, Harold Wilson, that she did want her head to appear on all stamps, but would approve the use of a silhouette format.

Fearing a political row, Benn accepted the situation but pressed ahead with the use of a cameo silhouette" they concluded.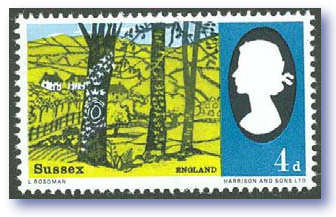 The first cameo head.
His first "cameo" was on the 1966 "Landscape" issue shown nearby, where Mary Gillick's cameo head design was used. The Queen approved the design and made no comment on it.

Tony Benn in quick time greatly reduced the size of that cameo head, so that by the 1967 Christmas issue it was very unobtrusive on each new stamp – and stayed that way!

About 25 years ago there were moves to update her likeness ... after all it had then been used for 15 years. The Queen's Private Secretary is quoted by Royal Mail as responding in part:

"Her Majesty is very content with the Machin effigy, and thinks that a work of real quality is required, if this is to be replaced."

Needless to say after that - they are stuck with the same Machin bust to this day, and the never aging Queen – who after 42 years has not changed one iota, or added a single wrinkle line!
Merry Christmas and Happy New Year to all readers of this column - and their families and loved ones.

Stamp-wise this has been a very exciting and interesting year. Thanks to all readers for the many phone calls and emails with comments for AND against what has been written here!

I travelled a lot as always this year – over 100,000 miles. Full details and photos are on – www.glenstephens.com/travel

Zipped over to Burma over last Christmas/New Year break. My second holiday there. A truly great place to visit.

Flew around to Yangon, Mandalay, Bagan and Inle Lake – and found a remote floating Post Office there, and also visited a few mountain hill stations.

VERY cheap place to get around, and the maximum denomination they print is a 1000 Kyatt note - or $A1.

With all the recent "troubles" very few tourists visit - which is sad as the country has a ton to offer.

If you know anyone going let me know, as the guide I've used both times speaks absolutely superb English and is politically VERY incorrect, so it makes for an enlightening - and LOW cost visit.

He did superb work after the Cyclone – turning the $10,000+ donated by readers and stamp collectors, into urgent food and medical aid in the Delta region.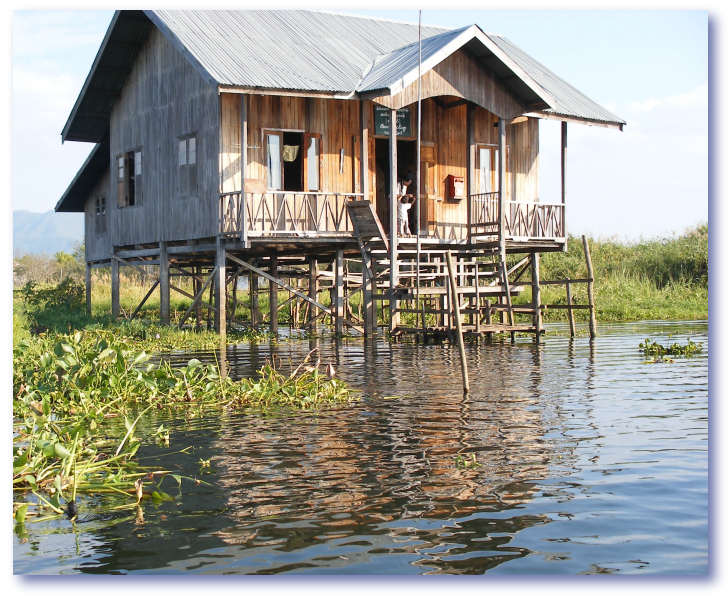 Floating Post Office, Inle Lake
In mid February another long adventure of near 30,000 air miles across 4 continents. Sydney to San Francisco, connecting well to the long 747 flight to Frankfurt.

Then after a few hours to Paris, directly connecting to London, arriving 5pm to have drinks with some friends in Soho later on that evening.

About 40 hours in planes and airports to that point. Later that day a flight back to Paris, then to Casablanca Morocco for a week long tour of that country - my second visit.

That makes three different North African countries visited separately in 3 years - Libya, Tunisia and Morocco.

A long journey back home across 4 continents - Casablanca-Paris-Frankfurt-San Francisco-Sydney … another 35-40 hour type saga given some bad connections.
Canberra Stamp Show
In March stampboards.com had a stand at the very successful Canberra National Show. Some VERY funny photos at – www.tinyurl.com/59lkos

We held a well attended member dinner, and a discussion seminar, gave an award, and signed up a lot of new members.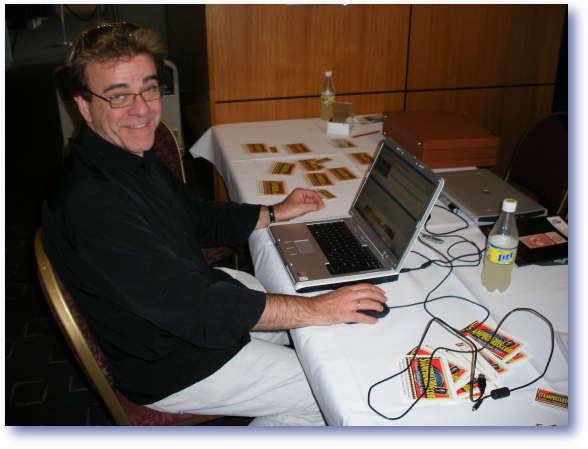 Simon Dunkerley in action!
Fellow columnist and board Moderator, Simon Dunkerley is shown nearby practising his keyboard skills!

In June another long 24,000 mile trip, starting with a stop in Chicago.

Rented a car and drove the 1,200 miles right around Lake Superior, via Illinois, Indiana, Wisconsin and Michigan, and up across the legendary 'Upper Peninsula' for a few days, and then into Canada.

From Chicago flew to Washington DC, down to the Mexican Yucatan Peninsula, to visit the spectacular Mayan pyramids at Chichen Itza.

Then a flight over to CUBA on a SEVEN hour delayed Cubana YAK 42. Been 12 years since I was last there, but not a lot has changed since!

Went out into the countryside to a Cuban cigar factory, and bought back some of the "real thing"!
"Stampex 08" Adelaide
In October we flew to the Adelaide "Stampex 08" and also had a stampboards.com dinner, and a long tutorial/seminar type session in the large Jury room.

My public thanks to the organising Committees from both Canberra and Adelaide for their great co-operation and assistance in these matters. Photos at – www.tinyurl.com/5kwfle

I took the nearby photo after our Adelaide dinner of APF President Gary Brown ("GJ50" on stampboards) and "Kangaroo King" Arthur Gray, enjoying an orange juice or three.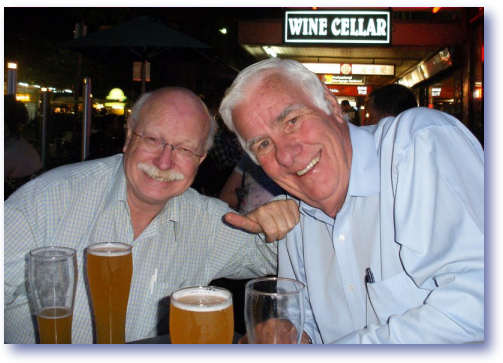 Arthur Gray and Gary Brown
In November flew off on another 25,000 miles adventure starting in Denver.

By car we traced part of the route of the near forgotten depression era Lincoln Highway. Now mostly country back roads.

Got a very large and un-expected snow dump when at 12,000 feet staying up high in the Rockies.

Driving through passes of 12,000 feet one smiles to think they are more than 50% higher than the summit of Mt. Kosciusko!

And also drove up into Wyoming and Nebraska along the way.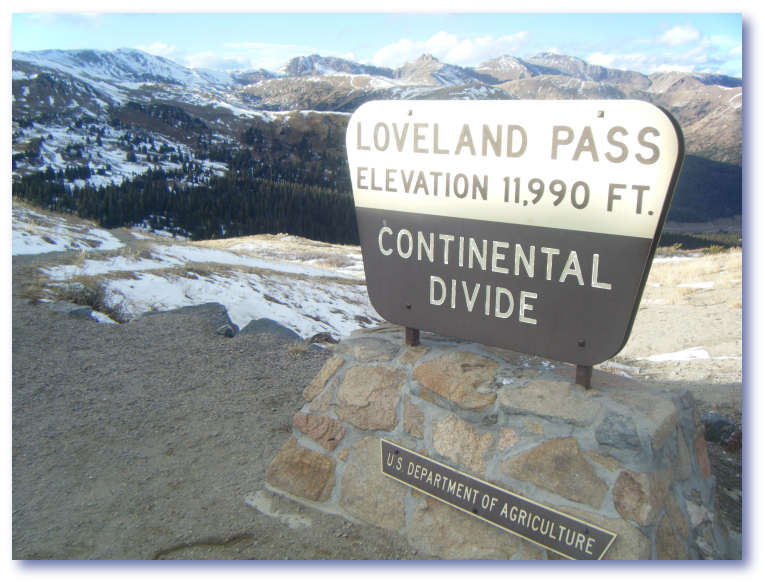 50% higher than Mt. Kosciusko
Then the quite long 6 hour direct flight Denver to Honolulu, and across to the very sleepy town of Hilo on the "Big Island."

Wanted to visit the now active Kilauea Volcano again. Quite spectacular at night-time right now, where you see from quite close by, the river of boiling lava pouring and hissing into the sea.

It has added 100's of acres of new "land" to the island in the past 20 years.

Then a drive to the point on the west coast where Captain Cook was killed. Oddly that spot is near impossible to access to tourists.

One day we drove right around "The Big Island" and it is certainly is larger than you imagine – from incredibly lush rain forest and superb waterfalls, to near desert.

There is snow atop the Hawaii mountain peaks even. We went down the appallingly rough track to the desolate "South Point" - the southernmost point in the entire USA.

For Christmas/New Year 2008, we hopefully head off to Sri Lanka (Ceylon) via Bangkok .. nothing booked yet even at this late stage, but it looks likely.

Season's Greetings to one and all!











Get my regular market update emails FREE. Stamp gossip, price trends, record sale prices, and many one-time stamp specials, wholesale bargains, and exciting offers and breaking philatelic news. A mini stamp magazine in every email! "KNOWLEDGE IS POWER". The ONE stamp list you MUST be on, to keep in touch with the rapidly changing world market. One client made $65,000 profit in a few months after following my specific advice. Sign up securely and quickly by clicking HERE to access my automated data base. And wiser still ADD your home AND work email, if I only have one right now. Add a stamp friend's email address if you wish. One short click and you are subscribed to probably the most read email list in the stamp world!


Instant Currency Conversion


FREE! Just click here...




If you would like to be notified of updates to this website, Click HERE. If have any questions,
or comments regarding my site, please email me at glen@glenstephens.com
| | |
| --- | --- |
| | Search all my 300+ web pages! Simply type in what you are looking for. "Penny Black", "Latvia", "Imprints", "Morocco", "Fungi" "Year Books", etc! Using quotes ( " ) is more accurf used with no quotes. Search is NOT case sensitive. Tip - keep the search word singular - "Machin" yields far more matches than "Machins" etc. |


I am a Dealer Member in Good Standing Of:

Full Time Stamp Dealer in Australia for over 25 years.
Life Member - American Stamp Dealers' Association. (New York)
Also Member of: Philatelic Traders' Society. (London) ANDA. (Melbourne) American Philatelic Society, etc
GLEN $TEPHEN$
Full Time Stamp Dealer in Australia for over 25 years.
Life Member - American Stamp Dealers' Association. (New York)
Also Member - Philatelic Traders' Society. (London) ANDA. (Melbourne) American Philatelic Society, etc

ALL Postage + Insurance is extra. Visa/BankCard/MasterCard/Diners/Amex all OK, even for "Lay-Bys"! All lots offered are subject to my usual Conditions of Sale, copy upon request BIGGEST STAMP BUYER: Post me ANYTHING via Registered Mail for my same-day cheque. Avoid the GENERALLY 40% Auction " Commissions" (15% + 17½ + GST, etc.) AND their five-month delays! Read for details.
"Lothlórien4 The Tor Walk, CASTLECRAG (Sydney), N.S.W. 2068
Phone: (02) 9958-1333 Fax: (02) 9958-1444 (Both 25 Hours, 7 Days!)
E-Mail: glen@glenstephens.com
Web Sites: www.glenstephens.com www.glenstephens.net or www.australianstamps.net