Click To Go Back To The Main www.GlenStephens.com Stamps Homepage

Welcome! You are visitor
to www.GlenStephens.com




Glen Stephens
Monthly "Stamp News" Market Tipster Column


January 2011

---
The market for high value Kangaroos has held on very strongly, and the key pieces keep getting terrific prices.

A new edition of the ACSC "Kangaroos" catalogue has been 'in the pipeline' for some time, and when and if ever published, will be a welcome update to the superb 2004 Edition.

That edition of the ACSC was published well before the record breaking $A7.15 million realisations of the 2007 Arthur Gray "Kangaroos" sale, which smashed all price records in that field.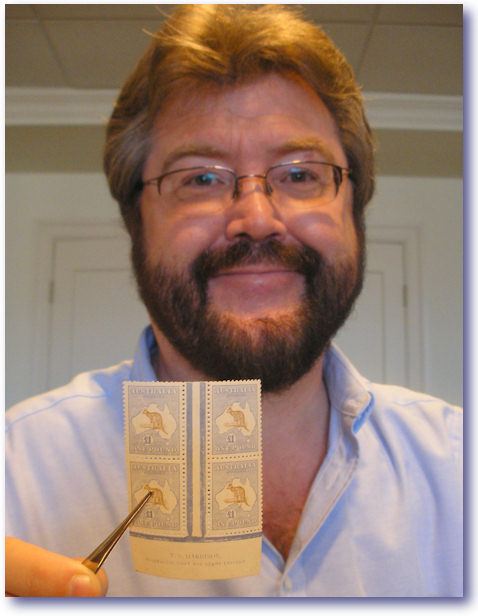 $265,395 for Kangaroo stamp block
www.tinyurl.com/GrayRoo is my detailed 6 page review of that amazing auction, with many photos. I urge ALL readers to re-visit it, and be astounded at the prices obtained.

The block of 4 shown nearby got the price of a nice house in many cities, and the auctioneer was petrified I'd drop it into my coffee!
That Gray sale saw nutty prices paid, like $A59,000 for a used copy of the 1913 £2 Kangaroo perforated Large "OS".

I was sitting next to the 2 determined floor bidders in New York - one of whom was a Sydney auctioneer who wanted it for his personal collection.

A mint copy of the same stamp was auctioned early December 2010 in the USA, and was invoiced for $US28,700.

The less than attractive example shown nearby got the high price - despite being clearly described as having disturbed and 're-distributed' original gum.

That verbiage is usually code for some cretin in the past has tried to "sweat" off a heavy hinge, and ruined the perfin stamp in the process.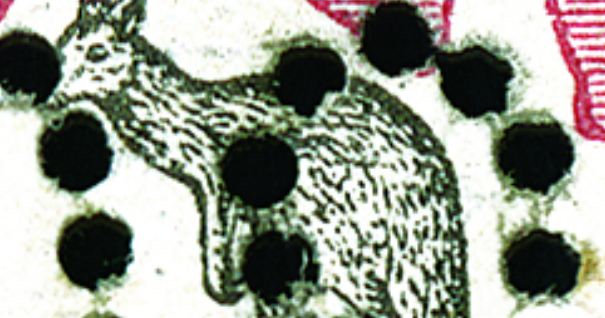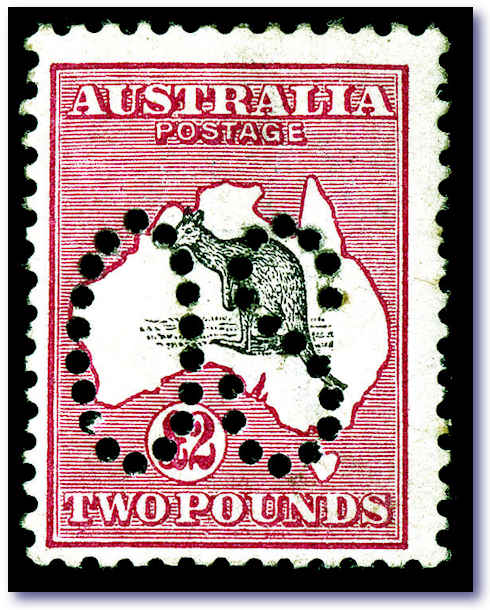 Sold in December for $US28,700!
Readers can see the liquefied gum has ran/soaked into parts of the central 'OS', and stayed there - staining it and the paper around it.

Especially the top loop of the "S", and down the right hand perfs. Indeed many of the top perfs are gum soaked too it seems clear, on a large scan.

The stamp would look far better facially with all the gum soaked off is my initial impression.

Someone has fiddled with it in the past, messed it up completely, and that is the wisest option left.
Paid FIVE times full Scott
Scott catalogue for good condition on this stamp is $US5,750. Someone paid FIVE times full Scott!

I'd have paid no more than $10,000-$12,500 for this one, indeed it is not the grade of stamp I'd chase at all, as it is defective.

Yes they are very scarce, but condition and eye-appeal are still very important on top end pieces. For savvy buyers, anyway.

That mint stamp is of course 100% stolen goods from the Federal Government - I can never understand how MINT copies got into catalogues in the first place.

And for those who think scarce stamps do not increase in value, take a look at the price of this stamp mint and used 30 years back.

The 1982 ACSC, published by Seven Seas Stamps, has this same large "OS" £2 Roo valued at $1,600 mint and $700 used - both well under HALF the non-OS version then.

I sold Alan Salisbury's lovely 1913 £2 "OS NSW" for about $1200 as I recall! That is all anyone would pay back then.

The Auction prices of $A28,700 for very rough Mint, and $A59,000 for used prove beyond doubt the truly scarce material does very well.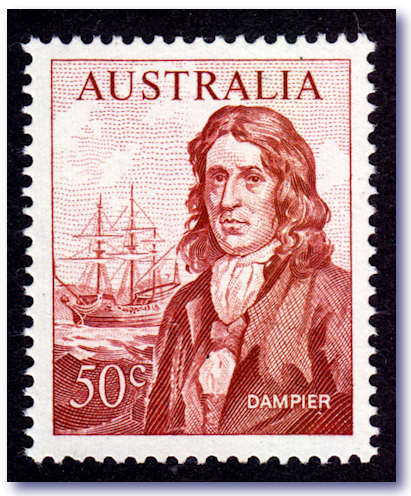 A $65 'Rarity' from the 1980s!
The same ACSC has 2/3d commemoratives listed at $20 each (now $2 each retail!) and 1966 50c Navigators at $65 each – I sold 100 x MUH last month for 10% of that.

And blocks 25 of the 1971 Xmas stamp were cat then in ACSC for $350 .. these days I'm pleased to get $50 for one!

So Arthur Gray and others, who bought SCARCE material like top end Roos have seen their outlay go up 85 times - as in the case of the used £2 "OS" above.

And the lemming buyers of incredibly common decimals and 'Territory' issues, lost their shirts.

A very valuable lesson not to blindly follow the herd, but to buy truly scarce pieces, in nice condition.
Stamp Shops in Sydney evaporate
Hard to believe in a city of about 5 million people, but there is now only one retail stamp shop remaining in Sydney.

There is one shop in the CDB and no other "stamps only" dealer shop for 100s of miles in any direction.

A very few stores offer some stamps along with coins, and even those you can count on the fingers of one hand, and still have some fingers left over!

A sad end of an era.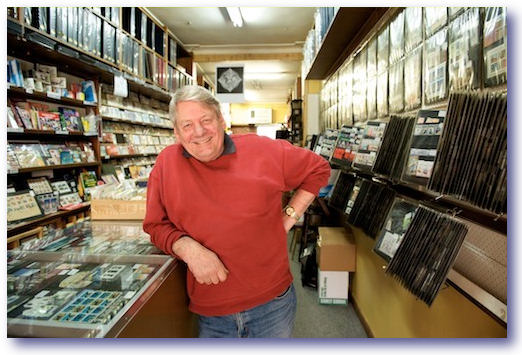 Bexley Stamps at Bexley closes.
Indeed in a huge half moon arc from Newcastle in the North, Blue Mountains to the West, and Wollongong in the South - with 7 million people living there, there is just the ONE stamp shop.

Bexley Stamps has been in operation at the same location in 415 Forest Road, Bexley (an inner Sydney suburb) for 42 years.

Just as you read this the shop will have closed - on December 24 at 12 noon.

Owner Mike Hill (in photo) tells me the reasons were simple. He has turned 70, the 3 or 4 hours a day commute was driving him nuts, and the landlord wanted to hike the rent by 40%.

Mike will work from home – 45kms away at Doonside, and his contact details remain unchanged. He retains the DAVO agency.

I've worked from home for over 30 years, and more and more that is the way others do business – on the internet and by phone – but not via a retail stamp shop.
Green with Envy

Here is a little knowledge test for readers.

Why is this nearby mint ½d stamp worth well over $10,000?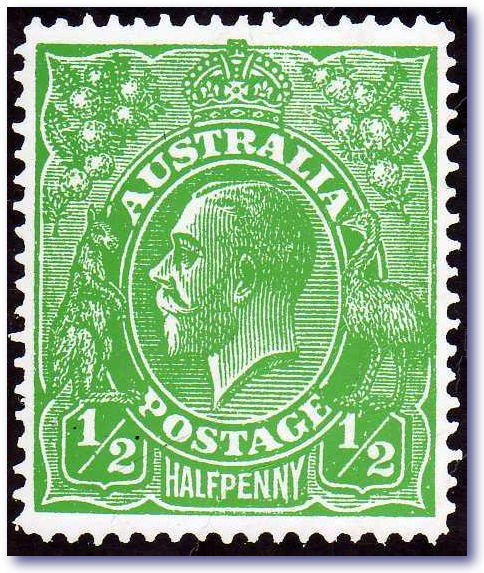 WHY is it worth $10,000+?
It is something immediately apparent from looking at this photo.

To make it even easier for you - it has nothing to do with the watermark, paper or shade - and the stamp has no plate varieties or flaws etc.

This stamp would sell for well above $10,000 is my strong guess.

Why? As it is a single line perf stamp, and not a comb perforation - as near all these ½d green stamps are - and in mint THEY are worth a dollar or two.
HOW you spot this rare stamp
www.tinyurl.com/SLperfs gives a very good guide at HOW to spot the difference, and is replete with numerous photos showing you HOW to tell for sure.

The fast way is by the "sharp" perf tip ends, and the "funny" corners that occur on single line perf issues.

Being poorly centred is common on these, as the perforating was done manually with a large sewing machine type mechanism in effect - a wad of full sheets at a time!

The mint copy shown nearby was on the front cover of the previous edition of the ACSC "King George V" volume.

It possesses astounding centering and colour for these, and would be a gem item to own.

This stamp comes in a gorgeous Emerald shade, and a "Pale Green" that always looks rather washed out on the many colour photos I have seen of them.

Find any one of these and you will be rather pleased - this 1915 stamp is SG 20a - Cat £6,500 mint, and £475 used.

The normal SG 20 is cat £3.75 mint and £1 used - i.e. packet material basically.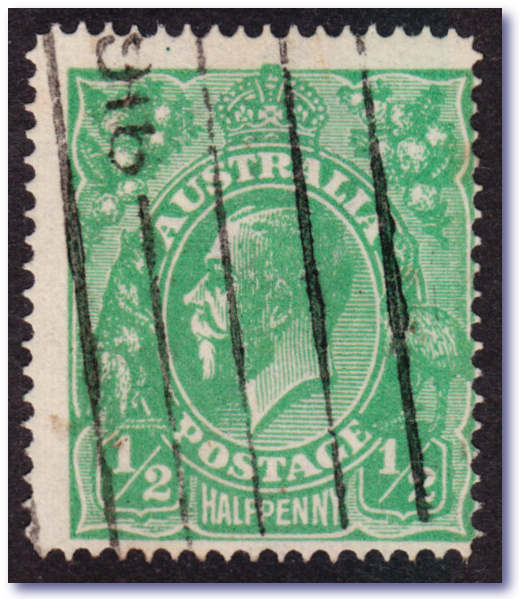 Single Line Perf ½d KGV used

| | | |
| --- | --- | --- |
| | The used copy shown nearby I sold via my Rarity Page this month for $A395, and it shows the pointy tip perfs and strange corners even more prominently than the mint one. | |
'Numbers known' too low
The ACSC suggests there are 150-200 known examples in existence.

This figure now seems to be on the lowish side, as a very ambitious project was undertaken in the past year or so, to document and illustrate every copy ever recorded.

Stampboards.com member "The Pom" is a keen KGV heads collector, and has personally discovered five of these in junk lots etc.

He was interested to see if a KGV Heads community project could be undertaken, where every known copy could be tracked down, and listed and illustrated, and given a number.

It was an ambitious undertaking, and the KGV collector Community rallied very strongly behind it, with input from many countries.

Copies of ancient auction catalogues were dug out, and private collections tapped into for photos.

ACSC Editor Dr Geoff Kellow assisted with many illustrations from his extensive sale catalogue files, and other senior KGV specialists chipped in too.

Members from many continents added to the photo database. There has never been a publicly viewable project like this, for any Australian stamp.

There has been a VERY private census taken of the 1d red "Salmon Eosin" numbers, which it is understood are vastly more than originally thought only a decade or two back.

Despite being more numerous, and not being listed in SG, they still get far higher prices used than these SLP, which is quite bizarre.

http://tinyurl.com/SLPcensus is the discussion that illustrates the 164 copies so far known of the ½d. If you own one not shown, PLEASE add your photo to the census.
The KGV heads "Mother Lode"
| | | |
| --- | --- | --- |
| | The "Mother Lode" for photos of course came from Martin F. in Salzburg Austria who purchased TEA CHESTS of untouched Australia KGV heads etc on piece about 12 years ago. | |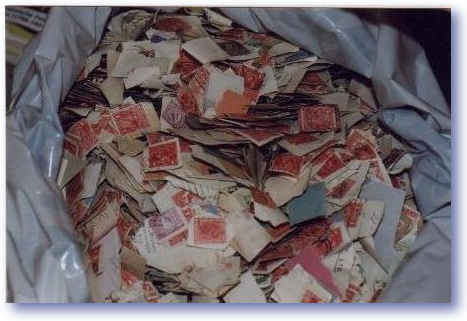 24 sacks of unchecked KGV heads
The hoard was packed in about 24 x large white thick plastic trash sacks like the one shown nearby, photo taken from his files.

This massive "Italy Find" totally re-wrote the KGV ACSC in many sections.

It was truly the "Aladdin's Cave" for Australian philately. Every collector dreams of a find like that.
The "Aladdin's Cave"
Included in this amazing treasure trove were the unique used block 4 of the 1d red KGV "Rusted Clichés", a block of 9 of the "Substituted Clichés", and a superb Die 2, 1d Red single line perf!

As well as DOZENS of ½d green single line perfs: in multiples, monogram and state and private perfins and "OS", and other major flaws and varieties.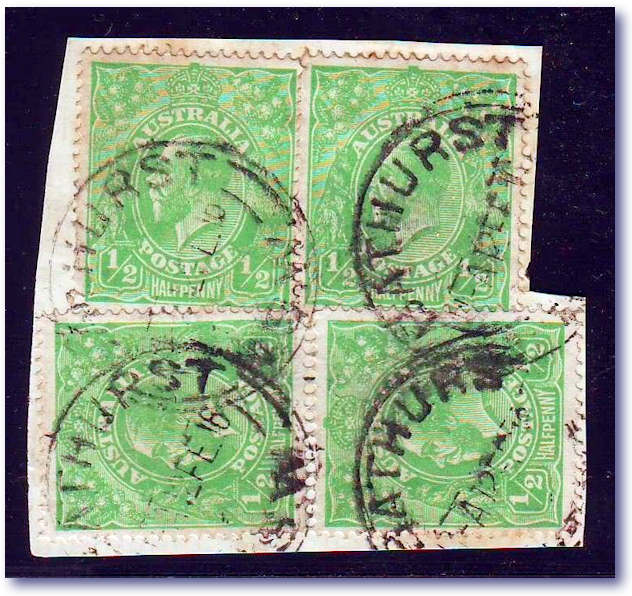 Literally DOZENS of these found
And 1d Salmon Eosin shades of all kinds - many on piece with normals, and Eosins also with "OS" and private perfins.

These were all major pieces, many of them in the 4 figure league, and most are illustrated on the stampboards.com discussion below.

www.tinyurl.com/ItalyFind outlines it all in detail, and the finder Martin F. adds his thoughts on it all there.
"The Future Of Stamp Collecting"
Many of us bemoan the fact it is VERY hard to entice youngsters into the hobby.

I have always found senior collectors have an eye keen to assist, but often do not know HOW to.

Here is a good new story that shows the young ones ARE keen - with a little help!

I clearly remember being about 10, and an old chap at the Adelaide club took a shine to me, and gave me a few glassines of what I then took to be world rarities – probably really worth a dollar or so!

However he must have seen a kid with a passion for stamps, and I do thank him enormously for mentoring, and starting me off on this exciting career path I love each day of.

A stampboards.com member from Newport Maine started a 'thank you' discussion to the UK and Australian members who had mailed his 6 year lad a few spare stamps.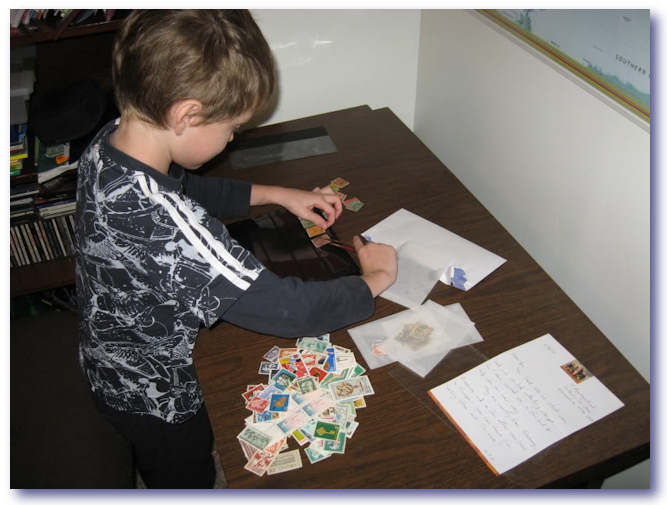 Stamp Hobby in safe hands!
www.tinyurl.com/stampkids shows photos of young Ian very diligently and carefully putting the stamps into a Hagner sheet AND using stamp tweezers!

Great to see a young fellow with manners these days – he writes personal notes or emails to those who have helped him out, and we might have another Arthur Gray here!

Australia Post very generously donate an Annual Album for the best discussion of each month on stampboards, and this month they mailed their Album to Ian in Maine.

For anyone who has a handful of surplus material of any kind you'd like to see find a happy and gleeful home, please mail to: Ian Clifford, 1679 3rd Ave, Newport MN, USA, 55055.

www.tinyurl.com/11Jacob - we even have a young 11 year old Jacob - who is cheerfully giving away handful's of his Dad's stamps to older collectors!
"PALMPEX 2010" New Zealand
Speaking of nice youngsters I flew over to PALMPEX in Palmerston North a few weeks back, to host an open stampboards meeting kindly set up via Chairman David Smitham.

A nice well run show, and a credit to the collectors involved on the Committee.

I was sitting at a Palmares Award Dinner table with Geoff Lewis, who was the Australian Judge for the Exhibition.

Also sitting with me was young Hadley Muller, who I recall was EIGHT - who won the Youth Development Prize for "Dinosaur Extreme".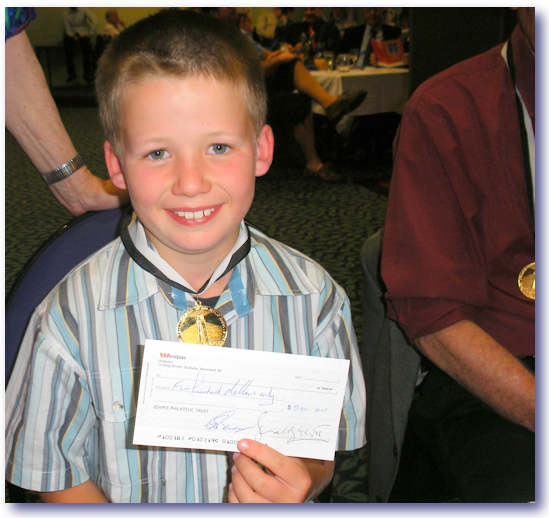 More safe hands – this lad is EIGHT!
Hadley's prize was a $500 cheque -- pretty hot stuff for an eight year old kid!

He was very pleased to let me take some photos of his medal and cheque – one is nearby. And I passed the scans on to his grandpa.

A lovely young lad, and his proud Grandfather Jeff Long was also at the table. I believe he is the Chairman of the next big NZ show, in Christchurch November 2011.

So I am sure Hadley will be encouraged to improve the exhibit by then, under good guidance!

www.tinyurl.com/Palmpex has numerous colour photos of the Exhibition, and dealers and activities and frames, taken by myself and Graeme Morriss from Seven Seas Stamps etc.



Season's Greetings!
Merry Christmas and Happy New Year to all readers of this column - and their families and loved ones.

Stamp-wise this has been a very exciting and interesting year. Thanks to all readers for the many phone calls and emails with comments for AND against what has been written here!

I travelled a lot as always this year – way over 100,000 miles as I do every year.

We made several trips to South America – to Peru, Ecuador and the Galapagos Islands in April, and to Uruguay and Brazil in July, and I'll be there again as you read this!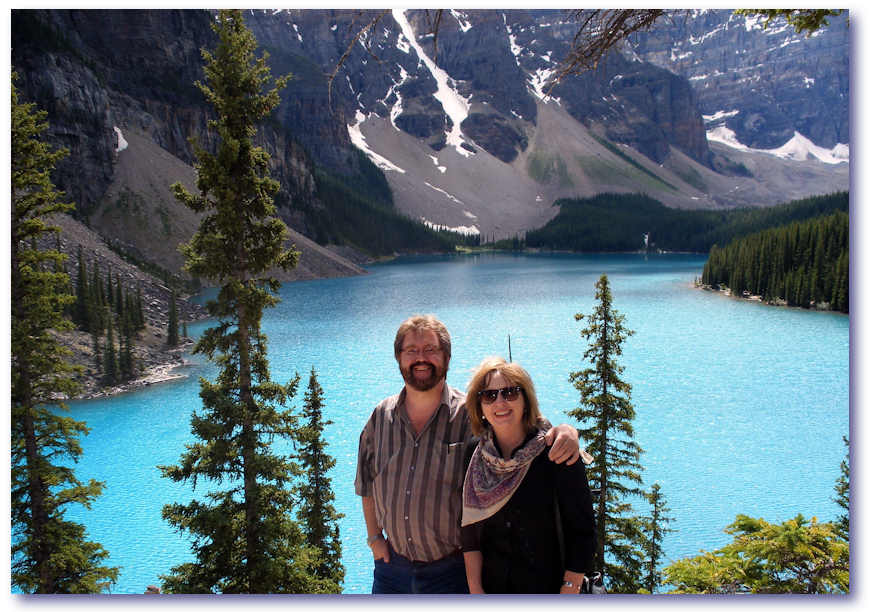 Moraine Lake, Alberta Canada
Took several trips to the USA and Canada, and flew to Bora Bora Tahiti in November and PALMPEX in New Zealand.

We'll spend Christmas Day this year in Guyana ... . the only South American country I've not visited at least once.

And then New Year's Eve in Brazil .. the 6th time I've had NYE in Brazil for some reason – had them all over the place there in 25 years - from the central Amazon, to racy Salvador, to glitzy Rio.

Many collectors and dealers have taken my advice on how to fly to anywhere in the Americas in Business or First Class, for HALF what the airlines charge – ask me!

Merry Christmas and Happy New Year to one and all.











Get my regular market update emails FREE. Stamp gossip, price trends, record sale prices, and many one-time stamp specials, wholesale bargains, and exciting offers and breaking philatelic news. A mini stamp magazine in every email! "KNOWLEDGE IS POWER". The ONE stamp list you MUST be on, to keep in touch with the rapidly changing world market. One client made $65,000 profit in a few months after following my specific advice. Sign up securely and quickly by clicking HERE to access my automated data base. And wiser still ADD your home AND work email, if I only have one right now. Add a stamp friend's email address if you wish. One short click and you are subscribed to probably the most read email list in the stamp world!


Instant Currency Conversion


FREE! Just click here...




If you would like to be notified of updates to this website, Click HERE. If have any questions,
or comments regarding my site, please email me at glen@glenstephens.com
| | |
| --- | --- |
| | Search all my 300+ web pages! Simply type in what you are looking for. "Penny Black", "Latvia", "Imprints", "Morocco", "Fungi" "Year Books", etc! Using quotes ( " ) is more accurf used with no quotes. Search is NOT case sensitive. Tip - keep the search word singular - "Machin" yields far more matches than "Machins" etc. |


I am a Dealer Member in Good Standing Of:

Full Time Stamp Dealer in Australia for over 25 years.
Life Member - American Stamp Dealers' Association. (New York)
Also Member of: Philatelic Traders' Society. (London) ANDA. (Melbourne) American Philatelic Society, etc
GLEN $TEPHEN$
Full Time Stamp Dealer in Australia for over 25 years.
Life Member - American Stamp Dealers' Association. (New York)
Also Member - Philatelic Traders' Society. (London) ANDA. (Melbourne) American Philatelic Society, etc

ALL Postage + Insurance is extra. Visa/BankCard/MasterCard/Diners/Amex all OK, even for "Lay-Bys"! All lots offered are subject to my usual Conditions of Sale, copy upon request BIGGEST STAMP BUYER: Post me ANYTHING via Registered Mail for my same-day cheque. Avoid the GENERALLY 40% Auction " Commissions" (15% + 17½ + GST, etc.) AND their five-month delays! Read for details.
"Lothlórien4 The Tor Walk, CASTLECRAG (Sydney), N.S.W. 2068
Phone: (02) 9958-1333&n Fax: (02) 9958-1444 (Both 25 Hours, 7 Days!)
E-Mail: glen@glenstephens.com
Web Sites: www.glenstephens.com www.glenstephens.net or www.australianstamps.net

Sign up AUTOMATICALLY to my world renowned bi-weekly stamp gossip mailing list!
Click here to see MANY 1000s of stamp lots for sale at low $A Nett prices
Click here for all you need to know re SELLING your stamps for SPOT CASH
Click here for the current Monthly "Internet Only" special offers - CHEAP!
to read all my recent International stamp magazine articles.
Click here to get back to the main www.GlenStephens.com Homepage
Click here to ORDER on-line ANY items from ANY of my dozens of lists
Click for all info on Conditions Of Sale, Payments, Shipping, Returns &c
Click here for the complete library of my very unusual world travels!
How to PAY me. I accept EVERYTHING - even blankets and axes and beads!
Australia Post Annual YEAR BOOKS - massive stock - '27% off' discount offer today!
Visit my new page on RARITIES - Roos & other expensive photo items.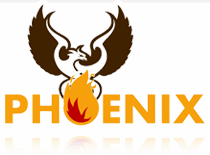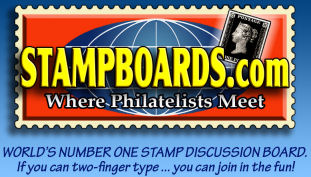 Instant Currency Conversion


FREE! Just click here...


E-mail me at glen@glenstephens.com -
Every credit card shown is accepted WITHOUT fee.
Earn Frequent Flier points while buying at bargain prices!
ALL prices are in weak Ozzie Dollars. I charge NO nasty, nasty
"Buyer's Commission" on stamps like nearly every "Auction" does.