Click To Go Back To The Main www.GlenStephens.com Stamps Homepage

Welcome! You are visitor
to www.GlenStephens.com




Glen Stephens
Monthly "Stamp News" Market Tipster Column


January 2012

| | | |
| --- | --- | --- |
| | | |
---
Check those Specimen Kangaroos!

I outlined last month the enormous harm being done to the price levels of better Australia stamps due to the total inertia by the publisher of the ACSC series.

To recap - there are plenty of willing senior collector and trade members anxious to assist with time, money and expertise to help out - but they are hitting a solid brick wall.

Dr. Geoff Kellow keeps the data up to date as I understand it, and experienced dealers price it up – but the publisher seems to refuse to print any of it.

That situation hopefully will soon resolve to some positive end, for the health of the hobby here.

Terribly sad, and hopefully the publisher will snap out of the mental freeze mode of recent years, or SG or someone else will make the running even moreso.

The "Kangaroos" Volume was published well before the record breaking 2007 Arthur Gray $7.15 million sale of FIVE years back.

"Roos" Volume now 8 years old
To illustrate just how way behind the market those old 2004 prices are, was a fine offering of Kangaroo "Specimen" overprints offered by Prestige Auctions in Melbourne.

I flew down for the sale, and the bidding for many of these items was akin to the action that went on in the room at the Arthur Gray sale in Washington that I was also lucky to attend.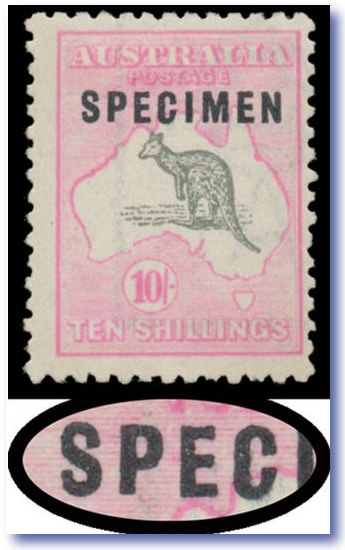 $18,640 for this Specimen Roo

A highlight was the basically complete collection of "Specimen" overprints on Kangaroos, formed by Melbourne surgeon, Dr Aubrey Pitt.

The 10/- Third Watermark shown nearby was hinged, real badly centred, and had "lumpy/fluffy perfs". The owner had "cleaned out" the perforations on most, if not all his Specimen stamps.

The full ACSC is $4,500 for hinged, but it was invoiced for $A18,640 after a bidding war between collectors in England, America and Australia, with one of our local buyers being successful.

Hence my point that following ACSC prices for many Kangaroo pieces will see you not remotely in the race.
Over 4 times full ACSC
This one sold for more than FOUR times ACSC. And was ugly!

Prestige claimed it in the room and in press releases, as a record price for a single Kangaroo Specimen.

I'd call it a dead heat tie for price with the £2 inverted overprint that the late Simon Dunkerley bid on at Gray, shown nearby, but both prices are amazing!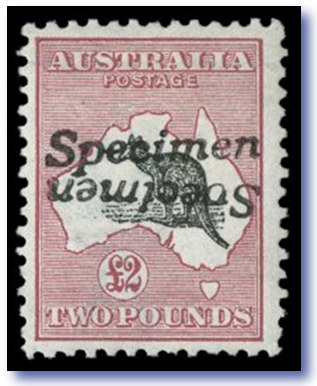 Invoiced for $A18,750 – in 2007
Reason for the high price on this 10/-? The "S" and "C" of Specimen are slightly deformed, making it the scarce type "C1" overprint.

Prestige had a rant in sale cat - and I agree with it, that these variants have been given pretty bizarre ACSC designations, and are badly in need of revision.

All the "variants" are truly minor, and it may seem odd to many that a rather ugly stamp - otherwise worth $100 or so, gets near $20,000 due to that … collectors at work!
Missing colours still get bucks
A stampboards member recently attended a Sydney suburban general auction, and bought a number of albums of stamps for a figurative "song".

One of Kangaroos with rare imprints and monograms etc. One stuffed full of KGV. One with unrecorded KGVI imperfs and major freak perfs. etc, etc.

The Auction was not publicised via an ad in magazines like "Stamp News" and had it been, the vendor (Public Trustee) would have likely realised about $75,000 extra for the estate, than the puny amount they got.

A scandal really, but that is what occurs when collectors make no notes in their wills about where THEY want their stamp collections disposed of, to best effect, as I regularly urge readers to do.

A small part of the hoard was auctioned at the same Prestige Auction I attended in mid November.
A $13,400 Bonus find
| | | |
| --- | --- | --- |
| | One of the pieces is illustrated nearby, a strip of 6 of the 1970 6c Flower coil. Along with several other nice pieces he bought, it recently got a clear RPSV Certificate. | |

A doubtless unique strip 6
This coil strip is a lovely piece. The magenta colour is totally missing from 2 stamps of the 6, as readers can see.

The stamp is ACSC 534cc, cat $6,000 for a used single in the way out-dated 2002 "current" edition. Why list just a used single price? Well the ACSC states:

"One example with magenta printed omitted, used on piece cancelled at Sydney has been recorded. This error was previously listed and priced mint, but no evidence has been found for the existence of mint examples"

This mint strip was purchased decades back from a large NSW dealer, and the purchase invoice was with the collections bought cheaply at the suburban auctions.

The hammer fell at $11,500, on estimate $10,000. So buyer was presumably invoiced around $13,400 after all the add-ons, and made an astute purchase, I think history will show us.
A very astute purchase
The vendor was happy that it got above estimate, so WIN-WIN all around, and hope the pre-publicity in my column flushed out a bidder or three!

I have a number of Australian major missing colours from the same era on my Rarity Page now, that are in the '5 copies known' region, for just $2,000 or so each.

This area, compared to Kangaroo errors and imprints and monograms is wildly under-rated I'd say.

A Kangaroo piece of only 5 units known is WAY into 5 figures as a starting point.

Once again the ACSC Decimals volumes all being TEN years old now, make setting a fair price on scarce Decimal pieces a total lottery - for either buyer or seller.

Extremely damaging and de-stabilising for the hobby, and let us hope the New Year sees some common sense prevail in this area.
Low Class Hookers?
| | | |
| --- | --- | --- |
| | It is sad to see large Philatelic Bureaus prostituting themselves by selling things that look like stamps, but are simply non-postal jam labels. | |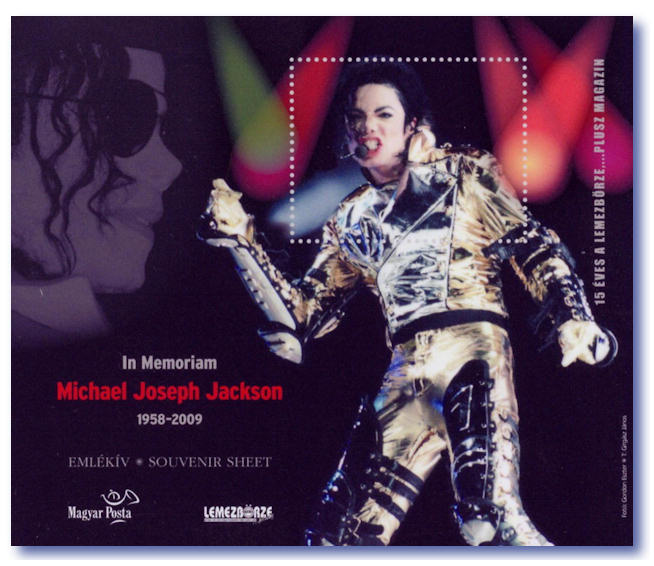 $45 for this non-postal junk
Hungary issued the garish jam label shown nearby in 2009, to commemorate that very mixed-up musical performer Michael Jackson.

The label was made to resemble a stamp miniature sheet, and had the Hungary Post logo on it, and was and still is, offered on their website for about $US45 – for 10,000 Forint to be precise.

Why on earth these things do not just get issued with a 10,000 Forint face value beats me. They would get in catalogues then, and thus sell far more copies.

The passing of Steve Jobs at age 56 – the co-founder, and widely acclaimed brains behind the Apple Computer empire, was likewise just "commemorated" by Hungary.

On December 1, Magyar Posta issued the perforated "Souvenir Sheet" shown nearby, in a little folder.
Mindful of the lawyers?
No sign of an Apple logo anywhere on it that I could see – probably mindful of getting sued. Apple attorneys are globally feared.

That little confection sold for a mere 1,000 Forint – about $US4.50. Why Jobs is worth only 10% of the Jackson Jam Label I am not sure.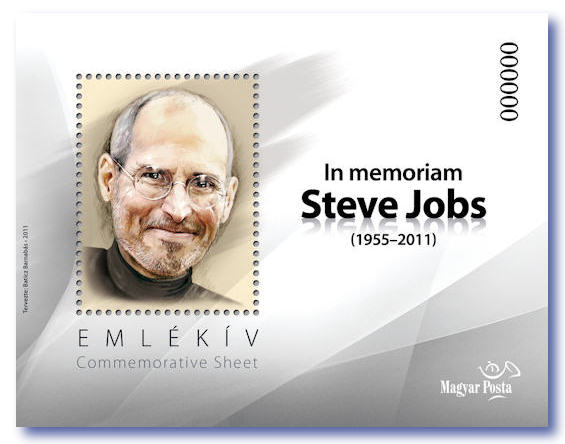 Jobs only worth 10% of Jackson?
5,000 were made, and even if all sell, to lose all your philatelic credibility for just $22,500 seems a very low price to put on it.

I was taken by the strong resemblance of Jobs in that image to the Indian legend – Mahatma Gandhi – what do readers think?
Cancels Go Crazy.
A lot of readers own or handle or encounter the common letter rate Australian States material from the 1890s -1910 era, that are very common.

These usually have a value of a few cents each used. Indeed they are often still sold for peanuts as "bundleware".

However many of them have town or numeral postmarks on them, that make them worth many times more than a FU £1 high value from the same State!

I have noticed a few selling recently for terrific prices, and I record them here for the possible interest/profit of others.
Would you spot this one?
| | | |
| --- | --- | --- |
| | This Victoria "1432" cancel shown nearby was invoiced in late November for over $2,000 on an estimate of $300 by Phoenix Auctions in Melbourne. | |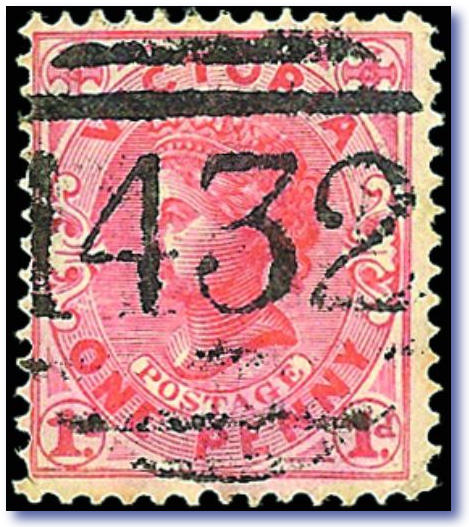 $2,000 from a junk box?
Numeral "1432" was allocated to Glenmaggie, and later renamed Dawson. A very nice find by someone!

At the same November Phoenix sale, someone ran up an invoice for more than $A1,500 for this well struck scarce cancel illustrated here - "276" of Freshwater Creek.

It also had a pre-sale estimate of $300 ... so again got very keen interest from those with far sharper eyes and deeper pockets than mine.

Please excuse the rather garish scans of both – best the Auction could supply me with.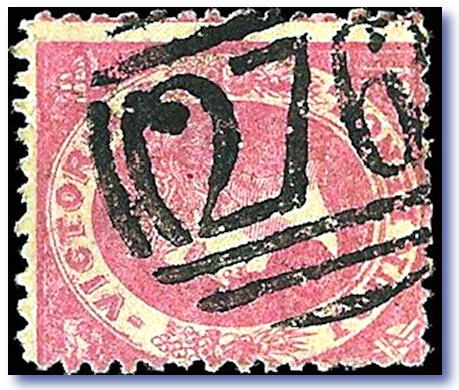 $1,500 nothing to sneeze at!
Big prices. Both of them got FAR more than a superb MUH 1932 5/- Sydney Harbour Bridge stamp would sell for – yet probably cost the owner zero.

The superb 420 page Freeman/White "Cancels of Victoria" hardbound volume is where one finds out WHAT numerals are scarce.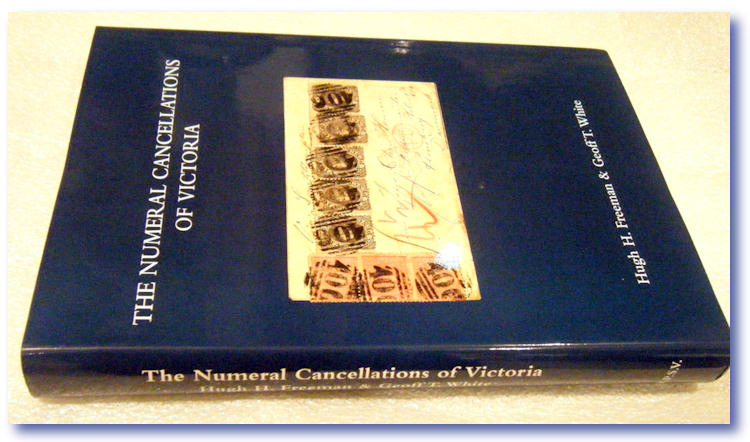 A must for all readers
I have sold literally scores of these books in the past year or two – tinyurl.com/cdsVict - and just one find like these, will of course re-pay the book's cost FIFTEEEN times over.

The superb feature of Freeman and White are the amazing number of clear real cancel photos of the many sub types of each numeral. And precise date ranges recorded.

Both an understandable major weakness of Purves and the earlier pioneer works.

These two cancels are illustrated therein, so clearly there are others recorded.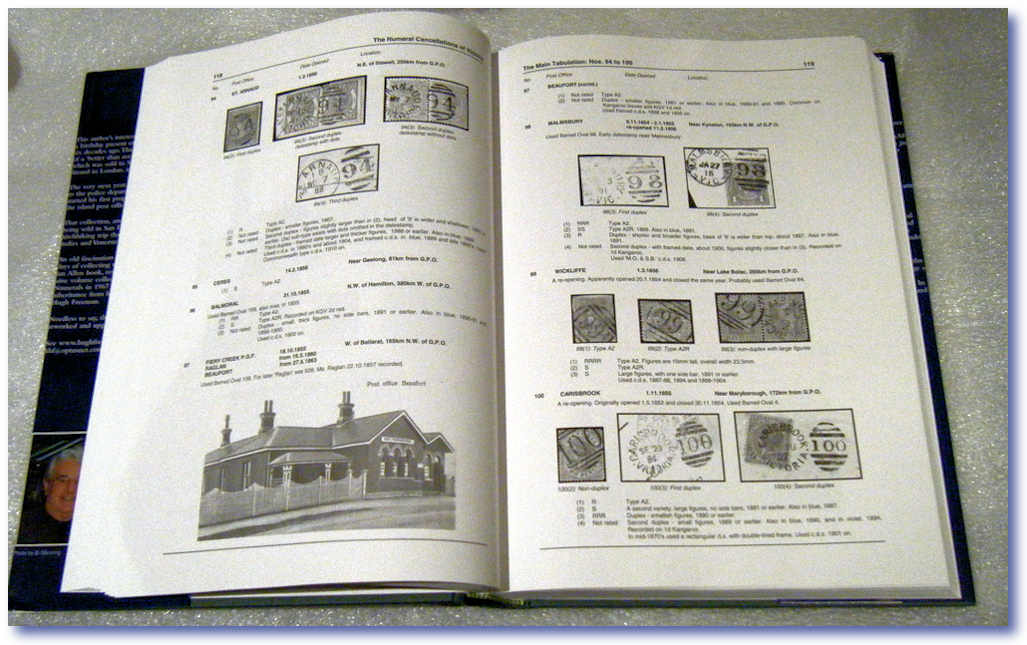 REAL illustrations of numerals
The handbook also covers and rates all the "Butterfly" and "Barred Oval" earlier numeral cancels, and illustrates near all of them with actual photos.

I was chatting to Hugh Freeman at the recent Northern Beaches Stamp Expo, and he tells me he is in the midst of selling his ICELAND cancels and getting huge prices!

The mind boggles at how someone in Sydney amasses such material, but that is the global nature of our hobby.
NSW cancels book in progress
| | | |
| --- | --- | --- |
| | A little birdie tells me much progress has been made on a detailed NEW SOUTH WALES cancel handbook, so fingers crossed for more news on that. | |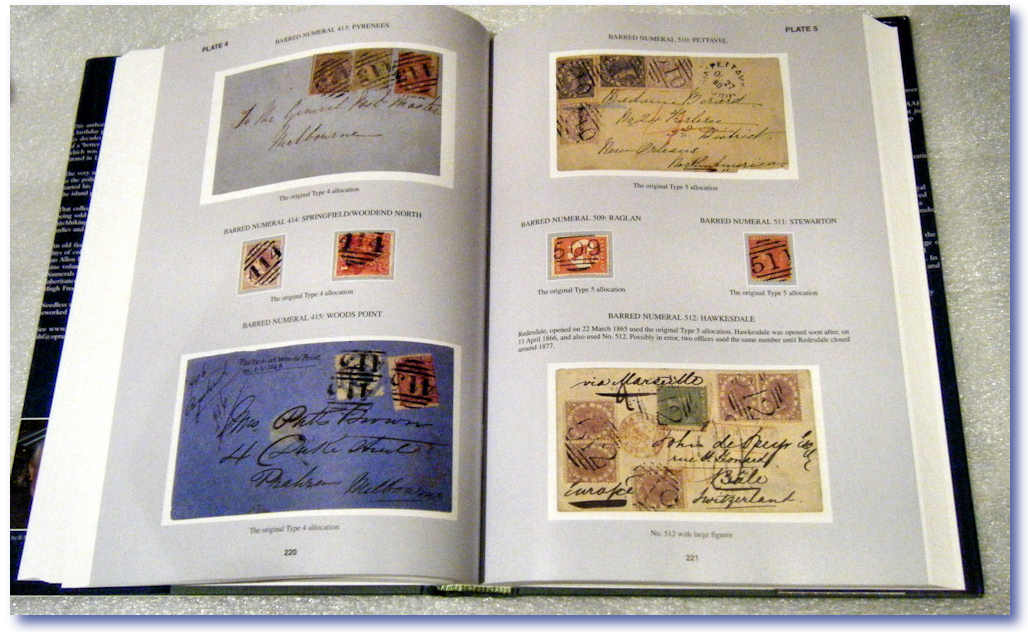 More superb Victoria cancels
Ditto for the just as useful recent Bernie Manning "Queensland" cancels tomes – where he even rates those cancels on KGV heads and Kangaroos - compared to QV Chalon heads.

See past magazines for my detailed reviews of those two books.

My Mantra has always been "Knowledge Is Power" and I think I've sold more of BOTH those books than any other dealer globally, as I actively urge clients - whether dealer or collectors, to have BOTH of these essential books in their libraries.

The cancels of Tasmania also fetch super prices quite often. The early numeral series have a strong following. The circa 1900 town cancels on "Pictorials" also are very keenly sought.

Members of Stampboards.com have tediously transcribed the lists of numbers against towns, but there is absolutely no substitute for having the printed reference books on hand.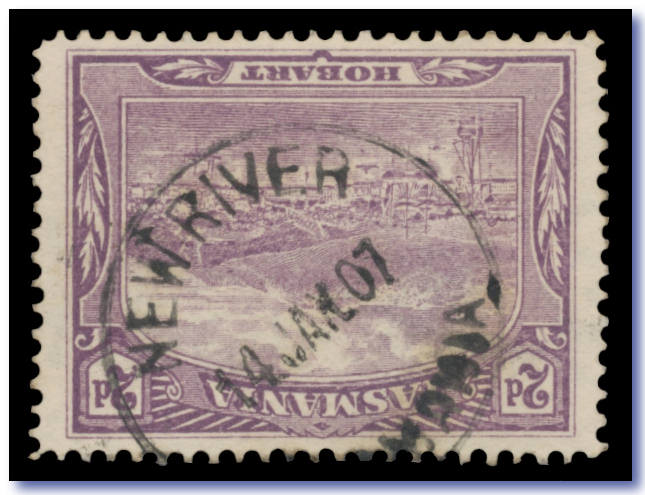 A $1,100 Tasmania cancel
A Prestige Auction of June last year had a rather watery looking "NEW RIVER" town cancel on a common 2d violet, that was invoiced at over $1,100.

Another copy had previously sold at another auction for over $1,200, so clearly a sought after strike.

I love the cds cancels on Tasmania Pictorials, and started a sideline collection of them 30 years back.

Scarcer ones turn up all the time in kid's albums and junk lots, if you remember the towns for the more elusive ones, which very luckily I do – mostly!

There are quite a few different $500+ town cancels from Tasmania, and the pictorial stamps being so large really can show them off wonderfully.

Many of them only cost a dollar or so each, and offer a great new challenge to take on!
"Stamp News" certainly gets around!
Subscribers will know that the front cover of the "November" Magazine depicted the superb new South Georgia stamp set 8 featuring explorer Frank Wild.

The 2 pages of text relating to that was removed, just as the magazine went to press, to allow the 2 page Obituary to dealer Dianne Cooper to make the magazine.

The text and photos relating to the stamp issue appeared on pages 6 of 7 of last month's "December" Magazine.

The Managing Director or Pobjoy Mint in the UK - who design the stamp issues for Falklands, South Georgia and many others is an old friend, and arranged some unique promotion for "Stamp News" on the island.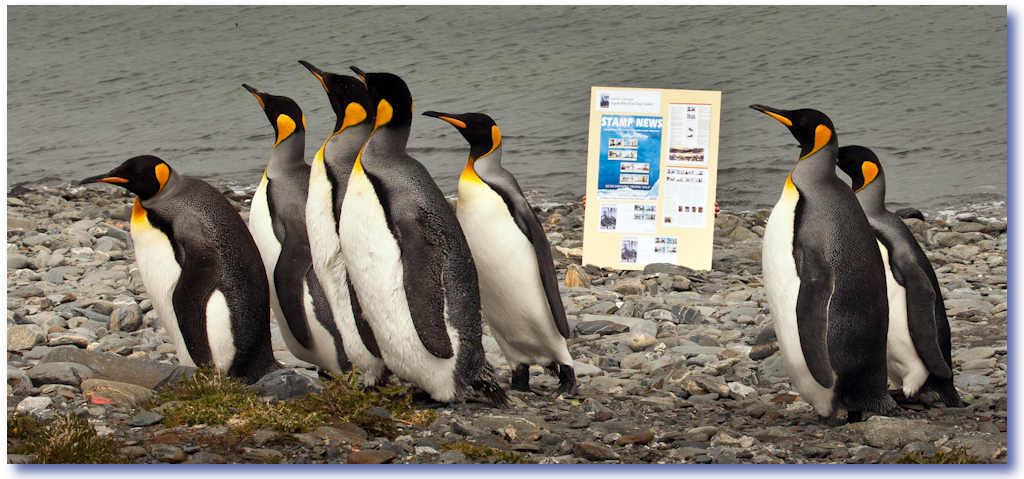 EVERYONE reads "Stamp News"

The official launch of the stamps on South Georgia late November, saw a special board made up with that "Stamp News" front cover on it.

John Smith from Pobjoy assures me the images you see nearby are REAL photos taken on the island – they are not 'photo-shopped' or manufactured in any way.

There were King Penguins and seals on the beaches where the photos were taken, with the magazine front cover.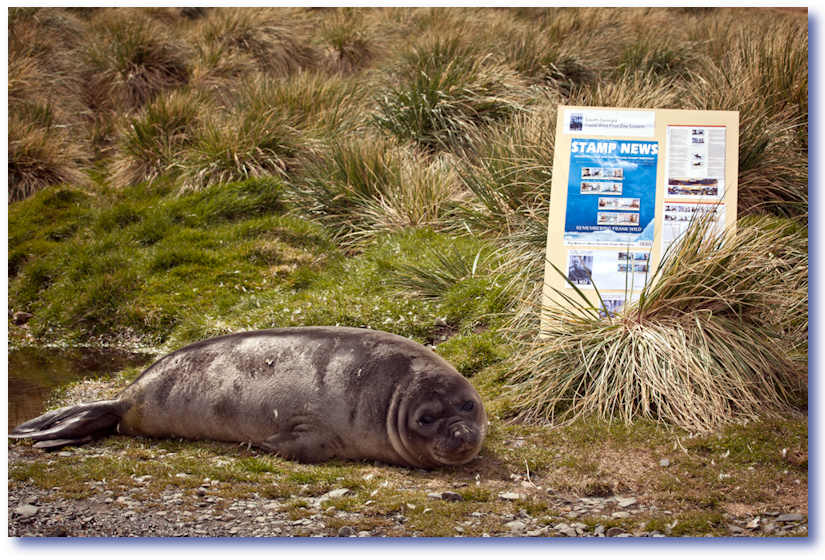 The SEAL of Approval
The numbers of penguins is large. I flew once from Southern Chile to the Falkland Islands to spend Christmas, as I really wanted to see the King Penguins.

I'd got hooked on penguins the year before in Antarctica, but the Kings like the "warmer" climes of the Falklands region! So are seldom seen on Antarctica.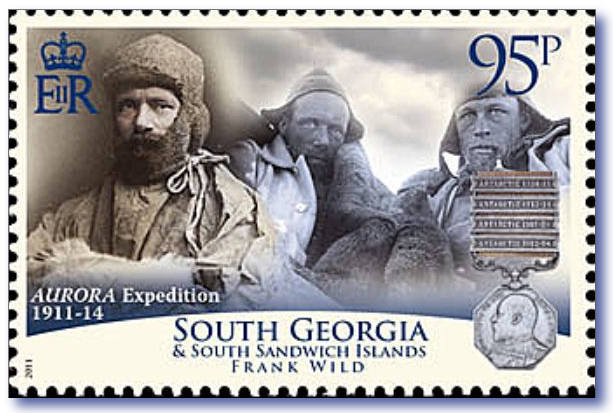 1911-14 Antarctic Expedition reminder.
| | | |
| --- | --- | --- |
| | Also shown nearby is the 95p stamp, which celebrates Wild's role in the 1911-14 Antarctic Expedition, so famously associated with Australia's Sir Douglas Mawson. | |
Season's Greetings!
Merry Christmas and Happy New Year to all readers of this column wherever you are based - and your families and loved ones.

Stamp-wise this has been a very exciting and interesting year.

"Thank You" to all readers for the many phone calls and emails with comments - for AND against what has been written here!

I travelled a lot as always this year – way over 100,000 miles as I do annually.

We made several trips to South America – and will be there again as you read this!

And made dozens of trips all over this country doing insurance valuations, and buying stamps etc, etc.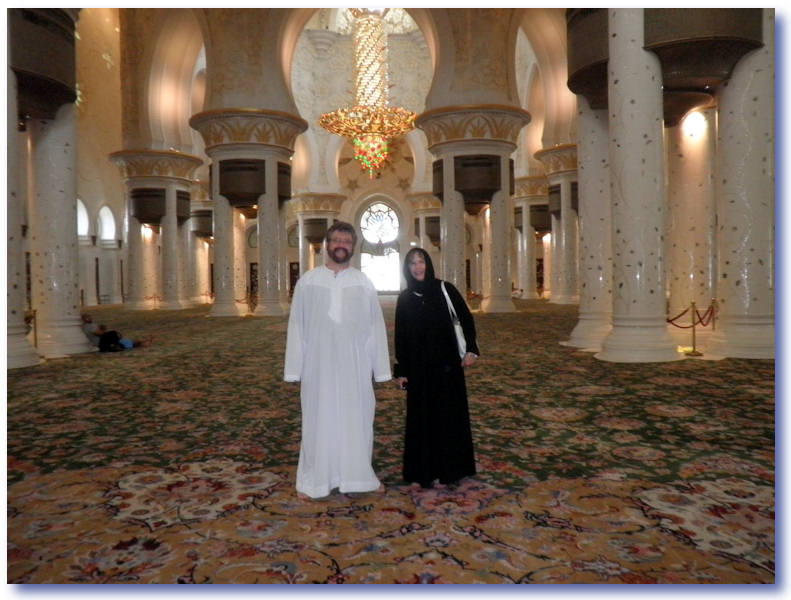 Looking the part in Abu Dhabi
Flying to Shanghai via Malaysia over 3 days for Christmas, and then back a few days for a real biggie.

Off on a 30,000 mile trip to the southern states USA, and then Argentina or Brazil for New Year's Eve.

Visited each one of the old Arabian "Trucial States" mid-year, and the development there is out of this world.

Many collectors and dealers have taken my advice on how to fly to anywhere in Europe or the Americas in Business or First Class, for often HALF what the airlines charge – ask me!

"Merry Christmas and Happy New Year", to one and all. Be safe - and enjoy the break!



Instant Currency Conversion


FREE! Just click here...




If you would like to be notified of updates to this website,
Click HERE.
If have any questions,
or comments regarding my site, please email me at glen@glenstephens.com
| | |
| --- | --- |
| | Search all my 300+ web pages! Simply type in what you are looking for. "Penny Black", "Latvia", "Imprints", "Morocco", "Fungi" "Year Books", etc! Using quotes ( " ) is more accurf used with no quotes. Search is NOT case sensitive. Tip - keep the search word singular - "Machin" yields far more matches than "Machins" etc. |


I am a Dealer Member in Good Standing Of:

Full Time Stamp Dealer in Australia for over 25 years.
Life Member - American Stamp Dealers' Association. (New York)
Also Member of: Philatelic Traders' Society. (London) ANDA. (Melbourne) American Philatelic Society, etc
GLEN $TEPHEN$
Full Time Stamp Dealer in Australia for over 25 years.
Life Member - American Stamp Dealers' Association. (New York)
Also Member - Philatelic Traders' Society. (London) ANDA. (Melbourne) American Philatelic Society, etc

ALL Postage + Insurance is extra. Visa/BankCard/MasterCard/Diners/Amex all OK, even for "Lay-Bys"! All lots offered are subject to my usual Conditions of Sale, copy upon request BIGGEST STAMP BUYER: Post me ANYTHING via Registered Mail for my same-day cheque. Avoid the GENERALLY 40% Auction " Commissions" (15% + 17½ + GST, etc.) AND their five-month delays! Read for details.
"Lothlórien4 The Tor Walk, CASTLECRAG (Sydney), N.S.W. 2068
Phone: (02) 9958-1333&n Fax: (02) 9958-1444 (Both 25 Hours, 7 Days!)
E-Mail: glen@glenstephens.com
Web Sites: www.glenstephens.com www.glenstephens.net or www.australianstamps.net

Sign up AUTOMATICALLY to my world renowned bi-weekly stamp gossip mailing list!
Click here to see MANY 1000s of stamp lots for sale at low $A Nett prices
Click here for all you need to know re SELLING your stamps for SPOT CASH
Click here for the current Monthly "Internet Only" special offers - CHEAP!
to read all my recent International stamp magazine articles.
Click here to get back to the main www.GlenStephens.com Homepage
Click here to ORDER on-line ANY items from ANY of my dozens of lists
Click for all info on Conditions Of Sale, Payments, Shipping, Returns &c
Click here for the complete library of my very unusual world travels!
How to PAY me. I accept EVERYTHING - even blankets and axes and beads!
Australia Post Annual YEAR BOOKS - massive stock - '27% off' discount offer today!
Visit my new page on RARITIES - Roos & other expensive photo items.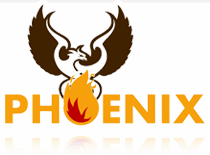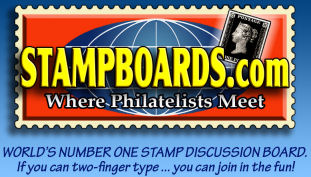 Instant Currency Conversion


FREE! Just click here...


E-mail me at glen@glenstephens.com -
Every credit card shown is accepted WITHOUT fee.
Earn Frequent Flier points while buying at bargain prices!
ALL prices are in weak Ozzie Dollars. I charge NO nasty, nasty
"Buyer's Commission" on stamps like nearly every "Auction" does.