Click To Go Back To The Main www.GlenStephens.com Stamps Homepage

Welcome! You are visitor
to www.GlenStephens.com




Glen Stephens
Monthly "Stamp News" Market Tipster Column


January 2013

| | | |
| --- | --- | --- |
| | | |
---
AP hikes rates over 50%

Australia Post have a monopoly.

The only thing they need to get Government approval for is the basic domestic letter rate. That is now 60c, and has been so for 2½ years, with no price rise in sight.

Sadly for anything ELSE … AP can do what they wish with rates – and do so with frequent and horrendous increases in many areas.

With little or no advance warning to anyone. Staff or customers.

Overseas, domestic parcels, Express, Registered, pre-paid product, and fees .. all go up regularly, and often increase WAY over the annual "CPI" type rate.

Often the new rates are in force before Post Offices know about them. And regular PO users seem NEVER to be told these days.

The last few rate changes are not on hand in POs in printed rates book form for users to peruse for weeks afterwards at times.

On November 5, yet another round of clandestine and un-heralded rate hikes took place, covering a wide range of domestic and overseas services and rates.

Rates that had already increased on July 2 this year often went up again – and in some cases, increased over 50% from the July levels.

$A17.20 to mail this overseas.
Take a look at the tiny one bite size 18 gram candy bar above. I bought it this week for 50c.

I ran a poll on it here - tinyurl.com/PicnicBar – and even after much cheating, less than 25% got the right answer!

To post that chocolate to Europe, Africa, South America or the UK will cost you nearly the $20 note shown next to it, after you buy a padded bag from the PO to pack it in.

Total cost of this tiny bar, or a light packet or tablets of pills for a family member overseas etc, is $A17.20 to "Rest Of World" by cheapest possible airmail. Not Express, not Registered, not Insured. Basic air.
38% price increase
Any packet thicker than a modest 2 cm to Europe etc is $A17.20 now - even if it is one of the tiny candy bars I have shown here. That is up 38%.

All just in time for Xmas gift mail. I was at my PO today when an elderly old lady handed over her hand kitted bonnet for a grandchild, and got told it was $17.20.

Even a packet of prescribed medication or tablets or ointment etc, weighing only a few grams costs $A17.20. Over 500 grams to 1 kilo, the rate now rockets to a flat $A37 also for cheapest airmail.

How heavy is 500 grams? Well the small roll "Marbig" tape dispenser on my desk illustrated nearby is well over 500 grams with no tape in it.

If I mailed something small like that size (i.e. a Morley Bright watermark detector) to "Rest Of World" my actual PO cost before time and packaging is $A37. That is their retail cost.

It gets far worse. The ACSC "Decimals" Volumes 1, 2 and 3, I sell a lot of. By no means the thickest of the set of 9 x ACSC Volumes, but each small A5 size book weighs in at well over a kilo.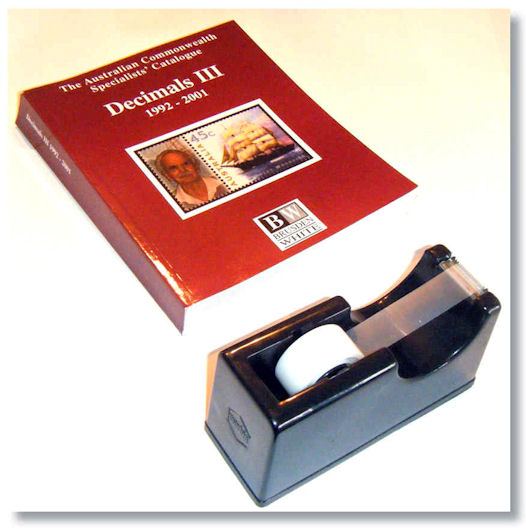 $A53.50 to post this catalogue.
If I mail any ONE of these books to UK, or Europe etc, my actual cost to mail it to you cheapest air is $A53.50 which is over $US55.

A common 32 page Lighthouse stockbook is of course well over 1 kilo. I sell new ones for under HALF the cost of mailing one! The list goes on.

Australia Post silently dispensed with the "SAL" or "Economy Air" service a few years back, so your choice is $A53.50 – or the lonnnnng 3 month sea mail service, the rates for which are not cheap either.

We once had a "printed matter – printed papers" concession rate for overseas that cost a lot less, but they quietly dispended with that too.
Public must complain
Consumers tearing out this page and mailing it to the Minister Of Posts, or their MP or ACCC, or emailing a complaint direct, is the only way these obscene increases will get reviewed.

They get zero news coverage or publicity, and to be honest I suspect even the Minister has no idea how obscene they often are.

Domestic parcels also attracted some massive hikes in the near silent November 5 increases.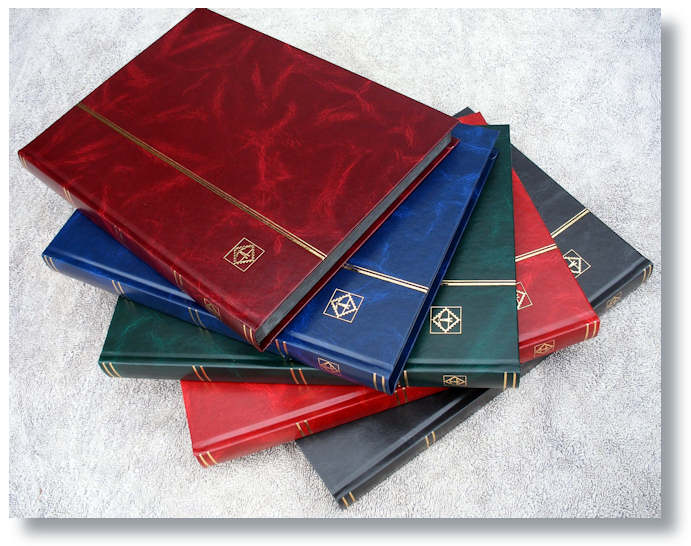 $109 a carton domestically!
A heavy parcel to Darwin from Sydney is now $108.95 by the cheapest possible regular mail. Not air, not express .. slow truck post.

The per kilo rate went up over 50% from $3.25 to $4.90, and the flat fee of $10.95 needs to be added to that.
Domestic parcel up over 50%
So a 20 kilo carton Sydney to Darwin costs $108.95 for very cheapest possible, untrackable road transport – which can literally take weeks.

Some of my biggest selling stock lines, year in - year out, are bulk lots of popular things at large discounts.

Each weighs about 20 kilos, so I know and use these mega weight rates 100s of times a year.

Luckily I am able to use superb cancelled CTO philatelic franking on parcels, so clients do not care as end value of that is high.

However, be super careful of ordering anything heavy off ebay, or a stamp auction house etc, or most USA dealers who sadly, generally use no stamps.

Imagine getting a $109 version!
Getting a $109 worthless white PO counter meter frank label will be a NASTY surprise if you are paying the postage.

I sell many 100s of Lighthouse stockbooks a year in factory cartons of 20 kgs, at discount rates that literally cost this much to mail - tinyurl.com/stk-bk

Or sets 20 PO Year Books from 1981 to 2000 that I sell for under face value - tinyurl.com/YearBks and they also weigh in at 20 kilos.

And my bulk buy on 600 genuine UK made Hagner sheets at under 80c each is also this weight - tinyurl.com/HagUK - so parcel rates of over $100 are pretty maddening to pay.

Oddly a huge 20 kilo parcel mailed from or to me anywhere in a huge arc from Newcastle to the Blue Mountains to Wollongong costs only $10 or so, so knowledge of the AP rates is essential to read up on.

$10 to Wollongong, but $110 to Darwin. For the identical box. The world has gone nuts.

No way known would I deliver a massive 20 kilo box to Wollongong for just $10. However for $110 I can often get flights up to Darwin.

And as a Virgin Blue Platinum member I can check in 72 kilos free on any flight, so I can personally literally fly up 3 or 4 massive boxes to Darwin for HALF what the PO charges to mail them road freight!
Australia Post becomes Pepsi?!
| | | |
| --- | --- | --- |
| | Australia Post is trialling a range of large upright self-service vending machines that look almost identical to the candy/drink vending machines found in airport shopping centres and railway stations etc. | |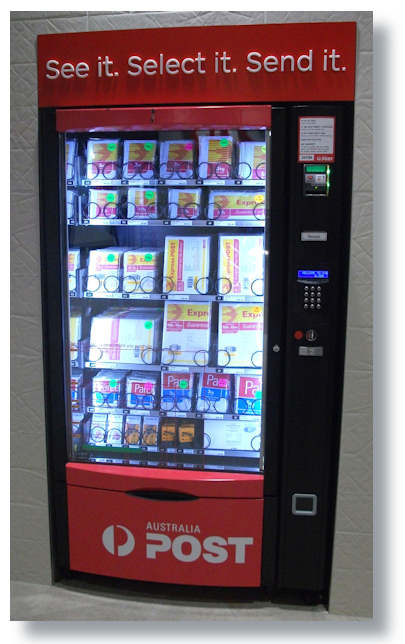 A Pepsi with your stamps Sir?
Stampboards member "Grich" kindly took the photos shown nearby of the machines in at the Queen Victoria Buildings Post Office, in central Sydney.

This type of vending machine I am accustomed to see selling snack bars, potato chips, and Pepsi/Coke and mineral water etc, in high foot traffic areas.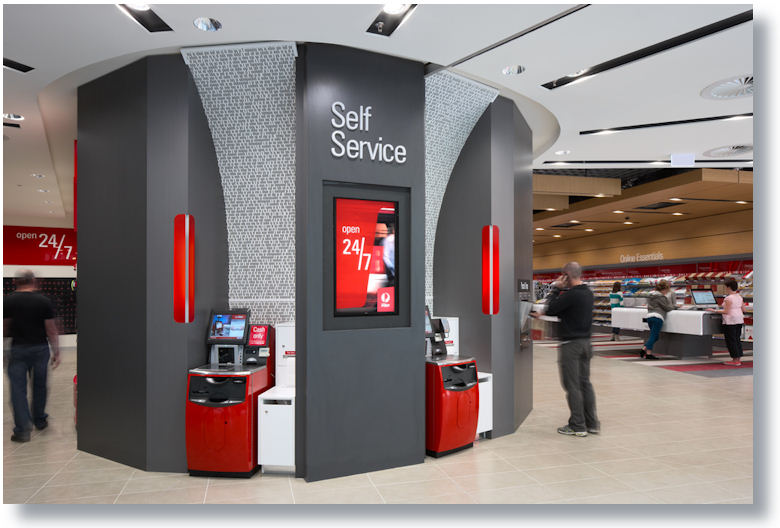 Takes cards, notes or coins
| | | |
| --- | --- | --- |
| | The contents cover a wide gamut of Post Office product such as pre-paid Express and Priority, and pre-paid parcel bags, either singly, or in packs 5 etc. | |
Wide range of material stocked
As can be seen, a range of stamp and booklets are also available.

The Booklets of 10 x 60c London Olympics were on sale, and booklets 20, and peel and stick rolls 100 of the 60c "ZOOS" issue as well.

I am unsure how many outlets have these vending machines. tinyurl.com/PepsiAP has the fuller discussion and more photos.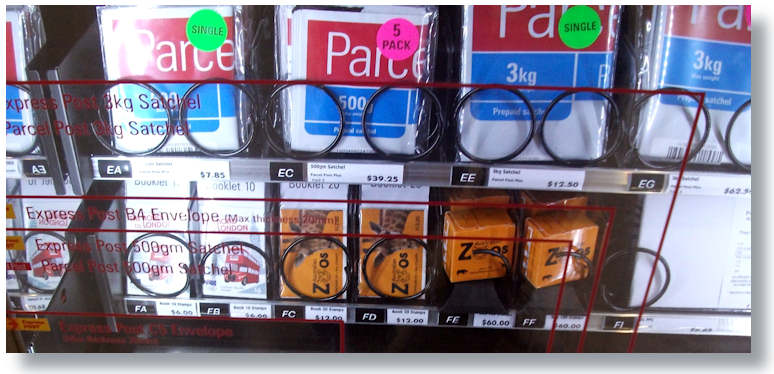 Booklets and rolls of stamps offerd
Australia Post is also rolling out "24/7" self-service islands that allow bill paying, and dispensing of white meter type labels for domestic mail and parcels.

One of these "islands" is shown nearby at a large Post Office.

The self-help machines dispense the boring and worthless white labels - not real stamps.

One 60c label is illustrated nearby that "Grich" created himself this week to mail a domestic letter.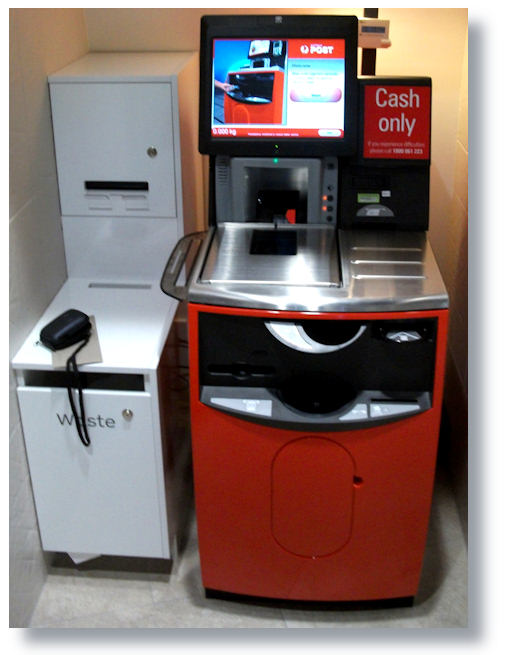 Pays bills and print labels 24/7
Why someone in the AP brains trust cannot devise rolls of labels with SOME kind of underlying background designs on them, sure beats me.

The Philatelic Division did it in the 1980s and 1990s with the ever changing "FRAMA" paper roll designs, and made endless millions selling each new paper design to collectors.
Get rid of boring white labels
We had Kangaroo, Koala, Platypus, Birds and Echidna and other background design papers. Very pretty material most thought.

I am sure a TON more 'FRAMAS" were sold to collectors, than were ever used commercially!

The UK manages to add pretty Bird and pictorial design onto its blank paper rolls. Why can't AP use a few brain cells and do the same?

Minimal cost if one design printed on all labels in roll, which will make the labels COLLECTIBLE, and the bonus philatelic sales will bring in tons more than their printed rolls cost.

Why can't Australia do this?
As a related side-note, the Queen Victoria Buildings have had a post office there for a VERY long time.

I recently sold the registered parcel post snipping shown nearby from a century back – very unusual useage with a most relevant cancel!

It had the common NSW 2d QV as well as the WESTERN Australia 2/6d Queen, used commercially together with Queen Victoria Buildings cds cancel.

This is a most unusual but totally legal and legitimate utilisation of two different "States" stamps used together.

The state stamps were all technically "Commonwealth" issues after 1901, but are seldom seen used jointly thus, most especially the high values.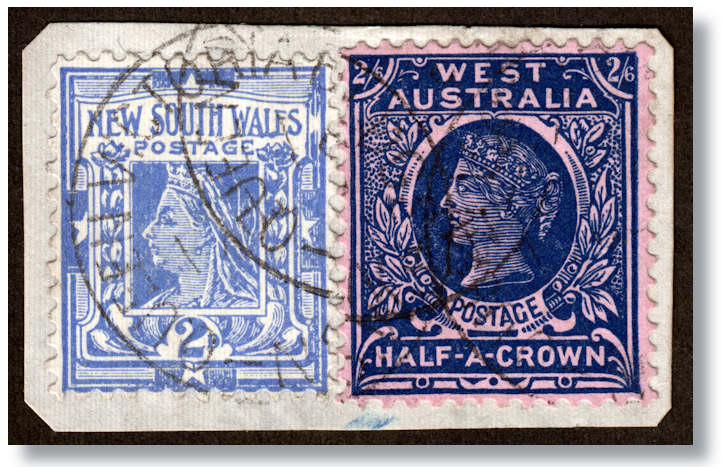 "Australian" stamps technically
This 2/6d design was FIRST issued October 1902, (well after QV died!) and our Federation was in early 1901, so this is an AUSTRALIAN COMMONWEALTH high value stamp quite literally.

The market continues to heavily undervalue such items most absurdly. They are equally as collectible as Kangaroos.
Pop these away now
For example, I added the nearby South Australia 1910 issued top value £1 "Long Tom" to my "Rarity" page this week for $A450.

The £1 1913 £1 Kangaroo that replaced it sells for about SIX times this price. Today's absurdly low retail for this SA stamp is insane.

Only 22,560 copies were ever sold. Versus 240,000 for the £1 Roo that replaced it! And this one was Incredibly fresh MVLH - nearly MUH.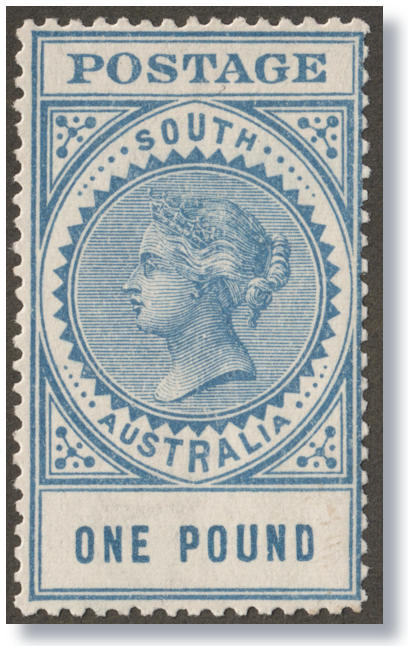 Only 22,560 copies ever sold
Yet it will sell for a small fraction the price of the 10 times more numerous £1 Kangaroo - folks do not need a Maths Degree to put a few of these aside for the future

This £1 perf 12½ stamp was first issued mid 1910, near a decade after QV had died – bizarre. Poor old KEVII had a terrible track record down here – the only State to issue postage stamps for him were 2 stamps from Victoria.
BIG time "D'oh"!
| | | |
| --- | --- | --- |
| | Bloomberg News reported a large and expensive blunder by the United States post office had been announced. | |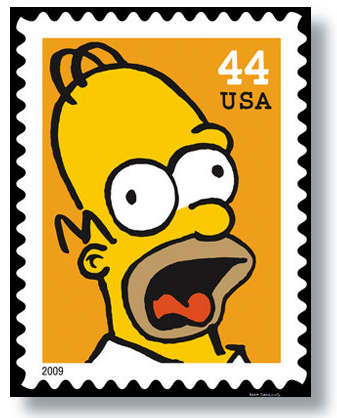 The BILLION Dollar Disaster
"The money-losing U.S. Postal Service guessed that TV cartoon character Homer Simpson and his family were twice as popular as Elvis Presley when it came to sales of commemorative stamps.

"As Homer would say, "D'oh!"

"In a move that wasted $1.2 million in printing costs, the service produced 1 billion of "The Simpsons" stamps and sold 318 million"

USPS destroyed 683 MILLION Simpson stamps. What a massive WASTE – to LOSE over a billion dollars.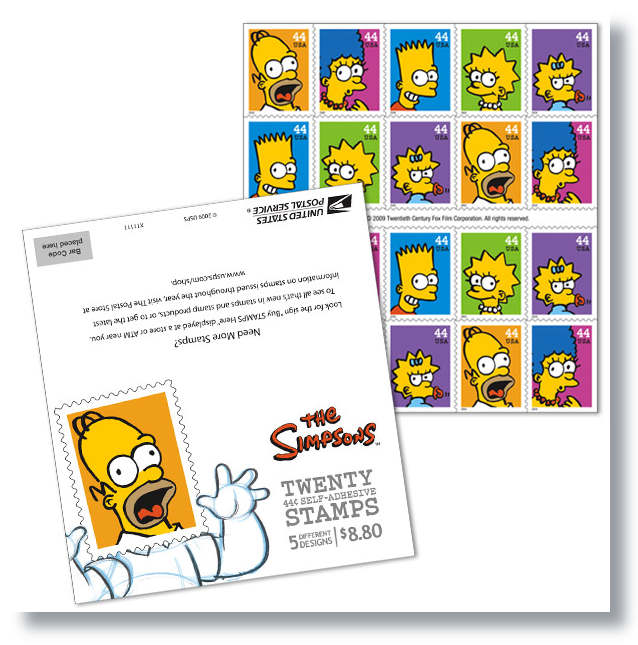 683 million Simpson stamps destroyed
Why didn't they machine CTO the 683 million unsolds, and give them free to schools nationally? Would be a huge boon to collecting.

Better than shredding them for goodness sakes. Maybe with a special cds cancel saying "Collecting Stamps Is Fun!"
Season's Greetings!
"Merry Christmas and Happy New Year" to all readers of this column - wherever you are based - and to your families, and loved ones.

Stamp-wise this has been a very exciting and interesting year. The market has never been stronger, with fantastic auction results.

The imperforate Kookaburra Mini sheet set a world record price for any Australian stamp item though Phoenix - $A326,200.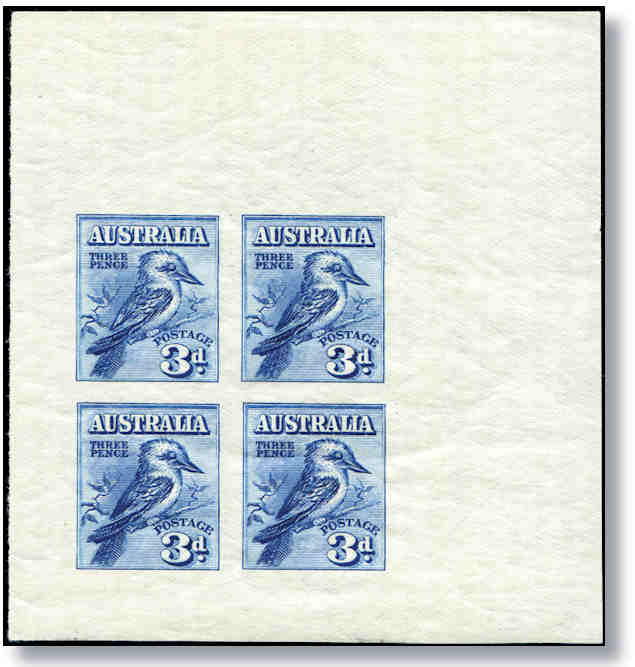 World Record Price - $A326,200
"Thank You" to all readers for the many phone calls and emails with comments - for AND against what has been written here!

I travelled a lot as always this year – about 100,000 miles as I do annually.

I started the year in South America – and will be there again in Peru as you read this!

One of the places I got to during this year was HELIGOLAND – a place that always sounded exotic when looking at old stamp albums.

Been lucky enough to have travelled to about 130 different countries, so finding somewhere "new" to visit is not easy – and Heligoland and Malta fitted the bill!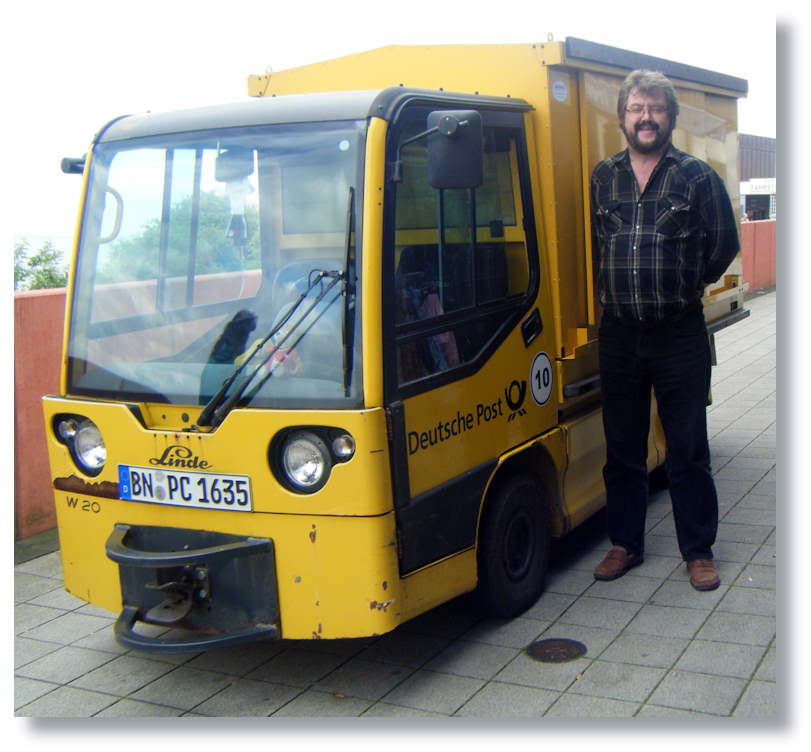 Electric mail van on Heligoland
There are no cars on Heligoland (which is only 1.2km x .5km in size!) and the Post Office van is an all-electric vehicle, that picked up the postcards I mailed.

All the boats across were cancelled the day I had scheduled, as they discovered large unexploded WW2 bombs, and banned all shipping.
960 Bombers in one day
The Allies bombed the living daylights out of Heligoland in WW2 - 969 allied bombers in one huge Squadron - 617 Lancasters, 332 Halifaxes and 20 Mosquitos - on April 18, 1945 alone.

There are large bomb craters all over it, to this day. The Brits used it for bombing practice into the 1950s. For anyone travelling to NW Germany, DO add it to your itinerary.

Hardly a word of English spoken on the island, or on boats across, or in any signage anywhere, and TV 100% in German, but that aside, a great little vacation destination.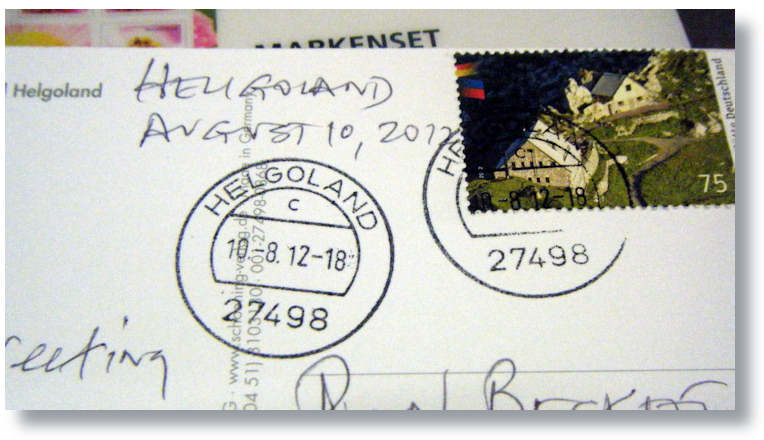 Mailed to a client here
I also made many trips all over this country doing insurance valuations, the Hobart National, and buying stamps etc, etc.

Flying to New York before Christmas, and will spend Christmas Day at 12,000' elevation in Cuzco Peru, one of my very favourite cities in the world.

"Merry Christmas and Happy New Year", to one and all. Be safe - and enjoy the break!




Instant Currency Conversion


FREE! Just click here...




If you would like to be notified of updates to this website,
Click HERE.
If have any questions,
or comments regarding my site, please email me at glen@glenstephens.com
| | |
| --- | --- |
| | Search all my 300+ web pages! Simply type in what you are looking for. "Penny Black", "Latvia", "Imprints", "Morocco", "Fungi" "Year Books", etc! Using quotes ( " ) is more accurf used with no quotes. Search is NOT case sensitive. Tip - keep the search word singular - "Machin" yields far more matches than "Machins" etc. |


I am a Dealer Member in Good Standing Of:

Full Time Stamp Dealer in Australia for over 25 years.
Life Member - American Stamp Dealers' Association. (New York)
Also Member of: Philatelic Traders' Society. (London) ANDA. (Melbourne) American Philatelic Society, etc
GLEN $TEPHEN$
Full Time Stamp Dealer in Australia for over 25 years.
Life Member - American Stamp Dealers' Association. (New York)
Also Member - Philatelic Traders' Society. (London) ANDA. (Melbourne) American Philatelic Society, etc

ALL Postage + Insurance is extra. Visa/BankCard/MasterCard/Diners/Amex all OK, even for "Lay-Bys"! All lots offered are subject to my usual Conditions of Sale, copy upon request BIGGEST STAMP BUYER: Post me ANYTHING via Registered Mail for my same-day cheque. Avoid the GENERALLY 40% Auction " Commissions" (15% + 17½ + GST, etc.) AND their five-month delays! Read for details.
"Lothlórien4 The Tor Walk, CASTLECRAG (Sydney), N.S.W. 2068
Phone: (02) 9958-1333&n Fax: (02) 9958-1444 (Both 25 Hours, 7 Days!)
E-Mail: glen@glenstephens.com
Web Sites: www.glenstephens.com www.glenstephens.net or www.australianstamps.net