Click To Go Back To The Main www.GlenStephens.com Stamps Homepage

Welcome! You are visitor
to www.GlenStephens.com




Glen Stephens
Monthly "Stamp News" Market Tipster Column


January 2014

---
Kangaroos hop along
Please take a look at the 1d Red Kangaroo used pair shown nearby, and peer VERY carefully. In my stock it would be priced $2 - until today.

It does not have a sideways or inverted watermark, or rare paper or perf or shade, or even a scarce postmark etc. It does have a few small blemishes/faults however!

Someone was invoiced near $A10,000 for it by Prestige Philately in November after a bidding duel. The pre-sale Estimate was $A6,000.
Why it is worth $10,000?
Well the auction description tells us this, about the used pair –

Dies II-I Horizontal Pair, the right-hand unit being a Die I Substitution in a Die II Plate, 'LAUNCESTON/21AU13/TASMANIA' cds just clear of the Die I Break in the Frame at Lower-Left, a couple of small defects hardly detract from this exciting new discovery, the existence of which had previously not even been speculated about.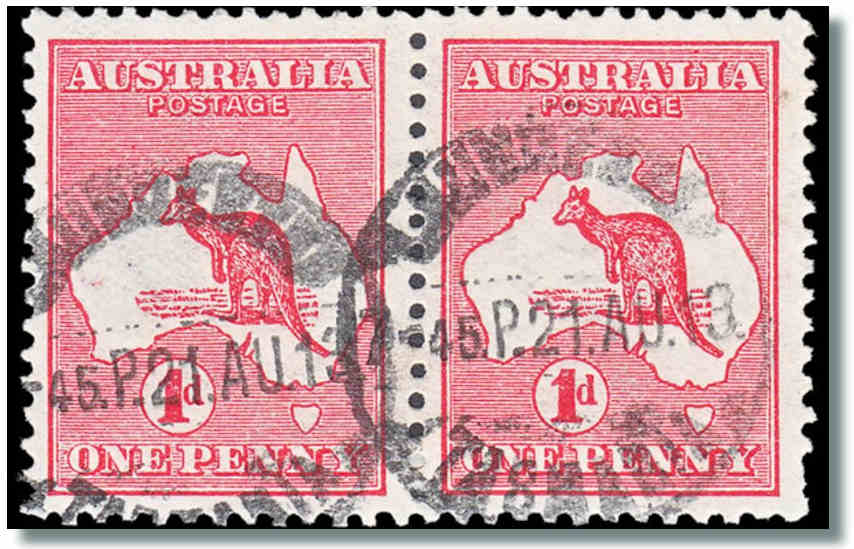 Sold for near $10,000!
I have no doubt it is a Die 2/Die 1 pair as they say, (it has a Cert) but my eyes these days would not have picked that up in a pink fit. I can hardly make it out on the huge pic when I am looking for it - show me this stamp size, and I would not have a clue.

Check all your 1d Red Kangaroo pairs is all I can say! "Knowledge Is Power".

My eyesight is better on things I CAN readily see, and unless I can clearly spot something, I do not worry much about it. To the fly-speckers' huge delight, who buy large job lots off me, I am sure!

My eyes did spot this 10/- Kangaroo nearby this week. It does not look too unusual, being the "common" CofA final watermark.

The CofA came with 2 different fonts for "SPECIMEN". This one is "Type C" and other is the more usual really bold font - "Type D". The latter are quite common, and the "C" sell for a few $100 or so, for fresh MLH.

I saw this being offered in an obscure in-house dealer auction, in small town USA this month.

American dealers of course generally have little or no ozzie material, and hence have no reason to spend $100 on an ACSC "Kangaroos" Catalogue.

Scott Catalogues do NOT list or price "Specimens" of any kind outside USA issues, so the dealers and collectors there tend to ignore them pretty much.

There was nothing else of real interest to me in this little dealer offering, but as I have typed 1000 times - "Knowledge Is Power".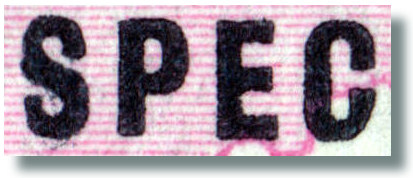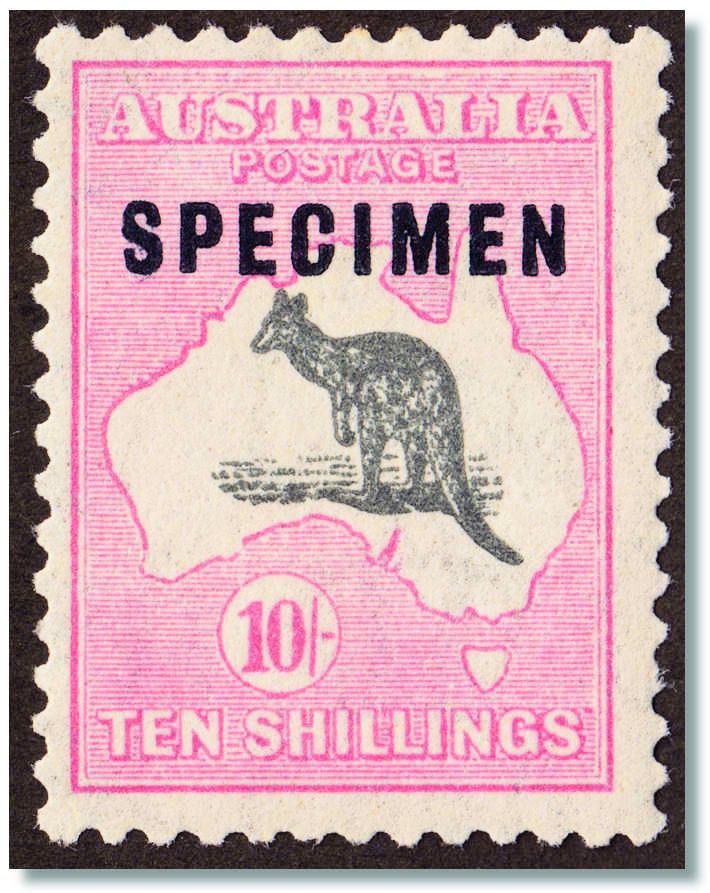 Would you have picked this one?
Even my less than perfect eyes could see on the small photo that this 10/- Specimen was not your normal Type "C" overprint.

I bid very high on it, along with bids on a lot of other stuff I did not really need, so as not to spook the seller! It cost me about $US100 in the end.

It is the scarce "Type 1a" Specimen, as you can see, easily distinguished by the shaved left of "S", and distortion bump on lower loop of "C". (Previously called Type "C1")

This occurred only once on each overprint Forme of 30 units. As only 1,200 CofA 10/- Roos were issued with this Type C font overprint, there were 40 of these "Type 1a" ever printed.

Being the "lowly" CofA which mainly went into Kiddie collections, via gifting of the cheap Specimen packs by doting relatives, many/most of those 40 examples are long lost over the past 80 years.

This is proven, as this overprint variety is almost never is offered on the market, and when they appear, the bidding is absolutely fierce to secure it. Only a few copies seem to have survived.

One with inferior perfs and centering to this (and NON aniline) was auctioned by Prestige in 2011 - estimate $1,500 - and invoiced $A8,450, and when the full ACSC value was only $1,750 - tinyurl.com/Spec1A (An ugly example sold for $A8,900 a few months before.)

That Prestige example sold for about SEVEN times the then prevailing full ACSC value. Current ACSC 50Exc is cat $10,000!

So I was pleased to secure it for $100, and whomever the new owner might be, will secure a very pretty fresh example, for well under old auction prices, and ACSC cat. "Knowledge Is Power".
China Prices Hot
Who said China prices were cooling off?!

China stamp prices continue to be rock solid, and red hot in many areas.

I reported in a recent column on the sale on this stamp shown nearby for around a million Australia dollars.

I have had a couple of readers ask me WHY this stamp is so scarce, and below is the detail on that.

With just 32 recorded copies, the Qing Dynasty "1897 Red Revenue Small One Dollar" stamp is "China's rarest regularly-issued stamp", the auctioneers Interasia Auctions in Hong Kong said in a press release.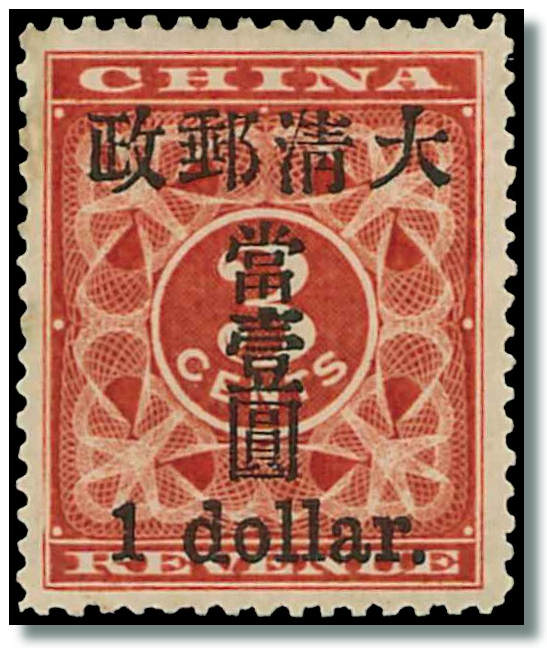 A Million Dollar Stamp
The bright red stamp, symbolising luck and good fortune in Chinese culture, is rare because the characters "Qing Dynasty postal service, one dollar" were considered too small, prompting the printing of a second version.

"Philately has a special place in Chinese culture, with rare stamps regarded as important cultural icons and treasures, just like artwork" auction house director Jeffrey Schneider said in the statement.

The Red Revenue series was adopted in China as a provisional measure, as the planned set of stamps that showed China's new currency was delayed at the printers.

As such, previously unissued stamps were overprinted with various denominations.

The stamps are considered the first national issue of China, as they were issued by the Qing government itself in preparation for the national postal system that it was planning.

Until this time, the nation's stamps were issued by the foreigner-dominated Maritime Customs Department.

The Chinese characters on the "Small $1" were considered too small to read, and a second, larger $1 Red Revenue was issued.
China "Red Monkey" Forgeries
Whilst on China, I offered an example of the well-known 1980 8 fen "Red Monkey" Chinese stamp in early December on my Rarity Page.

It sold very fast after being loaded for $A1,850. There were a number of enquiries after it.

However before I could offer it, I needed to do a lot of research to ensure it was genuine! This took quite some work.

This 1980 "Monkey" stamp is the most popular and most glamorous post-war stamp from China, and is missing from near all collections.

It is stated to be the first of ALL zodiac animal stamps ever issued globally, and for all those who collect "Chinese New Year" stamps from China, this is the KEY of course.

Due to the huge prices in recent times, it has been widely faked of course. Oddly almost nothing is written (in English, anyway) on HOW one picks the fakes.

MOST copies sold on ebay etc are forgeries, that much is well known. On ebay now, any genuine copies are selling for about $US2,000. (Some of the fakes sadly get the same kind of figure.)
Auction price $A2,000 apiece
At real world Auctions, at least there you are buying verified examples. Interasia's last auction in HK had a long line of genuines, and all were invoiced for around $A2,000 each.

I remember NOT many years back writing in amazement that prices for this stamp had passed $A500. Now it is 4 times that!

The genuine has a strong golden metallic ink sheen, and the black shading is in recess/engraved heavily raised print. Both are things the forgers find cannot be easily duplicated.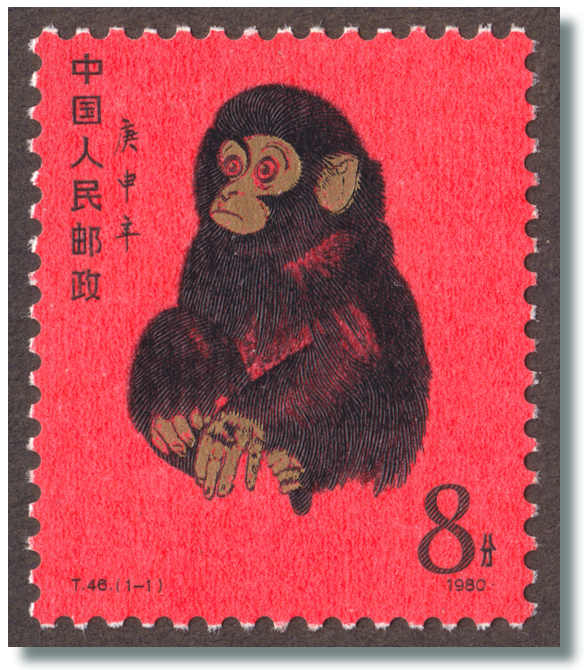 Face value a cent or so

Additionally, the genuines also near all have light offset traces of the recess black ink on gum – again something the fakers do not realise!

The fakes I have seen are 100% flat printed, and really only the ebay Bunnies, or the totally clueless could ever get fooled. Thank goodness.

Also the Chinese characters top left are not correct on a good % of the fakes of this legendary Chinese "Red Monkey" stamp.

A ton more detailed scans of this exact stamp here, and ways to tell apart fakes too - tinyurl.com/MonkeyChina

SG Cat 2968 is cat £1,600 and £750 used, which is in a 2 year outdated catalogue now of course. Scarce item.

It was bought off Max Stern as a New Issue in 1980 for a dollar or so (8 fen was around an American cent face value at the time) and ended up in a VERY basic collection I bought!
1922 KUT gets $A313,201
I absolutely love the KUT 1922 KGV Definitives. It is a very long and colourful set, and all the values from £1 up are bi-coloured, in strong attractive shades.

The £100 is of course the "Big Daddy", and top value of this long set, and is seldom seen offered. Postally used are unknown, but "Specimens" are affordable.

Margo Campbell's "Stamps In the News" in the November magazine reported the upcoming sale of this stamp on October 31st.

A Dutch firm with the short and really catchy name of - "De Nederlandsche Postzegel - en Muntenveiling BV" auctioned the stamp with €50,000 estimate, and it was invoiced for €208,000 - or $A313,201 as I type this.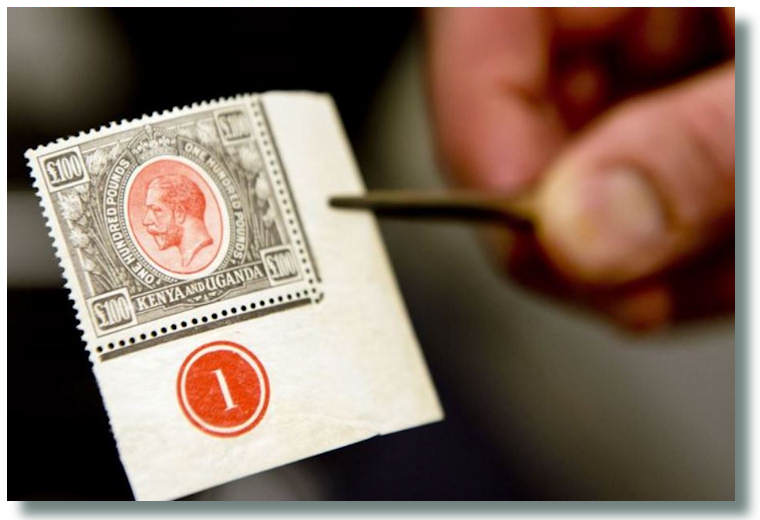 Kenya KGV goes for $A313,031
Stanley Gibbons full catalogue at the time was £110,000, and it sold for a very impressive 60% margin higher than that at - £178,152, converted.

tinyurl.com/KGVKUT is a story on this stamp, and shows an image of the SE corner block FOUR, Control block "1" of this, in the Queen's Collection!

I think the Royal Collection has a set of ALL the series in corner blocks 4 …. the "lower" values like £50 and £75 are each worth a fortune of course.
Fakers on ebay
I have often warned readers of the caution needed when buying scarcer stamps on ebay. Anything over $50 be CAREFUL.

That has been the case for years and fake perfins, convincing re-gums, and fake overprints are offered on ebay globally each day by the THOUSANDS.

A faker is printing THOUSANDS of different perforated stamp replicas from every country – and not just postage stamps – see the War Savings stamps below.

This pair of NSW 1897 Charity is offered for a few dollars on aged gummed paper. Not all readers will have seen the real thing, but these look VERY close, trust me.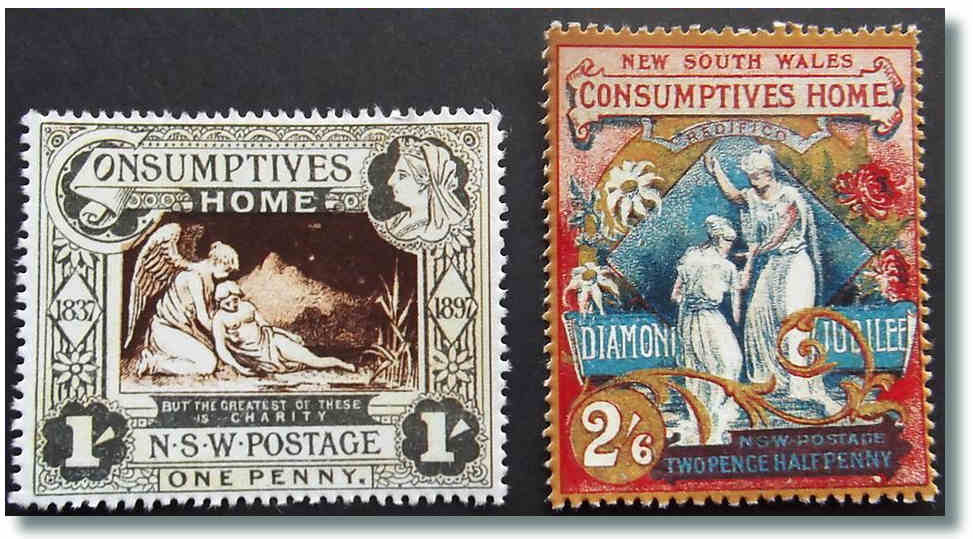 Cheap fakes on ebay
Ebay have firm rules that all stamp fakes be sold with an indelible mark in ink, noting "FAKE" to that effect, AND photo of that marking be shown on reverse in the ebay lot.

The fakers of course do NOT do that – or often photo one with "FAKE" written in pencil, that can be easily erased. Most often they do NOT mark them in reality at all.
Report them to ebay
REPORT these crooks – ebay have a new portal to do just that - tinyurl.com/ebayfakes - the written ebay policy re these fakes is here - tinyurl.com/ebayReplic

This faking can only hurt the hobby, so take 5 minutes to report those you see, and the issue will be sorted if 100 readers work as a team on this.

These fakes are sometimes crude, sometimes superb, and sadly not all buyers are savvy enough to be able to pick them apart.

Less experienced buyers SHOULD walk a mile from buying from such a venue but history shows they do not of course, and 1000s of stamp buyers are scammed and conned each month.

Clueless buyers seeking "bargains" are the scammers best dream come true. Instant Paypal payment and bingo - kiss the money goodbye most times.
Paypal will NOT assist you.
Paypal "buyer protection" will not in general assist you when the scammers mail you a few sheets of blank paper via Registered Post, hence getting a dated "proof of receipt".

These same folks would NOT buy a "Genuine Rolex Gold Watch" at a pub on Saturday night, so why on earth they think rare stamps can be bought for a song, from someone they have no idea about, 10,000 miles away, mystifies me.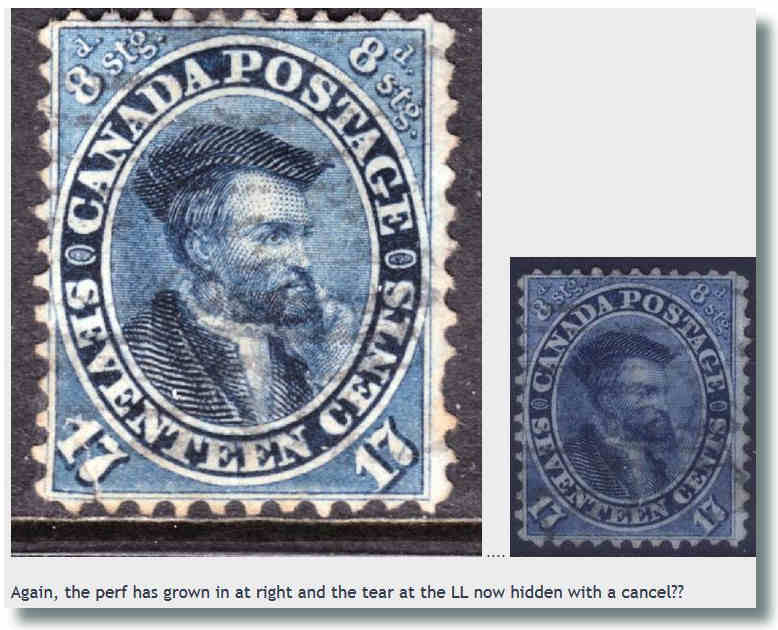 "Pure Spring Water Only"
One faker in Canada was exposed this month on stampboards offering lots of early Canada, with great perfs and appearance.

All very nice, but the sleuths on there tracked back many of those same stamps the seller had bought weeks earlier - with missing perfs, missing corners, and tears etc.

Our ebay faker CanConVinyl heavily bleached the stamps of their age and toning, added extra perfs, and then added fake cancels to help disguise the added perfs and patched tears.

He joined Stampboards to explain away his actions and claimed it was all magic, and all he ever does was soak the defective stamps in "pure spring water" – for WEEKS!

Asked how this assisted in growing many extra perfs and the fake cancels, he had less success in explaining. One member added this clever cartoon shown nearby!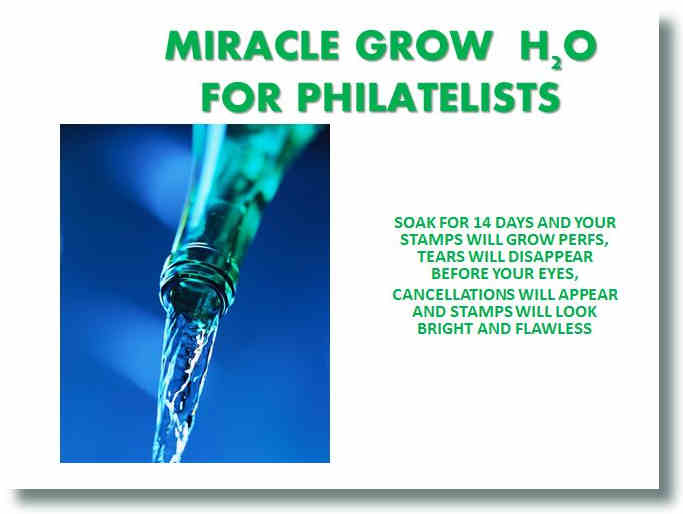 Who needs Holy Water?!
Even after being shown numerous "before and after" photos of his fakes, he stuck to the "Spring Water" nonsense. Some folks assume the entire stamp world is clueless it seems.

tinyurl.com/CanConVinyl covers the discussion where this madness was outlined, and the mental state of some of these ebayers really makes one wonder after reading his rants.
War Stamps - Hot Stuff
Something dealers see a lot of here are the "War Savings" type stamp issues. There was an engraved 6d and 2/6d KGV from WW1, of which the latter is scarce - there were 2 perfs on these issues too.

The most commonly seen by far are the WW2 6d Blue "Spitfire" which are not Spitfire planes at all nor "Hurricanes" but a "Defiant", but the Spitfire name has stuck!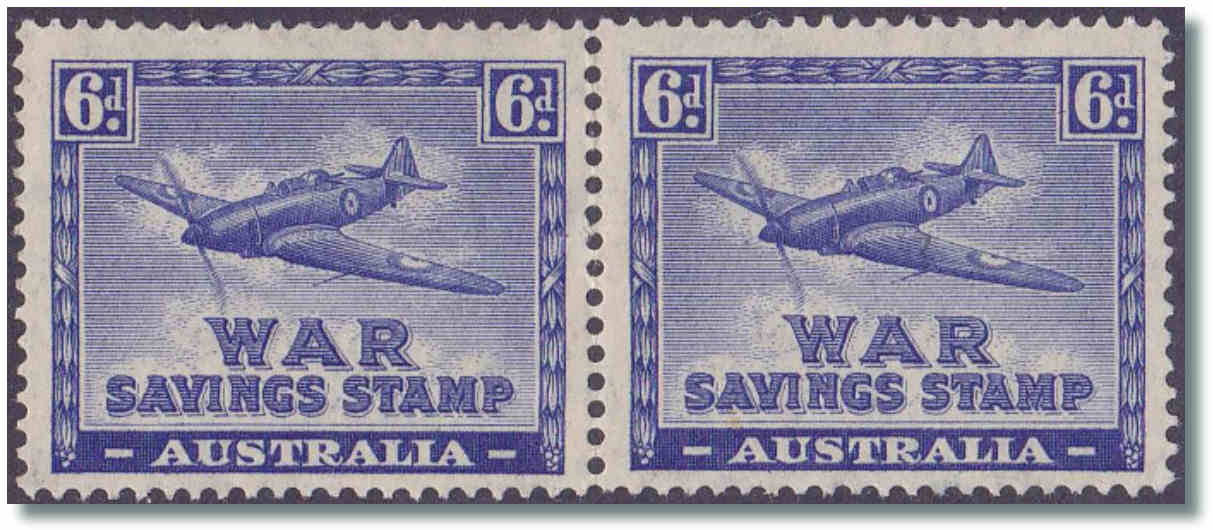 When a Spitfire is not a Spitfire
There are a range of watermarks (or not) and perf gauges found on these, and most are only $10-$20 apiece. Pretty stamps. All designed and produced by the Government Stamp Printer.

Less commonly found is the 5/- Artillery and Tank issue. I get these now and again into stock. The mint with gum example shown nearby I sold for about $400.

I've seen an imprint pair of these "Tank" issues get $A1,500 at public auction.

Most of these War Saving "stamp" issues were affixed (licked) onto special folded cards. When you got them filled up, you redeemed them for a £1 or £5 War Bond etc.
Loan Government YOUR money
It took 16/- of these stamps to get a £1 Bond, 7 years after the war, so you were loaning the Government money basically, long term.

Most cards were never filled it seems, and heaps turned up after the war, and the "stamps" were floated off by kids etc. Hence the very large % of 'no gum' examples of all types seen.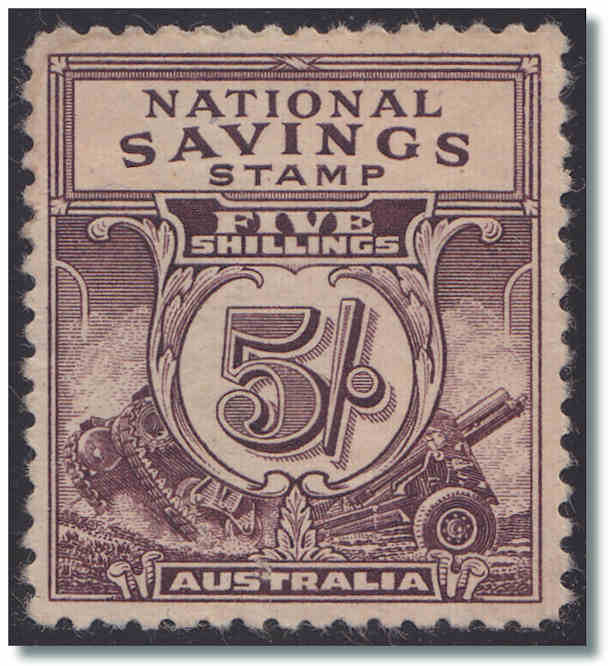 Far less often encountered.
There is one other type that was issued after the Tank and Spitfire stamps were discontinued in 1945.

The 6d blue Canberra War Memorial "Savings Certificate Stamp" was issued, and the redemption folders had all mention of the War removed. It depicted the War Memorial and Mt. Ainslie in Canberra.

It is an attractive stamp, and was on the then current CofA watermarked security paper, with the same 14½ perforation and marginal imprint of the definitive stamp issues.

There seemed little interest in immediate post war Australia in these Certificates, and few of these stamps appear to have been purchased or used.

In 35 years as a dealer I have never owned even a single example. For years they would change hands for about $500 when singles showed up – often with no gum.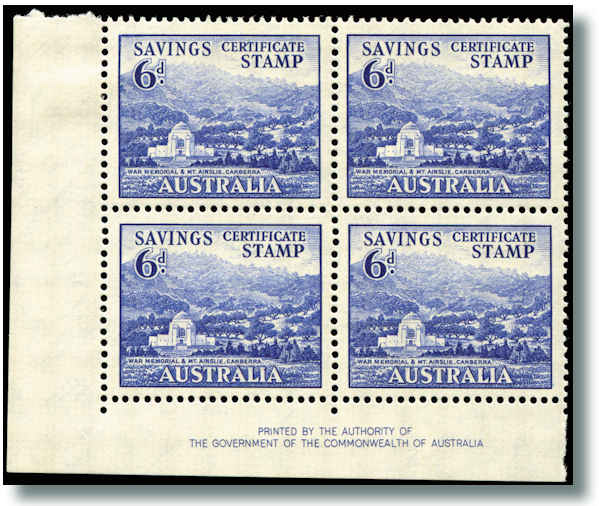 Higher than 5/- Roo Imprint!
A recent Public Auction by Phoenix smashed that price point! The "Authority" imprint block shown nearby was publicly auctioned.

On a pretty measly estimate of $200, the hinged/unhinged block 4 was invoiced for an absolutely astounding $A3,200.

You can source an imprint block of 4 of the CofA watermark 5/- Kangaroo for that kind of money!

BEWARE – the ebay fakers have moved into this stamp, and the WW1 issues, using old aged gummed paper, and they could easily fool anyone not familiar with them. These MUST have watermarks OK?
Season's Greetings!
"Merry Christmas and Happy New Year" to all readers of this column - wherever you are based - and to your families, and loved ones.

Stamp-wise this has been a very exciting and interesting year. The market has never been stronger, with fantastic auction results.

The huge "World Stamp Expo 2013" at the Exhibition Buildings in Melbourne in May was a success beyond anyone's wildest dreams, and set the gangbuster tone for the hobby here.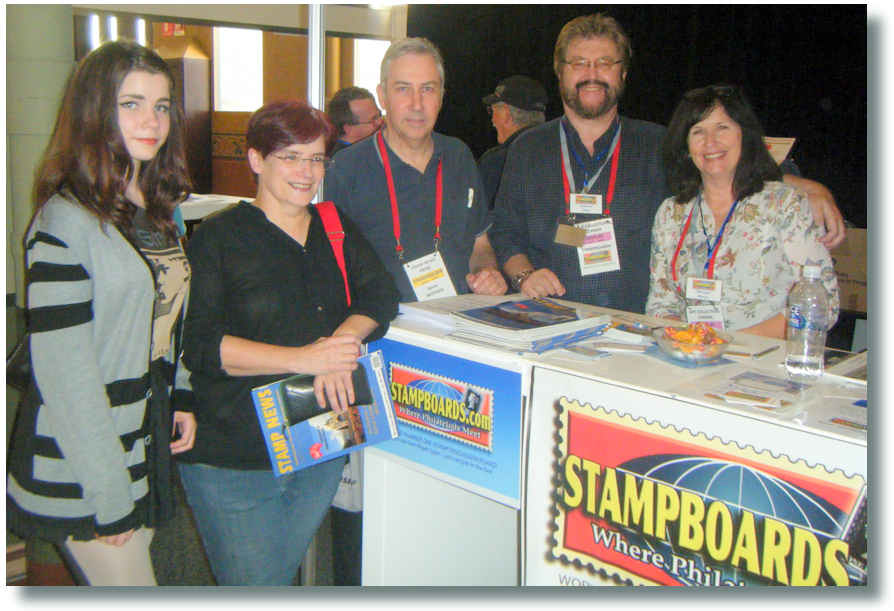 A tiny part of "EXPO 2013"
tinyurl.com/StampExpo13 contains 100s of detailed photos, and chat and comments updated all day long - you will feel like you were in the hall for 5 days!

The "Stamp News" team were of course at the show and from left to right - Alexandra, Máirín, and Editor Kevin are shown, with columnists Glen Stephens and Margo Campbell, at the busy Stampboards.com stand.

On May 9 to kick off "EXPO 2103", Phoenix Auctions in Melbourne tested the market waters, by offering the "Kangaroos" collection of the late Stuart Hardy of Adelaide.
Hardy Kangaroos smashed all records
The sale established an Australian record price for a single stamp auction - $2,587,000 - and every lot sold. Indeed this figure far more than DOUBLED the previous best sale here - by any auction, at any time.

So many price records were set that I lost track. 2013 was the Centenary of the Kangaroo stamps, and interest in them GLOBALLY was enormous - many from new collectors of them.

"Thank You" to all readers for the many phone calls and emails with comments - for AND against what has been written here!

I travelled a lot as always this year - about 100,000 miles as I do annually.
Ghana here we come!
I started the year in South America with New Year's Eve in Arequipa, and came home via remote road tootling around West Texas.

And will be at remote Lake Volta in Ghana, West Africa for Christmas Day as you read this.

One of the places I got to during this year was MADAGASCAR – a place that always sounded really exotic when looking at old stamp albums – pix here - tinyurl.com/MadaPic

Very primitive country for a tourist, and almost no English spoken, but interesting, and saw masses of Lemurs and Chameleons and all sorts of other strange beasties!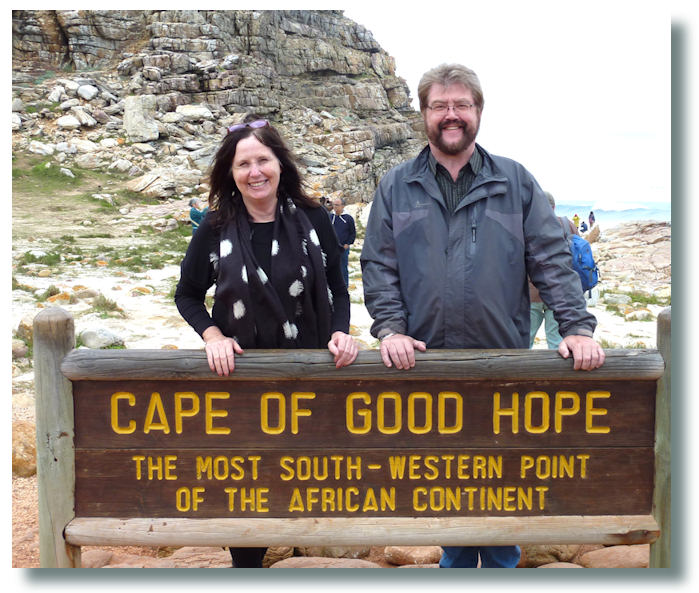 Not a Cape Triangle in sight!
Even got to visit the Cape Of Good Hope in August – indeed I will be back in Cape Town for New Year's Eve this year.

Been lucky enough to have travelled to about 130 different countries, so finding somewhere "new" to visit is not easy – and Madagascar, Mauritius, and Ghana fitted the bill nicely this year!

"Merry Christmas and Happy New Year", to one and all. Be safe - and enjoy the break!










Get my regular market update emails FREE. Stamp gossip, price trends, record sale prices, and many one-time stamp specials, wholesale bargains, and exciting offers and breaking philatelic news. A mini stamp magazine in every email! "KNOWLEDGE IS POWER". The ONE stamp list you MUST be on, to keep in touch with the rapidly changing world market. One client made $65,000 profit in a few months after following my specific advice. Sign up securely and quickly by clicking HERE to access my automated data base. And wiser still ADD your home AND work email, if I only have one right now. Add a stamp friend's email address if you wish. One short click and you are subscribed to probably the most read email list in the stamp world!


Instant Currency Conversion


FREE! Just click here...




If you would like to be notified of updates to this website,

Click HERE. If have any questions,
or comments regarding my site, please email me at glen@glenstephens.com



| | |
| --- | --- |
| | Search all my 300+ web pages! Simply type in what you are looking for. "Penny Black", "Latvia", "Imprints", "Morocco", "Fungi" "Year Books", etc! Using quotes ( " ) is more accurf used with no quotes. Search is NOT case sensitive. Tip - keep the search word singular - "Machin" yields far more matches than "Machins" etc. |


I am a Dealer Member in Good Standing Of:

Full Time Stamp Dealer in Australia for over 30+ years.

Life Member - American Stamp Dealers' Association. (New York)
Also Member of: Philatelic Traders' Society. (London)

GLEN $TEPHEN$

Full Time Stamp Dealer in Australia for over 25 years.

Life Member - American Stamp Dealers' Association. (New York)
Also Member - Philatelic Traders' Society. (London) ANDA. (Melbourne) American Philatelic Society, etc


ALL Postage + Insurance is extra. Visa/BankCard/MasterCard/Diners/Amex all OK, even for "Lay-Bys"! All lots offered are subject to my usual Conditions of Sale, copy upon request BIGGEST STAMP BUYER: Post me ANYTHING via Registered Mail for my same-day cheque. Avoid the GENERALLY 40% Auction " Commissions" (15% + 17½ + GST, etc.) AND their five-month delays! Read for details.

"Lothlórien4 The Tor Walk, CASTLECRAG (Sydney), N.S.W. 2068
Phone: (02) 9958-1333&n Fax: (02) 9958-1444 (Both 25 Hours, 7 Days!)
E-Mail: glen@glenstephens.com
Web Sites: www.glenstephens.com www.glenstephens.net or www.australianstamps.net