Click To Go Back To The Main www.GlenStephens.com Stamps Homepage

Welcome! You are visitor
to www.GlenStephens.com




Glen Stephens
Monthly "Stamp News" Market Tipster Column


January 2015

---
Cyclone Tracy 40th Anniversary
As you read this, it will be exactly 40 years since the devastating Cyclone Tracy demolished Darwin, on Christmas Day in 1974.

One of the most significant natural disasters in Australian history. The Cyclone wiped out most of the town, and it seems no-one was expecting it.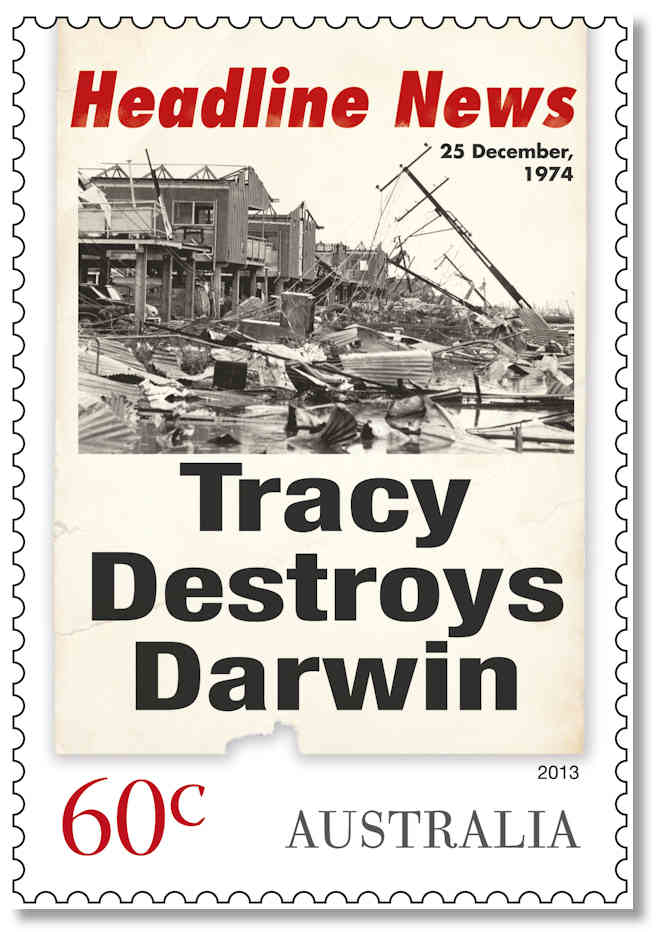 Wiped out 80% of houses.
Tracy destroyed more than 70% of Darwin's buildings, and 80% of houses. She left more than 41,000 out of the 47,000 inhabitants of the city homeless, and required the evacuation of over 30,000 people.

There was a "State of Emergency" type Military Administration Committee quickly put in place by the Whitlam Government, headed by Major General Alan Stretton.

In an estate I purchased, were 10 covers which were mailed to Townsville from Darwin in the period immediately after the Cyclone, when regular mail services were finally established.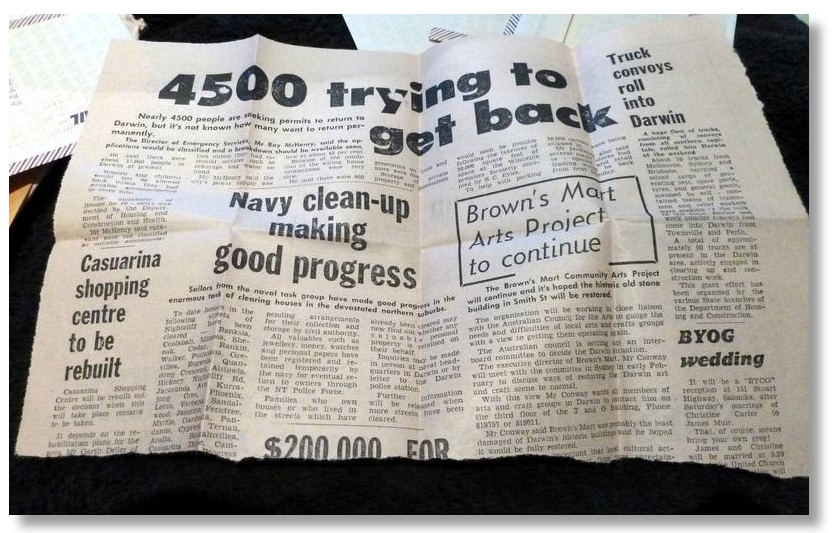 Newspaper tells the story.
There were 4 x large long OHMS envelopes with "14-II-75" franking that was a meter setting in error for 14-1-75 the recipient says, and the newspaper clippings inside each backed that up.

Then 6 x small envelopes were all to Townsville, many also with press clippings, and all of these are UNFRANKED, as "Free Mail" cancelled "PAID" was approved for those there, for a time.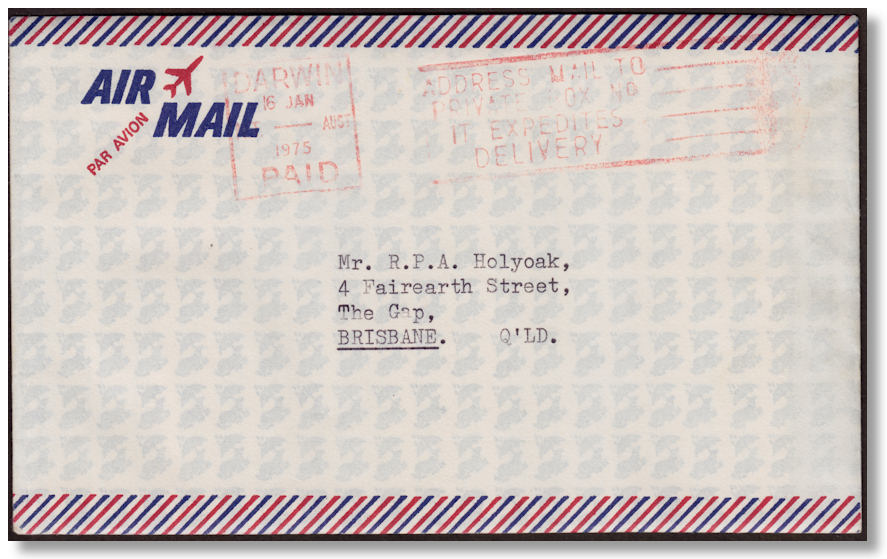 Post Tracy mail was Free.
| | | |
| --- | --- | --- |
| | In 35 years as a dealer I have never owned ONE of these covers mailed in the immediate aftermath, much less TEN of them! | |
Remember when stamps cost 60¢?!
Australia Post issued a 60¢ stamp to mark this tragedy only last year - remember 2013 - when a letter cost only 60¢ to mail, and not 70¢!

Real mail sent soon after Cyclone Tracy would make a wonderful exhibit by someone, and locating relevant material would be a lot harder than you'd imagine, I feel sure.

I sold them for about $10 each to a Sydney dealer - a ton more pix of all the cover details, and press clippings inside are here for anyone interested - tinyurl.com/Tracy74

A terribly tragedy, and the stamps and covers remind us of such events in our history, which is why many of us enjoy this hobby so much. Let us remember those who perished, and moved out forever.
USA $2 "Jennies" still hot.
A new find of the intentionally created upright variety of the USA $2 "Inverted Jenny" pane of 6 was discovered in Ohio in November.

"Linn's" detailed tally of the number of panes found now stands at only 20, which leaves 80 panes still waiting to be discovered.

U.S. Postal Service spokesman Mark Saunders told Linn's the latest example reported to the USPS was purchased in Zanesville, Ohio. USPS issued the pane of six $2 stamps on September 22, 2013.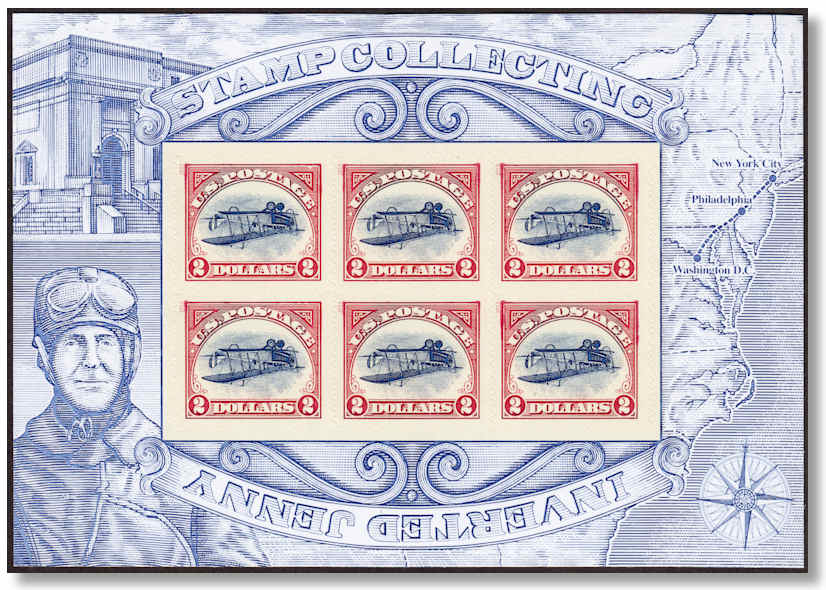 Still on sale for $US12.



Ten days later, the Postal Service revealed that just 100 panes of six showing the plane flying right side up, were randomly seeded into the entire print run of the normal stamps.

The odds of purchasing one of the 100 panes printed with the intentional variety is estimated by Linn's to be 1 in 19,000 - IF all panes sell.
Only 13 reported to USPS
Of the 13 of 20 panes reported to the USPS, counting the latest find, only 3 were discovered in mail order stock shipped from USPS. The balance were purchased at POs.

All "error" sheets have a note inside the packaging urging you to contact a special "800" number and the Postmaster General mails you a Certificate that your sheet is genuine.

Sam Malamud of Ideal Stamp and Coin has purchased at least 2 of the error sheets for $US25,000 each via his large "BUY" ads in "Linn's Stamp News".

The actual scarce pane is not showing the "Inverted" plane, but the intentionally created "Non-Inverted Jenny" pane of six.

These show the planes on the stamps flying correct side up. To re-cap, the USPS deliberately printed 100 of the sheets with the plane CORRECT way up.
80 Error packs left.
| | | |
| --- | --- | --- |
| | They sealed up the sheets in all manner of secretive packaging, so that one simply cannot tell from outside, the stamp orientation. | |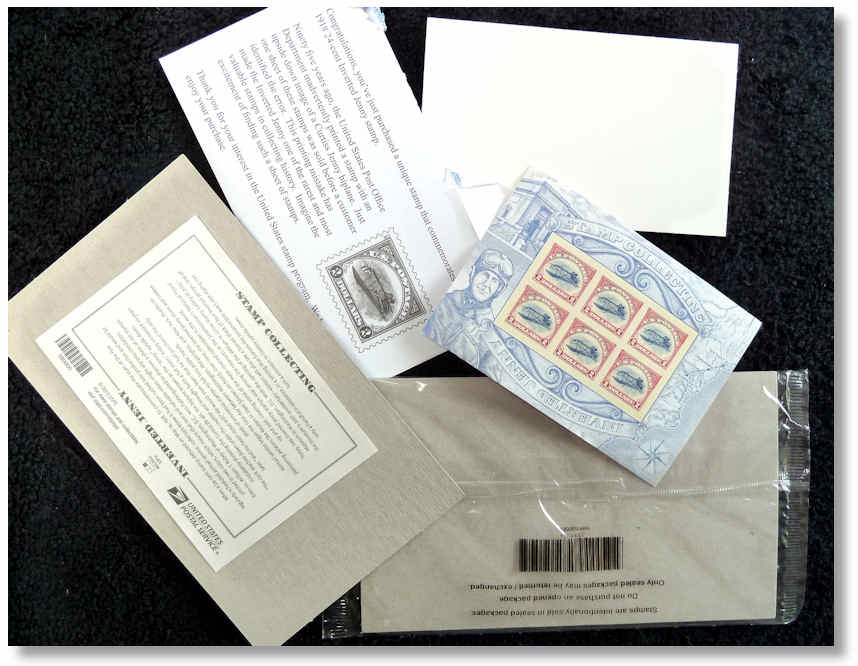 Totally secretive packaging.
One of the packs I busted open is shown in photo nearby. Secretive lined envelope, printed on outside, heavy piece cardboard, white card insert and all in heat sealed cello.

I bought a few cartons of 100 packs for fun as a client "Scratch Lotto" ticket basically, to sell at less than USPS cost when mailing orders.

Unlike a worthless scratchie - if you "lose" on this lottery, you still have $US12 of USA stamps, valid for use forever!

I am sending blocks of 6 to USA suppliers, and asking they glue-stick them down on Express Parcels to me. They sell readily.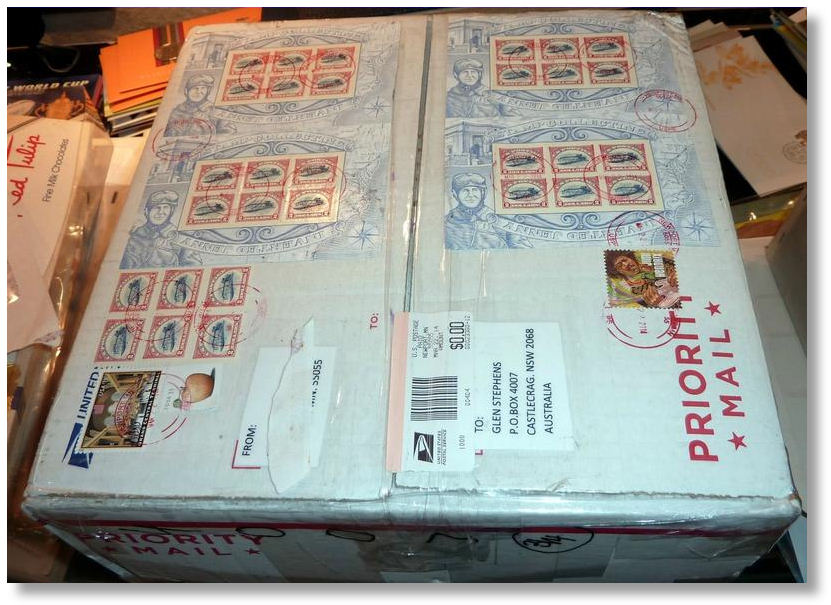 100% valid for postal use
4 x $12 Jenny panes is $48, and that is around what a medium Express Mail carton costs these days to Australia, and I buy many of those.

Therefore, I am getting back near full face for that sending, so "Free Post" essentially, on a heavy airmailed box to Australia. One recent carton is shown nearby.
Near "FREE" Global postage.
Had 4 x $12 Jenny sheetlets, 6 singles, the new Jimi Hendrix 'Forever' stamp, and a $US19.95 Grand Central Station - the highest face value postage stamp ever issued by the USA.

All paying the exact 'signed for' air rate for the large box. An Adelaide client loved it, and a few other panes used to me on correctly paid Registered envelopes etc. In years to come he'll be delighted.

The market price for the complete panes of 6 of the 100 possible "Error" sheets has yet to be firmly established.

Linns reports New York dealer Henry Gitner sold one pane a month or so back for $US55,000, and had been asking $US60,000.

Some nutter cut up a pane with a blunt cheese knife it looked like, mangled it, and hopefully took a bath on it, for being such an amateur.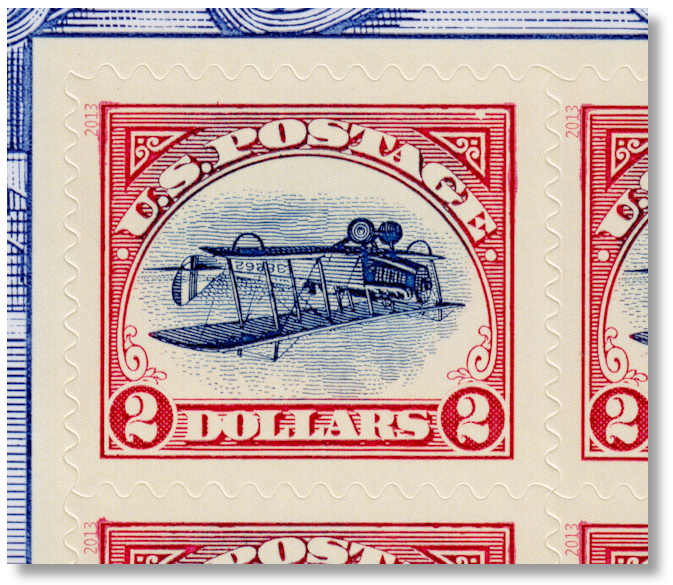 The NORMAL issued stamp.
Others have been offered on ebay (good luck with that idea!) and also via real stamp auctions. To very varied results.

If 100 had turned up in the market, a price of $10,000 or so would appear top end. However, as after a year plus, only some 20 are recorded, the equation changes greatly.

At some point the USPS I assume recalls the issue and destroys it, and with it, the 80 or so "error" panes, and THEN the fun will really begin.
Beware Certs on Ebay
Stamps accompanied by leading Expert Committee Certificates sell for far more money than without, and of course, so they certainly SHOULD.

However on places like ebay, where you have no idea of the seller background most times, a vast dollop of scepticism needs to be employed, or you can lose your money. GUARANTEED.

The RPS in London alerted me this week to the Certificate shown nearby offered on ebay. Totally fake, and it was never issued by the RPS they advised me.

The ebay seller presumably knew this, but offered it as genuine with RPSL Certificate, and the clueless ebay Bunnies as usual bid madly on it.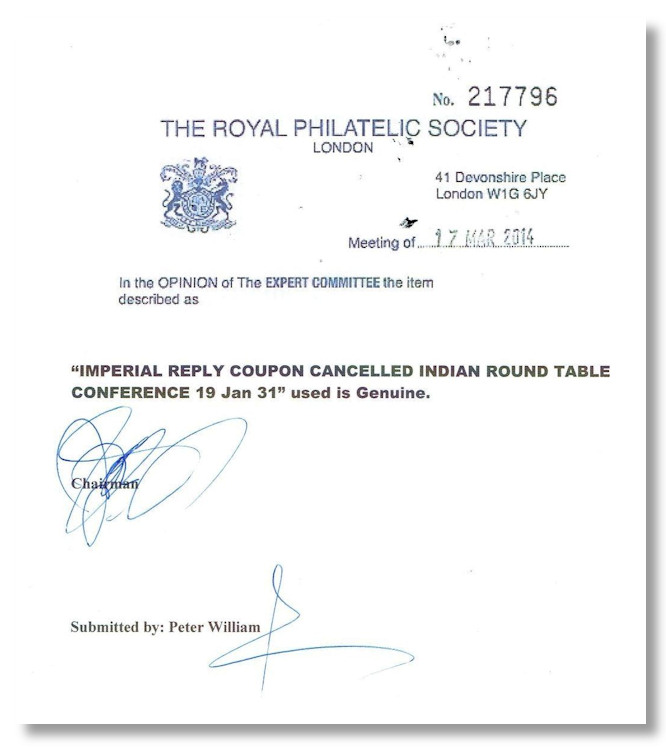 Totally forged Cert, ebay.
Ebay Seller was Adelaide based echobangla (name now changed) who appears to be a crook, and a link to full discussion is - tinyurl.com/FakeStamp - the 'Certificate' is of course a total and amateur fake.

Why? As the RPSL issue Certificates of Genuineness ONLY in handwritten form .. *never* laser computer generated as this one was.

Stamps accompanied by leading Expert Commitee certificates sell for far more money than without, and of course, so they SHOULD.
Pretty Parrot!
Never underestimate the value of something philatelic if a BIRD image is a central part of the design. Demand is often huge.

The pretty advertising envelope shown nearby was auctioned by Prestige Melbourne on November 14, and was invoiced for $A2,316.
Birdie Envelope fetches $A2,316



As you can see it was a business type PTPO window faced stamped envelope, from the large Rosella sauce/bottling company, with the then current 1914 1d Red KGV head franking.

These exist in both the window face shown and plain types, and come in both Die and Die 2 of the 1d KGV.

These envelopes of course are not common, but nor are they rare – they achieve steep prices way above things of similar scarcity - due to the BIRD design.

Prices are generally well under 4 figures, but this one must have had 2 or more VERY keen bidders, pushing the price up to what a superb mint £1 brown and Blue Kangaroo stamp fetches.
Covers to the KINGS!
Most readers will be aware that King George V was a FANATICAL stamp collector. Less so his son "Bertie" - better known to most of us as King George VI.

KGV told his stamp curator - "I wish to have THE best stamp collection, and not ONE of the best collections in England". He succeeded.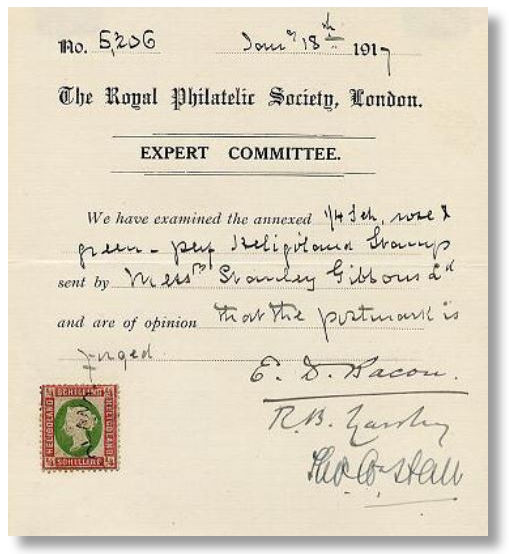 Sir Edward Bacon RPSL Certificate.




It seems true that KGV set aside a few hours most days to devote to the hobby. Locked in "The Stamp Room" at St James Palace, with trusted curator Sir Edward Bacon - no matter what was occurring in his Empire.

Indeed the Prime Minister etc visiting the Palace in the midst of the carnage of WWI, to update the King on the latest massacres on The Somme etc, needed to wait until his stamp activities were dispensed with.

His official biographer Harold Nicolson, despaired of George's time as Duke of York, writing: "He may have been fine as a young midshipman, and a wise old King, but when he was Duke of York - he did nothing at all except shoot animals, and stick in stamps."

Sir Edward Bacon was Curator for basically all of the long KGV reign. In 1917 Bacon was made a Member of the Royal Victorian Order, then Commander in 1922, and Knighted in 1932 for his philatelic service.

Bacon was President of the RPS London, and the nearby WW1 Certificate shows him telling Gibbons their Heligoland stamp had a fake cancel!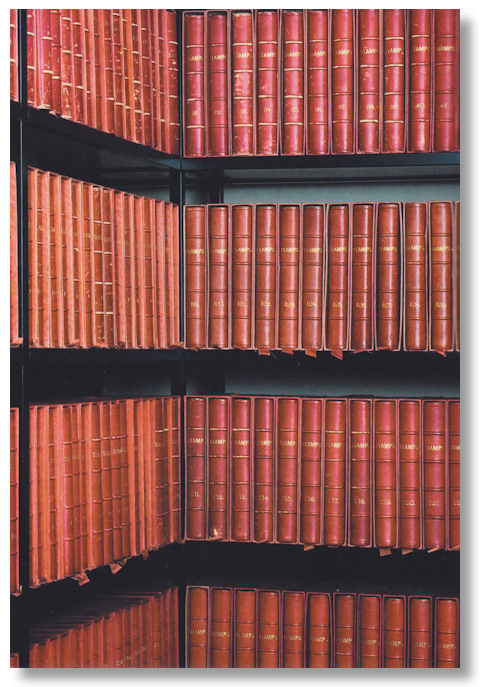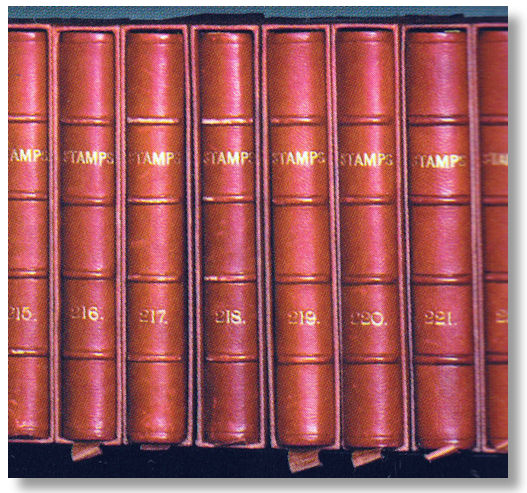 Some of KGV's Stamp albums.
| | | |
| --- | --- | --- |
| | The KGV stamp collection is immense, and housed in large RED, numbered, Buckram Leather albums. The KGVI reign stamps are in similar BLUE albums, and the QE2 era Collection are in GREEN. | |
Many HUNDREDS of Albums.
A small section of the KGV collection is illustrated nearby. There are a HUNDRED huge slip-cased leather albums shown there alone. Imagine the countless MILLIONS of dollars of stamps housed inside!

On one row, not even the lowest one, I can see numbered volumes up to 222, so my guess is we are talking over 300 Red albums alone.

KGVI did not appear to have much interest in stamps, and my feeling is that QE2 has more connection with them. She is shown nearby inspecting the Crown Agents artwork for her 2002 "Golden Jubilee" issue.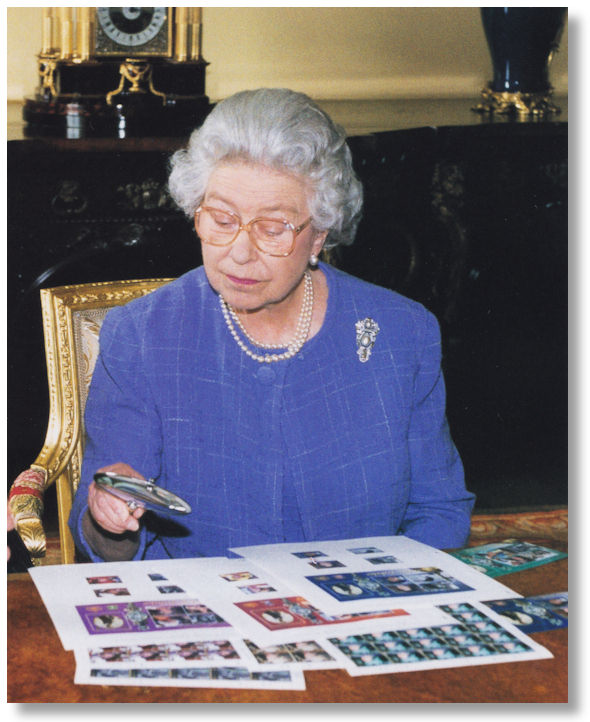 Her Majesty is NOT Amused!
Getting back to my trail of thought here, the cover shown nearby with the Imprint blocks 4 of the 1935 Australia interested me when I first saw it. Addressed to KGV.

A dealer stamp friend of mine bought it for a very modest sum from an experienced UK dealer's website, paying far less than the stamps were worth soaked OFF cover!

He asked me if I had seen it before and I said no, but pointed out the KGVI 1937 cover I had sold last year for $A150, and suggested he use that as a rough price guide, his having better stamp content of course.

This friend trades on ebay as "1915cazna" - he is a WW1 tragic, and cazna is ANZAC spelt backwards, and 1915 was of course the Gallipoli landing. The horse KGV is on, was named "ANZAC" – a gift from the Australian people.

Cazna was certain the blocks were "tied" as postmark ink ran into some of the perf holes. And the gold and black raised print crown emblem on seal appeared to be from Government House, Canberra.

Anyway, onto ebay it went in late November, and ends up costing someone about $A850. HOW a cover addressed to the fanatical stamp collecting King got into public hands, is anyone's guess.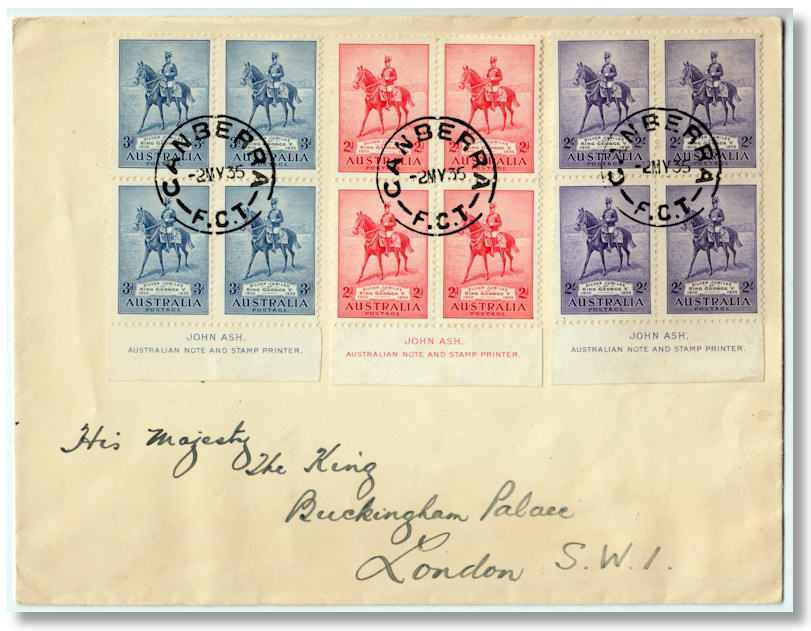 Government House the sender?
| | | |
| --- | --- | --- |
| | This kind of thing does sneak out now and again, that is for certain. The KGVI one shown nearby certainly went thought the mails. | |
How do they reach the market?
The KGV one likely was sent under outer cover. Why? No wear evident, no backstamps evident, never opened, and has the 2 colour raised crest. Probably Government House was sender, so they make their own rules generally!

Also as Registration fee was only 3d, it would have been sent Registered is my guess, as it was WAY overpaid. But if sent Registered, it would HAVE to be placed in mainstream, and this clearly was not.

My KGVI cover was sold for a pittance at $A150, but my choice of pricing on that one. AND it depicted King George VI, his wife and his father (KGV) on the other stamps as well!

A stampboards member saw it at a large UK stamp show. It was priced well out of his remaining show budget to take a punt on himself, so he showed a camera phone photo to me, and gave me the name of the dealer.

That dealer had no website, or anything like that of course. Dealer was from "Oop Narth" and does not accept credit cards or paypal, and I do not have a UK cheque account.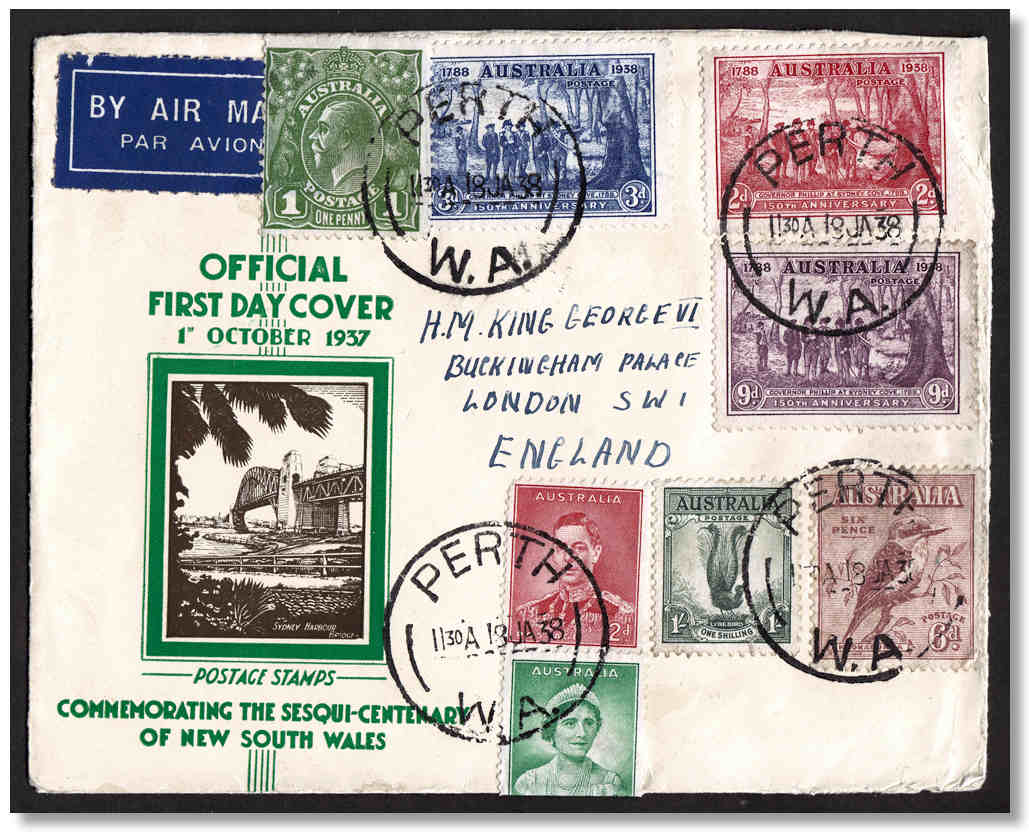 Wife, Dad and King on 1 cover!
So after a bit of toing and froing, and messing about, the cover was eventually mine! I added it to my Rarity Page stock at $A150 and it sold fast, as it is a most interesting curio.

Franking was 3/- ... way over the 9d or so rate to UK. It is a bit worn at edges so might have been quadruple weight I suppose, and if so, 4 x 9d = 3/-, and is correct. Who knows?
Not even a FDC!
It is not a FDC of course, being used a year later than the 1937 Sesqui set was issued. Which on FDC is a $40 item for the set of 3.

A 1932 6d Large Kookaburra is not common on cover, nor is the 1937 1/- Lyrebird SG 137, in the first perf 13½. And also has the 1937 1d and 2d depicting KGVI and his new Queen.

The cover is addressed to :

H.M. KING GEORGE VI
BUCKINGHAM PALACE,
LONDON SW1
ENGLAND

All stamps tied with neat "PERTH 18 JA 38 WA" cds. There is no sender address on flap, which would have allowed it to have been returned, and no Palace markings or notations etc.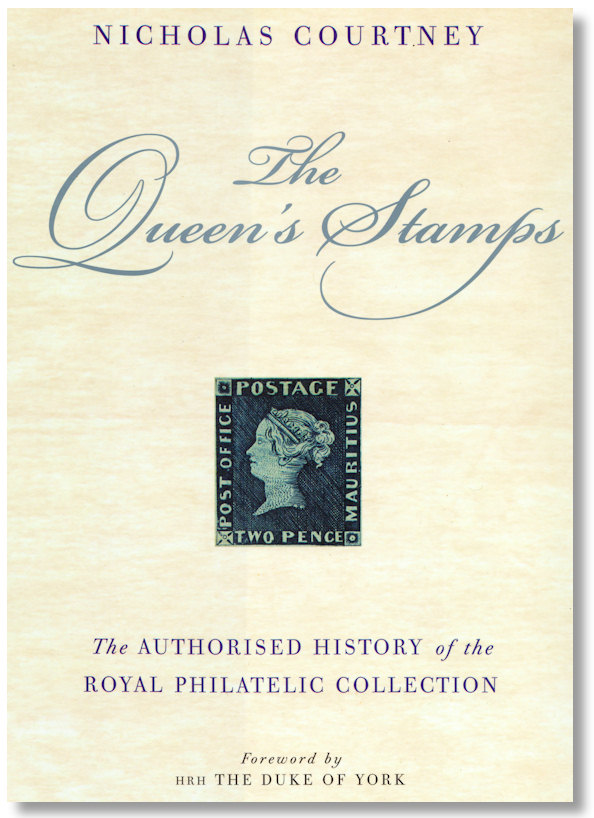 A Superb Stamp Read
Who knows what the content was, (it clearly had something inside) but one assumes a collector mailing the King an example of the current stamps on cover, with a note inside to that effect?

In such cases some kind of autopen type note was generally sent by an underling, saying "The King commands me to thank you for your kind gesture ............ " etc.
"The Queen's Stamps" Book
There is a wonderful hard cover book I sell a lot of titled: "The Queen's Stamps" by Nicholas Courtney. It costs $A70 post-free globally, and is a quite superb read, and really highly recommended.

It traces first hand, stories of King George V and his stamps, and all manner of other accurately sourced stories up to recent times. All OFFICIALLY sourced.

It is well illustrated in colour, and the photos nearby were taken from the book. With 337 pages Hardbound in dust jacket, it is a very entertaining read.
World's First Ebola Stamps
| | | |
| --- | --- | --- |
| | The Ebola Virus is of course a major health concern this year. It is a very serious matter in some West African countries including Liberia, where 1000s have died in the past 6 months from it. | |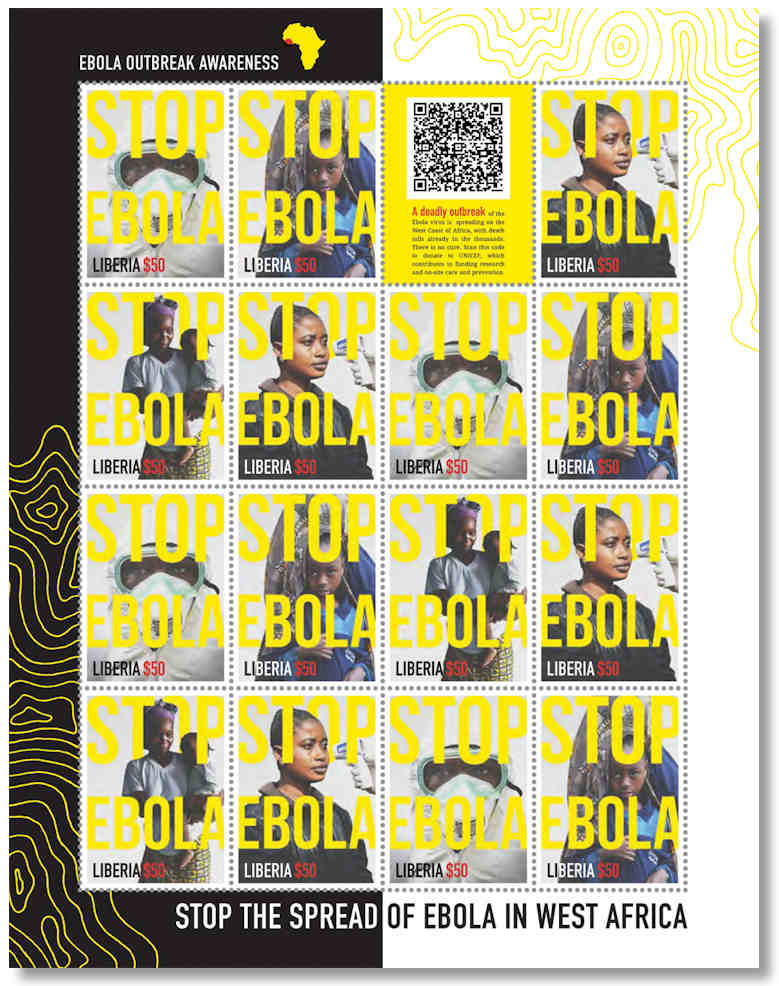 Liberia, Ebola Awareness stamps.
Liberia issued a striking sheet of 12 black and gold stamps in November, urging awareness to combat this horrible Ebola disease.

The "$50" stamps are not really very expensive. The entire sheet has a face value of about $A10, and all new issue dealers should have it in stock. Let's us hope the epidemic is bought under control soon.

I was in Ghana West Africa for Christmas Day last year. Our luxurious lunch that day was on a dusty road in a tiny café, that served us all they had left – fatty, bony, goat stew!
The FINEST goat stew.
| | | |
| --- | --- | --- |
| | All on plastic plates etc, with the usual bottle there of "Everyday Fresh" to wash your hands, and a bottle of STAR beer. With the Ebola crisis in the region now, not sure we'd visit Ghana at this time. | |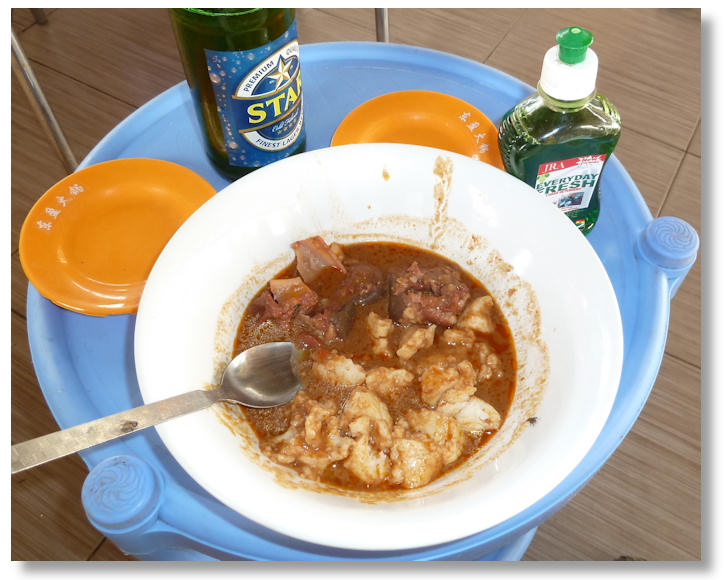 Glamorous Ghana Xmas Lunch.

We visited another African country Madagascar last August, and Margaret caught a notifiable communicable disease Shigellosis, whilst staying at a mountain Lemur camp there, with no electricity. Again we'd not be doing that again soon.

We had a funny experience in Ghana. Whilst driving thought the countryside we decided to mail some postcards. Found a galvanised iron sheeting PO, in a tiny place called KOJO BEEDU.

Asked clerk for 6 stamps for overseas postcards. He tears off 6 stamps - all had a large size 90c Commem underneath (from 2008 it seems!) and a small 10c PawPaw stamp was pre-licked on top, making up 100 cents, or 1 Cedi.

I have never seen a Post Office anywhere offer stamps licked one over the other, and KOJO BEEDU was a "first" for that strange usage of old stamp stock!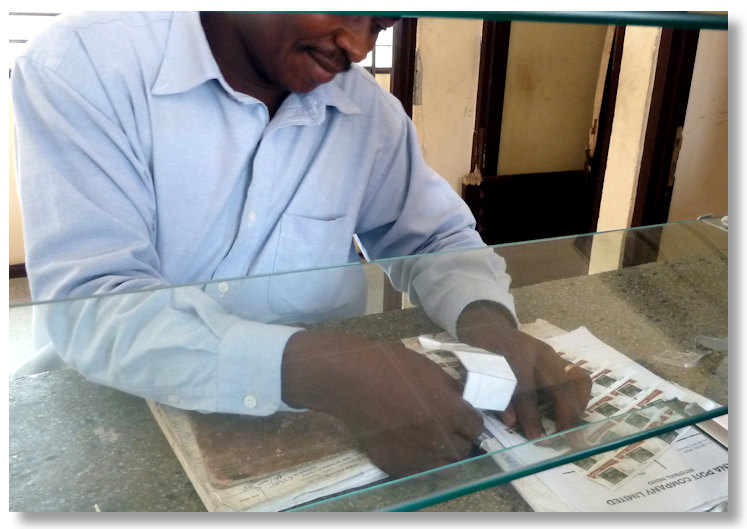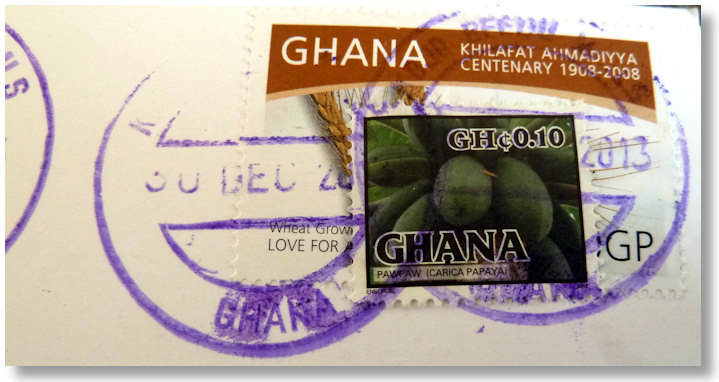 Genuine "stamp on stamp" issue!
| | | |
| --- | --- | --- |
| | As always in such cases, I pleaded with him to hand cancel them, which he did with the usual bemused look of "weirdo tourists". More pix here - tinyurl.com/GhanaPO | |
Season's Greetings to all!
This Christmas we fly 24 hours to Germany, and then hub off for Christmas Day in either Portugal or Canary Islands probably. Then to Istanbul, and then somewhere in Greece for New Year's Eve.

We want to then drive though Albania - a strange little place that was in a North Korean type wacko communist time-warp for decades, and is now just emerging. Then to Serbia, and back home via German and Thailand.

"Thank You" to all readers for the many phone calls and emails with comments - for AND against what has been written here!

"Merry Christmas and Happy New Year", to one and all. Be safe - and enjoy the break!










Get my regular market update emails FREE. Stamp gossip, price trends, record sale prices, and many one-time stamp specials, wholesale bargains, and exciting offers and breaking philatelic news. A mini stamp magazine in every email! "KNOWLEDGE IS POWER". The ONE stamp list you MUST be on, to keep in touch with the rapidly changing world market. One client made $65,000 profit in a few months after following my specific advice. Sign up securely and quickly by clicking HERE to access my automated data base. And wiser still ADD your home AND work email, if I only have one right now. Add a stamp friend's email address if you wish. One short click and you are subscribed to probably the most read email list in the stamp world!




If you would like to be notified of updates to this website,
Click HERE.
If have any questions,
or comments regarding my site, please email me at glen@glenstephens.com
| | |
| --- | --- |
| | Search all my 300+ web pages! Simply type in what you are looking for. "Penny Black", "Latvia", "Imprints", "Morocco", "Fungi" "Year Books", etc! Using quotes ( " ) is more accurf used with no quotes. Search is NOT case sensitive. Tip - keep the search word singular - "Machin" yields far more matches than "Machins" etc. |


I am a Dealer Member in Good Standing Of:

Full Time Stamp Dealer in Australia for over 30+ years.
Life Member - American Stamp Dealers' Association. (New York)
Also Member of: Philatelic Traders' Society. (London)
GLEN $TEPHEN$

Full Time Stamp Dealer in Australia for 35 years.

Life Member - American Stamp Dealers' Association. (ASDA - New York) Also Member - Philatelic Traders' Society

(PTS London) and many other philatelic bodies.

ALL Postage + Insurance is extra. Visa/BankCard/MasterCard/Amex all OK, at NO fee, even for "Lay-Bys"! All lots offered are subject to my usual

Conditions of Sale, copy upon request .

Sydney's

BIGGEST STAMP BUYER: Post me ANYTHING via Registered Mail for my same-day cheque. Avoid copping the Now normal 45% Auction "Commissions" (15% Buyer + 20% Seller + GST, etc) AND their five-month delays!

Read HERE for details.

"Lothlórien", 4 The Tor Walk, CASTLECRAG (Sydney), N.S.W. 2068

Australia

Phone 7 Days: (02) 9958-1333

PO Box 4007, Castlecrag. NSW. 2068


E-Mail: glen@glenstephens.com The Number #1 Web Sites: www.stampboards.com

This line is 12 point
This line is 13 point
This line is 14 point