Click To Go Back To The Main www.GlenStephens.com Stamps Homepage

Welcome! You are visitor
to www.GlenStephens.com


January 2017


---
"Post Office" Mauritius In The News
For anyone wondering what the famous "POST OFFICE MAURITIUS" cover, and original copper printing block sold for at Feldman Switzerland early in December - wonder no more! The sale is over, and both piece sold for pretty solid prices.

The famous Mauritus "Bombay" cover was auctioned by David Feldman in Switzerland on December 1. The Feldman invoice price was 2.4 million Euro (then $A3.45M) plus all the Swiss taxes that seem to entwine you, whether you take the piece with you (it sold in the room), or "Export" it by mail or courier etc. Then any GST/VAT taxes of your country of residence all kick in too. Serious dollars on that figure!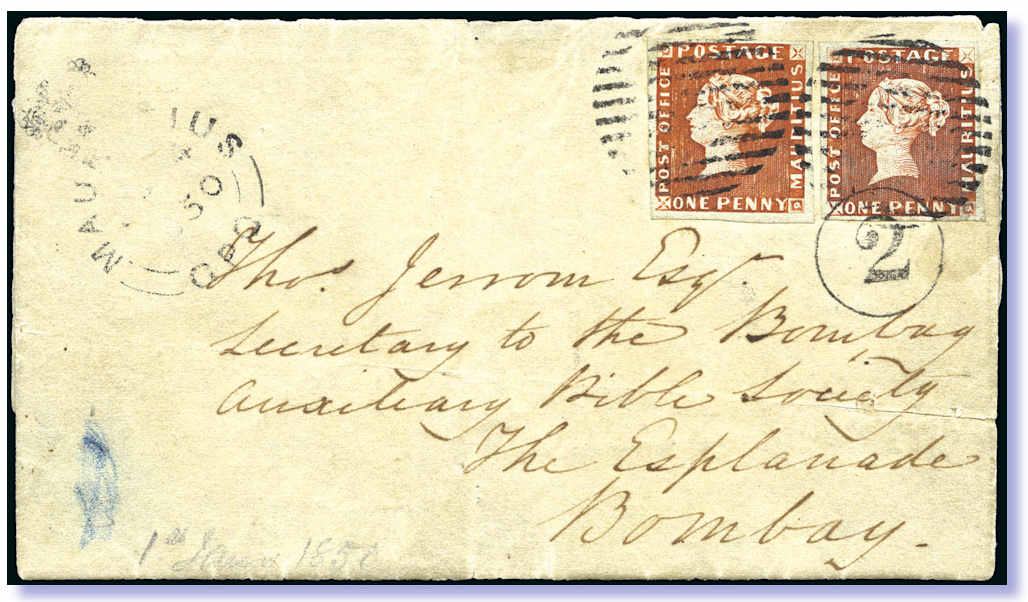 Invoiced for about $3½ Million.
The Auction description said in part: Bearing the two finest examples of the "Post Office" One Penny issue, this cover realised the highest price ever for a philatelic item in 1968 (Dale Lichtenstein auction) and can be considered to be on a par with the British Guiana One Cent, which was recently sold by Sotheby's for $US9.5 million.

1d Deep Orange, two singles, datelined Port Louis, January 1, 1850, on entire letter addressed to "Thos. Jerrom Esq., Secretary to the Bombay Auxiliary Bible Society, The Esplanade, Bombay", cancelled by twelve-bar handstamp, in circular format and the right stamp additionally by handstruck "2" in circle; showing "MAURITIUS/G.P.O" crowned circle d.s. (Jan. 4, 1850) adjacent.

The stamps are of contrasting shades and impressions - the right stamp very sharp and the left a little heavier - indicative of the primitive printing methods of single impression from a copper plate on a hand press. Both stamps are of a brilliant colour and fresh, with unusually large margins all round.

The cover has a small cut at right below "Society" in the address panel, and has also been reinforced at the joins. The entire letter comprises a double letter sheet written by the Reverend Langrishe Banks on 1 January 1850.

Surprisingly, the contents of the letter, which concern the acknowledgement of receipt of a box of Scriptures (Bibles), were not known, until the Weill Brothers dealers in the USA allowed the letter to be opened up in 1976.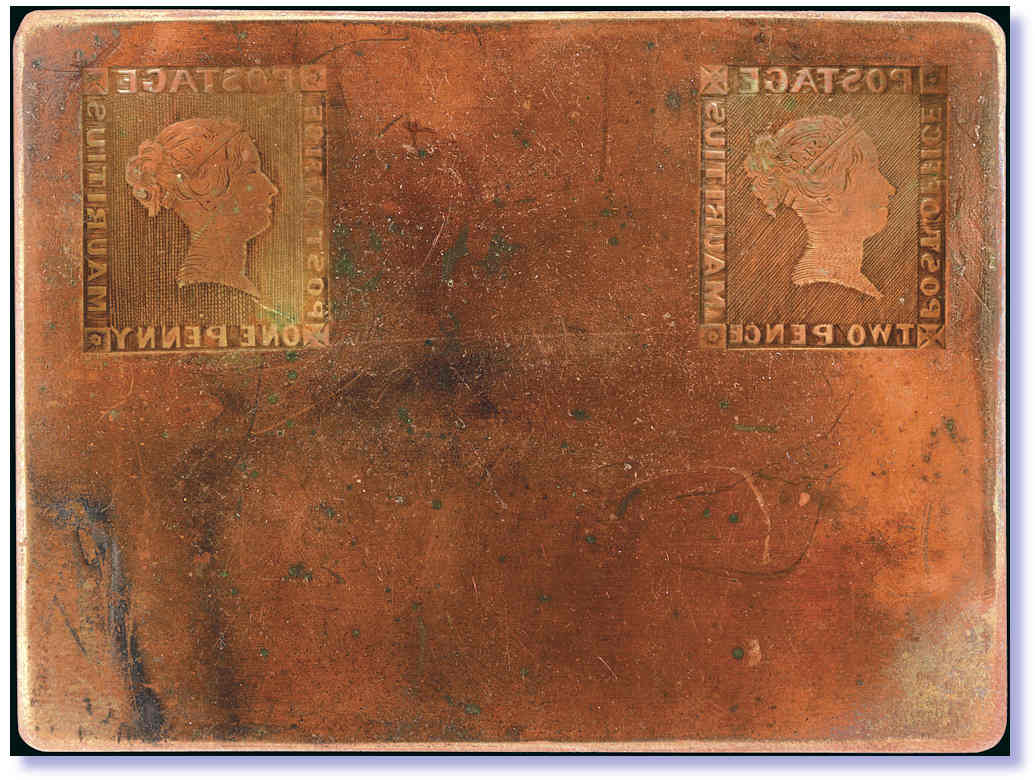 Printing plate sold $A1.9 Million.
| | | |
| --- | --- | --- |
| | The same auction house also offered the small original copper printing plate for the "Post Office" Mauritus pair of stamps, on the same day. They had some surface scratches, and had been bent at some point. I saw it on display at "World Stamp Expo" New York in June this year. The Feldman invoice to a phone bidder, after "Buyer Fees", was for Euro 1.32 million (then $A1.9 million) before the onerous Swiss taxes were added. Pretty good for a small piece of copper! | |
Original copper printing plate found.
This printing plate has done a bit of a "roadshow" in the past two years, being on display by Feldman at "Europhilex" in London in May 2015, Singapore World Stamp Exhibition in August 2015, and "Monacophil" in December 2015. And most recently, at the big show in New York in mid-2016.

The 1847 Mauritius "POST OFFICE" stamps were the first colonial stamp issues of the British Empire, and rank among the world's greatest and most sought-after rarities. 1,000 stamps were printed (500 each of 1d and 2d) but only 27 examples are known to have survived, of the 2 values combined. Near all of those are used, or on cover.

The printing plate disappeared from view for many years, and was rediscovered in 1912, when it was described by Alexander J. Sefi in 1912 as: "the Greatest Philatelic Treasure existing". Sefi was the legendary dealer, prolific philatelic writer, and specialised collector of this era. He was invited to sign the Roll of Distinguished Philatelists in 1933.

The Mauritius printing plate was then acquired by the also legendary European collector Maurice Burrus around 1930, and was last displayed at the 1935 Silver Jubilee Exhibition, of the Royal Philatelic Society in London. It then disappeared from view, and for many decades it was feared that it had been lost.

However, following the death of Odile Burrus, the niece of Maurice, the plate was re-discovered by the Burrus family. It has since been with David Feldman of Geneva Switzerland, so that it could once again be displayed in public, as it has been for the past 2 years.

Feldman produced superb A4 size detailed catalogues for both the Printing Plate, and the cover, and are both highly commended for those that collect reference works. I ordered a few sets.
Perry Family Moves On.
My fellow magazine columnist, and well known dealer Rodney Perry will be pleased with one Santa's Christmas gift. His Cape Tribulation "Alkira" Mansion in the Daintree Rainforest, up near Port Douglass/Cairns in Northern Queensland, has finally found a new owner this month.

I suspect no home on earth has ever before had a swimming pool modelled upon a postage stamp design? Rodney Perry did just that, and had a leading architect design his massive new home around that swimming pool, based on an iconic Australian stamp design he admires. The home won top end Awards.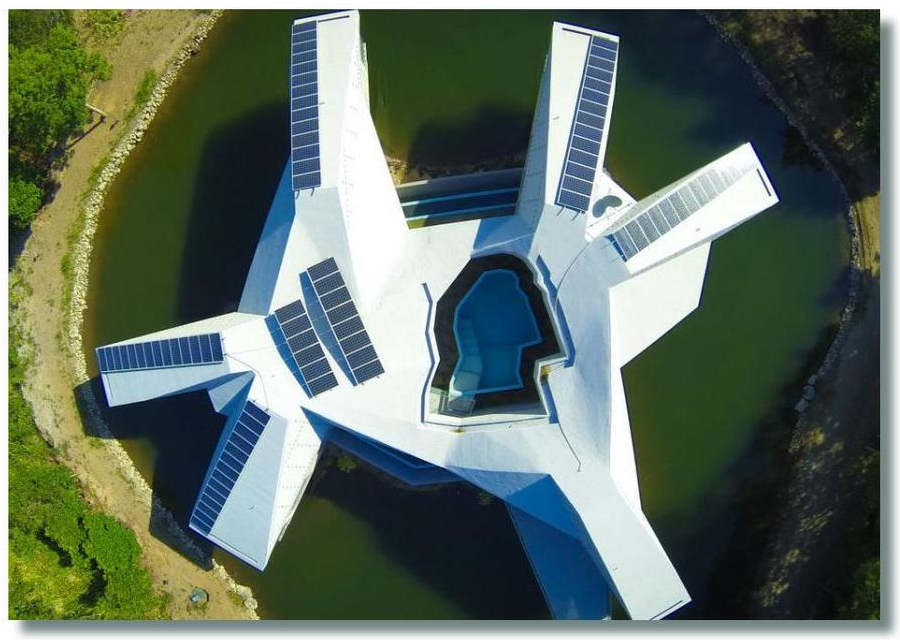 "One Pound Jimmy" Swimming Pool.
The swimming pool as you can see in nearby photo, was made into the outline of the famous Aborigine "One Pound Jimmy" stamp silhouette. The home was Rod and Madel's first new build, and the national Fairfax newspaper chain ran a story on it headed - "The House That Stamps Built" - tinyurl.com/Alkiras - which has more photos.

The Perry's had listed the home for sale with many agents over recent years, and Rod says in that article, they plan to travel the world when the sale is completed. I will not get tacky and touch on the price range, which has jumped around in a many Million $ price band, but unless you had a lazy 8 figures or so at your disposal, it will not have been quite in your league!

It was set for Auction in Cairns on November 30, and the current agent told the "Australian Financial Review" the owners were determined to move on, and the home would sell on the day "totally without reserve", to whoever made the highest bid. I enjoy the tropics, so carefully raided the piggy bank, and grabbed the dollar coins lost down the back of the sofa, all poised to strike decisively on the day.

Disappointment loomed however, as the agent announced to the national Fairfax press the day before the sale, that a southern state family had made a pre-auction offer the day before, that the Perry's had accepted, and "Alkira" was no longer for sale.
Perry's "Alkira" Now Sold.
| | | |
| --- | --- | --- |
| | "Alkira" looks quite spectacular as is self-evident, and Rod says it is sited on about 75 acres of Daintree Rainforest in far North Queensland. The selling agent stated the original asking price was around what it cost the Perry's for the land, added to the huge cost of building the massive home, in a truly inaccessible location for most tradespeople. | |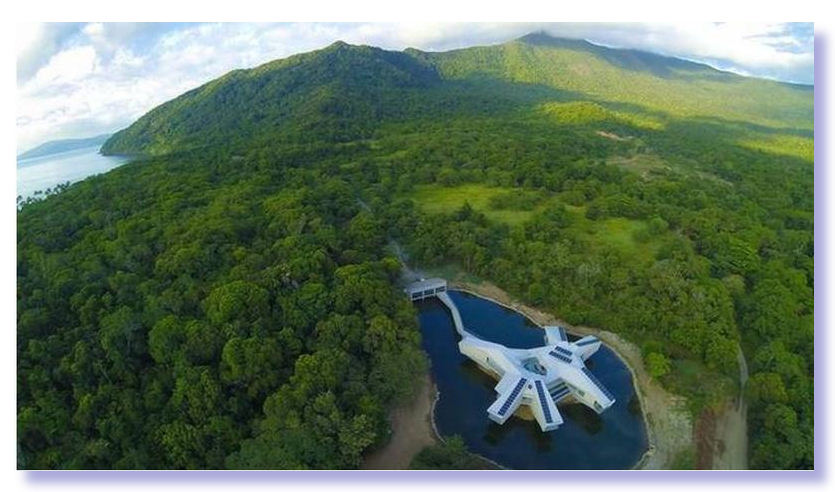 "Floats" on man-made lake.
The house is located in the only place on the planet covered by two World Heritage listings - one for the Great Barrier Reef, and one for the Wet Tropics Heritage area. Rod said obtaining permits alone took about a year, with the design necessitating water to be pumped from a nearby creek, to the man-made lake the house seemingly "floats" upon.

tinyurl.com/AlkiraSB is the stampboards thread Rod started on his unique Rainforest property, with many extra photos of it. With a ton of room inside, and a private beach nearby, sounds like quite a getaway from the madding crowds! Nice place to work out of, and they will have many fond memories from there, I am sure.

Where the Perry's will be based going forward, I am not certain. Rod told me he loved the relaxed and casual and warm lifestyle up there, and when I had dinner with him after Arthur Gray's funeral, he said that was the first time he'd worn a tie for "years". My personal hunch however is "Casa Perry 2017" will have a postcode starting with a 3.

As Rod summed up the recent sale on www.stampboards.com a few days after it completed - "Jimmy" and I have parted company. I believe our association has been good both for "Jimmy's" legacy, and Philately. - tinyurl.com/AlkiraSB
USA Columbus Stamp Grading.
The American 1893 "Landing Of Columbus" series is globally popular, and as all collectors know, is very expensive. They are all inscribed "1892" but no values were issued until 1893 for some reason.

The high values of $1, $2, $3, $4 and $5 caused worldwide screeching at the time, due to the "excessive" face value. And little wonder - in the half century history of USA postage stamps, no postage stamp had ever before had a face value of more than 90 cents!

Remember domestic postage at that time was a mere 2¢, and even the $1 value was 50 of these stamps. Just ONE mint set of these would have cost a fortune to the average person, even in a well-paid job. Getting up near $A1,000 a set in today's money values.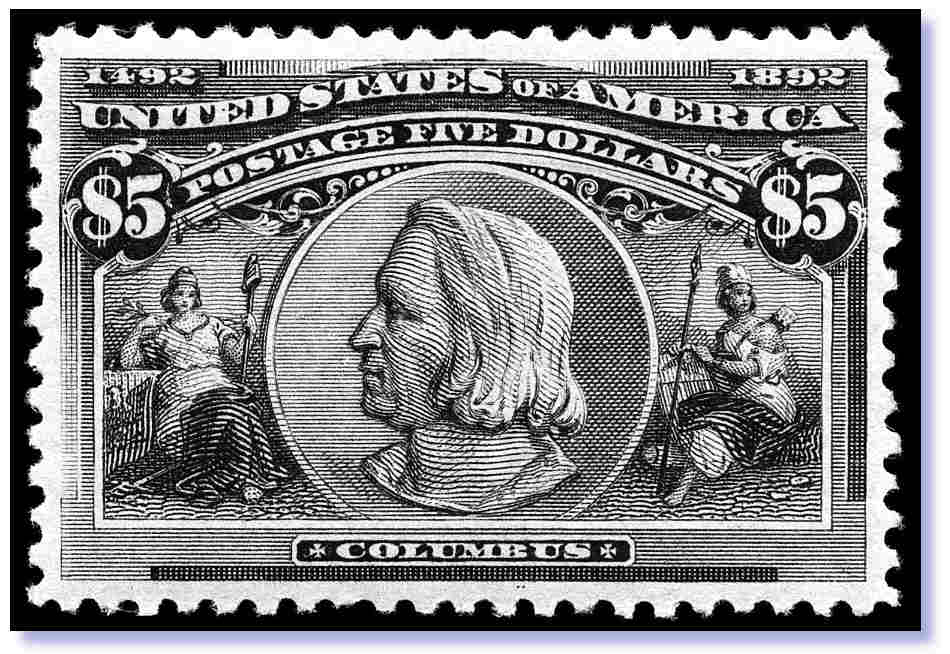 Sold for 9 times catalogue.
In 1893 the average annual salary of a pressman in the US Government Printing Office was $1,002 p.a, or $19.27 per week, so this set would have cost near a full week's pre-tax wages of a Government Employee to buy, so clearly most did not bother. Only 26,350 sets were ever sold. TINY for the USA. The 1913 Roos had TEN times that sold.

So, few mint were purchased, especially of the five top "Dollar" values and they are all worth $1000s each today MUH, as all are scarce. Consequently, very few large mint Multiples are known, due to the massive face value. The only Hi-Val sheet I understand accepted as existing, is a sheet 100 of the $1 value. I saw it on offer at the New York Stamp Expo from Mystic Stamps, for $US1 million. They like round figures.

I've reported in the past that Harmers of New York auctioned a USA $5 Columbus for a record price. That $5 stamp - illustrated nearby, had a very obvious short perf at base that the gushing catalogue description did not mention at all, calling it 'flawless in every regard'. (Coff) It was PSE "graded" 95 from 100, and I have no idea how that high a grade could be assigned, with a top right corner like this, and a short perf.

This stamp had a Scott catalogue value of $US9,000 at that time of Auction in MUH condition. It sold for $US67,500 plus the 15% "Buyer Fee", or total invoice $US77,625 = $A105,066 then. That was then near NINE times full Scott catalogue value for a MUH stamp, seemingly far easier to find than any MUH 1913 £2 Kangaroo.

Was the buyer a collector? Quite possibly not - dealer Greg Manning purchased it on behalf of a client, so it may well have been purchased as an 'investment' by yet another American with "far more money than sense". A classic example of the silly American "numerical grading" madness, that in this case, cost someone a bundle I am sure, as it would not get $US77,625 today, you can bet.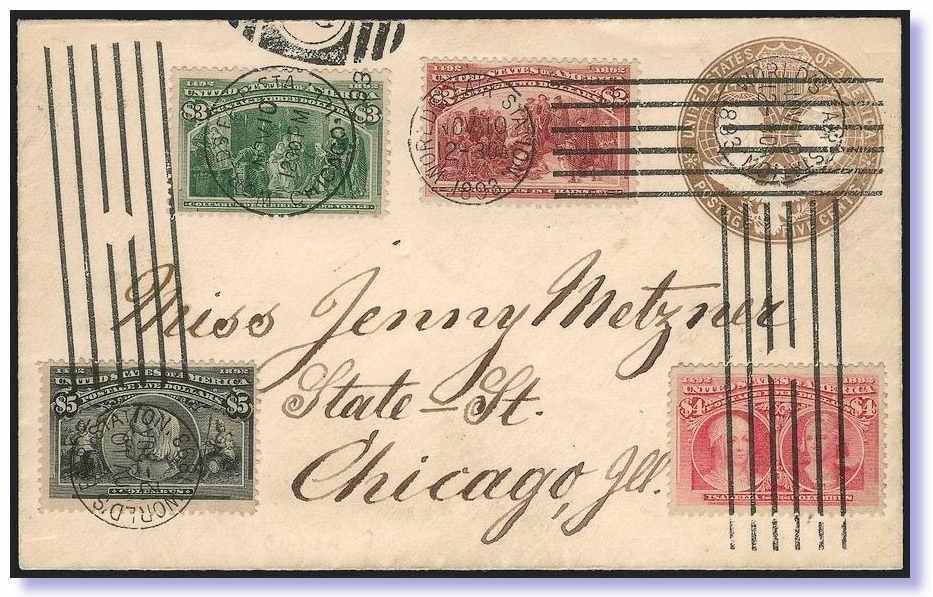 Quite an 1892 Expo Souvenir!
Numerous large blocks exist of this $5 Columbian stamp. American Dealer Harry Hagendorf showed me blocks of 4, 6 (all MUH!) and 8 of the $5 alone at his stand at 'Pacific 97'. He even had complete plate proof sheets of the 1893 Columbian issue!

I have seen covers bearing sets of Columbian high values, and many singles and mixes, and a pretty one is illustrated nearby of all the top 4 values, posted at the World's Fair Post Office in Chicago. For comparison, the 1913 £2 Roo does not exist on any cover or parcel tag, and no larger multiple than a block 4 exists, mint or used.
USA 1893 $2 Columbian SHEET found!
As I often write, "the last word in Philately" is NEVER written". As living proof of that, a full MUH sheet of 100, of the 1893 $2 value Columbian stamp recently surfaced in Germany, after 123 years of never being recorded by specialists or dealers.

They were folded flat in a manila folder, consigned by a widow whose husband had somehow obtained it, and some pristine MUH examples of the other high values. The sheet had separated into 2 panes, due to the long storage. The gum was pristine white MUH, and colours deep and rich.

The existence of this MUH sheet of 100 stamps, with both the sought after Plate Blocks, was not known to the stamp world until they appeared for sale late 2016 in a second string German Auction house, with an insanely low estimate. An auction with no online bidding option even, and a hopeless website, and not even a photo of the sheet I understand!

Hans Mohrmann in Munich was the lucky Auction who sold these November 15 with little publicity and no online bidding, and earned himself a cool ~150,000 Euro for doing nothing much at all. He is NOT to be confused with the large Hamburg stamp auction Edgar Mohrmann, purchased by Christoph Gaertner in early 2015.

The 19% German sales tax would have been avoided, had the vendor or her agent flown or mailed or Fedexed the sheet 100 to the USA. Essentially no sales tax there for anyone savvy. The market for this kind of unique piece is clearly in the USA, and not a small German Auction house with no internet bidding, and as far as I can determine, no catalogue illustration even.

From an opening bid of just €10,000 (about $US10,625), the sheet was purchased by German stamp dealer buyer, Stefan Hempfling. Who, after paying the 20% "Buyer Fee", and THEN Germany's 19% value-added tax on top, bought his invoice total to more than $US800,000 - way more than $A1 million.
Cost way over $1 Million.
| | | |
| --- | --- | --- |
| | Hempfling, who is primarily a dealer in German-area stamps and covers, also described himself in a phone interview on November 21 to Linn's as an avid buyer of "unusual worldwide postal history and stamps." He is based in the small town of Viereth-Trunstadt, an hour's drive north of Nuremberg. | |
"Private Treaty - Price On Request" (Or select the PDF to view in full page)
Scott Trepel, President of the market leading Robert A. Siegel Auction Galleries in New York City, flew to Munich to bid in person on this sheet. Trepel was the aggressive under-bidder on the day, but flew home empty-handed from the auction, with no sheet of 100 in his briefcase.

The sheet's new owner said the consignor had been an elderly widow, who inherited it, along with many German stamps, after her husband died several decades ago. She gradually sold off the German material, but the sheet of $2 Columbians and the other high 1893 values remained in her safe. She took it to Hans Mohrmann, who told her it would "probably fetch more than €10,000" at auction.

Asked whether he intended to preserve the sheet or break it into singles and blocks for resale, Hempfling said he was open to either option, and that his decision would rest on price. "I would be happy to sell it intact," he said, assuming he can justify it financially. "Perhaps to a museum, or to a wealthy American collector."
Estimate at cost of a Year Book.
The estimate on the full sheet of 100 was 10,000 Euro. Just 100 Euro a stamp - about what a current Australia Post Annual Album costs to buy today. It was as totally stupid, as offering a sheet of 1913 £2 Kangaroos with a E100 a stamp estimate. The wonders of the stamp auction market, when dealing with elderly widows. Scary.

Clearly that insane estimate was going to be surpassed, and LUCKILY for the clueless widow, it got surpassed by a huge amount. Had a large USA Auction house owner NOT flown over, to try and buy them, and been a very aggressive under-bidder, she might have taken a massive bath on the price. Stamp Sellers are truly dumb at times.

The sheet 100 appeared this week in a page ad from the irrepressible Christoph Gaertner of Germany. That is shown nearby, offered for "Private Treaty Sale - Price On Request". Christoph is a very savvy operator. Hempfling paid over $US800,000, so will clearly want far more than that, and Gaertner will add more on top, so now very clearly a $US1+++ Million mint sheet I'd guess.

I was unable to get an exact asking figure from Gaertner due to time zones, and the weekend, as am right on printer deadline for this Xmas early deadline month. He suggested I phone him back next week, but I am sure we are talking into 7 figures in USD. HOW many dollars more, you can ask yourself! And Memo to the Germans - 1893 was not 126 years ago!


A lowly ungraded $2 cheapie!
The highest price I can see paid for a SINGLE MUH $2 Columbian was $US92,000 ($A123,000) at Siegels in 2006 when this Loopy numerical grading Cult was at its peak, as it was graded - Gasp - a "95". The exact same stamp was sold in 2012, by the same auction, for $US77,625, about 15% less. Some savvy "investment" after 6 years.

These are the American Nutto prices for numerical grades - the perfect centred mint copy I show nearby, I cheerfully sold here for well under $A1,000 = $US700. For $A123,000, would you rather have 125 copies of that, or the near identical looking $2 stamp with a piece of paper saying "GRADED '95' - HOT DAWG, YIPETTY DOO DAAH" typed on it? These grading Cultists are nuts.

To be honest, I can't see any appreciable visual difference between that at less than $A1,000, or the $A123,000 copy on this link following, but what would us Dumb Ole Hayseeds down here know about stamp centering! If you want to see how mad these things get in the USA, visit here - tinyurl.com/2Columbus - add 15% Buyers Fee to it all, and then multiply all their figures by 1.33 to get in $A.

Anyway, all very strange. I do like the set. This $2 value depicts "Columbus In Chains". On the stamp, he is shown facing charges of administrative misconduct, after his arrest in Santo Domingo by Don Francisco de Bobadilla. The funny thing is Columbus never, ever, set foot anywhere on any part of the USA, a fact most Americans do not know, yet "Columbus Day" is a US Federal holiday.

And few Americans have a clue WHY they are called "America". Out of interest, I've asked 100s of Americans when travelling, and they mostly have no idea. There is no Amerigo Vespucci Federal Holiday there - THAT is for sure! The answer is, the name comes from Americus, the Latin version of the obscure Italian Explorer Vespucci's first name.
Something Fishy in the Faroes!
Stamp designers keep coming up with novel ideas to add to postage stamps. Some are pretty corny, but I really, really, like this one, and the research and work that went into it. Real craftsman tanned FISH SKIN has been affixed in little squares onto the stamps!

The Faroes Islands are a remote country in the North Sea, and are of course surrounded by Atlantic Cod fish. Over the centuries Cod fishing has been a mainstream part of the Island economy.

I am booked to fly there in a few months from Scotland, so this recent issue caught my eye - I might even mail a few "Cod Leather" stamped covers to myself from there if still on sale then! Very cool idea. And 1000 hours of work must have gone into the planning!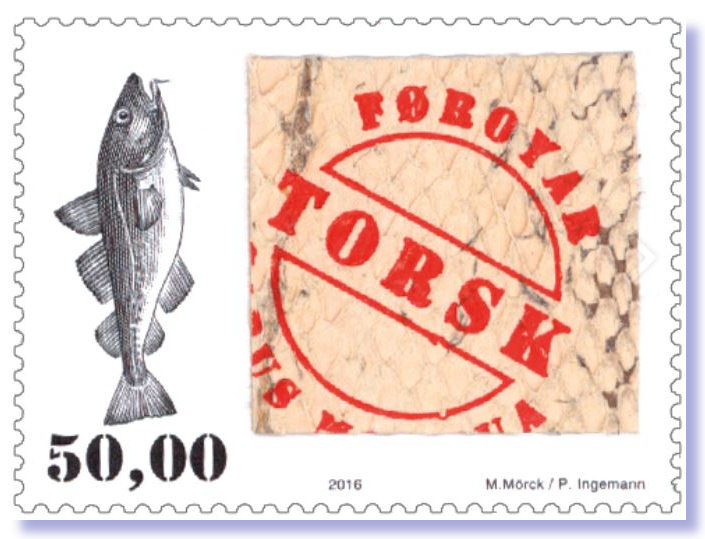 A unique Faroes stamp.
So how does a fish skin stamp design actually work? They were in principle designed as ordinary stamps with text, face value, and a small shaded drawing by master engraver Martin Mörck. But the similarity stops right there.

Each stamp has a square piece of tanned Cod skin glued onto it. It is not at all grey and dullish - but incredibly beautiful, and patterned with almost metallic colour tones, which change in hue depending on the angle it is viewed from. And each stamp is unique patterned as can be seen from the photos.
Tanned in Iceland!
The 50 Krona stamps are made with skin of Atlantic Cod fish caught of course in Faroese waters, and tanned by Atlantic Leather in Iceland, and then 'overprinted' in "Fire Engine Red" by Cartor Printers in France.

Stamboards member "Aethelwulf" took the 2 photos shown nearby recently, at the big Asian Stamp Exhibition in Taipei. Not great clarity of shots as it was in a glass display case via his cellphone, but they seem very pleased at showing their efforts in creating these unique Cod Skin stamps!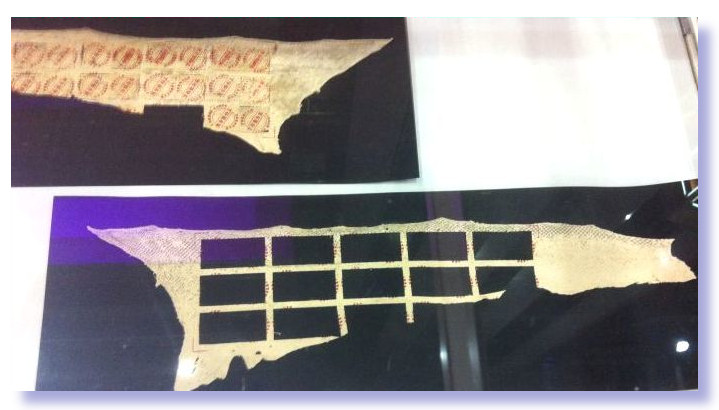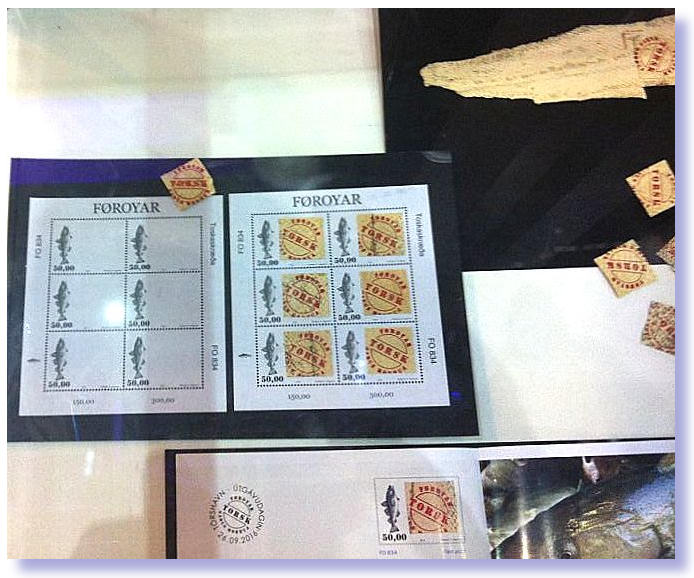 Cod Stamps from Cartor Printers.
The Atlantic Cod (Gadus Morhua) is usually about one metre in length, but can grow up to 2 metres, and weigh up to 96 kilos. It lives as long as 25 years, and is found on both sides of the Atlantic Ocean.

Cod is generally sandy brown, its back and sides are yellowish-green, with grey or brown spots, and with a white lateral stripe running along its sides. The belly is white or greyish-white. However, it can have other colour variations, depending on habitat.
"Stronger Than Cowhide"
Tanning of fish skin is an ancient art, although it has not been common in the post-war period. The quality of fish leather will of course vary, but it is a fact that properly treated skin of cod, salmon and lumpfish etc, is often stronger than ordinary cowhide.

The size of fish skins have made them especially well-suited for producing smaller items, such as shoes, bags, purses and watchbands. Sewn together, they can also be used in the garment industry, and to upholster furniture. Today's designers are getting more and more aware of fish skin practicality and beauty - and use is growing.

Stampboards member Greg Jorgensen in Queensland, who collects absolutely everything unusual in new stamp designs and technology, ordered a sheetlet of 10 x 50Kr direct from the Faroes Bureau, and sent me the scan you see nearby. Fast and easy he said - they even accept PayPal!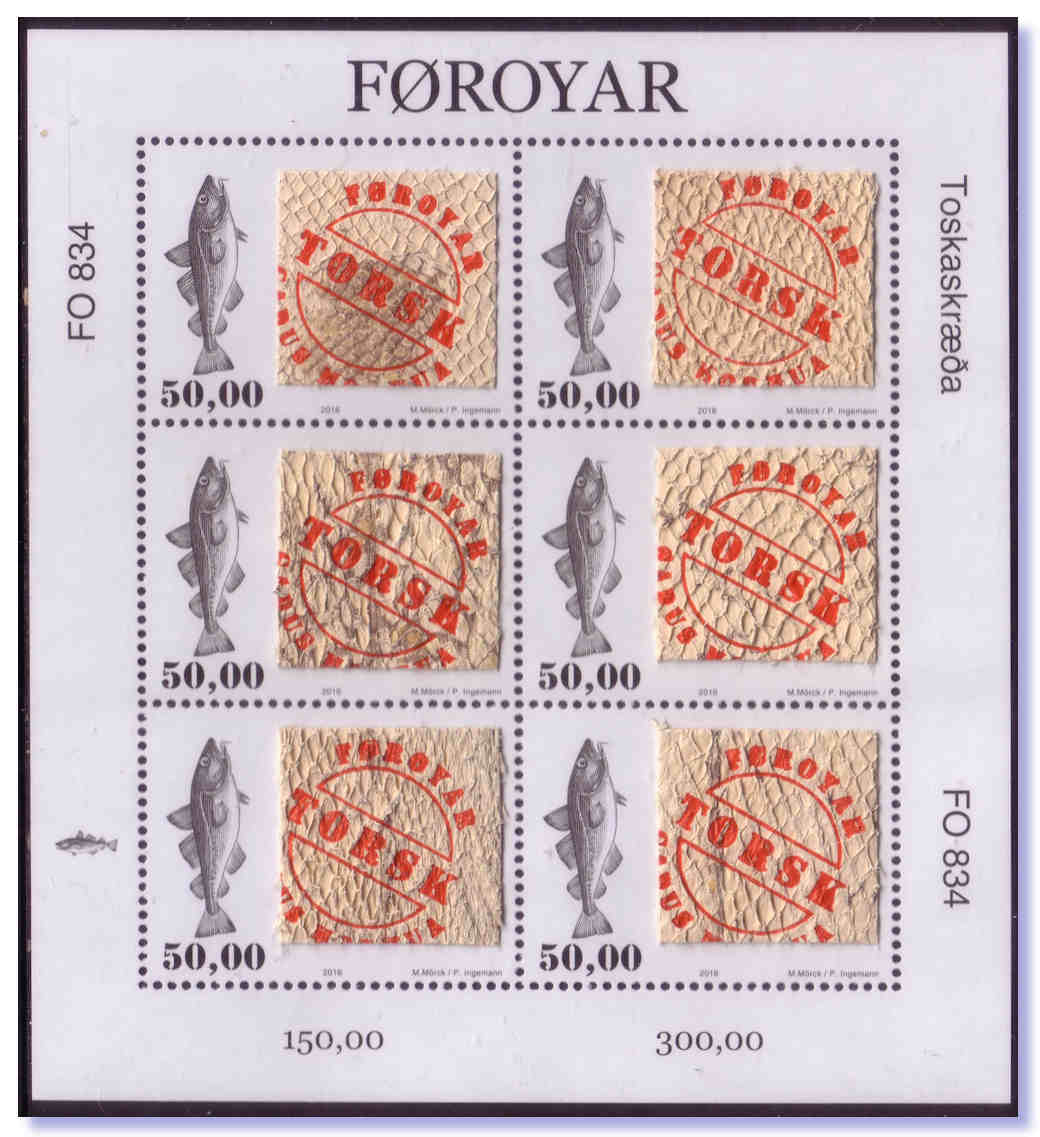 Bureau even accepts PayPal!
| | | |
| --- | --- | --- |
| | Greg commented - "And they actually smell! A bit like smoked fish. My wife loves fish, but she didn't like the smell at all! Many more of my unusual stamps with stuff affixed/attached to them can be found here - tinyurl.com/WeirdStamps | |
Ebay Scammers still mega Active.
More and more, real collectors are walking away from buying anything other than cheapies or new issues or accessories etc on eBay. The vast army of scammers and forgers and con-men on ebay grows like topsy, and they often change names, abandon accounts, get banned etc, and vanish into the green slime ooze where all crooks end up.

Your screaming ebay "Bargain" is no bargain at all of course, when you are later told by stamp experts the gum/perfin/cancel/perfs/overprint etc are forged or altered, and your only recourse a year later is to a deserted Hotmail account that never responds, after cleaning out their PayPal funds. Clever buying, Mr Bunny!

Try invoking the "Guarantee" so many Bunnies are so comforted to read on ebay lots from these scammers - "Full Refund If Not Completely Satisfied". Try getting that "refund" a year later from BillyBob395471 - or one of his 100 aliases - long abandoned. It is a total Mug's Game, but very sadly there are 10,000s of active players a year.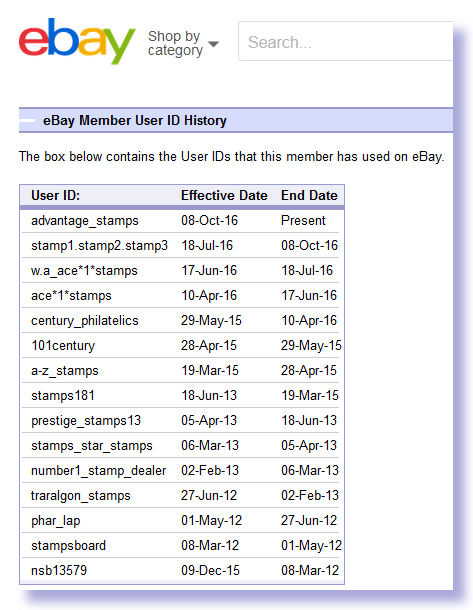 eBay lets the scammers do this.
If you are dumb enough to buy a "Genuine Solid Gold Rolex" in a dark bar on a Saturday night for $100, you are JUST the sucker these folks try and attract - just READ the stamp faking/cons that goes on, and ebay does NOTHING - tinyurl.com/StampScam

Ebay cheerfully allows these scammers to change their ebay name at will. The Sydney Forger has used HUNDREDS of names to rip off $ millions from Bunnies. This one current account he has already changed names on 15 times, as you can see. Ebay loves his type, as they make a fortune from all the fakes and regums and repairs.

Ebay encourages all that of course, as they make money from EVERY sale, fake or real. They have ZERO interest in whether your collection is riddled with fakes and duds bought there, or who sells it. Ebay/PayPal make about 10% from every sale, and they also appear to endorse "Shill" bidding to run up the "Bunnies", as it is also hugely profitable.

I read that the STAMPS division on eBay is their second WORST performer globally. If true, little wonder, as eBay themselves by their inaction in removing the fakers endlessly reported to them, actively aid and abet their activities. And have driven off all the intelligent stamp buyers back to REAL stamp action houses that belong to Trade Bodies, and dealers who WILL be around in 2 or 5 or 10 years' time etc
Season's Greetings To All!
The stamp business for me has gone BALLISTIC this year. The weak $A has seen a vast surge in orders from overseas, USA especially, and particularly for better pieces in the 3 and 4 figure plus range, that I mostly deal in. Other dealer friends report the same kind of story and pattern this year.

Super low interest rates globally, and often nervous share markets, and even more nervous real estate markets in many countries, has seen a good deal of savvy money switching into better stamps. Which often rise 5% or more a year - mostly Tax Free for private collectors.

We spent last Christmas Day in the serene tranquillity of leafy historic UNESCO city Luang Prabang in Laos, a largish city I love, sited on the Mekong River, and still not heavily visited by tourists. Then off to Columbo Sri Lanka for last New Year's Eve, and days driving around that not often visited country. Back home via New Delhi, to the usual backlog of work!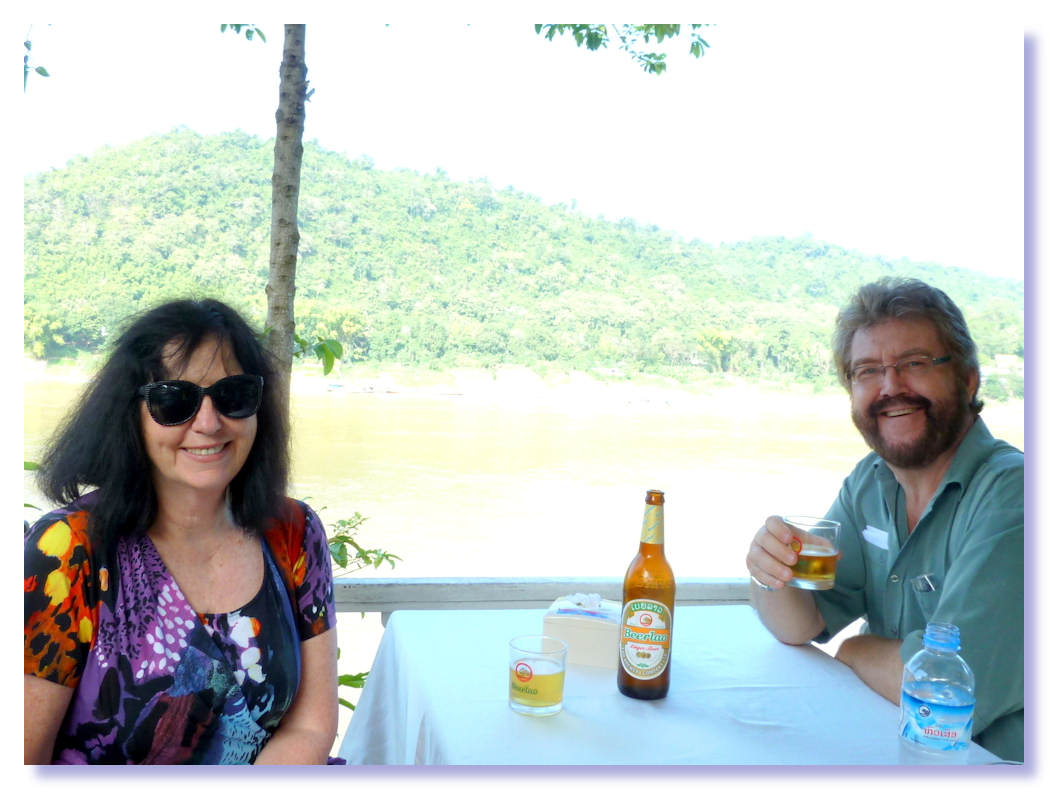 BeerLao on the Mekong, Christmas Day.
This Christmas we fly to Bangkok, then a tiny plane to the rural ROI ET airport, right up on the Lao border that sees almost zero tourists. Two hours of bumpy roads later, we stay in a tiny guesthouse in a remote village, where you stay much as a Thai rural local. Should be rather interesting - as long as they have internet! Back to Bangkok, a 5 hour flight to Beijing, and then down to pretty Huangzou (not to be confused with Guangzou!) in China.

Then fly to Taipei Taiwan, for a week of driving around the Taiwan countryside - I've never met anyone who has ever done that. We have New Year's Eve back in Taipei for 4 nights. NYE is a massive deal in Taipei, as it occurs even before Sydney, and Hotel prices downtown are totally INSANE - $500+ a night anywhere around Jan 1, as I sadly discovered when booking last moment as always.

Back to Bangkok for some shopping, and another flight across to Manila in the Philippines where I've not been for 35 years or so. A day or so there, and a flight back to Bangkok, then Sydney, to wade into the back-orders here in early January, and learn if the kids and their friends totally trashed the house, or only partly so!!

"Thank You" to all readers globally, for the many phone calls and letters and emails with comments - for AND against what has been written here, over the past year! It has been a most interesting one. Our mid-year visit to the "World Stamp Expo" in New York was a highlight, and a week in The Smoky Mountains after it, and a week in Japan.

"Merry Christmas and Happy New Year", to one and all, and your families. Be safe, have a great time among your family and friends and STAMPS - and enjoy the break! See you all in 2017.










Get my regular market update emails FREE. Stamp gossip, price trends, record sale prices, and many one-time stamp specials, wholesale bargains, and exciting offers and breaking philatelic news. A mini stamp magazine in every email! "KNOWLEDGE IS POWER". The ONE stamp list you MUST be on, to keep in touch with the rapidly changing world market. One client made $65,000 profit in a few months after following my specific advice. Sign up securely and quickly by clicking HERE to access my automated data base. And wiser still ADD your home AND work email, if I only have one right now. Add a stamp friend's email address if you wish. One short click and you are subscribed to probably the most read email list in the stamp world!




If you would like to be notified of updates to this website,
Click HERE.
If have any questions,
or comments regarding my site, please email me at glen@glenstephens.com
| | |
| --- | --- |
| | Search all my 300+ web pages! Simply type in what you are looking for. "Penny Black", "Latvia", "Imprints", "Morocco", "Fungi" "Year Books", etc! Using quotes ( " ) is more accurf used with no quotes. Search is NOT case sensitive. Tip - keep the search word singular - "Machin" yields far more matches than "Machins" etc. |


I am a Dealer Member in Good Standing Of:

Full Time Stamp Dealer in Australia for over 35+ years.
Life Member - American Stamp Dealers' Association. (New York)
Also Member of: Philatelic Traders' Society. (London)
GLEN $TEPHEN$

Full Time Stamp Dealer in Australia for 35+ years.

Life Member - American Stamp Dealers' Association. (ASDA - New York) Also Member - Philatelic Traders' Society

(PTS London) and many other philatelic bodies.

ALL Postage + Insurance is extra. Visa/BankCard/MasterCard/Amex all OK, at NO fee, even for "Lay-Bys"! All lots offered are subject to my usual

Conditions of Sale

, copy upon request .

Sydney's

BIGGEST STAMP BUYER

: Post me ANYTHING via Registered Mail for my same-day cheque. Avoid copping the Now normal 45% Auction "Commissions" (15% Buyer + 20% Seller + GST, etc) AND their five-month delays!

Read HERE for details.

"Lothlórien", 4 The Tor Walk, CASTLECRAG (Sydney), N.S.W. 2068

Australia





Phone 7 Days:

(02) 9958-1333

PO Box 4007, Castlecrag. NSW. 2068




E-Mail:

glen@glenstephens.com

The Number #1 Web Sites:

and www.stampboards.com