Click To Go Back To The Main www.GlenStephens.com Stamps Homepage

Welcome! You are visitor
to www.GlenStephens.com




Glen Stephens
Monthly "Stamp News" Market Tipster Column


July 2011

---
Superb new Queensland Cancels book
As I often type here - "Knowledge Is Power" .

I've typed it 1000 times at least about stamps, in 30 years of writing monthly magazine columns etc. It will probably be chipped onto my granite headstone.

None of us knows everything about stamps - me most especially!

We need detailed specialised works to do most of the work, and the authors of those volumes we should ALL be greatly indebted to.

There is ZERO money to be made in philatelic publishing. You are often getting a lifetime of knowledge for the cost of dinner for 2. They deserve our support.

Bernie Manning is a well known Victorian collector, and created global interest with his 257 large page "Volume 1" work of "Queensland Numeral Cancels" – reviewed here in October 2009.

The even thicker Volume TWO - the circular cancellations right up the Kangaroo period has just been published, and the cover is shown nearby.

As a perfect example to all readers on WHY you might be wise to buy this work, take a look at this old cover nearby, that I found this month in a grotty box from an estate.

It was only a cover front actually, and in less than stellar shape as can be seen, with foxing on the common stamps, so I did not give it a second glance really.

Commercial, addressed to the Editor of the "Nord-Australische Zeitung", the German language newspaper in very nearby Brisbane, and mailed August 2, 1882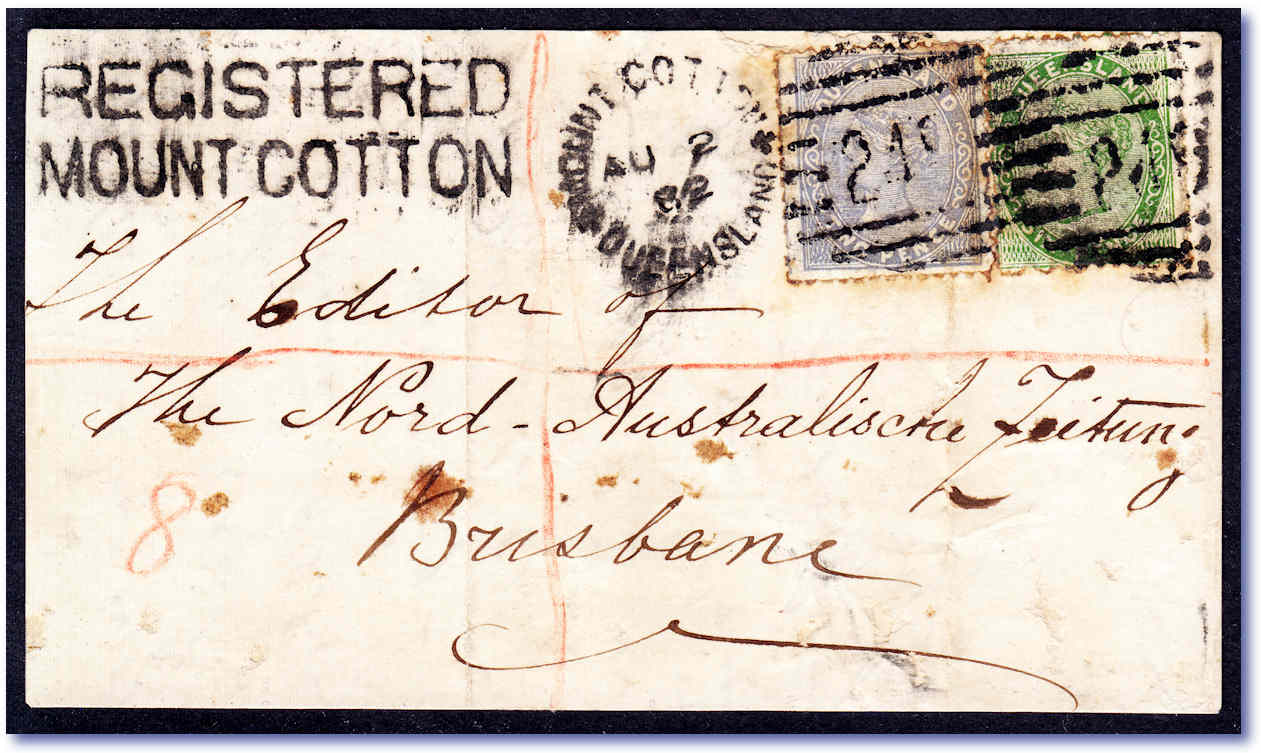 QLD cover find of the year?
It was accompanied by all kinds of other no-account rubbish, and that fistful all were tossed into my next junk carton, which sits on the floor next to my desk.

I just toss in things of limited interest, (to me!) or things far too hard to sort out or research in there etc - and offer it on stampboards when full, for $100-$150 or so.
It was already in the Junk Box
Time is the enemy of a dealer if you are busy, and generally I do not get time to look up or sort out, anything other than the screamingly obvious.

Anyway, being a lazy sod I seldom look up postmarks, as that means getting up off my warm comfy chair.

LUCKILY, on my desk, I had Bernie Manning's great new 270 page "Queensland Circular Postmark" book that I had only received a few days before to review.

Being bored, I thought I'd look up to see if that Mount Cotton cancel type with the "Flueron" period stops after the name was "Rated" - as they often are on that design cancel.

So I fished the 1882 front back out of the junk carton.

I assumed "Mount Cotton" itself was a common Queensland postal marking, as this cover has the cds, the numeral twice, and the 2 line Registered handstamp.

Being so wildly overdone, I deduced the clerk was cancel mad, and imagined lots of Mount Cotton would be around, if they were that zealous.

Flicking through Manning's huge new book, I saw no mention of "Mount Cotton" circular cancels of ANY kind.

So I sighed, cursed his presumed bad indexing, and then looked under "Mt. Cotton". Also zero.

This is a 270 page book and done meticulously, so I thought Bernie had messed up here, and left it out in error – which surprised me.

Went then to the index. No "Mount Cotton" or "Mt Cotton". Go to the "cancels not yet seen" page and zippo again.

Weird. Now this really had my interest raised a few notches, and my coffee was getting cold.

Got out Manning Volume ONE, which records the Queensland NUMERAL cancels, to see what office numeral '249' resolved to, and discover that Manning and all the Qld students did not know the answer to that either!

Finally went to the superb listing on stampboards of all the 2 line Queensland Registered handstamps - tinyurl.com/MtCotton
"Mount Cotton" does not exist?!
Even on that list, we find that the "MOUNT COTTON" 2 liner is not to be seen. Never been recorded by anyone it seems or even guessed to exist.

So here we have an item with a superb strike of the 2 line Registered cancel - never sighted before.

Also a good dated strike of the "Mount Cotton" cds that also has never been seen by anyone it seems, and the rare Queensland numeral "249" that we now can allocate without any doubt to Mount Cotton.

Each on their own are choice pieces for any Queensland cancel collector, even on loose stamps.

The TRIO of cancels all on one cover is clearly "The Holy Grail" to any serious Exhibitor or collector.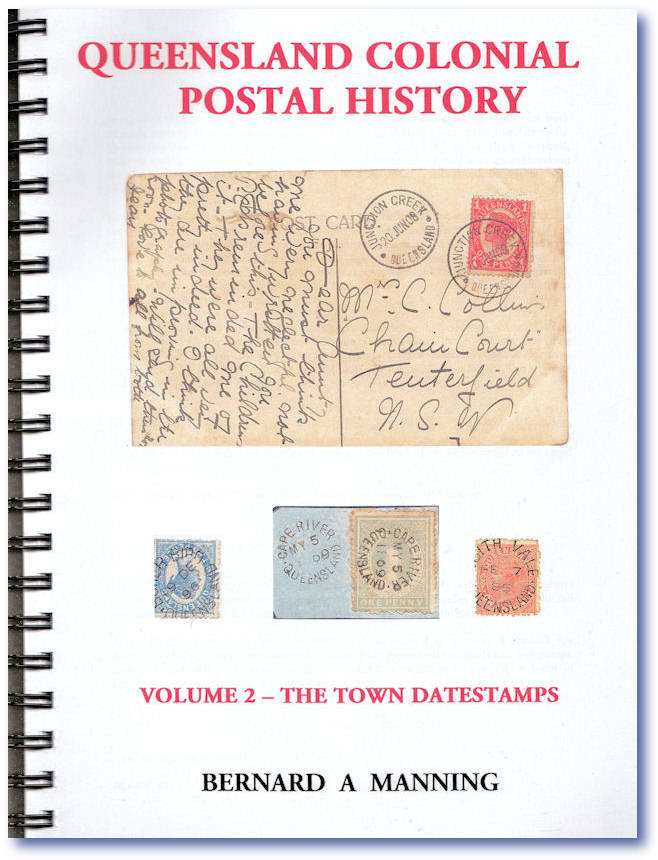 Just issued new Manning cancels Volume 2
Granted, these books are not cheap, but let me assure you the retail price of both books combined is FAR less than what the new owner cheerfully parted with, to own this piece.

I'm pleased to report it is in very safe hands, and may well appear on the cover of Manning Volume 3 - "The Instructional Markings of Queensland".

And who knows what other valuable cancels or numbers you will find in a lifetime of owning such works, as a bonus?

Money well spent, as Queensland 1d and 2d QV stamps are often a few $$s a 100 in bundleware, to this day.

In short, a cover that was ALREADY in the junk box, and would have stayed there if Bernie Manning's "Queensland Town Datestamps" book was not on my desk.

It is the Queensland cancel cover find of the year - indeed of the past decade most likely.

I paid nothing for it, and probably if it went into a junk box the buyer of that would have soaked the stamps off, as it is only a front in fairly rough shape - who knows?

If soaked, neither numeral "249" would be discernible, so we have $1 of heavy cancel, foxed stamps at the end.
The last word is NEVER written
Made my day, and it also goes to prove the last word is NEVER written in philately, and even after the 130 years since this was mailed, new discoveries can still be made, often from humble sources.

Never been seen by a dealer before it seems likely, and it finally comes to light. "Knowledge Is Power".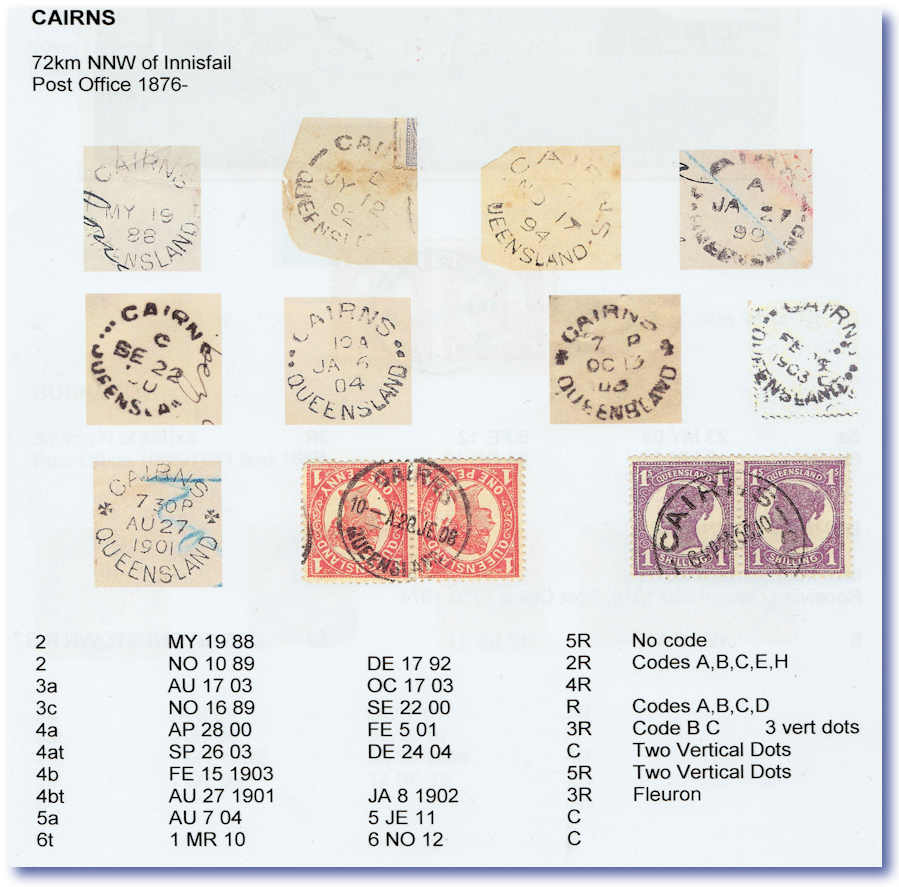 Cairns Cancels - mostly RARE!
Any collector or dealer NOT owning this new work is foolish. An otherwise 10c stamp can be worth $300 or so IF you spot the good cancels.

Anyone seeing a large town cds like "Cairns" usually does not give it a second glance. I certainly never do!

As the page above shows there are both 4R and pricey 5R types from Cairns. Indeed of the ten known Cairns cancel types, SEVEN (70%) are Rarity Rated!

However without this book you'd have zero clue which was which. And a "5R" nice strike find, just once in your life, would buy you the PAIR of books!

I've sold cartons literally of Manning Volume #1 in the past year - and all other dealers who stock literature should also have stock, plus the author!

"Queensland Volume 2 – The Town Datestamps" by Bernie Manning is wire spiral-bound, 270 large A4 size colour pages, and if you buy both together you can often get a decent discount - tinyurl.com/2Manning

If I did not have BOTH books on my desk, I'd have assumed the absence of the "MOUNT COTTON" cds listing was just a checking error.

Bernie Manning has worked for years with a number of other enthusiasts, to access as much material as possible.

This ensured that both his coverage and his rarity ratings are as accurate and reliable as possible.

A lot of these type of works are "Lone Wolf" efforts, laughed at by other collectors of the field as they were not consulted and feel the ratings are wrong.

The new work covers 700 town names and 1,600 cancellation types. Ratings are based on a census of over 12,000 cancellations owned by a very wide range of collectors.

A most useful book to own, and a fine effort Manning has made to get these to the market, and greatly increase interest in this field.
Album Pages for PNC's
Like most dealers here, I sell a lot of "PNC's" – "Postal/Numismatic Covers". Basically FDCs, with related new issue coins cleverly inset into them.

The earlier ones are still in high demand, and some sell for several $100s each, like the 2000 Victoria Cross "For Valour" shown nearby - which sells readily for about $A250.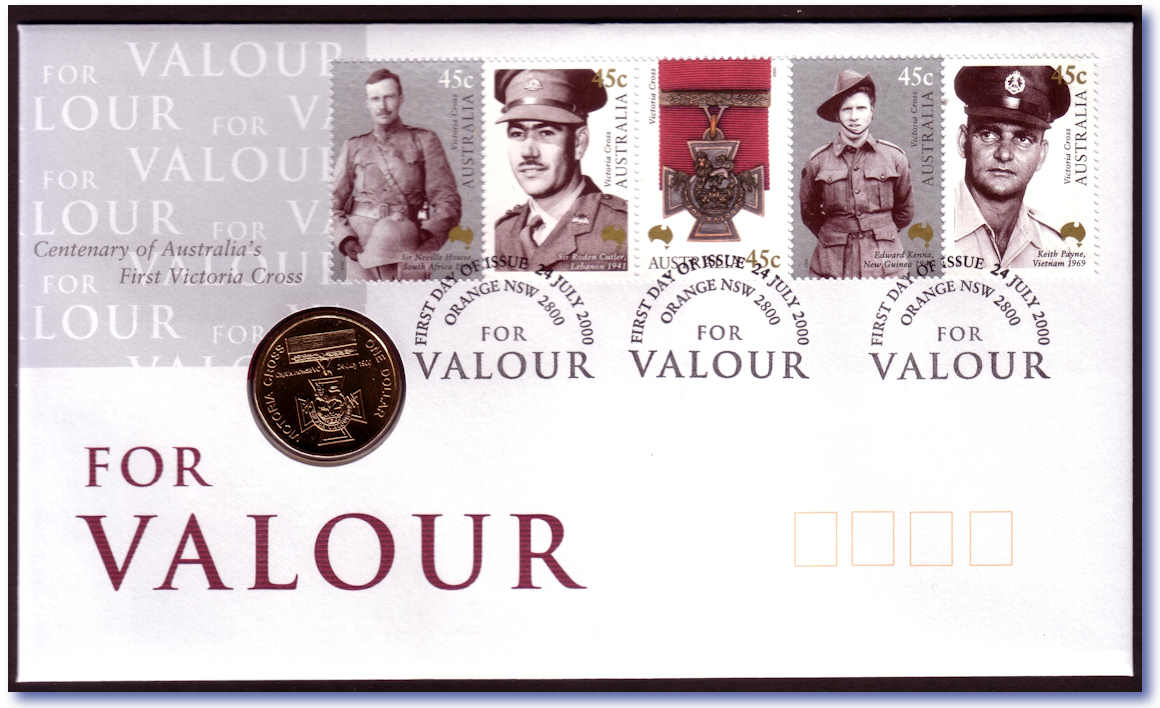 A $250 For Valour "PNC"
The value of a scarce PNC is very entirely determined by condition.

As they are essentially a heavy FDC with a coin inset into it, they really pose special storage problems.

Not only the usual banged and bent corners, and scuff and surface marks - but more often indentation from other PNC's when a bunch of them are stored together.

They can be placed into standard FDC pages, but the backs are not visible - and of course the reverse of the coins cannot then be seen.
Specially moulded solution
A Sydney collector has solved the storage issue, and gone and had a special page manufactured, to the exact size of our PNCs.

This clever clear capsulation "bubble" stops the PNC from moving, and at the same time allows both sides to be easily viewed in your normal binder choice.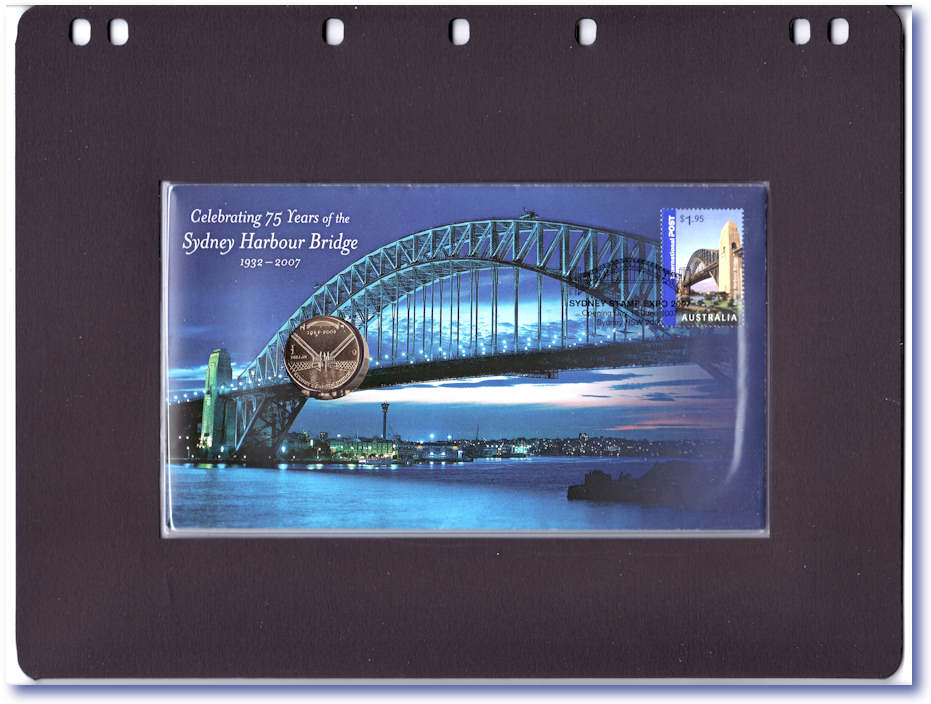 A safe and simple PNC storage
A simple system, and the maker is Swiss born, and has ensured only quality, acid-free materials were used. He says the 7 hole punch will fit all standard binders.

The maker says this about the "Light-Horse" branded pages -

"They are thermo-formed PVC, mounted with double-sided tape on both windows. All you do is place your PNC on one side of the window-blister, remove the pre-mounted carrier-paper off the double-sided tape, fold it onto itself, and it is ready to place in the album!"

An interesting and unique new product, and one that will save your expensive PNC's from any damage in storage – and hence retain their value.

Full contact details, the cost of a pack of 10, and many more photos are at - tinyurl.com/PNCpage - or email - lighthorse.album@bigpond.com

Dealers who do shows would be well advised to house all the pricier ones in these pages to stop damage, and up-sell the buyer to a pack 10 etc when handing it over!
PNG PO loses The Plot?
Did you know the recent PNG stamp issue was entirely centred around Abraham Lincoln and the American Civil War?

PNG used to be easily THE most collected of all the Pacific small island nations.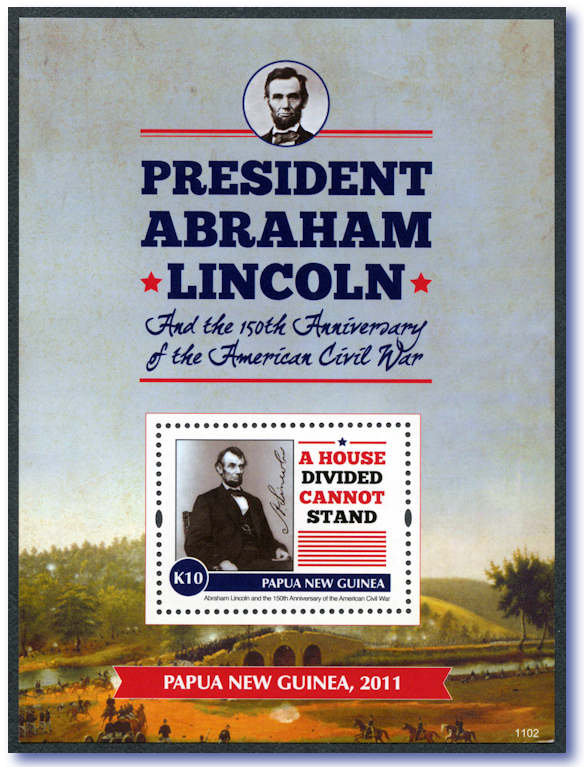 THIS is a Bird Of Paradise??
VERY conservative issue policy, and RELEVANT and very attractive stamp designs.

Beautiful birds and animals, unique fish and native head-dresses, and local customs, people, and scenic beauty etc.

For that reason when collectors dispensed with buying many other nation's stamps, they kept on with PNG, as they were well managed and attractive, and affordable each year.

Not any longer sadly.

The massive IGPC in New York now design, print and advise on PNG stamp issues. This new issue is printed in CHINA!

Clearly $$$$ signs are now ruling the issue policy. This set has as much relevance to PNG as issuing a set for Stalin's Birthday does, or the 2,019th Anniversary of the building of Hadrian's Wall etc.

If you buy one of everything you are up for 154.40 Kina face, BEFORE your new issue dealer adds his mark-up.

Get with it PNG - this is the slippery slope. You'll be Tuvalu or Nauru VERY soon - i.e. near ZERO new issue sales or revenue. It does not take much to start the slide.

And once started, you are DOOMED - ask Nauru. Philatelic income essentially NIL it is understood.
Who is next - Richard Nixon?
Let the Americans run your New Issues, and you'll possibly have a Richard Nixon Mini Sheet next ... and one for Groundhog Day, and one for Al Capone's birthday etc.

Stop this nonsense – PLEASE. Stick to relevant and attractive and medium cost new issues, or your client base will FAST evaporate.

PNG has a unique culture, and countless beautiful and unique things to feature on her stamps. You do NOT need Lincoln, or Batman, or Lady GaGa.

Serious Memo to PNG Bureau
tinyurl.com/US-PNG was a voting poll on this new issue on stampboards.

Only 20% of the 90 votes approved or did not care, and an overwhelming 80% did not approve, or would not collect PNG going forward.

Please add your comment there – we are told the Bureau is reading the responses.

They are selling PNG Year albums going back 25 years. That is madness. WHO will buy New issues when that nonsense occurs?
Email etiquette Tips!
I get a load more email than most readers, due to these columns, a really busy website, and running stampboards.com etc.

On average there are 500-750 emails a day coming in, and there is one (1) person attending to them all – me!

When on holiday and I leave things a few days, I almost get the visual in the nearby cartoon!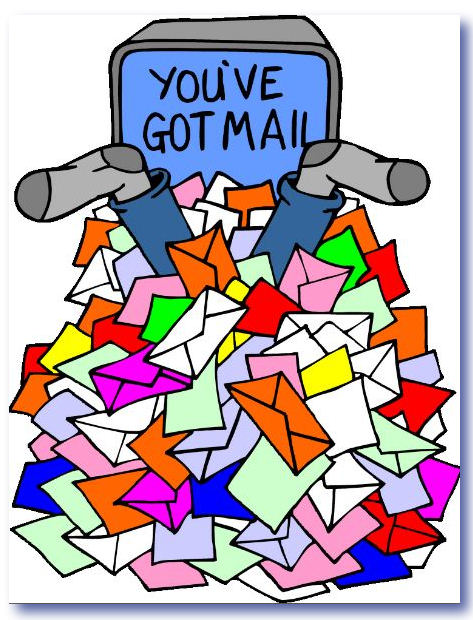 WHO said holidays are fun?!
Most readers will not get that volume, but there are some commonsense tips to take on board to ensure YOUR message actually gets to dealers!

I have a spam filter set to medium, so all the screamingly obvious Russian Spam is deleted without being seen, but the other 50% is left to me to be manually handled.

I've had the same ozemail email for 15 years, and several others, so am on all lists you can think of by now!
Many 100s a day deleted
So first thing in the morning after 8 hours of mail since going to bed, there might be 250 messages to look at quickly.

Trust me most are simply deleted, when very quickly scanning 100s of messages, as they appear to not be stamp emails to me.

The most common failing is stamp folks sending emails with NO Subject noted whatsoever.

That almost always get deleted unlooked at, yet even the largest of dealers seem to adopt that as standard policy at times. Max Stern & Co in Melbourne comes immediately to mind!

Lots of spam comes with no subject matter, and NOT using a subject is a near guarantee much of your mail will be deleted unread – as it looks exactly like SPAM.

Max Stern I'd mostly not delete as I know the sender, but the sender being "gj" or "mary" with no subject will be deleted by most busy people unread 99% of the time.

ALWAYS type a subject on emails!
So if you wonder why you often email dealers asking for something, or are trying to sell stamps, and never get responses - well this may be your answer!

Many readers are elderly, and it is a reality that their email set ups were done by "helpful" children or grandchildren.

So a LARGE amount of what I receive shows sender simply as "John" or "ag" or "Bluey" or "Wrigleys" or "grandpa" etc.

I have 5 "John" senders in my inbox, and 4 x "Tony" one of whom had a senior position at a large Uni. Using such vague and common sender ID really creates a mess sorting them apart.
Same sender name on all accounts
It is a fast simple job to re-set in Outlook, the "Sender Name" settings, and I urge all readers to do so. Send yourself an email and see WHAT appears in the "sender" column.

If it says "Dad's Email" or "gj" and your name is Gerald Jamieson please for goodness sakes adjust email settings to say "Gerald Jamieson" – or get the helpful relatives to do that!

Then when I am looking for your email to let you know your hingeless pages for Greenland have finally arrived, I search for Jamieson and your email is located.

If you sent it as "Dad's Email" of "gj" and signed it just Gerald and Gerry, your email cannot be located.

The global search box at lower left is a huge resource for finding client orders or wants, but ONLY works when the clients have had the brains to use their real names in the email.

If I am looking for an email from Gerald Jamieson I simply do an Alpha sort for "GE", and it will (hopefully) be in that batch.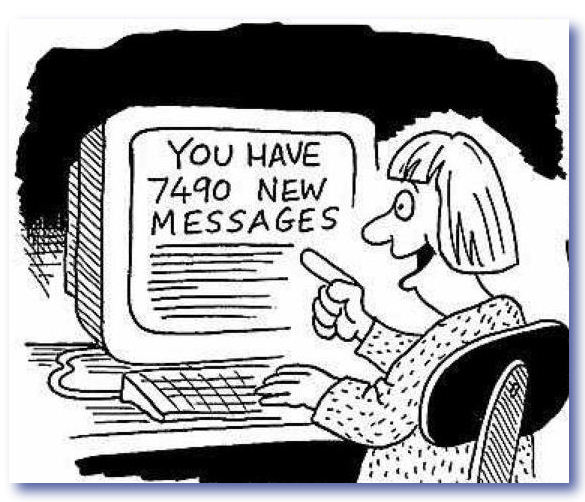 Make sure your message get READ!
As you can guess, If all your emails are actually sorted under "Dad's Email", we get nowhere.

It is really wise to add your full NAME within each email so that it can be indexed.
Use full name on all emails
Emailing me "Please order and mail me Lighthouse Greenland pages for 2005-2010 – thanks, John" is no use when the sender is "Dad's Email" etc.

And if you have a gmail account for ebay, and an Telstra account, a hotmail account, and a work account set them ALL to be the same thing - "Gerald Jamieson".

Most folks have these reading 3 or 4 ways - "Gerald Jamieson", "g. jamieson" and a "Jamieson,G" – again making auto sorting a mess. All MY emails say "Glen Stephens" – no matter what account sent from.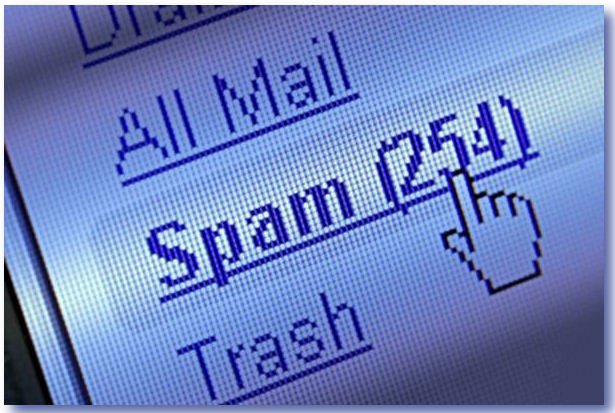 Do your emails go into SPAM boxes?
And masses of clients each year change email providers, and do not have the common sense or brains to pay the old company the pittance to on-forward your email for a year or three.

Hundreds of folks doubtless have your OLD email address. Either bulk email everyone in your address box of the change, or pay the small re-direction fee.

Email is an absolute essential these days, and not arranging forwarding is even dumber than moving house and not paying the PO to re-direct your letters.

Yet for email no-one thinks of it. They see a cheaper plan somewhere that saves them $5 a month - and 100 of emails a month you will be interested in, never reach you!

Dealers are equally guilty as collectors in this regard. Rant over!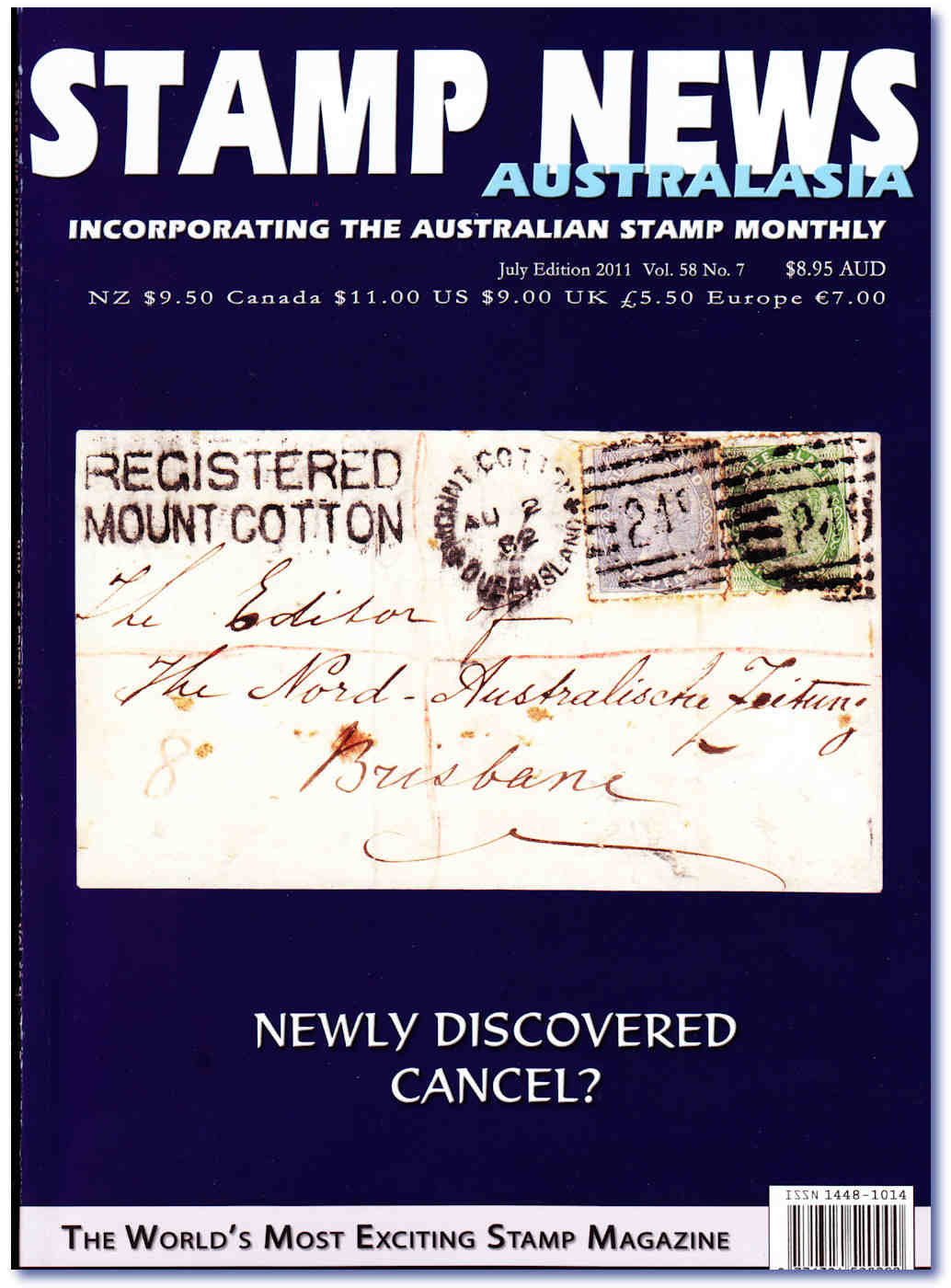 Instant Currency Conversion


FREE! Just click here...




If you would like to be notified of updates to this website,

Click HERE. If have any questions,
or comments regarding my site, please email me at glen@glenstephens.com



| | |
| --- | --- |
| | Search all my 300+ web pages! Simply type in what you are looking for. "Penny Black", "Latvia", "Imprints", "Morocco", "Fungi" "Year Books", etc! Using quotes ( " ) is more accurf used with no quotes. Search is NOT case sensitive. Tip - keep the search word singular - "Machin" yields far more matches than "Machins" etc. |


I am a Dealer Member in Good Standing Of:

Full Time Stamp Dealer in Australia for over 25 years.

Life Member - American Stamp Dealers' Association. (New York)
Also Member of: Philatelic Traders' Society. (London) ANDA. (Melbourne) American Philatelic Society, etc

GLEN $TEPHEN$

Full Time Stamp Dealer in Australia for over 25 years.

Life Member - American Stamp Dealers' Association. (New York)
Also Member - Philatelic Traders' Society. (London) ANDA. (Melbourne) American Philatelic Society, etc


ALL Postage + Insurance is extra. Visa/BankCard/MasterCard/Diners/Amex all OK, even for "Lay-Bys"! All lots offered are subject to my usual Conditions of Sale, copy upon request BIGGEST STAMP BUYER: Post me ANYTHING via Registered Mail for my same-day cheque. Avoid the GENERALLY 40% Auction " Commissions" (15% + 17½ + GST, etc.) AND their five-month delays! Read for details.

"Lothlórien4 The Tor Walk, CASTLECRAG (Sydney), N.S.W. 2068
Phone: (02) 9958-1333&n Fax: (02) 9958-1444 (Both 25 Hours, 7 Days!)
E-Mail: glen@glenstephens.com
Web Sites: www.glenstephens.com www.glenstephens.net or www.australianstamps.net

Sign up AUTOMATICALLY to my world renowned bi-weekly stamp gossip mailing list!

Click here to see MANY 1000s of stamp lots for sale at low $A Nett prices

Click here for all you need to know re SELLING your stamps for SPOT CASH

Click here for the current Monthly "Internet Only" special offers - CHEAP!

to read all my recent International stamp magazine articles. Click here to get back to the main www.GlenStephens.com Homepage

Click here to ORDER on-line ANY items from ANY of my dozens of lists

Click for all info on Conditions Of Sale, Payments, Shipping, Returns &c

Click here for the complete library of my very unusual world travels!

How to PAY me. I accept EVERYTHING - even blankets and axes and beads!

Australia Post Annual YEAR BOOKS - massive stock - '27% off' discount offer today!



Visit my new page on RARITIES - Roos & other expensive photo items.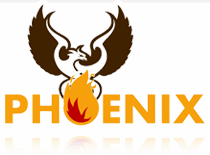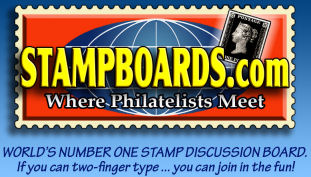 Instant Currency Conversion


FREE! Just click here...



E-mail me at glen@glenstephens.com -

Every credit card shown is accepted WITHOUT fee.
Earn Frequent Flier points while buying at bargain prices!
ALL prices are in weak Ozzie Dollars. I charge NO nasty, nasty
"Buyer's Commission" on stamps like nearly every "Auction" does.