Click To Go Back To The Main www.GlenStephens.com Stamps Homepage

Welcome! You are visitor
to www.GlenStephens.com




Glen Stephens
Monthly "Stamp News" Market Tipster Column


July 2013

---
3 day week NZ mail sought
Stampboards.com recently had an interesting discussion re New Zealand Post urging Government approval for a 3 days a week mail delivery.

Whilst the USA wrestles with lopping off the totally archaic Saturday mail delivery indulgence, that is sending the USPS broke, the Kiwis are taking this head on.

Things are grim over there with the PO budget, and they must FINALLY be getting to the end of Hobbit and Lord Of The Rings stamp issue possibilities!

I've lost track of how many they have issued in the past decade.

The most recent version in that series of stamps is illustrated nearby.

Never ending Hobbit/LOR issues!
The NZ Post chairman has written to the NZ Government applying to reduce the six day a week delivery down to a three day delivery per week.

Here is the extract from the leading "NZ Herald" national newspaper:

New Zealand Post is looking at cutting back its delivery services from six to three days a week and reducing staff numbers as it seeks to weather a sharp and "irreversible" downturn in postal revenue.

A letter from NZ Post chairman Michael Cullen to State Owned Enterprises minister Tony Ryall shows the board wants to make fundamental changes to core postal operations.

It is seeking urgent changes to a 1998 deed requiring the state owned agency to run a six-day-a-week postal service for 95 per cent of New Zealanders.

In his letter to Mr Ryall, Mr Cullen said NZ Post had reached the point where it could no longer cut costs and launch new products to counter falling postal revenue.

The board had virtually exhausted all "short term fixes" and needed to start making fundamental change to its operations this year, he said.

NZ Post chief executive Brian Roche told Radio New Zealand the agency was considering cutting deliveries to three days a week.
6 day service "unsustainable"
The service was unsustainable as people increasingly used email for immediate communication, he said.

"That is very sad, but it's inescapable."

Dropping the number of delivery days would see cuts in staff numbers, Mr Roche said.

"Again, that is incredibly sad but it's unavoidable."

A NZ Post statement said mail volumes were expected to drop about 40 per cent to just over 600 million a year in 2018.

The agency had endured the fastest ever decline in total mail volumes this year, and would start losing money from 2015 if no changes were made, it said.

"There is no turning back from this decline - every developed country in the world is facing year-on-year falls in mail volumes of five per cent."

"If New Zealand Post did nothing to change its processing and delivery systems, those postal losses would start at $10 million, balloon to over $20 million the next year and keep on growing."

Profits from Kiwibank and growing parcel delivery services were offsetting revenue losses from traditional post, an NZ Post spokesman said.

However, they could not be used to offset postal losses without degrading the business and cutting off investment opportunities, he concluded.
Standard & Poors downgrade
Standard & Poor's Ratings Services on May 25, 2013 affirmed the corporate credit and related debt rating for New Zealand Post Ltd at 'A+/A-1' but revised the long-term outlook from stable to negative.

The change in outlook is passed through to New Zealand Post's wholly owned subsidiary Kiwibank Ltd, while its issuer credit rating is also affirmed at 'A+/A-1'.

Standard & Poor's rationale for the change in outlook is based on the view of potential rising economic risks in the New Zealand economy, which may impact the banking sector.

New Zealand Post Group Chief Financial Officer Mark Yeoman said the amended outlook was disappointing and noted that it reflected the ratings agency's view on broader external factors, rather than organisational specific issues.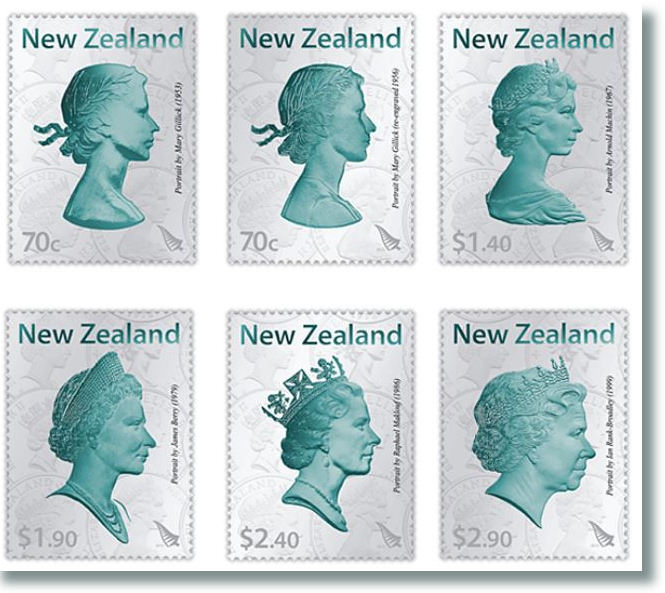 Her Majesty The Grump
Speaking of New Zealand stamps, I was surprised at how UNLIKE the Queen some of the new set of 6 celebrating her 60th Year Of Coronation looked.

That set of 6 stamps is illustrated nearby, and was issued on May 8, 2013.
Curious looking QE2 image
The designs are said to have been taken of images used on New Zealand coins, so I guess the PO cannot be blamed for some of the dreadful "likenesses" used - but the New Zealand Mint for approving them in the first place!

The second 70c (letter rate value) has the Queen appearing to have a passing likeness to Barbara Streisand.

The $1.80 value depicts Her Majesty as a pointy nosed shrew wearing a Tiara, and was designed by New Zealander James Berry.

Berry completed more than 1,000 stamp and coin designs in his lifetime. This was NOT his best work! Thankfully it had a short life of 3 years, and on the $1 coin only.

On these stamps The Queen's portrait has been created using "hotstamp foil and multiple-level embossing" according to the NZ Post notes.

They scan rather poorly, and the image shown nearby is the best NZPO could supply me with right on deadline, despite many attempts.
Eternally Youthful Queen
Such unflattering images by Colonials like James Berry, do not bother the Brits.

The "Machin Head" stamp series design has been issued for near 50 years now, the first tranche being released in 1967 – the Queen's head design being approved in 1966.

I'd hate to think how many denominations and colours they can be found in, and how many countless billions have been sold. Certainly they exist from ½d to £5 - and masses of values in between.

Then you can add endless specialised variations - with various phosphor bands, printers, papers, shades, elliptical perfs and the like, to the list as well.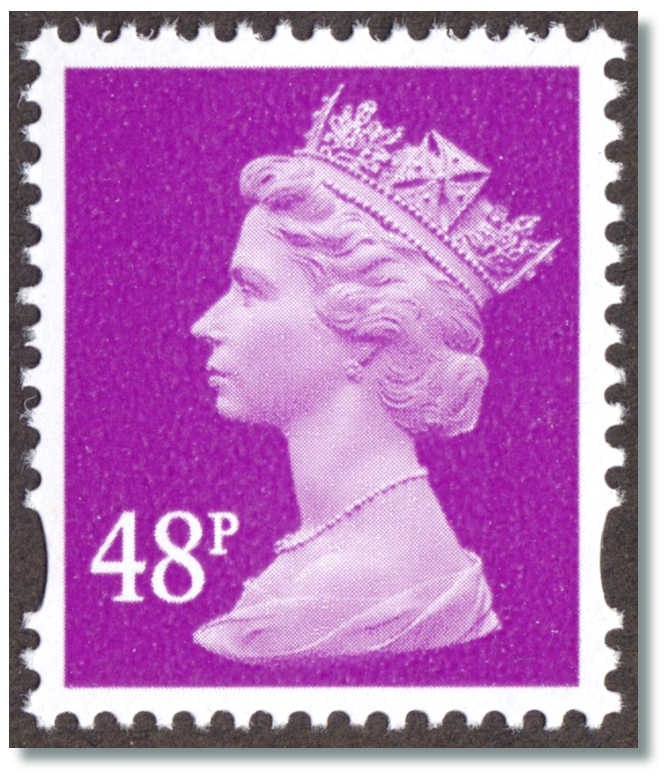 Not a new wrinkle in 46 Years!
The vanity of Queen Elizabeth 2, being very happy to have the exact same portrait on the most heavily used stamps for 46 years, is near impossible to believe to me, but it endures.

About 30 years ago there were moves to update her likeness ... after all it had then been used for 15 years.

The Queen's Private Secretary is quoted by Royal Mail as responding in part: "Her Majesty is very content with the Machin effigy, and thinks that a work of real quality is required, if this is to be replaced.

Needless to say after that firm and polite "NO" - they are stuck with the same Machin bust to this day, and the never aging Queen – who after 46 years has not changed one iota, or added a single wrinkle line, if you buy a stamp booklet in the UK!

There goes my Knighthood, I am afraid. "Sir Glen" has a rather pleasant ring to it, and think of all the airline upgrades I am now missing out on!
Royal Mail to be sold.
It may all be moot whether Machin heads get to their 50th Golden Anniversary soon.

Royal Mail will be sold soon by the Government, and then we may see Hobbits or Disney folks with the face of the Queen or Prince William, if entrepreneurial new owners get their hands on issue policy!

Maybe Prince Charles and Camilla in a Manchester United or Tottenham Hotspur jerseys will be big sellers? Probably not actually.

But Kate and William in them WILL be popular! And sipping Pepsi and holding iPhones. They have already started with Canada ones.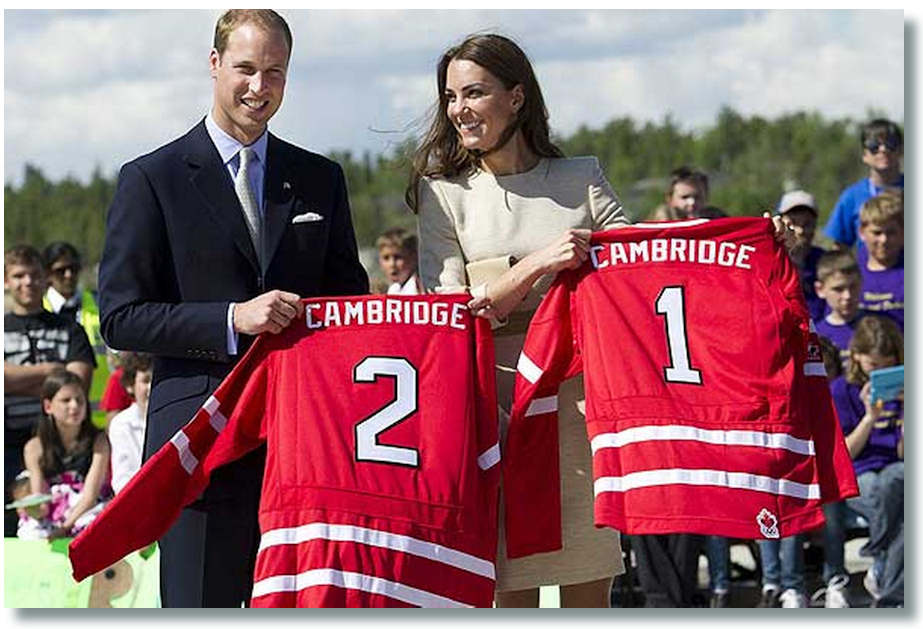 New stamp issue material?
Stampboards has reported official sources in the UK who confirm the UK Government has been sounding out "City" investors for many months about their appetite to buy shares in Royal Mail, ahead of a potential flotation of the Postal Service.

The sell-off formally began in May 2013, with the Government issuing tendering documents to banks to prepare for Royal Mail's flotation on the London Stock Exchange before April 2014.
Flotation by April 2014
Royal Mail (or the Post Office) has been 100% in Government hands for 497 years and will JUST miss its 500th Anniversary. Sad.

Several large European companies have had their Post Offices bought by private enterprise in recent years, and Britain will be no exception.

A privatisation of Royal Mail would be arguably the most significant privatisation of a UK asset since John Major sold the railways during the 1990's.

Analysts say that a restructured Royal Mail could be worth as much as £4bn, although that figure is likely to be at the upper end of the range that a flotation could attract.

Canadian Born Chief Executive Moya Greene also reaffirmed a Ministerial commitment to make shares available to Royal Mail employees - around 10% of them. Whether gifted or paid is unclear.

A flotation is viewed in Whitehall as a more attractive option than an outright sale of the company because of the shortage of trade buyers, and the political difficulties of negotiating a takeover by a financial investor such as a private equity firm.

Michael Fallon, the UK Business Minister, is taking a hands-on role regarding the Royal Mail sell-off.

Barclays is advising the Board of Royal Mail, which is chaired by Donald Brydon, a leading City figure, with UBS advising the Government.

Margaret Thatcher, who privatised British Gas, British Airways, British Telecom and dozens of other state-owned institutions in the 1980s, famously refused a sale of Royal Mail, saying she was: "not prepared to have the Queen's head privatised".
"Knowledge Is Power"
As my favourite stamp saying goes – "Knowledge Is Power". I've typed that 1000 times, and it never, ever, gets less relevant.

Take a good look at the 1d Red KGV envelope illustrated nearby.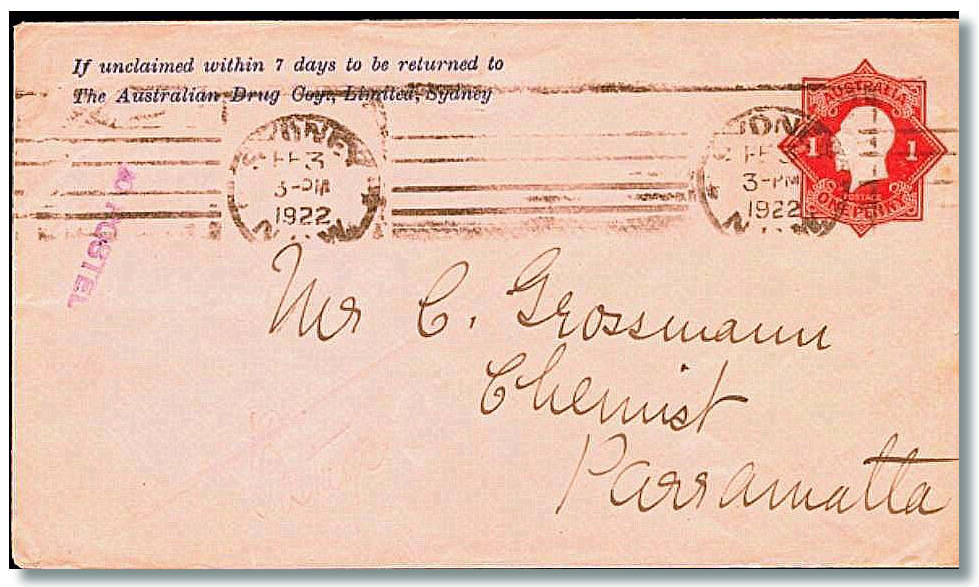 Would you pay $A8,225
Standard size, untidily cancelled 2d KGV, to a Chemist in Sydney, from a large drug company in Sydney.

The "20 posted" violet handstamp is merely an accounting/charging marking by Sydney GPO, noting 20 were mailed, and is of no consequence to value.

If you saw this in a club approval book, or on ebay, or a dealer $5 box, would you buy it?

Well the truth is I would not have looked twice at it, if it turned up in an estate lot here.

I buy 100s of such lots each year, often several cartons (or carloads!) a time, and flip through them pretty fast, and this would not have set off my radar at all.

If you were an Australian buyer of this "T" lot at a large auction here, it would have cost you $A8,225.

Why? Printing records show some 49,000 of this 1d red PTPO Envelopes were produced. However, this was the first example to be discovered.

Another long type one turned up soon after the original one was sold. Creased, and mailed from Melbourne, and also a "T" lot, it would have cost a local buyer $A5,820. It is shown nearby.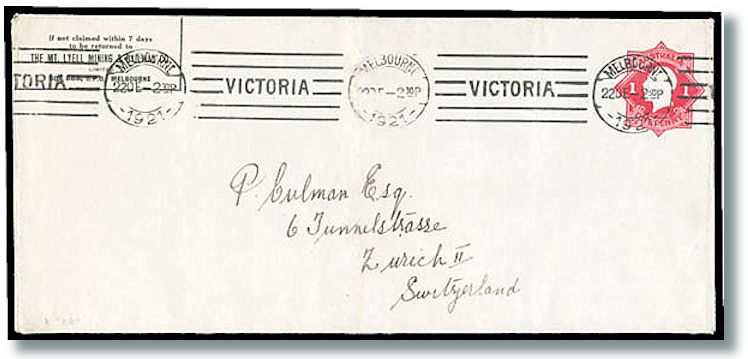 A cheapie at $A5,820
Are there more out there? Of COURSE. As a result of this piece I'd be most surprised if one or more did not turn up. Bottle of decent Bubbly to address below if you do please!

Even common looking window face types of these envelopes can get many $1000s.

The one shown nearby from 1924 was sold as a "T" lot by the same Prestige Philately Auction house, and a local would have paid $A4,300 for it.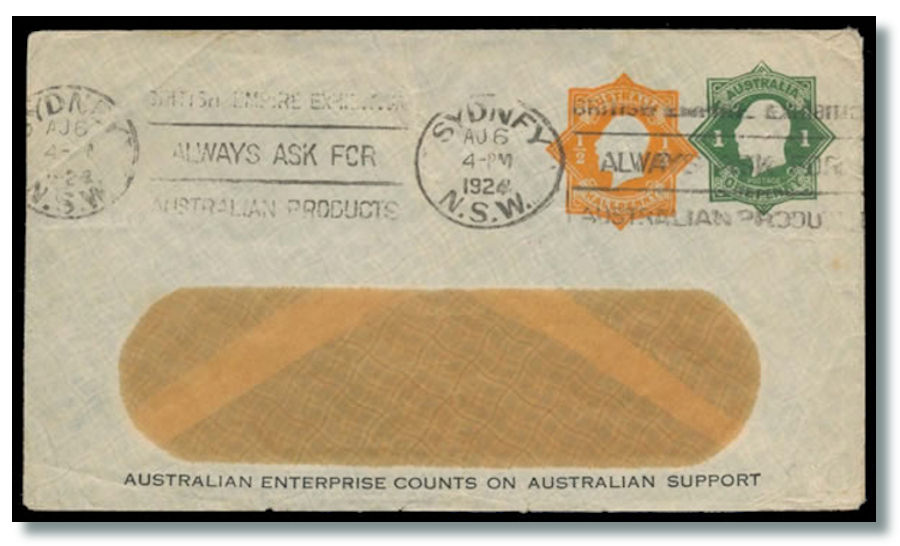 Auction price $4,300
The window faced PTPO envelope illustrated nearby with 2 stamps on it, cost a local buyer $A4,300 with all the add-ons at auction.

Again, an item most reading this would have flipped past even if priced at only $10-$20. I would have for sure.

Not any more, as there is now a handy, massive full colour and PRICED catalogue listing and illustrating these, and 1000s of other Stationary items.
An ESSENTIAL buy

If you only buy one catalogue each decade, whether you are dealer or a collector or Auction, you MUST have this one.

The new Brusden White ACSC "Postal Stationary" Catalogue covers right up to Decimal currency, from the first Federation issues.

I was the first dealer on earth to have this for sale, and show the front cover.

EVERY person I have shown this to, has been gob-smacked at the size, detail and scope in this. A credit to all involved.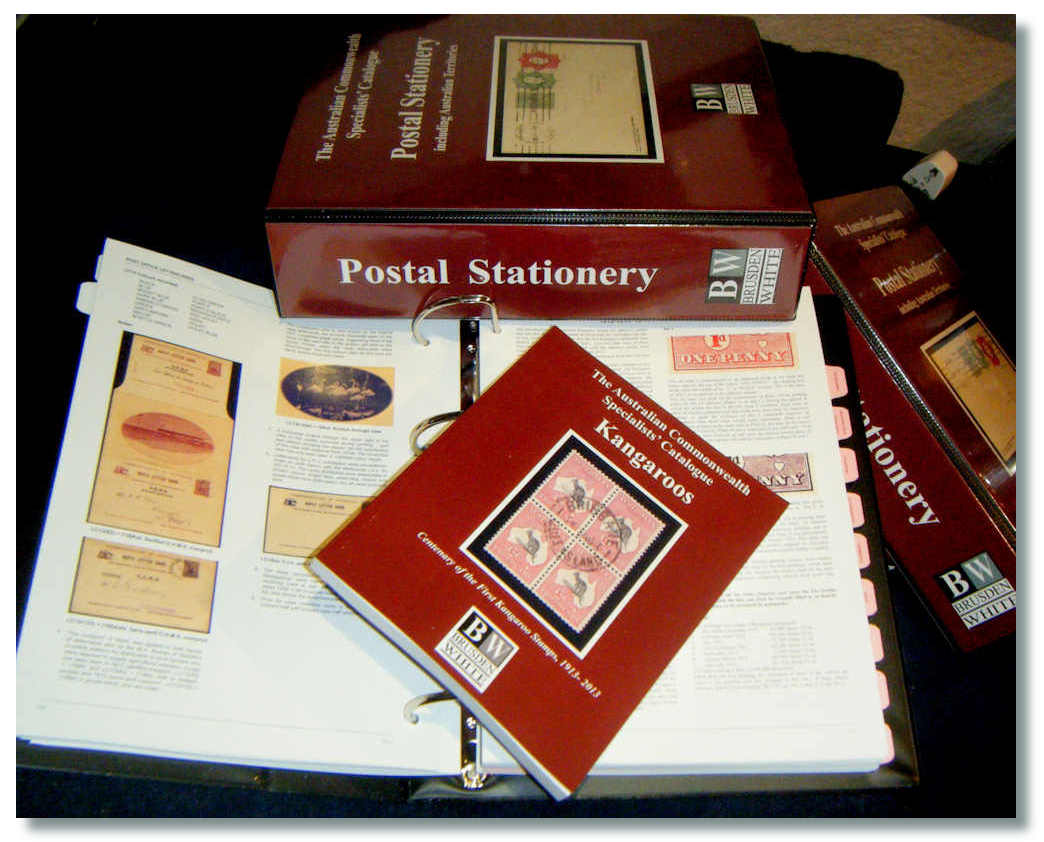 FOUR times size of "Kangaroos"
I sold well over 100 of the also new ACSC "Kangaroos" in a few weeks – and buyers all over the globe received them fast, well packed with nice VFU frankings – tinyurl.com/RooACSC

The most common innocuous looking thing might be valued at 10 or 20 times the purchase price of this catalogue. Like the piece on the front cover of it, which is worth some DOZENS of times the issue price!

All the "PTPO" (Printed To Private Order) issues are listed in great detail, and many run very many $1000s each – did YOU know that?

Well read the comments column above – you do NOW! Some are close to 5 figures, and you would not give them a sideways glance.
Every piece illustrated
EVERY item is illustrated in colour - a GODSEND for many of the earlier Registration envelopes etc. (Only 4 pieces in the entire book they were unable to get copies of to scan.)

For instance ALL the "View" Lettercards are now all illustrated (reduced in size of course) and priced SEPARATELY – some 170 different views!

And a half dozen different COLOURS exist on each – so a full collection is easily 1000+ pieces - just on view Lettercards.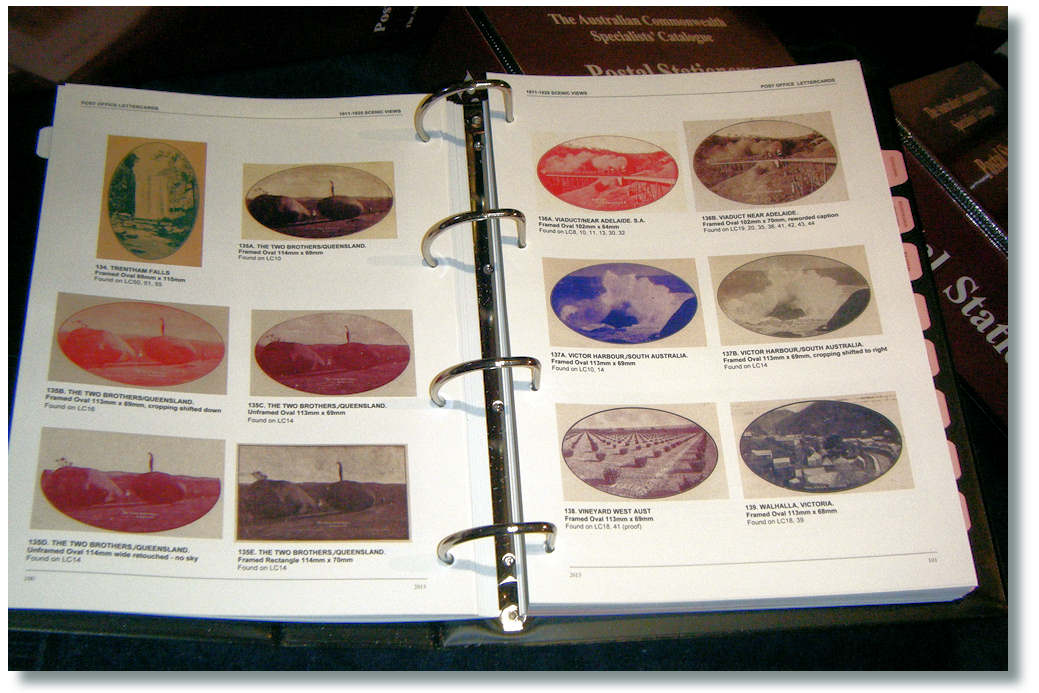 Lettercard collector heaven
Some of these are worth a fortune, and dealers without this book have not got a CLUE what is scarce, and what is not.

You will easily pay for this book with the first vaguely scarce view you pick up on ebay etc.

All the Aerograms are illustrated – many quite valuable, all the range of Military material, Food Parcel labels, and even all the myriad of different views on the initial 1911 "Coronation" set. All priced separately. Mint and used.
Values up to $15,000 apiece.
The highest price in here is $15,000 for a KGV low face value reply card, that I bet a lot of overseas (even local!) sellers would price at $20 retail, and cross their fingers!

It is huge - over 400 large A4 pages, on very heavy grade quality grade paper, in full colour – all proudly printed and produced here in Sydney Australia.

It lists and prices all stationery from the first 1911 Australia issue "The Coronation Series" postcards - right up until the last QE2 pre-decimal stationary issues for Australia and all the "Territories".

The book at 400+ pages is far too large for "perfect binding", as things like this will get a ton of use over time, and pages tend to fall out if perfect bound in this thickness,

So this catalogue comes in a large special loose leaf 4 ring binder - much like the initial Brusden White "ACSC" was issued in 20 years back. It has the relevant dividers etc for ease of speedy use, and index in front.

Being loose leaf, if sections are later updated or added later, the cost is far less for collectors, than buying the entire edition again.

Edited by Dr. Geoff Kellow, the usual super high standard of original research work and fine attention to detail has taken place.
New numbers printed info.
Geoff told me much of his original research at Note Printing Branch on numbers printed of these issues has never been published before.

Input from the collectors with the finest collections existing of this material, like John Sinfield and Mark Diserio have assisted enormously with the accuracy of listings.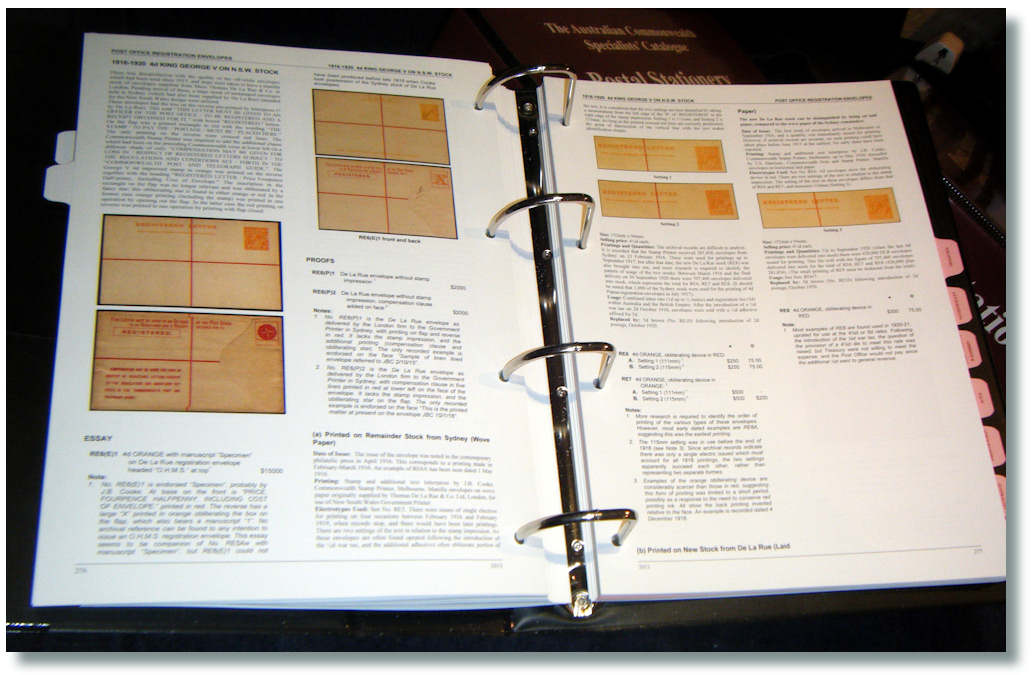 Registered have great future
Gary Watson from Prestige Auctions is acknowledged by all who know the area, as THE most on the ball person on earth re prices of this area of philately, and Gary has been in charge of setting accurate prices for the volume.

A true collaboration of leading experts in their field.

Not only Australia is covered, but the "Territories" - and that includes all the "Formular" Aerograms and airletters etc. High priced in here, but often sold for a song by clueless dealers.

And all the Papua early issues, and GRI material, and PNG and Cocos and Christmas Islands etc. This is now all listed and priced

I showed a client of mine at "Expo 2013" the Papua Lakatoi lettercard hand painted amended proofs, listed as unique that were in his collection that I valued for insurance recently!

This is HEAVY – about 3 kilos (near 7 lbs) when packed, and are bigger than the usual A4 size mailing box. I have a special way of packing/mailing them.

I have sold a half dozen huge factory CARTONS of these already, without any real advertising. It is a "buy on sight" item.

For foreign orders I mail Insured Post, and use a stunning new issue franking that you will be able to sell for near as much as mailing costs, I'll wager.
Great new area to consider
If a book like this gets just TWENTY new serious collectors globally into the field, prices will skyrocket on the scarcer pieces.

Get FIFTY new collectors started, and hold onto your hats. Dealer stock is near non-existent, and that is the key.

For anyone yearning for a challenging "new" field to embark upon – look no further.

JUST collecting View Lettercards would be a lifetime mission on its own.

There are a ton of quite scarce pieces still listed at very small bucks each, as demand is low.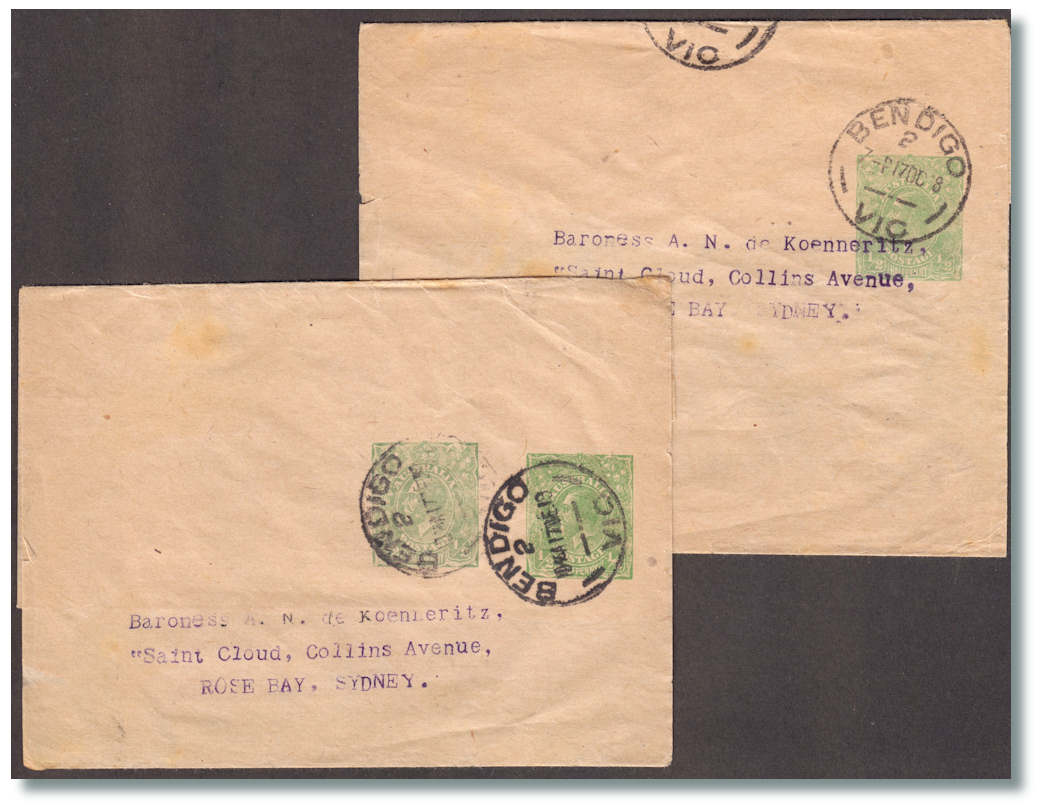 Worth way over full cat already
As a perfect example, here is an item I was listing up today for sale on stampboards.

This pair of unopened Newspaper wrappers shown nearby, to Baroness de Koenneritz, both from Bendigo, have a single ½d, and a double (War Tax era) ½d KGV – impressed years apart.

ACSC 1917 W3/W5. Full ACSC cat in 2013 is $A40. TWENTY years ago the ACSC listed them at $75. You could email 1000 dealers globally seeking these 2 wrappers, and get ZERO response.

Mr Watson and pricing panel did not reflect on it I am sure, but that silly price is ONE THIRD the cost of the current PO year album.

Would I rather have 3 matched sets of these Century old wrappers, or one PO annual album ... let me think hard on that!

Today many prices are a joke even in the brand new book, and I placed these 2 into stock for $A75 – the value of 20 years back, and in 5 years that will look cheap!

A "Must Buy" work, and you'll be the only loser if you do not own this one.

Things worth $1000s are often sold for dollars, as folks do not comprehend their value. As you can see here - tinyurl.com/OzPTPO









Get my regular market update emails FREE. Stamp gossip, price trends, record sale prices, and many one-time stamp specials, wholesale bargains, and exciting offers and breaking philatelic news. A mini stamp magazine in every email! "KNOWLEDGE IS POWER". The ONE stamp list you MUST be on, to keep in touch with the rapidly changing world market. One client made $65,000 profit in a few months after following my specific advice. Sign up securely and quickly by clicking HERE to access my automated data base. And wiser still ADD your home AND work email, if I only have one right now. Add a stamp friend's email address if you wish. One short click and you are subscribed to probably the most read email list in the stamp world!


Instant Currency Conversion


FREE! Just click here...




If you would like to be notified of updates to this website,
Click HERE.
If have any questions,
or comments regarding my site, please email me at glen@glenstephens.com
| | |
| --- | --- |
| | Search all my 300+ web pages! Simply type in what you are looking for. "Penny Black", "Latvia", "Imprints", "Morocco", "Fungi" "Year Books", etc! Using quotes ( " ) is more accurf used with no quotes. Search is NOT case sensitive. Tip - keep the search word singular - "Machin" yields far more matches than "Machins" etc. |


I am a Dealer Member in Good Standing Of:

Full Time Stamp Dealer in Australia for over 25 years.
Life Member - American Stamp Dealers' Association. (New York)
Also Member of: Philatelic Traders' Society. (London) ANDA. (Melbourne) American Philatelic Society, etc
GLEN $TEPHEN$
Full Time Stamp Dealer in Australia for over 25 years.
Life Member - American Stamp Dealers' Association. (New York)
Also Member - Philatelic Traders' Society. (London) ANDA. (Melbourne) American Philatelic Society, etc

ALL Postage + Insurance is extra. Visa/BankCard/MasterCard/Diners/Amex all OK, even for "Lay-Bys"! All lots offered are subject to my usual Conditions of Sale, copy upon request BIGGEST STAMP BUYER: Post me ANYTHING via Registered Mail for my same-day cheque. Avoid the GENERALLY 40% Auction " Commissions" (15% + 17½ + GST, etc.) AND their five-month delays! Read for details.
"Lothlórien4 The Tor Walk, CASTLECRAG (Sydney), N.S.W. 2068
Phone: (02) 9958-1333&n Fax: (02) 9958-1444 (Both 25 Hours, 7 Days!)
E-Mail: glen@glenstephens.com
Web Sites: www.glenstephens.com www.glenstephens.net or www.australianstamps.net