Click To Go Back To The Main www.GlenStephens.com Stamps Homepage

Welcome! You are visitor
to www.GlenStephens.com




Glen Stephens
Monthly "Stamp News" Market Tipster Column


July 2014

---
British Guiana 1856 1¢ stamp auctioned in
New York June 17, 2014, for well over $A10 MILLION
The unique 1856 British Guiana 1¢ Black on Magenta stamp was auctioned by Sothebys New York at 7pm local, on Tuesday June 17.

The massive price actually paid, after the outrageous 20% auction house "Buyer Fee" added was $US9.48 million which at time of the sale was $A10.154,536.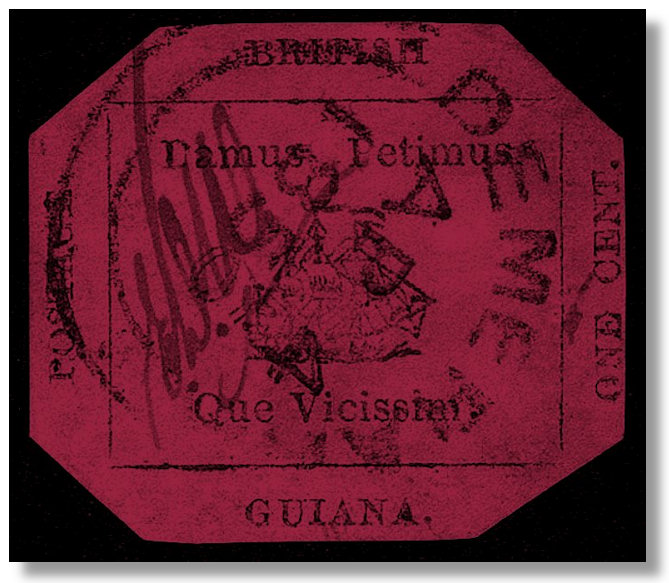 "Most Valuable Item On Earth"
A senior member of the USA trade in NY reported on stampboards.com a few days before the sale, that the strong "word on the street" was that Sotheby's had a sale in the bag, even before the sale took place.

That really speaks volumes for the health of the stamp hobby. This sale yielded superb and positive global publicity for stamps, and is most welcome. "The world's most valuable object by weight" etc.

The final price this stamp realised was VERY impressive, as it last auctioned at less than $US1 million. And even that was greeted with global razzamatazz – and disbelief!
Sold for 10 times what he paid.
This price is about TEN times what duPont purchased it for in 1980. Many at that time said the price was absurd, and the buyer would certainly lose money on it.

In fact, duPont paid 3 or 4 times what Weinberg paid only 10 years earlier. Weinburg paid 5 or 6 times what Australian Frederick Small paid. Which in turn was more than Arthur Hind paid etc!

Stampboards had a maths whizz compute that since duPont purchased the stamp in 1980 it had appreciated at 6.25% - pretty amazing in a USA economy, where interest rates have been negligle.

Mainstream and POSITIVE media for stamps is very scarce these days. I had many media calls, and this long interview was on National primetime ABC radio here - tinyurl.com/GlenBG

Stampboards.com was literally the FIRST outlet on earth to publish the price, and had several members in the room with a smartphone and video, and they added a posted commentary, and video - tinyurl.com/1856BG1c

The weight has been estimated to be about the same as the Sweden 3sk "Tre Skilling Yellow" which we know weighs exactly 0.02675 grams (0.0009 ounces).

This gives the stamp the staggering value of over $US350 Billion per kilogram - $US354,392,523,364.49 to be exact! The most valuable thing in the world by weight or volume - no contest.
Funds go to Bulgarian Gold Medal Wrestler.
Under John duPont's will, 80% of the proceeds from the sale will go to former Bulgarian Olympic Gold Medal wrestler, Valentine Jordanov Dimitrov of Sewickley Pennsylvania, and his family members. He emigrated to the USA in 1990.

The remainder of the proceeds are designated for the Eurasia Pacific Wildlife Conservation Foundation, based in Paoli, Pennsylvania, which duPont founded.

Dimitrov, 54, won a Gold Medal at the 1996 Atlanta Olympics, representing Bulgaria. He gained notoriety in 2013 when he returned his medal to the International Olympic Committee, to protest its decision to drop wrestling from the program.

The will was contested several times by du Pont family members, but was most recently upheld in 2012 in local and state appellate courts. Attorneys involved in the appeal have said the last formal deadline to appeal the will expired in November 2013.

The Auction was called by David Redden, Sotheby's longest-serving auctioneer who has been with the company since 1974. Bidding started at $US4.50 million and quickly rose to the hammer price of $US7.9 million.

The winning bid was by telephone and Redden announced the buyer wished to remain anonymous, saying only that the buyer was a "collector," not an investor.

Redden was responsible for a number of record-breaking sales of book collections, as well as for such spectacular individual items, like the Magna Carta, sold in 2007 for $US21 million.

Redden also orchestrated many of Sotheby's recent sales, including the private sale of The Forbes Family Collection of Imperial Fabergé, the Tyrannosaurus Rex fossil "Sue", the Estate of Jacqueline Kennedy Onassis, and property from the Duke and Duchess of Windsor.

As Sotheby's longest-serving Auctioneer worldwide, Mr Redden has been at the podium for many of these historic auctions.
NOT purchased by Queen Elizabeth.
Michael Safi, Keeper Of The Royal Collection, has confirmed it was NOT purchased by Her Majesty - despite it being the only major Commonwealth stamp not in the collection.

'I can categorically confirm that the Collection has not bought the British Guiana 1¢. It has been reported that KGV was offered the stamp twice, but turned it down as being too expensive on those occasions. I have no direct evidence of that, but it seems quite possible.'

A very well informed source in New York who knows who the buyer is, advised that billionaire Bill Gross had not purchased the stamp - he was my strong tip, to donate it to the Smithsonian.

The Guiana sale was streamed live on the web, and I was up early to watch it. It worked fine for me, but Ricky Verra at Feldman Switzerland posted on stampboards.com that they could not get it to work there.
Balance of duPont Guiana.
Feldman offered the wonderful balance of the duPont award winning British Guiana classics collection in Geneva Switzerland, on June 27.

The superb Koichi Sato "Grand Prix d'Honneur" collection of TASMANIA was also offered by Feldman on the same day.

Strangely both the Sothebys and Feldman catalogues both had full page colour ads inside, for their opponents auctions of the Guiana material!

In a moment of Monty Python madness on sale day, it took Sothebys staff a full minute to work out what 20% buyer fee added to $US7.9 million hammer came to, as it seemed no-one could locate a calculator!

Even then, for well over a day after the sale, the final invoice figure shown on their website was $US9,013,000 - about a half million short of what it really came to - $US9.48 million.

This was because the Sotheby's "Buyer Fee" reduces on a sliding scale after $2 million for all their other NY sales, but this one sneakily had the full 20% added to final hammer price.
Owned by Gallipoli War Hero
A little known fact is that an Australia first day landing Gallipoli war hero owned the world's most famous stamp for 30 years! Frederick "Poss" Trouton Small.

His ownership was top secret – Anna Hind whom he bought it off in 1940 via an agent, did not know who the buyer was. Supposedly Small's own wife was unaware that he had purchased the stamp.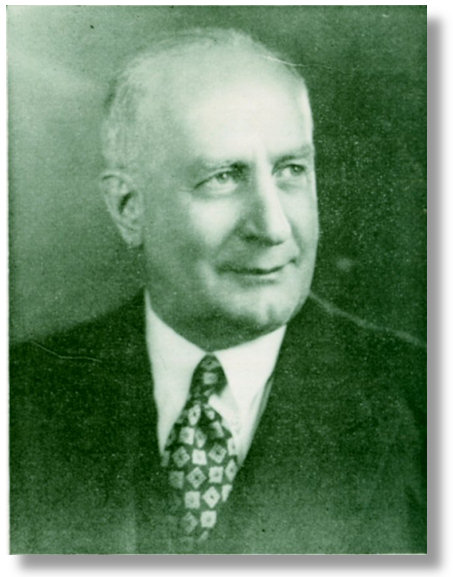 Frederick "Poss" Trouton Small
Rodney Perry posted on stampboards.com the Australian stamp community was gobsmacked in 1970, when the owner for the past 30 years was revealed for the first time, to be an Australian.

Small paid $US45,000 to Arthur Hind's widow Anna, and the Weinberg Barnum and Bailey Circus Troupe paid $US280,000 to secure it from him in 1970.

John duPont later bought it off them 10 years later in 1980, for $US935,000 at Public Auction. That was the last time it sold.

That owner for 30 years until then was Frederick "Poss" Trouton Small, born on 20 May 1888 in Capricornia, Queensland, Australia.

Thanks to my friend Duncan Manins, for digging out the service record from Canberra of Frederick Small. A record or summary never before published, in any stamp journal.
Landed Anzac Cove, April 25, 1915
Duncan's research shows that Small landed on the very first day of the Gallipoli campaign on Anzac Cove - the infamous "Anzac Day" of April 25, 1915.

Small enlisted early - on 4 September 1914, and served on the Gallipoli Peninsula as chief tunnel engineer, where the French forces recommended him for the Croix de Guerre.

French "Croix de Guerre" citation
Small served as a Sapper on Gallipoli with the 3rd, 5th, then 9th Field Company Engineers, and was promoted to Company Quarter Master Sergeant, then 2nd Lieutenant, then Lieutenant (on Gallipoli) before reverting to 2nd Lieutenant.

He was discharged as medically unfit 1/6/1916 and sent back to Australia "for change" - suffering asthma, dysentery and gastric debility, the medical Board recording "Strenuous life at Anzac [Gallipoli] working underground in bad air for long hours."

Small, on recovery, travelled the 10,000 long miles back to London, and re-enlisted in the Engineers as a 2nd Lieutenant on 10-7-1917. It appears he was finally discharged from his Military career in 1919.
Diary in War Memorial.
Small kept a very extensive diary of his WWI service. Particularly his time in Egypt prior to, and during his experiences on Gallipoli. This diary is now in the Australian War Memorial.

After marrying in Australia, Small moved to Great Britain, where he was a pioneer in Rayon production, the new "miracle" fibre. In 1924 the Smalls moved to the USA.

They first lived in Cumberland, Maryland, where he worked as an engineer for the Celanese Corporation, rising to Vice President in 1940 - the year he bought the stamp from Hind's widow.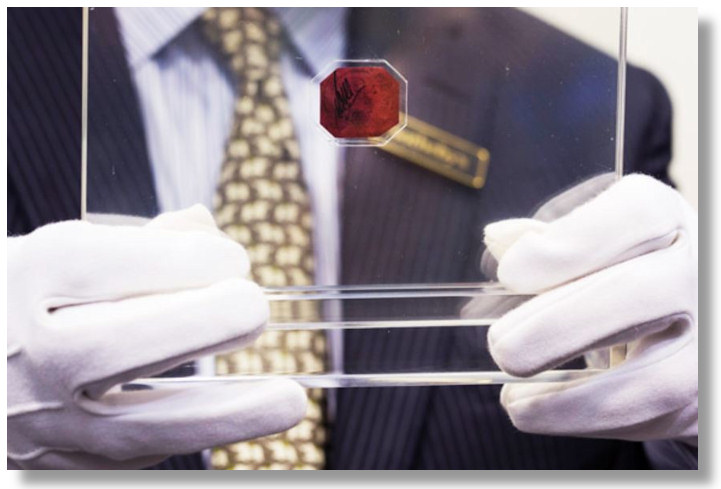 1856 1¢ British Guiana Stamp
| | | |
| --- | --- | --- |
| | Through Finbar Kenny's auspices, Small made the 1¢ available for exhibition. It was featured at the 1947 USA Stamp Centenary in New York, at MIPEX63 in Melbourne, and the Stanley Gibbons Catalogue Centenary 1965 - the first time the stamp had been shown in the UK since 1923. | |
Irish unissued stamp now $1,325
As I reported recently, a 60¢ letter rate Irish new issue was withdrawn from sale on the morning it was to be issued in January.

"An Post" believed the man on the stamp was of Captain Jack White, a former British army officer, who volunteered for the Irish Citizen's Army in 1913.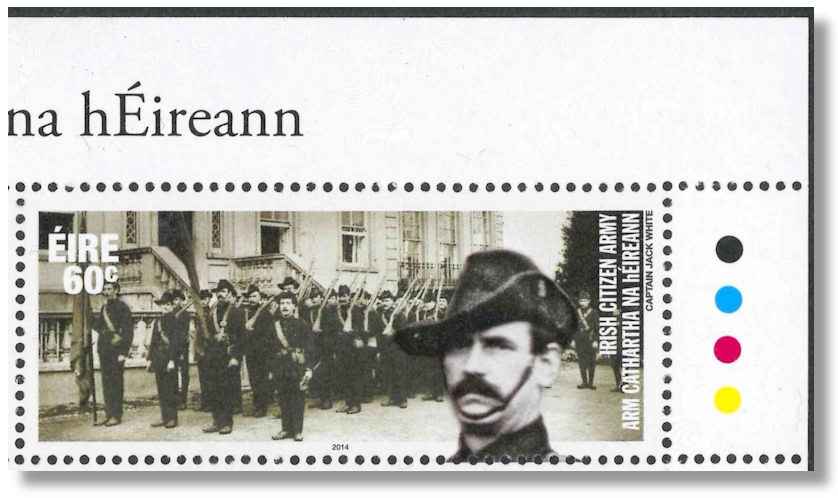 "Captain White" - don't think so!



The PO panicked when it learned at last moment, the WRONG photo had been used on the stamp. The caption lied!

They urgently recalled all stock, with strict instructions that none were to be retained or sold, and they were to be fully accounted for.

This recall order went out before Post Offices opened January 23, and was almost universally complied with, right across the country it appears.

Not all stamps were withdrawn. Of course some reached the market. Including a very few singles offered recently on eBay.
Cork dealer gets the goodies.
A dealer in Cork, "Ravenstamps" is shown nearby holding a complete sheet he bought of this issue.

Padraig O'Shea, who runs Raven Stamps in Cork, sourced a sheet of 15 of the withdrawn stamps, which had been purchased at face value six days earlier.

''It's the first time here stamps have been issued and withdrawn - this has never happened before'' Padraig told the independent.ie newspaper.

Padraig is a stampboards.com member, and raised the find there. He paid €3,000 for the sheet of 15 stamps he is shown holding nearby, or €200 apiece.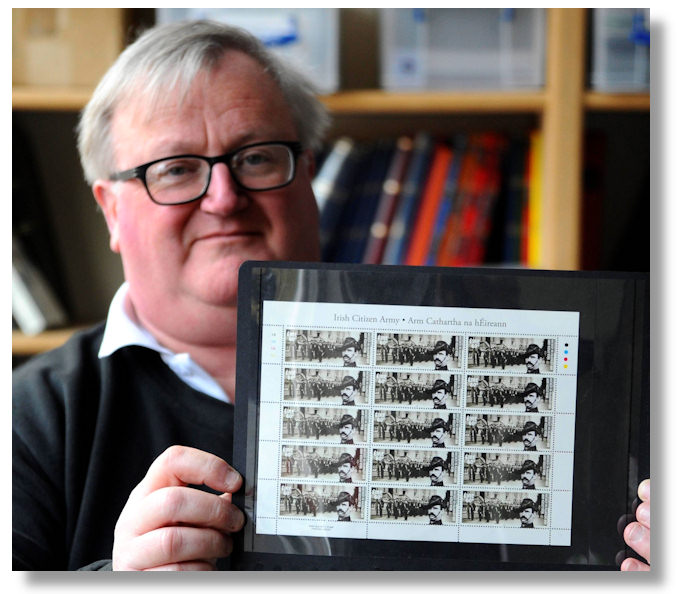 €200 a stamp – wise buy



"I've no way of knowing what they could be worth because it's dependent on how many more could appear. When you buy, the risk is that more will appear. But the reward could be that they don't, and then the price will rise'' he said.

Months after issue date he summarized the known copies in May - "It is now over three months since the Citizen Army error was released."

"At this stage I am aware of at least six sheets that were purchased plus a small number of individual stamps, I also know of eight "used" examples and one first day cover."

''That's not a lot, when you think of the world market,'' he concluded.

tinyurl.com/EireStamp has the full discussion, and follows the fate of the few stamps offered to the trade and on ebay.
Higher and higher bids.
The single stamp first offered was by ebay seller "jblunden" and attracted 40 bids, selling for $US566 via 3 last second "snipers" that doubled the price in last seconds.

Many at the time opined that was a very high price. My own thoughts were that it was bargain if An Post did not re-issue it in annoyance, and if it was listed in SG.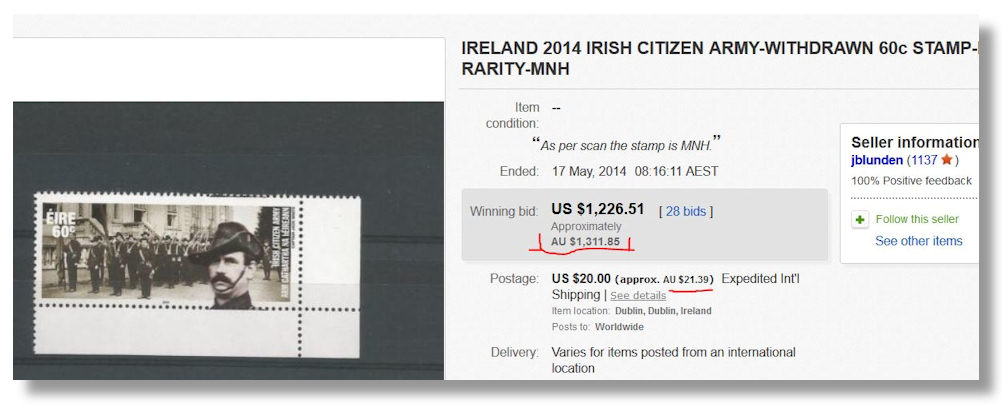 Over DOUBLE earlier offering.
That same seller offered a single in mid-May and my prediction came to fruition - this one sold to 28 bids for $US1,226.51 (=$A1,325) - WAY over double the "too high" first sale price of $US566.

The ebay lot number for those interested is 371059938948, and is a classic example of the age-old adage: "he who hesitates is lost"!
NZ stamp rate up 60% in 4 years
New Zealand Post is really hammering mail users over there.

First, the 3 day a week delivery, and now your heavily cut back mail service will cost you 60% more than it did just 4 years back.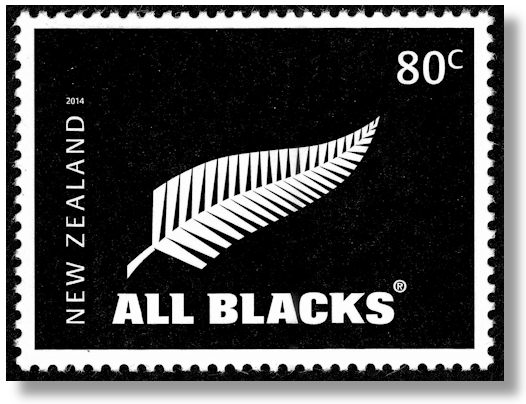 All Black or All Bad?

On July 1 the cost of a domestic stamp increased to 80¢. On July 1 2010, a NZ domestic letter was a bargain priced 50¢. That is a 60% hike in 4 years.

Parcel rates also increased at the same time, as did overseas mail rates - parcels overseas increased by average 4%, and the cheap International Economy parcel service was withdrawn.

tinyurl.com/mcexva9 is the NZPost official spin site on it all, assuring us how delighted we will all be with these exciting new rates!
Record price for a banknote.
Stamp collectors are very heavily connected with banknote collecting - which are, when you think on it, very similar things .... superb products of the Engraver's Art.

When I owned and Edited the "Coin And Banknote" magazine (CAB) some years back, and a large stamp magazine at the same time, we found that the subscriber base overlap for both magazine was very high - about 25% as I recall.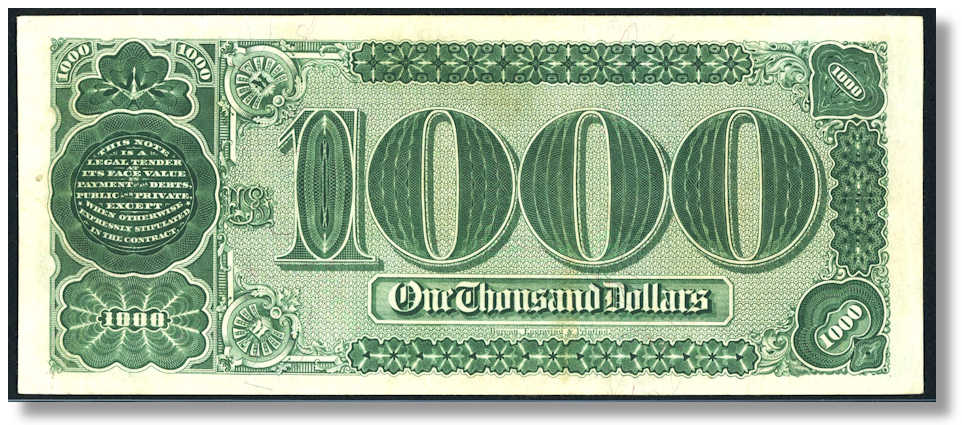 "The Grand Watermelon" $1000 banknote.
So events in the world of banknotes fascinate many readers I am sure, and the sale this year of the highest priced banknote ever, will hopefully be of some interest.

Earlier this year it became the single most valuable piece of currency in the world when it was sold for $US3.29 million (then about $A3.6 million), including buyer's premium, by Dallas-based Heritage Auctions.

Far exceeding its estimate of $US2 million, it sold as part of the Florida United Numismatics (FUN) Convention's rare currency auction. The last time this note was offered at auction was in 1970, when it brought $US11,000.

13.8% annual increase over 44 years
Who said there was no money in buying top end collectibles?! $11,000 to $US3,290,000 corresponds to a 13.8% per annum increase I understand.

The rarest and arguably the most famous of all US currency notes, the 1890 $1,000 Treasury Note, is popularly referred to as "The Grand Watermelon" - due to the design of the large zeroes on the reverse, that resemble watermelons!

More recently this same banknote achieved $US2.2 million in a private sale by Heritage in 2006.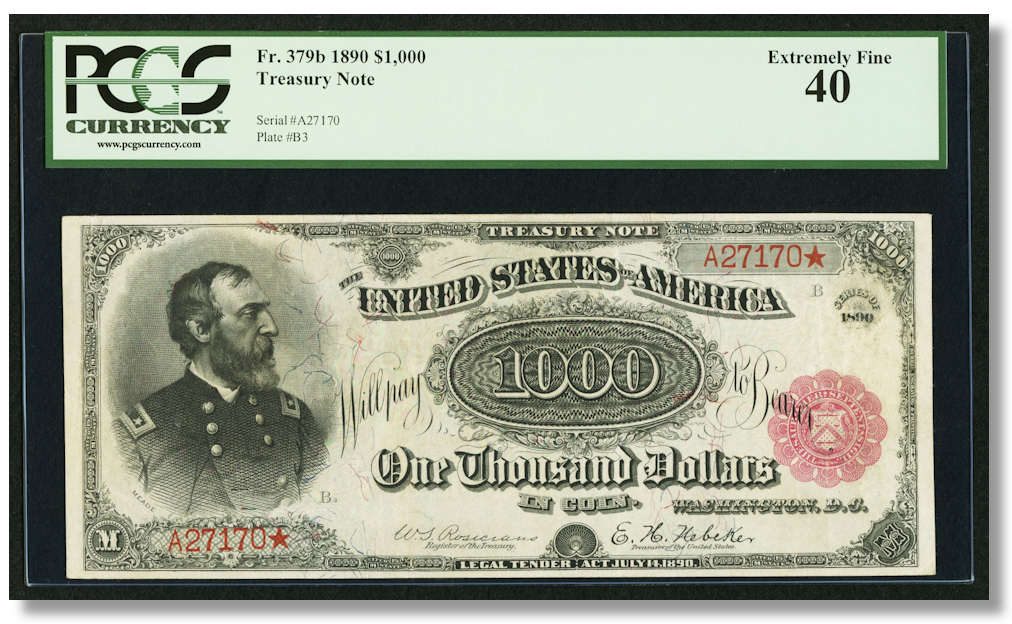 Only graded "40"
It was produced to allow the bearer to withdraw funds in silver or gold bullion - a move that proved disastrous, as the US Treasury experienced a run on gold that led to a major crash in 1893.

"This note is an icon of American financial history - and is the only known example in private hands," said Dustin Johnston, director of rare currency at Heritage Auctions.

"Collectors knew this was not a chance that was going to come around again anytime soon, and they bid accordingly. The result being that this beautiful little piece of paper is now the most valuable of its kind in the world, and has a new chapter to add to its legend."
Sold to a private collector.
The "Grand Watermelon" banknote sold to a private collector, who wished to remain anonymous.

As you can see the official PCGS grading on this note is only "40" - the lowest end of the EF band. Banknotes in the USA have 70 as their highest grading.

I must say it looks a lot better than that to me, in the high resolution photos I have here, but PCGS do this for a living, not me!
Cricket Crazies!
Last month's column outlined a 1977 Australian "Centenary Test" Registration label that sold at public auction for over $A2,500 - to someone in HOLLAND!

These oddball auction results for cricket related material is not isolated. Stampboards.com members highlighted another this month.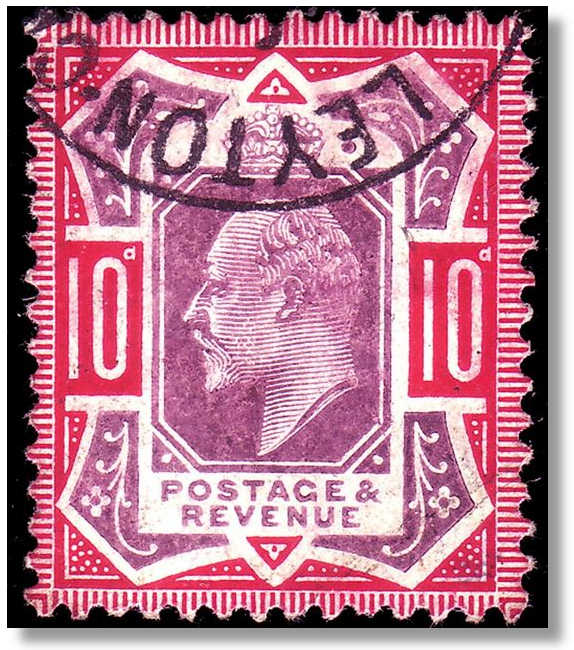 This part cancel sold for $A1,700!
A GB KEVII 10d SG 255 sold on ebay for £930 on May 18, after a modest start price of 99p. There were 40 bidders. That was about $A1,700 at the time.

The stamp itself is of minor value - the price paid was purely for the partial cancel. Would YOU have noticed this cancel in a dealer stock or club circuit book etc? it seems.

The small part cancel is of "Leyton Cricket Ground". I would not have picked that up in 100 years, if this was on an album page in front of me.

Very often the collectors of cricket related material are retired age folks, with the time and money to chase up ANYTHING they want within reason - and can pay accordingly!
More "Inverted Jennies" found.
A new find of the intentionally created "upright" variety of the USA $2 Jenny Invert plane surfaced recently in Virginia.

Linn's Stamp News reports their tally of these finds now stands at 18 panes, which leaves 82 panes of the 100 panes issued, still waiting to be discovered.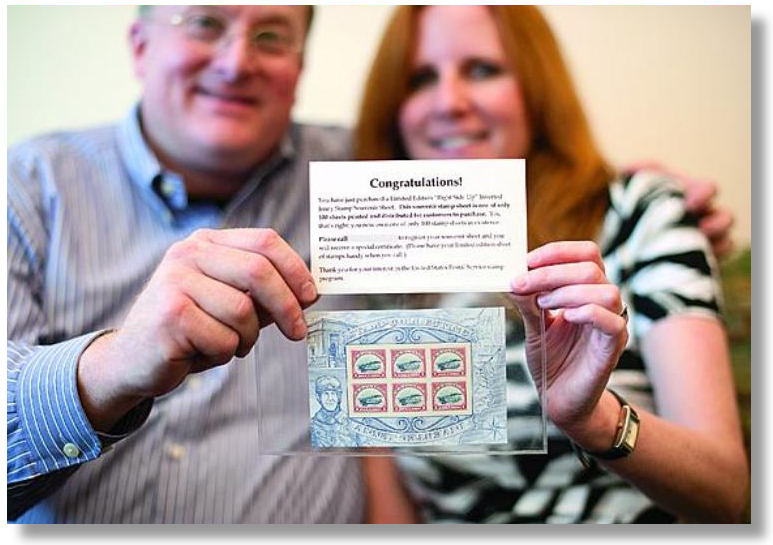 Lucky finders the Robinsons.
The most recent find was made by David and Gail Robinson of Richmond, Virginia. They bought it for $8 from the Post Office.

The Robinsons have been actively purchasing large quantities of the pane of six $2 Jenny Invert stamps - a total of 3,080 of them, with hopes of obtaining one pane of the upright variety.

Their wishes came true when they found the upright Jenny Inverts among 14 panes recently purchased from stock at the Blackstone, Virginia, Post Office.

The Robinsons originally planned to purchase the equivalent of 10% of the calculated odds of finding one of the panes, but they later doubled that figure to 20%.

Odds are one in 19,000.
| | | |
| --- | --- | --- |
| | The mathematical odds of purchasing one of the 100 panes printed with the intentional variety is estimated by Linn's Stamp News to be 1 in 19,000. | |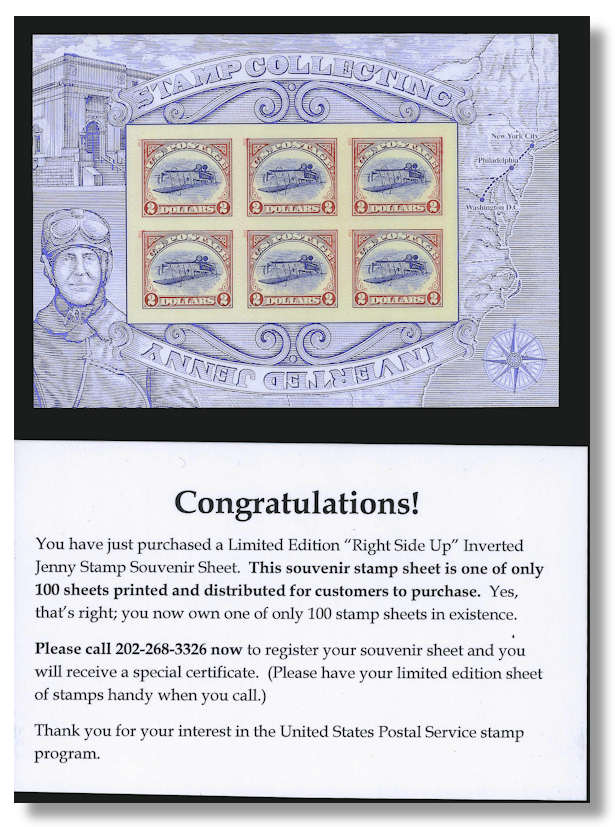 A $50,000 Lucky find!
The Robinsons told Linn's that they spent a lot of time opening the packs and watching television, calling it "Jenny Sheet Night."

David Robinson told Linn's they consigned the variety pane to Robert A. Siegel Auction Galleries, for the firm's "Rarities of the World" sale taking place June 24-27 in New York City.

It is the first full pane to appear at Public Auction, and the estimate is $US40,000-$50,000 plus all add-ons. The sheet is illustrated nearby.

The United States Postal Service issued the Jenny Invert pane of six $2 stamps (Scott 4806) September 22, 2013. They are still on open sale.

The USPS stated that just 100 panes of six showing the plane flying right side up, were randomly seeded into the entire print run of packs of the normal stamps, in heavily sealed packaging.

82 panes still to be found!
The locations of where each variety pane has been found are not available for every example, as some panes were not reported to the USPS, but instead were certified through philatelic grading services.

Of the panes reported to the USPS, 3 have been found in stock shipped from Stamp Fulfilment Services, 2 were found at post offices in New York, 2 in New Hampshire, and 1 each in Georgia, Texas, Virginia and Wisconsin.

There is a congratulatory note inside the wrapping asking finders to call a special phone number, to receive a certificate of acknowledgement signed by Postmaster General Patrick Donahoe.

This note from the PO is shown in the photograph nearby underneath the Robinson inverted pane find.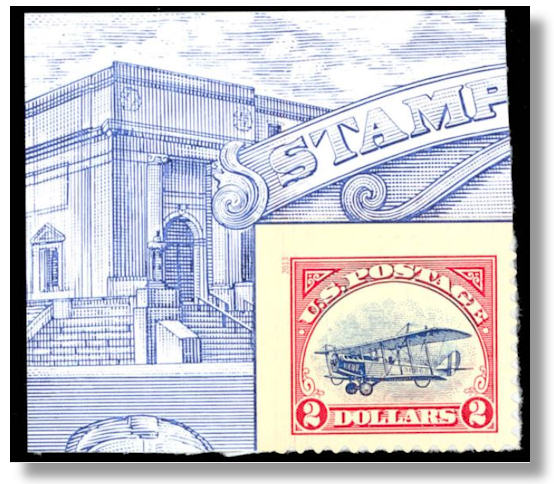 Separated by a trained Chimp?
| | | |
| --- | --- | --- |
| | Some strange sales of this have taken place. One genius decided to rip up a pane of 6 - very crudely it seems, and consign a SINGLE stamp to Auction. | |

American Numerical Grading madness.
That single is shown nearby and was offered on May 21, at Kelleher Auctions in Danbury Connecticut.

To show the madness of the USA numerical grading system, this roughly severed botched job was graded "95" by TWO grading bodies. That for practical terms, is about as high as things get with numbers and denotes "near perfection".

A trained CHIMP could have made the vertical margin cut dead straight at 90 degrees, using a sharp tip cutter. No way KNOWN is this copy remotely like the finest possible. It is mangled and ugly.

The absurd estimate was $US15,000-$20,000, and you guessed it - did not sell. What the genius owner does with it and the rest of the mutilated pane is anyone's guess.

Only in America! Some people really should not be let loose near ANY scarce stamps.
Tins in the news again.
My recent column on a rusted out old cigarette tin getting $A2,265 on ebay attracted many comments.

Stamp dealers buy Estate lots all the time, where folks have stored spares and duplicates in old cigarette and tobacco tins, and cigar boxes etc.

I often get dozens of such boxes and tins in oldie lots, in some cases stored away 50, 75 or 100 years back.

They are the right size for stamps, near everyone smoked, and guys of that generation were the "waste not" thinkers, and threw NOTHING away!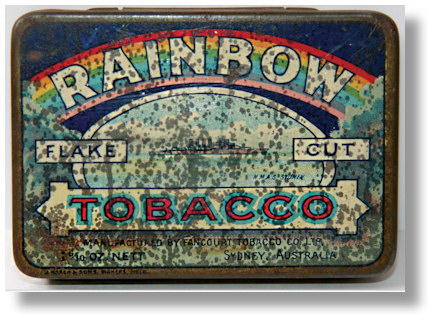 This mess just sold for $A1682!
Another example of this same tin was sold recently – in FAR worse condition as you can see, yet the ebay brains trust bid it up to $A1,692 on ebay - from a start price of just $50.

The auction was May 18 lot 171323533553 and amazingly, attracted 20 bids on this "Rainbow Flake Cut Tobacco" tin - the happy seller was "tinguru" of Melbourne.

I started a stampboards poll on tinyurl.com/StampTin asking for folks to guess the value of the tin, and of course most guessed at a few $$s as you can see!

What people choose to spend money on always astounds me, but this one takes the cake, it really does!








Get my regular market update emails FREE. Stamp gossip, price trends, record sale prices, and many one-time stamp specials, wholesale bargains, and exciting offers and breaking philatelic news. A mini stamp magazine in every email! "KNOWLEDGE IS POWER". The ONE stamp list you MUST be on, to keep in touch with the rapidly changing world market. One client made $65,000 profit in a few months after following my specific advice. Sign up securely and quickly by clicking HERE to access my automated data base. And wiser still ADD your home AND work email, if I only have one right now. Add a stamp friend's email address if you wish. One short click and you are subscribed to probably the most read email list in the stamp world!




If you would like to be notified of updates to this website,
Click HERE.
If have any questions,
or comments regarding my site, please email me at glen@glenstephens.com
| | |
| --- | --- |
| | Search all my 300+ web pages! Simply type in what you are looking for. "Penny Black", "Latvia", "Imprints", "Morocco", "Fungi" "Year Books", etc! Using quotes ( " ) is more accurf used with no quotes. Search is NOT case sensitive. Tip - keep the search word singular - "Machin" yields far more matches than "Machins" etc. |


I am a Dealer Member in Good Standing Of:

Full Time Stamp Dealer in Australia for over 30+ years.
Life Member - American Stamp Dealers' Association. (New York)
Also Member of: Philatelic Traders' Society. (London)
GLEN $TEPHEN$

Full Time Stamp Dealer in Australia for 35 years.

Life Member - American Stamp Dealers' Association. (ASDA - New York) Also Member - Philatelic Traders' Society

(PTS London) and many other philatelic bodies.

ALL Postage + Insurance is extra. Visa/BankCard/MasterCard/Amex all OK, at NO fee, even for "Lay-Bys"! All lots offered are subject to my usual

Conditions of Sale, copy upon request .

Sydney's

BIGGEST STAMP BUYER: Post me ANYTHING via Registered Mail for my same-day cheque. Avoid copping the Now normal 45% Auction "Commissions" (15% Buyer + 20% Seller + GST, etc) AND their five-month delays!

Read HERE for details.

"Lothlórien", 4 The Tor Walk, CASTLECRAG (Sydney), N.S.W. 2068

Australia

Phone 7 Days: (02) 9958-1333

PO Box 4007, Castlecrag. NSW. 2068


E-Mail: glen@glenstephens.com The Number #1 Web Sites: www.stampboards.com

This line is 12 point
This line is 13 point
This line is 14 point