Click To Go Back To The Main www.GlenStephens.com Stamps Homepage

Welcome! You are visitor
to www.GlenStephens.com


July 2016


---
"World Stamp Show" New York 2016
Report
I have attended the last 3 massive American mega shows: "Ameripex 86" in Chicago, "Pacific 97" in San Francisco" and "Washington 2006" in Washington, so decided that this year's New York Expo show was a "must attend" event, as I have written here several times.

In my personal view, this will be the very last of the true global Mega Shows - due to the absolutely phenomenal cost these type of events incur for 8 day shows. The average collector has simply no concept of the $$s involved.

ARMIES of security staff need to watch 24/7 over the Court Of Honour exhibits, the collector displays, and the dealer stock at night. The hiring cost of central, union staffed venues like the Boeing Factory sized Javits Center in New York runs the annual GNP of many small nations!

The photo nearby is part of the front of the vast complex, which then runs a deep New York city block from here, right down to the Hudson River. For those who prefer actual statistics, Javits comprises 1,800,000 square feet, or 170,000 square metres of Exhibition space.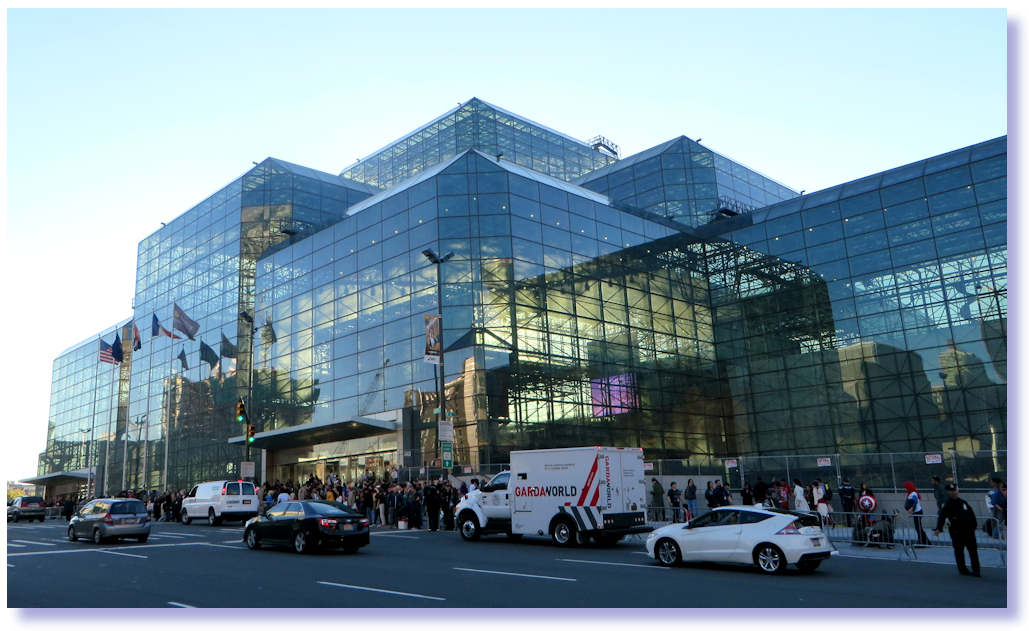 The size of a Boeing Factory!
| | | |
| --- | --- | --- |
| | The organisers predicted an attendance of about 250,000 over the 8 days. I did not hear an official figure at the end, but all I spoke to, dealers and collectors and exhibitors alike, agreed it had been a very well-attended show. | |
Free admission to all.
Admission was free, which amazed me, as I am sure all who did attended would have happily paid $US5 or so an entry, leaving ~$1 million in the bank for even wider show promotion, but I was not on the Committee, and they must have had their reasons.

A mid-level hotel room over that week cost me $A425 a night, when all the insane NYC taxes were added on, and before one added meal and airfares etc. Indeed $5 is HALF the tip my cabbie from JFK gruffly demanded, and is a minor cost.

Americans are great organisers, and this show of course had all guns blazing, led with the full support of the United States Postal Service, whose massive footprint in the centre of the Javits Centre, was nearly the size of a small city!




Promotion via the tiniest of PO's!
| | | |
| --- | --- | --- |
| | Whilst in the USA I did some driving around the Appalachian and Smoky Mountains, and in tiny town Post Offices in Tennessee and Georgia and the Carolinas I saw huge prominent posters promoting the show, and piles of brochures etc. Only a national Post Office can furnish that kind of support. | |
Continent wide USPS Publicity.
The large front door sign poster nearby I took in the miniscule little PO in Hot Springs North Carolina. 90 minutes for lunch, and PO closes at 4pm each weekday - what a cushy job! Similar posters were in other remote PO's I visited during my travels in the South.

Well done, and it got the crowds in. Several commented to me the average attendee age was a LOT younger than one mostly sees at international shows, and it seemed that way to me too, and that is a very good sign.

Appeared little effective effort had been made to reach out to the school system in the Tri-State area, to bus in kids for the free show. Maybe that extra million could have funded a staffer or three to join up all those dots for a few months, to get the Schools on board, who knows?

However to re-cap, it was very well attended, and the sheer number of Australian dealers and collectors I ran into around the place was most surprising. The airlines must have been doing mega business!

I hosted a stampboards dinner near Javits one evening, and we had a very good attendance with folks there from many different countries. A ton of extra photos and live comments from the show can be seen here - of the dealers and exhibits etc - tinyurl.com/ExpoNYC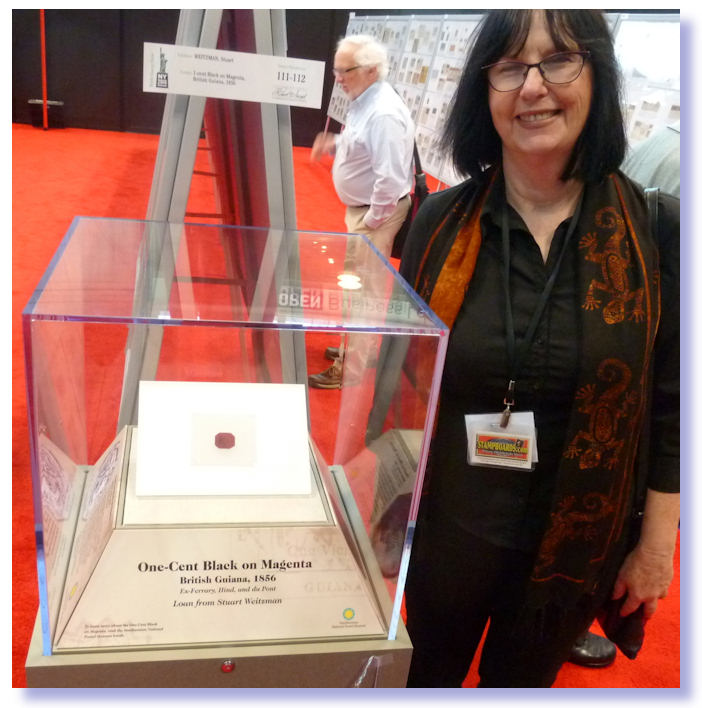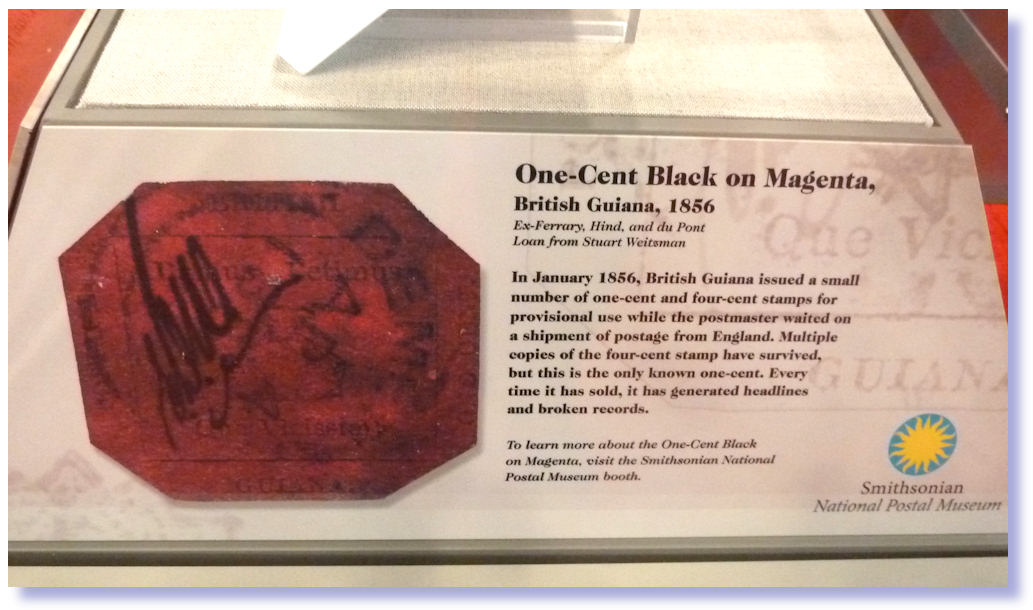 Two very rare pieces!
| | | |
| --- | --- | --- |
| | On display in the Court Of Honour was the legendary 1856 1¢ British Guiana, that a New York women's shoe seller Stuart Weitsman paid near $US10 million for, a year or so back. It attracted most visitors, and stampboards Moderator Margo Campbell is pictured next to it nearby. | |
World's rarest stamp pieces on show.
A strange looking stamp, that being so dark in real life, the design is near impossible to make out, other than the blob of deep magenta paper. However it is famous, and it is unique, and it makes history every time it is sold, and that is great for the hobby.

The other Exhibits in the Court of Honour were just mind boggling.

There were near complete mint sheets of 229, of the GB 1840 1d Black and 2d blue, which if sold would of course fetch much more than the British Guiana. PLUS the original dies and proofs! All from the British Postal Museum.

The specially made large metal bomb proof briefcase shown nearby, had been fitted with sensors and shock alarms, so the Museum could check on the condition of the stamps throughout their journey to New York via the armed guards taking it across The Atlantic.

There was a superbly displayed exhibit of John Lennon's boyhood stamp collection, that would fetch $5 unless it had the name John Lennon on inner page, the actual printing plates of the "Post Office" Mauritus legendary issue, and other mouth-watering goodies.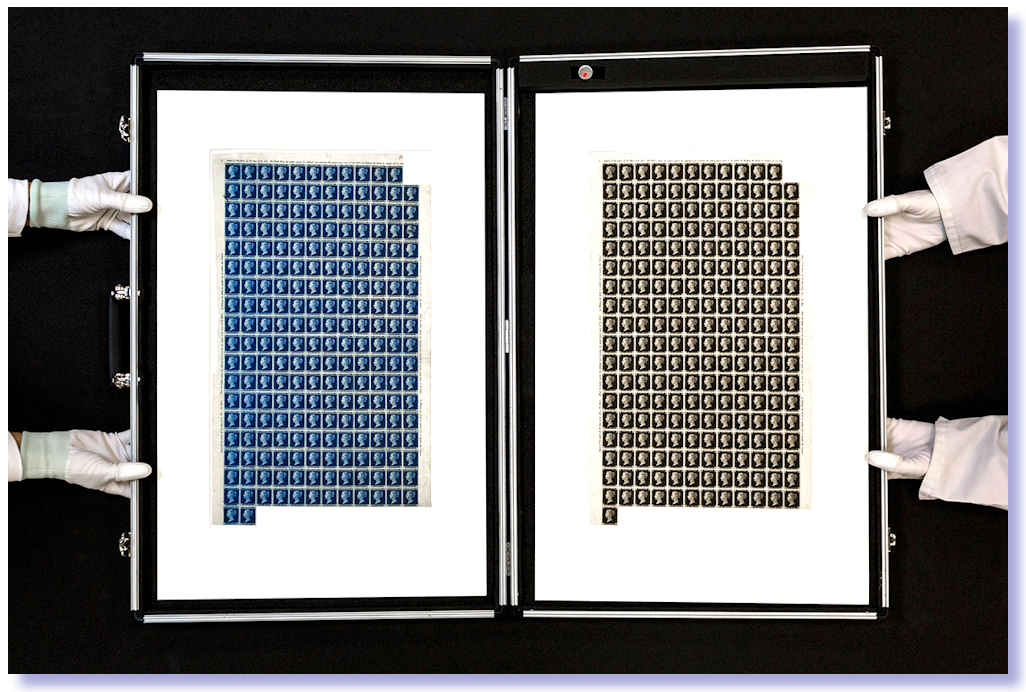 Mint Sheets of the GB 1840 issue!
The world's second most valuable stamp was also on show at the Expo. The 1857 Sweden "Tre Skilling Banco" Yellow stamp colour error has also changed hands for $ Millions in the past, and I have written far more about it in the English language, than anyone else.

This is the first time I have been it up close, and have to agree with the Swedish King, Carl Gustav XVI who said: "Doesn't it look rather shabby?" when he saw it at the International stamp fair in Stockholm during 1986.

It is far more dull orange than the press photo shown nearby, and is very flat and lifeless in appearance, and the re-perforated top margin makes it look far worse centred close up, than the photo suggests. It was part of an Exhibit of early Sweden in NYC that surprisingly to me, only got a Gold Medal as I recall.

In 1974 the "Tre Skilling Yellow" was exhibited at the stand of Frimarkshuset A.B. - the well-known Swedish dealers, at "Stockholmia 74". The stamp was then offered to the Swedish Postal Museum for $US1,000,000. A LOT of money 42 years back!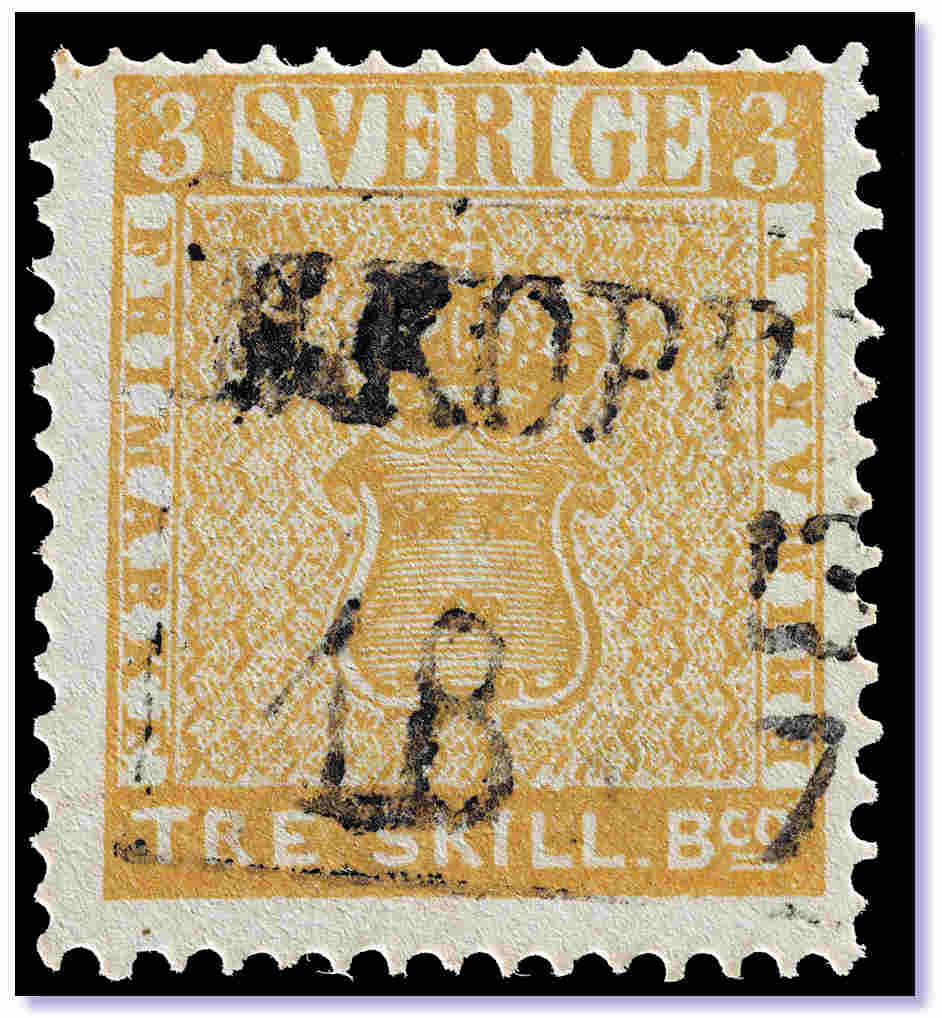 "Doesn't it look rather shabby?"
The curator Gilbert Svensson had always suspected it to be a forgery, and arranged for it to be handed over to a group of nine Swedish stamp "experts" to examine. They decried it as a fake. The dealer got exhaustive detailed scientific opinions in 1975 that it was not, which stated so categorically, in writing.

It is now accepted as totally genuine, and has changed hands for $ Millions, showing that stuffy and blinkered opinions from so called "experts" are not always correct. As has been shown with the laughable RPS London Certificate: "Glood On Da Numbahs" for the GB 1d Red Plate 77 from Victor Hugo cover, that a raft of other real experts have now Certified as genuine.
Dealers reported record prices.
| | | |
| --- | --- | --- |
| | Dealers reported to me of record high prices being obtained for top end material during the 8 day show, for a wide range of material. I saw a 1924 USA 24¢ "Inverted Jenny" on display at the Robert Siegel auction super-booth. It had just been invoiced for an amazing $US1,351,250, at their in Expo sale. | |



Inverted Jenny fetches $US1,351,250

This was for a

HINGED

example, and blew away by miles in price, what any other "Jenny" has ever sold for - even the unhinged mint examples! I spoke to VP John Zuckerman and Charles Shreve from Siegels, and they were over the moon with this record price.

"Jennies" have been rather soft in recent years in price, so this is an amazing "about face", and is a great sign that the market for better material is strongly on the rise from all areas. Global low interest rates always do this.

A rather curious "Inverted Jenny" story unfolded one day, related to me by George Eveleth and Richard Debney of Spink USA. As reported in my column in May, an example of this stamp was consigned to Spink NY for auction, by a young man from Ireland, who claimed he inherited it from dead Grandpa, who owned no other stamps. Hmmm.

Investigation showed this stamp was stolen from a USA Exhibition in 1955 and has been missing since. The then owner willed it to the APS Library should it ever surface. The stamp was later re-perforated, and some idiot also removed most of the gum in order to

hide the light pencil number on reverse, rather than simply erase it.
Truth is stranger than Fiction!
| | | |
| --- | --- | --- |
| | It appears the young "owner" had essentially been given a "choice" of accepting the $US50,000 Mystic Stamps "reward", or possibly getting charged with handling stolen goods! He wisely took the money. The FBI had opened a Criminal case on the matter, and obtained a Federal Court order over movement of the stamp. | |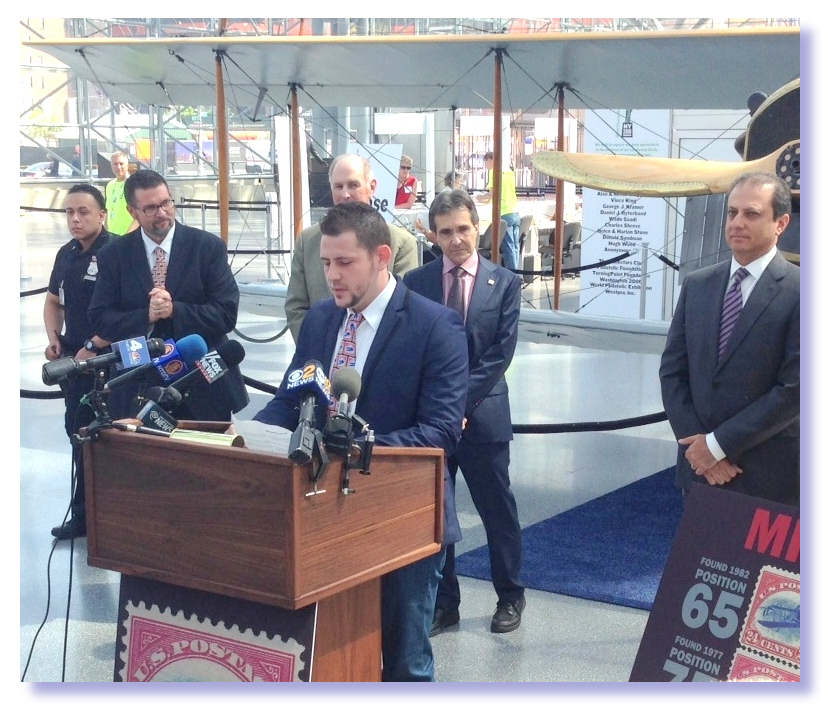 $US50,000 reward for stolen stamp.
So here in the photo nearby we have the cheque handover during the Expo. The Irish "finder" Keelin O'Neill at microphone, flanked by a $50,000 poorer Mystic Stamps, an FBI Agent, a NYPD cop, the New York District Attorney, and the rather pleased APS officials etc.

It was all like some Barnum And Bailey movie script, but it all happened one day I was at the show, with many cameras and press and TV cameras, and all in front of the real Curtiss Jenny bi-plane at the entrance, as can be seen.

Melbourne Auctioneer Gary Watson from mossgreen showed me a nice piece that had been consigned to him. It is a UK parcel label with a 6d KEVII stamp, addressed to the "Marconi Telegraph Officer, RMS Titanic, White Star Line, Southampton UK", and is dated April 11, 1912. Clearly the parcel just missed the sailing, and the Liner sunk April 14/15.
"Titanic" parcel label for Auction.
| | | |
| --- | --- | --- |
| | Sender of the parcel was the "Marconi Telegraph Company Ltd" UK head office in Chelmsford, with 2 different parcel cancels. Watson told me he imagined the auction estimate would be in the $25,000 range. ALL things "Titanic" have a global collector base, and I am sure it will do well. | |


The Javits Centre "Aladdin's Cave".
Walking around the massive venue was like a mini-marathon! I must have walked many miles, and in every nook and cranny there were dealers and Exhibits you had not seen before. It truly was an "Aladdin's Cave" for anyone connected with philately.

Dealers I spoke to all seemed very happy with the attendance and promotion of the show and their results. European operation Delcampe were prominent, and continue to make inroads as being the ONLY real opponent to eBay for online stamp selling.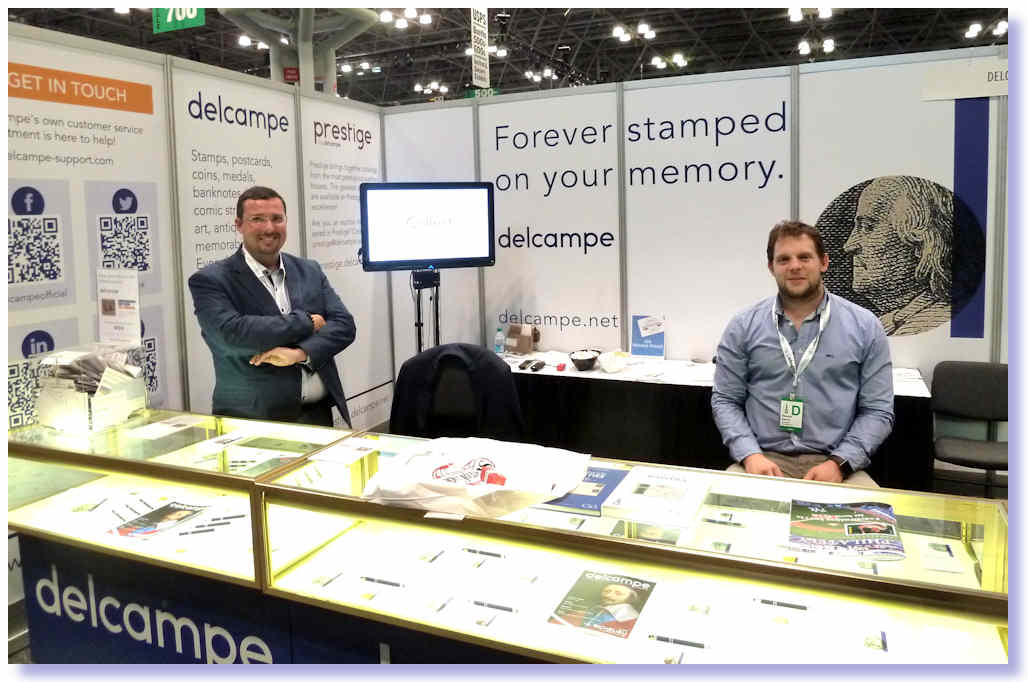 Delcampe competing with eBay.



Ebay's stamp division is reported to be their second WORST performer globally. Probably due to their continued inaction on career sellers of fakes and forgeries, and wildly misdescribed stamps even when reported to Ebay, and many buyers and sellers have moved to Delcampe.

Owner Sebastian Delcampe (left in photo) says their policy of zero tolerance to stamp fakers and scammers reported to them is continuing to build buyer confidence in the material being offered on Delcampe.net With over 1 million members, and 66 million items sold, the future looks bright.

Australia Post had a large stand, and I had a chat to the 3 staffers lucky to have been rostered onto this once in a decade show. Senior staffers Rowan and Cheryl showed me the Butterfly related issues created solely for the show, and never sold in Australia.




250 of this Butterfly exist globally.
They made some foil numbered, from 1 to 250, with a letterpress Stamp Expo show overprint on the centres. I bought some of the IMPERFORATE numbered sheets, that I know totally sold out there. I have started offering them to clients, and they have sold very well at about HALF the price of a PO Year Book!

No Bureau "Standing Order" clients ever got them, and none were sold in Australia - you needed to be at the show in person to purchase these, and they were strictly limited. And in $US cash only, no ozzie dollar notes, or credit cards of any kind accepted - which I found VERY odd.
Voodoo Cult Stamp Grading.
I've written numerous times on the mad USA grading "Cult", wherein a handful of American dealers are enticing folks with far more money than sense or stamp knowledge, to embrace - with wide open chequebooks.

In short, the main game is taking common 1930s stamps - mostly USA ones, worth 10c each retail on a good day, pay someone to state they are well centred and grade them "98", and hope some Yokel hands over $100s - often $1000s for each. It has occurred.

All those reading this column can judge a well centred stamp. No-one needs to be told by the Americans it is well centred. And charged $A50-$A75 for that "opinion", when Registered Mail fees both ways are costed into the tally!

The American Voodoo Cultists seem to have exhausted the silly Yankee Bunnies paying $1,000s each for 10c retail stamps, as even they wake up to such foolishness sooner or later, and sell their "investments" and wear a huge loss.

The Grading Cultists are now moving into "foreign" stamps, meaning stamps other than from USA. They claim some buyers of China are now grading those stamps. I have yet to see any being offered, but anything is possible of course. One fad feeding off another!

The most absurd thing I saw was an Australia 1932 5/- Sydney Harbour Bridge being offered recently as numerically top grade, as verified by the American PSE grading service.

Now well centred 5/- Bridges are not very hard to find. I handle dozens each year, and nice looking ones fetch around $A450-$A500 hinged, and near 3 times that for genuine unhinged gum. No science needed. Well centred is … well centred, we can all see that perfectly easily.
Americans now number grading 5/- Bridges.
Some American Einstein decided to get his 5/- Bridge numerically graded. The great sages at "PSE Grading" consulted their tea leaves, and astrology charts, and Tarot Cards, and decided it was graded "98 Gem". (For non-cult members that means "very well centred".)

Locating one with cleanly cut perfs, nice corners (they were single line perforated) and flat original gum is the tricky bit. As the geniuses at PSE very foolishly take zero account of fluffy perfs or bad corners etc, this is the stamp for them!

So ebay Schmucko "stamplife" parts with $A50-$A75 or whatever to be told the self-evident truism that his stamp is well centred, and lists it on ebay with the amateur image shown, expecting no doubt, a world record price, and instant global fame and fortune..
"A Well Centred Stamp" - NO kidding?!
A decent looking stamp of course, although my belief is, it is re-perforated along top, based on both top corners, but not mentioned by the Cultists at PSE of course, who are mesmerised by centering above all else.

In true understated Klutz style unique to ebay, where it is always assumed the entire globe memorises to heart, all Scott catalogue numbers - the HINGED stamp was described exactly as –

(Superb-98) #132 Sydney Harbor Bridge.. Best graded stamp known ! ! ! !

First he listed it up for "Buy It Now" at $A2,000. Even the clueless ebay Bunnies did not fall for that silly price, so he changed tack, and ran it via an "auction" starting it at 99c, doubtless convinced an avalanche of buyers would run it to the $2,000 type level he sought.

Stampboards.com and other sites were amused to see a NON American stamp offered, with a high PSE Voodoo Number Grade, and the stamp had a ton of attention drawn to it globally, which SHOULD have ensured it got a greater than usual price of course.
Genius seller ends up with $A265!
Sadly for "Stamplife" Schmuck the owner, despite all this global attention it sold for $US260 after 15 bids on ebay, then and now about $A350. Deduct from that, the literally 10% or so that ebay and Paypal gouge off all sellers there, and deduct his $50 real cost in getting this graded, and seller ends up with about a miserable $A265.

I'd have paid him more than that CASH same day for it, as would all other leading Australian dealers. No hassle, no large amount of wasted time, mailing it to and back to PSE, no fees, no uncertainty.

Proving yet again, that ebay is NOT the place to get market price for mainstream better stamps, and showing forever, that numerically grading Australian stamps is just a waste of time and money. It is just another passing fad there, like hula hoops, striped bubble-gum, yo-yos and Baseball Cards etc.

"Beautifully Centred" means just that. And always has. We do not need any American telling us the bleeding obvious, and charging us $A75 to be told it, on a piece of paper. It is self-evident and has been self-evident for 160 years.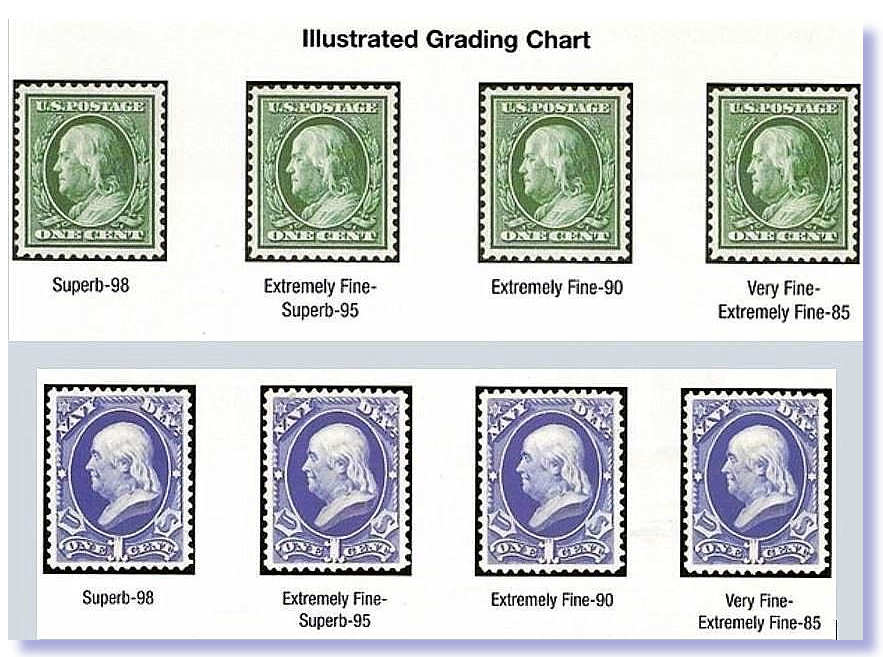 Can anyone REALLY follow this?
Our dear cousins the Americans, have this total obsession with stamp CENTERING. An absolute manic obsession in fact. One that has reached quite insane heights in recent years.

The Scott "Specialised" USA catalogue goes so far as to "help" the novice, and publishes a chart to show all the great unwashed what it all means. Gawd help a newbie trying to get their head around it!

Part of that chart is shown nearby. The idea is, you mail your stamp in to get a numerical grade. You pay $A50 or so and some whizzkid on a computer measures it all, and gives it a number grade out of 100.

100 is perfect, and 50 is pretty bad centred. That bit I can easily follow. But then they obsess over whether they have an "80" or a "90" etc. And trust me the prices between an 85 and a 100, can be 4 or 5 or more times higher.
Well Centred - Well Centered.
Only the Americans could give 4 totally different grades to the NEAR exact same looking stamps. All 4 of these stamps I'd gladly call "well centered" and price them all about the same if they were Roos.

Take a close look at the photo from Scott shown nearby - can you see ANY real difference between a lowly "85" and "98"? Honestly, can you see any huge improvement from left to right - enough to pay 5 times more for?

Indeed if all 4 stamps were given to 100 professional dealers globally, who were asked to place them on a stockcard in strict order of centering, left to right, most would not end up with this order, showing the stupidity of these numbers.




Not a big hit with Americans!
| | | |
| --- | --- | --- |
| | I posted up the photo nearby on stampboards of a nice £1 Grey Roo I'd sold that day off my Rarity Page. I described it as "attractive and well centred", and had several orders in a day. NO "grading number"! An American sniffily declared it was not even close to perfect centering! | |
Yet another American FAD.
Surely only a fool would pay 5 times more for stamp 1 than stamp 4 on this table, assuming the reverses were identical on all 4? Yet another nutty American fad. I really pray that disease never spreads here.

My "Stamp News" colleague Rod Perry posted this sage comment below to the stampboards discussion on this Scott catalogue grading chart illustration -

"That Scott page may become the text book classic for How Not to recruit budding new philatelists. In an era when Philately could and should be a haven for those seeking an escape from the complications of everyday life, who needs this unnecessarily complex introduction to minutiae?"


CUBA LIBRE!
In my opinion, better grade Cuba MINT stamps will appreciate rapidly in the next few years. Americans as I type this, are still not legally permitted to sell or buy these stamps - even the USA overprinted stamps!

List them on ebay and they are removed immediately, and your account gets a formal warning under the farcical "Trading With The Enemy" provisions, that have existed for a half Century whilst Fidel & Raul laughed at them.

That is all changing. US Cruise ships are now docking in Havana, Obama was shaking hands with Raul Castro on TV just weeks ago, and Rolling Stones played a massive concert. The major US air carriers have all applied for normal flight permissions I hear. The big US Hotel chains are poised, ready to pounce.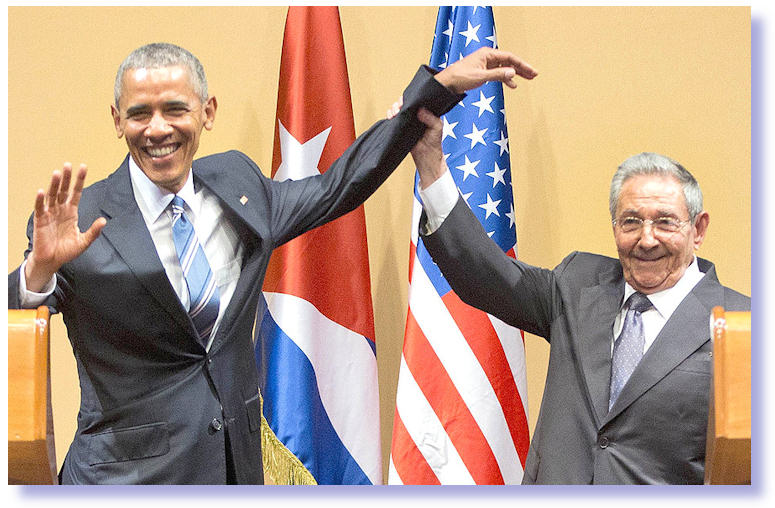 Good ole Buddies once again.
I've flown to Cuba a couple of times, and you just KNOW the legal flood of American tourists later this decade will be phenomenal. It is just off the coast of Florida, and like Prohibition, when legally lifted, all hell will break loose.

I was on a cruise ship once that skirted right down the length of it, in International waters. It is an obvious and interesting port add-on to the zillion or so, 7 and 14 day Caribbean cruises that leave from Florida each year.

And it will not just be tourism. STAMPS will gain a vast new American audience who have not been able to legally sell these stamps for 50 years. And a large boost in demand for anything, means prices go ONE way.

Remember not all things Cuba stamps will do well. In recent decades many issues were printed in large numbers for the thematic/topical buyers, and packet makers etc. Most were deliberately CTO'd at the printer. ebay does not ban USED Cuba stamps. However they'll always be landfill.
Watch these stamps move FAST.
The mint pre WW2 stamps are NOT in that league. There are several Definitive sets in that era that will cost you only $50 to $100 a set mint, IF you can source them. From most other countries, such key high face value sets sell for many times that level.

For a brief period around 1900, some USA stamps were overprinted for sale and use in Cuba, when they controlled the country. It is my strong feeling ALL those stamps mint, are the ones to focus upon now.

Printing numbers were low, and survival rates will also be very low, as few collectors were that interested. That has been my experience in 35 years of dealing, and I almost never see them in all the large collections I buy.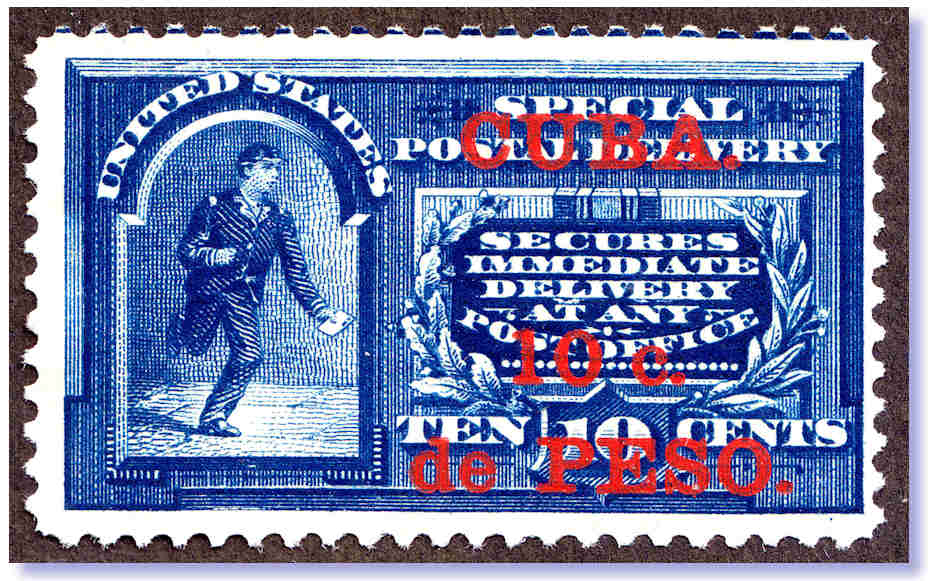 Look this one up in 5 years!
I bought the 10¢ one shown nearby this week. A scarce stamp, and have never owned one before. 1899 'CUBA' overprint in Deep Carmine, on the USA 10¢ Deep Indigo "Special Delivery" stamp. SG E252, £225.

Very fresh unused, with vibrant deep original colour, it allows someone to buy the entire 'Special Delivery' issues as there was only ONE stamp. The centre guideline along top perfs will let the experts plate it!

Right now, such a piece costs not much more than $A100, and in a few years I suspect that price will look pretty absurd. Time will tell, as always with such areas, but remember, you read it here first!









Get my regular market update emails FREE. Stamp gossip, price trends, record sale prices, and many one-time stamp specials, wholesale bargains, and exciting offers and breaking philatelic news. A mini stamp magazine in every email! "KNOWLEDGE IS POWER". The ONE stamp list you MUST be on, to keep in touch with the rapidly changing world market. One client made $65,000 profit in a few months after following my specific advice. Sign up securely and quickly by clicking HERE to access my automated data base. And wiser still ADD your home AND work email, if I only have one right now. Add a stamp friend's email address if you wish. One short click and you are subscribed to probably the most read email list in the stamp world!




If you would like to be notified of updates to this website,
Click HERE.
If have any questions,
or comments regarding my site, please email me at glen@glenstephens.com
| | |
| --- | --- |
| | Search all my 300+ web pages! Simply type in what you are looking for. "Penny Black", "Latvia", "Imprints", "Morocco", "Fungi" "Year Books", etc! Using quotes ( " ) is more accurf used with no quotes. Search is NOT case sensitive. Tip - keep the search word singular - "Machin" yields far more matches than "Machins" etc. |


I am a Dealer Member in Good Standing Of:

Full Time Stamp Dealer in Australia for over 35+ years.
Life Member - American Stamp Dealers' Association. (New York)
Also Member of: Philatelic Traders' Society. (London)
GLEN $TEPHEN$

Full Time Stamp Dealer in Australia for 35+ years.

Life Member - American Stamp Dealers' Association. (ASDA - New York) Also Member - Philatelic Traders' Society

(PTS London) and many other philatelic bodies.

ALL Postage + Insurance is extra. Visa/BankCard/MasterCard/Amex all OK, at NO fee, even for "Lay-Bys"! All lots offered are subject to my usual

Conditions of Sale

, copy upon request .

Sydney's

BIGGEST STAMP BUYER

: Post me ANYTHING via Registered Mail for my same-day cheque. Avoid copping the Now normal 45% Auction "Commissions" (15% Buyer + 20% Seller + GST, etc) AND their five-month delays!

Read HERE for details.

"Lothlórien", 4 The Tor Walk, CASTLECRAG (Sydney), N.S.W. 2068

Australia





Phone 7 Days:

(02) 9958-1333

PO Box 4007, Castlecrag. NSW. 2068




E-Mail:

glen@glenstephens.com

The Number #1 Web Sites:

and www.stampboards.com