July 2017


---
AP adds CUTS in new stamps

Australia Post have now added "micro-cuts" to new issue stamps released in self-adhesive booklets. The first such issue was the June 7, 2017 $1 Lions Club Centenary issue. These "micro cuts" within the stamp design already are present in the alleged "Priority" labels as many readers may realise.

This interesting new development is outlined in the new Stamp Bulletin of "July/August 2017". A photo of the current alleged "PRIORITY" stamp label is nearby. These were introduced a year or so back by the now departed, and very much unlamented Ahmed Fahour, ex-CEO of Australia Post.

Mr Fahour leaves the PO as you read this, with a double digit Million $ Golden Parachute payout etc, and left AP stuck with all these kooky ideas of his, that frankly do not work. The "Priority" labels were claimed to speed the $1.50 "First Class" letter mail between capital cities to next day in most cases.



The PO's hyped "PRIORITY disaster.
| | | |
| --- | --- | --- |
| | One I posted Registered "Priority" near a week back to Melbourne has still not arrived. As I type this, it has taken over FOUR days to move from Castlecrag to the nearby Granville Mail Centre where it will sit all weekend. Please play along with the woes of mail users in this country, and see yourself how long the laughable "next day" service SYD-MEL takes to arrive - tinyurl.com/APOjoke | |
"PRIORITY" a waste of money.
The recipient was going overseas for 2 months this week, and urged me to get his stamp to him URGENTLY. My last 2017 Registered sending to him in Melbourne took about 2 months, for which he berated me for being "incompetent", so I very foolishly sent his next stamp via the such hyped "Priority" system.

As you can clearly see from the illustration of one nearby, they have slits in them at various angles etc, and in all parts of the label, to stop folks peeling them off, and reusing them. Stampboards members ran timed tests, and "Priority" mail appeared to go same speed or slower than regular letters, posted same time to same address, so why would anyone bother?!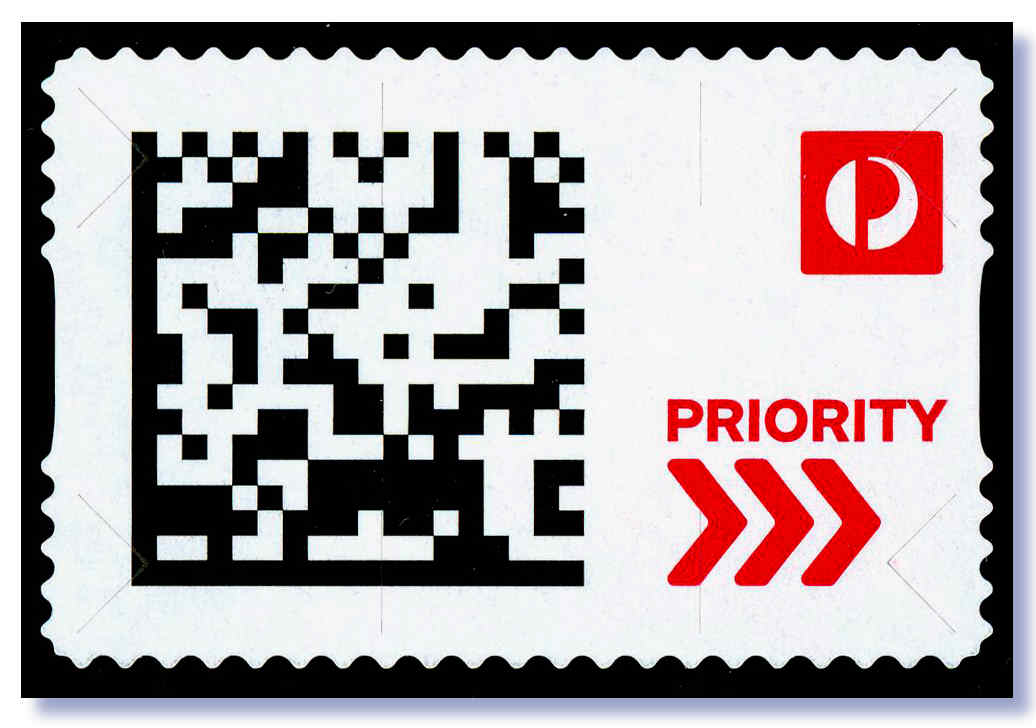 I count TWELVE slices in this label.
Australia Post believes these slits will "improve the adhesion" of the stamps (huh?!) and also says it will make it "harder to re-use stamps that have escaped cancels." As a vast % of letter mail these days receives no cancels, it seems bog obvious to me that if the PO did their job, and ensured mail got a cancel, they'd not need to mutilate our attractive Commemorative stamps.

It is not rocket science to ensure mail gets a cancel, as the machines are designed to do just that. Mr Fahour's $500 million White Elephant sorting and cancelling machinery, purchased in IKEA kit form from Netherlands, and tinkered with here so that it barely functioned, of course means sorting AND cancelling is ad hoc, and basically does not work.
Email the Minister on these.
| | | |
| --- | --- | --- |
| | If you do NOT want to see your future commemorative stamps sliced and mutilated, the Federal Minister for Communication and Arts is Senator Mitch Fifield - minister@communications.gov.au and senator.fifield@aph.gov.au - contact him. If you are Victorian, he is YOUR Senator. Suggest they CANCEL stamps, as they did well for 167 years - not cut slits in them! | |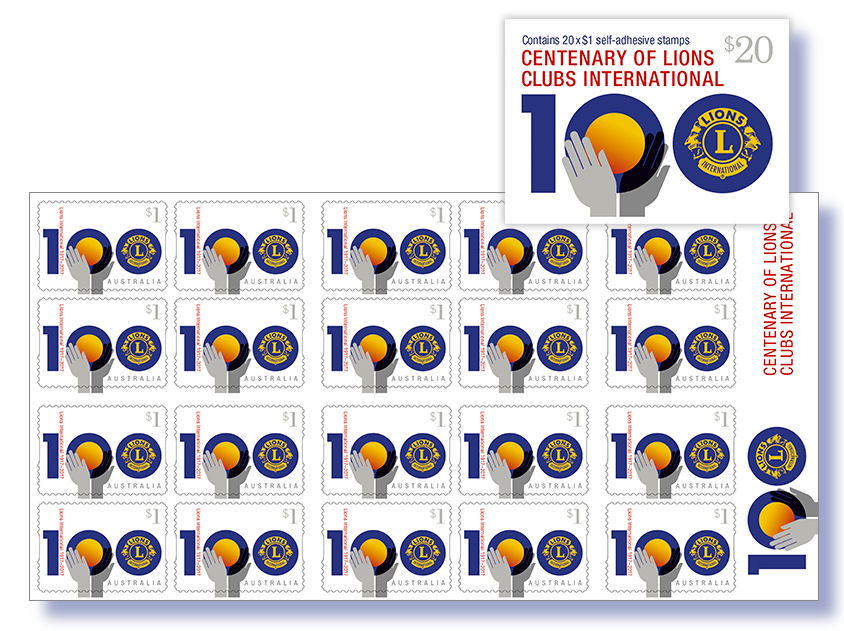 The Vandalism Commenced June 7.
Slits on stamps is nothing new of course, but is seldom used - probably as global POs are capable of cancelling most mail - and know collectors hate cut-up stamps. The only country presently using them I can think of, off the top of my head, is the UK, and they only use them on the little Machin Definitives, and NOT on Commemorative stamps as Australia is now doing.

Look at the blue current GB Machin head stamp illustrated nearby. Those 2 huge and ugly "PaperClip" U-shape defacements are on near all letter rate stamps sold in the UK. and on the higher values too, right up to £3 and £5. Do you want all YOUR future mint stamp purchases mutilated and ugly like this? For no good reason?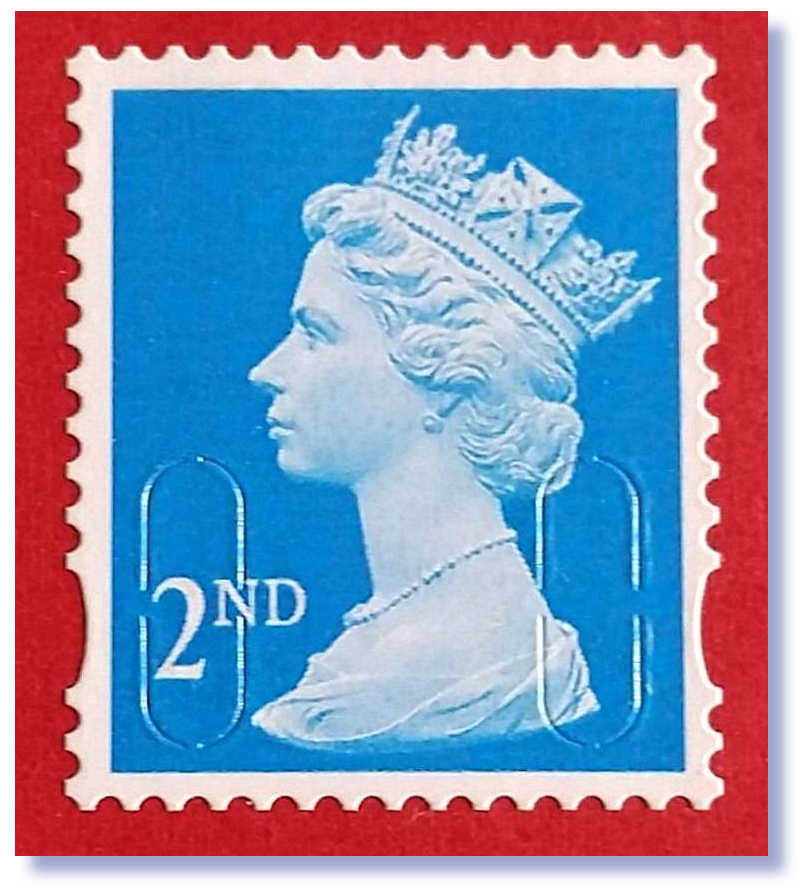 Do Ozzies want THIS mutilation?
The Royal Mail press release in early 2009 claimed it would be impossible to peel these off an envelope that has not been cancelled, and re-use them again on the mail. The official explanation was these would: "act in the same way as retail price stickers, causing a stamp to rip if you try to pull it off an envelope." Hmmmm.

If this is such a brilliant idea why aren't other First World countries like Germany and France and the USA and Canada etc, slicing up the stamps they issue, and sell to the public? Why? Because it is dumb, and it is clearly NOT necessary, and achieves nothing other than have folks stop buying New Issues.
MILLIONS of "no gum" UK sold.
Please assure Senator Fifield that this hare-brained idea will have near ZERO effect on stamps being re-used. In the UK many MILLIONS of no gum Machin heads stamps with ugly slits in them are openly sold on ebay alone. This seller as you can see offers them in quantities of up to 5,000 units a time - tinyurl.com/NogumUK - this one seller has sold very many 100s of lots.

Why? As the UK, like Australia, has in the past decade got lazy and inefficient, and near stopped cancelling stamps. They DUMBLY assumed these 4 x "paper clip" style "U" shape slits would somehow stop stamps being soaked off and re-used. The MILLIONS of stamps being openly re-sold after being removed from Charity and office on-paper kiloware, proves this is utter nonsense.

British Post Offices do seem to possess hand cancellers and they used to use them all the time. Nice neat cds cancels on UK stamps can be a delight to see, especially to fine outer "twisted barbed wire" modern types. Why not ask all offices to use them? Netherlands withdrew them all this year and told to use only pens - to total uproar, and they were all re-made in weeks!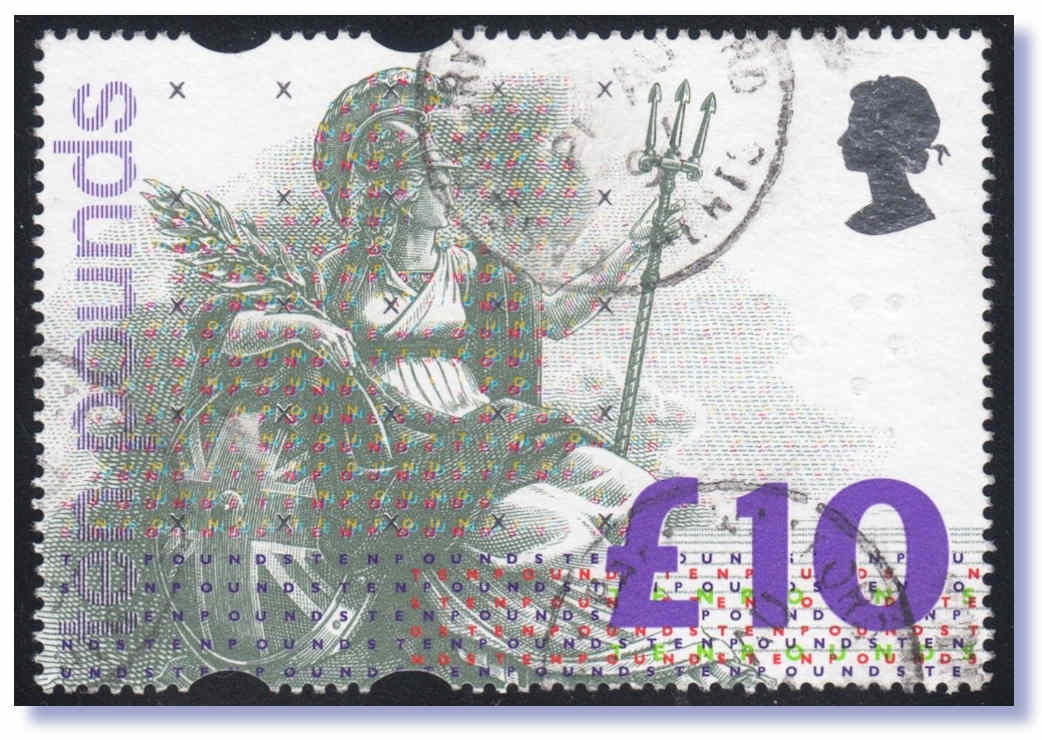 This is MY kind of cancel!
Real COST to Royal Mail in lost revenue for each million First Class (65p) stamps illegally re-used is £650,000. Ebay alone probably sells 10 million no gum stamps a year, and for £6.5 million a year I suspect PO can buy a lot of cancelling machinery? Across the wider market you can probably treble that loss. Let's say £20 million a year lost, as they can't be bothered to cancel stamps.

Re-using stamps that have already been used on the mail is illegal, and punishable by prison sentences for defrauding revenue. So I can never understand why Post Offices, who all have large Security Forces, do not aggressively get these sellers removed by ebay AND prosecuted. Again sheer laziness, and if we are talking tens of Millions in annual revenue losses, it seems a no-brainer to me.
Millions in PO Revenue losses.
This UK ebay seller "collectsrus2015" has been offering these for years. And has had several ebay user name changes - generally a sign of someone with something to hide. Cheekily sold as "NO GUM BUT READY TO USE" Look at the huge conga line of what this one seller is offering now - tinyurl.com/DodgyMachin - hope The Bill knocks on his door soon, and ebay bans him: report the sales on - tinyurl.com/ebayfakes

If ebay gets 5 or 10 reports on any given item they WILL generally take notice. They usually warn the user and remove the lot. Sellers getting several such removed lots are in trouble. Let's use 'people power' to stop this material getting offered. Everyone "hoping" others act, will get nothing done - like most things in life! It takes teamwork and a Community Spirit, and the dodgy and misleading lots will be FAR less.

The same thing occurs in Australia with no gum stamps, and on ebay, vast quantities of clearly stolen Post Office new product is offered each hour of each day. Pre-paid Registered and Express envelopes and parcel satchels of all sizes and types and quantities. Near all clearly stolen and fenced, and if the PO Security got off their backsides some prosecutions would easily result.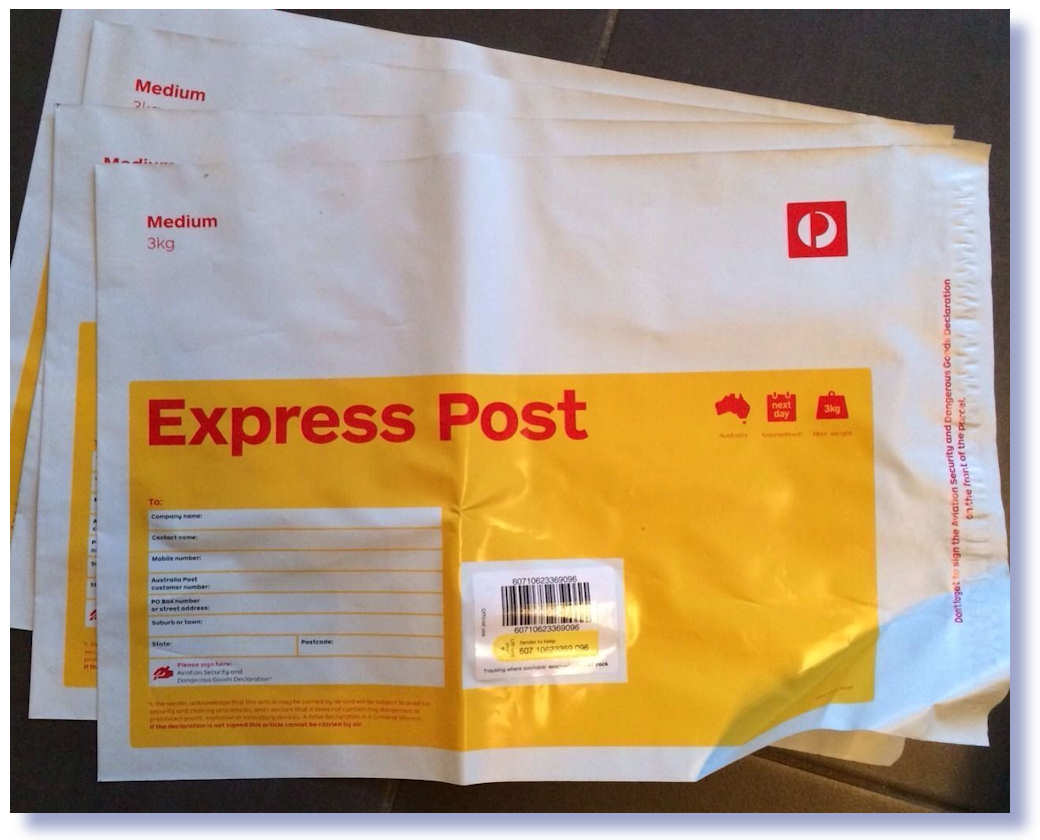 $ Millions stolen a year.
I have discussed this with my Postmaster, who carefully did the maths, and most of the ebay sellers of the vast numbers of these satchels end up netting WAY less than the lowest unit price he can officially buy them at the highest discount PO level. Most are thus clearly stolen ex AP, and again the PO Security team appear totally asleep at the wheel.

All these products have unique tracking codes, and the PO here has shown for years they have zero systems in place to record what codes are on each factory box, so when stolen from warehouses etc, those codes can be invalidated or investigated.

Or far smarter still, have the stolen tracked product trigger an e-alert when mailed, so the foolish users of them can then almost certainly score themselves a surprise visit from the Federal Police with a Search Warrant, as the lodgement PO shows up on all the tracking.

The buyers of such product in bulk quantity, at way under PO wholesale cost price, must clearly know the goods they are buying are most likely stolen or dodgy at best, and any business using such material places themselves and their recipients are at risk of Police action if caught.
Total Fakes of USA stamps.
Postal forgeries are heavily on the rise for USA stamps. At last count, 40 different modern counterfeit stamps have been listed in the Scott U.S. Specialised Catalogue. Postal counterfeits of U.S. stamps were listed for the first time in the 2013 edition of the U.S. Specialised Catalogue, published in October 2012.

Today's web of stamp counterfeiting has spread far and wide, making it even more difficult for USPS postal inspectors to pinpoint the producers and sellers, and shut them down. But the sellers continue to cover their tracks in ways that are predictable, and vast numbers of fake "current" stamps are being offloaded.

Linn's Stamp News quoted Larry Plante, a revenue fraud analyst for the Cincinnati office of the USPS Postal Inspection Service, saying that today's stamp counterfeiters use two methods to get their bogus wares into the United States via online sites such as eBay.

"The first is hacking an inactive account," said Plante. The hacker presumably changes the contact information and then uses the account to sell the stamps to unsuspecting buyers. In the second scenario, a so-called middleman is used. Plante explained -

"A middleman is someone who will list the stamps for sale using their own eBay account for a third party. When the stamps are sold, they relay the sale information to the third party. The third party sends the stamps directly to the buyer."

"The middleman is located within the USA, while the third party is in China. The middleman can get a commission or flat fee for their services. I don't know how the money is exchanged."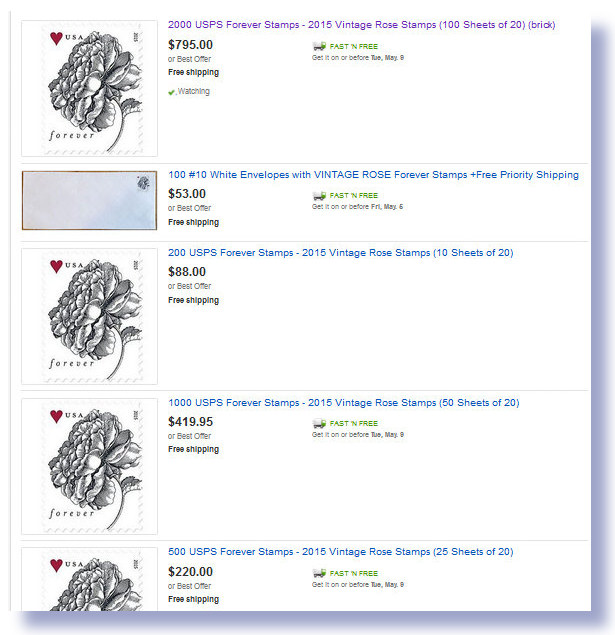 Total fakes peddled on ebay.
Plante at USPS also said that the sellers of fraudulent stamps, once they've completed an official sale, will email the buyer and then: "offer more fake stamps at discounted prices, outside of eBay."

While this is serious business for Plante and his colleagues, their efforts occasionally yield humorous results. For example, Plante described one buyer who emailed the seller through eBay asking for reassurance that these stamps were not fake. The seller replied with the following laughable response:
"We ship from China."
| | | |
| --- | --- | --- |
| | "'Our company is located in California. We signed a contract with USPS. We ship from China because of the tax issues, so we ship all the stamps to China first and ship to you. You can check all the stamps at local post office. If you find any fake or fraud, tell us and we will refund you immediately without return. Thanks!'" | |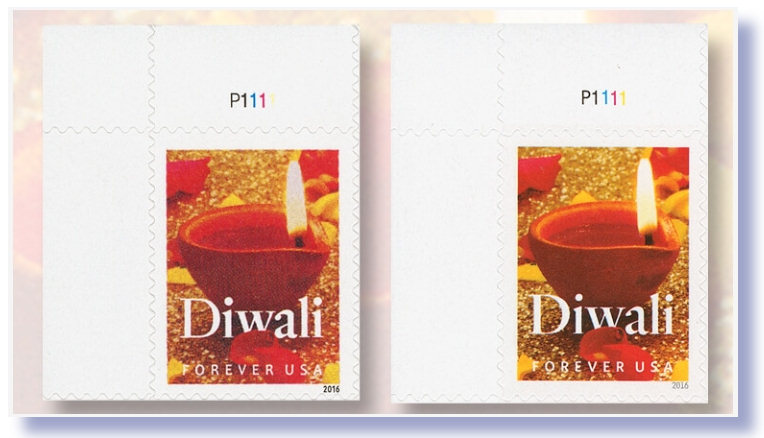 Forgery at left, Genuine at right
Ebay as usual does nothing to stop obvious fake stamps being sold, as they and PayPal make the same fees when forged stamps are sold, as when genuine ones are. This is why buying many stamp areas on ebay is truly for the totally Clueless Bunnies, as so much fake stuff is peddled with impunity.

Ebay sellers "cardrushinc" and "otktcg" have for months been selling apparently endless lots of current issue sheets of 49¢ "Forever" stamps at $US795 for 2000 "or make offer" - face value $US980. After the ebay/paypal fees of about 10%, they end up with about $US675 nett when some 'bargain hunter' offers them $750. So seller netts about 25% under face. Sound like legit stamps to you?
Near impossible to pick Fakes.
The recent Asian forgeries are of superb quality, it is reported. A sheet of a genuine recent DIWALI "Forever" stamps and a forged sheet were given to a "Linn's" Senior Editor, and a sister magazine "Coin World" Editor, and they were asked to specify WHICH one was forged, in their view. They both selected the Fake as the real article.

See the image nearby for how convincing the fakes are. Good strong colour, and good die-cutting. Linns Editor Charles Snee reported many months back these were also being sold on ebay by "cardrushinc" and seller was contacted by them to no response, and so far no Uncle Sam or ebay intervention to stop them.

You can see many buyers of these stamps have left negative feedbacks that the stamps were fake or bogus - tinyurl.com/cardsrushinc As usual ebay does nothing in such cases, unless it gets a LOT of members reporting it, as after all they make a TON of fees out of selling these outright bogus and illegal items.

As you can readily see, like many conmen on ebay they make such dodgy material auctions "Private" so one cannot see the items that were purchased. Only as the Negatives mention fake stamps would you know. The seller as can be seen, has a legit main business selling sports and collector cards etc. See ANY "Private" auction for stamps, and run a mile.
Trump even makes Stamp Magazines.
Linn's Stamp News reported June 2 that the Human Hairpiece, Donald Trump has incurred the wrath of the United States Postal Service (USPS) workers - which may well signal mail strikes, go-slows, and union and service disruption ahead? Their report said in part -

The Trump budget for fiscal year 2018 says it offers the USPS $46 billion in "savings" by reducing mail deliveries and hitting postal workers' benefits. Not surprisingly, the USA postal unions are in full battle mode with the President.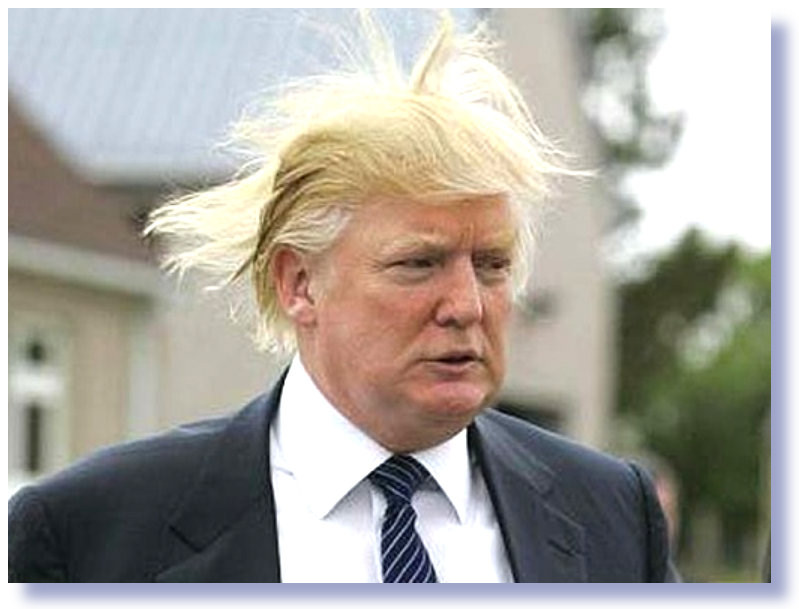 Trump now upsetting USPS Unions.
| | | |
| --- | --- | --- |
| | "This budget proposal is Robin Hood in reverse," claimed American Postal Workers Union president Mark Dimondstein. "It robs from the workers to give more and more to the wealthy. Taken in their entirety, these are draconian attacks on hard working postal workers and our families" the union chief said. | |
Pension contributions to rise.
"Sadly, the new administration seems to have ignored the growing consensus in the mailing industry over ways to strengthen the Postal Service," said Fredric Rolando, president of the National Association of Letter Carriers. "If enacted, the Trump proposals would threaten the long-term viability of the Postal Service and the huge industry it supports" Rolando said.

What is infuriating the unions is a proposal to increase pension contributions by workers by a total of 6% during the next six years. Specifically, Trump wants worker contributions to the Federal Employee Retirement System to rise by 1% every year for the next six years. That would result in "a pay-cut of thousands of dollars a year for each FERS postal employee" the unions say.

The President's budget would eliminate cost of living adjustments (COLA) on FERS retirement benefits, reduce COLAs for current civil-service retirees, and base all future retirement pay on a high five-year average instead of the current three-year average.
Street mailboxes to be postal centres?
Linn's separately reported this month that the United States Postal Service may be experimenting with one way to do away with postage stamps in the future, and having street mail boxes much of the work!

At least that's the suggestion being made on a "YouTube" video, that touts a proposed experimental postal project that would place a small electronic box on the top of those familiar blue mail roadside mail collection boxes one sees right across the USA, akin to the red mail boxes in the UK and Australia.

USPS Officials have acknowledged that the Postal Service is planning to test the "Smart Blue Box" concept, created by MRM/McCann, a New York advertising agency, but offered no details about when and where the project might begin. A comment about the video, posted on YouTube May 29, calls the device "Voice Stamp."

It describes it as an "upcoming new feature of the Smart Blue Box from the U.S. Postal Service," saying it "will get rid of the antiquated stamp, and make postage paperless. A completely new way to mail letters and packages - without stamps."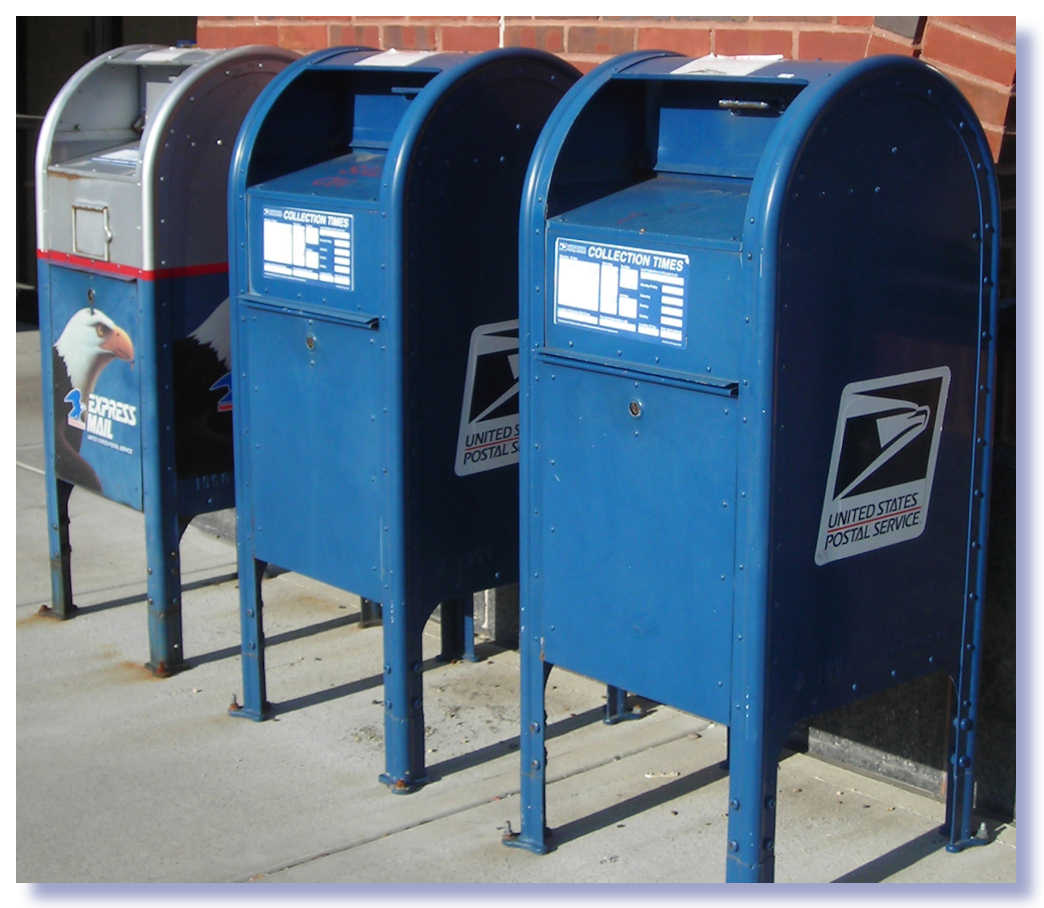 Mailboxes to become Daleks?!
Asked to comment, the US Postal Service described the device as a "prototype" that "combines the power of the Post Office with the convenience of the iconic blue USPS collection boxes." According to the video, the solar-powered device would allow a customer to ask whether mail has been collected from that box.

It contains a scale that would allow a small parcel to be weighed for mailing and apparently a device that would produce a mailing label with postage to be affixed to a parcel. No stamps would be used. "All you have to do is ask," says the USPS in its explanation of the device.

"Equipped with the latest artificial intelligence and connected to multiple postal computer programs, the Smart Blue Box is the latest demonstration of seamless customer service," it says. "You can ask if a carrier has collected the box already, or for a delivery date and time of a package," the Postal Service continued.

"You can even use it to calculate postage with the scale. It can tell you or text you directions to the closest [postal] retail location, along with specific hours. In a future state, it could deliver a postage code to write on the package for immediate drop-off, using voice recognition to charge your account."

However as Linn's commented - given the US Postal Service's current financial troubles, it isn't clear from the sparse information provided, how the USPS could finance widespread installation and maintenance of the devices.

Watch for these in bulk lots!
The 1910 New Zealand ½d green KEVII overprint OFFICIAL is not uncommon. SG 073 is catalogued at just 40p used - i.e. basically packet maker bundleware material, and the kind of stamp most of us would never give even a second glance.

So why is a New Zealand dealer offering the example shown nearby for $NZ10,000? And 2 others too, at similar high prices? Why - because the overprint reads DOWNWARDS and not upwards, as most of the other copies of this stamp in circulation do.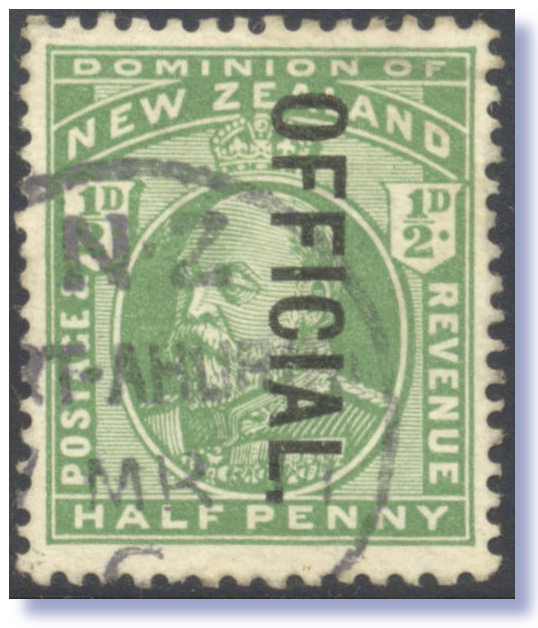 WHY is this priced $10,000?
That makes them SG 073a, cat £3,000. New Zealand dealer Richard Wooders showed me these recently from the Frank Parkinson collection, and whilst his prices are as usual over there, stratospheric for such things, are not often offered I am sure. Please excuse the scan quality - that is the best Richard could offer me!

Cancelled "Port Ahuriri" on 7.3.1911, it is Expertised by both the Royal Philatelic Society New Zealand, and the Royal Philatelic Society London in 1990 and 1991 respectively. This one shown is said to be the finest example known of the small number that are recorded. Well worth keeping this error in mind - you might well see one in a kid's collection!
Faroe Islands Visit.
I have been most fortunate to have travelled to over 150 countries around the globe on holiday, but never before to The Faroe Islands in the North Atlantic. For years in the early 1980s I took out 2 facing pages in "Stamp News" styled as "The Faroes King" selling all the stamp issues from there - some then were quite pricey.

So late May embarked on a pretty mad flurry of 36 hours of flights to there, via Sydney, Melbourne, Perth, Abu Dhabi, Dublin, Oslo and Copenhangen, that took literally DAYS to complete, with only 1 hotel night along the way! I'm really am getting too old for all this stuff.

The good thing is most planes these days have WiFi all the way, so for a flat $US20 each direction, I could send emails, and surf the web, and buy and sell stamps, and post on stampboards etc for the 24 hours from Australia to Dublin and back, at 40,000 feet, at fast speed.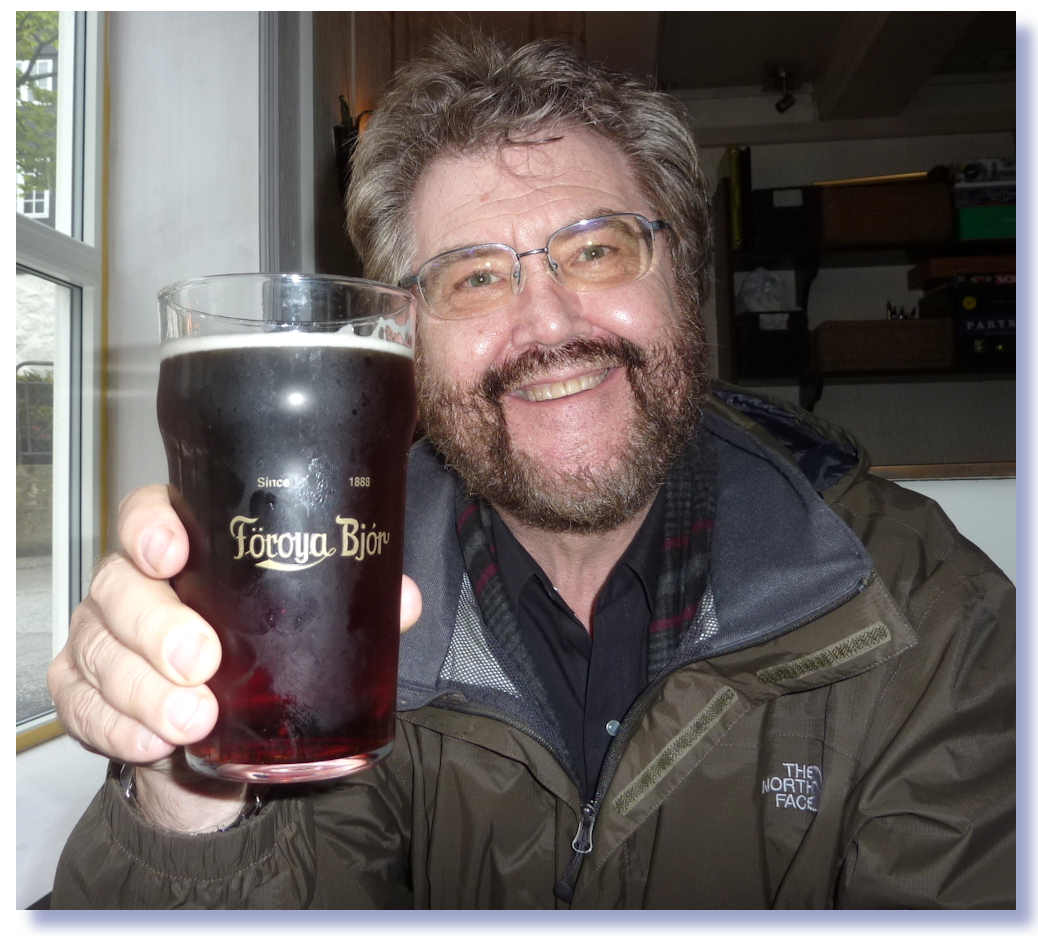 REAL countries make beer!
A tiny place of less than 50,000 people, but they have their own banknotes, passports, language, beer, airline, Flag, number plates, and Government, and are NOT an EU member, oddly. There are only 4 barely passable hotels there, and we got the very last room, as booked late as always!

The Faroes is NOT as many feel - "just a part of Denmark". When you arrive from Denmark by plane, you can buy Duty Free on the aircraft, and at the airport. They have their own banknotes that go right up to 1000 Krona (~$A400 - a 3* Hotel room night over there!) that are not official legal tender in Denmark, and vice-versa etc.

Currency notes up to 1000 Krona.
It is (so far) a totally unspoiled destination for any tourist. (Unlike nearby Iceland!) No huge tour buses full of tourists, as occurs on near every other spot on this planet these days. Beautiful scenery, and oddly not a single tree in the entire country, other than in a few home gardens. Strange to see. Entire rugged vistas for miles in every direction, with not a tree to be seen!

MANY readers collect the superbly produced Faroe Islands stamps, and will possibly enjoy some real photos from there. Horrifying costs for everything, but that's small remote islands for ya! Many dozens of our unusual photos of these fascinating islands are here - tinyurl.com/Faeros (yes MY spelling error!)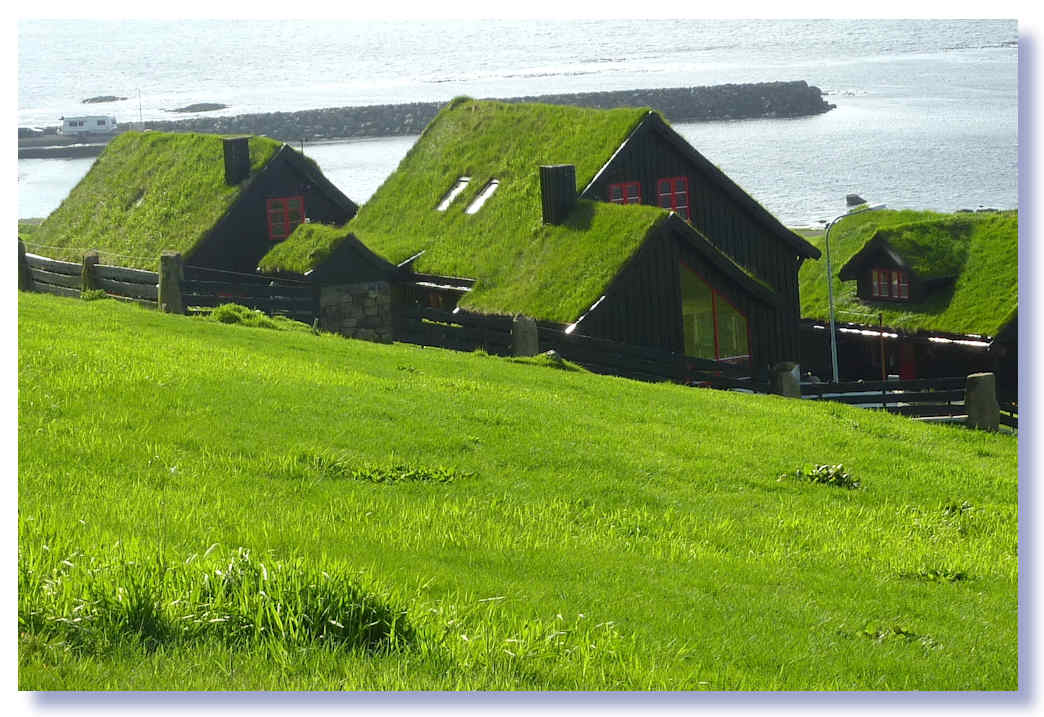 Grass roof houses everywhere.
Was there in Scotland all during the mad Election week mess in UK - what a strange story THAT was. The Faroe Islands are an incredibly interesting country to visit, and MANY houses have strange grass turf roofs as per my photo nearby. There are endless sheep wandering around aimlessly unfenced, and they put one on the roofs to keep the height down!

Hardly a tourist in sight anywhere, and quite magnificent scenery, and history going back to Viking graves, and house remains etc. Weather far milder, and more even than you'd imagine, and it rarely snows, even in Winter we were told. Do check out dozens more photos and comments - tinyurl.com/Faeros









Get my regular market update emails FREE.REE. Stamp gossip, price trends, record sale prices, and many one-time stamp specials, wholesale bargains, and exciting offers and breaking philatelic news. A mini stamp magazine in every email! "KNOWLEDGE IS POWER". The ONE stamp list you MUST be on, to keep in touch with the rapidly changing world market. One client made $65,000 profit in a few months after following my specific advice. Sign up securely and quickly by clicking HERE to access my automated data base. And wiser still ADD your home AND work email, if I only have one right now. Add a stamp friend's email address if you wish. One short click and you are subscribed to probably the most read email list in the stamp world!




If you would like to be notified of updates to this website,
Click HERE.
If have any questions,
or comments regarding my site, please email me at glen@glenstephens.com
| | |
| --- | --- |
| | Search all my 300+ web pages! Simply type in what you are looking for. "Penny Black", "Latvia", "Imprints", "Morocco", "Fungi" "Year Books", etc! Using quotes ( " ) is more accurf used with no quotes. Search is NOT case sensitive. Tip - keep the search word singular - "Machin" yields far more matches than "Machins" etc. |


I am a Dealer Member in Good Standing Of:

Full Time Stamp Dealer in Australia for over 35+ years.
Life Member - American Stamp Dealers' Association. (New York)
Also Member of: Philatelic Traders' Society. (London)
GLEN $TEPHEN$

Full Time Stamp Dealer in Australia for 35+ years.

Life Member - American Stamp Dealers' Association. (ASDA - New York) Also Member - Philatelic Traders' Society

(PTS London) and many other philatelic bodies.

ALL Postage + Insurance is extra. Visa/BankCard/MasterCard/Amex all OK, at NO fee, even for "Lay-Bys"! All lots offered are subject to my usual

Conditions of Sale, copy upon request .

Sydney's

BIGGEST STAMP BUYER: Post me ANYTHING via Registered Mail for my same-day cheque. Avoid copping the Now normal 45% Auction "Commissions" (15% Buyer + 20% Seller + GST, etc) AND their five-month delays!

Read HERE for details.

"Lothlórien", 4 The Tor Walk, CASTLECRAG (Sydney), N.S.W. 2068

Australia

Phone 7 Days: (02) 9958-1333

PO Box 4007, Castlecrag. NSW. 2068


E-Mail: glen@glenstephens.com The Number #1 Web Sites: www.stampboards.com