Click To Go Back To The Main www.GlenStephens.com Stamps Homepage

Welcome! You are visitor
to www.GlenStephens.com




Glen Stephens
Monthly "Stamp News" Market Tipster Column


June 2011

| | | |
| --- | --- | --- |
| | | |
---
How to attract young collectors?
I know for a fact that many of today's top line collectors like Arthur Gray all started off with an "ETA Peanut Butter" type stamp album when they were young chaps.

As probably did MOST older readers of this magazine. And slightly less older ones like myself were "hooked" via the Ampol Petrol promotion in the early 1960s.

And American and British readers doubtless had similar local companies, who produced free or cheap albums for kiddies.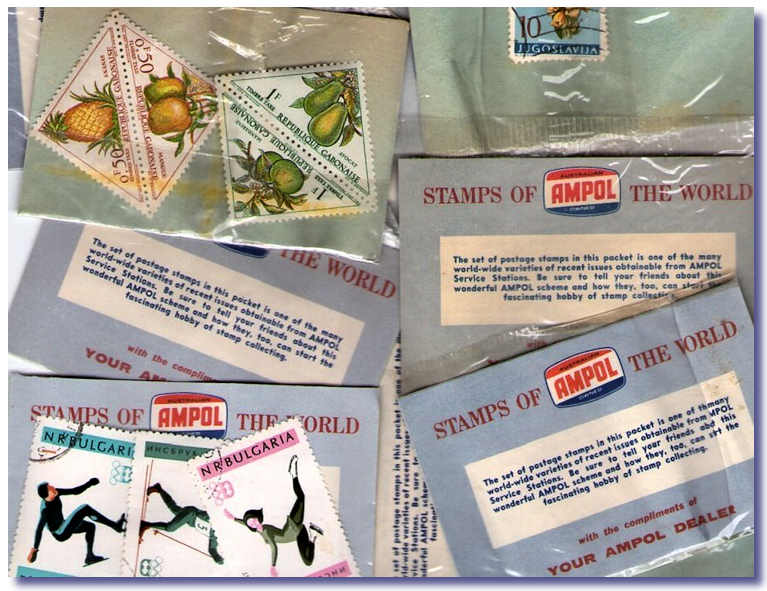 Remember these - AMPOL stamp packets!
Mirroring the growth path of many large US based companies in the 1950s and 1960s, most comic and adventure magazines sold in Australia contained premium offers and enticements for approval packets.

Hundreds of thousands of Australian youngsters signed up for these offers. I certainly did!

Many very senior medal winning collectors in Australia today will sheepishly admit they got their start in stamp collecting from this comic book approval campaign.
The 1960s "Ampol" Promotion
If you did a survey of the Gold medal winners at the recent "EXPO 2011" I suspect you would find a surprising percentage started their collecting via companies like Seven Seas Stamps who locally were pre-eminent then among these mass stamp marketers.

Seven Seas Stamps were also very aggressive in using stamp packets as promotional premiums for large companies.

In the early 1960s one large campaign involved over 20 million packets of colourful world thematic stamps being given away with the purchase of one brand of petrol - AMPOL.

These packets contained an incredible 70 million world stamps in sets - many of them MUH, and they "entirely excluded cheap definitives" Bill Hornadge assures me.
20 MILLION packets made
| | | |
| --- | --- | --- |
| | Australia at that time had a population numbering only about 10 million people, so 20 million stamp packets was obviously a vast amount, being about two packets given away for every man woman and child living in the country. | |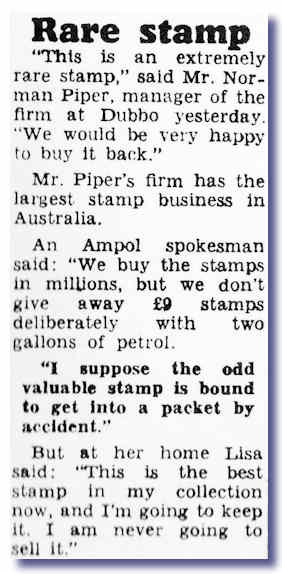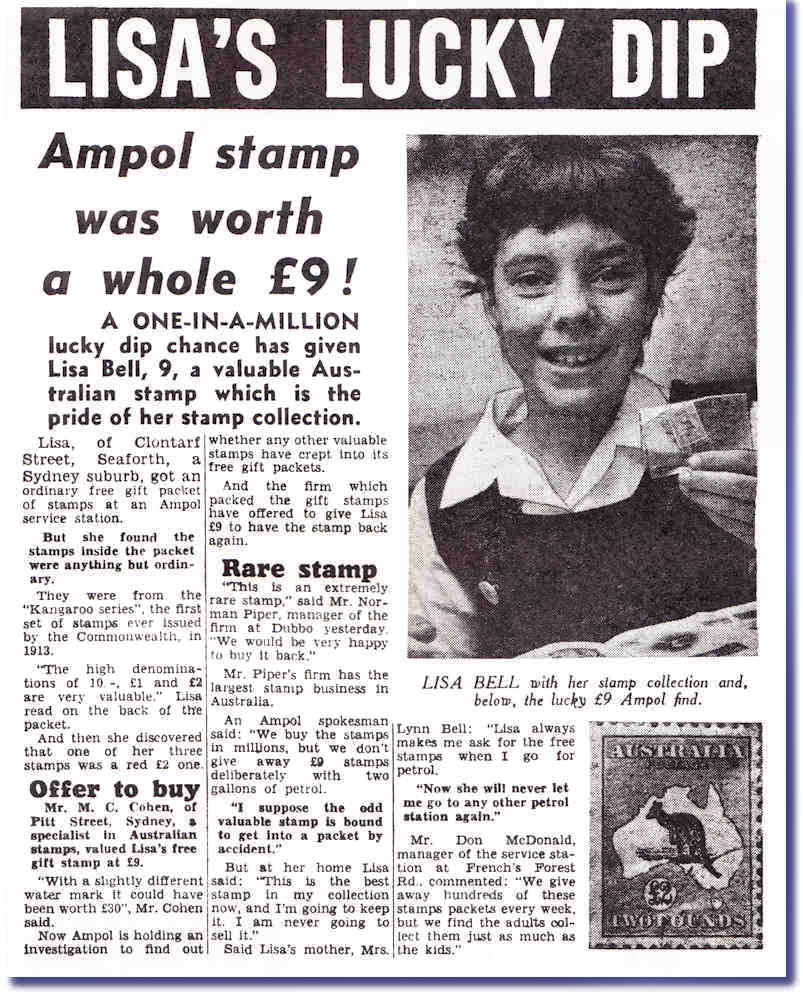 The media went crazy over "rare finds"
At one point Seven Seas Stamps in Dubbo were tearing up, packaging and dispatching 400,000 packets a week to meet the demand - which was many times the budgeted estimate, according to owner Bill Hornadge.

AMPOL estimated the usual "request rate" for a promo item would be the industry typical 15%. However, it immediately ran to around 50%, and stayed that way.

Young migrant dealer Max Stern was sent off packing to Europe with a blank cheque book, with orders to buy anything pretty in packet material he could lay his hands on.

Kids like me badgered Dad to fill up only at AMPOL – so I could get the attractive freebie stamp packets.

Bet we all now are annoyed we did not keep the AMPOL packets un-opened – the ones depicted sold on ebay for $A32!

I wish Seven Seas Stamps or someone else would get McDonalds, Shell, Woolworths, etc, to run such a campaign today.

Don't laugh ... the concept certainly worked for AMPOL – very big time, with big sales increases, and public awareness.

The Chairman of AMPOL was reported widely in the daily financial press in 1964 speaking at the company AGM, stating sales and profits had gone up 12% over the year before, and stamp packets were the specific reason for this upsurge in business.
"ETA" Peanut Butter stamp albums
The same idea had also worked 30 years earlier. A new brand of peanut butter spread was introduced, named ETA.

In 1937 they also decided to use stamps to draw attention to the new ETA peanut butter in Australia. Some 25 million postage stamps were given away.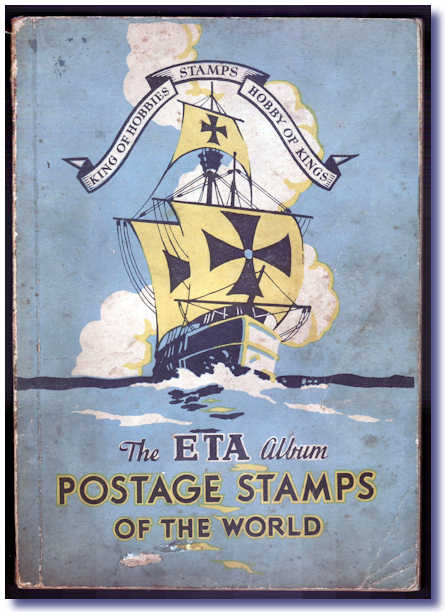 Battered 1930's "ETA" Stamp Album
In the first year some 275,000 printed albums were sold, compared to a bullish estimate of only 75,000 being needed!

Some 74 years later, that "new" brand is still the market leader peanut butter in Australia.

Both AMPOL and ETA albums turn up regularly in auctions and dealer shops to this day, showing the enduring power of stamp collecting as an advertising medium.

An inexpensive and very basic printed "Ampol" kids album was also made available.
300,000 AMPOL Albums sold
A massive 300,000 were sold, and again this was the formative spark that attracted many of today's leading collectors and dealers.

This writer was certainly introduced to philately via those AMPOL packets of exotic Triangulars from Mongolia and Goya Nudes from Spain. (Surprise, surprise, I still have the Nudes!)

The packets were cleverly "salted" by Seven Seas Stamps with the occasional valuable "goodie."

When these were "found" (coff, coff) the overjoyed child owner often got widely reported in the daily papers, creating more excitement and demand from AMPOL - and Seven Seas Stamps.

"Lucky Lisa" aged 9 "found" a £2 Roo in her pack the media gleefully reported, and these "plants" got national media in those days.
"Under Investigation"
| | | |
| --- | --- | --- |
| | AMPOL would always claim to have initiated "an urgent investigation" as to how a 5/- Bridge or £2 Roo got into their cheapie packets. | |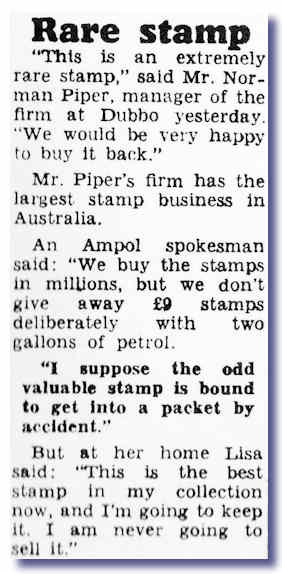 "Lucky Little Lisa" indeed!
Seven Seas would profess in the daily media it was a major error, and they hoped there were not more similar packing errors but could not guarantee that.

The mainstream press lapped it up. A stamp worth a few quid (even if it existed!) would get them $100,000 worth of free media on today's money.

My thoughts are that getting youngsters exposed to stamps is an ESSENTIAL thing for this hobby, and the entrepreneurs that do this are doing philately in this country a great service.
More ebay stamp madness
I've written before on the stupid prices many stamp fakes and forgeries obtain on ebay.

Most often it is unscrupulous sellers offering regums and forged overprints to the army of often clueless, but well cashed up buyers.

In that case most blame lies with the sellers, who almost always realise what they are selling is forged, and the material is described as "Superb" and "genuine" etc.

Stampboards.com has exposed 100s of these cons in the past and have saved the Bunnies literally millions of dollars by having these sellers closed down.

One UK cartel written about recently here removed an estimated £1 million from bargain hunting ebay bidders.

They were clamouring over masses of 100+ year old allegedly "unmounted" stamps, that were pretty clearly regummed.

At last count about 30 fake handles connected with them had been banned by ebay, based on wide global dealer and collector input to ebay.

tinyurl.com/UKregum has a 250+ post discussion on this Bristol UK ebay seller, and the apparent still bidding and regums and name changes, and in-house "PES Certificates" etc.

Some genius paid way over full SG Cat for the "MUH" Falklands 5/- SG42 shown nearby – and the fibres from the regumming are evident all over to me. Seller "Leman800" was banned from ebay mid May, so no recourse now to buyer.

Most collectors would not detect a good regum if it jumped up and bit them on the rear end, so the last place any sane buyer would be spending $1,000's a stamp would be on ebay.
Beware ebay stamp "Private Auctions"
Always from sellers with zero dealer body affiliations, and nearly always via "Private Auctions". See those combos for stamp sellers on ebay, and you are almost certainly being conned.

Most buyers seem blissfully unaware that it is IMPOSSIBLE for a buyer to attract neural or negative feedback these days on ebay.

I repeat - totally impossible – sellers can leave only positive or zero feedback. Don't pay 50 sellers and mess them about, and there is no trace.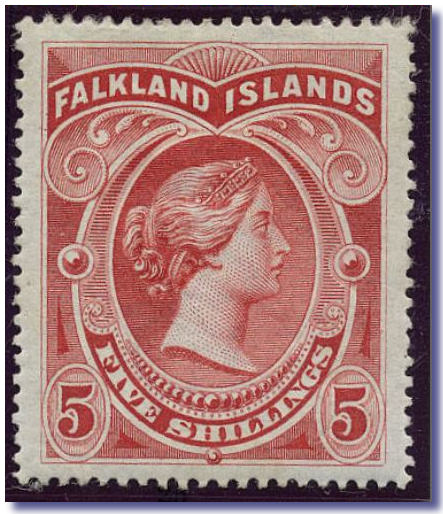 An alleged "MUH" 1898 high Value
So the shonks often start an account and rack up 100 or 200 feedbacks in a day buying packs of "AA" batteries for $1, or ball point pens or paper clips etc .. or even 100 lots of cheapie stamps that are selling for 99c or so.

The well known Sydney forger often buys material he is about to forge perfins or overprints upon via such accounts. In 3 months the lots scroll off and can't be seen.

So hey presto seller "jiminy54256" has 200 feedbacks - all with 100% perfect rating, and folks then bid with confidence.

Then they swap from buyer, to selling the shonky material, often listing up 100s of "warehoused" lots at once. Often all unsolds from the last banned user name.

If a decent chunk of those are forged and/or regummed it will be many weeks before any negative feedback will appear, even if the buyers realise they have been conned – and they almost never do of course.

After all it is ebay, and "everything is a bargain" and, "the seller has 200 feedbacks at 100%". Sigh.

Even if a few pesky negatives start appearing, the sellers then change the account to totally private feedback so no-one - even recent buyers, can see the negatives.

Ebay either shuts the account down by this stage, or the seller account is quietly abandoned for a few months.

But by then the cons have decamped with $10,000's from their sudden burst of 300 dodgy lots for sale all at once.
Ebay accounts for sale
A colleague recently had someone offer to buy his teenager's ebay account password for $250. It had about 500 feedbacks selling and buying music CDs and DVD's and clothing and concert tickets etc.

In a few months none of that will be visible, and a 'trusted' 5 year ebay member with high feedback will be selling fake stamps you can bet.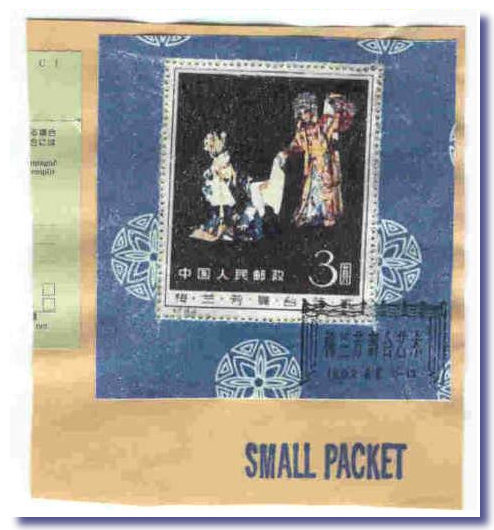 ebay stamp fake of the YEAR?
Some of the bidding however is not totally seller deception, but is often due to brainless buyers, having near zero idea what they are buying.

The appalling "Chinese miniature sheet" shown nearby was recently bid up to $US1,035 on ebay.

It was lot 180643251461 from Italian seller "Manumicheli" and described as: "The M/S has been damaged and lost some colour, see scan. Sold as it is."

The astute buyer was American member "immersivee" who left this glowing feedback – "very good AAAAA++++" As P.T. Barnum once said – "there is one born every minute."

This is a scarce mini sheet when genuine of course, worth many $1000s from legitimate dealers or auctions.
Bidder lunacy on ebay for mini Sheet
However these bunnies after 24 bids pushed the final price up to $US1,035.

The photo on ebay any child could surely see was a blurry, hacked about photocopy, into which a pin or a nail had apparently been pressed into, to roughly resemble perforations.

Anyone in the market for this sheet must surely know the genuine article is a totally different blue colour, and is FAR wider and deeper in size, and has normal perforations?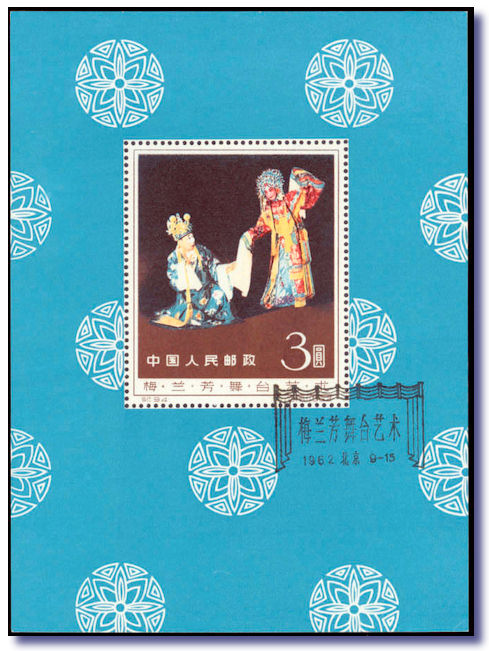 A GENUINE Mei Lang Fang M/S
None of these very trivial points seem to matter to ebay "bargain hunters" of course, who madly bid themselves silly on worthless pieces of junk.

In this case bidding with an Italian seller who had sold a string of fake/reprint China stamp items in the recent past, and "MUH" 1913 high value Roos that looked VERY dodgy.

The mind boggles as to why, with 4 figure items, that a collector would not only buy from real dealers who offer a real GUARANTEE that the piece is genuine?

A GENUINE used 1962 Mei Lang Fang miniature sheet is shown nearby.

Any resemblance between that, and the ugly cut down, home perforated scrap paper sold on ebay is purely accidental!

Someone has glued that junk onto a piece of modern parcel wrapper, and bunged it onto ebay. The salivating Bunnies did the rest.

Stampboards has a VERY long discussion thread "Mad Bidders On Worthless Ebay Lots" found here - tinyurl.com/ebayBuny and some of the rubbish these idiots madly bid upon to silly prices boggles the mind. Well worth a read.
Ebay can be a great stamp resource
Ebay is a terrific resource for stamp collecting. It allows elusive stamps – topicals/thematics especially, to be sourced for a few dollars from a global marketplace.

Want to buy the Gilbert and Ellice 1937 Coronation set fine used to complete an omnibus set of 202 - ebay is the place to do that perfectly and cheaply.

Or a great place to replace the 1/- value of the Ascension 1954 Definitive, that has a missing perf or hinge thin etc, for $1.50.

Sadly the cons find it just as handy, and we owe it to the hobby to keep the cons OUT and the market clean.

They all offer "Full Refunds if not satisfied" as they KNOW by the time you start asking, they'll be long banned, and have vanished with YOUR money.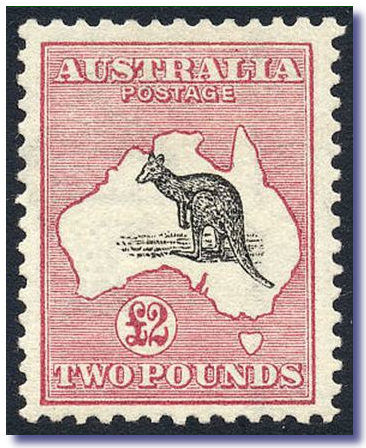 An ebay $US12,000 "Bargain"
Folks spending $1000s – often over $10,000 on a "MUH" (regummed of course) 1913 £2 Kangaroo on ebay, from a seller who was banned very soon after, is sheer lunacy.

A pair of Sydney con-men have had about 50 ebay accounts closed down by stampboards and dealer bodies and Police and vigilant members, yet still peddle fake perfins, fake overprints, and fake cancels – and now regums.

Their most active handle right now is "maylan11z2" and is raking in money on fake perfins, overprints, cancels – and regums.

A keen perfin collector noticed they bought a normal SG43 10/- Roo from the USA earlier year from "kmc4076" for just $US65 under one of their many fake handles, added a fake perfin, and offered it on ebay for $150 more as "maylan11z2"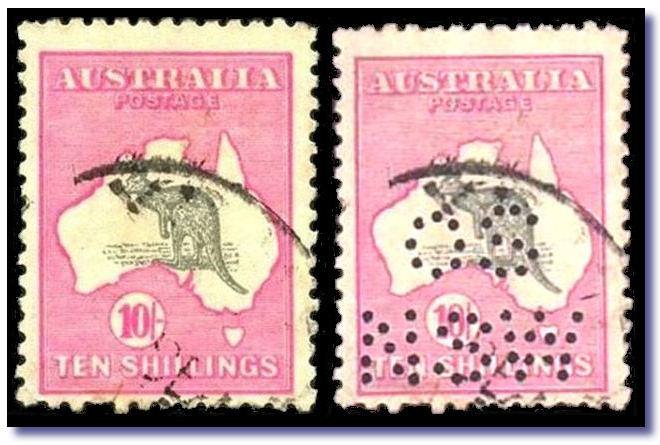 All is not what it seems sometimes.
The perverse thing is that after forging the perfin it was offered for $A199.99 "Buy It Now". This is a stamp that retails here non-perfin for $A425 in good shape, so even an average copy like this would readily have sold here for $A200 with NO faking.

I cannot see how possibly getting a criminal charge laid for "uttering, with intend to deceive or defraud" makes sense, when you make no more money than leaving it alone?

Any reader buying ANY kind of perfin/overprint on Australian stamps, or "OS" perfins on NWPI especially, need to see a psychiatrist if they are doing it via these crooks on ebay.

The army of greedy ebay "bargain hunters" vacuums it all up – and kiss most of their money goodbye in the process.

One near sure sign - these cons near always run "Private" Auctions so the bidders cannot be ID'd – hence warned to seek a refund. See a "private auction" for stamps in seller Feedback – and run a MILE.
Error on Australia Wedding stamp.
The Media event of 2011 was the April 29th Wedding of Prince William of Wales, and Catherine Middleton, which reportedly attracted 2½ Billion viewers.

William might possibly be the next Monarch, as Charles/Camilla are not a popular option with anyone it seems.

Australia Post issued a 2 stamp set and mini sheet BEFORE the wedding – on April 12.

On May 4 the illustrated nearby 60c stamp was issued nationally in sheetlets of 10.

The stamp depicted the newly married couple in Westminster Abbey after they were married.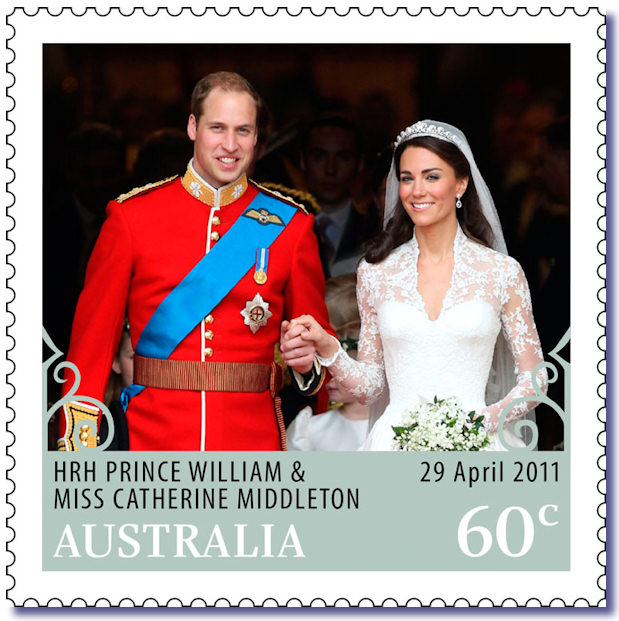 "Commoner Kate" or Duchess Of Cambridge?
| | | |
| --- | --- | --- |
| | So WHY, I ask - being a pedant, is the young Married lady described as "Miss Catherine Middleton" on this stamp issued a week AFTER the Royal Wedding??? | |
A "commoner" no longer!
Kate was no longer a "commoner" at the point of exchanging vows, but – "Her Royal Highness Princess Catherine, Duchess of Cambridge, Countess of Strathearn, Baroness Carrickfergus."

Unlike the majority of Royal brides, and in contrast to most previous consorts-in-waiting for over 350 years, Catherine did not come from a Royal or aristocratic background.

On the morning of their wedding day on 29 April 2011, at 8:00 am, officials at Buckingham Palace made an announcement in accordance with Royal tradition.

And that was: the Queen had that day decreed Prince William was created Duke of Cambridge, Earl of Strathearn and Baron Carrickfergus.

Very simply avoidable wording error, had more generic wording been used such as "Royal Wedding April 29th 2011" etc – exactly as the UK did for Charles/Diana's Wedding stamps.

A nice one to tuck away for those who collect errors on stamps perhaps! This is a CAPTION/DESIGN ERROR, pure and simple.

And do get some FDC's – they were not mailed to any standing order clients, and will always been keenly sought. How to obtain them from AP is here - tinyurl.com/WillFDC
NZ issues Wedding error too
| | | |
| --- | --- | --- |
| | NZ issued a large Deluxe Pack with stamp set, mini sheet and FDC for $20 - and some goose used the WRONG birthdate on it – May and not June. | |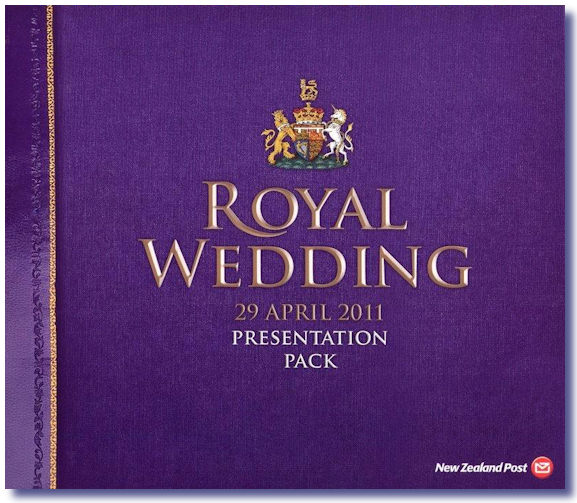 NZ Wedding Pack withdrawn rapidly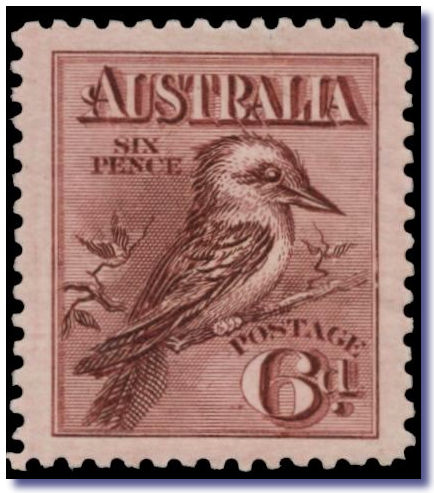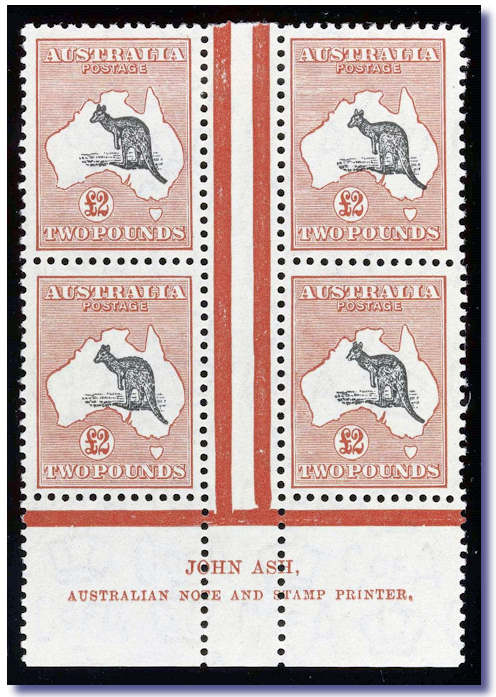 One of the Sotheby's stamp highlights


Instant Currency Conversion


FREE! Just click here...




If you would like to be notified of updates to this website,

Click HERE. If have any questions,
or comments regarding my site, please email me at glen@glenstephens.com



| | |
| --- | --- |
| | Search all my 300+ web pages! Simply type in what you are looking for. "Penny Black", "Latvia", "Imprints", "Morocco", "Fungi" "Year Books", etc! Using quotes ( " ) is more accurf used with no quotes. Search is NOT case sensitive. Tip - keep the search word singular - "Machin" yields far more matches than "Machins" etc. |


I am a Dealer Member in Good Standing Of:

Full Time Stamp Dealer in Australia for over 25 years.

Life Member - American Stamp Dealers' Association. (New York)
Also Member of: Philatelic Traders' Society. (London) ANDA. (Melbourne) American Philatelic Society, etc

GLEN $TEPHEN$

Full Time Stamp Dealer in Australia for over 25 years.

Life Member - American Stamp Dealers' Association. (New York)
Also Member - Philatelic Traders' Society. (London) ANDA. (Melbourne) American Philatelic Society, etc


ALL Postage + Insurance is extra. Visa/BankCard/MasterCard/Diners/Amex all OK, even for "Lay-Bys"! All lots offered are subject to my usual Conditions of Sale, copy upon request BIGGEST STAMP BUYER: Post me ANYTHING via Registered Mail for my same-day cheque. Avoid the GENERALLY 40% Auction " Commissions" (15% + 17½ + GST, etc.) AND their five-month delays! Read for details.

"Lothlórien4 The Tor Walk, CASTLECRAG (Sydney), N.S.W. 2068
Phone: (02) 9958-1333&n Fax: (02) 9958-1444 (Both 25 Hours, 7 Days!)
E-Mail: glen@glenstephens.com
Web Sites: www.glenstephens.com www.glenstephens.net or www.australianstamps.net

Sign up AUTOMATICALLY to my world renowned bi-weekly stamp gossip mailing list!

Click here to see MANY 1000s of stamp lots for sale at low $A Nett prices

Click here for all you need to know re SELLING your stamps for SPOT CASH

Click here for the current Monthly "Internet Only" special offers - CHEAP!

to read all my recent International stamp magazine articles. Click here to get back to the main www.GlenStephens.com Homepage

Click here to ORDER on-line ANY items from ANY of my dozens of lists

Click for all info on Conditions Of Sale, Payments, Shipping, Returns &c

Click here for the complete library of my very unusual world travels!

How to PAY me. I accept EVERYTHING - even blankets and axes and beads!

Australia Post Annual YEAR BOOKS - massive stock - '27% off' discount offer today!



Visit my new page on RARITIES - Roos & other expensive photo items.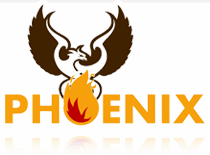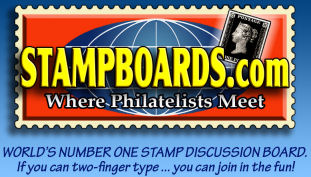 Instant Currency Conversion


FREE! Just click here...



E-mail me at glen@glenstephens.com -

Every credit card shown is accepted WITHOUT fee.
Earn Frequent Flier points while buying at bargain prices!
ALL prices are in weak Ozzie Dollars. I charge NO nasty, nasty
"Buyer's Commission" on stamps like nearly every "Auction" does.