Click To Go Back To The Main www.GlenStephens.com Stamps Homepage

Welcome! You are visitor
to www.GlenStephens.com




Glen Stephens
Monthly "Stamp News" Market Tipster Column


June 2013

---
World Stamp Expo Australia 2013
I am literally typing this during the huge "World Stamp Expo 2013" at the Exhibition Buildings in Melbourne.

The absolute wonders of portable computer modems, and digital cameras!

tinyurl.com/StampExpo13 contains 100s of detailed photos, and chat and comments updated all day long - you will feel like you were in the hall for 5 days!

Lots of things to do and see, and having a very busy time here at the very large Stampboards.com stand.

It is fun meeting up with so many readers, and placing a face to a name etc, to stampboards members, and clients from all over the globe - which is what these shows enable so wonderfully.

A very professional and incredibly well run show, and a real credit to all those involved in the years of volunteer work. Without them such shows simply cannot occur.

I know some of the Committee, and I'd guess we are talking THOUSANDS of Volunteer hours for each, not hundreds. For folks with busy jobs in many cases so many thanks are owed to them.

2013 is of course the Centenary of the Kangaroo and Map stamps, and interest in them - and prices - have never been higher.

World record price - $A233,000
On May 9 Phoenix Auctions in Melbourne tested the water, by offering the "Kangaroos" collection of the late Stuart Hardy of Adelaide.

The sale established an Australian record price for a single stamp auction - $2,587,000 - and every lot sold. Indeed this figure far more than DOUBLED the previous best sale here - by any auction, at any time.

So many price records were set that I lost track, but will record a few below.

The £1 Kangaroo sideways watermark shown nearby was described as having a gum thin, and as we can all see, has "fluffy" perfs, but it sold for $A233,000, on an estimate of $40,000.
Estimate $40,000 – sold $233,000
That is around TREBLE the price in the current ACSC "Kangaroos" catalogue - itself only issued weeks back, and reviewed in my last column.

I have sold HUNDREDS of these books via my ads here at the discount price of $A100 Registered post free, and that shows the timing for the issue of that was absolutely perfect.

The publishers did a special run in full colour and hard-bound for sale at the show, each hand numbered, in an Edition of only 100. Let me know if you need one.

The market for Kangaroos is WHITE HOT, and as I have typed for years, will get stronger still, as this Centenary Year of the issue has created many new collectors - globally.

A pretty ordinary looking 2½d Kangaroo with "missing fraction" sold for $A53,590 on a sensible estimate of $8,000.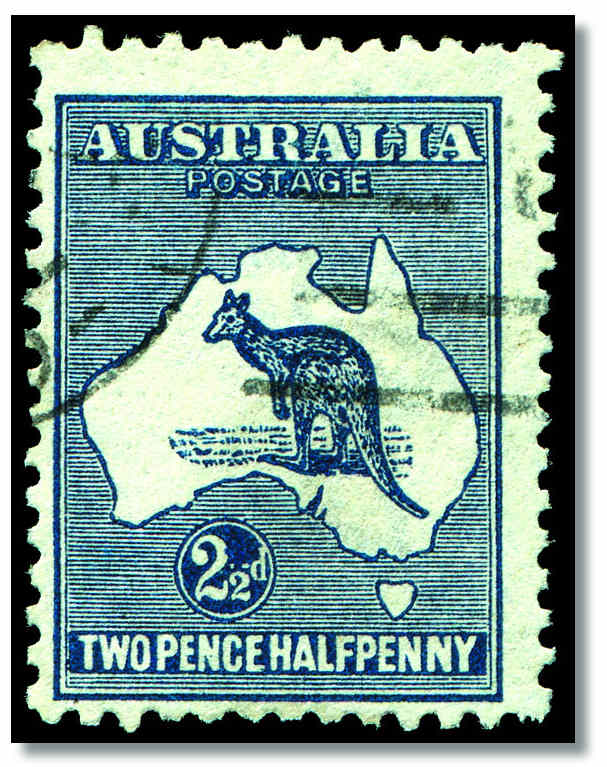 Estimate $8,000 - sold $53,590
With those perfs and centering, I'd certainly have been happy with $8,000 or so, if I owned it! SG 36ba cat £14,000, there are a dozen recorded in used.

A dozen examples known from this market usually places the piece in the $5,000-$10,000 price range.
Expert views on the Auction.
Dealer Richard Juzwin said: "Late last year I thought the results Phoenix Auctions achieved with Stuart Hardy's KGV auction were truly amazing".

"The fantastic response to his Kangaroos was even stronger, and shows the strength and depth of the philatelic market for Australian stamps" Juzwin concluded.

Arthur Gray, Australia's most prominent collector, said: "these results show that if you decide to auction your collection, just how important it is to choose the right auction house for your material."

I bought a range of Hardy material, and had not even taken them out of the auction cards, as the auction owner had handed them over to me just 5 minutes before.

I was idly flipping through the cards, when a client walked by with his wife and saw them, and offered to buy them all - sight unseen, and he did just that.

He is a keen Kangaroo collector, and knew this material was not something he'd see again in his lifetime, indeed one "OS" Monogram item was unique - and I suspect is worth twice what he paid.

A leading dealer told me that one was, in his view, the howling bargain of the entire sale.
Buying stamps sight unseen
I had in turn bought the material sight unseen, as I was too busy to view it beforehand.

So the material went from the Hardy collection pages, to me, to my client, and neither of us had looked at the reverse of any stamp in the process! And we are talking VERY serious $$'s here.

Why? As the descriptions were all done by Mark Knothe, the most experienced operator I know, and if he had typed "fresh mint lightly hinged and fine" that was good enough for me.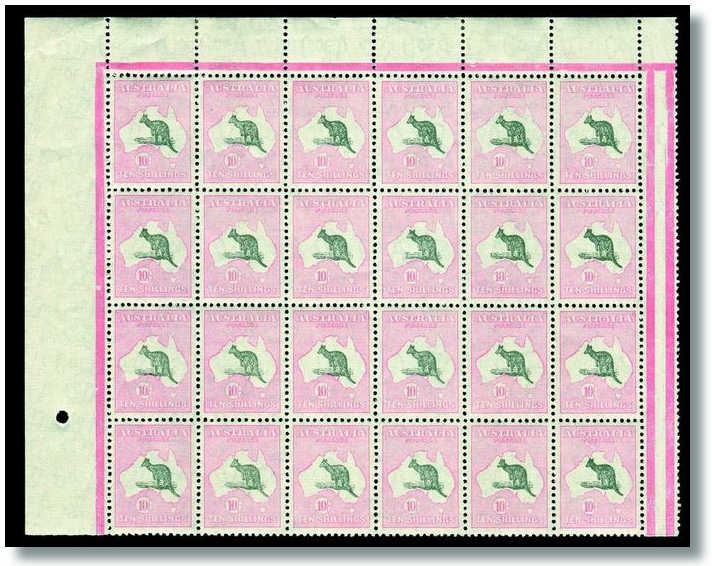 Best buy in the sale?
Collectors get exposed to appalling descriptions by major Auctions at times, and it seems to be getting worse, from what I am hearing.

Recent stories of Monograms being bogusly affixed to stamps, and then regummed - and offered with no comment, by leading firms for real mega bucks, are sadly quite true.

Phoenix have very high quality and grading standards, and are someone I trust completely when bidding, and if I do it on rare pieces, that speaks volumes I think.

The only piece I really wanted and was under-bidder on, was a block of 24 x 10/- Roos. It sold for $37,280, and the buyer owns the best buy in the sale in my view.

Centering like that on a large piece is near impossible, and I really should have bid a little higher.

I also bid sight unseen - Mark Knothe told me they were superb MUH, and that was good enough for me.
Worth $100,000 in 10 years?
I'd have put them in the safe, and in 10 years would ask $100,000+. And get it very easily I feel sure.

That is around a 3 fold increase. The block of 24 x £2 roos in this sale got nearly exactly what I predicted in past columns - $227,175, but I will bet my house they are not worth treble, or ~$750,000 in 10 years' time!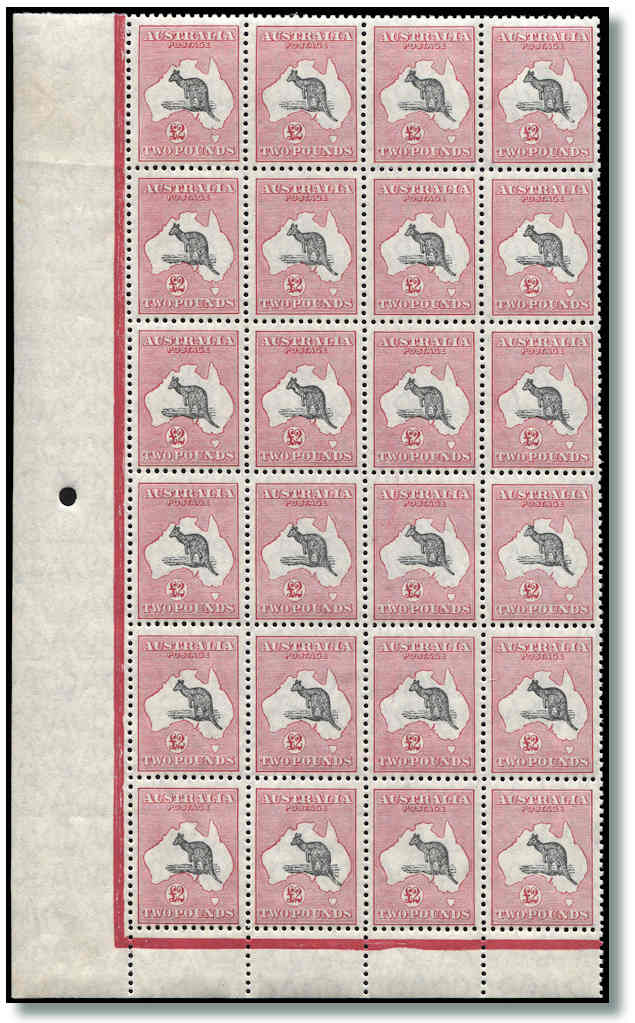 £2 Roos sold for $227,175.00
They will gain in price of course, but nowhere near as much in percentage as the similar size 10/- block.

Hardy's fine KGV heads and Commemoratives collection had been auctioned a few months earlier and was a 100% sell-out. Every lot sold, something near unheard of at any major stamp auction - globally.

The record price obtained from that sale was reported widely - the 1928 Kookaburra imperforate miniature sheet.

It was the only one buyable, and had not been on the market for 44 years since Hardy purchased it in 1968, from the Ameer of Bahawalpur's Collection in London.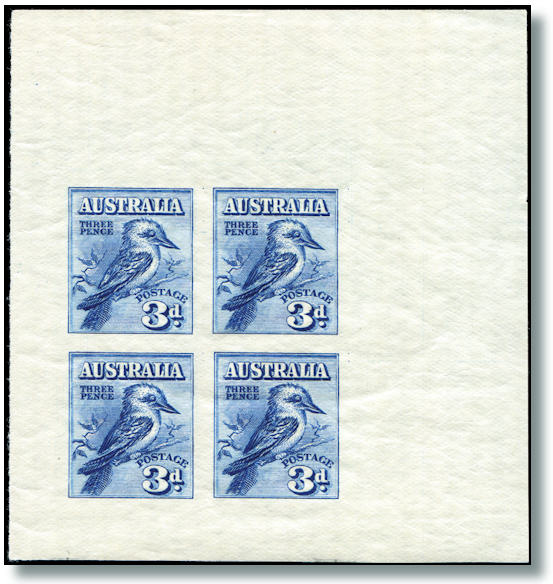 $A326,000 Birdies
Hardy paid only £210 at that SG auction. Can an accountant work out what annual % increase one gets starting with £210 ($A420) and ending up with ~$A326,000?

Who said there was "no money in stamps"?

It is widely recorded that KGV was given the imperforate sheet of 15 Mini Sheets of 4 when he opened the 1928 Exhibition - that he was Patron of.
KGV quietly sells sheets
The large sheet was too long for the King's album page, and Sir John Wilson tore off (not cut!) the three right hand mini-sheets.

These 3 imperf Mini Sheets were quietly sold in 1953 to finance other pieces for the Royal Collection.

The "remainder" of that sheet of 15 was on show at "Australia 2013" - twelve imperforate miniature sheets.

Indeed as the Stampboards stand was right next to the "Court Of Honour" I looked directly at the block for 5 days, only a few metres away!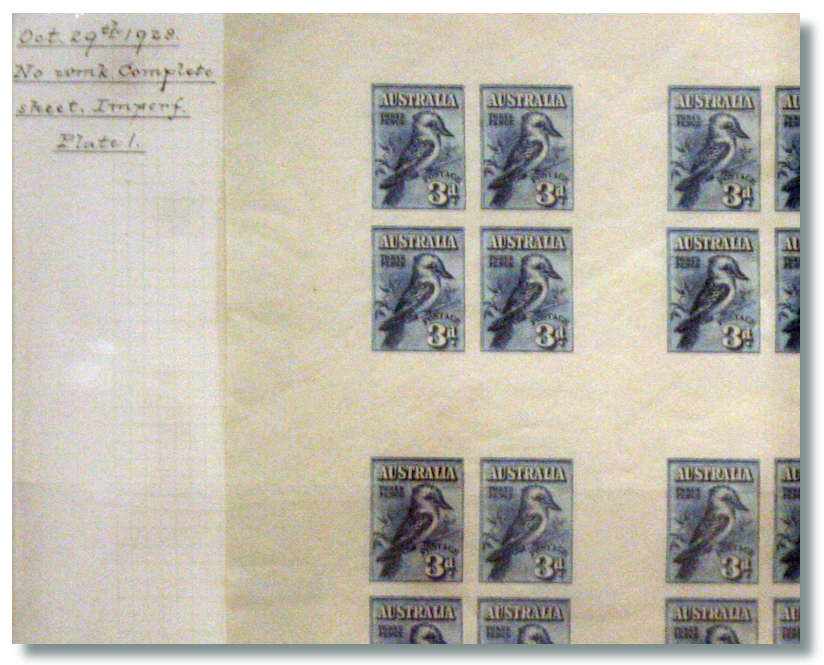 Queen's $4 Million piece!
Indeed as the Stampboards stand was right next to the "Court Of Honour" I looked directly at the block for 5 days, only a few metres away!

Due to the sensible 'no flash rule" and the not so sensible layers of mounting over all the Queen exhibits, photography was almost impossible to do, and obtain even barely acceptable quality.

I cropped it so you can see 3 or 4 of the imperf sheets, and the quaint old handwriting of Sir John Wilson found on all the Royal Collection pages.

Apologies for that, but it is likely the only time that block will be on display, so a fuzzy image of it is better than none I suppose. The twelve sheets are worth about $A4 million using the $326,200 auction yardstick!

Well known industrialist and stock market identity Sir Ron Brierley is understood to have been the end purchaser of that 1928 Kookaburra miniature sheet imperforate, at the Stuart Hardy "KGV" sale, invoiced for $A326,200.

Roo or Kookaburra?
Would I rather own this £2 Roo block 24, or the Kookaburra Mini Sheet for the same purchase price - the Roos, no contest.

Brierley has for many decades bought interesting stamps and collections, and once owned Stanley Gibbons Australia, so is no novice.

I have it on very good authority Brierley last year bought a GB 1d 1865 "Plate 77" on piece from Stanley Gibbons, allegedly for £550,000 ($A880,000) as I reported at the time.

Would I rather own FOUR of the unique Roo part sheets (IF they existed), or a VERY ordinary looking used GB 1d red piece for the same purchase price - TOTALLY no contest.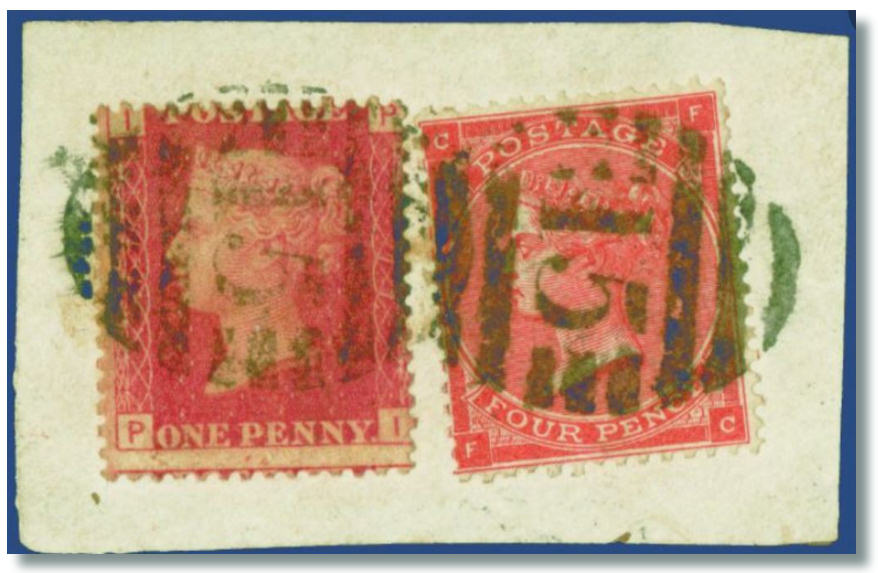 A £550,000 1d Red
A number of GB Plate 77 stamps exist, both mint and used, and a recently discovered cover bearing THREE examples, was recently given a Certificate of Genuineness.

The unique Roo piece was originally a full pane of 60, bought from Robson Lowe in London by Ken Baker for £20 each in the 1960s, who onsold the bottom 36 units to Hardy for £1,080 at that time.

This week's price of $A227,175 is a nice increase on that few hundred quid original outlay, as 20% of them were later removed!

A vertical block of 12 with the same part imprint was subsequently (nervously he told me recently!) torn off by an Adelaide dealer on Hardy's kitchen table, and some were sold off, leaving this unique block of 24.
Social Whirl at Stamp Expo
The social whirl at the Expo was pretty intense, hosting meetings and dinners, and catching up with old clients and stampboards members, and a ton of internet back-up work, was a full time job and I never got to bed before 2am.

These big shows are absolutely wonderful for that purpose.

Many thanks to the DOZENS of stampboards members who so generously assisted with their time to help man the booth, and assist with signing up the many new members, and answering their queries.

We had an official stampboards.com meeting on Sunday May 12, that included presentations by several trade figures, hosting interesting question and answer sessions.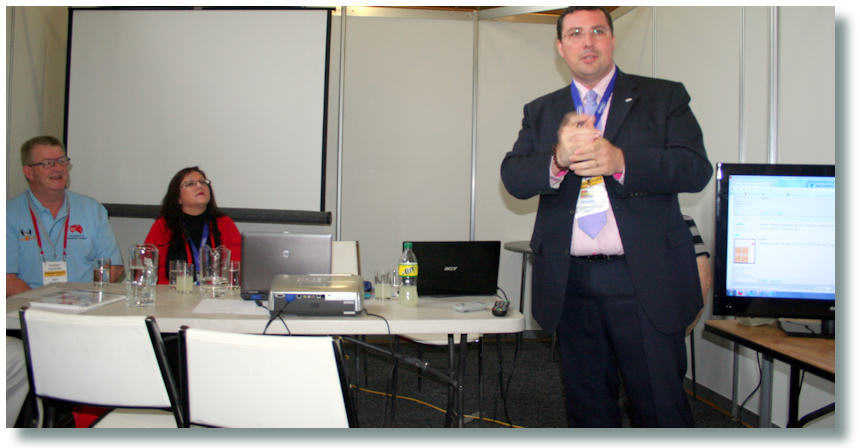 Sebastian Delcampe holds the floor
It was a total "sell-out" and indeed it was standing room only, with members from 10 different countries present.

"Stamp News" did a run-down of their recent strong uptick on newsagent sales of the magazine, and that is a great sign for the health of the hobby.

Both directors of Phoenix Auctions popped in to give some first-hand accounts of their mega $2.6 million sale of the Hardy "Kangaroos", and kindly offered all attendees a special hard bound copy of the superb sale catalogue.

CEO Sebastian Delcampe, of the rapidly growing Delcampe stamp online auction, and his assistant Miranda, gave a great rundown on their massive operation, which has 52 MILLION different items on offer as I type this.

Sebastian Delcampe is shown standing in photo nearby, with Miranda seated, and Phoenix Director Ken Pearson at left.

Delcampe have operated for 13 years, and have this year streamlined the operation to remove a lot of the cheaper lots on offer, and spent a fortune on faster new servers, and massive data storage.

Sebastian is a stamp collector, and his site tinyurl.com/Delcampes bans sellers of fakes or forgeries and dodgy material, the moment they are made aware of them.
The place NOT to buy fakes!
Unlike ebay, who quite simply have no real interest in fakes. All they seem interested in is the 10% they make from each sale of forged philatelic material. Ebay is AWASH with such material. "Caveat Emptor".

Ebay make just the same when a forged perfin or overprint, or regummed, or forged cancel stamp is sold, as when a genuine one is.

They do not care about the long term effect of this torrent of fakes on this hobby, that they are allowing to be offered en-masse.

The same fakers are allowed to open and run literally dozens of accounts, AND own an army of "Shill Bidder" accounts, to push up the prices the Bunnies pay for the total fakes.

VERY short sighted, and the stamp division is ebay's second worse performing department I saw recently, and the gap between them and Delcampe is closing pretty fast.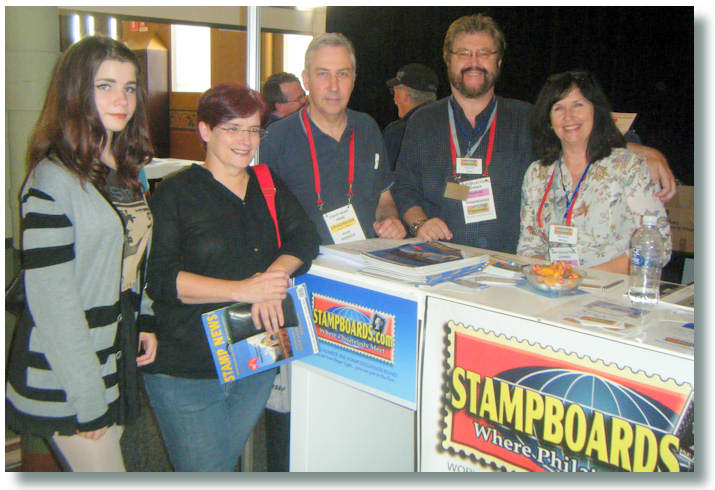 |
"Stamp News" team at work!
The "Stamp News" team were of course at the show and from left to right - Alexandra, Máirín, and Editor Kevin are shown, with columnists Glen Stephens and Margo Campbell, at the busy Stampboards.com stand.

There was so much going on you'd need a week to take it all in. A great show all round.

The Court Of Honour of course contained mind boggling pieces. Many photos of the gems in that are here - tinyurl.com/StampExpo13

I spoke to stamp insurance supremo, Hugh Wood who owns the unique Australia KGV head 2d Tête-Bêche pair on display there.

The value of that if offered in this strong market would be mind-boggling, but I suspect that will be going nowhere for quite a while!
Australia Post happy.
These Exhibitions cost multi MILLIONS to stage, and the host Post Office shoulders a vast chunk of that bill.

At the end of the day they need to sell a TON of philatelic product to even get close to covering that outlay, and I for one have no issue with this.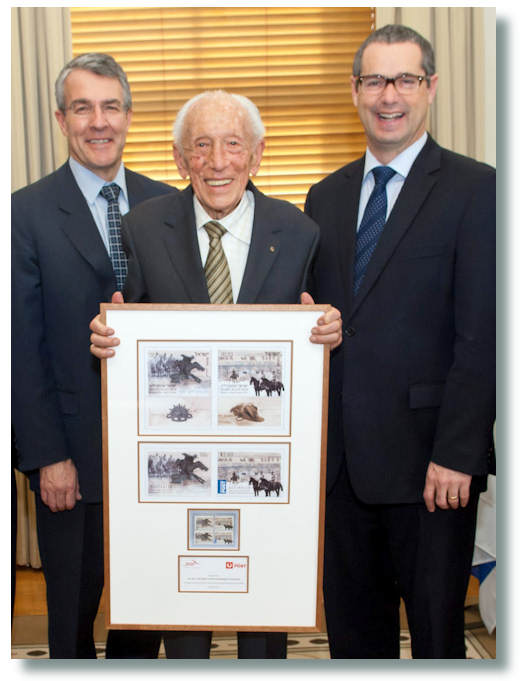 1917 Battle Of Beersheba launch.
One of the show new issues was a joint Israel/Australia stamp set of 60c and $2.60 values, commemorating the legendary WWI Charge Of The Light Horse Brigade in the deserts of Beersheba.

I was honoured to be invited to the office of the Communication Minister Stephen Conroy for the launch, on Day #1 of the Expo.

The photo nearby shows Attorney-General Mark Dreyfus, legendary nonagenarian stamp dealer Max Stern, and Minister Conroy.

I personally spent over $10,000 with AP there on items of an unusual nature, like the new Black Caviar "Expo" stamp, in a totally different design to the "common" one.
Surprise Black Caviar Show Printing
ONLY on sale at the show, in a gold embossed pack, of which only 2,500 were made and will NOT be re-printed, so they will always be very good pieces.

Absolutely no advance notice was provided about these in the PO Bulletin, as it was a super rush release, so most collectors have no idea they exist.

It is a totally different stamp, and album pages and catalogues will I feel sure price it, and make space for it.

The normal 60c Black Caviar stamp issued May 10 is freely available, but the special "Show Print" has a large white border right around the design as can be seen, and they will prove very scarce.

These were sold at the same price as the normal 60c stamps, and hence will qualify for catalogue listing and they were freely available at that price for the show, until sold out near show end.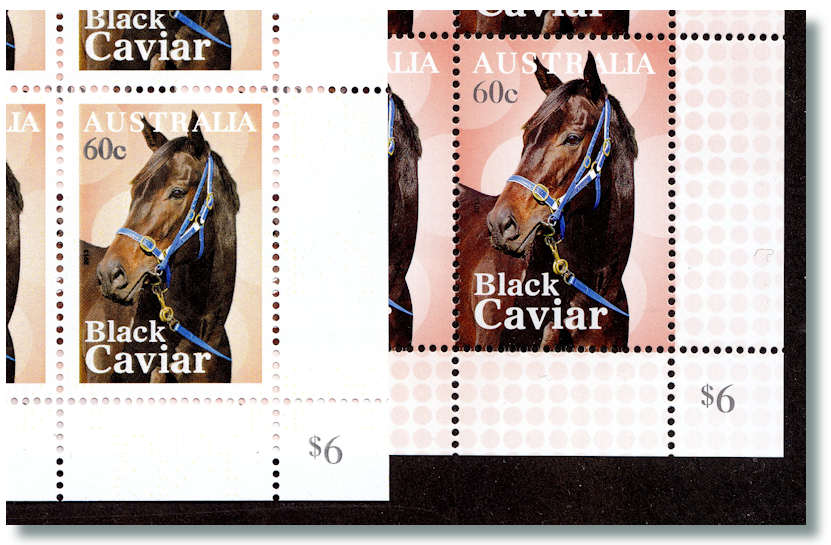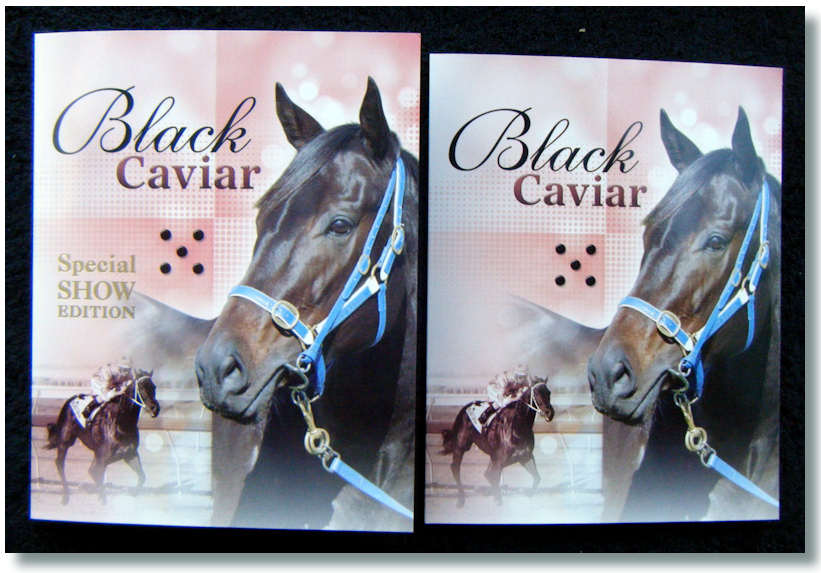 Two totally different stamps
I spoke to several senior AP staffers near end of the show, including National Manager Philatelic, Michael Zsolt, and his boss who had come to inspect the Expo, and they were all beaming, and delighted with the sales figures.

Dealers across the board also seemed to be smiling with pleasure. Not usual at big stamp shows I can assure you!

I had dinner one night with the staff of Renniks Publications - local agents for Lighthouse and Stanley Gibbons products, and many others.

They had a kind of "Super Booth" booked, and said their expenses to man and attend the show were about $25,000 - so a big investment.

"We still have 2 days to go, and already this is by far the best show have ever done in over 30 years - and we do them all - First Class event" - Managing Director Ian Pitt told me.

I'd love to see us host another "biggie", and if sales figures from this for Australia Post are very good, one never knows.

Order some product - and there is plenty to choose from, and you are helping that to occur.









Get my regular market update emails FREE. Stamp gossip, price trends, record sale prices, and many one-time stamp specials, wholesale bargains, and exciting offers and breaking philatelic news. A mini stamp magazine in every email! "KNOWLEDGE IS POWER". The ONE stamp list you MUST be on, to keep in touch with the rapidly changing world market. One client made $65,000 profit in a few months after following my specific advice. Sign up securely and quickly by clicking HERE to access my automated data base. And wiser still ADD your home AND work email, if I only have one right now. Add a stamp friend's email address if you wish. One short click and you are subscribed to probably the most read email list in the stamp world!


Instant Currency Conversion


FREE! Just click here...




If you would like to be notified of updates to this website,
Click HERE.
If have any questions,
or comments regarding my site, please email me at glen@glenstephens.com
| | |
| --- | --- |
| | Search all my 300+ web pages! Simply type in what you are looking for. "Penny Black", "Latvia", "Imprints", "Morocco", "Fungi" "Year Books", etc! Using quotes ( " ) is more accurf used with no quotes. Search is NOT case sensitive. Tip - keep the search word singular - "Machin" yields far more matches than "Machins" etc. |


I am a Dealer Member in Good Standing Of:

Full Time Stamp Dealer in Australia for over 25 years.
Life Member - American Stamp Dealers' Association. (New York)
Also Member of: Philatelic Traders' Society. (London) ANDA. (Melbourne) American Philatelic Society, etc
GLEN $TEPHEN$
Full Time Stamp Dealer in Australia for over 25 years.
Life Member - American Stamp Dealers' Association. (New York)
Also Member - Philatelic Traders' Society. (London) ANDA. (Melbourne) American Philatelic Society, etc

ALL Postage + Insurance is extra. Visa/BankCard/MasterCard/Diners/Amex all OK, even for "Lay-Bys"! All lots offered are subject to my usual Conditions of Sale, copy upon request BIGGEST STAMP BUYER: Post me ANYTHING via Registered Mail for my same-day cheque. Avoid the GENERALLY 40% Auction " Commissions" (15% + 17½ + GST, etc.) AND their five-month delays! Read for details.
"Lothlórien4 The Tor Walk, CASTLECRAG (Sydney), N.S.W. 2068
Phone: (02) 9958-1333&n Fax: (02) 9958-1444 (Both 25 Hours, 7 Days!)
E-Mail: glen@glenstephens.com
Web Sites: www.glenstephens.com www.glenstephens.net or www.australianstamps.net