Click To Go Back To The Main www.GlenStephens.com Stamps Homepage

Welcome! You are visitor
to www.GlenStephens.com




Glen Stephens
Monthly "Stamp News" Market Tipster Column


June 2015

---
Australia Parcel Post a MESS
I am a large sender and receiver of parcels domestically, and have been for my 35 years as a dealer. I am speaking below from long experience.

Ten or 20 years ago, I'd happily mail or order a carton with no tracking, and be 99.99% sure it would be there next day, to/from anywhere in a 100km radius, and a day or so later to/from Melbourne or Brisbane etc.

They all arrived. Maybe one parcel a decade might go AWOL. An amazing record, and AP should be proud they ONCE did a good job. Yes it is pretty hard to lose a CARTON I agree, and so it always was. They all arrived.

In recent years all that has charged. Sadly. A bunch of fat cats paid wages in the Bill Gates league, have dragged the service standard back to levels never seen before. And yet doubled the cost.

Australia Post keeps hiking up parcel and International rates 2 or 3 times EACH year, I kid you not. WAY in advance of the CPI and Inflation rate. If a private company doled out price rises on this scale, the ACCC would be fining them!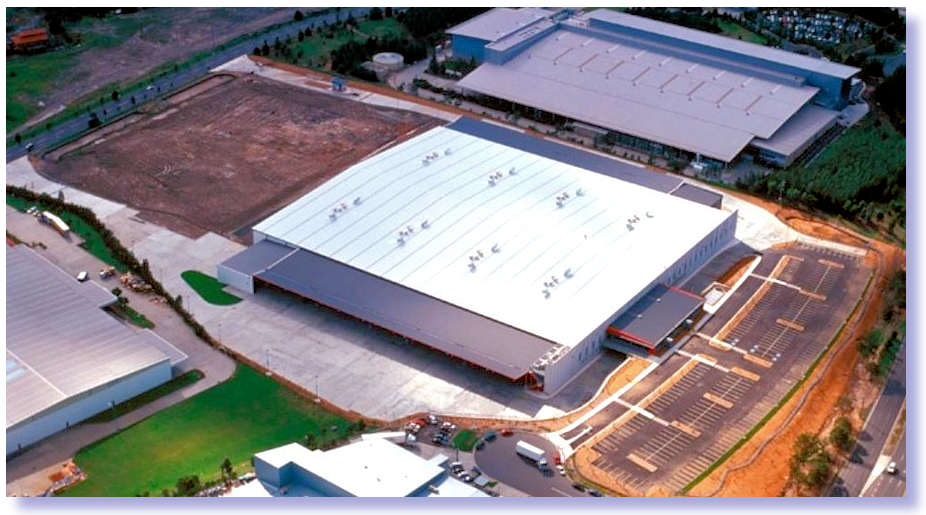 Chullora Mail Centre Bottleneck
Why? As AP do NOT need any Government approval for parcel and overseas mail price hikes, and hence charge whatever juicy figure comes into their head when they need some more money.

A large parcel by slowwww road to Darwin or WA very often costs well over $100 now, and can take a month. You can sometimes FLY there, and check the box as baggage, for less than the cost of mailing your snail mail road parcel.

All these price hikes are bad enough, but some geniuses in there, drawing mega million salaries, have also now decided that humans handling parcels are not really necessary, in this Brave New World they live in.
Machines demand no holiday pay.
They found MACHINES that allegedly do it just as well, and with almost no "staff costs". Well no wages paid, but the shiny new machines cost $A500 MILLION it is reported. They seem to have overlooked that. That is a lot of wage hours of once efficient sorters.

Do they work? NO. I often have Registered parcels across Sydney taking up to 2 weeks. I am not kidding. They get to the massive Chullora Mail Centre, and then sit there for a week or two weeks at times. How do I know this? As I send nearly everything tracked mail.

The Post Office's own tracking data shows me that my box arrives at Chullora on May 1, and does not emerge for a week or two. It is like a bad Monty Python script, but that is happening more and more. A parcel post "Black Hole".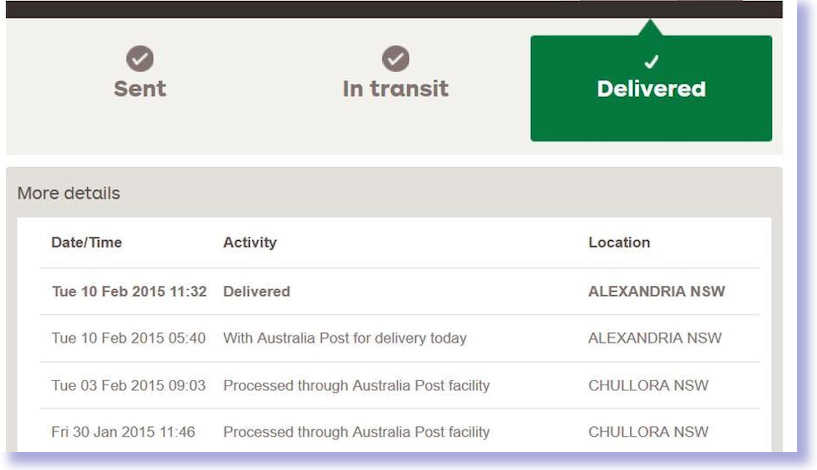 TWELVE days to go across town.
The Fats Cats appear to have decided all capital cities will "centralise" parcel mail - a disaster in practice of course, but a genius move on the whiteboard in the Boardroom. Time to have another cigar and Port and celebrate "Genius Mail Management 2015".

The Registered online parcel tracking shown nearby, sent to a stamp dealer only a few miles away, is a typical example as you can see, and it is common these days - very sadly.
TWELVE days cross town.
I mailed it Thursday midday January 29 at Castlecrag. Next day January 30 it arrives at Chullora Mail Centre, and then it takes a week or so for it to go across Sydney to Alexandria. TWELVE days from day of posting. All my tracking in this period pinpoints Chullora as being the log jam for some reason.

PO mail van drivers that collect parcels at my Castlecrag PO take them to the massive St. Leonards Mail Centre. ONCE, when things were efficiently run, they'd sort them there, into huge parcel bins for applicable regions, and next day they'd arrive in most instances.

I arranged a stamp dealer official guided visit there one evening, by the Duty Manager, and it was a hive of activity. HUNDREDS of staff, forklifts and huge bins zipping about, and giant machines, and a hub of efficiency, and staff working all night.

NOW the red vans all arrive at St Leonards Mail Centre from a host of POs in early evening, and the contents of their vans are then loaded (and not too rapidly) into big steel cages, and trucked in large Semis way across town to Chullora - often to vanish for a week. The Bermuda Triangle.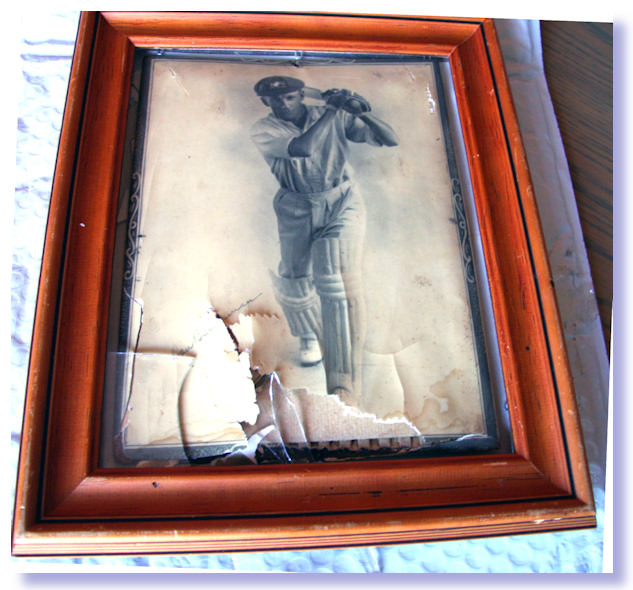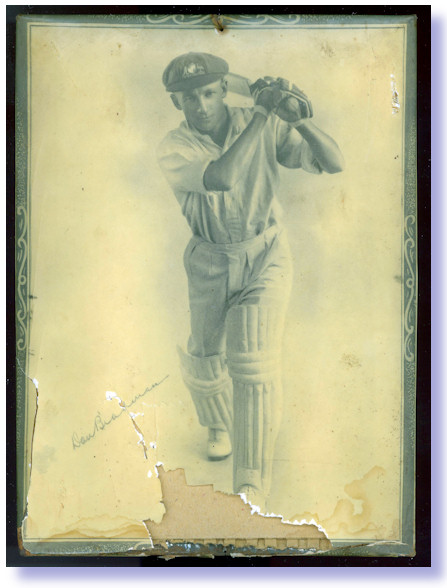 Paid $395 – ruined by AP.
This is called "Progress" I think, when top staff are paid millions a year to engineer such wonderful "steps forward" from the comfort of the Boardroom.

If I mail a parcel at Castlecrag PO to Kevin Duffy, also living in Castlecrag, it goes to St Leonards Mail Centre, THEN right across the metro area to Chullora. Then it all comes back here sometime in the next week or two.

I am told all parcels now go into huge clear Perspex type tubes with conveyor belts in them, with beam scanners on all sides, searching for the tracking labels and the postcode.

Once that scanning is secured, the parcels allegedly are all sorted and sent on their way. The small problem is, the tubes can't handle all the parcels. Durrhh.

Humans are smarter than machines. So a parcel marked "Dandenong Vic 3175" does not get sent to Western Australia by humans. Not even once usually, and certainly not repeatedly. Machines do not care. They do not have a BRAIN.

ABC News reports that fully 20% of the nation's parcels are being screwed up by these brilliant new White Elephant machines - tinyurl.com/Nullabor - that is about 40,000 parcels a day being messed up they claim.

"The machines, which Australia Post has described as "state-of-the-art", cannot read some barcodes and sometimes confuse a parcel's "to" and "from" addresses. Australia Post declined to be interviewed" ABC News website reported.

"Staff and casuals are doing so much overtime (to fix the mess) they are referring to the new sorting systems as "mortgage machines" because they use the extra income to pay off their debts.

Ms Doyle said the machines were manufactured in the Netherlands and constructed in Australia, but rely on five different add-on IT systems, which do not function well together" ABC concluded.
Sir Donald would be furious.
This kind of madness is now occurring regularly sadly. Witness the beautiful old sepia photos nearby of Sir Donald Bradman, signed at left of batting pad knee roll. In the frame, and out of the frame.

It was recently purchased by Melbourne cricket collector Noel Almeida for $A395. If the signature was expert verified, it would be worth more like $1,500 Noel advises me, which does not surprise me one bit, the way top end cricket stuff sells.

The signed and framed photo was securely packed and mailed correctly from WA to Sunshine Vic, on the morning of Wednesday April 8, by Registered Post. Delivery times in days of old was generally a few days later.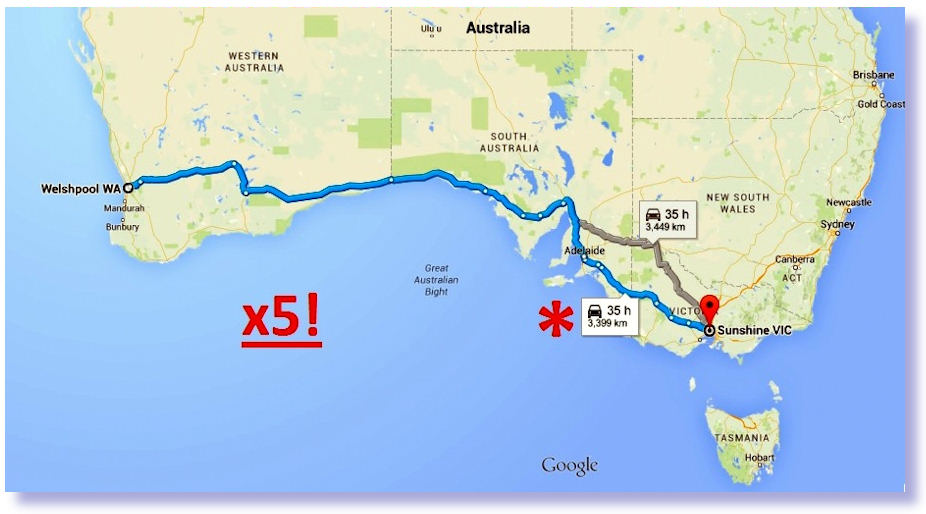 Sent *FIVE* Times across nation.
Not anymore. The parcel went back and forth the 3400 Kms across this vast country FIVE times. 175 HOURS of highway driving. It finally arrived with Noel Monday May 4 - nearly one MONTH later.

No fault of the sender or Almeida - just these alleged "high tech" $500 Million sorting machines deciding themselves on arrival at each end, it needed to go back right across the country once again. FIVE times. They confuse sender with addressee

This is about 17,000 Kms of travel - near all of it totally needlessly. That is Sydney to New York distance. And you guessed it – all this stupid yo-yoing not only wasted time and resources, and annoyed the buyer, it ensured the glass in the frame broke, and the sharp shards sliced and destroyed the signed photo.

The heartbreak a true collector like Noel clearly had, upon seeing this mess after waiting a month for it to finally arrive, you cannot begin to place a monetary value upon.

So in such a case you'd imagine the PO would apologise and stump up the $395 price of the item they ruined - possibly the $1,500 retail value of it - right? The parcel was Registered of course. Their own tracking shows the month delay, and bizarre national transit yo-yo.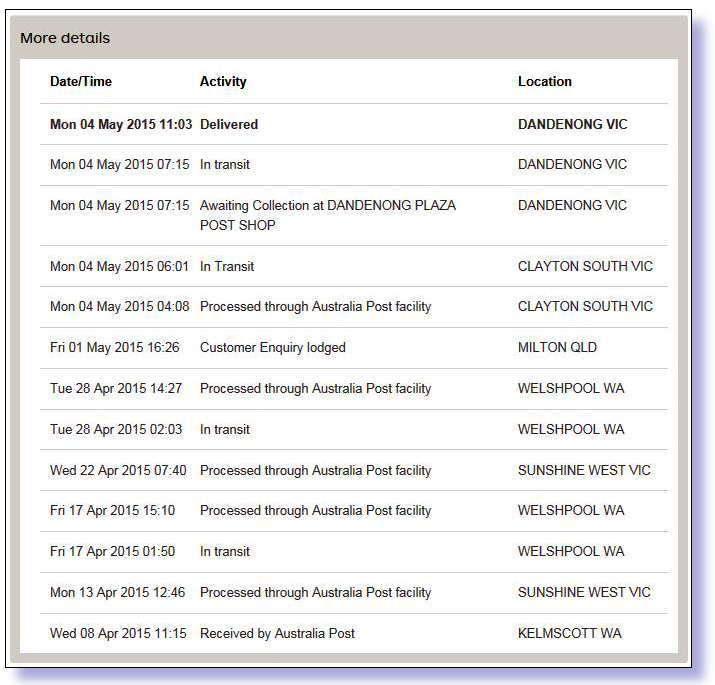 175 hours of road travel.
No such chance. The Post Office response was that the glass cracked, as it was not packed correctly and ZERO compensation was forthcoming from them! I am a fastidious packer as clients know, and use fibreglass filament tape, and the best packing material I can source.

But no-one packs for 175 hours of road transit over 17,000 Kms, via a dozen mail centres. No domestic sender takes that much care - as in the real world of mail order, you should not have to! All detail here on above - tinyurl.com/Nullabor
Parcel travels 17,000 Kilometres
Sadly $100 maximum is all the PO usually stump up, for a lost or damaged Registered item. IF they agree it was in fact lost or damaged by them, and that takes some proving often, as we can see from their crazy letter shown nearby.

AFTER you compete long forms, and wait a while for the claim to grind through their often slow system. Which in this case is quite absurd. For overseas mail that can take months.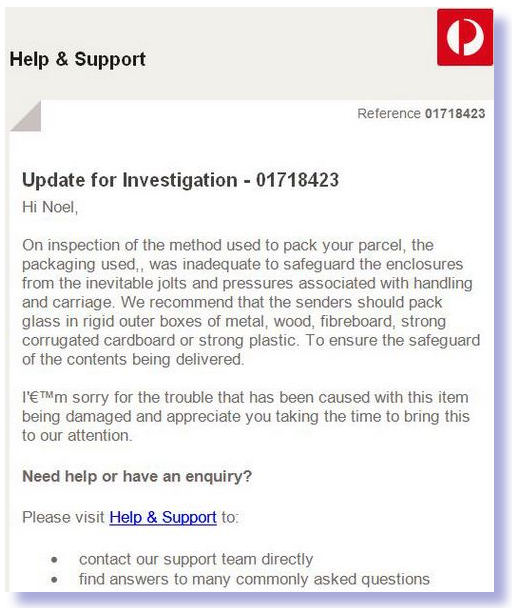 Sorry Pal, it is all YOUR fault.
PO incompetence sending this packet across the country - 3,400 Kms each time, FIVE times, caused the damage to the glass, that much seems certain even to a layman. I hope Noel gives them Hell.

A Registered label today cost $3.70, and a first class letter stamp costs 70¢, (to be hiked up to $1.50 in September) so a Registered first class letter will then be $3.70 plus $1.50 = $5.20 - maybe more, if the Registered Fee increases too, as it has several times a year under Mr Fahour's AP Regime.
When a letter cost 4¢ to mail.
In 1966 when we changed to decimal currency, a letter rate stamp cost just 4¢ (I kid you not!) and the Registration Fee was 20¢, so a registered letter cost just 24¢ to mail.

The 24¢ Azure Kingfisher stamp was issued in 1966 solely to cover the combined Registered and letter rate fee - few realise that, and it was widely used for that purpose. A pretty stamp.

The photo below is of a Registered pre-paid envelope from stock that shows the very top £50 or $100 compensation payable for loss or damage by the PO all in the small type on face. Indeed even in the pre-Decimal era, the exact same $100 figure was payable - OVER HALF A CENTURY back.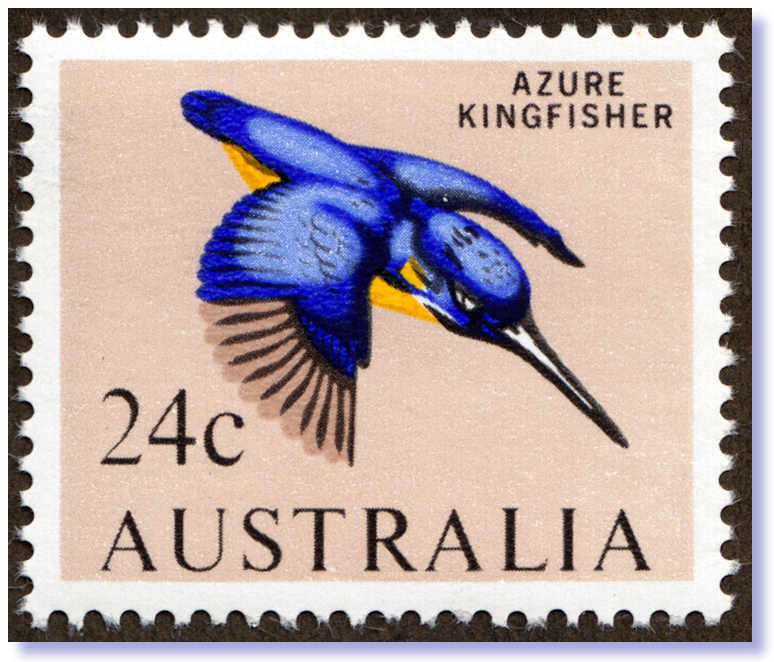 Cost of a Registered Letter then!
So 50 years back, we got $100 maximum compensation, and in 2015 it is STILL the same now paltry $100, despite us paying TWENTY times more to buy that protection.

Collector Dealer Bodies like APTA and ANDA have 10,000s indeed 100,000s of Registered sendings a year from members, and these bodies via their paid Admin officers, should be bombarding the PO to overhaul this issue. In practice nothing is being done I gather. Sad.

If a dealer mails a 5/- Harbour Bridge, or £1 Kangaroo, or a medium value Banknote etc, sold at $1,500, we get back $100 MAXIMUM if either is lost or damaged, despite client being invoiced and paying $1,500. The exact same $100 figure as it was over 50 years ago. Madness.

ALL readers here are urged to write or email Mr Malcom Turnbull, the Federal Minister in charge of Posts, a savvy businessman, and insist his Department orders a fine-tune of this service, and bring the compensation level 50 years forward, to now reflect a $A2,000 top limit. This DOES affect you if you mail or receive ANYTHING Registered.
Please WRITE to Mr Turnbull.
If just 100 readers of this get on the case and write or email, things may change. If you have any mainstream media contacts, send them a link to this story. If a national TV show got onto this, AP would increase the limit overnight to $A2,000 I suspect.

Remember this $A2,000 would be a MAXIMUM. You need to prove to the PO those goods were invoiced and sent, and were lost or damaged, and in reality, the vast bulk of any claims paid will be a nominal sub $100 figure I am sure, same as always.

Had the Compensation increased the same 20 times of the Registered Post cost, the maximum today clearly would be more like $2,000, and such an amount would be applicable to Noel's busted, shredded and ruined Bradman framed picture.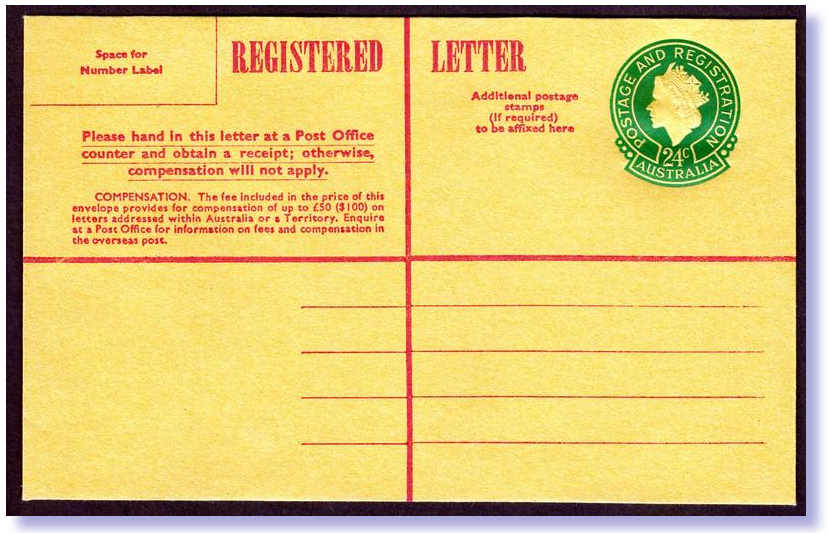 $100 unchanged for FIFTY years.
ALL dealers and collectors and trade bodies need to get proactive and lobby Australia Post, and/or the Minister, to massively up the Registered ceiling. It has not increased one cent for a half century, but the cost of securing it has gone up 20 fold.

Mr. Fahour pays himself a juicy $4.8 million a year (TEN times the Postmaster General of the USA salary) and I'd be interested to learn if he'd accept the same pay packet as the head of the PO got in 1965. That seems fair, if he wants his clients to accept the same 1965 compensation level.
$100 Compo an insult in 2015.
$100 maximum is an insult in 2015. If I mail even a Post Office Year Book for the past 10 years, they EACH all retail well over $100! Indeed the current book costs $110 to buy from Australia Post - get that lost in the post ordered direct from them, and you are out of pocket even if you DO Register it. Crazy.

The history of commerce shows when you get fat and bloated, and take your dominance as an automatic given right, you will get knocked off your perch VERY fast.

The sloppy and often painfully slow delivery service Australia Post is offering more and more often these days, at a VASTLY increased price each year, was never going to last. "The Carnival Is Over".
"Carnival Is Over" for AP



The huge Australian national business supply chain Officeworks moved into top gear in May offering 10 kilo parcels for a flat rate $20 near anywhere in the country. AND promised them delivered in a day or two - i.e. airmail service. Heavy TV and in-store ads and leaflets.

To put it into perspective, their $20 for an air parcel from Sydney to Perth is about $50 LESS than the lowest truck mail option AP now offer. And $117.50 cheaper than airmail by the PO. Many Businesses will embrace this new service.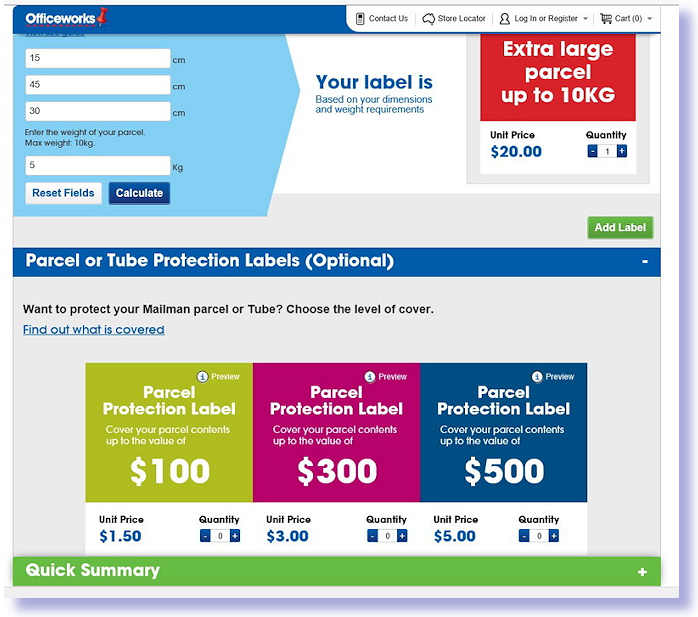 A powerful Parcel offer.
These Officeworks stores are often open 6 or 7 days of the week, and until late evening too, thus being far more convenient than POs, with far better parking too of course. I hear this parcel service will be rolled out in Coles Stores nationally as well.

You can buy pre-paid labels, or print them out at home, and simply dump the parcels in lockers at all Officeworks stores. For small business, a JOY to not wrestle with the complex AP rates and rules.

They are calling the new operation the very clever and catchily named "MAILMAN" - more detals and photos here - tinyurl.com/APthreat

Officeworks is owned by Wesfarmers. Wesfarmers Limited is one of Australia's largest public companies and one of Australia's largest retailers. Its headquarters are in Perth, Western Australia.
Australia's largest employer.
Wesfarmers is the largest private employer in Australia, with more than 200,000 employees across the country. AP could not have allowed a more dangerous competitor to emerge. They are so arrogant they probably can't see the threat.

Parcels are the only profit area right now for AP, and that is about to end. Hence they will need to heavily crank up prices even more to keep revenue the same, and lose even more market share due to that. Scary times ahead for them.

Wesfarmers own a vast array of companies and businesses, and even if they need to LOSE money for 2 or 3 years to get traction and market share on this, it will not bother them.

They own: Bunnings Hardware, Coles Supermarkets, Bi-Lo, Pick 'n Pay Hypermarket, Coles Express, Coles Central, Liquorland, Vintage Cellars, 1st Choice Liquor Superstore, Officeworks, Officeworks BusinessDirect, Harris Technology and MANY others.

I want to see Australia Post stay viable, and folks using stamps on mail encourages stamp collecting. Their entire top management team clearly have totally taken their eye off the ball, whilst scandalously upping their salary packets, and hopefully will be replaced ASAP to address this.

Common stamp FRENZY!
Take a close look at the cover shown nearby. A common USA 22¢ "Prexie" Definitive stamp used on a normal looking cover used within New York state. Value used, a few cents on a good day. If I saw it in a box of junk I'd likely have left it there!

On March 22, this solo use of a USA 22¢ Grover Cleveland stamp on a domestic registered cover sold for $4,050 - then around $A5,500, on eBay. The seller was "stamper221"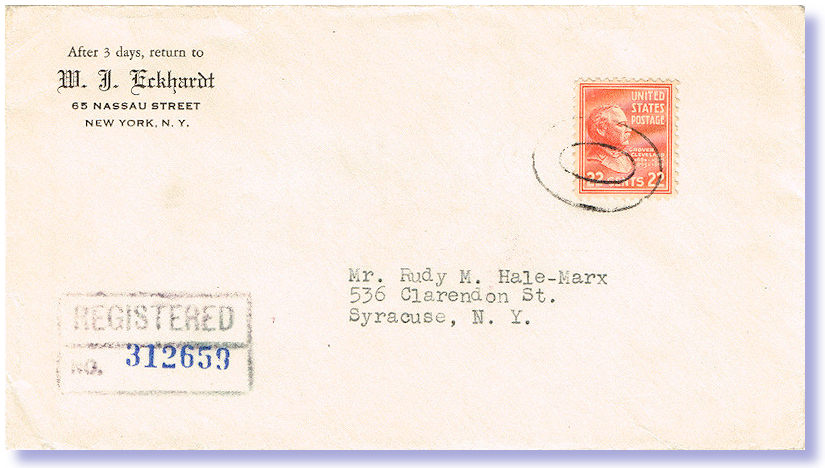 $A5,500 for this, I kid you not!
Twenty-five bids were placed by just three bidders. The seller opened the 7 day auction March 15 with a starting price of $9.99 and it crept up. On March 22, the final day, the winning bidder added an undisclosed final bid. Because no other bids were received after that, the cover sold for $4,050.

The Grover Cleveland stamp part of the popular 1938 Presidential, or "Prexie", series of definitives, paid the 3¢ first-class postage, 18¢ Registry fee (for indemnity of $5.01 to $25) and a 1¢ supplemental surcharge that was assessed because the declared value was greater than the indemnity covered by the Registry fee.

The backstamps on the cover indicate that it was postmarked December 19, 1941, in New York City and arrived one day later at its destination in Syracuse, New York state. The ebay seller and the specialist book he uses make no mention that Eckhardt was a well-known stamp dealer. Only on ebay!
PNG Stamps in the Air
A feature article on PNG stamps and postal history are part of the current Air Niugini "PARADISE" in-flight Magazine for "May-June 2015".

A journalist from Papua New Guinea's "PARADISE" in-flight magazine contacted me a while back, about writing a story on their stamps, and I was happy to assist him.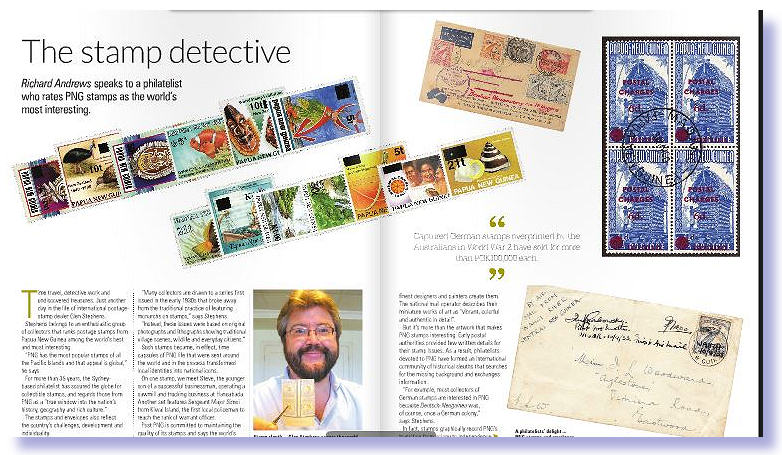 Good for promoting stamps.
These non-stamp journalists generally mess some facts up - like the "G.R.I." overprints being made in World War *TWO* etc, but overall a nice general plug for these pretty stamps to a wide audience.

A lot of folks from all walks of life read these airline magazines whist flying, or stuck in airports, and who knows, a few brand new collectors may result from it all?

I rounded the writer up a good number of photos to add to the multi-page full colour story - which can be seen here - tinyurl.com/MagPNG for anyone interested.

The rare 1933 New Guinea "Wahgi" Flight cover shown nearby, a stampboards member bought for near nothing in one of my famous junk cartons, and later sold it back to me for a 4 figure sum.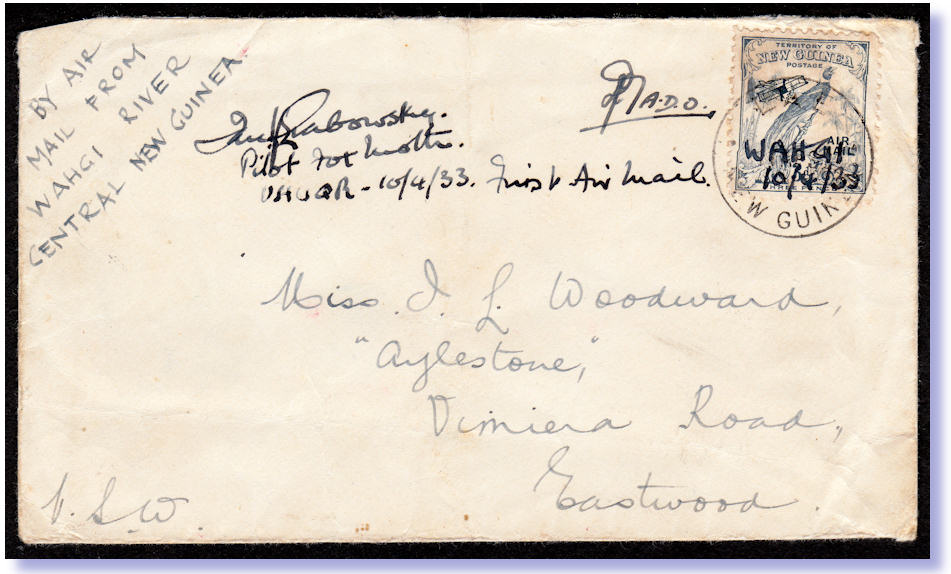 Sold for nothing in a Junk box.
| | | |
| --- | --- | --- |
| | A leading member of the Australian judiciary is now the happy new owner, who told me he has a family connection to the pilot. There was a folder of New Guinea covers there in the carton from the same era. | |
Listed at $2000 in Eustis.
That one cover is cat $2,000 in Eustis as P59, which for items of that ilk, means it is WORTH around that figure, as there are far more buyers than sellers at this scarcity level, and AAMC = retail pretty much.

I'd bought the box an hour before, and it was crammed with old stamps in cigar boxes, tins, envelopes, glassines, shoeboxes, and even a WW2 Army Ammunition box of stamps!

The elderly seller drove over with it, and said much of it was from a relative who had lived in New Guinea for a time before the War. He had planned to toss it all in the bin, until he saw my Yellow Pages ad.

One nice cover in there was addressed to the Edie Creek Goldfields - see address detail nearby, and there were other nice pieces - the buyer's full report is here - tinyurl.com/NGcover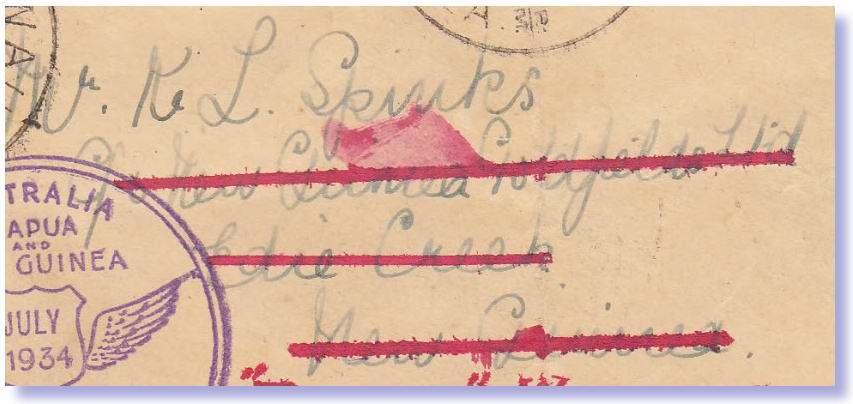 Cover TO the New Guinea goldfields.
The $2,000 "WAGHI" cover is also illustrated nearby. An Air Mail cover from Wahgi River, Central New Guinea. Signed by the pilot, with his aircraft rego number, and sent by first air mail in 1933.

The interior highlands area of New Guinea was unknown to Westerners until the early 1930s - see tinyurl.com/GoldNG for the report by The Royal Geographical Society, in 1934.
PNG Highlands "The Wild West".
I've been to the PNG highlands a couple of times, and it is still "The Wild West" even today. I've been threatened with a large razor sharp machete by a betel nut/cheap spirits deluded tribesman, up a steep rutted muddy path to nowhere.

Three Police with shotguns needed to come and defuse that issue. On another visit I needed 2 paid security men and a driver in an armoured Land Rover, to drive from Goroka to Mount Hagen.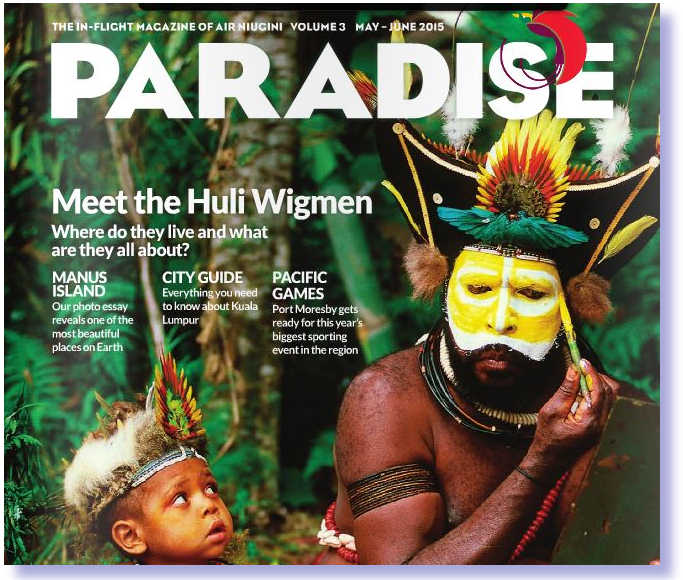 Never argue with Huli Wigmen!
It is only a generation or so back when the New Guinea Highlanders had never seen Europeans, and many of the natives there are still of the fierce Warrior class.

I've spent time with the Huli Wig Men in the Highlands, and trust me, these are huge tall guys, with really fierce exterior demeanours, who you would NOT want to mess with!

A Huli Wigman is on the front cover of the "PARADISE" magazine in question, carefully putting on make-up for the Mount Hagen Show or something similar.
"Locket" 24¢ Invert emerges AGAIN!
The "Locket Copy" (Position 9 in the original sheet of 100) of the USA 1918 24¢ "Inverted Jenny" has surfaced yet AGAIN!

It will be auctioned on May 20 at Stacks Bowers, New York. Estimate is $US100,000-$200,000. Sadly this column was at the printer then, so can't report on how it fared.

It was the only stamp lot in a large coin auction, so maybe owner is hoping to entice a "cashed up coinie" who does not know its recent curious history?

Offering it on ebay and various other ploys and gimmicks did not entice a Bunny, so here we go again at a REAL auction this time. (Well not a real STAMP auction anyway!)

The "Locket Copy" has a very curious history. Robert A. Siegel Auction Galleries included the locket in its May 18, 2002, "Rarities of the World" sale in New York.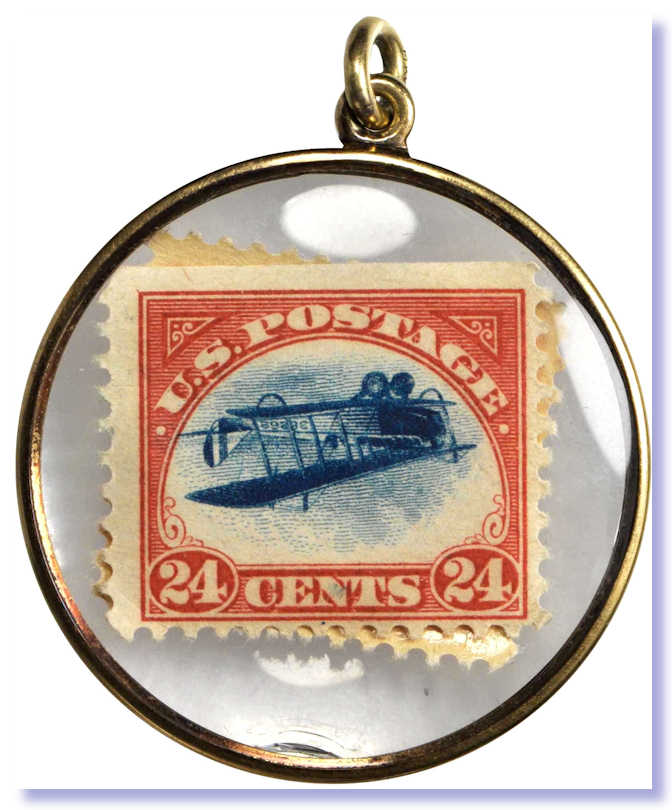 Offered once AGAIN at Auction.
Presumably, the item was consigned by its late owner's estate, although that is unconfirmed. However, the high bid of $US80,000 fell short of the reserve price, and the lot was withdrawn.

On March 17, 2003, the locket was sold privately for $US90,000 through Siegel to an anonymous buyer.

Around 2009, according to a provenance compiled by Siegel, the Locket again was sold privately, for an undisclosed price, to an unnamed numismatic dealer.
Failed to sell once again.
It next turned up as a featured item in a Heritage/Bennett Auctions sale Dec. 11-12, 2009. An online reference to the sale reported that bidding would start at $US200,000, with a buyer's premium of $US30,000 to be tacked onto the final price. The lot once again failed to sell.

In 2010, the locket stamp received its only certification ever, from Professional Stamp Experts (PSE), Certificate 1218045 - which coyly describes the totally missing NW corner as a "short corner perf". Gotta love American grading 'precision'.

"Genuine unused, o.g., never hinged, Position 9 - the so-called locket copy, with a short corner perf at the upper left, a small corner crease at the bottom left, another at the bottom right and a natural straight edge at the top."

The coin dealer who seems to be handling it, did the usual American Barnum and Bailey stuff, and wackily had it and a better Invert listed on ebay, and of course they failed to sell. This same "Locket Copy" is still on his website for $US525,000. Only in America!

Condition is everything with these, and average centering, creased corners, and a fully missing corner is holding it back.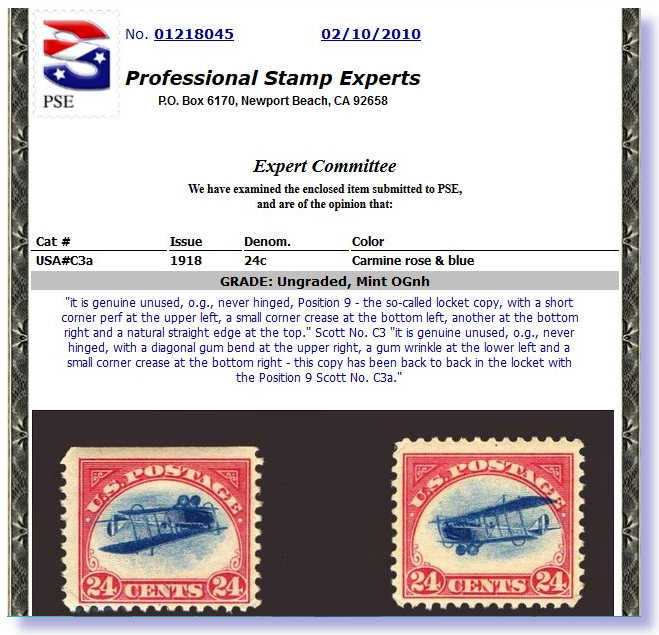 "Short corner perf". Hmmmmm.
The short history - In 1918, eccentric and uber wealthy collector Colonel Green paid $20,000 for the only sheet of 100 x 24¢ "Inverted Jenny" airmails ever to reach the public.

Green sold some of the sheet's singles and blocks to other collectors, but kept a total of 41 stamps, including the plate number block, for himself.

One single in particular he set aside for special treatment. He had it placed in a pendant made of two convex pieces of glass with a gold rim, and ring for a chain, back to back with a normal 24¢ Jenny airmail stamp.

He then presented the bauble to Mabel Harlow Green, a woman he had wed in 1917, a few months after the passing of his mega-millionaire mother, Hetty Green ("The Witch Of Wall Street") who had deeply disapproved of Mabel, whom she called "Miss Harlot".

What "Exotic Dancer" Mabel thought of the curious gift is unrecorded, but there's no evidence she ever wore it. It was unknown to the stamp world until 1956 when a dealer casually mentioned it in a magazine. 30 years would then pass until anyone else saw it. More here - tinyurl.com/24cLocket









Get my regular market update emails FREE. Stamp gossip, price trends, record sale prices, and many one-time stamp specials, wholesale bargains, and exciting offers and breaking philatelic news. A mini stamp magazine in every email! "KNOWLEDGE IS POWER". The ONE stamp list you MUST be on, to keep in touch with the rapidly changing world market. One client made $65,000 profit in a few months after following my specific advice. Sign up securely and quickly by clicking HERE to access my automated data base. And wiser still ADD your home AND work email, if I only have one right now. Add a stamp friend's email address if you wish. One short click and you are subscribed to probably the most read email list in the stamp world!




If you would like to be notified of updates to this website,

Click HERE. If have any questions,
or comments regarding my site, please email me at glen@glenstephens.com



| | |
| --- | --- |
| | Search all my 300+ web pages! Simply type in what you are looking for. "Penny Black", "Latvia", "Imprints", "Morocco", "Fungi" "Year Books", etc! Using quotes ( " ) is more accurf used with no quotes. Search is NOT case sensitive. Tip - keep the search word singular - "Machin" yields far more matches than "Machins" etc. |


I am a Dealer Member in Good Standing Of:

Full Time Stamp Dealer in Australia for over 35+ years.

Life Member - American Stamp Dealers' Association. (New York)
Also Member of: Philatelic Traders' Society. (London)
GLEN $TEPHEN$

Full Time Stamp Dealer in Australia for 35+ years.

Life Member - American Stamp Dealers' Association. (ASDA - New York) Also Member - Philatelic Traders' Society

(PTS London) and many other philatelic bodies.

ALL Postage + Insurance is extra. Visa/BankCard/MasterCard/Amex all OK, at NO fee, even for "Lay-Bys"! All lots offered are subject to my usual

Conditions of Sale, copy upon request .

Sydney's

BIGGEST STAMP BUYER: Post me ANYTHING via Registered Mail for my same-day cheque. Avoid copping the Now normal 45% Auction "Commissions" (15% Buyer + 20% Seller + GST, etc) AND their five-month delays!

Read HERE for details.

"Lothlórien", 4 The Tor Walk, CASTLECRAG (Sydney), N.S.W. 2068

Australia

Phone 7 Days: (02) 9958-1333

PO Box 4007, Castlecrag. NSW. 2068


E-Mail: glen@glenstephens.com The Number #1 Web Sites: www.stampboards.com