Click To Go Back To The Main www.GlenStephens.com Stamps Homepage

Welcome! You are visitor
to www.GlenStephens.com


June 2016


---
Hidden Stamp Treasures Still Exist.
Many collectors and dealers despair that no great "finds" are still to be made, as it is near certain all old albums around the globe have been checked/picked over already, by generations of other collectors or dealers that walked before them.

Whilst that is largely true, re finding key face different pieces like 1913 £2 Kangaroos, or GB £5 Oranges, or USA $5 Columbians etc, even they still do turn up from time to time in old collections, that have remained tightly held in families.

An elderly lady this week bought over a huge red SG "Ideal" album that had been in her family for over a century, and she was downsizing to a care unit, and did not want to take it with her, and none of the family were interested in stamps.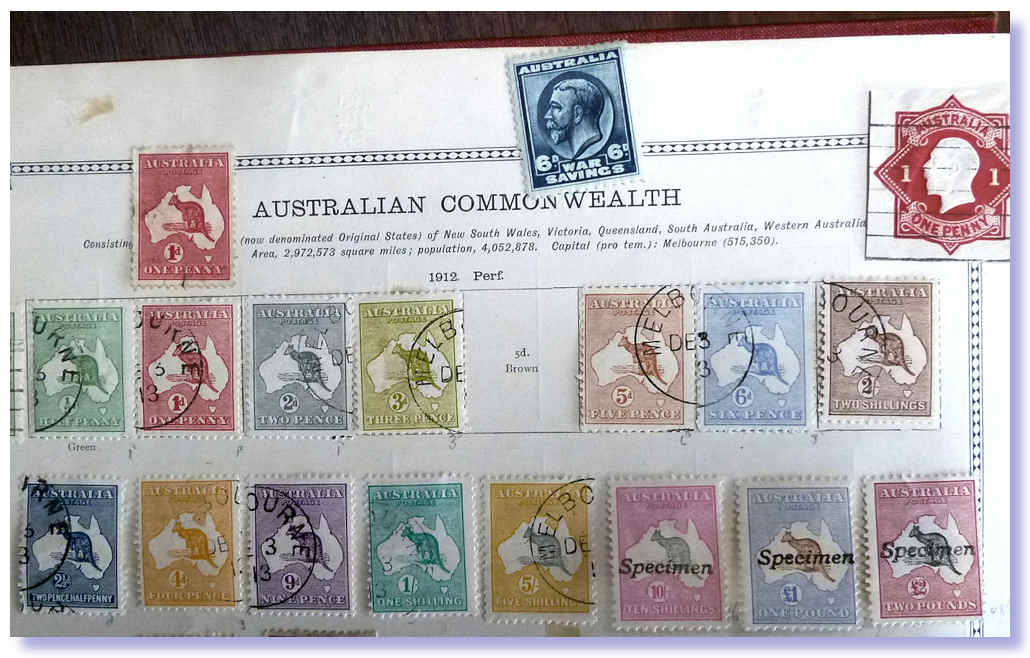 Never seen for over 100+ years.
She had planned to consign it to Velvet Collectibles Auctions here (previously Stanley Gibbons/Mowbrays) but as they just had their office padlocked by landlord, and an Administrator appointed, to salvage a few pennies of the $A million of monies owed to over-trusting vendors etc, she decided a cash sale was FAR wiser!

These books are generally sparsely filled, as they are so huge, and so it was with this one. The first pages of all these books contains AUSTRALIA, as they are arranged alphabetically. On that page she had among other nice pieces, a complete set 15 of the 1913 Kangaroos, from ½d to £2.

The values to 5/- all had the glossy CTO cancels, and as always, the 3 high values were handstamped "Specimen" with a rubber stamp pad. All lightly hinged in there over 100 years back, and had never been seen by any dealer since. They are shown nearby, and worth $1000s thus.
Now on a 747 to Africa!
| | | |
| --- | --- | --- |
| | All with fresh full gum, and super light peelable Gibbons hinges, and a client in South Africa is now the proud owner of them today. The 1913 "Specimen" issue is not common at all, and indeed to this day, we do not know for certain what packaging the set or folder it was sold in, consisted of, as none have survived. | |



THE most attractive GB stamp design?
Another nice piece in the old book was the GB 1913 £1 Green "Seahorse" VFU nearby. This is by far the scarcest face different GB stamp from the past century+, and is missing from nearly EVERY GB collection globally. It is cat way over twice used, the GB "Glamour" item, the £1 PUC, and even almost double the £1 KEVII. A rare stamp: I get one every 5 years or so in stock. So nice stamps still DO surface, after a century of being hidden.

The £1 Seahorse is THE most attractive GB stamp ever, in my view. And luckily, this one was superbly centred, within wide margins as you can see - most are not. Near all on the market have horrid, really heavy thick smeary rubber "Killer" cancels, and/or many missing perfs due to the thick fibrous paper.
Just try finding one for sale!
In my view it is the most under-priced high value in the book. Even VF examples like this sell for exactly what a MUH 5/- Harbour Bridge does. Any of 30 dealers in this country have those in stock right now - but likely none of them have a £1 Seahorse, in any condition, at ANY price! Ask around.

It will have been used on a parcel from the UK to Sydney, where the collection was formed. Postal use of £1 back in this era was most unusual. Many all the UK high values "used" are from Telegrams or revenue use. Near ALL the existing "used" QV £5 Oranges are from Excise payments etc - even the ones with superb steel cds cancels, far more on that here - tinyurl.com/QV5PD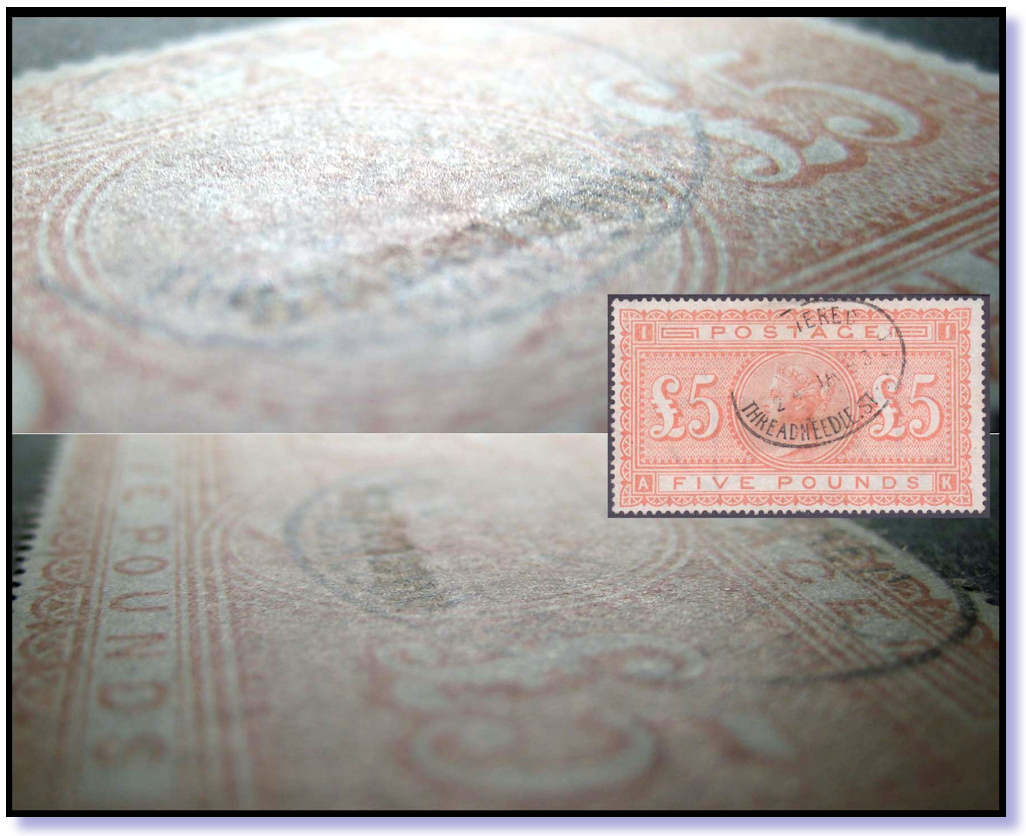 "FU" with RPS Certificate thus. Faked!
The £5 stamp illustrated nearby is a truly lovely looking example of a key stamp, I am sure you'll agree. Nicely centred, great colour and perfs, and attractive. This 1882 GB £5 Orange stamp is cancelled with a neat "Registered - Threadneedle Street - London" oval cancel of "24 - JA - 83"

Has the usual large single lined Anchor watermarks on each side. SG 133. Cat £15,000 used. With a 1985 Royal Philatelic Society London (RPSL) clear photo Certificate of Genuiness saying - "SG 133 £5 Orange on blued paper, used, is genuine".
The oblique angles show it all.
| | | |
| --- | --- | --- |
| | So a lovely looking stamp, cat £15,000 with a clear RPSL Certificate, should be worth about $A10,000 or more - correct? Wrong - it is a FAKE! A forger carefully picked/scratched off those "SPECIMEN" letters, and then added a dodgy cancel on top, making it worth $1000s more than a "Specimen". The oblique photos above show it well. | |




Overprint handstamp was easily removed.
Indeed the very REASON the Australian Post Office moved from the handstamped "SPECIMEN" overprint used on these 1913 stamps nearby, was their fear that sharpies would buy the sets for £1, and get £3½ of usable postage if they removed the non-fast handstamp letters by simple bleaching, AND got a bunch of other FU stamps VFU to 5/- "free" as well.

Memos flew, and the often very faintly applied 1913 rubber stamp ink handstamps were replaced on all issues for the next 50 years with sold black letter "SPECIMEN" wording, in a very bold CAPS font, and machine metal type applied, using jet black letterpress permanent printer ink.

The Australian Post Office for over 50 years created a wide range of different outer design packs to sell these packs. The empty pack montage shown nearby I passed on to a client, and many are surprised at just how many variances came out over the decades.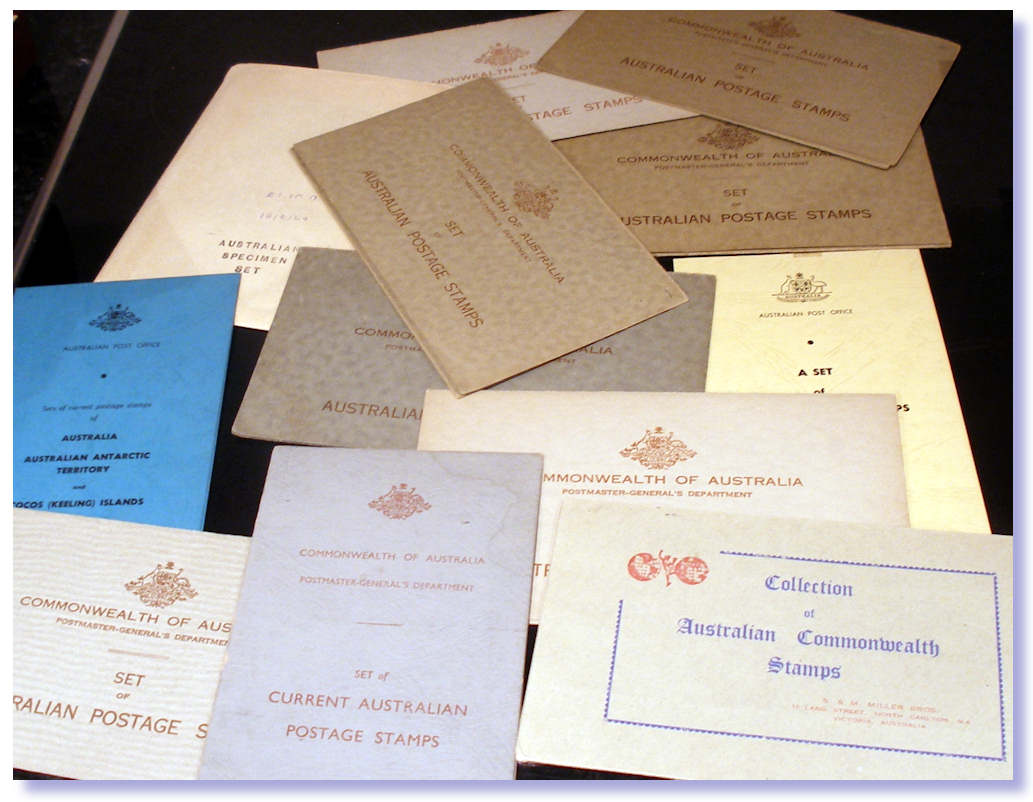 A wide variety of Folders exist.
| | | |
| --- | --- | --- |
| | These stamps (and the many other KGV stamps that were in the same pack) were sold for £1 a set at GPOs, with the intention of interesting youngsters in collecting Australian stamps. The composition of the stamps changed over the ensuing decades, as new stamps were issued. | |
What a fantastic contents range.
Shown nearby is a full page ad for these in the April 1935 "Walkabout" magazine - a mass circulation publication to the public, and even then few sets were sold, despite them having a CTO 1932 Sydney Harbour Bridge set 4, Kingsford Smith overprinted "OS" trio, and the high value Roos overprinted "Specimen" etc.

Australia sold these "Specimen" packs well into the 1970s at all Philatelic Bureaux - even then still at only $2 (=£1) a pack, and as always the content altered to include newer sets that had come on stream. The 1966 era pack with all the 24 diff Decimal issues up to $4 Navigators are still seen pretty often, and will cost you not much more than $A100 or so.


Quite a deal for just £1!
| | | |
| --- | --- | --- |
| | The policy right to the end was that the higher values were handstamped (1913 only) or overprinted (all other issues) with the word "SPECIMEN". Obtaining a CofA watermark Specimen set of 3 high value Kangaroos "SPECIMEN" is a remarkably affordable way to fill those 3 gaps - costing $150 or so hinged. Even a USED trio will set you back $1,000 these days! | |
Packs never sold very well.
The packs never really sold well, given the quite superb value they represented. For generations the corner CTO and "Specimen" contents were heavily sneered at by "serious" philatelists, being regarded as "Kiddies goodie bags" etc.

stampboards.com has a long 4,000+ message thread on these CTO/Specimen stamps – tinyurl.com/ozCTO - that in parts has re-written sections of the ACSC with new findings. Prices today have gone nuts for many pieces. Tons of original research in there.

Many issues were short lived with "SPECIMEN" overprints, and are costly. The 1937 £1 Coronation "Robes" issue was done in small numbers starting 1944 in WW2, as the £1 grey Kangaroo was held in large numbers in Melbourne, so not many of that stamp were done but of the 10/- "Robes", plenty were sold. Odd.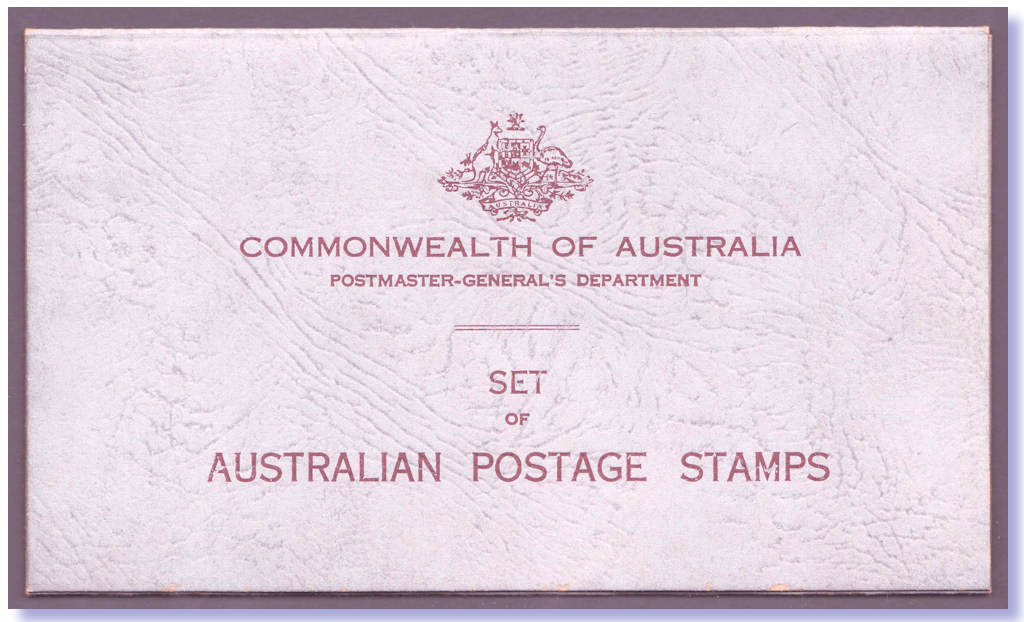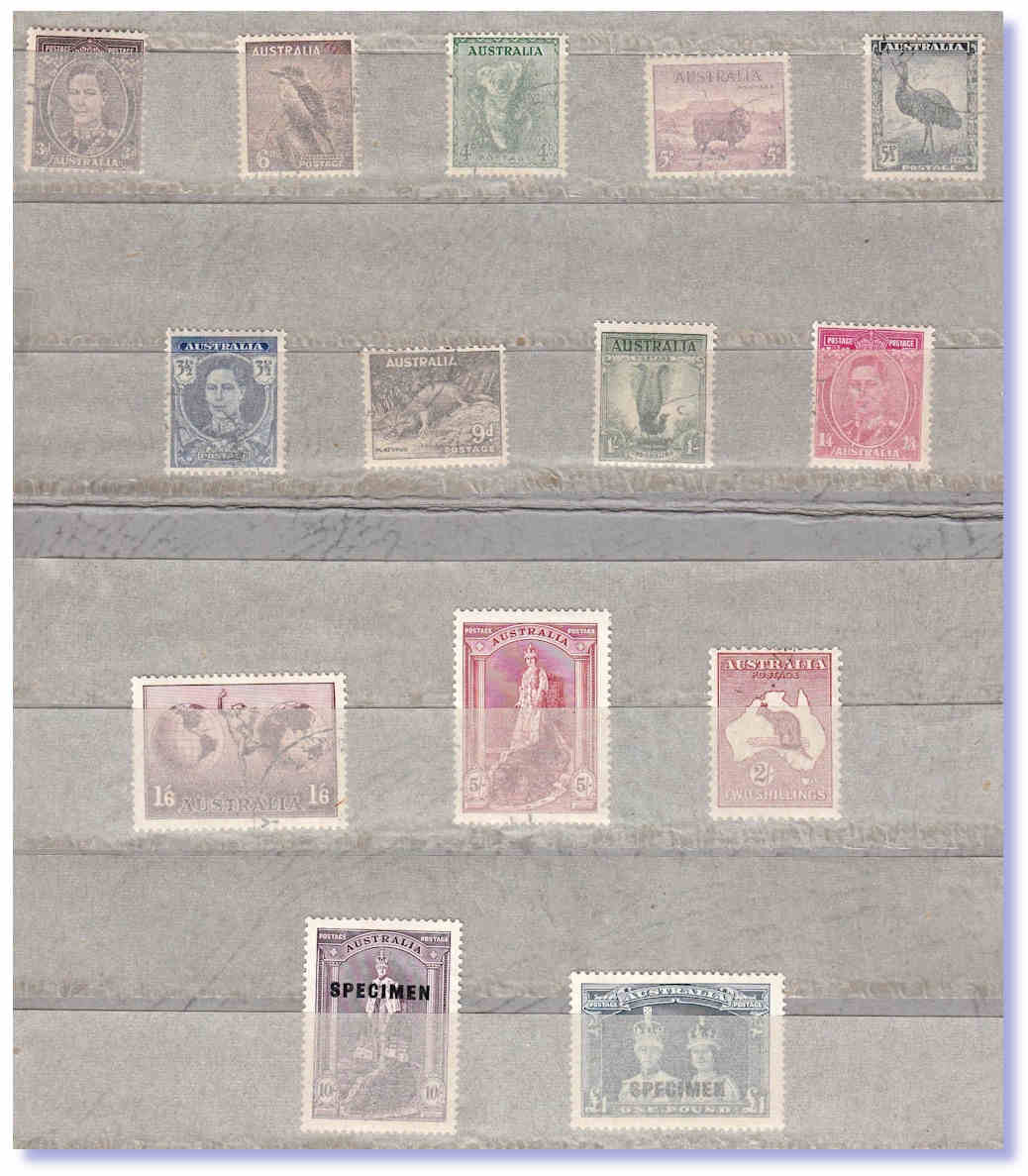 Part of a GENUINE WW2 Specimen pack.
| | | |
| --- | --- | --- |
| | The partial insides and cover, of an original pack I sold to a client are shown nearby to demonstrate how these stamp were arranged inside each "Specimen" pack in this pre-war era. Here glassine strips were mostly employed, but the later 1960s issues were simply placed in a heap, into a small glassine, licked to inner cover of the folders. | |
$750 return on a $2 outlay.
Even as recently as the 1960s some rather rare sets were buyable for the same £1 ($2) purchase cost. The 4 high value Navigator "Specimens" shown nearby I sold recently for $A750. Not a bad return on the original PO investment of $2!

Easily the smallest PO issue of anything Australian since WW2. Recent ACSC research shows only 3,480 sets of 4 were ever supplied by Note Printing Branch to the Post Office, and many believe not all those were sold before the Decimal issue of February 1966, and hence were later destroyed.



Even 1960s sets are valuable.
Most sets were bought as gifts for young collectors as the "Specimen" set only cost £1. I was given a set of these in 1964 by an uncle, and proudly affixed them all into my little album - each with a large, yellow, vigorously licked stamp hinge! I've even bought collections where kids have LICKED these sets into albums, as of course they all had gum on the back in the packs.

Nearly all "Robes" Specimens offered on amateur seller sites like ebay are Forgeries, and any Bunny buying ANYTHING pricey there gets zero guarantee of course. Genuine copies are pretty easily spotted by experienced dealers, but the forger cowboys who inhabit ebay LOVE this stamp, as each fake makes them many $100s of easy profit, as GENUINE examples MUH fetch well into 4 figures these days.
Ebay Bunny Fodder Heaven.



Anyone buying ANYTHING overprinted or perfinned on ebay, where the overprint or perfin is worth much more than the normal, needs rocks in their heads. As you are near always buying forgeries in that "Bunny Bargain" deal. I offered a seller $50 for his £1 as a curio reference this week - he paid $800 for it on ebay early last year, via a long departed spiv seller. Brilliant "Investment".

My sad seller blurted out that the dodgy unknown ebayer had as part of his description: "All stamps fully genuine - 100% money back Guarantee". I laughed, and asked if some shifty spiv in a smoky pub offered him a "Solid Gold Rolex watch" with the same guarantee, if he would place much weight on THAT warranty! So he lost $750.



*NEVER* buy these on ebay etc.
The lack of IQ and savvy shown by many stamp buyers on venues like ebay astounds me, week in and week out. Stampboards.com has endless new threads from "Bargain Buyers" proudly showing their latest "treasure" purchased for $100s or "half retail", and being shown it was nothing but a crude fake.

Ebay do not care one iota - they make about 10% ebay and paypal fee total from EVERY transaction, whether the stamps are faked or not, and are clearly not the slightest bit interested in even banning the most active and most blatant forgers, as they make good money from them.
Ebay loves stamp forgers.
This current account (from the 100 or more this one guy has used on ebay) has 44 NEGATIVE feedbacks in the past month, all from Gullible Bunnies who have "bought" and paid $10,000s for material that they never received, or is forged, and ebay STILL has not banned the account!

Stampboards.com has endless scammer ebay sellers, and rip-off deals being highlighted each month. The vast number of idiots who leap in and hand over $100s and often $1,000s each week to these crooks with minimal feedback or track record, astounds me.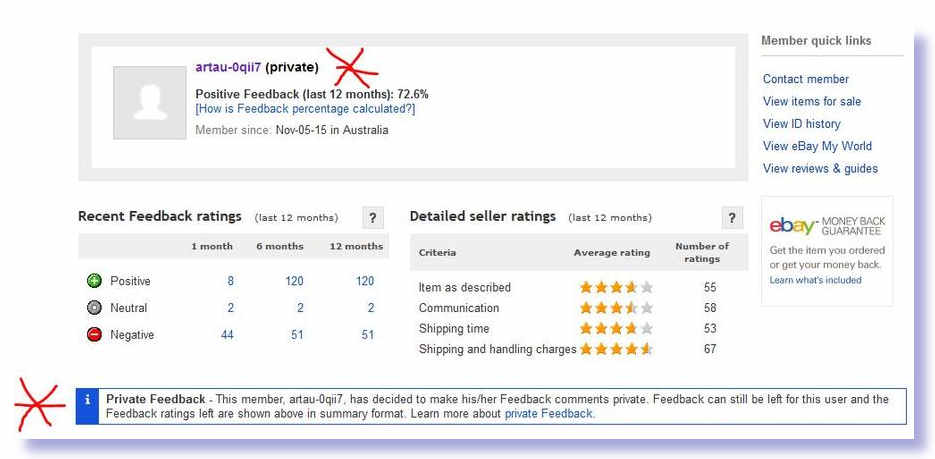 44 Negatives in ONE month on ebay.
| | | |
| --- | --- | --- |
| | Googling the sellers offering things anyone with BRAIN can see are "too good to be true" is easy. Why or EARTH would anyone imagine an obvious fake handle like "artau-0qii7" is genuine? A 5 second Google leads you RIGHT to this strong warning on him - tinyurl.com/BunnyEbay - so these greedy idiots deserve to lose their money. Zero research. | |
Fahour to sell all GPOs?
Australia Post CEO Ahmed "Wrecking Ball" Fahour has presided over yet another short sighted plan, that will create an even bigger mess for his successor to clean up, when he is hopefully sacked - VERY soon.

Fahour seems determined to sell off the Capital City GPOs freehold titles - a super valuable asset for the future of Australia Post. Why? As it will give a short sharp profitable, one-off, line entry to the AP coffers that he has run totally into the red since being appointed. Allowing more immediate mega bonuses for he and his hand-picked cronies. "See - we got profitable fast!"

"We always want to make sure the money that's deployed in that real estate portfolio is being used to support the core business of who we are, and what we are" Fahour told the "Australian Financial Review". i.e. "I want a FAST one-off cash injection to the balance sheet to make me millions".
All 7 Capital City GPOs to go.
The seven historic GPOs - those in Sydney, Melbourne, Brisbane, Hobart, Perth, Adelaide and Canberra are also in the offer - representing the Crown Jewels for the 207 year old postal service, now fallen on hard times under Fahour's wacky decisions.

Fahour's master plan appears to be setting up a deal with "Eureka Funds Management". Under the proposed deal, Australia Post would initially retain only a 40 per cent stake in the unlisted Australian GPO Trust, to be run by Eureka. It is well advanced and VERY secret – and bids closed May 20.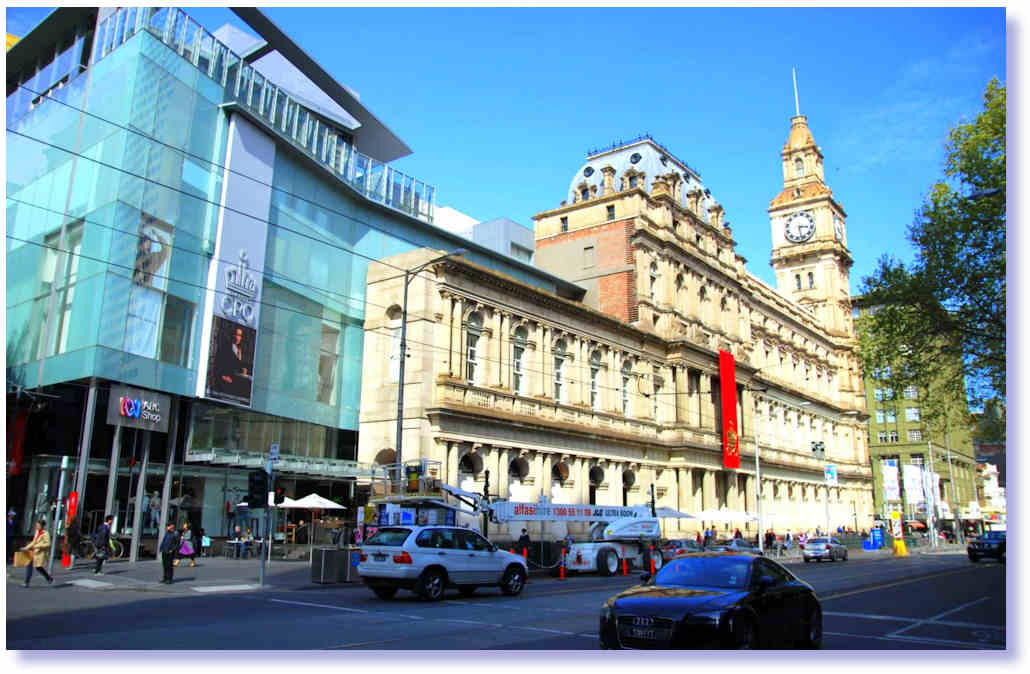 "For Sale"- Fahour BONUS to Fund.
AP is of course making large losses (first in history) under this walking wrecking ball, who has seemingly managed to alienate near EVERY staff member, union, and related employee and client nationwide with his wacko policies. Hard to do that so successfully, and get paid $5m a year to do it.

Near trebling the cost of a first class letter in recent years, huge parcel and overseas post increases, and now this month, destroying the overseas mail system, where it is now impossible to mail a small Registered packet marked REGISTERED, so it is not stolen by mail staff overseas, or even delivered signed for. His madness never stops.
"You valued clients asked for this"
Announcing his brilliant plan this month - "you valued clients asked us for this" - to charge RECIPIENTS $9 a parcel "storage" if held at POs for a week or so, is equally insane. Half the time his underpaid parcel contractors leave PO collection notes, even when folks are home, so they save time.

The "$9 holding fee stealth plan" was leaked into the press from an AP insider, and AP got totally clobbered nationally in mass media in May. Fahour was on top rating 3AW radio May 13, desperately back-flipping very weakly on the $9 holding fee, and floating other barely developed thought bubbles. Full Fahour radio interview, and more detail on the GPO freehold selloff bubble is on: tinyurl.com/FahourFee

He also oversaw buying $500 MILLION of IKEA sounding, kit form mail sorting machines from Holland, that clearly do not work, a year or two after being glued or taped together. And bolting on 5 software systems that did not talk to each other. I had an urgent parcel last week that sat in Chullora Mail Centre for over a week, getting scanned afresh each few days. Madness.



Lost in Chullora for over a week.
A team of randomly selected Chimps from Taronga Zoo would do a far better job running Australia Post, and not cost the $20 a million that this flop and his clueless mates are paid. Write to the Minister of Communications now please, and demand he be expunged ASAP, or we will not have a working PO soon.

His new plan that leaked into the media this week sees Fahour hell-bent into moving all the prime CBD GPO premises freehold titles, that are now leased on VERY attractive yields long term, into a Trust, managed no doubt by his ex-banking and legal buddies, all extracting vast juicy fees to "help out" this pointless idea.

Long term clearly not a good idea financially, but these carpetbaggers like Fahour never think long term. Juicy Bonus to Juicy Bonus is their attention span, and what happens to the picked over corpse of AP that remains in 5 years, is none of his concern. "Selling off the farm" essentially to buy himself another $5m Mansion.
Cricket Cancel Craziness.
| | | |
| --- | --- | --- |
| | This cancel sold at auction to intense bidding last year for £2,650 - or well over $A5,000. Why? Because it is worded "Cricket Ground - Brighton - JY 12 : 02". The stamp had no Certificate, but was certainly 100% genuine I'd suggest. | |



A $5,000+ Cricket Cancel!
Amazing - about $A5,000 for an off centre stamp, with gum soaked lower perfs, and a corner crease, otherwise worth ten bucks on a VERY good day! ALL these CRICKET GROUND cancel stamps were all in fact stolen property from the Post Office, being from the GB Telegraphic Offices CDS's used at Cricket Grounds.

These stamps were affixed to telegram forms and, as we know, none should have escaped Royal Mail shredders at that time etc. Those seen, are on higher face value stamps, and perhaps the postal clerks thought it was a chance to obtain some high value stamps, and onsell quietly to the nearest stamp dealer?
All copies of these cancels STOLEN.
| | | |
| --- | --- | --- |
| | Anyway, the few that do trade in the marketplace get amazing 4 figure sums. I recently added one to stock, that has a clear RPSL Certificate. At $A1,500 it may seem pricey, but others have sold for over treble that, and it proves that "cricket on stamps" is a red hot topical. | |
"Cricket on Stamps" is HOT!
GB 1887 6d Queen Victoria, Purple on Rose Red with crisp "TAUNTON CRICKET GROUND" cds. This one will have read TAUNTON - 2 AU (97) I feel sure, as another stamp of that exact date is recorded, for Taunton Cricket Ground Somerset.

This one shown has a clear 2016 Royal Philatelic Society London (RPS) Photo Certificate – "Used with Taunton Cricket Ground obliteration - is genuine." A most unusual item, and do keep your eyes peeled for these cancels. I've seen examples with only ONE letter of a cricket cancel. get 4 figures!
China Remains Hot
Finally this month an overdue note to those who deal and sell CHINA, that the opus new catalogue is now on hand at your local dealer. "Knowledge Is Power" as I type incessantly, and owning this arms you to the teeth for this tricky region.

Now in its 11th Edition, this is a huge book - over 500 full colour pages. Prices are carefully adjusted in line with the global prices - up massively on many earlies and fine-tuned down a little on the more modern where warranted.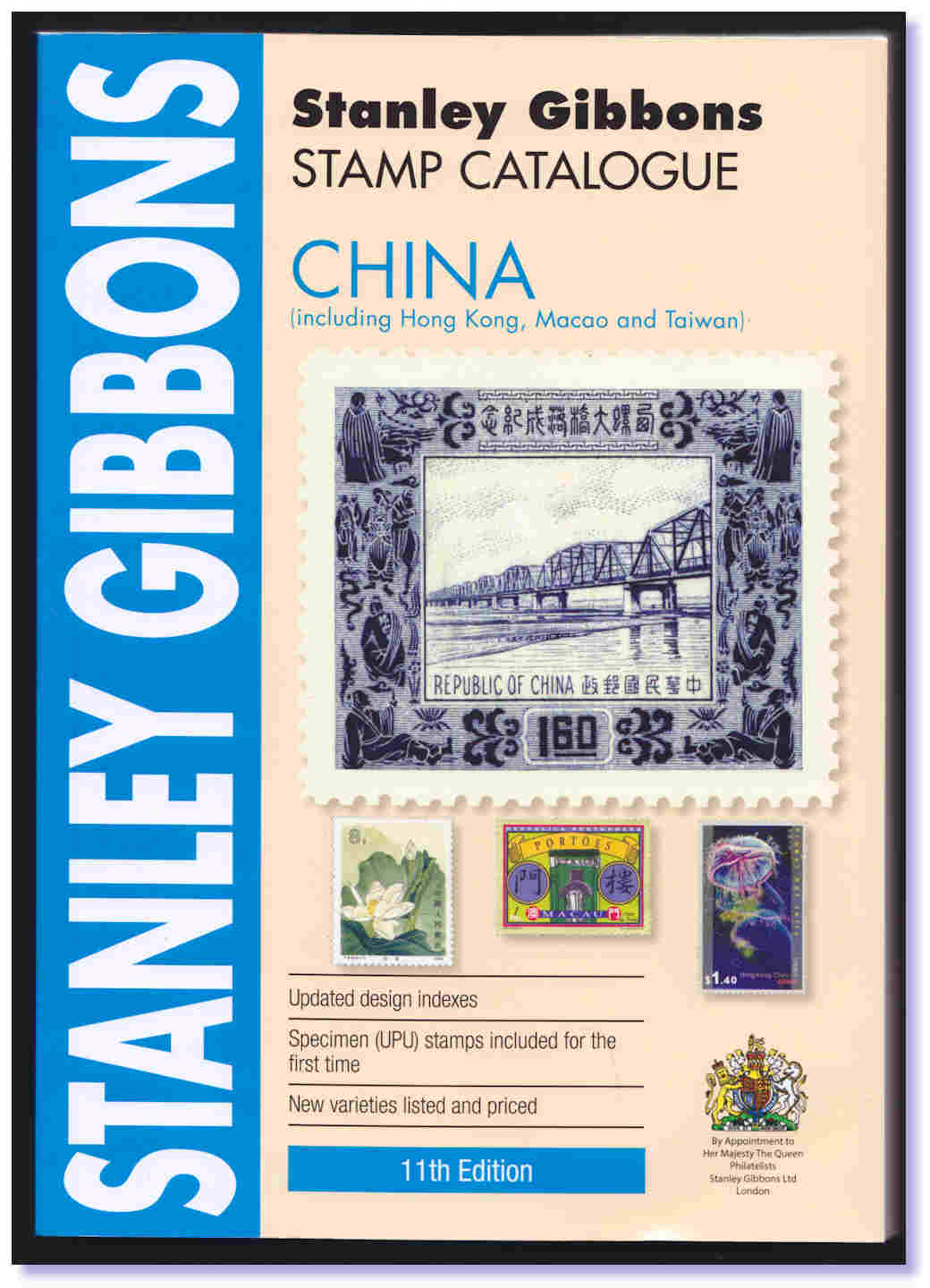 Over 500 full colour pages.
The catalogue contains detailed and up to date listings of all current stamp issuing countries in that orbit - (China, Hong Kong, Macao and Taiwan) as well as many other areas of interest including Japanese Occupation of China, Kiachow, Kwangchow, Manchukuo and Tibet.

Prices have been thoroughly revised throughout by leading experts in the field. The Stanley Gibbons "CHINA" Catalogue is the only catalogue published in English which covers all the stamp issues of China in a single volume. Local retail in Australia is about $A130. Worth EVERY cent!
Much new info added this Edition.
It is a detailed and highly informative catalogue, ideal for any collector who specialises in the stamps of this area. UPU "Specimen" stamps have been included for the first time, assisted by expert dealer James Bendon. Over 50 new stamp varieties are listed as well.

Information is provided at the beginning of each country covering history, early stamp issues and currency changes etc. This information is designed to aid the collector in identifying their stamps, and also to provide an historical reference for the information contained on the stamps.

Apart from the stamps of the current issuing countries noted above, the Stanley Gibbons "China" Catalogue covers a number of other areas of interest in this popular region:

Municipal Posts of Treaty Ports - Chinese Empire - Chinese Imperial Post - Chinese Republic - Chinese Provinces - Communist China -Japanese Occupation of China - British Post Offices in China - China Expeditionary Force -French Post Offices in China - German Post Offices in China - Indo-Chinese Post Offices - Italian Post Office - Japanese Post Offices -Russian Post Offices - United States Postal Agency in Shanghai - Chinese Post Offices in Korea - Japanese Occupation of Hong Kong - Kiachow - Kwangchow - British Post Office in Macao - Manchukuo - Tibet









Get my regular market update emails FREE. Stamp gossip, price trends, record sale prices, and many one-time stamp specials, wholesale bargains, and exciting offers and breaking philatelic news. A mini stamp magazine in every email! "KNOWLEDGE IS POWER". The ONE stamp list you MUST be on, to keep in touch with the rapidly changing world market. One client made $65,000 profit in a few months after following my specific advice. Sign up securely and quickly by clicking HERE to access my automated data base. And wiser still ADD your home AND work email, if I only have one right now. Add a stamp friend's email address if you wish. One short click and you are subscribed to probably the most read email list in the stamp world!




If you would like to be notified of updates to this website,
Click HERE.
If have any questions,
or comments regarding my site, please email me at glen@glenstephens.com
| | |
| --- | --- |
| | Search all my 300+ web pages! Simply type in what you are looking for. "Penny Black", "Latvia", "Imprints", "Morocco", "Fungi" "Year Books", etc! Using quotes ( " ) is more accurf used with no quotes. Search is NOT case sensitive. Tip - keep the search word singular - "Machin" yields far more matches than "Machins" etc. |


I am a Dealer Member in Good Standing Of:

Full Time Stamp Dealer in Australia for over 35+ years.
Life Member - American Stamp Dealers' Association. (New York)
Also Member of: Philatelic Traders' Society. (London)
GLEN $TEPHEN$

Full Time Stamp Dealer in Australia for 35+ years.

Life Member - American Stamp Dealers' Association. (ASDA - New York) Also Member - Philatelic Traders' Society

(PTS London) and many other philatelic bodies.

ALL Postage + Insurance is extra. Visa/BankCard/MasterCard/Amex all OK, at NO fee, even for "Lay-Bys"! All lots offered are subject to my usual

Conditions of Sale

, copy upon request .

Sydney's

BIGGEST STAMP BUYER

: Post me ANYTHING via Registered Mail for my same-day cheque. Avoid copping the Now normal 45% Auction "Commissions" (15% Buyer + 20% Seller + GST, etc) AND their five-month delays!

Read HERE for details.

"Lothlórien", 4 The Tor Walk, CASTLECRAG (Sydney), N.S.W. 2068

Australia





Phone 7 Days:

(02) 9958-1333

PO Box 4007, Castlecrag. NSW. 2068




E-Mail:

glen@glenstephens.com

The Number #1 Web Sites:

and www.stampboards.com