June 2017


---
German "Unissued" Christmas Stamp Soars!
On November 2, the German PO was about to issue the annual 2016 Christmas Bells "Weihnachtsmarke" stamp. Germany only issues 1 value a year - not sets of 3 or 4 stamps like other countries. Just before being issued, this 70¢ stamp was noticed to have a few real bloopers, that the usual German Teutonic efficiency had overlooked.

The Dutch word "Kerstfest" was spelt totally wrong - it should have been be "Vrolijk kerstfeest" (Dutch words in combo like this, always grammatically use a lower case k) but far more importantly they used the wrong "fest" spelling.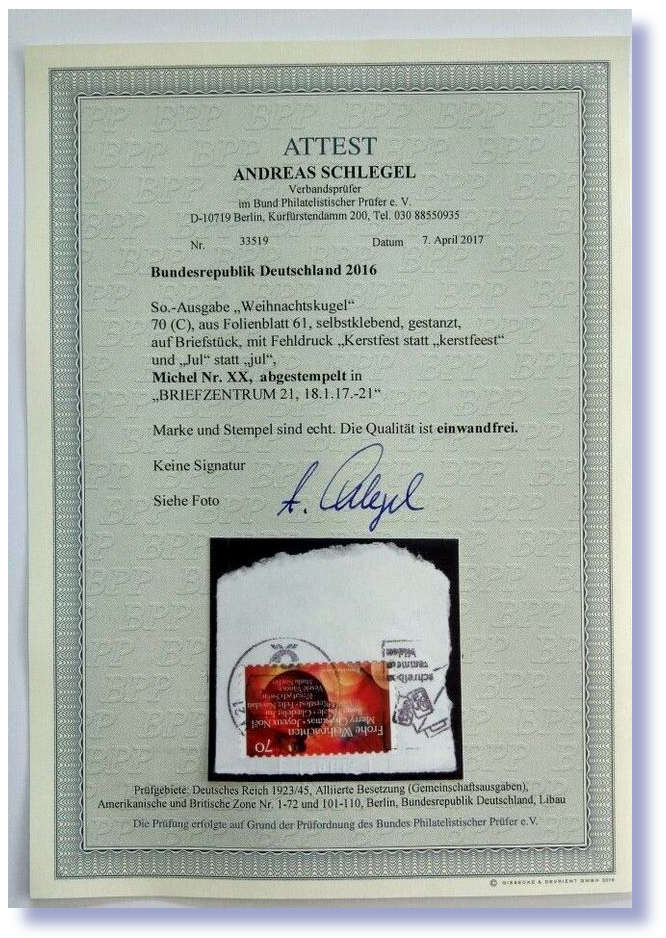 German "Weihnachtsmarke" error with Cert.
And "Glædelig Jul" is always typed by the Danish for some reason with lower case jul i.e."Glædelig jul", so that was another bad Boo Boo as well. Both words are large and prominent on the stamp design, and were easily seen.

The PO in panic, cancelled the release of the stamp until they were re-printed, and officially declared that NO error stamps were issued or sold. Clearly - a few did somehow leak out, and have turned up in the months afterwards in charity kiloware. Check yours!

Six months on, only a dozen or so used are recorded, with several different German cancels, and I secured a few of those, as I acted VERY quickly! I have priced them as low as ~$A1,000 under the only public auction level, so expect they will sell pretty fast. All of them are fine used on piece - including a unique pair.

One of these error stamps is illustrated nearby, with a quite superb upright cds (Frankfurt) "BRIEFZENTRUM 60 - 11/11/16" - clearly weeks BEFORE the "official" issue date of November 30, and just a week after the initial issue date. Other examples I have seen are cancelled December and January, 2017.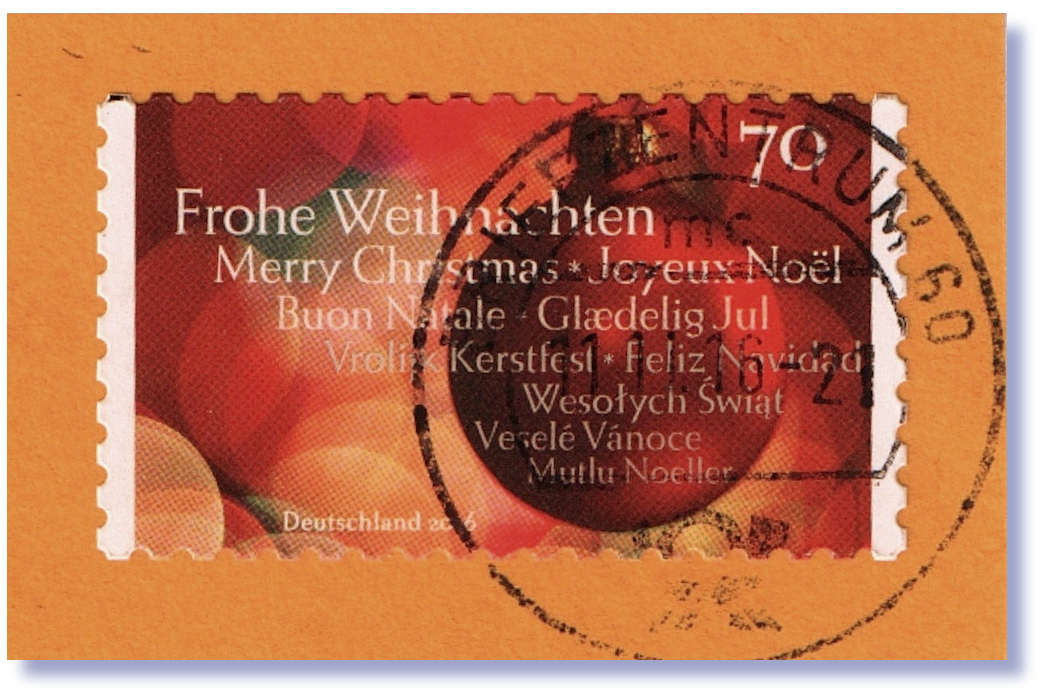 German 2016 "Kerstfest" stamp error.
These kiloware discoveries clearly point to some at least legitimately being on sale at Post Offices, and not recalled as the PO claimed. That is the earliest known to me date, and shows both the spelling errors clearly, and a perfectly upright dated cds, that German collectors love.

They are EASY to spot and remember. If the "K" and "J" are in capital letters as you see nearby, you have hit the jackpot! Germany uses vast numbers of Christmas stamps. So far after 6 months of searching, only 10 or so used have been found. Today's price levels of about $A2,000 for used might well end up at many times that, when news spreads globally, as Germany has millions of collectors.
Check your recent German Kiloware!
These 70¢ errors are already listed in Michel, and several of them are Expertised by Schlegel of Berlin etc, and other leading "prufers". A stampboards.com member Wolfgang works with a large charity that gathers stamps and covers from business houses, and he sent out an "SOS" to fellow volunteers to watch out for the "Kerstfeest" error.

Wolfgang urged they NOT snip off the envelope corner if any were found. After scouring endless 1000s of pieces of business mail bearing these stamps, they found one full standard size cover from Volkswagen, with Volkswagen logo top left, and Gartner will auction that shortly.

Prices have gone nuts of course. The only Public Auction appearance of these so far, mid-May in Essen by Felzmann, saw a used copy invoiced for double estimate at 1,800 Euro ($A2,675) and a mint sheet of 10, get 5 times estimate - 33,000 Euro ($A48,750.) Another sheet of 10 reportedly sold to a dealer there at the show for 100,000 Euro.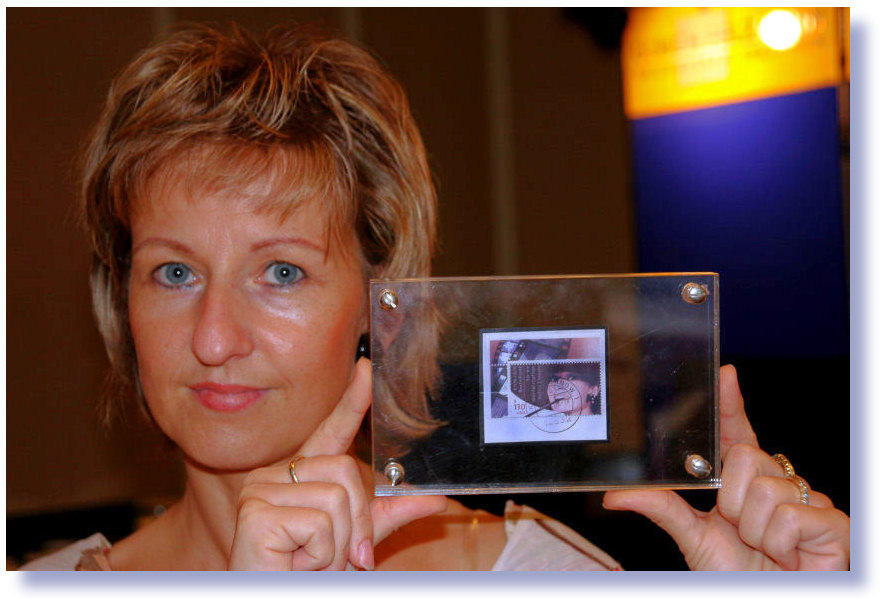 $A272,000 - "I'd have paid more"
These are basically identical in nature to the German Audrey Hepburn "cigarette smoking" stamps of 2001, photo nearby, that also were allegedly "withdrawn" by German PO before official issue date, but a few used copies were, like these, later discovered in office kiloware.

Those have sold for 169,000 Euro - then $A272,000 apiece - indeed each new one turning up was getting a much HIGHER price than the others! Defying the usual supply/demand rules. Full details and photos of all those stamps here - tinyurl.com/Glen9-10 Mint of those are cat higher than used in Michel.

That unissued Hepburn is Michel Cat "XIX" and this 2016 Xmas error is Michel "XX". The "unissued" Hepburn stamps (Auction price $272,000 each!) are an absolutely perfect comparison. A small number of used copies of both turned up in Kiloware, and a few mint also reached the market.

At the last minute, one of Hepburn's two sons, Sean Ferrer objected to the 2001 stamp design, and refused to grant copyright approval. Deutsche Post had strangely not sought family permission to use her image it seems. Ferrer is an active campaigner against alcohol and tobacco addiction, and abuse.

It appears the first he knew of the impending issue, was when Deutsche Post mailed him a single mint stamp, and a pane showing their next issue. That pane of 10 is what was sold. All proceeds went to UNICEF - Hepburn's favourite charity. The other 14 million stamps allegedly were destroyed.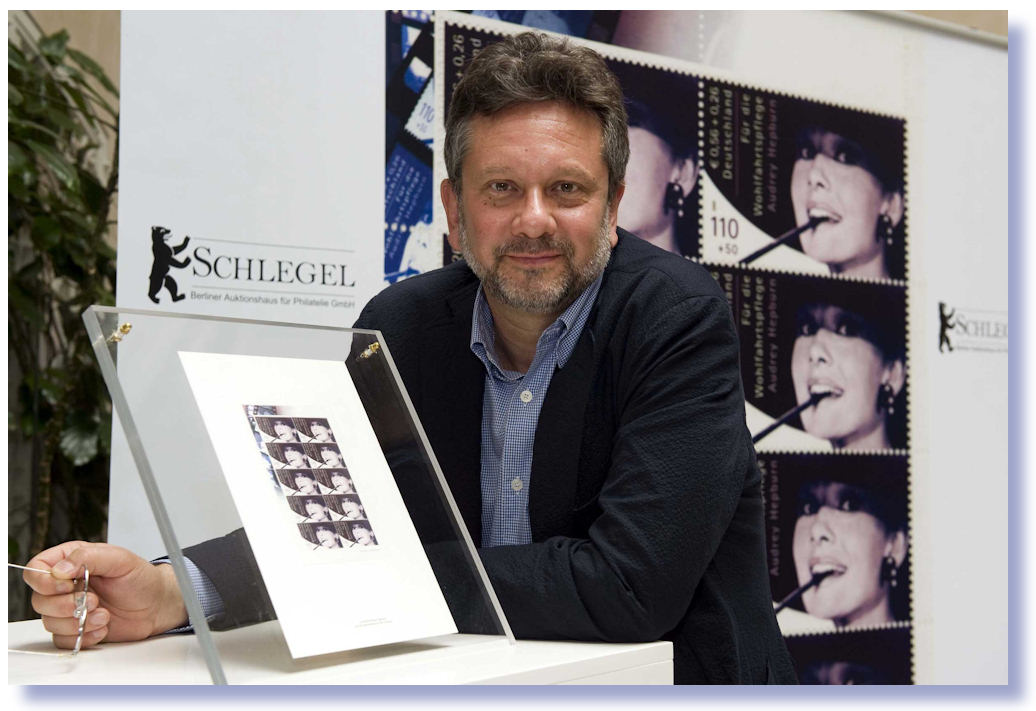 Hepburn stamps sell 430,000 Euro!
| | | |
| --- | --- | --- |
| | Audrey Hepburn died of cancer in 1993. The stamp design as you can see, shows her smoking a cigarette, taken from the famous "Breakfast At Tiffany's" movie. The Mint sheet was auctioned for 430,000 Euro - about $A640,000 today. It went surprisingly cheap - a dealer broke it into singles. | |
eBay to block sales to Aust?
The Australia Federal Government a year back, announced that from July 1 2017, all goods imported of less than $1,000 value must have GST paid on them at the full rate of 10%. This is a deviation from the current arrangement in place for recent years, where goods costing less than $A1,000 can arrive free of GST or taxes.

The current policy was absurd for Government, as BILLIONS in income has been lost in recent years. Consumers buying a new iPhone, Camera, Perfume, expensive watches/jewellery, computer tablets, perfumes, or stamps etc from overseas, now pay ZERO tax to Australia - either GST or anything else.

Retailers like Harvey Norman, JB HiFi or David Jones etc, make zero on that iPhone or Camera etc if consumers buy it direct from Asia or USA etc. They employ staff, pay taxes, and rent buildings, collect 10% GST, take advertising, and add to the economy.

They can't do so much of that, when the public has been legally buying planeloads of sub $1,000 small physical size purchases on the web, and dodging tax entirely in this country. It makes zero sense to anyone with any grey matter.
Government makes ZERO on these imports.
| | | |
| --- | --- | --- |
| | The Apple iPhone 7 shown nearby costs under a little under $A1,000 landed in Australia, and shipping is cheap. However the Government misses out on the $100 of GST, and a retailer somewhere in Australia misses out on an sale. It makes no financial sense to me. Why on EARTH was the import cap ever raised to $1,000?? How does that help our budget deficit? | |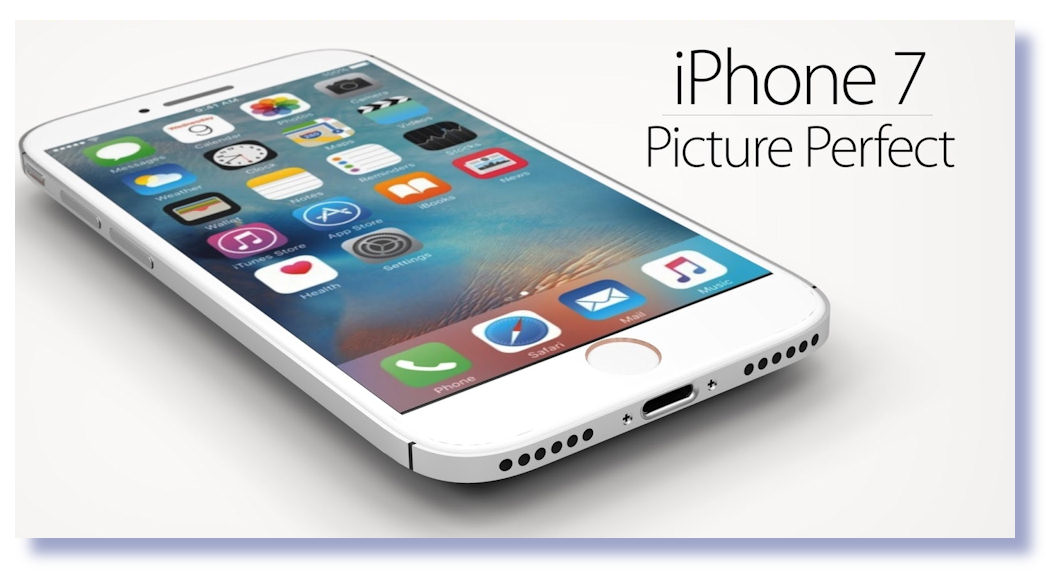 Buy overseas: no tax until July 1.
The Rule was capped at $400 tax free until recent years, when some genius in Government for no reason whatever, RAISED it to $1,000. Instead of using some brains, and reducing it to $100 or $200 maximum. That level seems fair enough, and targets only higher value merchandise.

Even if they chose that $A100 level, it would be wildly generous compared to Canada, UK, Europe and Scandinavia etc. In Canada and Europe and NZ anything over $A25 imported gets taxed (usually their VAT/GST is 20%), AND a "collection/processing fee" is added on top.

That savvy policy creates no incentive there to buy from overseas. A camera or iPhone or perfume that is 20% cheaper overseas is not cheaper at all, if you get clobbered 20% inward tax on it, so they simply do not bother, and buy it locally. A local retailer then makes some money, pays taxes, employs staff, and supports the economy, and YOU pay the same - or less. No-brainer.

So our brilliant Government would have easily collected BILLIONS of extra dollars in the past 3 years if they changed nothing. POs are fully set up to collect this tax on package arrival - they did it when limit was $400, and they still do it now when it is over $1,000. Zero extra work or systems needed, to collect via PO's. LPOs get a small slice of what is collected via a flat fee, so they are vigilant.

Invoices or declared value on outers are noted by staff in mail centres. The Gold and Green "Charges to Pay" sticker is affixed, sum assessed written on it, and packet continues on its way. One minute's work to make $100 on that iPhone. Australia Post makes a tiny slice for collecting it, via a simple and time proven, and fully in place working system. Happy Government, happy postmasters.

There is the answer, if they want to get taxes on what fancy consumer goods the public import, and choose not to buy locally. Incredibly, the dullards who changed it from $400 maximum have cost this country a Billion or more in lost revenue in recent years. Much more discussion here on stampboards - tinyurl.com/ebaysGST

So INSTEAD of this system above that does work, and WILL work, some genius dreamed up a system where all sellers of goods to Australia that exceed more than $A75,000 in a year in turnover, need to register for Australian GST, charge it on the invoice and rebate that ALL to the ATO!! Durrhhh.

These clueless Bureaucrats are planning to move us from near the world's most generous system on personal imports, to the world's most draconian at the stroke of a pen. From $1000 of goods - no tax, to a $5 stamp – you now pay TAX!
Fawlty Towers Regulations.
It is like Fawlty Towers at work. As IF most foreign sellers will bother - and what possible penalty can OUR government invoke, to penalise a Chinese, Hong Kong, Russian or Canadian etc seller of anything, for not becoming an unpaid tax collector for Australia!

The idea sounds like yet another idle thought bubble of a clueless bureaucrat, with zero concept of how global business works. There is NO way to force a foreign national to collect Australian tax on retail sales, and lodge boxes of GST/BAS paperwork a year in the process. That tax needs to be collected HERE upon entry.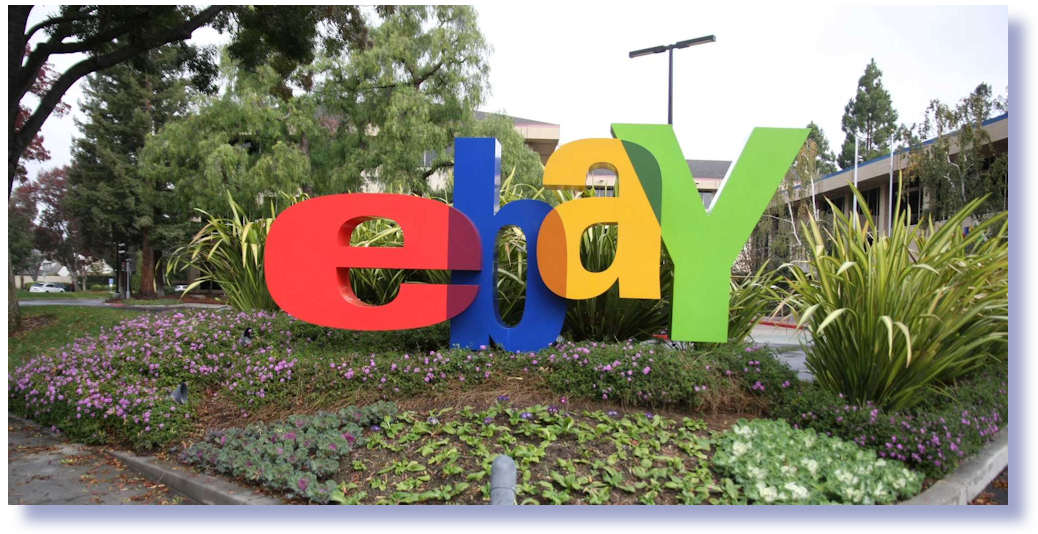 eBay may simply pull the plug.
This below is the super rubbery official Government thought bubble outline of the "new deal" that is scheduled to take effect from July 1st, 2017- this Government seems to have no tax raising options that ever work or are remotely thought through -

"The Government has announced that from 1 July 2017, GST will apply to imported low value goods. This includes all physical goods sold to consumers and imported into Australia, that have a value equal to or less than A$1,000. These goods are currently exempt from GST."

"Under this measure, you may need to register and pay GST if you are a non-resident supplier who sells low value goods to consumers, and import the goods into Australia, and meet the registration turnover threshold of A$75,000."

Furthermore, the Government dunderheads formulating this wacko policy, have decided to hit the 2 biggest online platforms first - Amazon and eBay, to demand THEY rebate the 10% GST direct, so that the Feds get every cent of it, for ALL imports, with no effort on their part.

Government bureaucrats are never chosen for their IQs or knowledge of the real world, and the simple response from ebay in national media here late April was their likely reaction was that all sales, of all goods to Australia, would simply be banned, from their overseas sellers!
Ebay threatens to boycott Aust.
Australia is truly a pimple on an Elephant as far as eBay or Amazon are concerned, and they clearly would prefer just to ban all sales to here, than be forced into being an unpaid and unwilling Tax collector. The "Sydney Morning Herald" carried this report mid-April with a strong response from eBay -

eBay says it will likely block Australian shoppers from buying goods from overseas, if the Government pushes ahead with plans to apply GST on all goods sold through the online marketplace. Goods bought from overseas sellers and imported to Australia worth less than $1,000 are currently GST exempt, but Treasurer Scott Morrison wants to apply the 10 per cent tax to all sales from July 1 this year.

"Regrettably, the Government's legislation may force eBay to prevent Australians from buying from foreign sellers," eBay Australia and New Zealand Vice President, Joo Man Park wrote in a submission to a Senate inquiry into the so-called 'Amazon Tax'. "This appears to be the most likely outcome at present."

"No tax would then be paid to Australia, and none would be owed. It would raise no revenue, deny Australians access to choice, and lessen price competition." The proposed tax treats online sales platforms like eBay and Amazon as the supplier, meaning they would be responsible for applying the tax.

eBay said that it did not own, hold or distribute goods, nor handle payments. eBay said blocking overseas sellers was "the most likely outcome at present".

"In reality, buyers use the eBay search engine to find goods and choose which seller to transact with," Mr Park continued. "Deeming eBay to be a seller, is a fiction designed by the Australian Government to give the impression of raising revenue."

Meanwhile no-one has a clue how and when foreign sellers need to be registered, and start collecting this wacko tax and complete BAS/GST reports. The Bureaucratic Bungling drags on, and another $ BILLION in inward taxation will not be collected, as no clear rules or policy have been confirmed for a tax SUPPOSED to be fully in place as you read this. Funding cost of a couple Hospitals, gone forever.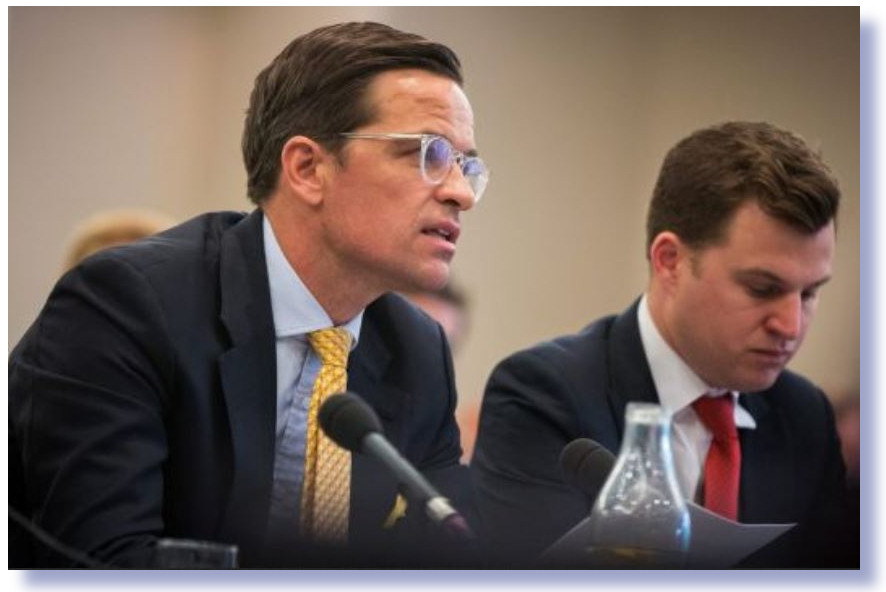 CEO at Australia Senate enquiry.

If passed, Australia would be the first country in the WORLD to require foreign sellers and marketplaces to collect and remit GST on any item, no matter how small. The massive online retail giants Amazon, eBay, Etsy and Alibaba all oppose the measure. "The Sydney Morning Herald" ran this piece in latter April - tinyurl.com/OzGST

Alibaba is the most dominant retailer in the world, generating more gross merchandise volume (GMV) than Amazon.com and eBay combined. Its online sales & profits surpassed all US retailers (including Walmart, Amazon and eBay) combined.

Alibaba CEO for Australia and New Zealand, Mr John O'Loghlen (in photo above, at Senate enquiry into this nonsense) said: "foreign small businesses are particularly disadvantaged on compliance on this rule, because of the $75,000 GST turnover threshold."

"A Chinese merchant selling into Australia through AliExpress will see GST will be applied to every single sale, even if this Chinese seller's entire Australian sales revenue is just a couple of hundred dollars for the relevant year" Mr O'Loghlen continued.
WHAT Kangaroos to buy?
| | | |
| --- | --- | --- |
| | I often get asked what used Kangaroo stamp is worth perusing to pop away "for a rainy day" or to try to seek an extra copy of etc. I see more Kangaroo stamps than near any other dealer on earth, both mint and used, and have done for near 40 years, so I have plenty of first-hand experience. | |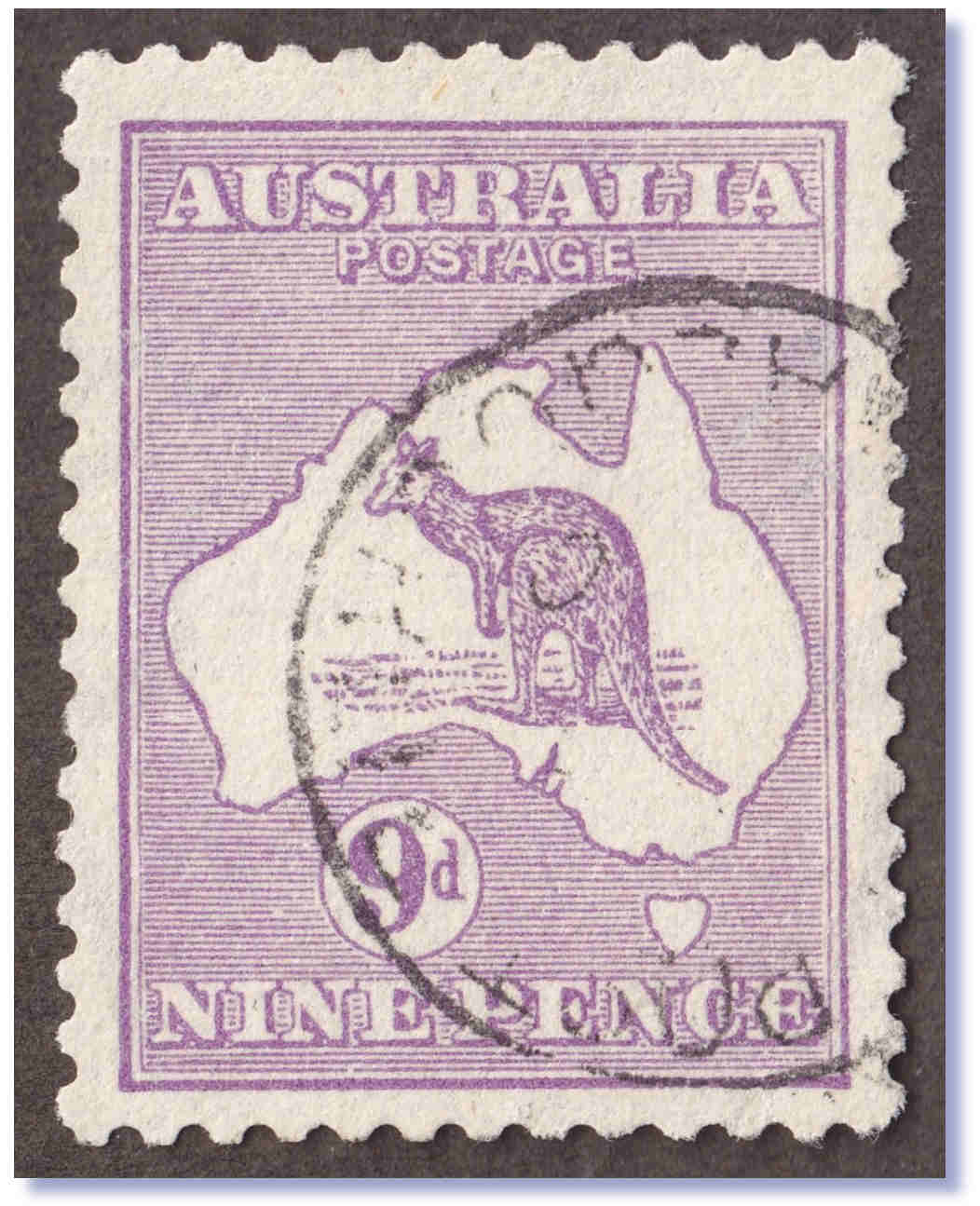 1915 Second Watermark 9d Roo.
For the monocolour values, the key by MILES is the 1915 Second Watermark 9d Violet. Issued in the midst of WWI - when most stamp collectors, being men, were fighting and training overseas etc. As this was simply a watermark change from the 9d 1913 First Watermark, very few noticed, and even fewer cared!

Gibbons list this stamp as SG 27 at £45 - under HALF what it should be in SG. ACSC is $90 for the cheapest shade, and that is more like the retail level of anything half decent. Track down some nice examples where you can, but be CERTAIN the seller is not "dreaming" with the watermark ID - as they mostly are, sadly.
WWI emergency expediency printing.

This SG 27 was an Emergency Printing on the Crown over A watermarked paper made for the far wider sized KGV head stamps. Why? As the regular paper could not be sourced from Europe - due to merchant shipping to here being sunk by the Germans etc. Same story with consistent colour printing inks from Europe during WWI.

The rather common 9d Third Watermark was issued less than one year later, on new paper made for the Roo sized stamps. Hence the Second Watermark paper had a VERY short life, and only 1 printing was made. Things were in crisis during WWI, and few were buying or saving stamps with minor print changes.

Issued with no philatelic fanfare or prior advice (no FDC exist of course of ANY values of this watermark) in July 1915 - just after the Gallipoli Landing, and carnage in Europe, folks had FAR more on their minds in life than a stamp watermark change. TOP used examples I sell rapidly at $150, and very nice ones are in the $100 region.

One 9d I scanned from stock is illustrated nearby. Light crisp Kalgoorlie "thimble" cds, they do not come much better looking than this postally used, for a stamp used primarily to mail small parcels - check YOUR copy, and see how it compares!

There are NO Post Office "CTO" copies of this stamp possible, so the only way to get a nice one is search - and search. And MOST are pretty rough. Mint are 4 times used, so no-one adds vague corner cancels to heavy hinged mint etc, as occurs on many other values, such as 6d CofA normal, and "OS" overprint etc.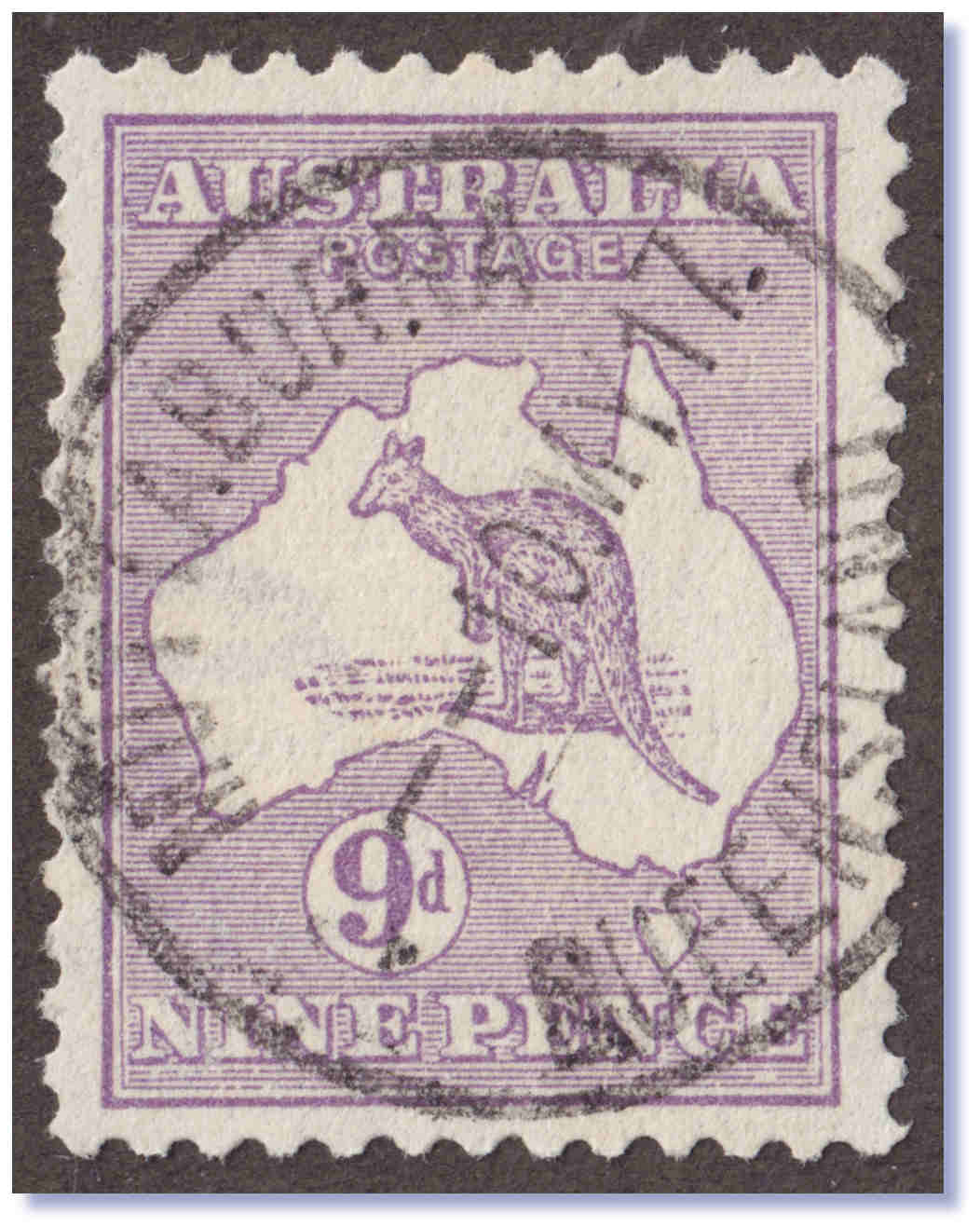 9d Inverted Watermark cat $5,000.
One highly sought after variety on this 1915 9d Kangaroo, is the "Inverted Watermark". They are very scarce, but I do like it, and have owned and sold nearly all the known copies over the past decades, as they are very popular.

Even my dog-eared 1979 ACSC has the 6d Invert at $175, and this 9d at $550 - priced over 3 times higher. Logically, using historical relativity, this 9d stamp should be worth the current $55,000 of the 6d, plus 300% = $A165,000.

However oddly, it is only priced $5,000 today. Only a few used are known, most are faulty, and ACSC says fully half of those are non-postal cancelled. The few known postal used copies all have Queensland cds postmarks of April or May 1917 - as does this, a neat "MUTTABURRA - 10 MY 17 - QUEENSLAND". (Population of the entire tiny farming AREA was 106 last Census!

Be mindful that probably HALF of what I see in stamp albums in the "Second Watermark" spaces are NOT, so be super careful where you source them from. On places like eBay where sellers are generally clueless rank amateurs, they cheerfully decide the sole 9d in their Kid's collection must of course be the most expensive watermark.

As the First, Second and Third watermark stamps all have very similar looking Crown over A, experienced eyes are needed to sort them apart. Especially in USED, where hinge remains and gunk often cover a good deal of the reverse.

The same rule applies for the other Second Watermark stamps of course, except the 3 low values which are readily sourced at modest cost. The 9d, 1/-, 2/- and 5/- are all worth MUCH less in the fairly common Third Watermark equivalents, so remember always, that wonderful old saying - "a LITTLE Knowledge Is Dangerous"! On the 2/- or 5/- you can be stiffed $100s a stamp on eBay etc.
What Bi-Colour Roo to chase?
Moving along to the higher values in the Roo series, the Bi-Colour Kangaroos have one standout contender in my view, as the most under-rated value, and that prize goes to the 1913 10/- First Watermark, SG 14. This stamp had a rather short life, near all of it during WWI.

It was quietly replaced during WWI by the Third Watermark version in the same colours, which then stayed on sale for 11 years, and if the major catalogues want us to believe this First Watermark is only worth twice a Third Watermark version, they are wildly wrong, and do not sell these for a living, as I do!

Indeed, 5½ times more were sold of the latter, and that roughly reflects my stockholding at any time over 40 years - 5 or 10 to one. Today I have 5 of the 1913 in stock used, and 30 of the 1917. Yet SG price is only double, and they are plain WRONG. The 1913 10/- literally had LESS copies sold than the 1913 £1 and £2 Roos, and postally USED are about equally scarce.

Most destroyed after PO Audit.
| | | |
| --- | --- | --- |
| | We must remember that MOST of these 10/- were used on Telegrams, and were destroyed by PO after audit. Some Postmasters furtively leaked out the audited copies to dealers, which exhibit the large circular auditor punch holes. They are sold as "space fillers" for about 20% the price of un-punched examples. | |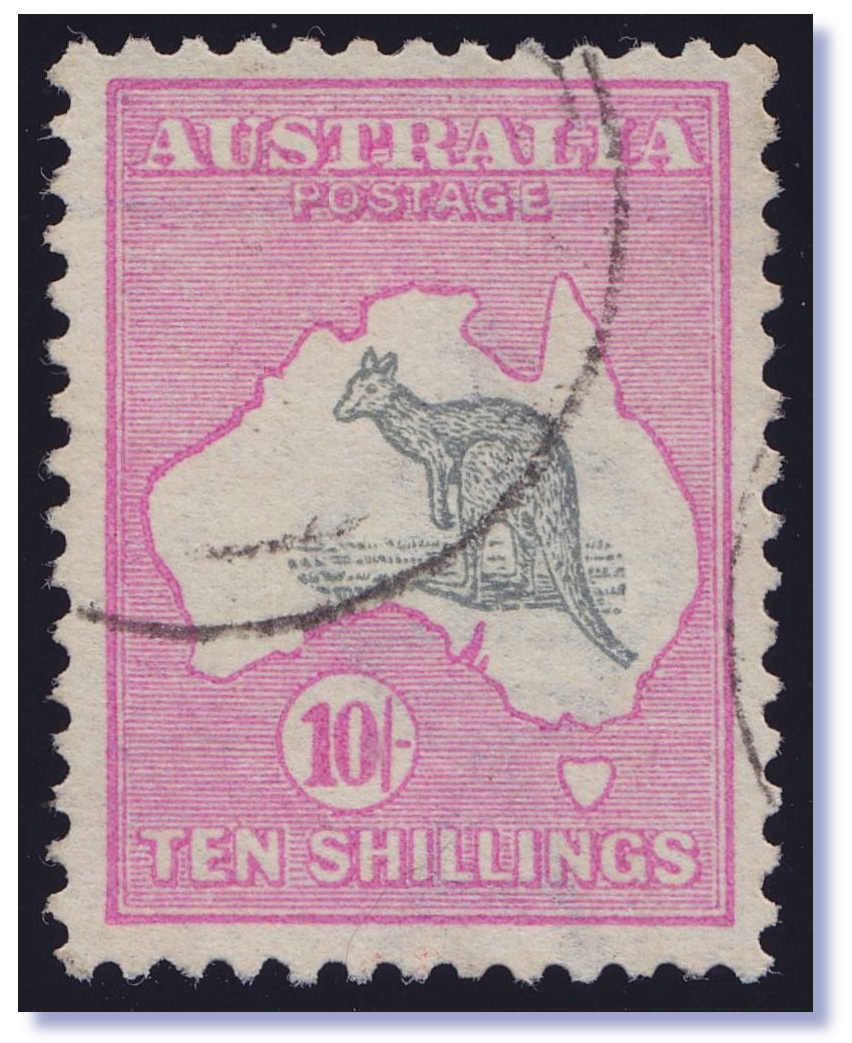 Grab any NICE used you see.
But a nice postal used copy is a RARE beast. I sold the one illustrated nearby recently for $A995, and it is about as nice as you can source these postal used. Indeed now I am loading the scan, I'd buy it back for that, as it really was a top shelf example, and I was rather underweight on my price, now I look at it. A grade seldom encountered, on this stamp, that was used on a very heavy parcel.

The majority of "used" SG 14 out there are CTO copies from presentation packs - which cost more than postal used, oddly. Many collectors eschew those Specimens, for POSTALLY used, which are near non-existent. I DEFY you to show me a nicer looking Postal Used example for sale - GLOBALLY - at any price!

Usually perfs and centering are terrible on all these 1913 issues, as the paper choice was poor for stamps, with long very tough fibres, that ripped out perfs readily when separated. It was never used again after this series, as it caused so many complaints at Post Offices. So finding a clean and fresh copy, with no repairs, and nice perfs and centering and colour, is a task that will take you years to achieve.

About $A1,000 is where you will be starting at for fairly decent ones, and a few $100 more for the elusive premium examples like the one above, so happy hunting! A really average used example will still set you back around $500, as SG cat is £700. Still worth tracking down, if you like a challenge! Aim for QUALITY, if buying with an eye to re-sale.
New finds always possible.
| | | |
| --- | --- | --- |
| | As I constantly type - "Knowledge Is Power". That phrase never goes out of fashion. A month back I saw this envelope in a large Public Auction, offered for an absolute song. After parting with the cost of a pizza or 2, I listed if for sale for very many $100s the next week, and a dealer bought it, who passed it on to a client. | |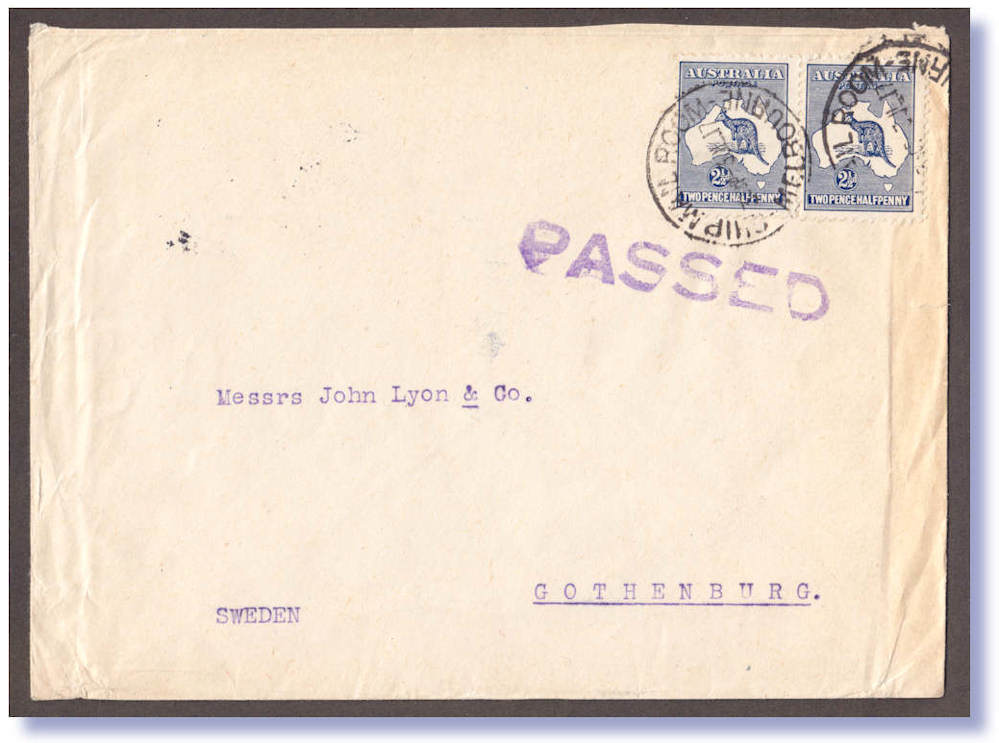 Earliest known use - by TWO months!
WIN-WIN all round I suppose, but by FAR the largest winner was the writer! Why? As I had noticed that this cover was very clearly cancelled "SHIP MAIL ROOM - 3.30P - 3 JUL 17 - MELBOURNE". Fully TWO months earlier than any recorded use or date so far!

ACSC tells us that the earliest recorded date of this stamp is September 1917. So this 1917 2½d Third Watermark Kangaroo on Censored cover to Sweden, was used 2 MONTHS before this stamp had been recorded before! No-one else had noticed the clear cds dates. I've passed this on to Editors of SG and ACSC.

Back-stamped in Sweden "GOTEBORG, 21-9-17" as you can see in photo nearby. 10 weeks by sea was typical, so clearly the JULY cancel in Melbourne was accurate, and not a "date slug month error", as might be suspected if just a cancel, on an off paper piece were all we were working on.
Totally commercial use.
| | | |
| --- | --- | --- |
| | Sent from a large Business house in Melbourne - a totally commercial double weight cover to Gothenburg Sweden. Most attractive and unusually clean after a Century, for something that went 10,000 miles by sea-mail. Bit of side edge wear, as it was double weight, clearly containing many sheets of contents. | |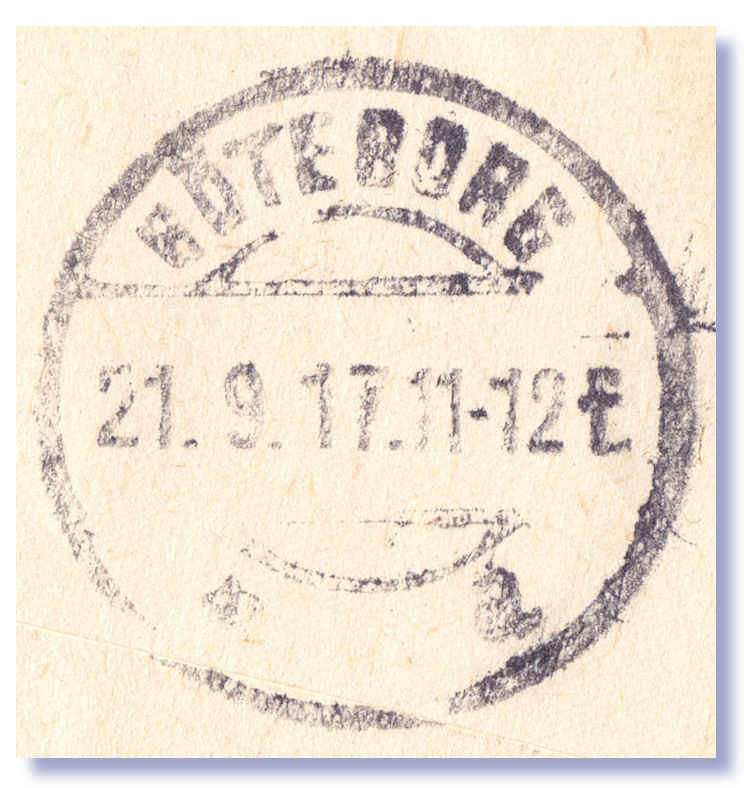 "Proving" arrival cds in GOTEBORG.
A pair of 2½d Roos is most unusual, as the 5d Roo, or 5d KGV issued 1915 for this rate was the logical stamp to use on a double weight, double rate letter, as this was. Remember this higher 2½d rate applied only to NON Commonwealth countries, so near all 2½d covers seen are to USA.

ANY mail a Century back Oz-Sweden is VERY scarce, as both had tiny populations, and there was negligible migration in either direction to engender mail. DEFINITELY Third Watermark - seen clearly with torch backlight, and the perfs and colour of 2½d are distinctive on the earliest watermarks of course.

Earliest Known Usage ("EKU") has a strong following here. Arthur Gray's defective 6d Blue Roo pair OFF cover "earliest known use" that I sold him 30 years back, was invoiced for $A450 at his Roo Auction (Lot 491) so this one on backstamped cover is a GEM, and the end owner has a very desirable piece. Well bought.









Get my regular market update emails FREE.REE. Stamp gossip, price trends, record sale prices, and many one-time stamp specials, wholesale bargains, and exciting offers and breaking philatelic news. A mini stamp magazine in every email! "KNOWLEDGE IS POWER". The ONE stamp list you MUST be on, to keep in touch with the rapidly changing world market. One client made $65,000 profit in a few months after following my specific advice. Sign up securely and quickly by clicking HERE to access my automated data base. And wiser still ADD your home AND work email, if I only have one right now. Add a stamp friend's email address if you wish. One short click and you are subscribed to probably the most read email list in the stamp world!




If you would like to be notified of updates to this website,
Click HERE.
If have any questions,
or comments regarding my site, please email me at glen@glenstephens.com
| | |
| --- | --- |
| | Search all my 300+ web pages! Simply type in what you are looking for. "Penny Black", "Latvia", "Imprints", "Morocco", "Fungi" "Year Books", etc! Using quotes ( " ) is more accurf used with no quotes. Search is NOT case sensitive. Tip - keep the search word singular - "Machin" yields far more matches than "Machins" etc. |


I am a Dealer Member in Good Standing Of:

Full Time Stamp Dealer in Australia for over 35+ years.
Life Member - American Stamp Dealers' Association. (New York)
Also Member of: Philatelic Traders' Society. (London)
GLEN $TEPHEN$

Full Time Stamp Dealer in Australia for 35+ years.

Life Member - American Stamp Dealers' Association. (ASDA - New York) Also Member - Philatelic Traders' Society

(PTS London) and many other philatelic bodies.

ALL Postage + Insurance is extra. Visa/BankCard/MasterCard/Amex all OK, at NO fee, even for "Lay-Bys"! All lots offered are subject to my usual

Conditions of Sale, copy upon request .

Sydney's

BIGGEST STAMP BUYER: Post me ANYTHING via Registered Mail for my same-day cheque. Avoid copping the Now normal 45% Auction "Commissions" (15% Buyer + 20% Seller + GST, etc) AND their five-month delays!

Read HERE for details.

"Lothlórien", 4 The Tor Walk, CASTLECRAG (Sydney), N.S.W. 2068

Australia

Phone 7 Days: (02) 9958-1333

PO Box 4007, Castlecrag. NSW. 2068


E-Mail: glen@glenstephens.com The Number #1 Web Sites: www.stampboards.com