Click To Go Back To The Main www.GlenStephens.com Stamps Homepage

Welcome! You are visitor
to www.GlenStephens.com




Glen Stephens
Monthly "Stamp News" Market Tipster Column


March 2013

---
Meter Matters

I like to think I learn one new thing each day about this hobby, and this strange label was my new thing for today.

To be honest, if it was sitting in a stockbook of stuff at the back - among others labels and things, I'd never have given it a second glance.

And I suspect 99.9% of readers here would do the same if they are honest!

It looks like any other boring Meter label to me, but it appears to be a Post Office product.

On January 20 it sold for $US12,100 in an ebay auction, by New Jersey seller "hcmrs" with 12 bids.

Worth $US12,100 – I kid you not!
| | | |
| --- | --- | --- |
| | The seller appeared to know little about it, no date of issue or catalogue number or value was given. He just got VERY lucky. | |
Very lucky seller
The sole description was: "Mint, never hinged tape with the rare experimental 'Montgeron' self-service ATM stamp, BAA-001"

tinyurl.com/ATMstamp is the later stampboards discussion where Michel catalogue value (€8,000) and the year of issue 1969 were given, as well as some background to this "stamp".

The "ATM" stands for "Automatenmarken" and this is understood to be the first issued anywhere in the world.

Oddly the main French catalogue Yvert & Terrier lists this stamp at only €1,800. Lucky seller for sure.
World's oldest stamp dealer?
An historic philatelic milestone took place in mid-February, 2013, the day I typed this article.

Well known Sydney stamp dealer Ken Baker turned 101 years of age on that day.

I am unaware of any other stamp dealer – anywhere in the world, passing the "Century" milestone, and I am sure all readers will join with me in congratulating Ken on his long and fruitful life.

Australian dealers seem to have the longevity gene – Bill Hornadge ("Stamp News" and Seven Seas Stamps founder) is mid 90s, and Max Stern is 91 – and plays a game of soccer each week, he told me recently.

I have known Ken for decades, and for the latter part of that time, his eye had been firmly focused on reaching 100, and getting "The Queen's Telegram".

As we all know, telegrams of any kind have not existed for some years now.
The Queen's NON Telegram!
| | | |
| --- | --- | --- |
| | HOWEVER, Buckingham Palace does write to all Centenarians they are aware of, and a photo is nearby I took at Ken's 100th Birthday party, holding his cherished letter from the Queen! | |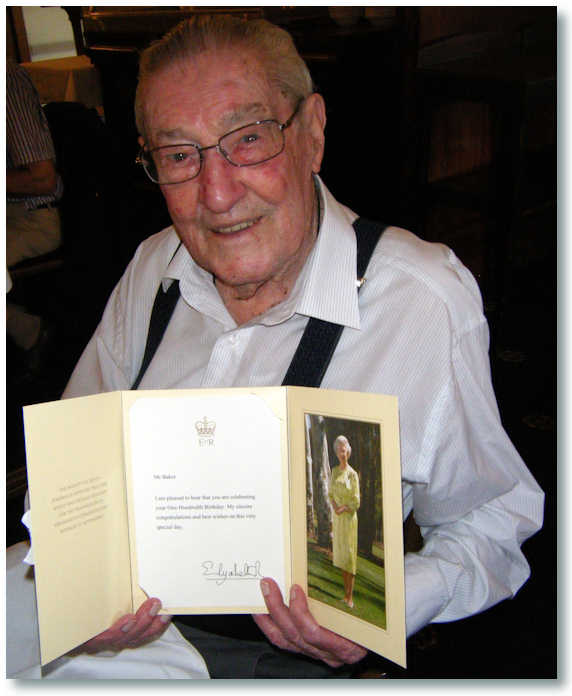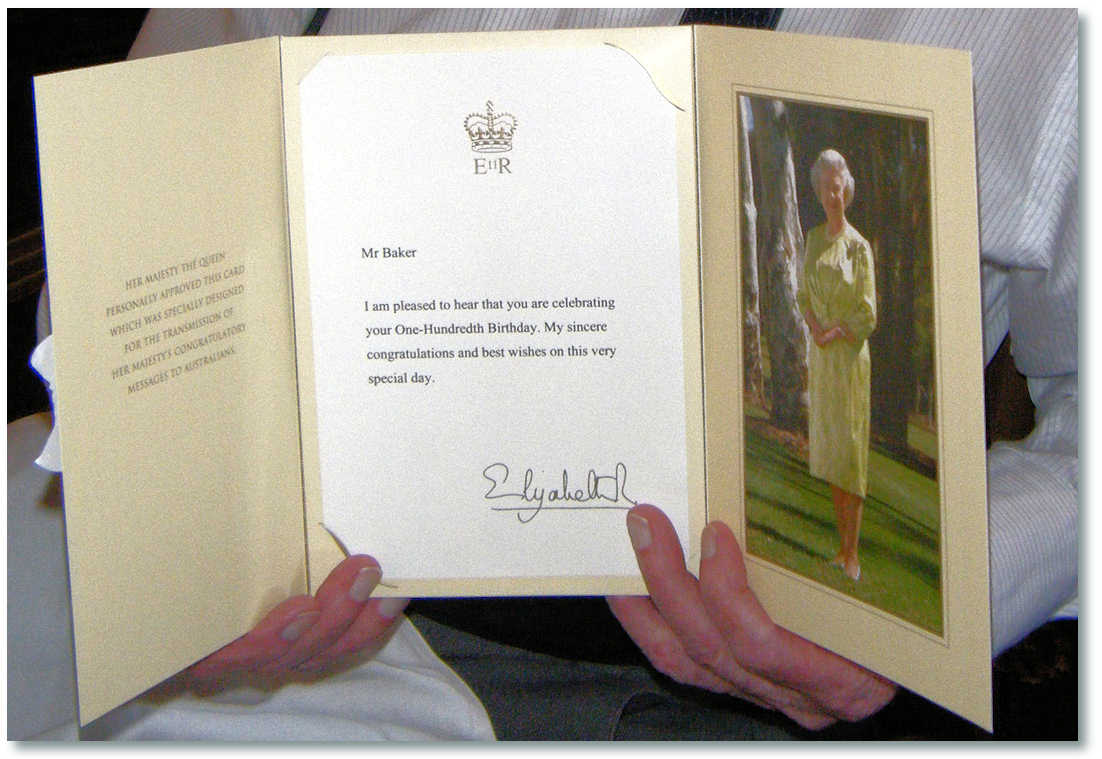 "The Queen's Telegram"
A really fancy folder with photo, sealed with a crested ER "From The Queen" foiled wafer! Ken commented; "very nice stationary that Her Majesty uses."

There were similar cards and messages from the Governor General of Australia, Quentin Bryce - plus the Prime Minister, Federal Opposition Leader, State Premier, local MPs, etc.

Any reader who knew or likes Ken can pop by and add their Best Wishes to this blog - www.tinyurl.com/BakerK - and it outlines in detail his life in stamps – in Ken's words as told to me.

Many more photos are on that link.

Ken looks in on that thread from time to time I am advised, so will be touched to see members of the stamp world have added their Congratulations on his milestone. p

The "100th" gathering at Moss Vale NSW was mainly an extended family affair of about 100, but I was delighted to be invited to attend, along with his close dealer friends Kevin Duffy AO, and Max Stern.

Max and Kevin presented Ken with a special plaque on behalf of his fellow stamp trade colleagues – I took a photo of them all - shown nearby.
275 years of experience!
Both of whom were literally dealing with Ken before I was born. In Kevin's case, a decade before. Max worked out that the 3 of them have about 275 years of age between them.

Ken was in great shape for 100, and told me he walks 1 kilometre a day "weather permitting" from his front door to front gate and back, in Robertson, NSW where he now lives.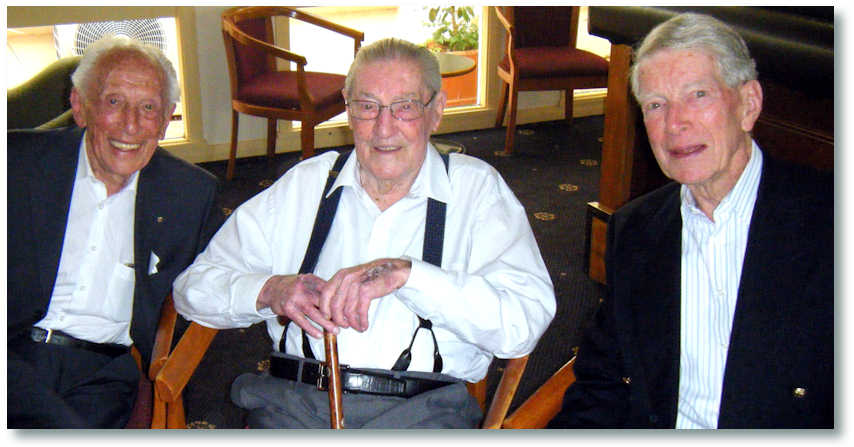 Max Stern, Ken Baker and Kevin Duffy AO.
Ken, who turned 101 this week is as sharp as a tack. His eyesight is not as good as it once was, but neither is mine. (Editor's note – Some years back we gave Ken a free lifetime subscription, and hope we will need to mail them to him for MANY years yet!)

I had a chat today at my PO with Kevin Duffy AO, who said he'd spoken to Ken to wish him "Happy 101" and said he is in good spirits. Kevin is a Castlecrag neighbour, and still keeps in very regular touch with Baker.
Lifetime Dream
Duffy told me his sole dream as a schoolboy was to emulate those stamp dealers in the Royal Arcade in Sydney - like Ken Baker.

Kevin Duffy became Federal President of ASDA on 3 separate occasions, spaced a decade apart - being 1964, 1974 and 1984.

He later received the second highest award conferred in the country, an Officer in the Order of Australia (AO) - broadly equivalent to a Knighthood in the old system.

Selling his Seven Seas Stamps business in 1980 to Reader's Digest for $4 million, Kevin would have made ALL those Royal Arcade dealers gasp in wonderment I imagine!

Seven Seas Stamps changed hands many years later, for a fraction of that sum.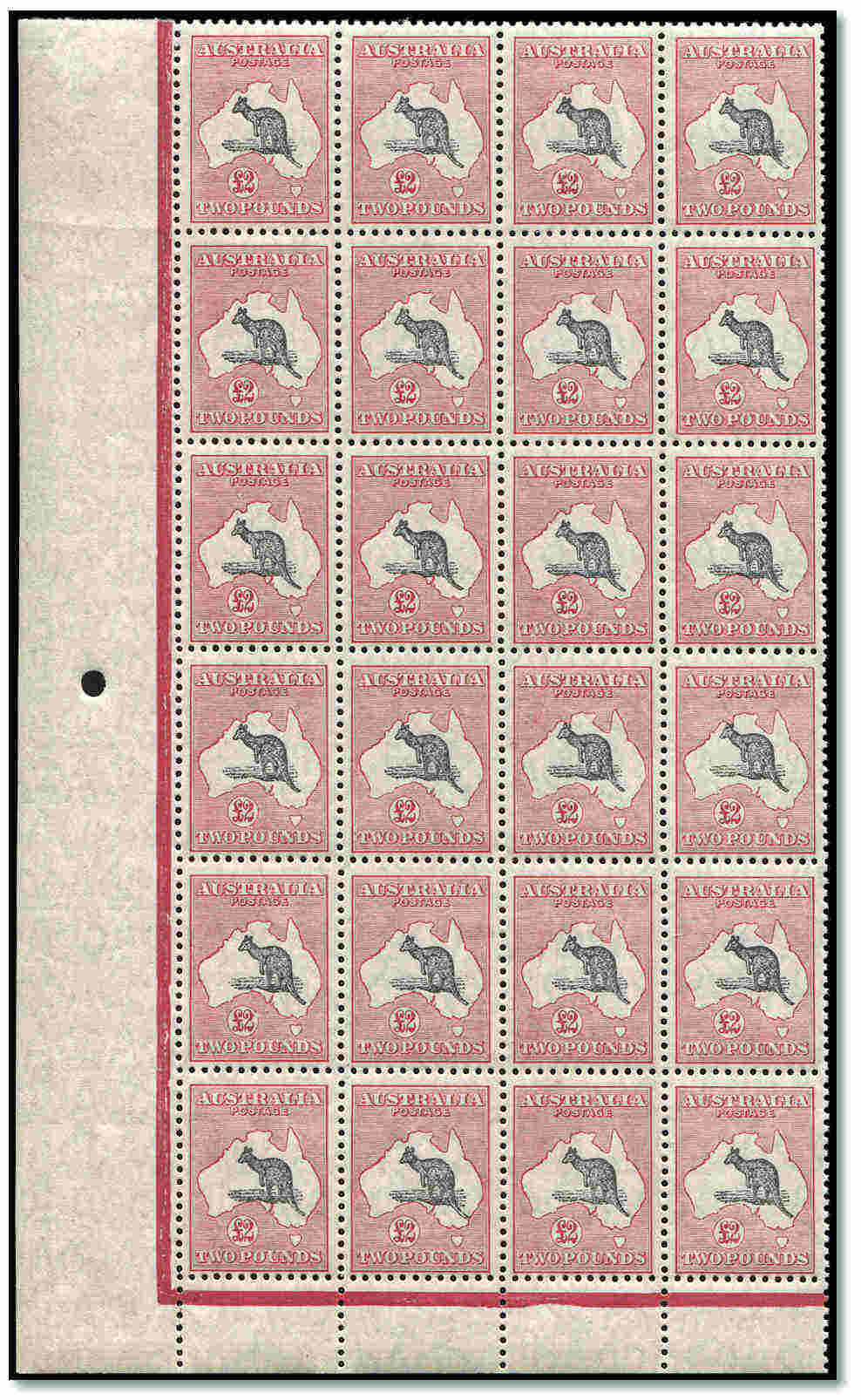 One of Ken's better buys!
The spectacular philatelic pieces purchased by Ken Baker through his career keep turning up in major sales – more than a half Century on.

One of the best known is the part sheet of MUH £2 Kangaroos that Ken sold to Adelaide collector Stuart Hardy some 50 years back.
Kangaroo Cavalcade
There will be an auction by Phoenix Auctions of the Stuart Hardy Kangaroo Collection on May 9th - the evening of the opening of "Australia 2013".

Phoenix kindly forwarded me an advance copy of the sale catalogue this week - I have never seen so many 5 figure estimates in a sale catalogue - what a sale.

That sale will include the unique fresh MUH block 24 of the Small Multiple Watermark Kangaroo shown nearby.

This piece I suspect will fetch a phenomenal sum – WAY in excess of the very conservative $A100,000 estimate. The ultimate Roo block!

If the Arthur Gray Imprint block of 4 shown nearby was invoiced at $A142,500 some years back, a MUH block 24 should clearly get over $A200,000.

Most experience dealers I have asked have tipped an invoice figure of $200,000 to $250,000 and if a couple of well-heeled collectors or exhibitors are determined to secure it .. the sky is the limit.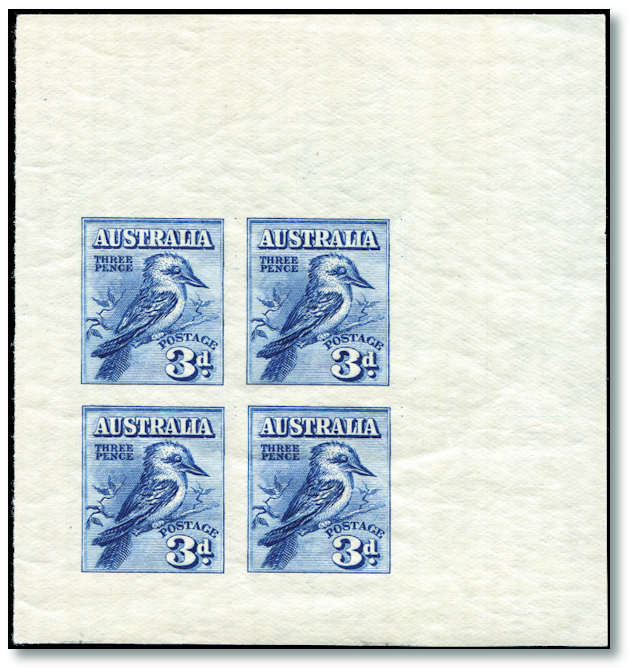 The Roo block, or this?
| | | |
| --- | --- | --- |
| | Well know industrialist and stock market identity Sir Ron Brierley is understood to have been the end purchaser of the 1928 Kookaburra miniature sheet imperforate, at the recent Stuart Hardy "KGV" sale, invoiced for $A326,200. | |
Roo or Kookaburra?
Would I rather own this Roo block, or the Kookaburra Mini Sheet for the same purchase price – the Roos, no contest.

Brierley has for many decades bought interesting stamps and collections, and once owned Stanley Gibbons Australia, so is no novice.

I have it on very good authority Brierley last year bought a GB 1d 1865 "Plate 77" on piece from Stanley Gibbons, allegedly for £550,000 ($A880,000) as I reported at the time.

Would I rather own FOUR of the unique Roo part sheets (IF they existed), or a VERY ordinary looking used GB 1d red piece for the same purchase price – TOTALLY no contest.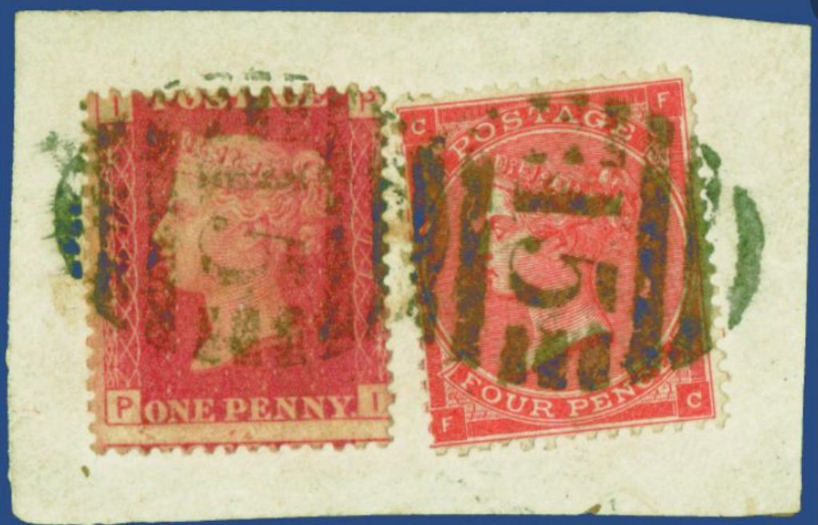 A £550,000 1d Red
A number of GB Plate 77 stamps exist, both mint and used, and a recently discovered cover bearing THREE examples, was recently given a Certificate of Genuineness.

The unique Roo piece was originally a full pane of 60, bought from Robson Lowe in London by Ken Baker for £20 each in the 1960s, who onsold the bottom 36 units to Hardy for £1,080 at that time.

A vertical block of 12 with the same part imprint was subsequently (nervously he told me today!) torn off by an Adelaide dealer on Hardy's kitchen table, and some were sold off, leaving this unique block of 24.

This is how Ken Baker related to me the purchase and sale of that block – in Ken's own words -
Pane of £2 Kangaroos
"My elderly mother bid on my behalf for a complete MUH pane of sixty £2 Kangaroo at Robson Lowe Auctions in 1961.

She told me afterwards Robbie Lowe was: 'very courteous, and even arranged for me a nice cup of tea, and a front row seat in the sale room.'

I paid £1,200 for this pane of 60, which at £20 per MUH small multiple watermark £2 Kangaroo, was a good buy I have always thought.

I urged Mother not to exceed £1,500, so was very pleased with her novice bidding skills.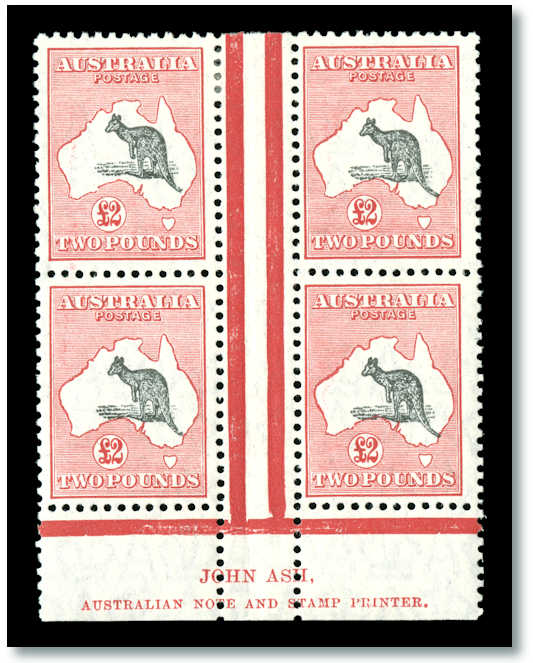 Sold for $A142,500
Today these stamps nice uncounted mint sell for about $A10,000 apiece. In fact an imprint block of 4 sold for $A142,500 in the Arthur Gray auction in 2007.

Stuart Hardy in Adelaide chose not to buy the complete pane, but offered me £30 each for the lower portion of the multiple.

I recall him saying a block of 36 (6 x 6) fitted very neatly onto his album page.

He was clever enough to select the lower block, bearing the part John Ash imprint on the selvedge. I feel sure he now wishes he'd spent the other £720 and bought them all!
"£30 each was a hard sell"
To tell the truth, selling the balance at £30 each was not easy in the early 1960s. How prices have changed. I do recall selling a block of 12 to Dr. Les Abramovich."

The remaining block of 24 from this wonderful transaction of over a half century back comes on the market for the first time since in May by Phoenix in Melbourne – save your pennies!

From the pane 60, Hardy appears to have retained a single, and another MUH nicely centred block 4 from rows 6 and 7, with plate varieties, that Phoenix will offer for the crazy low estimate of $16,000.

The Hardy sale also has the other £2 Small Multiple imprint block in private hands to the ex-Gray block - estimate on that is a tempting low $A60,000.

The Hardy sale catalogue I looked through had some truly great pieces. Too many to show here, but one I really liked is shown nearby.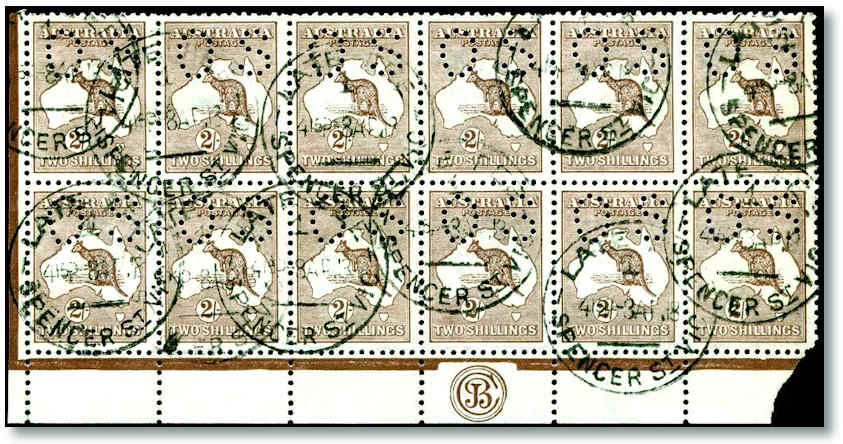 Rather this than a £2 Roo
I am a strong believer in postally USED BLOCKS, and the one shown nearby, the 2/- Brown 3rd watermark, caught my eye in the Hardy catalogue.

Not everyone's taste I accept that, but I'd far rather own this Monogram used piece, than any "MUH" £2 single.

There are many of all those about in "MUH" singles - but only ONE of these!

A lovely and spectacular "OFFICIAL" piece, that will hold up well in years to come – that I am certain of.
India Joke Stamps
We all know Indian stamps are "hot" and I have strongly tipped some of the pre-war high values in top condition.

THEY were of course UK printed and designed, and are superb examples of the engraver's art.

Indian modern definitive stamps are often just woeful, for a country that is very keen to taken seriously as a leading and emerging nation.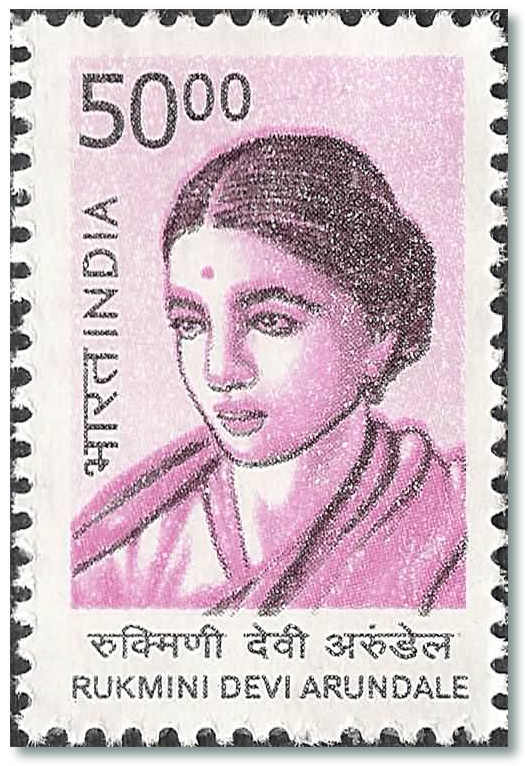 Top value – less than $US1
Current India high value Definitives look like they were produced by a half blind forger, using a 1980s laser printer near out of ink, and a blunt nail to perforate them.

Washed out colours, very crudely printed and screened, coarsely perforated, and on horrible cheap paper.

The highest face value stamps you can buy in India right now – and for some time past, is the 50 Rupee, Rukmini Devi Arundale.

The other highest values are the 10 Rupee CV Raman, 15 Rupee JRD Tata, and the 20 Rupee Mother Theresa.

So 50 Rupee is the highest value you can buy – the face value of that is less than ONE dollar Australian or American.
Stamp Wallpaper
This is why heavy overseas parcels seem to be wallpapered with Indian definitive stamps!

High value current stamps used on overseas parcels showcases every nation to the world, and the message these stamps send about India is VERY negative.

Indeed as I type this in mid-February, ONE American dollar buys 55 Rupees!

Indian based members on stampboards.com advise me that even weirder, almost no Post Offices stock values "as high" as the 50 Rupee.

They say if you ask for a 50 Rupee stamp, you are invariably given 5 x 10 Rupee denominations – and look how ugly THAT is!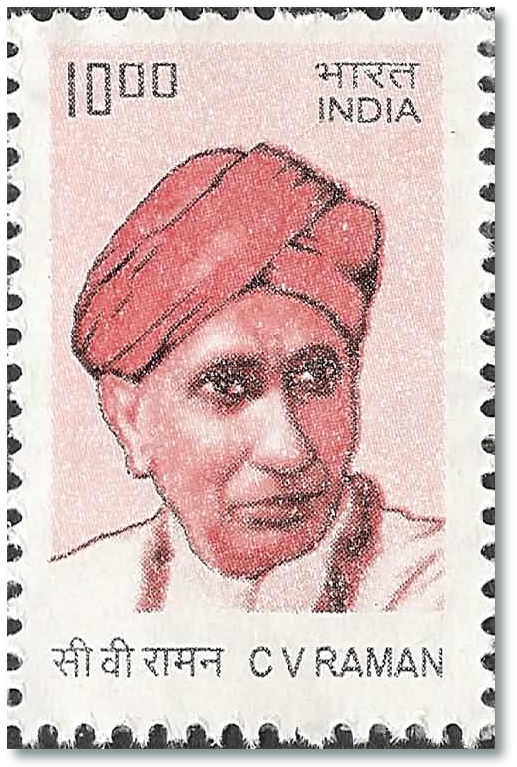 Biggest you can usually buy.
Those residents advise the highest most PO's keep on hand is generally the 10 Rupee - face value less than 20 cents American.

These 2 stamps are shown nearby. They must be THE most appalling looking high value stamps issued anywhere, and are a disgrace.

Surely there are printers in India who can if they wish, replicate almost anything the West can produce?

China has a county of similar population and living standard, and their stamps for many decades have in general been SUPERBLY printed and designed.

I suspect anyone with access to a photocopier can forge better looking copies of these than the PO sells, so why some effort is not made to print them professionally is a mystery.
NZPO wants 3 day delivery.
All Post Offices globally are seeing greatly decreasing letter volume, and do some pretty dramatic things to cut costs.

NZ Post has gone one further than most recently, urging the Government to allow it to slice back mail deliveries to THREE days a week from the present 6 days.

The "NZ Herald" reported a letter from NZ Post chairman Michael Cullen to State Owned Enterprises Minister Tony Ryall, showing the board wants to make fundamental changes to core postal operations.

It is seeking urgent changes to a 1998 Deed requiring the state owned agency to run a six-day-a-week postal service for 95 per cent of New Zealanders.

In his letter to Mr Ryall, Mr Cullen said NZ Post had reached the point where it could no longer cut costs and launch new products, to counter falling postal revenue.

The board had virtually exhausted all "short term fixes" and needed to start making fundamental change to its operations this year, he said.

NZ Post chief executive Brian Roche told Radio New Zealand the agency was considering cutting deliveries to three days a week. Monday, Wednesday, and Friday.
40% Volume Drop
A NZ Post statement said mail volumes were expected to drop about 40 per cent, to just over 600 million pieces a year in 2018.

When you think about it, alternate day delivery would save a fortune for every PO globally.

Pay extra for Express service if the paperwork is really urgent, and get that next day …. your choice entirely.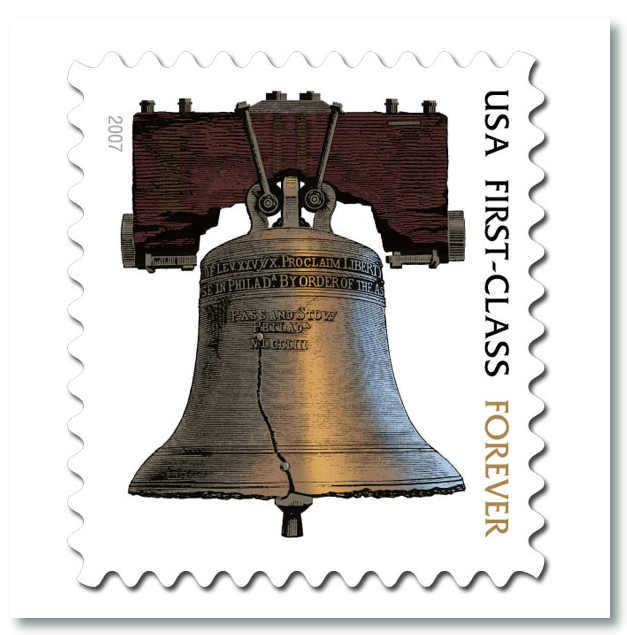 "FOREVER" is not 6 days a week!
The US Postal Service is in a multi BILLION dollar hole, and has been urging the abolishment of Saturday mail delivery for some time – even that is fiercely resisted by Capitol Hill it seems.

Measures such as that, and closing vast swathes of unprofitable American Post Offices seems high on the Postmaster General's radar.

I drive around the back blocks of the USA several times a year on holiday, and the number of Post Offices there are a joke.

Earlier this year we were driving around really remove small town East Texas, and hamlets of about 100 people seemed to have full Post Offices.









Get my regular market update emails FREE. Stamp gossip, price trends, record sale prices, and many one-time stamp specials, wholesale bargains, and exciting offers and breaking philatelic news. A mini stamp magazine in every email! "KNOWLEDGE IS POWER". The ONE stamp list you MUST be on, to keep in touch with the rapidly changing world market. One client made $65,000 profit in a few months after following my specific advice. Sign up securely and quickly by clicking HERE to access my automated data base. And wiser still ADD your home AND work email, if I only have one right now. Add a stamp friend's email address if you wish. One short click and you are subscribed to probably the most read email list in the stamp world!


Instant Currency Conversion


FREE! Just click here...




If you would like to be notified of updates to this website,
Click HERE.
If have any questions,
or comments regarding my site, please email me at glen@glenstephens.com
| | |
| --- | --- |
| | Search all my 300+ web pages! Simply type in what you are looking for. "Penny Black", "Latvia", "Imprints", "Morocco", "Fungi" "Year Books", etc! Using quotes ( " ) is more accurf used with no quotes. Search is NOT case sensitive. Tip - keep the search word singular - "Machin" yields far more matches than "Machins" etc. |


I am a Dealer Member in Good Standing Of:

Full Time Stamp Dealer in Australia for over 25 years.
Life Member - American Stamp Dealers' Association. (New York)
Also Member of: Philatelic Traders' Society. (London) ANDA. (Melbourne) American Philatelic Society, etc
GLEN $TEPHEN$
Full Time Stamp Dealer in Australia for over 25 years.
Life Member - American Stamp Dealers' Association. (New York)
Also Member - Philatelic Traders' Society. (London) ANDA. (Melbourne) American Philatelic Society, etc

ALL Postage + Insurance is extra. Visa/BankCard/MasterCard/Diners/Amex all OK, even for "Lay-Bys"! All lots offered are subject to my usual Conditions of Sale, copy upon request BIGGEST STAMP BUYER: Post me ANYTHING via Registered Mail for my same-day cheque. Avoid the GENERALLY 40% Auction " Commissions" (15% + 17½ + GST, etc.) AND their five-month delays! Read for details.
"Lothlórien4 The Tor Walk, CASTLECRAG (Sydney), N.S.W. 2068
Phone: (02) 9958-1333&n Fax: (02) 9958-1444 (Both 25 Hours, 7 Days!)
E-Mail: glen@glenstephens.com
Web Sites: www.glenstephens.com www.glenstephens.net or www.australianstamps.net