Click To Go Back To The Main www.GlenStephens.com Stamps Homepage

Welcome! You are visitor
to www.GlenStephens.com




Glen Stephens
Monthly "Stamp News" Market Tipster Column


March 2014

---
Check Éire/Ireland Kiloware!
You may have a ~$500 find, if you check your mail or recent kiloware snippings from Ireland.

The Irish Post Office (AnPost) issued a 60c stamp January 23rd to commemorate the Irish Citizen Army.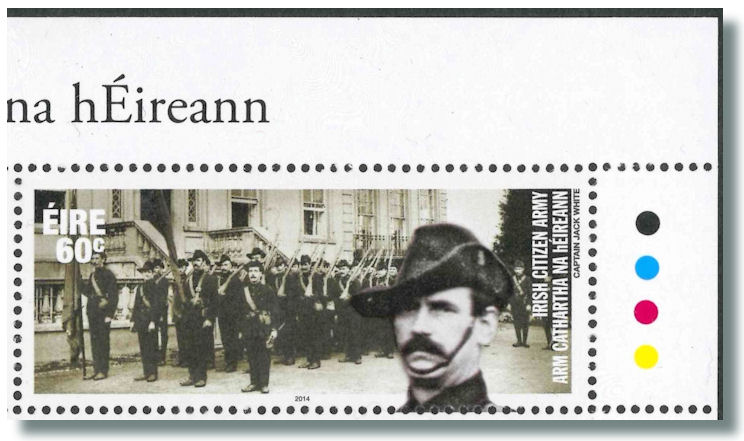 The WRONG Jack White!
An Post believed the man on the stamp was of Captain Jack White, a former British army officer, who volunteered for the Irish Citizen's Army in 1913.

The PO panicked when it learned at last moment the WRONG photo had been used on the stamp. The caption lied!

They urgently recalled all stock, with strict instructions that none were to be retained or sold, and were to be fully accounted for.

This recall order went out before Post Offices opened Jan 23, and was almost universally complied with across the country it appears.
Sheet surfaces in Cork
Padraig O'Shea, who runs Raven Stamps in Cork, sourced a sheet of 15 of the withdrawn stamps, which had been purchased at face value six days earlier.

''It's the first time here stamps have been issued and withdrawn - this has never happened before'' Padraig told the independent.ie newspaper.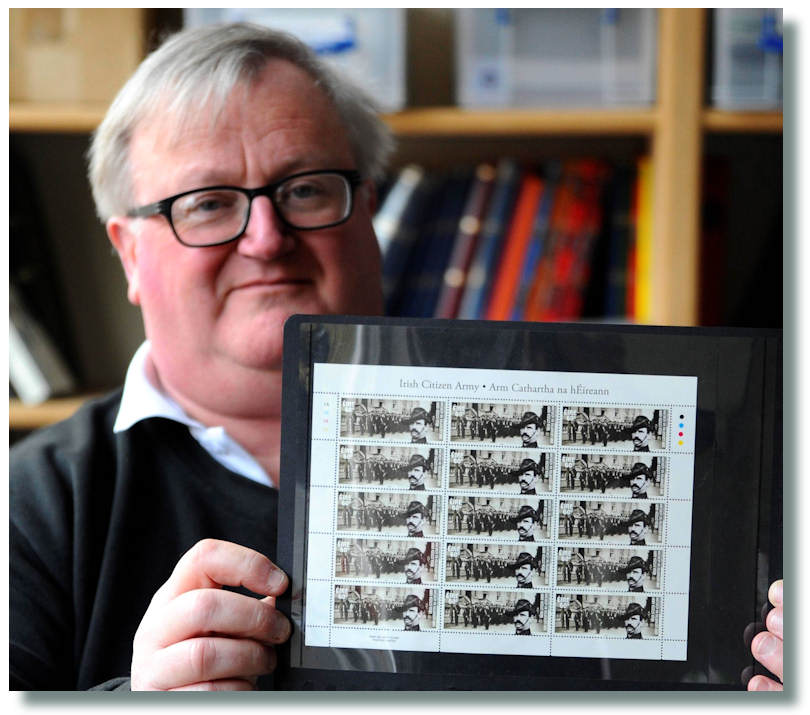 €3,000 for €9 of New Issues
Padraig is a stampboards.com member, and raised the find there. He paid €3,000 for the sheet of 15 stamps he is holding nearby, or €200 apiece.

"I've no way of knowing what they could be worth because it's dependent on how many more could appear. When you buy, the risk is that more will appear. But the reward could be that they don't, and then the price will rise'' he said.

O'Shea knows of one sheet 15 and six singles that were sold, and some or all could reach collector hands.

''That's not a lot, when you think of the world market,'' he concluded.

tinyurl.com/EireStamp has the full discussion, and follows the fate of a single stamp offered on ebay
Single gets $US556 ebay
The single stamp was offered by ebay seller "jblunden" and attracted 40 bids, selling for $US566 via 3 last second "snipers" that doubled the price.

He appeared to have just a single copy to offer. If others do turn this discussion thread will log their fate - tinyurl.com/EireStamp

I am typing this near a month after issue date, and it seems clear that AnPost will not deliberately issue them, and that precious few errors seem to be out there.

New Zealand did a near identical thing in 2006 with a similar last minute change of mind.

They had printed a set of 5 Maori "Kapa Haka" stamps, and mailed them out to a number of new issue clients, and charged their credit cards.

I just sold one of my 3 sets of 5 today for $A8,500, and the 45c coil and booklet self-adhesive stamps are of course a lot cheaper.


Also withdrawn after being issue
NZ Post had some Maoris criticise the cartoon-like designs, and the PO oddly chose to withdraw the issue at the 11th hour.

Same reason as the current Éire issue - the images got into the Media too late for wider comment to be made in advance.

But dozens of sets of 5 had been charged out, and sold and mailed to customers by the New Zealand Post Office - many in MUH plate blocks 6.

As well as a bunch of booklets of 10, some single values not in sets, peel&stick coil stamps in rolls, FDC's of the set of 5, blank FDC's, and used/CTO sets etc.
"Get a Free Year Book"
The buyers of all these of course had full legal right to dispose of them however they wished. NZ Post offered them a FREE Year Book if they returned them. (And some foolishly DID!)

I certainly have bought quite a few sets over the years from NZ, as they are globally popular. A set 5 was sold for $14,500 a set in a Mowbray's NZ Public Auction.

The "Kapa Haka" stamp set should be listed and priced in Stanley Gibbons, the same way this Ireland stamp will certainly be, I'd guess.
British Guiana 1¢ Auctioned June
Just as I was finalising this column I learned that the world's most valuable stamp will be auctioned in June.

Sothebys New York will offer it in a "one stamp auction" on the evening of June 17.

The stamp has a pre-sale estimate of $US10/20 million, which would easily mark a new world auction record for any philatelic item if achieved.

The British Guiana 1¢ has not been on view publicly since 1986, when it was exhibited at the "Ameripex '86" International Stamp Show in Chicago.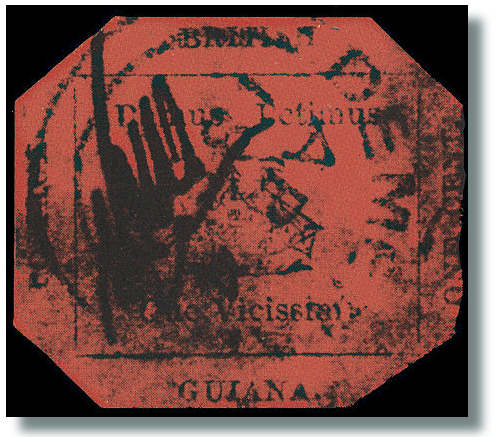 "Estimate $US10-20 Million"
The stamp will travel to locations including London and Hong Kong, before returning to New York, in Sotheby's York Avenue galleries beginning 14 June.

The British Guiana 1¢ is from the estate of John du Pont - its most recent purchaser, in 1980 for $US935,000 - then a record price for a stamp.

Du Pont was later jailed for 40 years for shooting dead an Olympic gold medal-winning wrestler in 1996, and died in 2010.

An Australian owned it for 30 years - Frederick T. Small who sold it at auction via Robert Siegel of New York in 1970.

tinyurl.com/1cGuiana contains much more info on du Pont, and the stamp, and auction.

I have no doubt it will sell for around $10 million, and that will make world headlines, and be a FANTASTIC boost for the hobby.
CTO steams onward
The market for Australian Kangaroos with "CTO" cancels is just getting stronger and stronger.

Stamps that to the untrained eye do not even LOOK like CTO cancels, are fetching 4 figures, on otherwise common stamps.

As I have typed 1000 times over 30 years of writing columns here - "Knowledge Is Power".

If you do not HAVE the knowledge, you cannot possibly hope to profit from things that look totally ordinary - to those without it!

Auction prices are all over the place, and neither Auctions or ACSC can be blamed for that. There are far more buyers than supply of the harder types.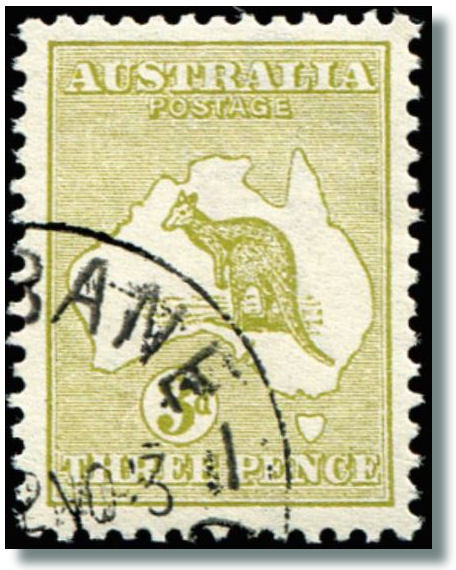 Sold for $1864 – due to cancel
Phoenix auctions has been offering a great range in recent sales - much of it sourced from an active stampboards member who bought them years back.

Stampboards has had detailed discussion on these CTO's - 1000s of posts, and some of that info is transcribed here - tinyurl.com/ozCTOs

Phoenix annoyingly do not archive images or text of past sales, so unless posted there, no other online access to them remains.

All images and text and prices are all gone forever in a couple of months, hampering future research, other than what is in stampboards posts. Crazy.

Even the record breaking Stuart Hardy catalogues are not on line for posterity by Phoenix as far as I can see, and that is pretty inexcusable.

The 3d Kangaroo illustrated nearby was invoiced at a Phoenix Auction in 2013, for $A1,864.
Price of a £1 Roo!
That is around the price a £1 1913 Kangaroo sells for used. But we all KNOW that is a $1,850 stamp!

WHY the huge price? Well anyone who has bought the new ACSC "Kangaroos" Catalogue will know.

It does not have a flaw, scarce die, inverted watermark, scarce shade, or the like. The stamp itself is perfectly ordinary.

It is simply the Brisbane CTO corner cancel that created the big price - over double the auction pre-sale estimate.

"Knowledge Is Power". One cancel like this on a circuit book page or dealer stockbook will pay for the new ACSC 18 times over!

Retail with a non CTO cancel is $15 retail on Richard Juzwin's price list, and all dealers will charge that kind of figure.

Many CTO stamp things exist that are not yet listed in the ACSC, even in the new edition.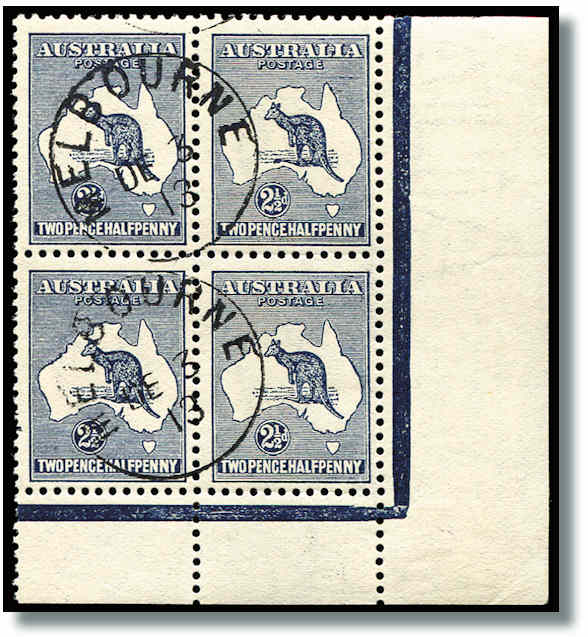 Near $2,500 for this CTO
A surprise to me was the $A2,446 this block nearby was invoiced at, in late 2013 by Phoenix.

"2½d Indigo Plate 1 SE corner marginal block of 4 CTO og 'DE 3/13' datestamp ('3' with flat top), BW #9Awb. Selvedge and one unit VLH, very fresh. Scarce to rare multiple."

The new ACSC oddly does not list this "Flat Top 3" 1913 cancel, where the letters are very close to the outer circle.
"Flat Top 3" unlisted ACSC
It is very common on the low values of the 1913 set, and is indeed far more common than the thin letter CTO type, on this 2½d.

I used to sell CTO singles for $10 and was pleased with that. I just listed one for $100, and even that is under what 1d Red Kangaroos are getting now!

WHY a block with ripped out perfs at left got 25 times that already very high price is one of life's mysteries.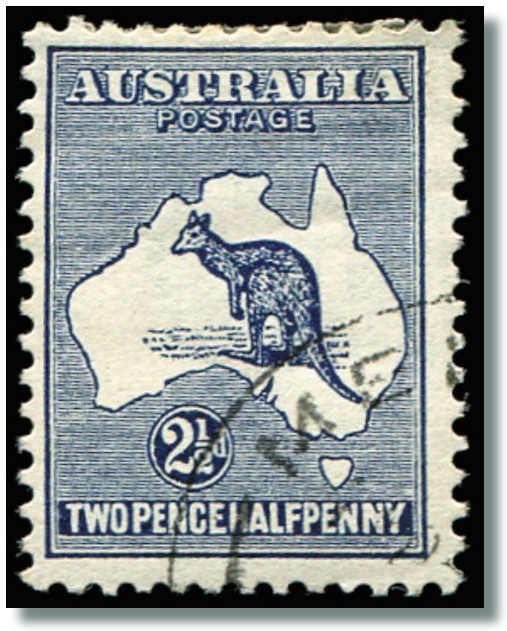 Near $500 cancel
The same 1913 2½d Kangaroo with a different type Melbourne CTO corner cancel just sold in February by Phoenix for $A490.

With hinge remainder, this type had 400 issued, and is Cat ACSC 9wa at $125 - but was invoiced for near 4 times that at $A490.

On an album page would YOU have picked this was a $500 type stamp? Postally fine used this stamp is otherwise a $10 item.

Catalogue $100 - sold $700.
| | | |
| --- | --- | --- |
| | The nearby 1913 First watermark 3d, common Die 1 with the crisp Melbourne Dec 5 CTO cancel, and ugly perfs at top was invoiced by Phoenix for $A700 in latter 2013 | |
SEVEN times full ACSC Cat.
ACSC is 12wc, and full cat is only $100 for this same cancel, so no idea what the bidders were thinking - but there were clearly several of them, as it got double estimate!

The 1913 2/- Brown block 4 shown here with the Brisbane central CTO cancel was invoiced for $A7,000 at Phoenix in February, despite the less than ideal centering.

Torn into 4 singles, 99% of collectors and dealers would not place any premium on this cancel, and would sell the singles for $100 or so each.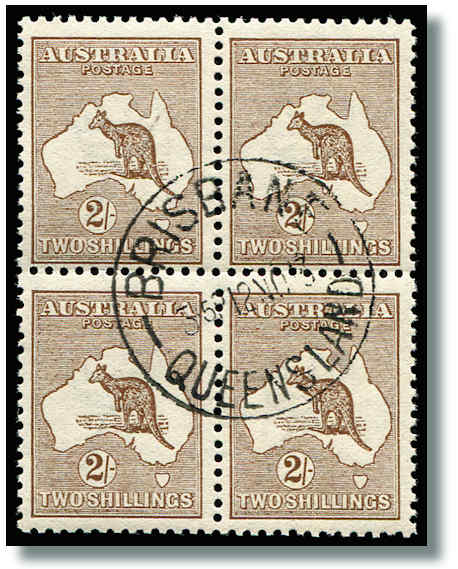 A $7,000 CTO piece.
The Kangaroo CTO market is strong, and getting stronger all the time. As you can see, prices are already often many times the new ACSC values.

The sleeper market is of course the KGV heads area, where little is known, except to the tiny bunch of keen followers of the different cancel types.

tinyurl.com/ozCTOs illustrates and discusses these scarcer CTO cancels in great detail on Roos, KGV heads and Commems.

It is rumoured Brusden White have a new "KGV" ACSC work in the pipeline. With them, nothing is ever assured, but if true, this area will go nuts, as the "current" book is 7 years old now.
Ozzie Ashes Victory
Australia cricket fans have very broad smiles on their faces in 2014.

After giving the touring English team an absolute walloping, and winning back the Ashes in straight Tests, they are now taking it to world champions South Africa.

Australia Post of course rush released a range of stamp products on January 20th to celebrate.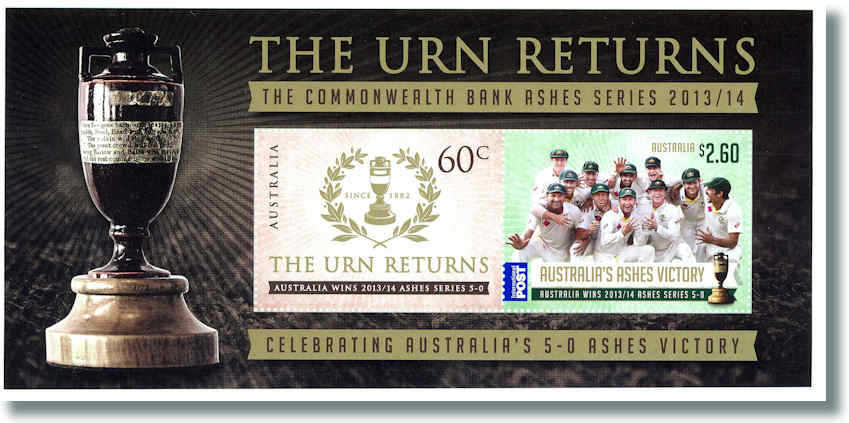 Released January 20th
Stamps in regular gum, and self-stick for overseas, booklets, FDC, Maximum cards and PO packs etc.

A 60c for domestic mail, and a $2.60 for the heavily used "all overseas" airmail rate (except Asia and NZ.)

These stamps were MASSIVE …. the largest size I can ever recall seeing from Australia.

As can be seen from the photo nearby, the stamp is near THREE times larger than the usual "International" $1 stamp I bought at my PO today.

And then the perforated margin message "AUSTRALIA ASHES VICTORY" is also of the same huge size, as is evident.

My Post Office staff said they been getting chuckles from customers who were affixing them on letters to England, and wondering if the UK postal staff would deface them with marker pens on arrival!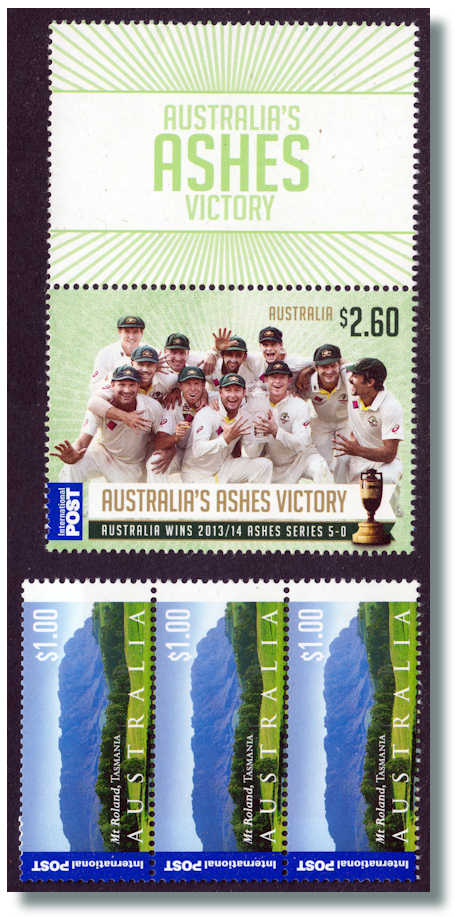 Smiles from PO staff
The $2.60 peel&stick for overseas letter mail was issued in a $13 booklet of 5. As of Feb 15th when this column was typed, they had not appeared for sale anywhere.

Stampboards readers had been doing a nationwide hunt for these, and it is my hunch that peel and stick on a FDC will be worth a LOT more than $2.60 by year end.
Tip Of The Month
Sending in some covers to Melbourne for cancelling with a normal and a peel&stick $2.60 side by side, will be a most wise investment of your time!

Official issue date for both was January 20th, despite the self-stick stamps not appearing anywhere for at least 3 weeks after that date.

Cricket is an internationally popular topical, and an "Ashes Winners" FDC of BOTH types will always be avidly sought – even begrudgingly by Brits!

The curious thing about this issue was the blatant advertising of The Commonwealth Bank on the FDC, the mini sheet, and the $13 Booklet.


Blatant Commercial Advertising
"The Commonwealth Bank Ashes Series" is in large font size on all product.

Does anyone else recall such overt commercial advertising on any mainstream Australia Post stamp products before?

The recent Melbourne Cup 150th anniversary stamps did not have EMIRATES MELBOURNE CUP in the stamp design etc.
"Forever" bonus
I think all readers have read that the United States Postal Service is in DEEP financial doo doo, and have been for some years.

The red ink for fiscal 2103 was "only" $US5 billion - a big improvement over the loss of $US15.9 BILLION in 2012.

And believe it or not, one thing that saved the USPS was the "Forever" stamps according to a recent "Linn's Stamp News"

The bean counters at USPS just made a plus adjustment to the 2013 figures of $US1.3 BILLION – because they re-calculated the "breakage" rate.

"Breakage represents those stamps that will never be used on a mail piece, due to loss, damage or having been saved in a collection" according to the USPS financial filings.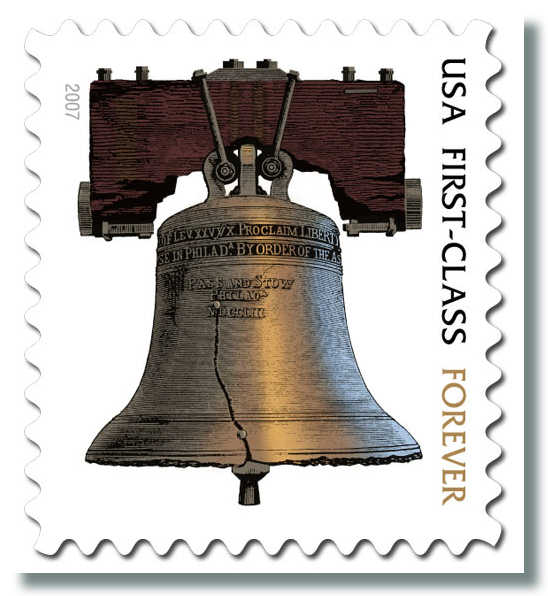 Saved By The Bell!
The "breakage" number of the Liberty Bell "Forever" stamps was far higher than originally budgeted for it seems.

This Liberty Bell "Forever" stamp was the only one on sale from 2007 to late 2010, when the USPS decided to make all 1st Class stamps "Forever" in early 2011.

How on earth they can work out in 2013, how many stamps they sold in 2007 that were not used sure beats me, but accountants work in mysterious ways!

The "Forever" stamps can of course be used literally "Forever" for domestic USA First Class mail.

Why Australia has not followed suit sure beats me and most large countries seem to have the equivalent type stamp. Canada has "P" = Permanent stamps etc, as do many countries.









Get my regular market update emails FREE. Stamp gossip, price trends, record sale prices, and many one-time stamp specials, wholesale bargains, and exciting offers and breaking philatelic news. A mini stamp magazine in every email! "KNOWLEDGE IS POWER". The ONE stamp list you MUST be on, to keep in touch with the rapidly changing world market. One client made $65,000 profit in a few months after following my specific advice. Sign up securely and quickly by clicking HERE to access my automated data base. And wiser still ADD your home AND work email, if I only have one right now. Add a stamp friend's email address if you wish. One short click and you are subscribed to probably the most read email list in the stamp world!


Instant Currency Conversion


FREE! Just click here...




If you would like to be notified of updates to this website,

Click HERE. If have any questions,
or comments regarding my site, please email me at glen@glenstephens.com



| | |
| --- | --- |
| | Search all my 300+ web pages! Simply type in what you are looking for. "Penny Black", "Latvia", "Imprints", "Morocco", "Fungi" "Year Books", etc! Using quotes ( " ) is more accurf used with no quotes. Search is NOT case sensitive. Tip - keep the search word singular - "Machin" yields far more matches than "Machins" etc. |


I am a Dealer Member in Good Standing Of:

Full Time Stamp Dealer in Australia for over 30+ years.

Life Member - American Stamp Dealers' Association. (New York)
Also Member of: Philatelic Traders' Society. (London)

GLEN STEPHENS

Full Time Stamp Dealer in Australia for over 25 years.

Life Member - American Stamp Dealers' Association. (New York)
Also Member - Philatelic Traders' Society. (London) ANDA. (Melbourne) American Philatelic Society, etc


ALL Postage + Insurance is extra. Visa/BankCard/MasterCard/Diners/Amex all OK, even for "Lay-Bys"! All lots offered are subject to my usual Conditions of Sale, copy upon request BIGGEST STAMP BUYER: Post me ANYTHING via Registered Mail for my same-day cheque. Avoid the GENERALLY 40% Auction " Commissions" (15% + 17½ + GST, etc.) AND their five-month delays! Read for details.

"Lothlórien4 The Tor Walk, CASTLECRAG (Sydney), N.S.W. 2068
Phone: (02) 9958-1333&n Fax: (02) 9958-1444 (Both 25 Hours, 7 Days!)
E-Mail: glen@glenstephens.com
Web Sites: www.glenstephens.com www.glenstephens.net or www.australianstamps.net