Click To Go Back To The Main www.GlenStephens.com Stamps Homepage

Welcome! You are visitor
to www.GlenStephens.com




Glen Stephens
Monthly "Stamp News" Market Tipster Column


May 2006

---
Leather Year Books ... to Washington 2006!
Do you buy the annual Post Office year books? I imagine 5% or 10% of the readers of this column will answer "yes".

And I bet you are never in any hurry to buy them as they are very expensive these days, and are nearly always on sale for a year or so after release.

Well ..... get out of that habit. Fast.
2006 "Leather" year books
I have been told Australia Post in 2005 decided on a radical cut back of the number of "2005" books produced. This was because large numbers of books in recent years were returned as unsold and needed to be destroyed.

This is doubly wasteful as they cost a fortune to transport and handle due to their weight, and of course they cost a fortune to produce in the first instance. All of this was a direct loss to the Philatelic Sales budget.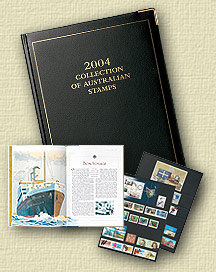 Buy the 2005 version
This idea seems to have been an initiative of the new head of Philatelic, Mr Noel Leahy. His predecessor Amber McDougall was from my observation ill-suited for the job and ineffective. Her presiding over the disaster of "Pacific Explorer" saw her vanish from the position VERY soon afterwards.

Mr Leahy I am told came from Australia Post Tasmania. Almost no stamp dealer I've spoken to appears to have met him other than casually, or had meetings with him - from the President of APTA down, but hopefully he will have the savvy to rectify that very shortly.

David Maiden's regular visits interstate when in that role, to brief dealers at dinner gatherings on the next few month's issues and general direction were a high point in dealer/PO relations. Quite unprecedented to that point, and not seen since.

And I have no doubt sales to the trade were vastly higher under David Maiden's superb and visionary management than today. Nuf Sed.

Back to year books.

So guess what the new broom apparently decided to do - cut the number of "Leather" year books produced to WAY below what was needed.

The 2005 Leather year album has been sold out at the Philatelic division nearly all of this year. Since about January a bold red "SOLD OUT" has been superimposed on the item on the AP website.

I have been getting phone calls from collectors since January trying to secure this album for their collections. Most other large dealers report the same demand.

I went to my PO and bought all that he fortunately still had - as a customer had ordered a boxful for family members as gifts, and never paid. Darn expensive purchase for me at $115 each, and it cost me $920.

casually opened one up to look at the artwork, and noticed on the inside cover the book is hand numbered in gold ink: "NUMBER 5037 OF A LIMITED EDITION OF 8000."

Huh? "Year Books have never been numbered" I think to myself. Phone a few VERY large dealers from Max Stern down, who had no clue about this as late as mid April. It seems Australia Post simply went ahead and did this, and like many things lately, did not bother to let collectors or dealers know what they were doing.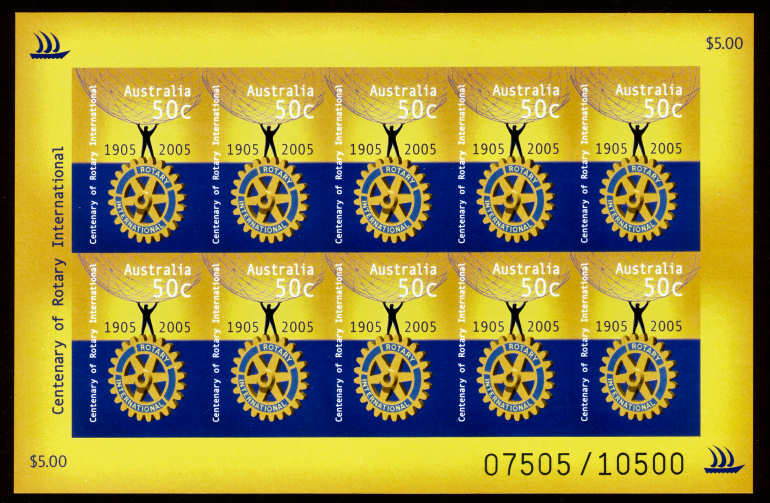 Numbered Rotary Sheet
The Imperforate 50c Rotary sheetlets from latter 2005 are a prime example of a similar "secret" issue. The AP website did not even mention or illustrate they were individually numbered on the margins up to 10,500. The $5 issue priced sheets soared rapidly to $85 and have stayed there.

Collectors LOVE numbered items in small editions. Savvy dealers know this but AP management does not seem to. Or when they do produce them, they basically tell no-one about them! Marketing geniuses, they truly are not.

So take my tip - if you collect all the black Leather "Deluxe" edition year books and do not have yours from 2005 - go get one now. Virtually no dealer in Australia will have one at any price - that much you can bet on. My last price on my special page for these items (glenstephens.com/yearbooks.html) was $185, and as I get down to my last few it will get a lot higher.

Remember each book has the special Parrots sheetlet not available via any other avenue, and these alone retail for $75, so many books will have been broken up just to extract these. The remaining stamp contents are then used on mail etc.

ANYTHING official in a numbered run of 8,000 is very good stuff. Better still, my guess is that about 7,000 of those 8,000 books have gone to folks who buy one each year on standing order, and will not sell as it will break their set.

These folks would never see a Stamp Magazine or a stamp dealer, and would have no clue their book is valuable even if the price rose to $500.

There is little casual buying of a $115 item. All are hand numbered in gold ink, and will always be keenly sought.

In fact, an official edition of only 8,000 makes this one of the smallest production runs of anything ever sold by Australia Post when you think on it.

The brains trust at AP will of course issue a lot more albums this year, due to the rapid sell-out of 2005, and hence the price of the 2005 will increase further. Secure this album now if you need it - it will never be cheaper.




Washington 2006
As has been evident for way over 12 months, Washington 2006 in late May will be a boomer of an Exhibition.

They are doing all the right things, and were doing them all WAY in advance. Copybook stuff.

Unlike the well meaning but absolutely out of their depth folks running "Pacific Explorer" in Sydney. They aimlessly spent several MILLIONS of Post Office dollars, far too late, in areas collectors did not see or respond to. Consequently absolutely no-one came except the die hards.

A screaming disaster that could have been many times better attended if basic planning had taken place as was done so ably for "Australia 99" by David Maiden and his motivated team.

The Americans are great organisers, and they are proving it once again for Washington 2006. Maiden's team had the brains to fly out Les Winick - the architect and supremo behind the enormously successful "Ameripex 86" in Chicago. They wined and dined him, picked his brain, fed him all the new ideas they had, and revved him up to be their unpaid US ambassador at large for a couple of years before the show.

The Brains Trust running "Pacific Explorer" did not even tell Les the show was on, and did not even forward him publicity material even after him asking for it. Despite him having a weekly column in Linn's Stamp News, that sells some 60,000 copies a WEEK! Incredible. And after the show a very senior official publicly abused him roundly for daring to mention this oversight! Quite amazing.

No-one is tossing millions of funding at "Washington 2006", but they have had a superb website in place for ages, and are giving visitors real REASONS to come and attend. Brilliantly laid out, and a model for all future organising committees to study.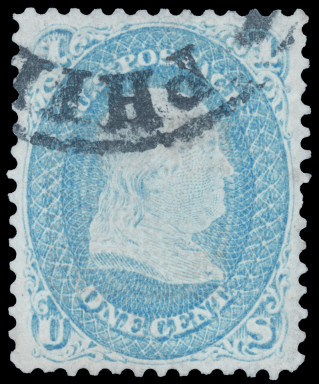 World's priciest stamp
One thing they have done a year out is outline and illustrate the major world rarities that will be on display.

This is what excites collectors, and Washington has a mind boggling array. Like many others locally I have booked a ticket across to DC to absorb the excitement, and I'll publish a report here in due course.

On display are what are right now the world's two priciest stamp items. The USA 1c "Z" Grill and the USA "Inverted Jenny" 24c plate block. See my January lead article for details of these two items and the historic $4 million "swap" that just took place for them.
Swans Everywhere
Another thing on display will be at least 4 genuine copies of the legendary Western Australia 1854 4d "Inverted Swan" - or "Inverted Frame" ... whichever description you prefer to use. (These were also on display at "Pacific Explorer" - a highlight for me personally to see them up close. )

Well there will be 5 copies on display of this stamp. All owned by Dr Arthur Woo. The nicest looking one, is not an error at all! As I reported very many years back in my column, one is a brilliant forgery that fooled leading dealers and Auction houses over many decades as it changed hands as a genuine copy.

Some clever forger had painted in the entire outer border design and wording upside down, and then painted in a superb fake cancel over the top of it all. From the 1920s onwards it was accepted as genuine until Robson Lowe unfrocked it in 1988. One of the stamps illustrated is that quite brilliant forgery. Can you guess which one?

Another illustrated example is the copy that King Carol of Romania fled the country with in 1940. A death squad of the Romanian fascist party Iron Guard legionnaires (partly financed by the Nazis) fired on the Royal Train near the Yugoslavian border, but failed to stop it. The King and his mistress lay on the floor and escaped injury from the bullets.

Selling the stamp helped finance his luxurious life in exile. A Melbourne collector later purchased it. Dealer Simon Dunkerley then sold it to Sydney collector Mogens Juhl in 1991 for $60.000 - even when Mogens knew he was close to death with cancer. Upon his death it was auctioned by Macray Watson selling in 1993 for $A57,500 plus 10%.

Another copy illustrated is the example famous Australian collector John Gartner sold in 1979 in Geneva for the then huge price of £67,222. And one of the illustrations is the forgery. Can you pick them apart? I bet most of you can not! Answers next month.

My guess is the "Gartner" copy would fetch more like $A250,000 if sold today.
ebay Warning
Perfect centring is not a difficult concept to visualise in a stamp. If left to experienced dealers to describe - or other stamp professionals with decades of experience, a commonality of grading will generally prevail.

Sadly the emergence of ebay as a large marketplace for expensive stamps means clueless cowboys can get on there and call all sorts of ugly looking second grade junk "well centred" and "Superb" etc. And hoodwink unsophisticated buyers.

One such seller I noticed abusing this in recent months is someone with the ebay handle

joanne620

- who I am reliably advised is not female.

This seller is not someone who does not know stamps. He/she has in fact over 1,000 eBay positive "feedback" points and over 2,000 sales in the past year, and sells a lot of stamps - if not entirely stamps. This "joanne620" regularly invents absurd advertised "retail" prices to try and bump up the sale price of his often ugly looking rubbish.

Sure - offer this stuff on eBay as badly centred and regummed and toned by all means if it is, and hope the often clueless buyers buy it from you. However when stamps are poorly centred and regummed please do NOT describe them otherwise.

The ugly looking stamp illustrated nearby (lot 5668205447) was sold in March by "joanne620" and realised $515. The lot heading called the stamp "Superb" and "Magnificent" and "gorgeous". What total nonsense!

Wrong - It is a quite ugly DOG of a stamp. Perfs touching design at base and heavily off centred to side as well. It appears to have heavy gum toning. And may well have been regummed too I would not be surprised to learn, based on other stamps this person has sold and had later inspected by experts.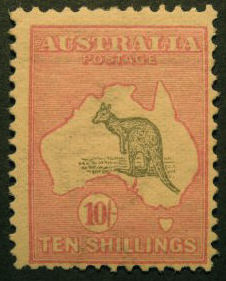 Woof, woof!
And apologies for the crummy looking scan. That is all this experienced seller offers to buyers. Hmmmm.

The usual fanciful fiction was outlined as to the alleged retail - "THE RETAIL FOR THIS STAMP IN THIS CONDITION WOULD EXCEED $5,000.00" when in fact I'd sell you the same dog for a couple of $100 if you were silly enough to pay that.

More dangerous - and possibly legally actionable, is this kind of absurd claim - "THIS IS A SUPERB INVESTMENT ITEM AND WILL INDEED BE THE CENTRE PIECE OF YOUR COLLECTION." Investment? In a few years time you will NOT get what you paid for this stamp. Well unless you offer it again on eBay I suppose.

You get the picture. And this is not just an isolated example - "joanne620" has had dozens of offerings that I could see in the same league. Misdescribed, over-hyped junk. Amateurish looking forged overprints on Kingsford Smith "OS" stamps (one set had overprints at an slight angle!) that sold for many $100s etc, etc.
ebay not interested
Despite a few trade members spending many hours trying to get this cowboy de-registered off ebay with contacts in high places - nothing has occurred. One well known dealer has inspected some of the junk this person had mailed out, and advises much of the alleged "MUH" high value Kangaroo material was roughly regummed.

And buyers go insane on ebay at times. The same seller got $885 for a HINGED set of 1932 Harbour Bridges on March 26! (Lot 5670190442). I'll sell you TWO sets for that, as would most dealers in this magazine!

ebay is after money, and this seller has probably sold way into 6 figures of material, generating ebay many many $1,000s of revenue in commissions - and that seems to be all they care about.

I am always curious as to whether the Taxation Department ever looks at these "private sellers" turning over more dollars than many APTA members do!

I urge all readers to carefully peruse Simon Dunkerley's recent articles on some of the pitfalls of ebay - as well as the excellent editorial in the March magazine on ebay.

ebay is about profits, They are not stamp dealers and frankly could not care less about most of the misdescribed stuff being offered. The words "Caveat Emptor" come strongly to mind.

Buy off any large dealer in this magazine and you can bet they are generally members of respected stamp trade bodies. Get sold a misdescribed dog - and IF the dealer will not play ball, the trade body WILL assist with your refund.

And beware of some sellers on ebay who are nothing more than collectors who are acting via their descriptions as if they are
Robson Lowe. One seller "stampcollectorboz" seems to selectively illustrate off-centred stamps on white backgrounds so that bad perfs or centering can't be seen!

This seller offers laughable "Certificates Of Genuineness" with his stamps that of course are nothing more than his biased personal opinions to help them get higher prices than they should. It is borderline fraud to label them otherwise to novice stamp buyers. And on one mint set of Kingsford Smith "OS" overprints he sold in Late March (Lot 5676259865) I certainly would not be lending MY name to their genuineness!

The same buyer as joanne620's ugly looking 10/- roo also bought that "OS" lot for $454 - "

usf_moonstone

" and I wish him/her the best of British luck when re-selling these "treasures"! Please offer neither to me Mr Moonstone.

ebay for big ticket items is not a stamp market for the faint heated - that is for sure.
Ronnie Returns
The USA issued a 37¢ Ronald Reagan stamp on February 9 last year. That day would have been his 94th birthday.

I illustrated the stamp in my column January 2005 and said: "the design is illustrated here ,as it is one of the most warm and appealing looking USA stamps I have seen for some time, and I am sure will be enormously popular worldwide."

(Disclaimer - I personally feel Reagan was somewhat of a complete doofus as President, but my comment was based on the stamp design not his leadership ability!)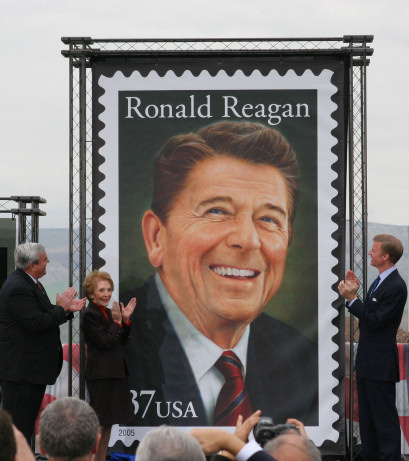 4 metre high stamp
I have no hard statistics on it, but my guess is Reagan was the most popular President for decades. I guess when you are competing against the likes of Richard Nixon and both George Bush's it is not very difficult to win votes in that poll.

Reagan MUST be popular - the US Post Office recently announced they are issuing the exact same stamp again with the new postage rate of 39¢. USPS spokesperson Lauren Sposato told Linns Stamp News that this decision was entirely based on the huge popularity of the 37¢ stamp.

To issue the SAME design commemorative stamp a year after the first one is surely unheard of in USA stamp history?

I bet both the Reagan stamps will outsell the 1995 32¢ Nixon issue - five to one. That stamp issue was incredibly un-popular with the public and even rated a story at the time in 'USA Today'.

All over the USA, postal clerks reported that people were asking for any stamp other than Nixon. The 'USA Today' article quoted a Post Office sales manager in Houston saying 9 out of 10 customers turned down the stamp when it was offered.

Only 80 million Nixon were printed, and I bet most were destroyed later. Numbers 'sold' have never been released. USPS know what they were doing – they issued 400 million of the Marilyn Monroe stamps, released the following month!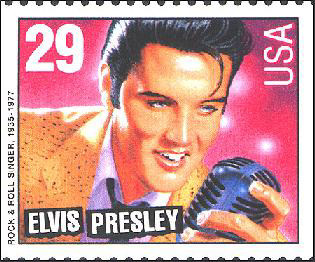 517 million sold
Nixon is quite a contrast to the 1993 29¢ Elvis Presley issue. USPS claims it is their largest selling commemorative stamp in history. Over 517 million stamps were sold. They reportedly made a phenomenal profit on that one stamp.

Nancy Reagan is in the centre of the three standing dignitaries in the photo nearby at the unveiling of the original stamp issue at the Ronald W. Reagan Presidential Library and Museum, in Simi Valley California. .

On her left is US Postmaster General John Potter, and on the right is Frederick Ryan Jr, Reagan's Chief Of Staff 1989-95.

Mrs Reagan said at the 37¢ stamp unveiling: 'The stamp really captures Ronnie's humour and optimism, and I hope the American people will like it as much as I do.'

Ronald Reagan died June 6, 2004 of pneumonia, following a decade long struggle with Alzheimer's disease.










Get my regular market update emails FREE. Stamp gossip, price trends, record sale prices, and many one-time stamp specials, wholesale bargains, and exciting offers and breaking philatelic news. A mini stamp magazine in every email! "KNOWLEDGE IS POWER". The ONE stamp list you MUST be on, to keep in touch with the rapidly changing world market. One client made $65,000 profit in a few months after following my specific advice. Sign up securely and quickly by clicking HERE to access my automated data base. And wiser still ADD your home AND work email, if I only have one right now. Add a stamp friend's email address if you wish. One short click and you are subscribed to probably the most read email list in the stamp world!


Instant Currency Conversion


FREE! Just click here... see exactly what my lots cost in your currency.




If you would like to be notified of updates to this website, Click HERE.

If have any questions,
or comments regarding my site, please email me at glen@glenstephens.com


I am a Member Of
Full Time Stamp Dealer in Australia for over 25 years.
Life Member - American Stamp Dealers' Association. (New York)
Also Member of; Philatelic Traders' Society. (London) ANDA. (Melbourne) American Philatelic Society, etc

GLEN $TEPHEN$
Full Time Stamp Dealer in Australia for over 25 years.
Life Member - American Stamp Dealers' Association. (New York)
Also Member - Philatelic Traders' Society. (London) ANDA. (Melbourne) American Philatelic Society, etc

ALL Postage + Insurance is extra. Visa/BankCard/MasterCard/Diners/Amex all OK, even for "Lay-Bys"! All lots offered are subject to my usual Conditions of Sale, copy upon request BIGGEST STAMP BUYER: Post me ANYTHING via Registered Mail for my same-day cheque. Avoid the GENERALLY 40% Auction " Commissions" (15% + 17½ + GST, etc.) AND their five-month delays! Read for details.
"Lothlórien," No. 4 The Tor Walk, CASTLECRAG (Sydney), N.S.W. 2068
Phone: (02) 9958-1333 Fax: (02) 9958-1444 (Both 25 Hours, 7 Days!)
E-Mail: glen@glenstephens.com
Web Sites: www.glenstephens.com www.glenstephens.net or www.australianstamps.net

Sign up AUTOMATICALLY to my world renowned bi-weekly stamp gossip mailing list!
Click here to see MANY 1000s of stamp lots for sale at low $A Nett prices
Click here for all you need to know re SELLING your stamps for SPOT CASH
Click here for the current Monthly "Internet Only" special offers - CHEAP!
to read all my recent International stamp magazine articles.
Click here to get back to the main www.GlenStephens.com Homepage
Click here to ORDER on-line ANY items from ANY of my dozens of lists
Click for all info on Conditions Of Sale, Payments, Shipping, Returns &c
Click here for the complete library of my very unusual world travels!
How to PAY me. I accept EVERYTHING - even blankets and axes and beads!
Australia Post Annual YEAR BOOKS - massive stock - '27% off' discount offer today!
Visit my new page on RARITIES - Roos & other expensive photo items.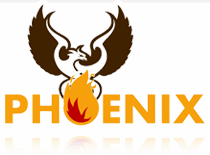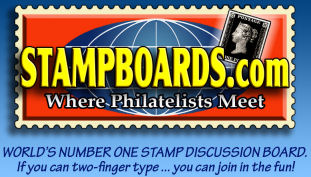 Instant Currency Conversion


FREE! Just click here...


E-mail me at glen@glenstephens.com -
Every credit card shown is accepted WITHOUT fee.
Earn Frequent Flier points while buying at bargain prices!
ALL prices are in weak Ozzie Dollars. I charge NO nasty, nasty
"Buyer's Commission" on stamps like nearly every "Auction" does.