Click To Go Back To The Main www.GlenStephens.com Stamps Homepage


Welcome! You are visitor
to www.GlenStephens.com




Glen Stephens
Monthly "Stamp News" Market Tipster Column


May 2008

---
New Australian Airmail Catalogue

Well known Melbourne dealer Charles Leski has taken over publishing the famous Nelson Eustis Airmail Catalogue, and the first edition for 6 years has just been released onto the market.

It is about 275 x large A4 pages … a remarkably detailed achievement for just airmails from Australia and New Guinea/Papua. The first edition was published 72 years back in 1937, and there have only been several updates since.

Nelson Eustis died in 2003, and this work was carried on ably by Tom Frommer, who has won Large Golds for his Australian airmail collection at Internationals in 1996, 1998, and London 2000.

Publisher Charles Leski contacted me about the new catalogue before issue date;

"You will find it a dramatically enlarged and improved book. Firstly, it is in large A4 format. This has enabled us to include many more illustrations. There are many new entries, with particular emphasis on 'intermediates' which have previously been lumped together" he said.

"Many errors and omissions in the older text have been found and corrected and, of course, the valuations have been updated. This has involved collating and studying thousands of prices from major auctions like Lusk's, Harmers, Bonham's, Cherrystone, Gibbons, Prestige and others, as well as dealer's lists and internet sales. A very big job.

"The previous edition totally sold out late 2007 so it seemed good timing to get this project on the go, especially as we have Nelson Eustis's exhibition collection coming up for auction on March 31st" Leski continued.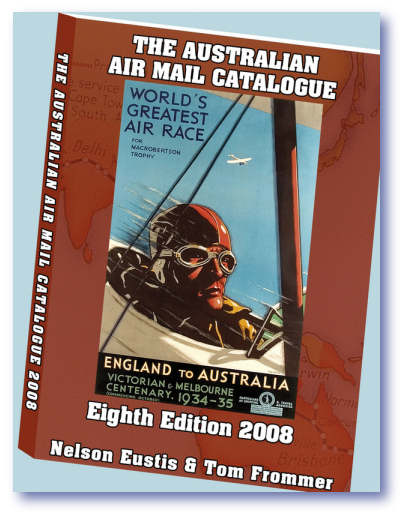 Greatly expanded AAMC
Charles and editor Tom Frommer gave me a copy to review when at the Canberra Stamp Show in mid May.

I spoke at length to he and Tom Frommer in Canberra, and they seemed very pleased with the end result. However as Tom says in the "Foreword" this book is still basically a "work in progress" and new information and detail is always being uncovered and advised to him.

If you collect Australia or New Guinea or Papua or Aust-NZ airmail covers you are foolish not to own this volume. As many may not realise, this volume also lists all rocket mail. pigeon posts, parachute mail, balloon posts etc for the Australia region.

Securing one soon means you can often buy up all the cheapies still being priced at a fraction of the new prices at stamp shows or from small dealers too mean to buy a catalogue, as those dealers are still using OLD data and prices!

New size and format

The last 2002 edition was less than 400 small A5 pages, and cost $82.50, so this is equivalent to near 600 pages of that format - showing how much new information is in there. Most dealers keep these in stock.

At $100 retail is it clearly GREAT value, and I have good stocks. A hard cover version is also available for $130 but the dozen I have sold already are mostly the thick board cover version (as per photo nearby) which seems to work fine for me.

Collectors often misunderstand WHY some airmail covers are worth more than others even SCARCER in number. The first Trans-Tasman flight by Charles Kingsford Smith in 1928 (15 covers flown) is far more important than say the Sydney-Perth flight by J. Thorpe in 1932, of which only 3 exist.

The Eustis catalogue values of $5,500 and $500 illustrate the point, despite the disparity in numbers. Anything signed and carried by "Smithy" is eternally popular. Not all the rare Smithy covers are in the $5,000+ league thankfully.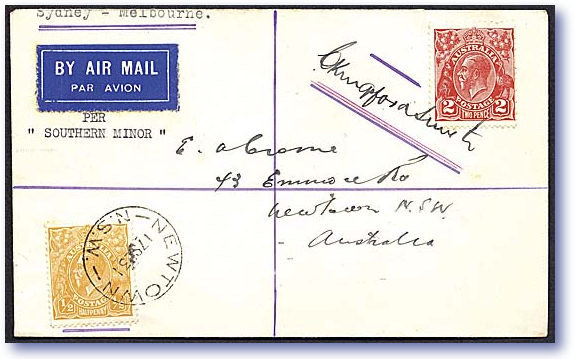 Only 10 flown
I have a nice one on my rarity page now – www.glenstephens.com/rarity . Shown nearby is the 1931 Sydney to Melbourne cover, from the Eustis collection. Flown and signed by Charles Kingsford Smith in the "Southern Cross Minor". This was the first leg of "Smithy's" Australia to England record attempt. Only ten covers were flown on this leg and only a few survive.


New "Intermediates" listings

One strong feature of this new book is that many of the "intermediates" are listed in detail. For instance previous catalogues for the April 4 1931 England Australia flight (AAMC 187) listed England – Australia - $50 and AAMC 187a "intermediates from $75". Nothing else.

The new catalogues 35 different flight "intermediates" with a price range from $50 to $200 each. The latter $200 cover is Allahabad to Akyab, (AAMC 187p) where only 6 were carried, and the $200 price I'd suggest is under half what it should be! .

I have suggested to clients for years, that one of the most enormous and rewarding pursuits remaining from this region is aerophilately. The potential is enormous, and the hunt is a supreme challenge.

The upside is still enormous, and anyone locating an AAMC 187p mentioned above for anything less than catalogue price, will have made one of the better buys of their life.

The history of Australia is recorded via these covers. The first airmail – and later passenger connection with the rest of the world, and all kinds of remote parts of our own country.

Charles Leski auctioned off Nelson Eustis's fine collection in Melbourne on March 31. It was a superb success, with a near 100% clearance rate – unheard of in Australian auctions.

Many sensational price records were obtained, and the choice items were keenly fought over.

I picked up some nice pieces, including a 1919 Ross Smith Vignette on flown cover - autographed by Wally Shiers the engineer .. only 6 covers are known signed by Shiers. My Rarity page is heavy with classic airmail covers this month! www.glenstephens.com/rarity


Full listing of 1919 Ross Smith

Indeed one great feature of this catalogue is the wonderful and detailed listing Frommer gives for ALL the known 1919 Ross Smith covers.

Frommer lists to whom they were addressed, and the address on the cover. A huge work, and a credit for Frommer and others for the research of this, our most famous airmail cover.

Some of the gems of Eustis collection are outlined below.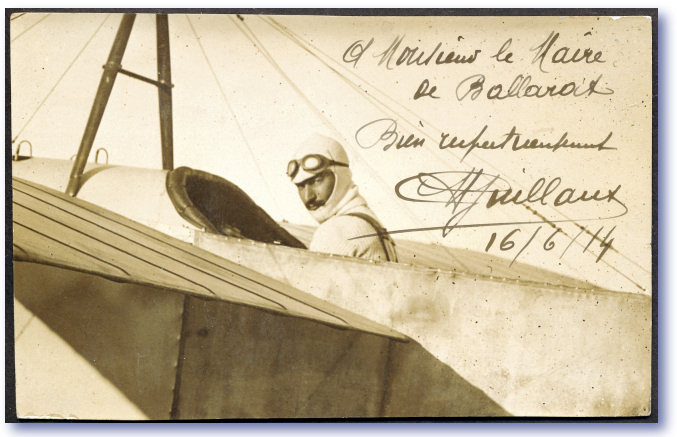 Sold for $35,000
The one I'd have LOVED to have the money to buy for myself is shown nearby.

AAMC number #1. June 1914 postcard, Bendigo to Ballarat by Maurice Guillaux in his Bleriot monoplane. A number of similar items were understood to have been distributed to mayors and dignitaries, but the one above is believed to be the only one surviving.

It says "To The Mayor Of Ballarat, Best Wishes, M. Guillaux, 16/6/14". Not many "Number Ones" exist of anything in only one example. I love the design, and have suggested "Stamp News" reprints them as a subscriber giveaway in future.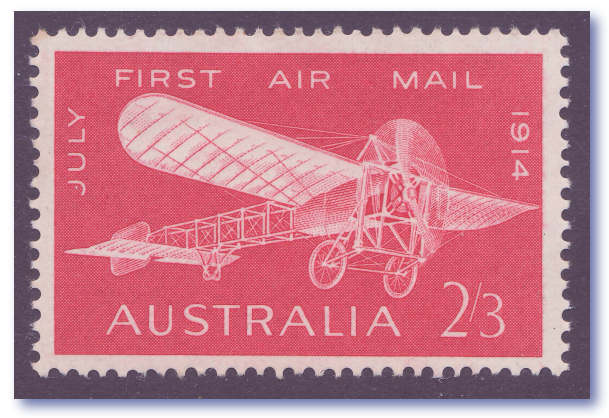 Guillaux's Bleriot Monoplane
This card totally vanished off the market for near half a century, until unearthed by Charles Leski in 1992 in a Californian collection. It had been in Nelson Eustis' first collection sold in London 1946, and Eustis was delighted to buy it back again.

It appears to be in delightful condition and sold for $A34,950 – fully doubling the auction estimate of $15,000-$17,500. Which illustrates how quick some prices in this catalogue are already out of date, as full cat is $17,500. Value in the first AAMC was £60.

Guillaux and his Bleriot monoplane and their 1914 aerial feats are well known to all stamp collectors. The 1964 commemorative issue of a 5d green and 2/3d red celebrate the First Air Mail within Australia.

Many other covers in the Leski auction achieved prices that amazed me. This top end aerophilatelic area really seems on the move.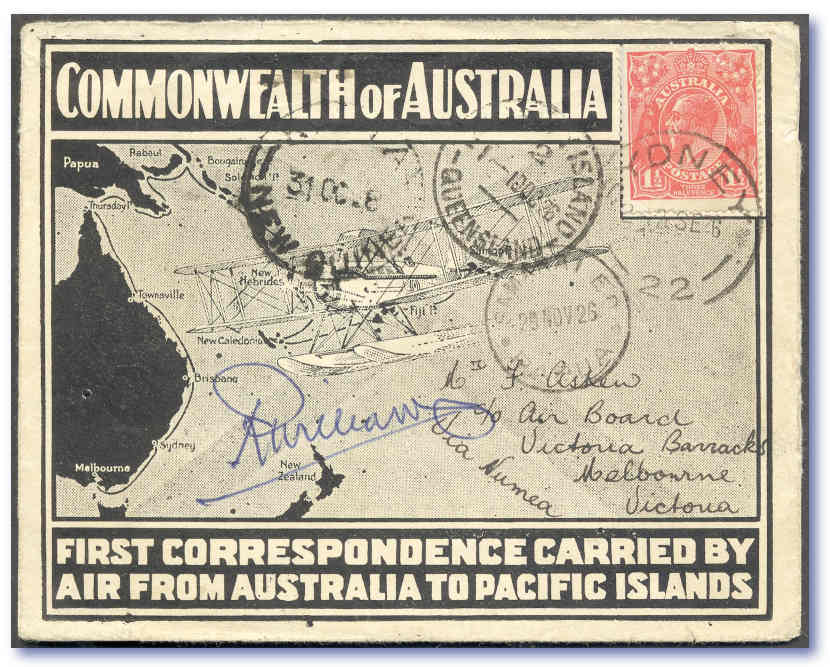 Pacific FFC sells for $26,795
Another cover that caught my eye was the 1926 cover illustrated nearby, (AAMC 102) the flight from Australia to New Guinea. Like the Guillaux postcard, the pre-sale estimate was a bullish $15,000-$17,500, given the new catalogue price is $17,500.

The cover sold for an astounding $A26,795. In the last 2002 AAMC this cover was catalogued only $8,000, proving that up to date reference books are absolutely essential. Fifty were carried of these attractive covers, and at least 12 are known to Frommer.

New MEDAL Book

What on earth is a medal book being discussed in a stamp column I can hear some ask.

Good question. A LOT of my clients collect medals as they are not dissimilar to stamps I suppose.

The problem has been until now, that with Australian medals there has been no priced guide to use. That has all changed.

And boy has it changed in a big way. Renniks/Lighthouse have just published a quite superb hard-cover book on this very subject.

It has the rather unwieldy title – "Australian Military and Civilian Decorations and Awards from 1815-2007"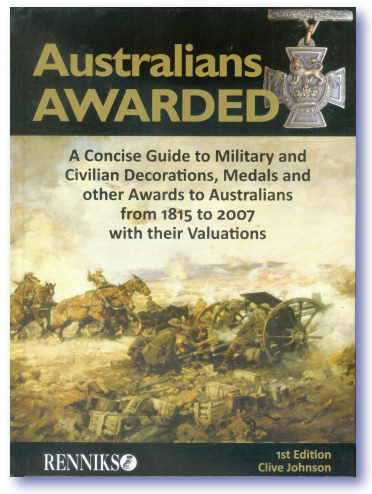 After years of research, Clive Johnson, the editor, has completed this definitive work on all Australian Medals and Awards, both military and civil from 1815-2007

This very impressive new first edition provides information on civil awards and decorations to Australians which have never been previously listed.

Renniks sent me one to review, and a box full for stock, and I have to confess I spend an hour or two reading though it with awe. It was like opening a whole new field for me.

First up this is a huge book – near 400 pages with thick hard cover, on high grade paper, with literally 1000s of colour photos. At just $A65 it is a lot cheaper than stamp books of the same size and quality.

I had absolutely no idea so many medals were out there. Did you know that the Government issued "Bushranger Medals" to NSW Police in the 1860s? I certainly didn't, but if you locate on they are worth about $50,000 each!

I knew Victoria Crosses existed of course, but had no idea there was an AUSTRALIAN version of this – starting from January 1991. Oddly no Australian has even been awarded one.

Simpson for Victoria Cross?

Why on each John Simpson Kirkpatrick "Simpson On His Donkey" has not been awarded one posthumously is a real mystery. Selflessly transporting the wounded by donkey under constant Turkish fire at Shrapnel Gully, Gallipoli for 24 days would seem to exhibit valour beyond belief. There is no doubt he personally saved hundreds of lives.

A perfect posthumous recipient who for some reason the British overlooked twice for this honour for: "pre-eminent valour or self-sacrifice in the presence of the enemy." You'd think this wording would have covered him, of all soldiers. Australia even issued a stamp set of 3 values in 1965 depicting Simpson for goodness sakes.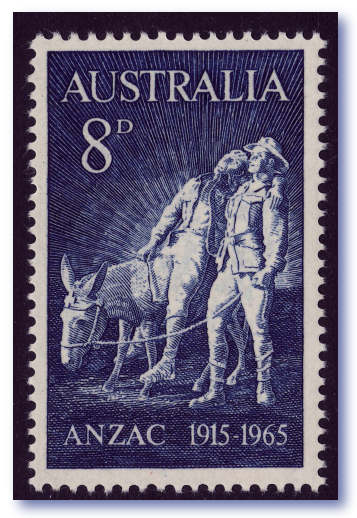 Simpson And His Donkey



If anyone has the email address for the Minister Of Defence please suggest this. The award has existed since 1991, so awarding them to SOMEONE might be a good idea after 17 years of bureaucratic naval gazing.

My research shows that although Simpson was recommended for the (British) Victoria Cross TWICE, and the Distinguished Conduct Medal, he was never decorated for his heroic actions. Absurd.

This book lists and prices not only Military decorations but an incredible array of civilian ones like Police, Fire and Ambulance. The big surprise to me at leat was that many of the most innocuous looking medals from this area are worth $1,000 each.

As a stamp dealer who buys mostly estates I get a LOT of medals through my hands. Often if Grandpa Jones passes away, the family bundles up his stamps and related material and brings or mails it all to me.

Not only do I often get medals and stamps and coins for purchase - but passports, birth certificates, wedding photos, Divorce Decree Nisi's and other such material – you'd be amazed.

I always have known Military medals had value but honestly had no idea an Ambulance Service 10 year service medal had any interest much to anyone.

I now know many such plain looking things are valued at $1,000 each. Even the most innocuous awards like 10 year service medals for State Police forces are typically $250 each!

In the past I left such things in boxes of junk, but will know better now. Valour and higher medals of course for the emergency services are valued far higher – sometimes into the 5 figure region.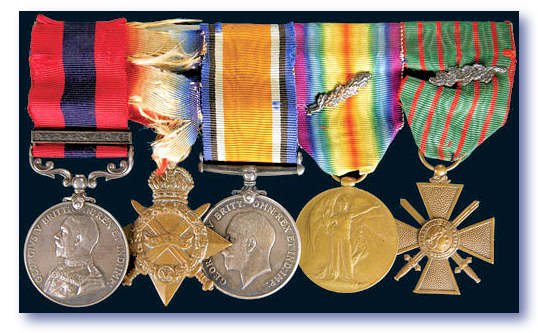 Sold for over $65,000
Noble Numismatics in Sydney had an medal auction April 11 and as usual got some high prices. This group shown nearby which included the Distinguished Conduct Medal for Gallipoli sold for over $A65,000 on an estimate of $20,000.

A Victoria Cross group to William Jackson with an estimate of $A700,000 was unsold in the room, and negotiations were taking place after the sale.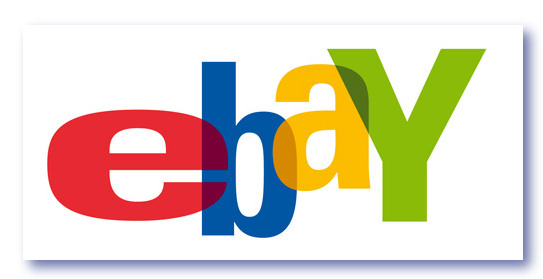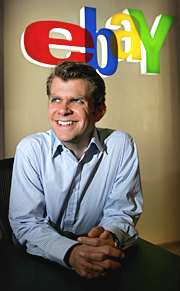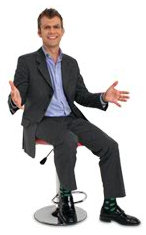 This very experienced looking senior businessman is the head of ebay Australia. (True!)



Australian ebay registered users got an email on April 10 saying this:

"Because you are a valued seller we'd like to let you know about some changes to ebay.com.au that are going to make our marketplace an even safer place for you to buy and sell. These changes will be introduced in two stages. From 21 May you must offer PayPal on all your listings as well as currently permitted payment methods. From 17 June you will only be able to offer PayPal on your listings."

What this says is that from June 17, no listing on ebay Austrlaia selling stamps or other collectibles can be paid via ANY other payment method except PayPal.

This is rather disingenuous as ebay owns PayPal.

Furthermore ebay has prohibited offering to accept ANY other form of payment via private emails between buyer and seller. Talk about "Big Brother."

What this means is that from June 17 ebay effectively "double dips" on all fees – they charge all sellers a listing fee, fees for the add-ons you want like bolding, or the "Buy It Now" fee, and a "Final Value Fee" for the price the stamp sells for. And soon a fee for accepting PayPal payment – which often is about equal in cost to the other fees.

This announcement caused a riot among ebay users. Ebay's own user chat boards had thousands of angry complaints logged there within 24 hours, from large selling members, saying they were cancelling their ebay accounts due to the edict.

It appears just as many heated comments were removed by ebay moderators. A member of stampboards.com reported that his comments were removed and he was threatened via email that his account might be cancelled if he persisted.
I read through pages of the comments that had not been deleted by ebay, and was amazed at the venom in there.

LOTS of the sellers – even large ones, do not accept paypal right now as bank transfer by buyers works fine for them, for little or no fees at all, and they get their money next day.

PayPal payments can take a week to reach your account.

If ebay insisted sellers offer PayPal as ONE of the payment choices – that is onerous enough, but at least it does offer a choice. If buyers wanted to online bank transfer, mail a cheque, or money order OR take PayPal it is a valid choice.

Take PayPal – or else

From June 17 this will not be possible – you accept PayPal for payment – or you can NOT list the item on ebay Australia.

Angry discussion from stamp sellers took place on stampboards.com – see www.tinyurl.com/6ntg2k for that debate.

One member whose handle is "mrboggler" has a stamp store in Croydon Victoria commented: "However just on principle I WILL NOT HAVE ANYONE TELL ME HOW, WHEN, or WHY I CONDUCT MY BUSINESS - and to that end I shall be closing my shop on E-Bay asap."

One seller on ebay's own chatboard outlined on ebay's own site what this would cost him. This ebay user "needlemusic" has 469 ebay feedbacks, so is a typical size medium seller.

"needlemusic" says his typical sale is a $20 item, with a $10 shipping charges which he now pays ebay a standard listing fee of 75c and a final value fee of $1.05 .. or 8.6% of the total received for the item. PayPal will cot him another $1.02 (as it is charged on shipping costs as well!) so his fees to ebay/PayPal on a $20 sale are $2.74 – or 13.7% of the sale, before profit, GST, TAX, or overheads are taken into account.

It is clear this near doubles his present cost of selling the same items on ebay. Gross fees of 13.75% are more like those encountered via major stamp auctions – not "cheap" ebay listings!

In one pen-stroke this edict effectively DOUBLES the cost for many sellers to operate on ebay – and they have no choice in the matter.

For anyone using PayPal to send or receive monies from overseas their exchange rates are famously skewed a few % in their favour, over even Bank rates. And funds are often held up for days - even weeks.

So if sellers will often incur a doubling in their costs it is obvious this increase will flow on to buyers .. whether buyers think this right now - or not.

Aimed At Germany?
The PayPal edit made the national weekend newspaper "the Australian" on April 12. The story leads with the following 2 paragraphs:

"New payment arrangements imposed by the online auction house will see costs dramatically rise for Australians selling goods; as the local market is a testbed for the planned worldwide policy. Buyers will no longer be able to use direct deposits - a popular payment method - personal cheques or money orders to purchase items on the website from June 17."

These paragraphs makes two important points. One – direct bank deposits are not only "popular" but comprise about 70% of all sales according to their main local on-line auction oztion.com

Germany the real target?

And point two they make – this is a "test-bed" for worldwide Policy. Germany is ebay's second largest market and like in Australia near all transactions are settled by the efficient German inter bank transfer method.

If this "trial" were introduced in Germany it would result in a massive increase in ebay revenues.

Many chat-boards were melting down with user comments- nearly all negative – even from buyers who are not obviously affected. Most seem annoyed this is an edict that offers no choice.

Many vowed they would start using oztion.com – remember that ebay is basically non-existent in New Zealand as local trademe.co.nz dominates the on-line market. So alternates do exist to ebay

Many users do not have a PayPal account, have no desire for one, and say they do not trust PayPal having access to their credit card and banking details.

Ebay claim this move designed to - over is designed to make: "our marketplace an even safer place.".

This is arrant nonsense. Anyone accepting PayPal for a sum of more than a few $100 is foolish in my view. I was scammed out of $US5,000 last year by an Indian who paid by PayPal.

I got the money, let it sit there for 24 hours, THEN mailed his goods fully insured airpost. When I supplied him the insurance number he lodged a "non receipt" claim that same day with PayPal, and they escrowed the money.

I was mildly annoyed but assumed it was all be rectified after I supplied a scan of the insurance docket as proof. I spent hours on their annoying dispute console website. In the end PayPal returned the $US5,000 to the buyer as "I could not offer an on-line tracking number to them".

The fact Australia Post overseas insured has never had on-line tracking was irrelevant. So I lost the stamp and did not get paid. I will never use paypal again for more than a few $100 after that nonsense. BEWARE OF PAYPAL.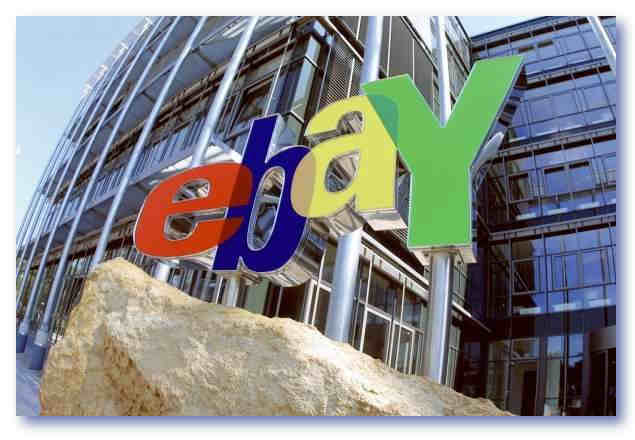 Fawlty Towers, San Jose CA?
Ebay recently began hiding the identity of bidders on stamp (and other) lots. This encourages numerous fake and "shill" bidding from the seller or their accomplices – as no-one can detect the pattern. Certainly in stamp sales this new policy makes many nervous about bidding on ebay.

Ebay has in the past banned competitors – they strictly prohibit anyone paying via the massive Western Union money transfer network. Near all Australia Post Offices are agents, and it is a most efficient and secure way to get paid – FAR more secure and swift than PayPal of course, with zero fees for the recipient.

Sales and member growth for ebay has slowed startlingly in recent years, and these new moves will recede things even further.

As someone on the chatboards commented – "Is it true ebay just hired that clever guy who once changed the Coca Cola formula, to do their marketing for them?"

It is like watching a train wreck in progress. My guess is the once mighty ebay will suffer FAR more heavily from this incredibly arrogant move than they imagine.

The very powerful Australian Federal Government regulator, the ACCC is looking into the legality and potential anti-competitive aspects of this new move.










Get my regular market update emails FREE. Stamp gossip, price trends, record sale prices, and many one-time stamp specials, wholesale bargains, and exciting offers and breaking philatelic news. A mini stamp magazine in every email! "KNOWLEDGE IS POWER". The ONE stamp list you MUST be on, to keep in touch with the rapidly changing world market. One client made $65,000 profit in a few months after following my specific advice. Sign up securely and quickly by clicking HERE to access my automated data base. And wiser still ADD your home AND work email, if I only have one right now. Add a stamp friend's email address if you wish. One short click and you are subscribed to probably the most read email list in the stamp world!


Instant Currency Conversion


FREE! Just click here...




If you would like to be notified of updates to this website, Click HERE. If have any questions,
or comments regarding my site, please email me at glen@glenstephens.com



| | |
| --- | --- |
| | Search all my 300+ web pages! Simply type in what you are looking for. "Penny Black", "Latvia", "Imprints", "Morocco", "Fungi" "Year Books", etc! Using quotes ( " ) is more accurf used with no quotes. Search is NOT case sensitive. Tip - keep the search word singular - "Machin" yields far more matches than "Machins" etc. |


I am a Dealer Member in Good Standing Of:

Full Time Stamp Dealer in Australia for over 25 years.
Life Member - American Stamp Dealers' Association. (New York)
Also Member of: Philatelic Traders' Society. (London) ANDA. (Melbourne) American Philatelic Society, etc
GLEN $TEPHEN$
Full Time Stamp Dealer in Australia for over 25 years.
Life Member - American Stamp Dealers' Association. (New York)
Also Member - Philatelic Traders' Society. (London) ANDA. (Melbourne) American Philatelic Society, etc

ALL Postage + Insurance is extra. Visa/BankCard/MasterCard/Diners/Amex all OK, even for "Lay-Bys"! All lots offered are subject to my usual Conditions of Sale, copy upon request BIGGEST STAMP BUYER: Post me ANYTHING via Registered Mail for my same-day cheque. Avoid the GENERALLY 40% Auction " Commissions" (15% + 17½ + GST, etc.) AND their five-month delays! Read for details.
"Lothlórien4 The Tor Walk, CASTLECRAG (Sydney), N.S.W. 2068
Phone: (02) 9958-1333 Fax: (02) 9958-1444 (Both 25 Hours, 7 Days!)
E-Mail: glen@glenstephens.com
Web Sites: www.glenstephens.com www.glenstephens.net or www.australianstamps.net

Sign up AUTOMATICALLY to my world renowned bi-weekly stamp gossip mailing list!
Click here to see MANY 1000s of stamp lots for sale at low $A Nett prices
Click here for all you need to know re SELLING your stamps for SPOT CASH
Click here for the current Monthly "Internet Only" special offers - CHEAP!
to read all my recent International stamp magazine articles.
Click here to get back to the main www.GlenStephens.com Homepage
Click here to ORDER on-line ANY items from ANY of my dozens of lists
Click for all info on Conditions Of Sale, Payments, Shipping, Returns &c
Click here for the complete library of my very unusual world travels!
How to PAY me. I accept EVERYTHING - even blankets and axes and beads!
Australia Post Annual YEAR BOOKS - massive stock - '27% off' discount offer today!
Visit my new page on RARITIES - Roos & other expensive photo items.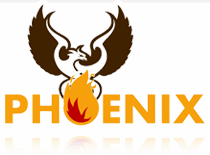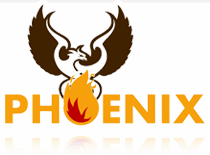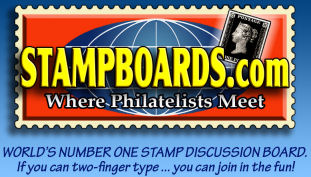 Instant Currency Conversion


FREE! Just click here...


E-mail me at glen@glenstephens.com -
Every credit card shown is accepted WITHOUT fee.
Earn Frequent Flier points while buying at bargain prices!
ALL prices are in weak Ozzie Dollars. I charge NO nasty, nasty
"Buyer's Commission" on stamps like nearly every "Auction" does.