Click To Go Back To The Main www.GlenStephens.com Stamps Homepage

Welcome! You are visitor
to www.GlenStephens.com




Glen Stephens
Monthly "Stamp News" Market Tipster Column


May 2011

| | | |
| --- | --- | --- |
| | | |
---
Australia Prices hold up strongly
A recent auction in the UK saw some very high prices obtained for early Australian stamps.

The March 17 Grosvenor sale of the Lord Cornwallis collection had some very nice pieces.

An otherwise common, and rather unattractive looking Australian stamp sold for £19,000 plus the high commissions over 20% - or approximately $A36,000 at that day's exchange rate.

The stamp was a 1915 6d Blue Kangaroo, Second Watermark - SG 26. In used condition, in this rather ugly parcel used grade, this stamp retails for $10 tops.

This stamp however has an inverted watermark, and bears a rather unattractive vertical parcel post, machine cancellation.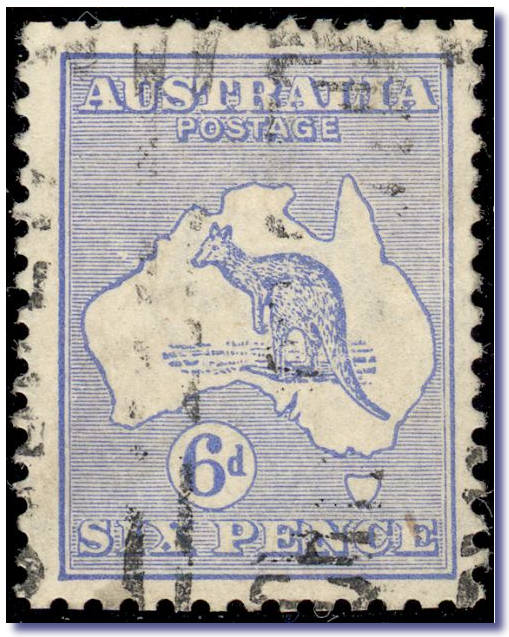 Gives "ugly" a new $36,000 meaning!
The "Australian Commonwealth Specialists' Catalogue" (ACSC) states that 3 copies are reported to have existed of this error.

One of those three stamps is in the Royal Collection in London. It is therefore not available to collectors.

The other two examples were noted in philatelic literature in the 1930s and 1940s but they have not been recorded or sighted since.
The only copy in private hands?
It is understood this example may be one of those two stamps. After this time span, the survival of the third copy is doubted by some specialists.

The superb $7.15 Million Arthur Gray "Kangaroos" collection did not posses this stamp.

The way out of date 2004 ACSC "Kangaroos" volume lists it as BW 18a at $A25,000. As recently as 1992 it was catalogued there at just $A85.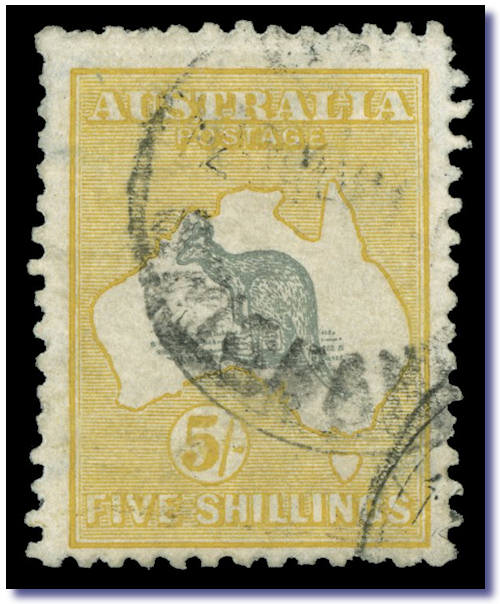 $A118,000 for this Kangaroo stamp
An even more desirable watermark error is the 1918 5/- Kangaroo (SG 42ba) with sideways watermark. Only one copy is recorded so far.

That stamp was sold in the Arthur Gray sale in 2007, for $A118,000 at the time. It is not very attractive, and has been heavily "cleaned" and treated in the past.

In 1992 the ACSC catalogue price for this stamp was just $A1,500. Today SG lists it at £55,000 used.

I was in the Auction room, and a large New York auction house bought it for a client, so cost to him clearly was greater than $A118,000.
Watch For Official Stationery
Around the turn of the century a lot of the Australian "States" issued Postal Stationery with views of city and rural scenes, and typical local features etc.

The early "Australian Commonwealth" issues did the same, and the Kangaroo and KGV "View" Lettercards series is enormous.

They cover all kinds of scenes and industries, with tourist and even Military photo views, as WW1 was raging.

Many will not realise, but right now this month we are celebrating the 100 year Centenary of Australia's first unified stamp design.

Which was NOT the 1d Kangaroo as most think, but the KGV 1d postcard shown nearby.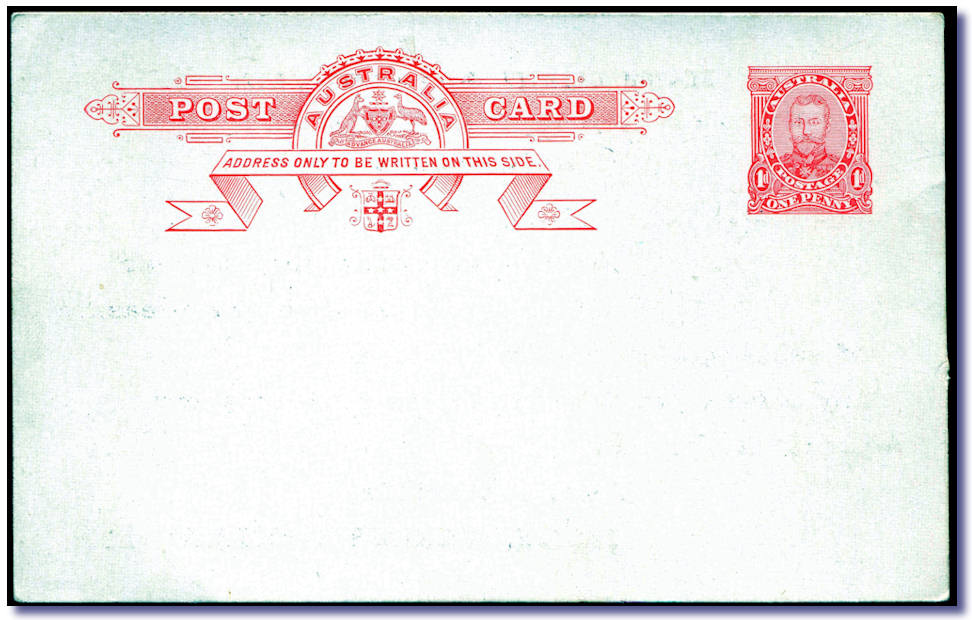 Australia's FIRST stamp – now 100 years old
| | | |
| --- | --- | --- |
| | Contemporary reports say this postcard had an issue date of April 7, 1911, and it certainly was our first uniform Australian postal issue. | |
Mistake wording on our first stamp!
The one shown wrongly stated: "Address Only To Be Written On This Side" – a rule which the UPU had years back dispensed with, so it was quickly reprinted.

Cost of these today is still low - I use this photo courtesy the Premier Postal Auctions April 24 sale – estimate only $60.

Indeed we had a range of 'Commonwealth Of Australia' inscribed postal Stationery in 1911 depicting the new King – KGV, in an attractive series. Lettercards and postcards abounded.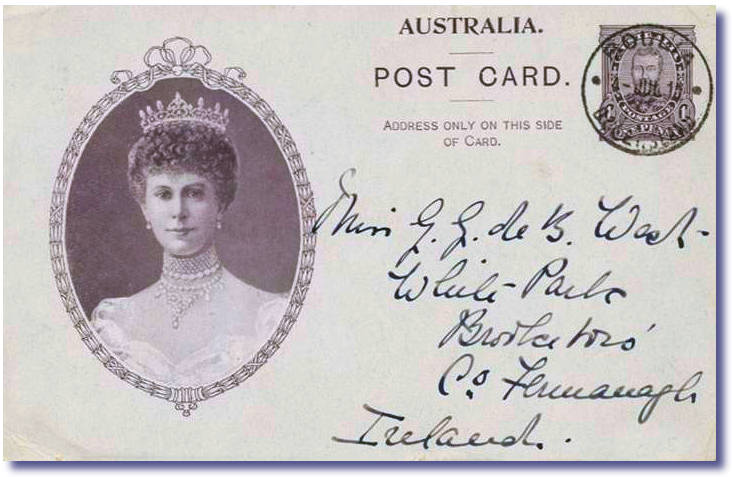 One of the numerous "Coronation" cards
| | | |
| --- | --- | --- |
| | The 1911 postcards in fact were in a vast collectible array, featuring various Royals, border changes, and many colour variations of each, and are termed the "Coronation" series. | |
A set for the future.
They were on sale in all states (unlike the earlier 1d card) and a complete collection of these in 5 years will be worth treble today's price I feel.

However such an collection would be near impossible to assemble. I see one example now and again, of one view, in one colour - maybe mint, maybe used.

I asked Gary Watson, Australia's leading dealer expert on postal Stationery if he had even handled a full set, and he said he had not. Nor had he ever seen or heard of one being offered.

Watson feels a "complete" set of this 1911 KGV "Coronation" postcard series would number about 100 different postcards.

To his knowledge only one person, a well known Melbourne collector, would own a complete - or even near complete set.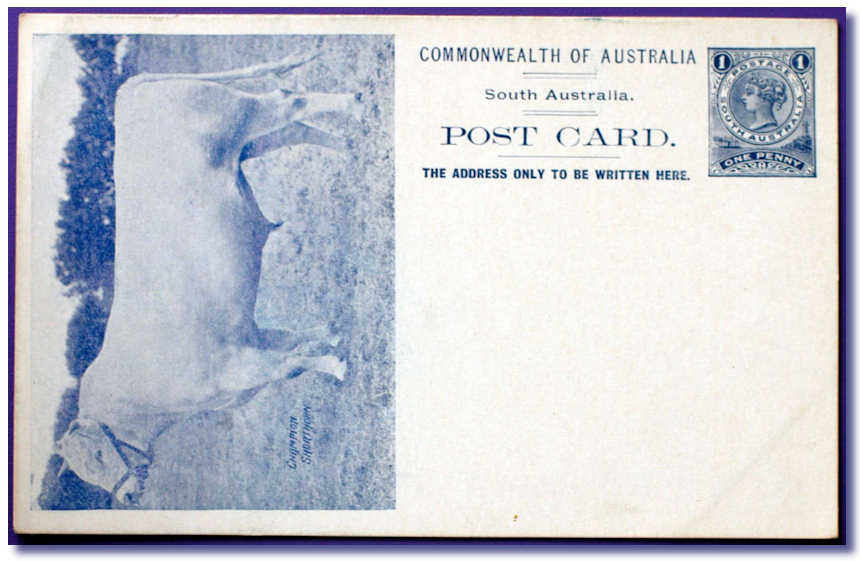 What is this Bull postcard worth?
Back to this story. South Australia issued 1d Pictorial View postcards in 1908, and one of the scarcer views depicts a prize BULL.

A good client of mine in Tasmania started buying up all sorts of goodies this week off me. I said to him: "you must have won lotto down there!"

He replied: "well the next best thing – someone just bought a 1d postcard off me for $2,825"

Sure enough, on ebay this card shown nearby sold to a SA collector for that sum, with a keen under-bidder from China of all places.
What a load of BULL!
The caption on the photo says "Champion Shorthorn" – which my expert rural knowledge tells me is some kind of BULL!

Anyway, one very happy client, as he paid only $50 for it quite recently. And one happy Glen, as it funded some nice items from my stock - so "WIN-WIN" all round.

This SA postcard was of course issued in the post 1901 "Commonwealth" period as noted on face of card, and is keenly sought.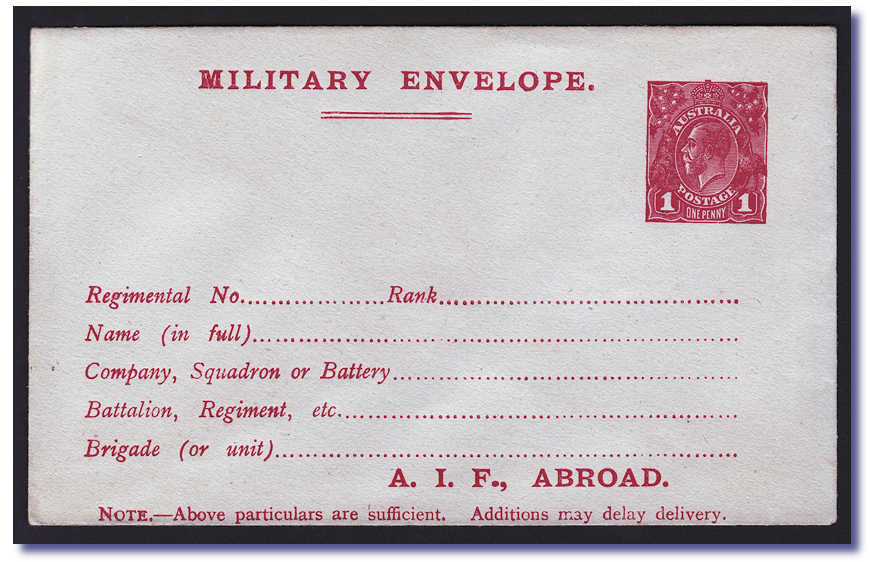 A.I.F. Military KGV envelopes affordable.
Much Commonwealth Stationery is attractive and readily obtainable, at what seem like silly low prices - like the WW1 troop envelope shown nearby, which are only about $50 each mint.

A new edition of the ACSC covering such Postal Stationery has been completed for quite some time. John Sinfield told me a year back it was pretty much completed editorially.

When it is finally published, it will give all this area a huge shot in the arm.

Many nice looking pieces from this 100 year old era are still selling for a fraction of what they will be in 5 years time, even if only 50 new collectors globally join the scene when the catalogue appears.

I recently priced up a lovely 1916 4d KGV Registered envelope, printed on the old Thomas De La Rue English made envelope stock, with linen reinforcing inside.

The front in orange, reverse in red. Far better than usual condition, with lovely cds, and great "eye-appeal" yet no-one will pay $100 for it today. The PO annual album costs that!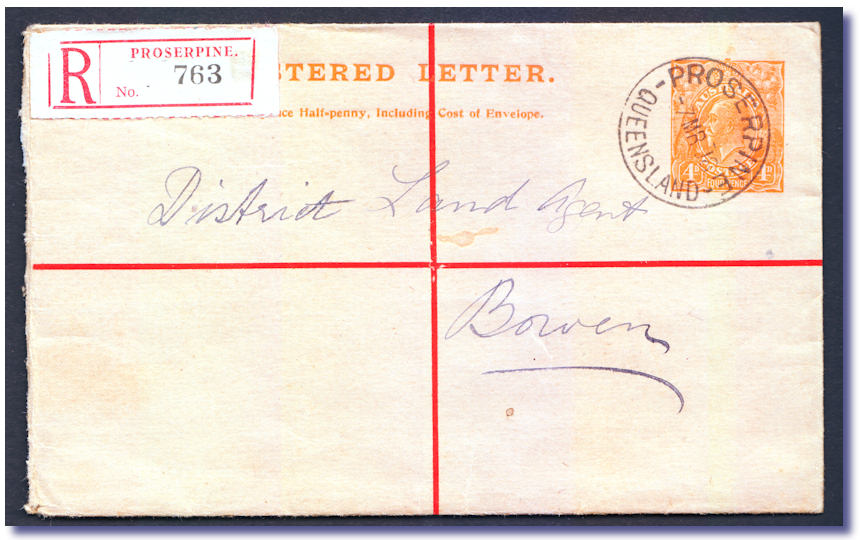 No-one will pay $100 for these gems.
Gary Watson priced this one used in the ASC in 1987 at $A75. Real value today, 24 years later, should clearly be many $100s as they are uncommon.

The same ASC has the Roo £2 Large "OS" at $A5,000 mint and $A3,500 used .. auction prices for both today are TEN times those numbers - as a valid example.

People often ask me for an area to start collecting that offers a real challenge, and also much possible upside. This field is a good answer.

Whilst all the "MUH KANGAROO" lemmings are running around spending their money on clever regums in many cases, that they will lose their shirt on one day - you can be quietly amassing Stationery!

My strong views on folks with far more money than sense, lining the pockets of regummers have not changed in 30 years, and are outlined rather forcefully here - tinyurl.com/regums

I have probably saved savvy collectors millions of dollars by urging them to buy only MLH or used stamps pre War over that time. Worth a read.
NZ messes up Royal Wedding Pack
The Media event of 2011 will be the April 29th Wedding of Prince William of Wales, and Kate Middleton.

William might possibly be the next Monarch, as Charles/Camilla are not a popular option with anyone it seems.

NZ issued a large Deluxe Pack with stamp set, mini sheet and FDC for $20 - and some goose used the WRONG birthdate on it – May and not June.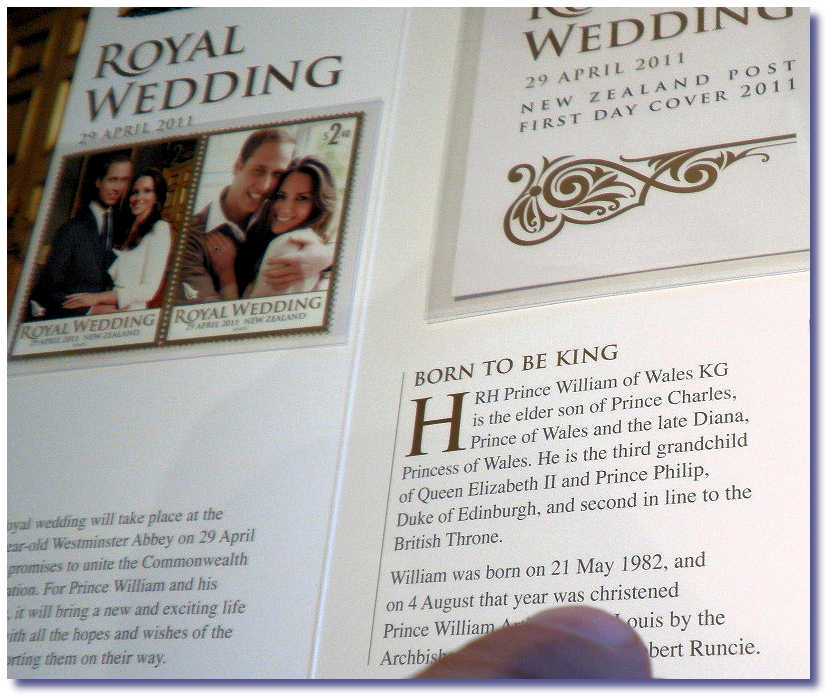 A right ROYAL mess!
Instant panic, and NZPO immediately withdrew any on sale at Post Shops. Shades of the "Kapa Kaka" withdrawn NZ stamp issue – a set worth $A13,500 today - tinyurl.com/HapaHk

This error made NZ print media, and even national NZ TV News - video clip here of Bureau Manager explaining what occurred - tinyurl.com/NZpack

It is believed only a very small number were sold before they were withdrawn. The pack was re-issued April 1 showing the correct JUNE birthday!

One appeared at online auction for $2,000 start price - TradeMePack William is a SUPERSTAR in NZ, and his recent visit to the Earthquake region got him 24/7 media coverage.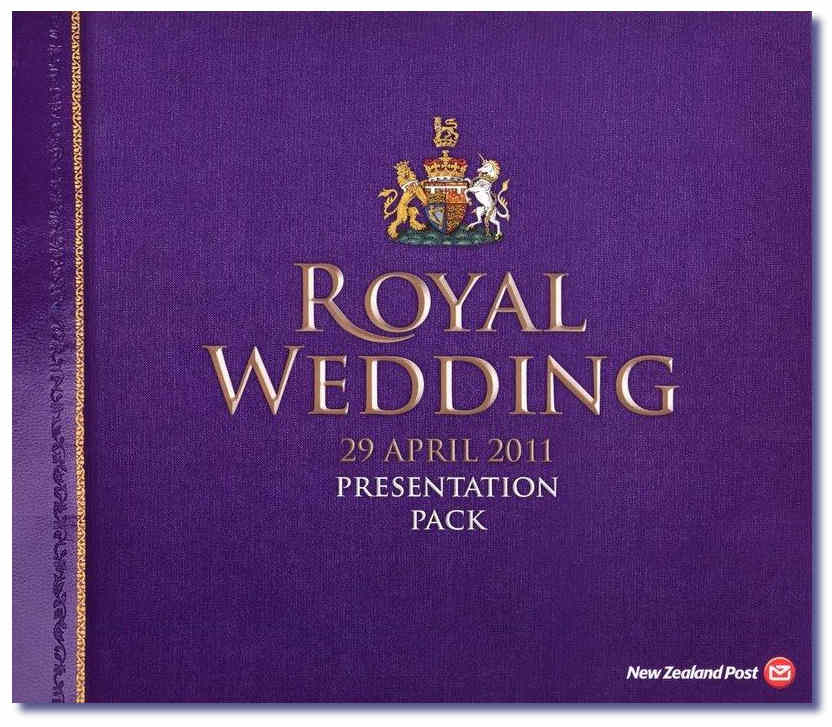 NZ Wedding Pack withdrawn rapidly
A lot of folks globally with all major Royal Events, sign up for "everything issued" with their dealer. If that means buying two NZ Deluxe Packs, they want BOTH - cost irrelevant.

My hunch is these folks alone will more than vacuum up near all packs out there for sale. Add to that the number that collect NZ in some depth, and there is a clear supply/demand collision about to occur.

I got a few packs from a NZ contact, and they have been selling solidly at $A165 each - well before the Wedding media blitz.
"Moonlight Green" 1d Red KGV
| | | |
| --- | --- | --- |
| | Did you hear about the 1d Red KGV that was discovered in Poll NSW, that glows GREEN under the Yellow Quartz Lamp – and in moonlight? | |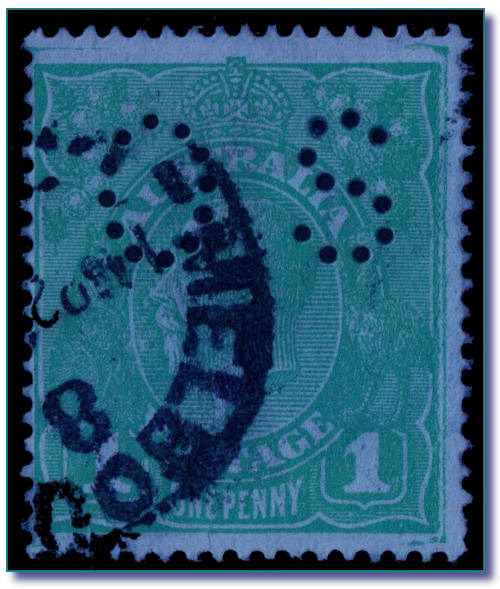 A curious new KGV discovery?
It was reported the ink used was a curious batch from Belfast Ireland, supplied under the WW1 ink supply Emergency, that was entirely responsible for the vast range of 1d red KGV head shades.

Printing ink was normally supplied from Germany via agents, and many very strange variants were used as stop-gaps during the War when that supply source ceased.

A University chemist who is a keen KGV collector advanced the theory that Copper Acetoarsenite was likely added to a small batch of the red ink mix from Ireland, for reasons unknown.

Most commonly known as "Paris Green" this aniline compound was used as a fade free paint by many leading artists including Van Gogh, Cezanne and Monet.

Until this new discovery the most expensive 1d red shades were the Salmon Eosin Pink group. Over 1000 copies are recorded, yet they still get quite mad prices at Auctions.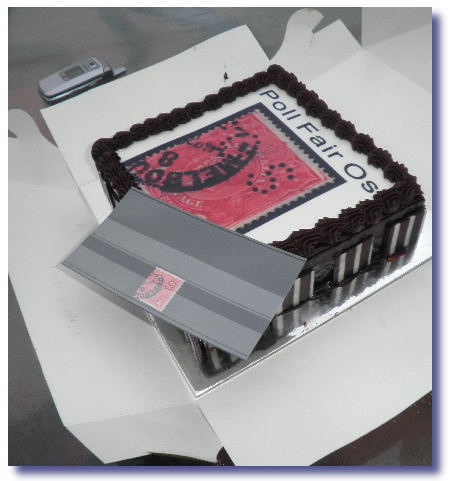 This stamp takes the cake!
The "Poll Fair OS" was discussed extensively on stampboards from April 1, and for those interested, and have a sense of humour - that discussion is here - tinyurl.com/1dGreen

A special cake was commissioned, with the stamp printed onto the edible icing, that was served at the busy stampboards meeting at "EXPO 2011" in Sydney.










Get my regular market update emails FREE. Stamp gossip, price trends, record sale prices, and many one-time stamp specials, wholesale bargains, and exciting offers and breaking philatelic news. A mini stamp magazine in every email! "KNOWLEDGE IS POWER". The ONE stamp list you MUST be on, to keep in touch with the rapidly changing world market. One client made $65,000 profit in a few months after following my specific advice. Sign up securely and quickly by clicking HERE to access my automated data base. And wiser still ADD your home AND work email, if I only have one right now. Add a stamp friend's email address if you wish. One short click and you are subscribed to probably the most read email list in the stamp world!


Instant Currency Conversion


FREE! Just click here...




If you would like to be notified of updates to this website, Click HERE. If have any questions,
or comments regarding my site, please email me at glen@glenstephens.com



| | |
| --- | --- |
| | Search all my 300+ web pages! Simply type in what you are looking for. "Penny Black", "Latvia", "Imprints", "Morocco", "Fungi" "Year Books", etc! Using quotes ( " ) is more accurf used with no quotes. Search is NOT case sensitive. Tip - keep the search word singular - "Machin" yields far more matches than "Machins" etc. |


I am a Dealer Member in Good Standing Of:

Full Time Stamp Dealer in Australia for over 25 years.

Life Member - American Stamp Dealers' Association. (New York)
Also Member of: Philatelic Traders' Society. (London) ANDA. (Melbourne) American Philatelic Society, etc

GLEN $TEPHEN$

Full Time Stamp Dealer in Australia for over 25 years.

Life Member - American Stamp Dealers' Association. (New York)
Also Member - Philatelic Traders' Society. (London) ANDA. (Melbourne) American Philatelic Society, etc


ALL Postage + Insurance is extra. Visa/BankCard/MasterCard/Diners/Amex all OK, even for "Lay-Bys"! All lots offered are subject to my usual Conditions of Sale, copy upon request BIGGEST STAMP BUYER: Post me ANYTHING via Registered Mail for my same-day cheque. Avoid the GENERALLY 40% Auction " Commissions" (15% + 17½ + GST, etc.) AND their five-month delays! Read for details.

"Lothlórien4 The Tor Walk, CASTLECRAG (Sydney), N.S.W. 2068
Phone: (02) 9958-1333&n Fax: (02) 9958-1444 (Both 25 Hours, 7 Days!)
E-Mail: glen@glenstephens.com
Web Sites: www.glenstephens.com www.glenstephens.net or www.australianstamps.net

Sign up AUTOMATICALLY to my world renowned bi-weekly stamp gossip mailing list!

Click here to see MANY 1000s of stamp lots for sale at low $A Nett prices

Click here for all you need to know re SELLING your stamps for SPOT CASH

Click here for the current Monthly "Internet Only" special offers - CHEAP!

to read all my recent International stamp magazine articles. Click here to get back to the main www.GlenStephens.com Homepage

Click here to ORDER on-line ANY items from ANY of my dozens of lists

Click for all info on Conditions Of Sale, Payments, Shipping, Returns &c

Click here for the complete library of my very unusual world travels!

How to PAY me. I accept EVERYTHING - even blankets and axes and beads!

Australia Post Annual YEAR BOOKS - massive stock - '27% off' discount offer today!



Visit my new page on RARITIES - Roos & other expensive photo items.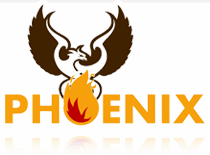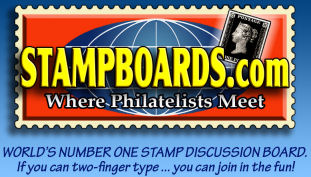 Instant Currency Conversion


FREE! Just click here...



E-mail me at glen@glenstephens.com -

Every credit card shown is accepted WITHOUT fee.
Earn Frequent Flier points while buying at bargain prices!
ALL prices are in weak Ozzie Dollars. I charge NO nasty, nasty
"Buyer's Commission" on stamps like nearly every "Auction" does.