Click To Go Back To The Main www.GlenStephens.com Stamps Homepage

Welcome! You are visitor
to www.GlenStephens.com




Glen Stephens
Monthly "Stamp News" Market Tipster Column


May 2012

| | | |
| --- | --- | --- |
| | | |
---
New Gibbons "AUSTRALIA"

The backbone of the stamp collecting hobby are the Stanley Gibbons Catalogues.

Anyone using books like Scott or Michel for this part of the world is frankly just wasting their time.

The brand new 2012 "Australia" book (7th Edition) is an absolute essential, for ANYONE collecting or dealing in this region.

The Seven Seas Stamps "ASC" catalogue used to be the unassailable leader for this kind of single country catalogue. Dominant, ANNUAL, accurate prices, full colour, and well laid out.

However they have adopted the cunning Mao and Stalin "Five Year Plan" tactic it seems, and grace us with a new edition once or twice a decade - so SG have wisely filled the gap!

The Brusden White - ACSC publishers seem to have also copied this very brilliant business plan in the past decade or so, with precious little new output.

Outsmarting the local publishers
I have often typed that the ACSC 10 Volumes were THE most comprehensive and detailed specialist catalogues published in ANY country, and I do hope normality returns there soon.

A sad state of affairs, that has been a large sea-anchor on the strong real-world prices we have in this market, so Gibbons have stolen some serious business from them too.

New editions of this SG "Australia" have been appearing each year or so, given the inexplicable vacuum left to them on a plate by Seven Seas Stamps and Brusden White.

This latest SG edition continues in the far more sensible and smaller B5 size format adopted for recent editions, and this book I use every day.
New Edition 319 colour pages
For folks who have not bought SG catalogues for a while, these new editions are now in full colour, on bright white paper. Superb.

This volume includes all the Colonial ("State") issues, and all the stamps of the Commonwealth of Australia, including the 1946 British Occupation Force (Japan) overprints.

And all booklets and booklet issues – and dies, inverted watermarks, and major plate varieties postage dues etc. And prices for on-cover copies for them all etc.

The new issues go right into 2012 – most impressive for a UK printed catalogue I had in my hands in March.

Also included are issues from the Australian Antarctic Territory, Christmas Island, Cocos (Keeling) Islands and Norfolk Island.

And also the pre-independence Issues for Nauru (to 1968), New Guinea, Papua and Papua New Guinea, and the popular GRI/NWPI etc.
Extensive price revisions

Prices have been extensively revised - with many 100s of significant increases since the last edition. Starting at SG1, right through.

How on earth editor Hugh Jefferies gets the vast swag of Catalogues out, AND "Gibbons Stamp Monthly" each month as well, is anyone's guess.

This new catalogue is very reasonably priced at less than $A50 RRP, and all leading dealers stock them. The local price was $75 only a few years back.

The strong Australian dollar has allowed the local agent to drop prices sharply. UK retail is £27.95, so with the new high post rates ex the UK, buying locally is the smart option.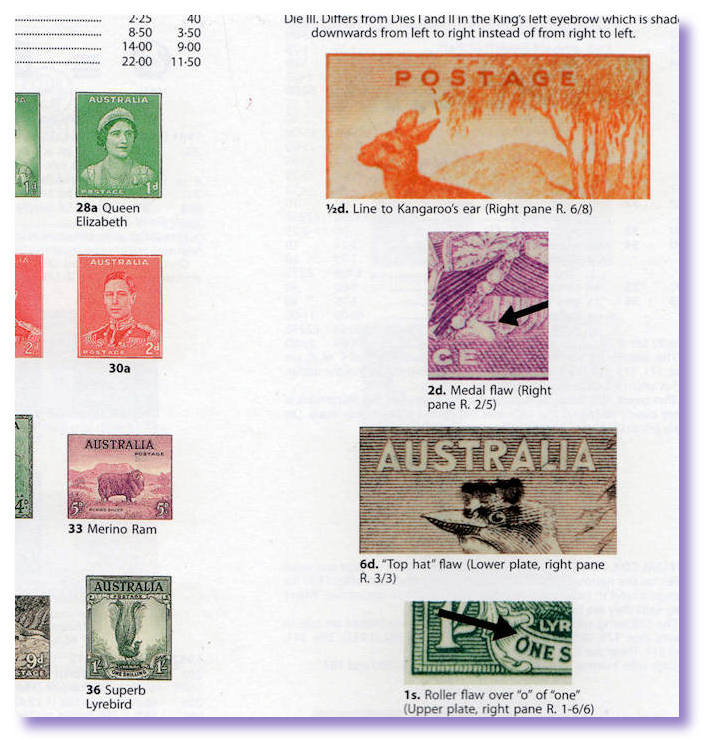 Much more detail in here
Major plate flaws are being added and priced all the time, as is shown nearby.

There are 53 detail packed pages on "Australian States" issues ALONE - and paying less than $1 a page for that info is fair value on its own.

No other single reference on earth cover the "States" so widely, and using other foreign catalogues for them is all but useless.

I had paid pre-orders for about 20 copies this year of "Australia" – a record for me, as Seven Seas and ACSC have been deathly silent in recent years, and collectors need to be updated.

Australian agent MD Ian Pitt told me today - "sales of these increase issue by issue – SG really are on the ball for producing these annually."

For 319 full colour pages it represents excellent value in my view. A "one stop" buy for local collectors.
Want a new challenge?
Six years ago in this column I outlined a great idea for a new collecting challenge.

Many collectors tell me they are "bored' with their mainstream collections.

There comes a time when most folks reach the point where the 10 or 20 stamps they still need all cost $1,000+ each, and the "divorce court potential" is not worth pursuing them!

Or, a lot of folks are sick of buying the endless and expensive new issues, and want another philatelic challenge to keep them interested and enthusiastic.

They yearn for something defined and clear cut, and not "open ended" like new issues are.

I outlined some years back how client Peter Dolan from Adelaide collects stamps from 1962 - the year he was born.

I am sure others have this as a collecting sideline ..... it is just one I had never heard of!

He started a very long photo discussion of this passion on stampboards - tinyurl.com/1962Coll
About 4,600 stamps possible
Peter tells me that his research shows that there were 4,580 stamps issued worldwide in that year, and 171 mini sheets - from 180 different issuing entities.

And this figure is not counting obscure emissions like the imperforates from Albania etc!

This data is taken from the Scott catalogue, and is higher than the figure he advised me originally, which was taken from the SG Simplified catalogue.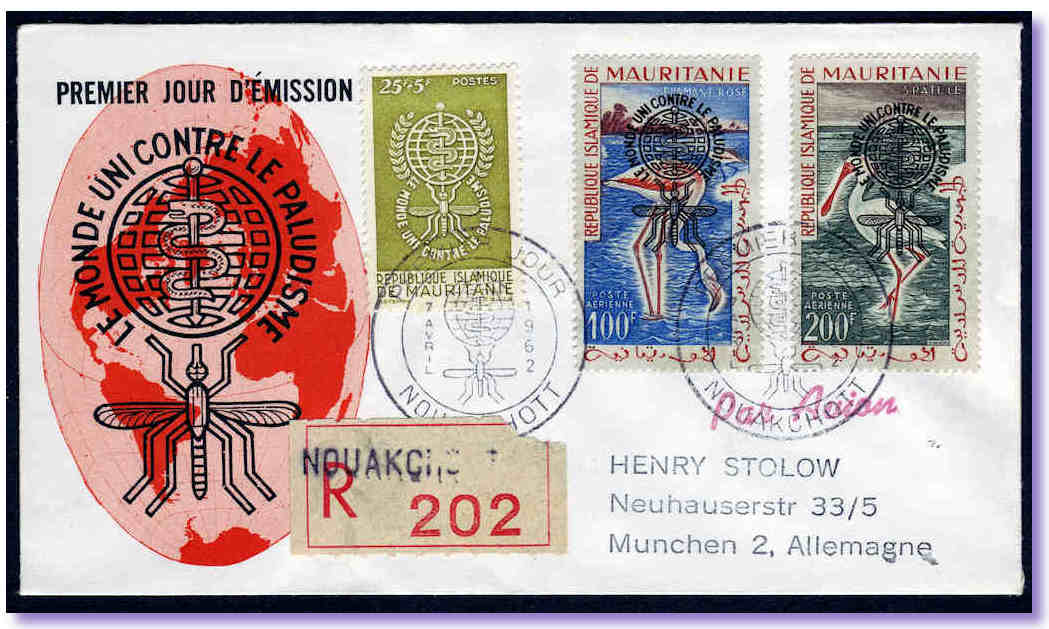 A very elusive 1962 FDC
Peter says that about 5% of the world's stamps issued in that 1962 year came from Russia. An amazing statistic.

By contrast Great Britain issued only one small set - the NPY trio ... which of course comes in both phosphor banded and non phosphor, if you really want to get technical!

1962 was a year when about 10% of the world's stamps depicted a combating Malaria theme.

Peter's favourite FDC is shown nearby from Mauritania - a 1962 Malaria eradication cover, and is a Registered FDC to Europe of that topical.

He has now accumulated about 99.9% of his Holy Grail - well up from his 15% figure when I first spoke to him on it.
Can you help with these?
If any readers or dealers can help him add to the missing 2 cover dates below from ANYWHERE he is missing, please email him on petercollects0@yahoo.com.au

Or, write to Peter Dolan, PO Box 404, Enfield Plaza, South Australia, 5085.

Mint or used, or on cover - the more obscure the country or "1962" item, the better he likes it!

Peter advises the really esoteric issues like the Royalist Civil War Overprints from Yemen proved very tough to source.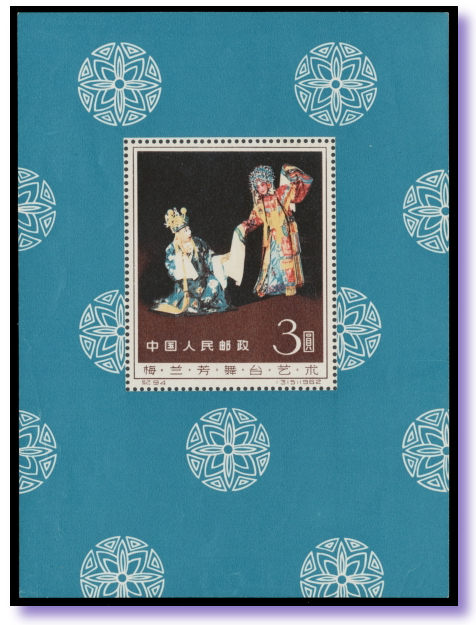 Anyone have a spare copy?!
The ONLY thing he now has missing in stamps is the Mei Lan Fang Mini Sheet from China, which sells for about $15,000-$20,000 these days fine MUH!

Please note that Peter has given me written approval to publish his contact details above.

Dolan's "1962" tally right now is 4,580 stamps, and just over 170 mini sheets, and approximately 1,300 covers.

Collecting your birth year is a great sideline collection. In most cases it will not cost you much money, but a GREAT deal of time!

I am glad Peter shared it with me, and it is a field many readers would have fun with I suspect.
Two 1962 cover dates needed.
Dolan recently started a spin-off collection to secure a postally used cover from each calendar DAY of 1962, from some country.

One is shown nearby – a January 16th "OHMS" cover, from Konedobu in the PNG Highlands.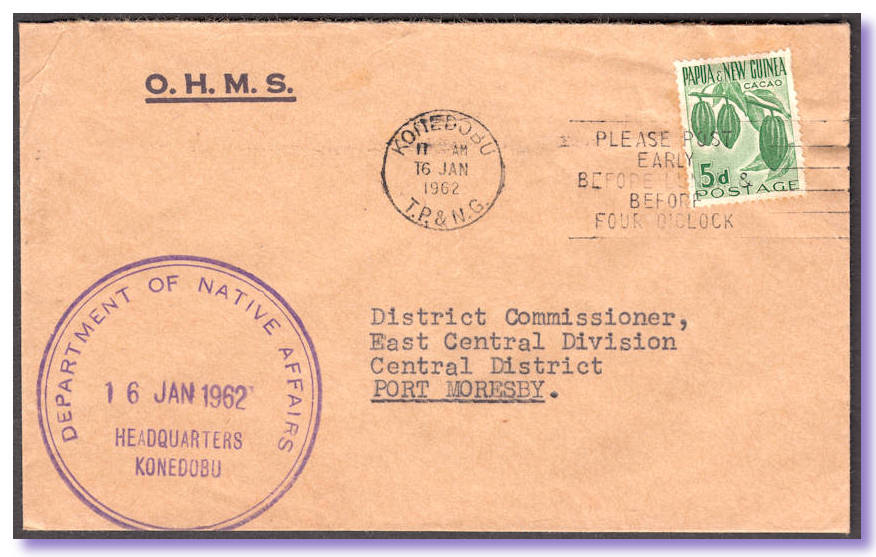 Try finding one like this!
His score so far is 363 days of postmarks, of the 365 calendar days of 1962 accounted for.

Peter now needs only covers to be complete - from August 5, and August 12, 1962 - both Sundays.

So if any reader has ANY cover from ANY country from those dates, he will be delighted to negotiate a sale of it!

QUITE a task, and he is almost there. All the pix of his COVERS are here - tinyurl.com/1962Cover

That was voted "Discussion Of The Month" for April – and many really wonderful items are illustrated, as you can see.
Ever heard of KATANGA?
One of the 1962 covers in Peter's unique collection caught my eye – from KATANGA to the USA. I had never heard of it. Had you?

Postage stamps from Katanga were first issued in 1961. Although Katanga was not a member of the UPU, its stamps were tolerated on international mail, as can be seen.

Katanga was a breakaway state proclaimed on 11 July 1960, separating itself from the newly independent Democratic Republic of the Congo.

In revolt against the new government of Patrice Lumumba, Katanga declared independence under Moise Tshombe, leader of the local Conakat Party.

The declaration of Independence was made with the support of Belgian business interests, and over 6,000 Belgian troops.

Tshombe was known to be close to the Belgian industrial companies which mined the rich resources of copper, gold and uranium.

Katanga was one of the richest and most developed areas of the Congo.

Without Katanga, Congo would lose a large part of its mineral assets and consequently government income.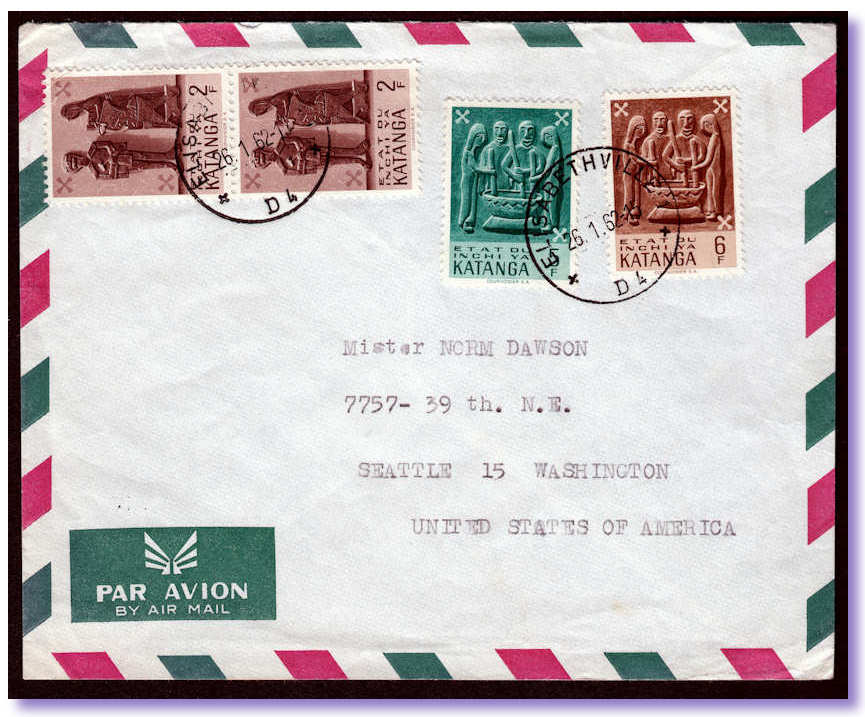 1962 Cover Katanga to the USA
The view of the Congolese central government and a large section of international governments was that this was an attempt to create a Belgian-controlled puppet-state run for the benefit of the mining interests.

Not even Belgium officially recognised the new state despite providing it with military assistance.

A military force designated as the Katangan Gendarmerie, was initially organised and trained by regular Belgian officers and subsequently by European mercenaries from various nations.

As I always say, we learn something new each day - and learning about the stamp issuing entity of KATANGA was my new thing for today.
Ebay Bunnies rampant!
The IQ's of many of the bidders on ebay really must be countable in single digits.

Bidding slightly over the odds for standard material is no great crime, indeed human nature in the heat of the moment,

However some of the quite insane prices paid really should have these folks seeking psychiatric help!

Stampboards has several long threads such as "Mad bidders on worthless eBay lots" – which has about 460 messages, as it is always being added to.

But honestly, some of the insane bids I noticed this week really defy common sense.

We all know the 1856 1c British Guiana is unique, and worth several millions. That is a fact.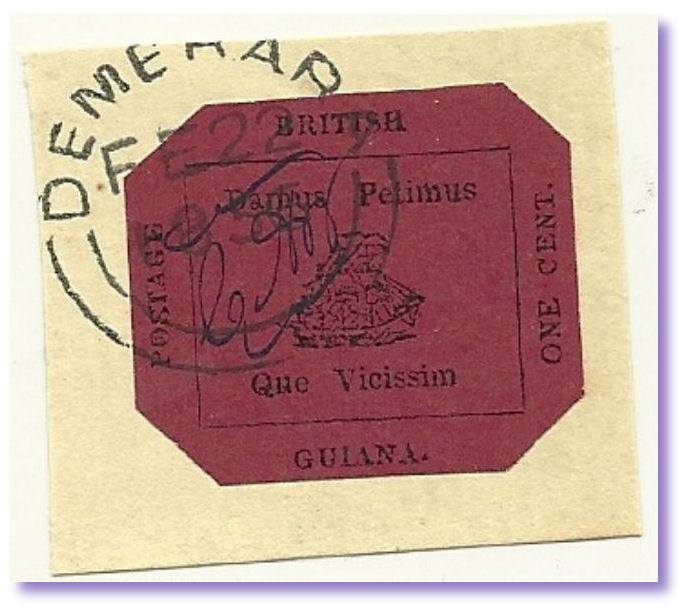 $US510 for this piece of junk
| | | |
| --- | --- | --- |
| | On March 29 Leading USA ebay Seller "philiph58" offered the absurdly crude laser printed, or photocopied piece of junk shown nearby. | |
Gibberish Description
He used the

apparently obligatory

ebay Pidgin English/gibberish type heading of -

"

British Guiana Guyana Ver old stamp my#4499"

That was the sole description. I kid you not. No other detail. So what did it sell for? A few cents as a curio fake?

No, this ridiculous fake reached $US510 after 23 bids. Ebay item number 400286078196

The mind boggles at where the bidder's brains are in such cases.

An even sillier result occurred the same week, on March 30.

An equally laughable fake of the GB 1840 1d Black "VR" was offered by a high feedback UK ebay seller "hayday30"

It would not fool a 10 year old as being anything other than one of the very common counterfeit replicas of this issue.

A few dollars nett on a good day from a real dealer, as a curio or spacefiller.

Not on ebay. The Bunnies went nuts over this, pushing it up to £510 – at the time that was $A785. Item number - 150782213721

It looks like a crude hand drawn effort, with all detail being totally wrong, with an absurd attempt at a fake Maltese Cross cancel.
Beware ebay "Private" Auctions
I suggest the seller knew full well some mad bidding would take place, so he deliberately made this a "Private Auction" so the buyer could not be later ID'd and warned via the feedback system.

In his case he did not claim it was genuine, but the deliberate "Private Auction" tactic points to him predicting some Bunny Bidding.
Only on ebay - £510 for THIS!
Shill (or fake) bidders cannot be detected thus – and shill bidding is absolutely rampant on ebay these days – they seem to care little about it occuring, as it makes them more money.

Virtually no others lots from "hayday30" are offered via ebay "Private" Auctions.

Ebay has a written rule that fake/counterfeit stamps MUST be marked thus on the reverse. Neither very experienced seller above bothered to do that.

Anyone bidding on stamps on ebay via "Private" auctions are VERY often buying something suspect or faked, or it disguises bids that the seller wishes to hide.

The active Sydney forger sells all his material that way. Check feedback for anyone you plan to bid with. See "Private" and no lot number, and stay away.

Around 50 of his accounts have been banned, and collectors have been saved a fortune by adhering to this superb advise – DON'T bid in "Private Auctions".

For all the latest scams, cons, fakes and crooks and rorts detected on ebay stamp selling – bookmark this ever updated page - tinyurl.com/BunniesEbay
Huge UK postal increases
On Monday April 30, huge increases take place for postage within, and from, the UK.

tinyurl.com/UKratesUP is the detailed discussion on stampboards where all the weight step increases are outlined.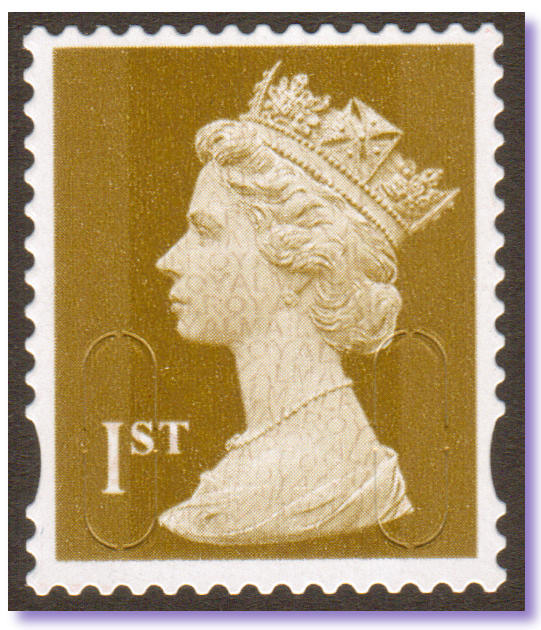 Buy these up and save 70%!
Small packet rates within the UK are up as much as 70% in some instances, as outlined on that discussion.

And the "Rest of the World" has also been split into Zone 1 and Zone 2 – with "Zone 2" being solely Australia, so higher costs for all down here.

The "NVI" (No Value Indicated) Machin heads illustrated nearby are good on International mail, so anyone buying them now can make massive postage savings.

Even UK domestic mail sees huge increases for letters, packets and "signed for" services etc.

The price of a First Class stamp for a standard letter will go up around 32% from 46p to 60p on 30 April 30th.
£460 becomes £600 overnight.
That is like the current Australia 60c rate going right up to 80c in one move.

Buy them in April and they are good for a First Class letter in future, no matter when mailed.

Purchase £460 of them now, and they are good for £600 of mailings from May 1. FAR better return than money in the bank.

A Second Class stamp for a UK standard domestic letter will go up from 36p to 50p on the same date.

Sign of the times, as mail volumes shrink. The US Postal Service is lobbying for huge increases too, which may or may not get approved by the Government there.


Instant Currency Conversion


FREE! Just click here...




If you would like to be notified of updates to this website,
Click HERE.
If have any questions,
or comments regarding my site, please email me at glen@glenstephens.com
| | |
| --- | --- |
| | Search all my 300+ web pages! Simply type in what you are looking for. "Penny Black", "Latvia", "Imprints", "Morocco", "Fungi" "Year Books", etc! Using quotes ( " ) is more accurf used with no quotes. Search is NOT case sensitive. Tip - keep the search word singular - "Machin" yields far more matches than "Machins" etc. |


I am a Dealer Member in Good Standing Of:

Full Time Stamp Dealer in Australia for over 25 years.
Life Member - American Stamp Dealers' Association. (New York)
Also Member of: Philatelic Traders' Society. (London) ANDA. (Melbourne) American Philatelic Society, etc
GLEN $TEPHEN$
Full Time Stamp Dealer in Australia for over 25 years.
Life Member - American Stamp Dealers' Association. (New York)
Also Member - Philatelic Traders' Society. (London) ANDA. (Melbourne) American Philatelic Society, etc

ALL Postage + Insurance is extra. Visa/BankCard/MasterCard/Diners/Amex all OK, even for "Lay-Bys"! All lots offered are subject to my usual Conditions of Sale, copy upon request BIGGEST STAMP BUYER: Post me ANYTHING via Registered Mail for my same-day cheque. Avoid the GENERALLY 40% Auction " Commissions" (15% + 17½ + GST, etc.) AND their five-month delays! Read for details.
"Lothlórien4 The Tor Walk, CASTLECRAG (Sydney), N.S.W. 2068
Phone: (02) 9958-1333&n Fax: (02) 9958-1444 (Both 25 Hours, 7 Days!)
E-Mail: glen@glenstephens.com
Web Sites: www.glenstephens.com www.glenstephens.net or www.australianstamps.net

Sign up AUTOMATICALLY to my world renowned bi-weekly stamp gossip mailing list!
Click here to see MANY 1000s of stamp lots for sale at low $A Nett prices
Click here for all you need to know re SELLING your stamps for SPOT CASH
Click here for the current Monthly "Internet Only" special offers - CHEAP!
to read all my recent International stamp magazine articles.
Click here to get back to the main www.GlenStephens.com Homepage
Click here to ORDER on-line ANY items from ANY of my dozens of lists
Click for all info on Conditions Of Sale, Payments, Shipping, Returns &c
Click here for the complete library of my very unusual world travels!
How to PAY me. I accept EVERYTHING - even blankets and axes and beads!
Australia Post Annual YEAR BOOKS - massive stock - '27% off' discount offer today!
Visit my new page on RARITIES - Roos & other expensive photo items.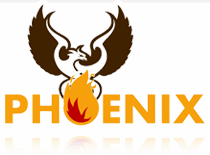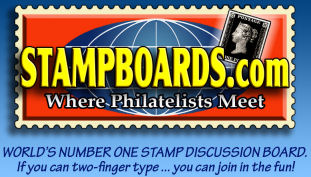 Instant Currency Conversion


FREE! Just click here...


E-mail me at glen@glenstephens.com -
Every credit card shown is accepted WITHOUT fee.
Earn Frequent Flier points while buying at bargain prices!
ALL prices are in weak Ozzie Dollars. I charge NO nasty, nasty
"Buyer's Commission" on stamps like nearly every "Auction" does.