William H. Gross, the founder of PIMCO, and a well known stamp collector, has donated $US8 million to the National Postal Museum in Washington, to create a new 12,000-square-foot gallery that will be named in his honour.

The new gallery, which will give the museum public space at the street level, is expected to open in 2012, according to Allen Kane, director of the museum.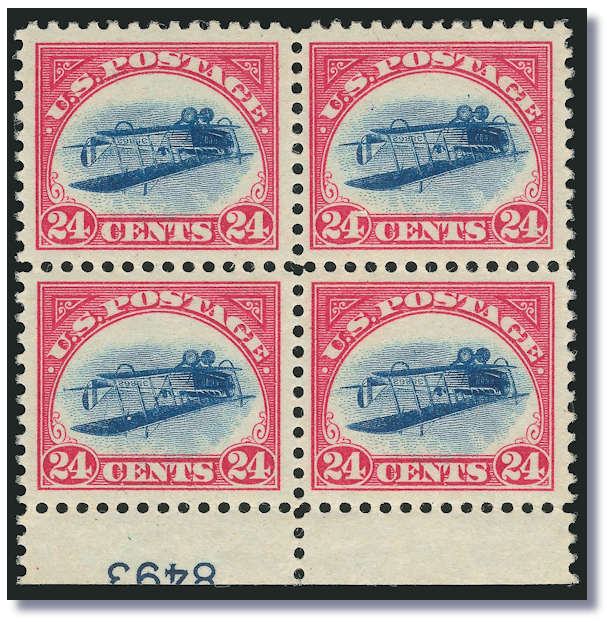 The $A4 million 'swappsie' on show
In addition to the financial donation, Gross will loan a selection of extraordinary philatelic objects from his collection including his unique plate block 4 of the 24c 1918 "Inverted Jenny" Airmail he got in a $A4 million piece for piece 'swap' in 2005 that I wrote about at the time.

The new "William H. Gross Stamp Gallery" will house these rarities from Gross, and other great items from the National Stamp Collection. In addition, there will be space for educational exhibits, temporary exhibitions and public programs.

Gross has a history of serious philanthropy. On June 11 2007 in New York, he auctioned off his early Great Britain Stamps.

The stamps were invoiced to buyers at $US10,506,400. The auction had been anticipated to raise "only" $US4 million.

Gross and his wife Sue attended the sale, and were delighted with the result - and then presented their entire proceeds from the sale to a charity after the auction!

The entire hammer price of the GB collection went as an unrestricted gift to "Doctors Without Borders."

This donation is the largest ever received by Doctors Without Borders, better known internationally as Médecins Sans Frontières.

The photo nearby shows Bill and Sue Gross (on left) handing over a symbolic cheque for the hammer price of $US9,136,000 to a delighted Dr. Portnoy from MSF at right.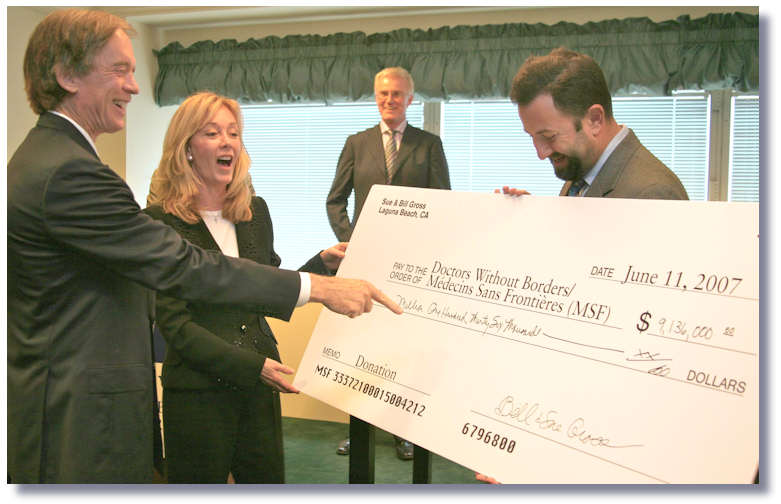 Gross sells stamps - donates $US9 million
The museum's National Stamp Collection - more than 5,000 stamps and objects highlighting the first 100 years of postage stamps, will be on permanent view for the first time in the new gallery.

"We are honoured that Mr. Gross donated funds to create this unique stamp gallery in the National Postal Museum" said Kane.

"This expansion allows us to showcase more of the nearly 6 million objects in the collection - like the National Stamp Collection and other rarities, which have never before been on display."

Bill Gross commented - "Stamp collecting has been such a rewarding and educational hobby for me that I wanted to share the joys of philately in a way that would benefit future generations of students, citizens and scholars."

The museum created a small, temporary exhibition with the philatelic rarities called "Treasures from the William H. Gross Collection" which was be on display in the museum's atrium during October in recognition of "National Stamp Collecting Month" in the USA.

Gross is bond company PIMCO's founder and co-chief investment officer. He has been associated with PIMCO since its inception in 1971 and even after the market downturn, currently oversees the management of more than $US850 billion (yes that's a B not an M!) in assets.

Bill Gross is the author of numerous articles on the bond market, as well as the book "Everything You've Heard About Investing Is Wrong!" He appears frequently in national publications and worldwide media.

Another $US3 million donation
| | | |
| --- | --- | --- |
| | On November 16-18 Spink/Shreves in New York will it appears, auction more Gross collection stamps – the proceeds of which will also raise money for the Smithsonian National Postal Museum – on top of the original donation above. | |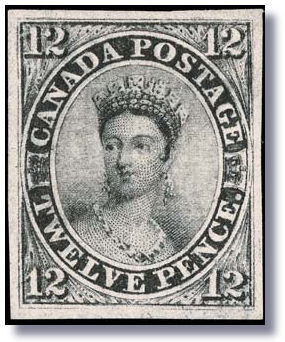 Another donation
About half will be raised from 133 British North American issues, and 81 U.S. Civil War-era Confederate stamps, and are expected to sell for about $US3 million.

At the time of writing this article – less than a month from the sale – not a word of the auction was found anywhere on the Spink/Shreve website!

From Canadian media reports I have gleaned that there are two copies of the famous 1851 "12 Pence black" in the sale. Courtesy 'Canadian Press' the mint copy shown nearby that appears to be for sale, is stated to have original gum.

Gibbons list this as SG 4 under "Colony Of Canada" - with a mint value of £150,000. It appears to be one of the finest known mint examples.

Pre-Decimal Australia FDC's "hot"
The collecting area that is hotting up here noticeably are the pre war FDC's …. right up to the start of the Decimal currency era in 1966. The first "cacheted" or inscribed FDC's appeared in 1927 with the 1½d Parliament House Canberra issue

Decimal era FDC are quite competently catalogued, and most dealers and collectors are very aware of accurate prices.

As the Australian Post Office commenced producing its own covers in 1970 in large numbers, they effectively killed off all the other cover makers.

Most collectors of Decimal era FDC want official "Post Office" covers. The Seven Seas Stamps "ASC" colour catalogue lists and prices only Post Office covers from 1970, and that has set the trend, and largely killed off "non-official" brands like Wesley.

Other than the rare 1970 'small' sized Captain Cook Post Office cover, which even today is worth several $100, an entire run of decimal era FDC will not cost a great deal.

The PRE-DECIMAL field is an entirely different matter. The 1950's in particular saw a myriad of cover makers emerge, as the Post Office was effectively not selling serviced FDC.

You could buy boring blank PO produced PO "generic" envelopes and create your own, but these were not promoted - or popular with collectors.
Frank Pauer and Paul Walker have been allegedly producing a CD Rom catalogue of all Australian FDC, for it seems like a decade or so now.

A terrible shame it does not get released in SOME form (and be updated later, as all catalogues must be anyway) as it will give this area a nice boost and many new adherents.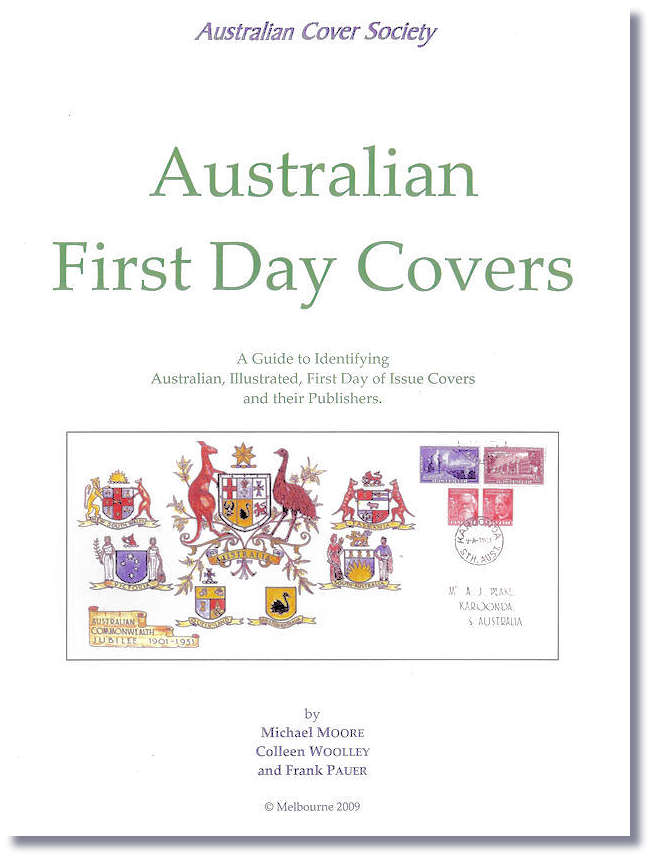 Special "$20 off" reader offer
Whilst that happy event is awaited, thankfully the "Australia Cover Society" has produced (with their assistance!) a great new handbook work - "Australian First Day Covers".

This is a thick 200+ page, large A4 format work, thankfully in full colour - and is an essential buy for all dealers and collectors of Australian FDC and closely related areas.

Readers of this column are able to obtain this book for a special pre-publication price of $A75 plus shipping until November 18 and the price will then revert to the standard $A95 plus post – a $20 saving.

You can order these direct off the co-author - Michael Moore c/- ACS - at PO Box 2066, Bayswater, Victoria. 3153. Or email him - mooremv2002@yahoo.com.au Or buy from leading cover dealers, like "Stamp News" advertiser A-One Stamps in NSW.

Both sources I understand can accept credit cards for payment, or of course cash, cheques, money orders or bank transfer - and also via PayPal for overseas buyers. For $A75 plus shipping it is a great buy.

It has a very useful index at back, and the "Table Of Contents" in the front makes ready identification a breeze.

It does NOT list any Australia Post covers as they are generally well covered in other publication
From this new work, the 1938 cover shown nearby might well be overlooked by many dealers and collectors. There is nothing special about the stamps and the cancellation is poor and is not a FDI.

The significance of this cover is that it was prepared by, and personally typed by, John Gower.

John Gower founded many stamp and cover dealerships. His 'Wesley Cover Service' founded in 1951, became the best known publisher of Australian philatelic covers.

That brand is clearly the most collected. They are still produced to this day it is believed, but in a tiny handful for each issue.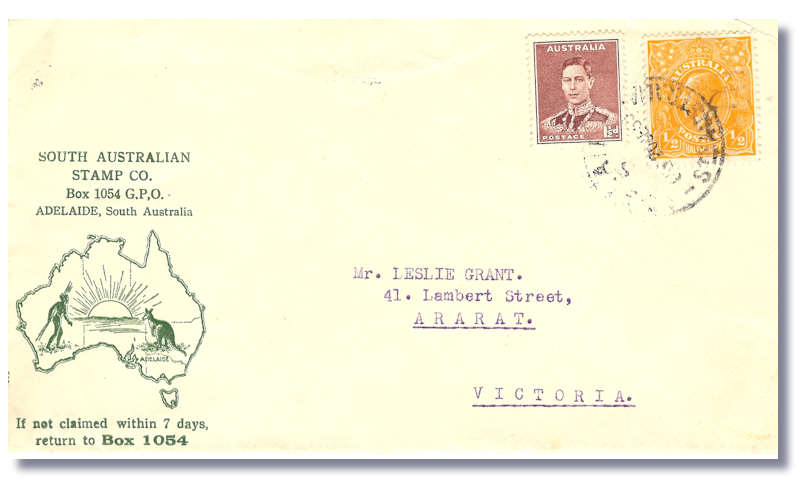 A Gower-Grant early
The June 1938 cover shown nearby relates to one of Gower's earlier philatelic enterprises, the "South Australian Stamp Company". It is one of very few commercial envelopes that still exist from that Company.

Better still, it contains a possibly unique letter - typed and signed by Gower on SA Stamp Company letterhead. For the many specialist Gower collectors this is a true treasure, worth around $500 I am advised. Would you have known that?

This cover has even more significance. It is addressed to Leslie Grant of Ararat who later became a significant producer of First Day Covers himself.

In the letter (shown in full in the new handbook) Gower says he encloses a copy of the 1932 5/- Harbour Bridge that Grant ordered - no mention of cost - and why it was sent un-registered is a mystery!

John Gower opened the Post Office at Largs North, an Adelaide beach suburb on June 17, 1947. Therefore a vast number of earlier WCS FDC are cancelled at Largs North, starting with the September 1947 "Newcastle" trio.
On the front cover of the new handbook is a First Day Cover of particular relevance to Australian Commonwealth collectors - using the 1951 "Federation" issue.

The cover was hand drawn and hand painted by A J ("Jack") Peake, and is reproduced by permission of Peake's daughters.

Jack Peake's hand illustrated covers have been a feature of many of Prestige Philately auctions since December 2007. Individual covers have sold typically in the $100-$500 region.

Readers armed with this handbook may find one or several of these Peake covers in dealer stock, or auctions overseas for small sums. Just ONE find will pay for this handbook several times over.

Chapter 16 of the handbook details the covers of the two most significant Australian producers of hand illustrated FDCs, Jack Peake and Eric Ogden.

Twenty of Peake's covers are illustrated, in his distinctive and beautiful handwriting.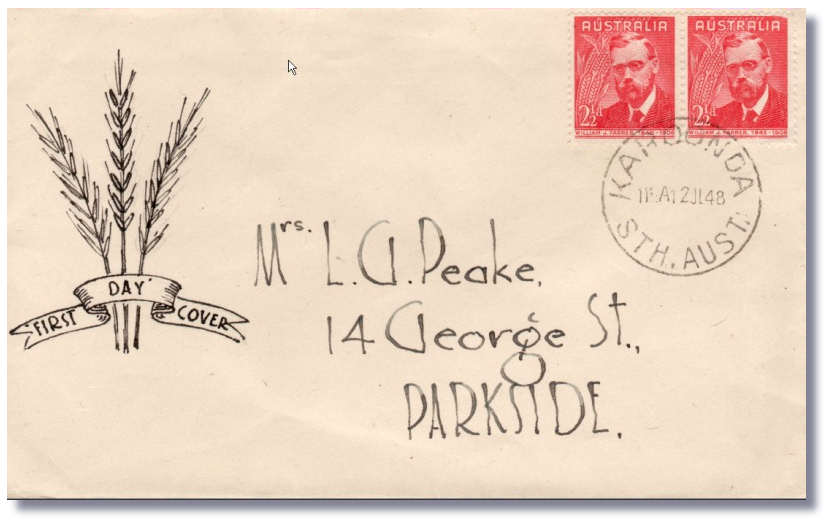 "A First First" FDC!
They include the FDC shown nearby. Peake told one of the authors, Michael Moore, that he began producing First Day Covers initially as line drawings, at Karoonda SA in 1948.

Peake produced typically no more than four covers for any stamp issue, and even fewer for his earliest covers. The FDC shown nearby is the earliest known Peake.

There is a specialist branch of First Day Cover collecting whose devotees seek to acquire "First Firsts" – the very FIRST "First Day Cover" produced by any maker of a series of FDCs.

The Peake FDC of the 2½d Farrer issue cover shown nearby would well sell at auction for many hundreds of dollars as a "First First".
Other early FDC get strong prices too. "Arthur Bergen" FDC's have an avid following, and often fetch heady prices. A 1956 Bergen Olympic Games FDC cancelled Adelaide Airport sold for $500 at a Rod Perry auction way back in 1998.

A "Wyatt Earp" ANARE cover of Bergen's fetched $US400 (then $A650) at an internet auction etc. Arthur is of course also well known for his work in the aerophilately field.

This new handbook is the fruition of many years work by experienced members of the "Australian Cover Society". As I have written before, their excellent journal is a "must have" for all cover collectors.

Joining fee is $A10, and is then only $A25 p.a. for Australian members, and $A35 for foreign. The contact details above can assist with new member enquiries.

Last time I wrote this up they had a flood of new members, and good to see an active society with a great journal getting such international support from collectors and the trade.
| | | |
| --- | --- | --- |
| | Chapter 8 of the new handbook describes in detail the FDC's published by R ("Bob") Haslem. Bob Haslem has been recently shown to have been Victoria's most prolific producer of First Day Covers. This chapter illustrates 31 of his covers. | |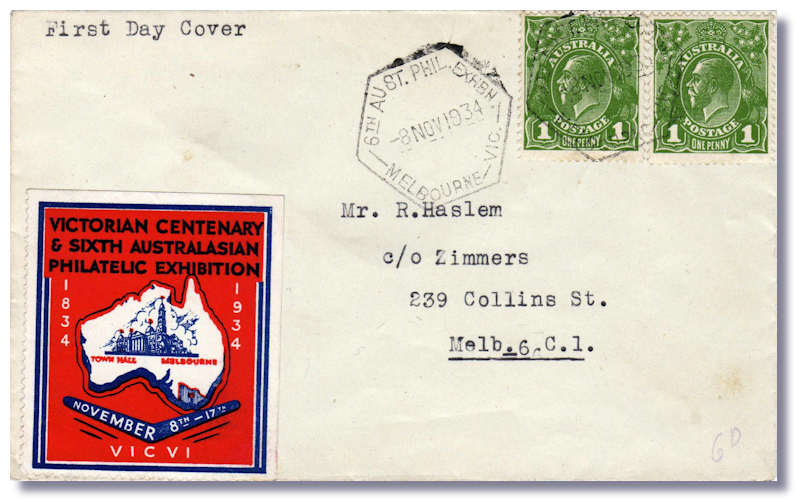 Earliest "Haslem" cover
The 'First Day Cover' shown nearby is a first day - not for the stamps, but for the commemorative postmark for the "6th Australian Philatelic Exhibition", Melbourne, 1934. This is the earliest known cover prepared by, and addressed to, Bob Haslem.

The address, 239 Collins Street, Melbourne was the offices and printing presses of "The Age" newspaper. Haslem obviously had close ties with the printing trade, and was able to print many of his FDC designs with a great number of text and colour varieties.

As a very early cover made by someone who became such a significant FDC producer, this cover could also attract bids of hundreds of dollars at auction.

But unless you owned this great new handbook, you would not be aware of that!










Get my regular market update emails FREE. Stamp gossip, price trends, record sale prices, and many one-time stamp specials, wholesale bargains, and exciting offers and breaking philatelic news. A mini stamp magazine in every email! "KNOWLEDGE IS POWER". The ONE stamp list you MUST be on, to keep in touch with the rapidly changing world market. One client made $65,000 profit in a few months after following my specific advice. Sign up securely and quickly by clicking HERE to access my automated data base. And wiser still ADD your home AND work email, if I only have one right now. Add a stamp friend's email address if you wish. One short click and you are subscribed to probably the most read email list in the stamp world!


Instant Currency Conversion


FREE! Just click here...



n="center">


If you would like to be notified of updates to this website, Click HERE. If have any questions,
or comments regarding my site, please email me at glen@glenstephens.com
| | |
| --- | --- |
| | Search all my 300+ web pages! Simply type in what you are looking for. "Penny Black", "Latvia", "Imprints", "Morocco", "Fungi" "Year Books", etc! Using quotes ( " ) is more accurf used with no quotes. Search is NOT case sensitive. Tip - keep the search word singular - "Machin" yields far more matches than "Machins" etc. |


I am a Dealer Member in Good Standing Of:

Full Time Stamp Dealer in Australia for over 25 years.
Life Member - American Stamp Dealers' Association. (New York)
Also Member of: Philatelic Traders' Society. (London) ANDA. (Melbourne) American Philatelic Society, etc
GLEN $TEPHEN$
Full Time Stamp Dealer in Australia for over 25 years.
Life Member - American Stamp Dealers' Association. (New York)
Also Member - Philatelic Traders' Society. (London) ANDA. (Melbourne) American Philatelic Society, etc

ALL Postage + Insurance is extra. Visa/BankCard/MasterCard/Diners/Amex all OK, even for "Lay-Bys"! All lots offered are subject to my usual Conditions of Sale, copy upon request BIGGEST STAMP BUYER: Post me ANYTHING via Registered Mail for my same-day cheque. Avoid the GENERALLY 40% Auction " Commissions" (15% + 17½ + GST, etc.) AND their five-month delays! Read for details.
"Lothlórien4 The Tor Walk, CASTLECRAG (Sydney), N.S.W. 2068
Phone: (02) 9958-1333 Fax: (02) 9958-1444 (Both 25 Hours, 7 Days!)
E-Mail: glen@glenstephens.com
Web Sites: www.glenstephens.com www.glenstephens.net or www.australianstamps.net