Click To Go Back To The Main www.GlenStephens.com Stamps Homepage

Welcome! You are visitor
to www.GlenStephens.com




Glen Stephens
Monthly "Stamp News" Market Tipster Column


November 2011

---
Anything GANDHI is hot!
Interest in all philatelic things Mahatma Gandhi is red hot globally.

Why? As India is THE fastest growing stamp market globally.

Not hype, not speculation – just a huge number of new collectors entering the scene.

India has around a billion people, and until recently most were on a subsistence type income level.

A large chunk still are - HOWEVER the middle class is a fast growing sector, and when any sector grows, in a BILLION people market, that is a lot of new entrants!

More important, is that stamps are incredibly popular in India for some reason.
Gandhi now a £250 Gibbons item
It seems they are actively encouraged to collect via the education system, and a quick search will show you 100s of articles a week on stamps in the mainstream print media.

This all augers terrifically well for the future of the hobby.

I do know for a fact that at stampboards.com a large chunk of new and active members are Indian based.

Due to strong demand across all sectors, India stamps are seemingly all up in value in the new SG 2012 Catalogue.

The 1948 10R Gandhi is now up to £250 mint …. only a very few years back it was £70.

Indeed I cheerfully sold this copy shown nearby, on stampboards only 2 years back for $A70!

First Day Covers of the Gandhi set have gone totally ballistic in recent times.

I sold a lovely fresh one a few years back for $100 and was delighted at what then was a high price, given used stamps are catalogued at a fraction of mint.
From $100 to $7500 in 5 years?
A few short years later that "$100" FDC is probably a $7,500 piece on today's market.

The ugly creased and tatty rag shown nearby, sold on ebay in mid-October for $US6,100.00 with low start price.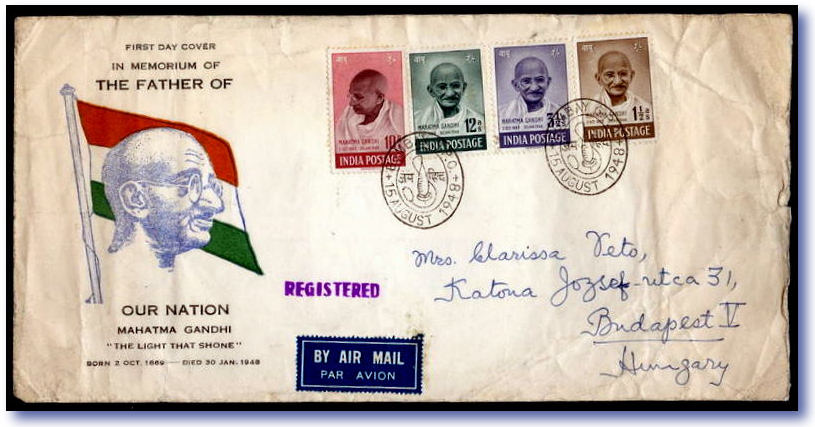 Gandhi FDC sells for $US6,100.
Seller was an American with very high feedback, and there were 26 bids, and the high bidders did not appear to be shill or fake or new bidders.

Although of course on ebay one never really knows, as they care little about them, as shill bidders make ebay a fortune each year.

Even when pointed out to them with concrete evidence they mostly yawn and do nothing, despite it allegedly being a practice they do not permit.

But on the surface it appears a genuine sale of this FDC – 60 times the global retail only 5 or so years back.

Tatty Gandhi FDC's have often been reaching many $1000s recently.

All things Indian in stamps are HOT. Even modern mint material is avidly purchased at 5 or 10 times face value.

One stampboards member in India is offering 5 times face for ANYTHING from India in 1990-2000 era and getting few takers - tinyurl.com/5xFace – wish he was buying AUSTRALIA!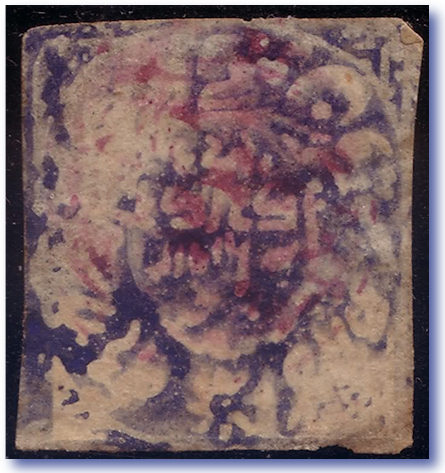 Is this the right way up?
| | | |
| --- | --- | --- |
| | Stampboards.com has a large band of worldwide enthusiasts who collect "The Uglies" - the Indian States. | |
Convert over to "The Uglies"
They have started 100s of threads on all kinds of India States related discussions, with literally 10,000s of photos.

The photos shown nearby comes from there. Would you know if the stamp shown nearby was even the correct way up? (Answer – it isn't!)

"Banging the drum for the Uglies" is the longest discussion on these - with over 100 pages of comments, more than 5,000 messages, and 65,000 page views.

Google that term, and it takes you to only one place! Many 1000s of photos from this quite fascinating collecting area.
UGLIES recruiting drive
I think it has single-handedly inspired scores of collectors to take up this challenging Indian States stamps field. Take a read of it all - tinyurl.com/Ugglies

I can bet hardly a person reading this magazine has a clue WHERE this "ugly" on piece shown nearby originated? And it was from the WW1 era ... not the 1870s!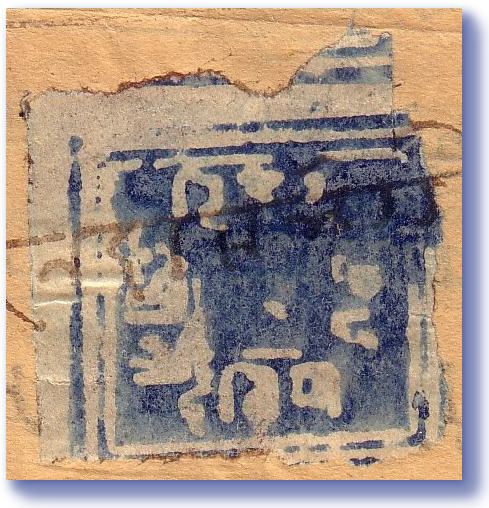 Now THIS is an "Indian Ugly"
The ringmaster to near all these is "tonymacq" from Melbourne, who appears to have a phenomenal collection of these issues, and the detailed knowledge to go with them.

If any reader is yearning after a collecting field that offers a huge challenge, and does not necessarily cost a fortune, check out - tinyurl.com/Ugglies

On the "Uglies" discussion there are a lot of regular members spread globally, showing what a range of collectors pursue the field.

The Indian market will boom in the decades ahead, and "tonymacq" posted a spread-sheet this week of the % increases of all the States in SG prices, and it is amazing.

His chart shows some have increased across the board in value some 60% in the past 5 years - as you can see here - tinyurl.com/IndStates
Gibbons "Part One" released.
And the rise and rise of the Indian area catalogue prices brings me to the "event" of the month – the arrival of the new Stanley Gibbons "Commonwealth & British Empire Stamps 1840-1970" catalogue.

This volume is known to old-timers and the trade as the "Gibbons Part One" – as once the other Volumes were numbered, and were "Americas" and "Asia" etc.

The average collector buys a new major catalogue only once every few years as they are expensive, and for many collectors, being a few years out of date is no big deal.

For about 100 years Gibbons published the "Part One" - a detailed priced listing of ALL British Commonwealth stamps from 1840.

It got thicker and thicker with all the WALLPAPER new issues from places like Guyana - where literally scores and scores of pages were filled with this new issue junk.

Yet all of us needed to pay for a thick complicated catalogue listing of it, that we never looked at.

The "Part 1" books got to be two massive hard cover volumes - so Gibbons simply stopped printing them. And seemingly had no plan "B" in mind.
Most unsatisfactory
For a good while afterwards all that one could use to look a 1953 Commonwealth definitive was to lug out the huge Simplified SG "World" cat from one of FIVE hard to handle soft cover volumes, and look it up there.

No mini sheets were at the time listed in there, no perf varieties, no watermark errors, no booklets, no "on cover" rates etc. Near enough useless for anything except simplified use.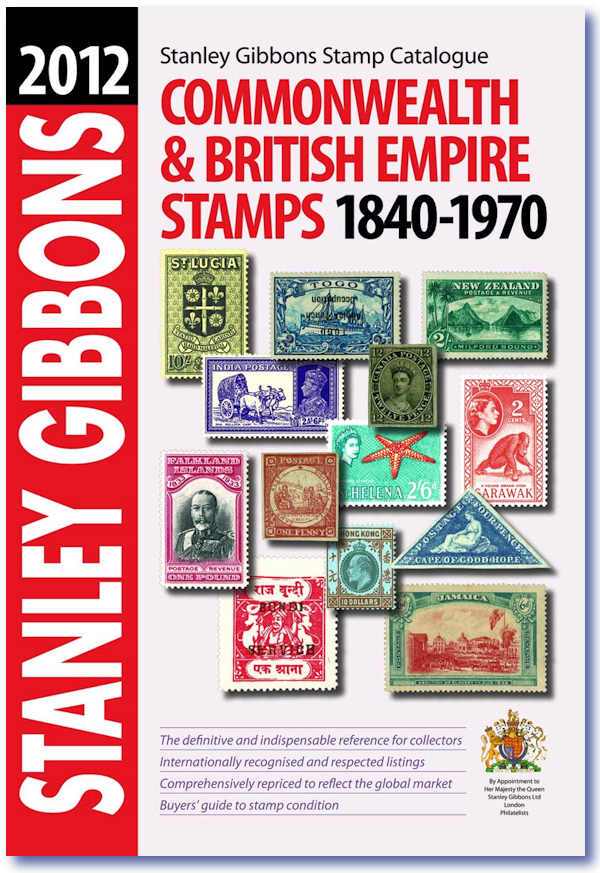 New Gibbons Commonwealth - a "Must Buy"
Then someone at SG finally had the bright idea to issue a single volume for all Commonwealth stamps "1840 to 1952" - i.e. pre QE2.

Handy and welcome, but it still did not cover the VERY popular early QE2 issues.
At LAST - a new SG format!
This all changed in 2007 with the way overdue issue of what I suggested years before - an 1840-1970 single volume.

Which contains the welcome DETAILED info on the early QE2 reign. Booklets, Postage Dues and watermark errors etc.

In the interim the dreary black and white photos printed on grey paper stock have been gradually upgraded to full colour photos, on bright white paper.

SUCH a difference when I compare the 2 issues side by side, with only a few years difference in time frame.
Colourful and vibrant
Printed on a nice crisp fresh white paper stock. Cheery and "alive" compared to my already VERY yellowed 2002 SG pages with sad grey illustrations.

A nice crisp clean sans serif font is now used for the last 2 editions, and makes it so much easier to read.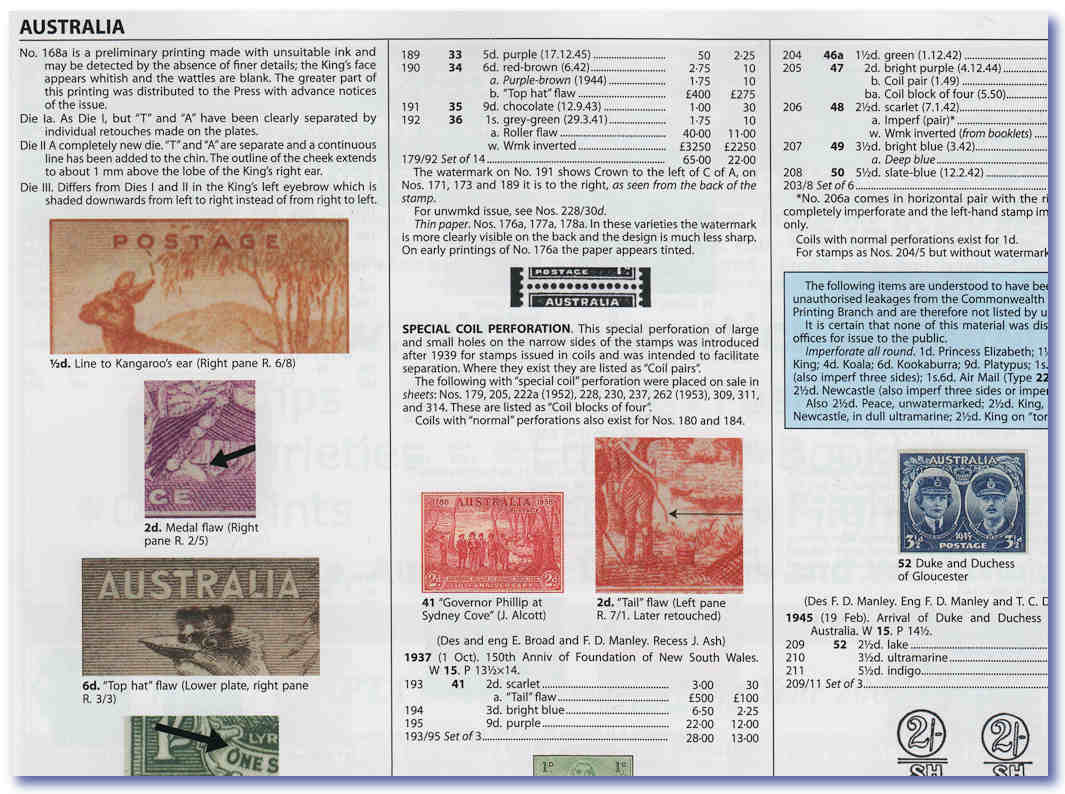 Lots of flaws shown and priced
Lots of constant plate flaws, and booklets are now listed. And lots of inverted watermarks - find just a medium one from a country like Australia and the entire book will be readily paid for!

Did you know the "Top Hat" flaw on the 6d Kookaburra was cat £400, or the "Man with Tail" on 1937 2d Sesqui is £500 – well you do now – see photo nearby.
Australasian Prices UP
I studied the prices for the Australasia area for few hours, and a general comment is that they are up nearly everywhere across the board over the 2011 Edition.

Starting with rises for SG#1 mint and used - and that pattern is evident on the key items in the area.

All the Australian "States" seem up overall, Australian Kangaroos, and the GRI/New Guinea/Papua area etc too.

This is great news as the publishers of the ACSC Catalogue have totally lost the plot in the past 5 years, turning the world's finest one country catalogues into frozen in time museum pieces.
ACSC Publisher loses the plot
The huge "Melbourne 2013" will be upon us sooner than we imagine, and the Australian trade and APTA itself are up in arms over the total inertia coming out of Ultimo re ACSC editions being updated.

There are plenty of willing senior collector and trade members anxious to assist with time, money and expertise - but they are hitting a solid brick wall.

Dr Geoff Kellow keeps the data up to date as I understand it, and experienced dealers price it up – but the publisher seems to refuse to print any of it.

That situation hopefully will soon resolve to some positive end, for the health of the hobby here.

The "Kangaroos" Volume was published well before the record breaking 2007 Arthur Gray $7.15 million sale etc.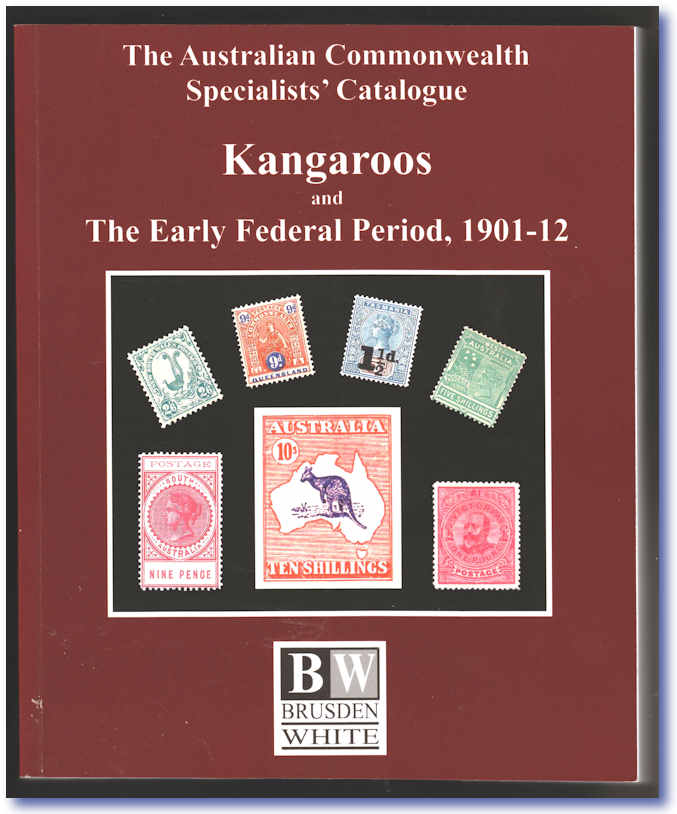 New ACSC Editions needed FAST
"The Postage Dues" was last published 1999. A new edition including for the first time many of the "Colonies" issues was completed and ready to be printed 2 years back.

ACSC owner Paul Fletcher has the finest collection of Postage Dues on earth – Gold Medal stuff, so the delay with that one is bizarre, as he stands to gain most!

Terribly sad, and hopefully the publisher will snap out of the mental freeze mode of recent years, or SG or someone else will make the running even more.
Near 25% price reduction
The GOOD news for Australian buyers is that due to the super strong Australian dollar the even thicker than before SG 2012 edition is now a lot CHEAPER, being $A140 RRP this year.

The UK retail price on back cover says £77.50 and being a super heavy book, the local retail is most attractive.

The 2011 locally cost $A180 RRP so this is near a 25% price drop in 1 year. I've sold a lot on pre-order, and if you ever were to choose a single year to update, 2011 is that year.

Quite simply, an ESSENTIAL volume to sit on the desk of every collector, every auction, and every dealer who ever handles British Commonwealth stamps.

Indeed I have to say even with the price increases, many of the stamps at full SG are under local retail given the weak Sterling in recent months.

It was a good compromise idea taking the catalogue listings up to 1970. It can be price updated each year, and yet not affect the overall book size.

An 1840 to 2010 detailed set would easily run 3 or 4 volumes, and essentially no-one could afford to buy it.

Personally if I ever need to look up modern Guyana (and I never have!) I'll do that via the massive 5 volume SG "Stamps Of The World."

This new "2012" SG is a huge hard covered book, being well over 600 large format pages in full colour, and this year is quite cheap - and trust me you'll do well to invest in one.

Stock from England will be just about to arrive in Australia as this column goes to press, and all major dealers will stock it - I have good pre-orders on it already.

Many collectors only buy a "Part 1" each 5 or 10 years, and the cost amortised annually runs into what a small Pizza will cost you!
BAN the heavy card inserts
My only complaint each year is they bind in a few very thick cardboard ads, across the full A4 size, that stop you being able to turn pages readily.

I tear them out immediately as I am sure nearly all users do, and MEMO to those foolish advertisers - you have paid for the most super expensive non-ads of all time, and I hope you read this.

Special Memo to APEX PHILATELICS whose annoying thick card page ad was on page 18 between New South Wales and Queensland, that I use 100 times a year.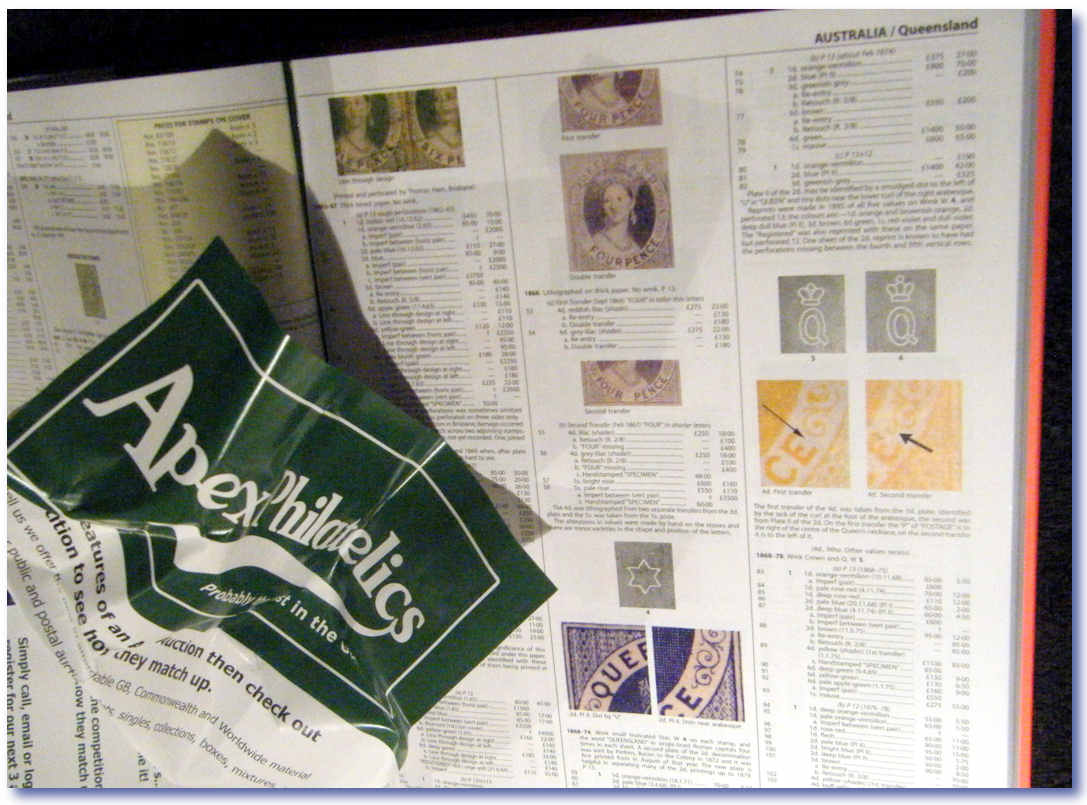 THAT feels better Apex!
These annoying irritants USUALLY have rouletting close to spine allowing you to quickly toss the things away.

However the APEX PHILATELICS one on page 18 does not - at their request I feel sure, and I nearly wrecked my catalogue ripping it out. And needed to use a Stanley knife to do it.

I hope you ask the SG Advertising Department for a huge discount rebate, as my bet is 90% of the catalogues sold see your intrusive ad torn out immediately. Pure genius advertising.

So SG – wake up to yourselves please, and roulette these silly things, so they are more easily binned.

OR better still, use some brains in your advertising department, and NOT include them in the first place.

A full colour ad on normal paper annoys no-one, gives the dealer some visibility, and does not encourage buyers to take Stanley knives to their $140 catalogues.

It is not as bad in the 2012 version as 2011, but even one heavy card ad is uncalled for.
Want $250 for a $1 FDC?
Sometimes cover collectors want a specific cancel on a FDC for an exhibit.

My old friend Noel Almeida needs this cancel shown nearby, and will pay $A250 for a clean example.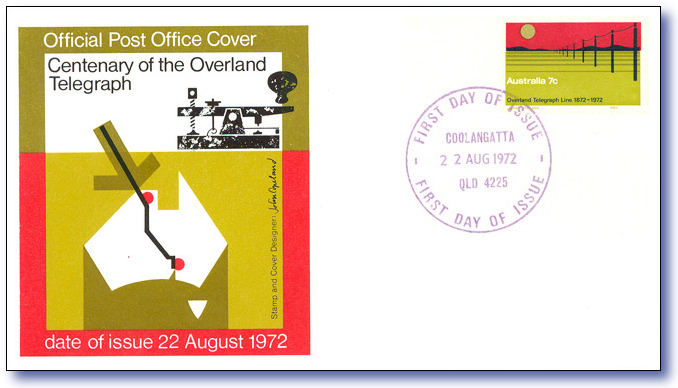 $250 offered for this
This is a common 1972 7c FDC, and 100,000s were sold nationally. Most dealer "Dollar Boxes" have this cover in there.

Noel needs one from this large PO. Not Sydney, not Adelaide but Coolangatta. He does not care if cancel ink is violet or black - as long as is from this PO.

He has been looking for a year via stampboards - tinyurl.com/CoolFDC – and I am rather surprised one has not turned up.

Hopefully readers can make his month and fill that long empty gap for this keen Melbourne collector!
Beware Of Greeks Bearing Margins!
Attractive quality examples of otherwise quite common stamps seem to be getting terrific prices everywhere I look.

The rather common Greece Hermes head imperf, the 20 Lepta blue – Scott 27, is catalogued at $US8 used.
Sold for 27 times catalogue value.
The fine 4 margined example shown nearby was invoiced in mid-October for about $US215 – or 27 times full catalogue.

More than ever – markets globally are saying - "we will pay for top QUALITY."
Silly China Results
However China buyers say - "We will pay extra for CRAPPO quality!"

China stamps can get silly prices – we all know that by now.

A friend of mine once managed Australia's largest stamp auction house, and now fiddles around on ebay selling off bits and pieces.

We were chatting on the phone a couple days back, and he was chuckling about two 1969 8f Mao "Poem" China stamps he had listed – shown nearby.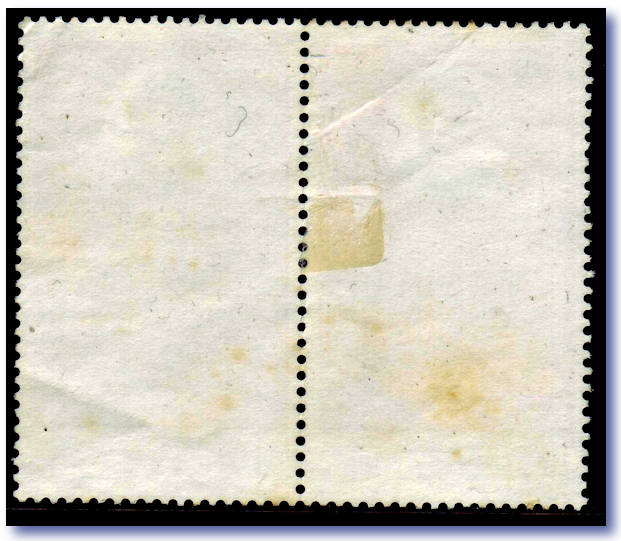 Both quite defective condition
They are medium value stamps, and come in a strip of 5 different, which is how they are generally sought.

He had found these two in stuff he bought for nothing decades back, and started them at $9.99, and assumed he might get $200 or so as China is "hot".

He was totally up front with the creasing, hinge and heavy toning, and even showed clear photos of the back.

When I spoke to him it was up to $600 and he was over the moon, It still had a day or so to run.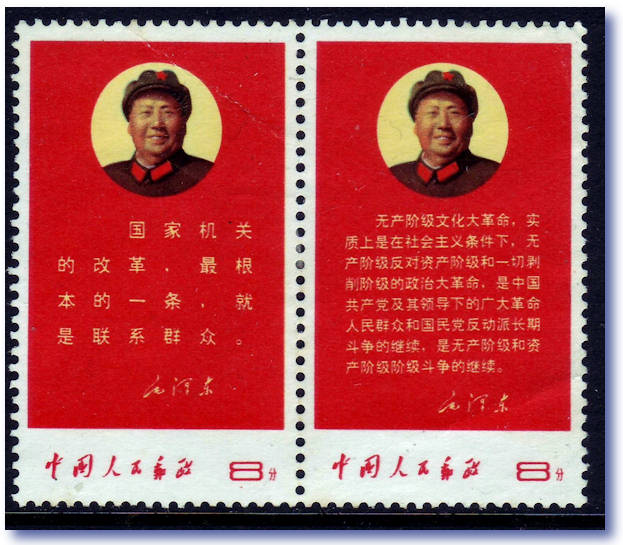 Guess the final price?
| | | |
| --- | --- | --- |
| | As it happens he was on the phone a day later and I asked what it got and he said it was finishing in a few minutes and was in the $900s. In his view that was where it would end | |
China price madness
I said "I bet you it gets way over $1,000 in the last seconds" and we stayed on line whilst it closed.

It got $A1,136 – then about $US1,200. For 2 totally stuffed letter rate stamps, that have a full SG new Cat of £450.

Bidder was Asian, and has paid for the goods and left positive "feedback. I ran a poll on stampboards as to price they got.

From 50 votes only 1 person other than the seller got it right.

More than 50% of those who voted, felt that fair value was $500 or less. Indeed nearly a third of those voting decided "around $100" was market value.
Prices strong in New Zealand
"Across The Ditch" - John Mowbray's September 24 public stamp auction in NZ saw some nice prices obtained.

The GFC seems to have dodged the 'Shakey Isles'!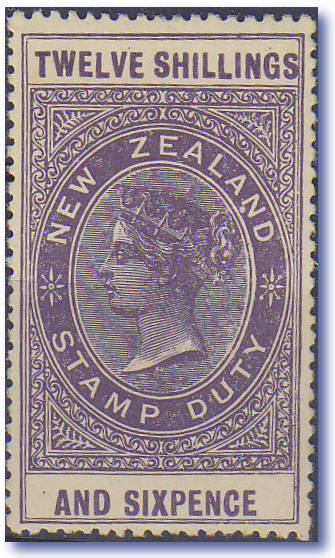 Astounding price on this stamp
A 1925 New Zealand 12/6d Queen Victoria mint postal fiscal saw intense bidding - against a pre-sale estimate of $20,000 this stamp shown nearby was invoiced for $NZ32,200. An amazing price.

Mowbray's have been getting some extraordinary prices for Postal Fiscals in the past year or so. A popular field.

A way off centre and rattily perforated mint 1906 Christchurch Exhibition 1d claret, with tone spots found a new home overseas for $NZ19,550 - well above the pre-sale estimate of $15,000. Full SG cat is only £7,000.
Was this stamp really "issued"?
| | | |
| --- | --- | --- |
| | Recent well written research shows beyond doubt these stamps were not "issued" in any sense, or sold by any PO, as CP and others have meekly accepted for 100+ years. | |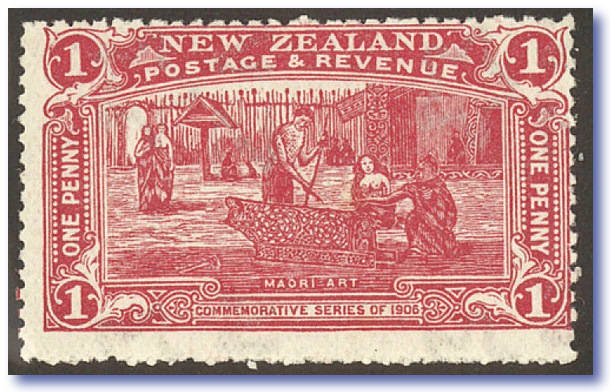 Terrible looks, but great price!
The stamp should NOT be listed in any major catalogue, except perhaps as a footnote.

A far more legitimate "issue" was the 2006 Kapa Haka set of 5 stamps.

These were sold by the Post Office at face value to a number of NZPO clients but were not placed on counter sale, as some Maoris objected to the design at the last minute.

Nonetheless all of the small number that survive were openly ordered and charged for at face value to the buyers, and mailed out - and NZPO openly admits that.

An interesting issue, not yet fully appreciated for the unique status it holds.

I still sell several sets a year, mostly to European collectors at $9,500 a set of 5 - www.glenstephens.com//kapa_haka.html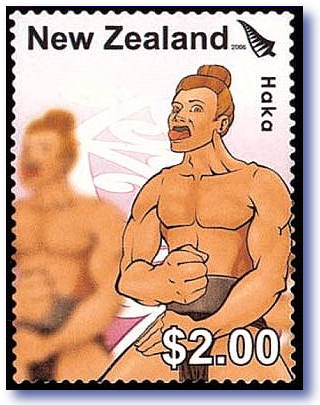 NZ Kapa Haka sold for $14,560
Oddly Campbell Patterson do not list these stamps - reportedly as a low enough trade price deal was not offered to them by the lucky original buyers.

A rather sad state of affairs if correct, and to me it seriously undermines the credibility that catalogue holds in the New Zealand field. Hopefully common sense eventually prevails.

The Len Jury colour catalogue of course lists them at $NZ17,500, and a set of 5 was invoiced by Mowbrays for $14,562 in this recent sale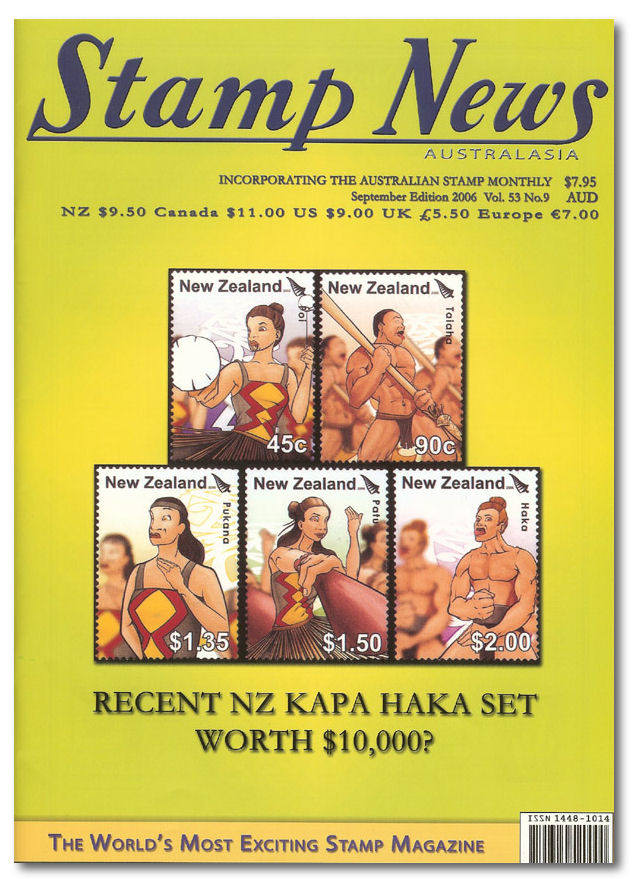 Instant Currency Conversion


FREE! Just click here...




If you would like to be notified of updates to this website,

Click HERE. If have any questions,
or comments regarding my site, please email me at glen@glenstephens.com



| | |
| --- | --- |
| | Search all my 300+ web pages! Simply type in what you are looking for. "Penny Black", "Latvia", "Imprints", "Morocco", "Fungi" "Year Books", etc! Using quotes ( " ) is more accurf used with no quotes. Search is NOT case sensitive. Tip - keep the search word singular - "Machin" yields far more matches than "Machins" etc. |


I am a Dealer Member in Good Standing Of:

Full Time Stamp Dealer in Australia for over 25 years.

Life Member - American Stamp Dealers' Association. (New York)
Also Member of: Philatelic Traders' Society. (London) ANDA. (Melbourne) American Philatelic Society, etc

GLEN $TEPHEN$

Full Time Stamp Dealer in Australia for over 25 years.

Life Member - American Stamp Dealers' Association. (New York)
Also Member - Philatelic Traders' Society. (London) ANDA. (Melbourne) American Philatelic Society, etc


ALL Postage + Insurance is extra. Visa/BankCard/MasterCard/Diners/Amex all OK, even for "Lay-Bys"! All lots offered are subject to my usual Conditions of Sale, copy upon request BIGGEST STAMP BUYER: Post me ANYTHING via Registered Mail for my same-day cheque. Avoid the GENERALLY 40% Auction " Commissions" (15% + 17½ + GST, etc.) AND their five-month delays! Read for details.

"Lothlórien4 The Tor Walk, CASTLECRAG (Sydney), N.S.W. 2068
Phone: (02) 9958-1333&n Fax: (02) 9958-1444 (Both 25 Hours, 7 Days!)
E-Mail: glen@glenstephens.com
Web Sites: www.glenstephens.com www.glenstephens.net or www.australianstamps.net

Sign up AUTOMATICALLY to my world renowned bi-weekly stamp gossip mailing list!

Click here to see MANY 1000s of stamp lots for sale at low $A Nett prices

Click here for all you need to know re SELLING your stamps for SPOT CASH

Click here for the current Monthly "Internet Only" special offers - CHEAP!

to read all my recent International stamp magazine articles. Click here to get back to the main www.GlenStephens.com Homepage

Click here to ORDER on-line ANY items from ANY of my dozens of lists

Click for all info on Conditions Of Sale, Payments, Shipping, Returns &c

Click here for the complete library of my very unusual world travels!

How to PAY me. I accept EVERYTHING - even blankets and axes and beads!

Australia Post Annual YEAR BOOKS - massive stock - '27% off' discount offer today!



Visit my new page on RARITIES - Roos & other expensive photo items.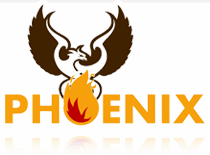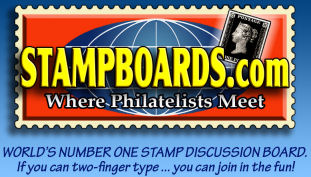 Instant Currency Conversion


FREE! Just click here...



E-mail me at glen@glenstephens.com -

Every credit card shown is accepted WITHOUT fee.
Earn Frequent Flier points while buying at bargain prices!
ALL prices are in weak Ozzie Dollars. I charge NO nasty, nasty
"Buyer's Commission" on stamps like nearly every "Auction" does.