Click To Go Back To The Main www.GlenStephens.com Stamps Homepage

Welcome! You are visitor
to www.GlenStephens.com




Glen Stephens
Monthly "Stamp News" Market Tipster Column


November 2012

---
£15 million for a stamp collection.

Spink Auctions in London will finalise the sale of the Chartwell Collection with an Auction in December.

The wonderful stamp collection – mostly of it early GB, will realise around £15 million in total.

One of the key Commonwealth pieces sold was the 1867 1/- Black and rose Carmine "Missing Virgin".

"Missing Virgin" sells $A225,000
Not in perfect condition as can clearly be seen, it was still invoiced for an impressive £144,000 – or then about $A225,000.

Spink will also auction soon, an outstanding lot of rare Australian Commonwealth stamps in London.

The "Morgan" collection will be sold at auction by Spink London, on November 13/14, 2012.

Spink say the stamps are estimated to sell for in excess of £3 million.
£3 million "Morgan" collection
This famous collection was created here by William Morgan, and continued by his well-known industrialist son, Hugh Morgan AC.

The collection is very strong in the pre Kangaroo essays and trials and proofs etc - some of which are unique.

During the development of the Kangaroo and Map design, a series of essays were produced.

One of them is a horizontal design showing the kangaroo on a map of Australia, flanked by draped flags.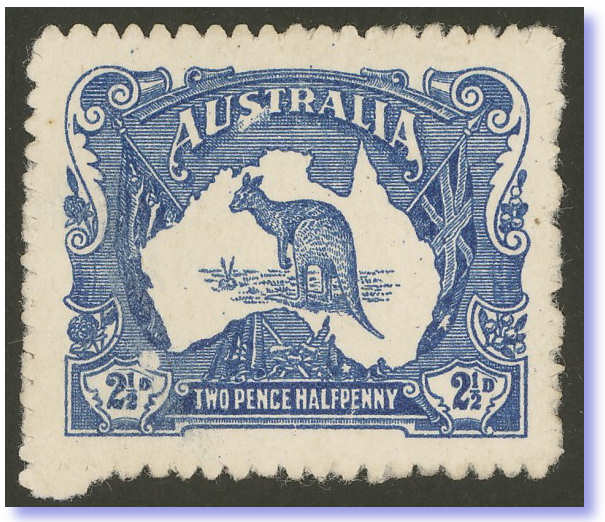 Sold for about $A175,000
Only eight known examples are recorded, of which five are in the National Philatelic collection of Australia Post.

The Hugh Morgan collection has the unique 2½d essay, printed in blue.
World Record price?
This 1912 un-adopted essay for Australia's first Kangaroo and Map stamp issue was auctioned April 22, 2006 for $A174,750, bought by Morgan.

In US dollars at least, it was a record price, for any Australian stamp item, essay or proof.

My research indicates that was indeed a world record price for a single stamp essay, from ANY country.

That 2006 auction result was obtained by Prestige Philately in Melbourne.

The essay in bright blue, is on thick ungummed unwatermarked paper roughly rouletted percé en scie, gauging 14½.

Many other goodies from Australia are in the balance of the sale – contact Spink for all details.
"Hardy" Sale November 2
There will be some empty - or at least denuded pockets, by mid-November, as another big sale takes place here just before Spink.

Phoenix Auctions in Melbourne will offer the first section of the also multi-million dollar Stuart Hardy "Australia", a week or so earlier - on November 2.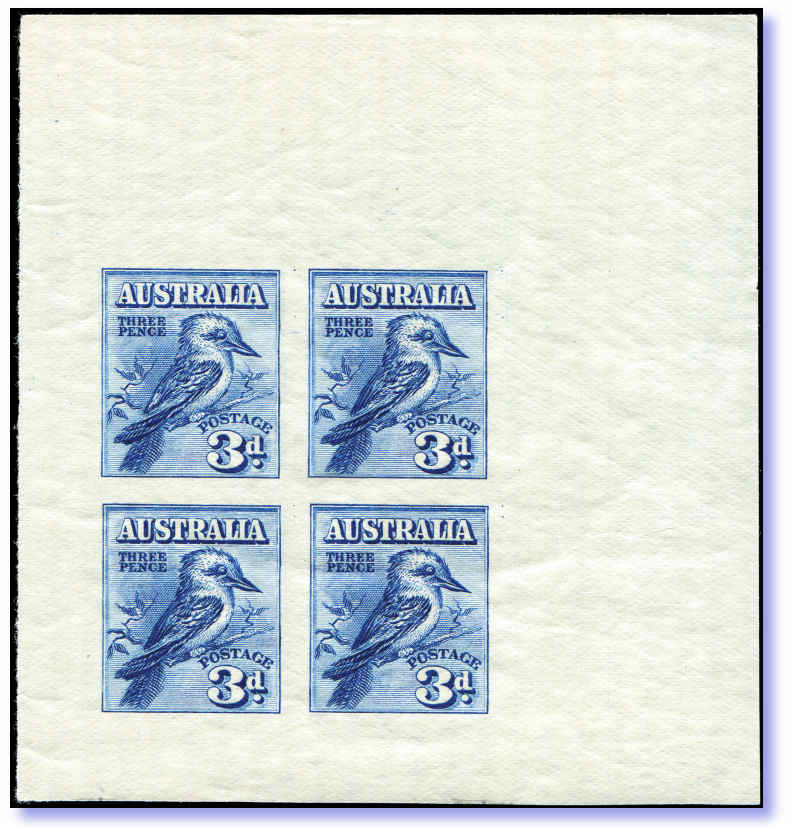 Quarter Million Kooka?
The Imperforate 1928 Kookaburra miniature sheet shown nearby is estimated in sale catalogue to sell for around $200,000.

At the time of writing this column, there was absentee bidding already on this Miniature Sheet.

My guess is around $A300,000 will be the likely invoice price of this sheet, very easily creating a new Australian price record for a single item.

It is the only copy known in private hands, and several collectors "must" own it in order to have the "best" KGV era collection - so sparks will probably fly.

This is the only one buyable, and has not been on the market for 44 years since Hardy purchased it in 1968, from the Ameer of Bahawalpur's Collection in London.

Hardy paid only £210 at that SG auction. Can an accountant work out what annual % increase one gets starting with £210 ($A420) and ending up with ~$A300,000?

Who said there was "no money in stamps"?

It is widely recorded that KGV was given the imperforate sheet of 15 M/S of 4 when he opened the 1928 Exhibition - that he was Patron of.
KGV quietly sells sheets
The large sheet was too long for the King's album page, and Sir John Wilson tore off (not cut!) the three right hand mini-sheets.

These 3 imperf M/S were quietly sold in 1953 to finance other pieces for the Royal Collection.

They were not known to exist singly, until the first one appeared in a London Auction in 1953.

My advice is these imperfs were more a proof printing, and have different paper and gum than the issued sheets.

Phoenix Directors flew the entire Hardy KGV sale to "Stampex" in London in October for viewing.

They also airfreighted cartons of the glossy sale catalogues to hand out there.

The same arrangements were made for viewing in Sydney and Adelaide in October.

Nirvana for the vendor, as the material gets very extremely wide exposure to potential buyers.
Gibbons "Part One" released.
For me the "event" of this month was the arrival of the new 2013 Stanley Gibbons "Commonwealth & British Empire Stamps 1840-1970" catalogue.

This volume is known to old-timers and the trade as the "Gibbons Part One" – as once, the other Volumes were numbered, and were "Americas" and "Asia" etc.

The average collector buys a new major catalogue only once every few years as they are expensive, and for many collectors, being a few years out of date is no big deal.

For about 100 years Gibbons published the "Part One" - a detailed priced listing of ALL British Commonwealth stamps from 1840.

It got thicker and thicker with all the WALLPAPER new issues from places like Guyana - where literally scores and scores of pages were filled with this new issue junk.

Yet all of us needed to pay for a thick complicated catalogue listing of it, that we never looked at.

The "Part 1" book got to be two massive hard cover volumes - so Gibbons simply stopped printing them. And seemingly had no plan "B" in mind.
Most unsatisfactory
For a good while afterwards all that one could use to look a 1953 Commonwealth definitive was to lug out the huge Simplified SG "World" cat from one of FIVE (now 6!) hard to handle soft cover volumes, and look it up there.

No mini-sheets were at the time listed in there, no perf varieties, no watermark errors, no booklets, no "on cover" rates etc.

Near enough totally useless for anything except simplified use.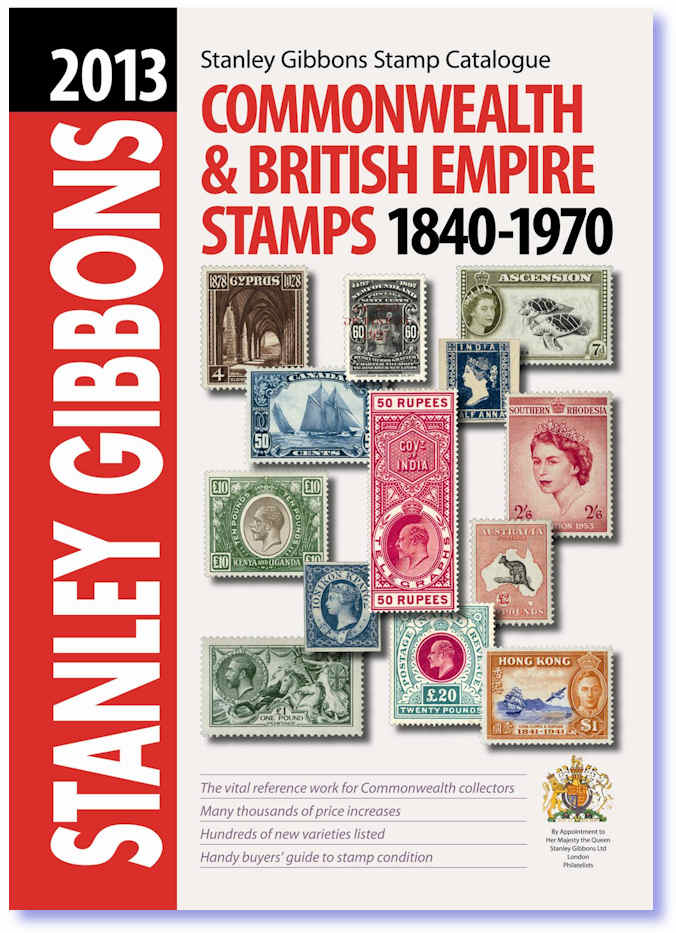 New SG Commonwealth a "Must Buy"
Then someone at SG finally had the bright idea to issue a single volume for all Commonwealth stamps "1840 to 1952" - i.e. pre QE2.

Handy and welcome, but it still did not cover the VERY popular early QE2 issues.
At LAST - a new SG format!
This all changed in 2007 with the way overdue issue of what I suggested years before - an 1840-1970 single volume.

Which contains the welcome DETAILED info on the early QE2 reign. Booklets, Postage Dues and watermark errors etc.

In the interim the dreary black and white photos printed on grey paper stock have been gradually upgraded to full colour photos, on bright white paper.

SUCH a difference when I compare the 2 issues side by side, with only a few years difference in time frame.
Colourful and vibrant
Printed on a nice crisp fresh white paper stock. Cheery and "alive" compared to my already VERY yellowed 2002 SG pages with sad grey illustrations.

A nice crisp clean sans serif font has been used for the last few editions, and makes it so much easier to read.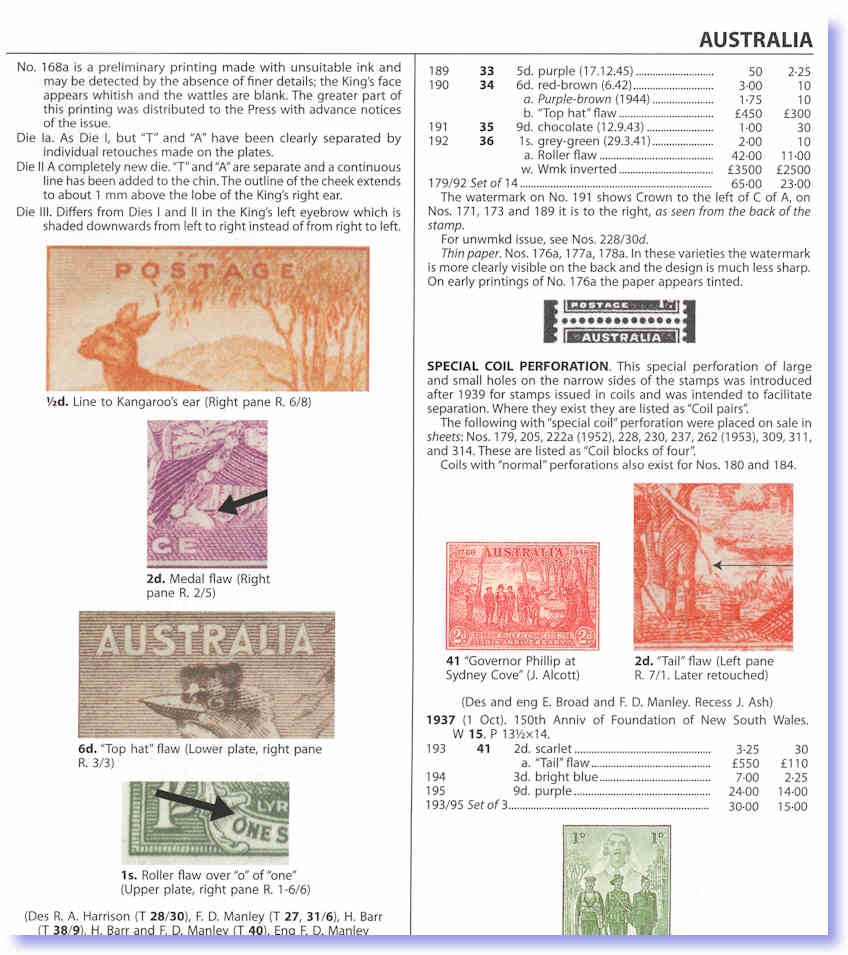 Lots of flaws shown and priced
Lots of constant plate flaws, and booklets are now listed. And lots of inverted watermarks - find just a medium one from a country like Australia and the entire book will be readily paid for!

Did you know the "Top Hat" flaw on the 6d Kookaburra was cat £450, or the "Man with Tail" on 1937 2d Sesqui is £550 – well you do now – see photo nearby.

Did you know the 1941 1/- Lyrebird with inverted watermark is Cat £3500 mint, and £2500 used - but just 10p in normal used etc.

A weakness for some years in this catalogue was that no Australian stamp booklet covers before 1952 were illustrated.

Arthur Gray has easily the best collection of these booklets extant, and kindly loaned then to me, so I could scan the covers to pass onto SG.

The booklet field is complex, and 5 new covers are now added – not all are there, hence not perfect, but a good start at least. And long overdue.
Australasian Prices UP
I studied the prices for the Australasian stamp area for an hour or so today.

My general impression is that there were increases sighted nearly everywhere across the board, versus the 2012 Edition.

Starting with rises for Australia SG#1 mint and used - and that pattern is evident on many of the key items in the area.

All the Australian "States" seem up or unchanged overall. Australian Kangaroos, and the GRI/New Guinea/Papua area etc too.

Looking at "SG #1" listings is usually a useful litmus test. Australia is up, and for WA SG #1 is up about 10% both mint and used.

(My 4 year old campaign for SG to use the photo I sent them of the imperf 1d Black Swan has at last borne fruit – they had a perforated 6d Violet Swan there until now!)

And the Queensland SG 1 is up too – the orange colour on photo is appalling, and highly misleading however. I'll send them a real carmine SG#1 to consider using.

Queensland stamps appear to have had strong increases right across the board, on a quick look.

The South Australia and NSW SG#1's are both up by £1000 apiece in mint. Strong increases.

The enhanced listings of booklets and pre-war Australia etc is great news, as the publishers of the ACSC Catalogue have totally lost the plot in the past 5 years.

They have turned the world's finest one country catalogues into frozen in time museum pieces.
ACSC Publisher loses the plot
The huge "Melbourne 2013" will be upon us sooner than we imagine, and the Australian trade and APTA itself are up in arms over the inertia coming out of Ultimo re ACSC editions being updated.

There are plenty of willing senior collector and trade members anxious to assist with time, money and expertise - but they are hitting a solid brick wall.

Dr Geoff Kellow keeps the data up to date as I understand it, and experienced dealers price it – but the publisher seems to refuse to print any of it.

That situation hopefully will soon resolve to some positive end, for the health of the hobby here.

The "Kangaroos" Volume was published well before the record breaking 2007 Arthur Gray $7.15 million sale etc, and has now sold out totally.

So any keen new collector cannot buy even the outdated version catalogue. Absurd.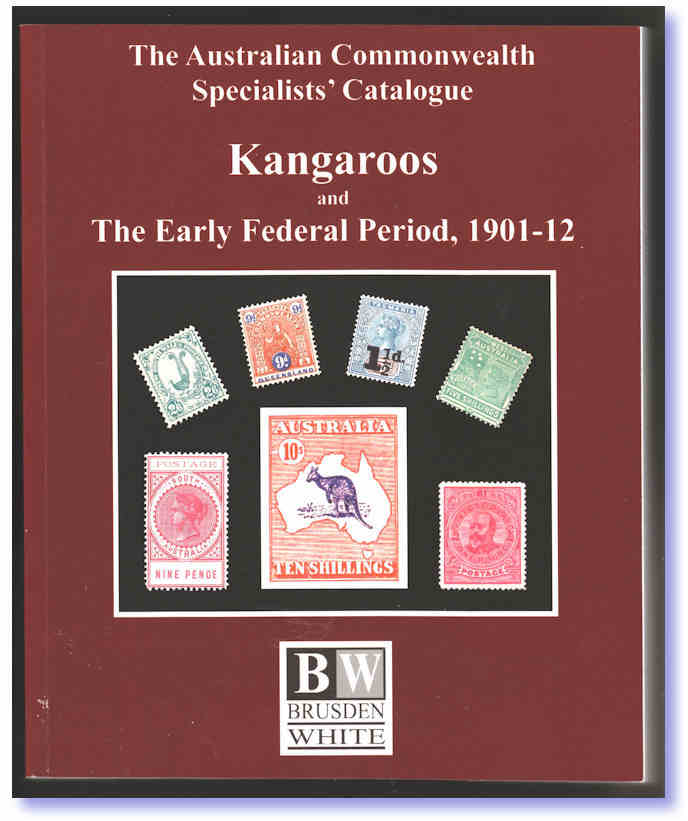 Now totally sold out.
"The Postage Dues" was last published 1999. A new edition including for the first time many of the "Colonies" issues was completed and ready to be printed 3 years back.

ACSC owner Paul Fletcher has the finest collection of Postage Dues on earth - Gold Medal stuff, so the delay with that one is bizarre, as he stands to gain the most!

Terribly sad, and hopefully the publisher will snap out of the mental freeze mode of recent years, or SG or someone else will make the running even more.
Near 25% price reduction
The GOOD news for Australian buyers is that due to the super strong Australian dollar, the even thicker than before 2013 SG edition is still around $A140 RRP this year.

The UK retail price on back cover says £79.95, and being a super heavy book, the local RRP is most attractive, as shipping ex UK is £25, and SG use worthless meter franks.

The 2011 locally was $A180 RRP so this is near a 25% price drop since then.

I've sold a lot of airfreight copies on pre-order, and if you ever were to choose a single year to update, "2013" is that year.

Quite simply, an ESSENTIAL volume to sit on the desk of every collector, every auction, and every dealer who ever handles British Commonwealth stamps.

I have to say even with the price increases, many of the stamps at full SG are under local retail given the weak Sterling in recent months.

Indeed the 1928 Kookaburra sheet mentioned nearby is cat £90,000, and will sell for WAY over that I feel sure.

It was a good compromise idea taking the catalogue listings up to 1970. It can be price updated each year, and yet not greatly affect the overall book size.

An 1840 to 2013 detailed set would easily run 4 of 5 volumes, and essentially no-one could afford to buy it.

Personally if I ever need to look up modern Guyana (and I never have!) I'll do that via the massive 6 volume SG "Stamps Of The World."

This new "2013" SG is a huge hard covered book, being well over 600 large format pages in full colour, and this year is quite cheap - and trust me, you'll do well to invest in one.

Seamail stock from England will be just about to arrive in Australia as you read this, and all major dealers will stock it - I had good pre-orders for the airfreight copies.

Many collectors only buy a "Part 1" each 5 or 10 years, and the cost amortised annually, runs into what a small Pizza will cost you!
BAN the heavy card inserts
My only complaint each year is they bind in some very thick cardboard ads, across the full A4 size, that stops you being able to turn pages readily.

I tear them out immediately as I am sure nearly all users do, and toss them away.

MEMO to those foolish advertisers - you have paid for the most super expensive non-ads of all time, and I do hope you read this.

Special Memo to APEX PHILATELICS whose annoying thick card page ad was on page 18 between New South Wales and Queensland, that I use 100 times a year.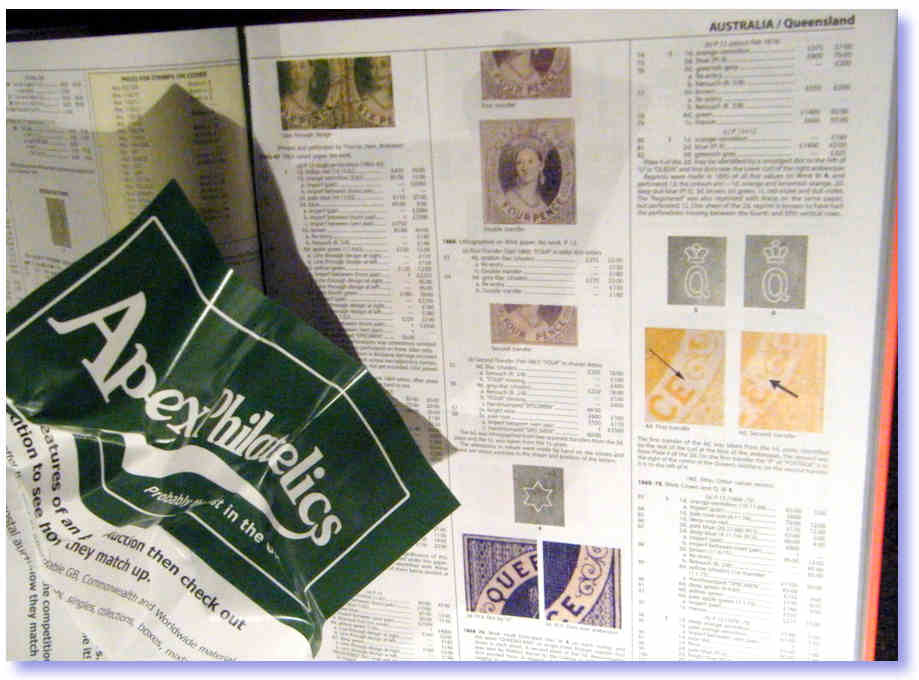 THAT feels better Apex!
These annoying irritants USUALLY have rouletting close to spine, allowing you to quickly toss the silly things away.

However the APEX PHILATELICS one on page 18 does not - at their very clear request I feel sure.

I nearly wrecked my previous catalogues ripping it out. And needed to use a Stanley knife to do it.

I hope they ask the SG Advertising Department for a huge discount rebate, as my bet is 90% of the catalogues sold see their intrusive ad torn out immediately. Pure genius advertising.

So SG – wake up to yourselves please, and roulette these silly things, so they are more easily binned.

OR better still, use some brains in your advertising department, and NOT include them in the first place.

A full colour ad on normal paper annoys no-one, gives the dealer some visibility, and does not encourage buyers to take Stanley knives to their $140 catalogues.
New listings this year.
There are a few new sections in this SG that many will like. The extensive India Telegraph stamps now get a few pages of priced listings in full colour.

A fascinating "new" collecting field perhaps, and as you can see, prices for the early issues are not for the faint hearted!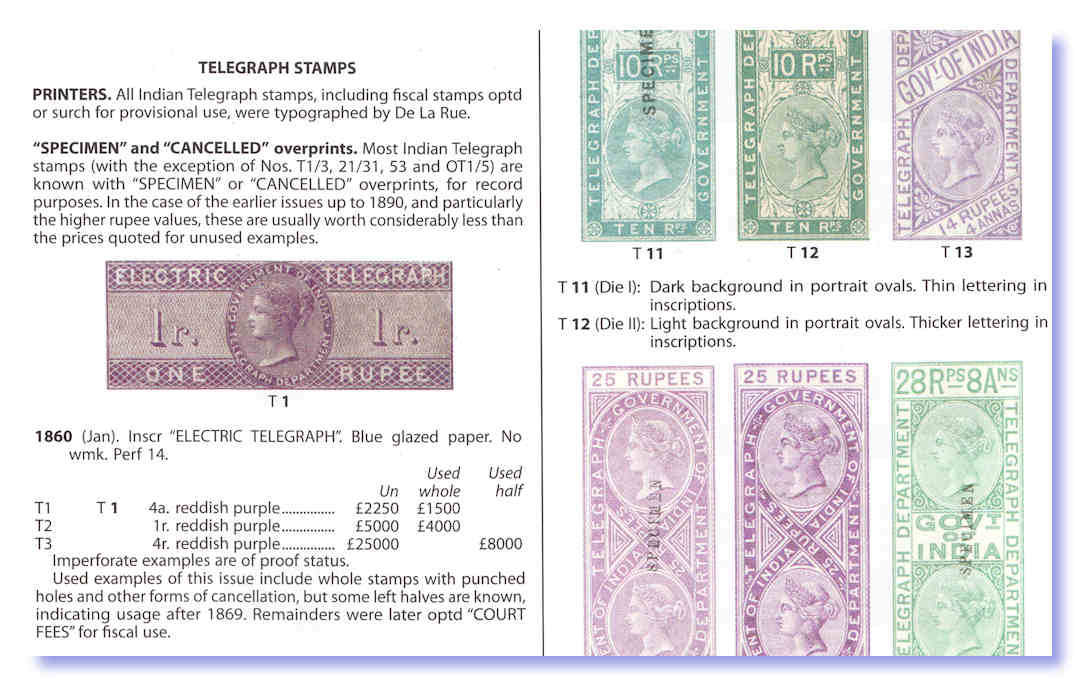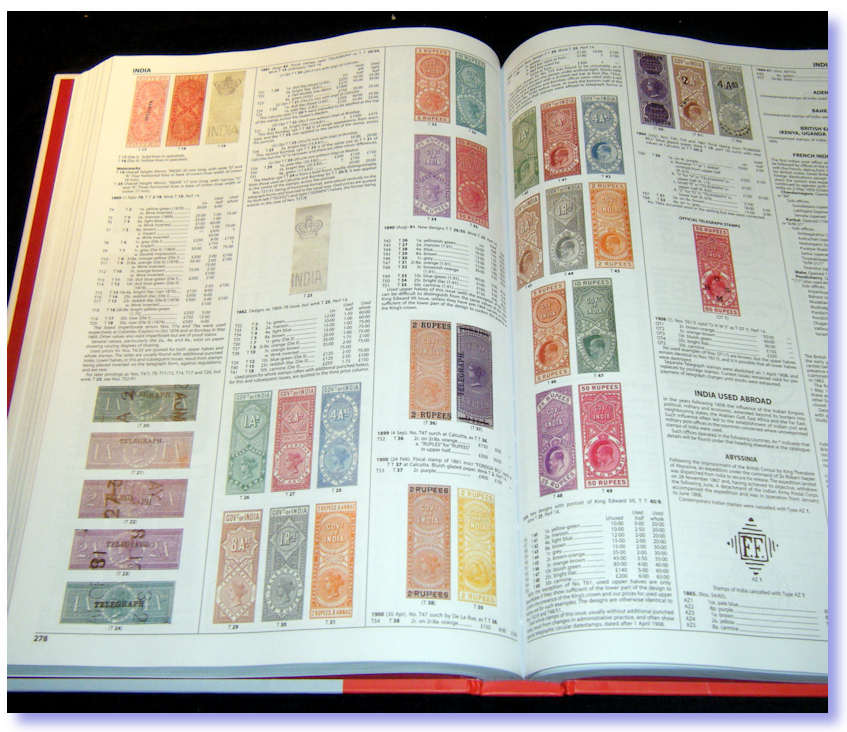 Indian Telegraphs now listed
India has around a billion people, and until recently most were on a subsistence type income level.

A large chunk still are - HOWEVER the middle class is a fast growing sector, and when any sector grows, in a BILLION people market, that is a lot of new entrants!

More important, is that stamps are incredibly popular in India for some reason.

It seems they are actively encouraged to collect via the education system, and a quick search will show you 100s of articles a week on stamps in the mainstream print media.

This all augers terrifically well for the future of the hobby.

I do know for a fact that at stampboards.com a large chunk of new and active members are Indian based.
India KGV a "sleeper"
As outlined last month, the really ugly dog FDC shown nearby owned by a stampboards member got $US6,300 on ebay.

The Indian market is not very sophisticated or logical yet. But has a LOT of adherents.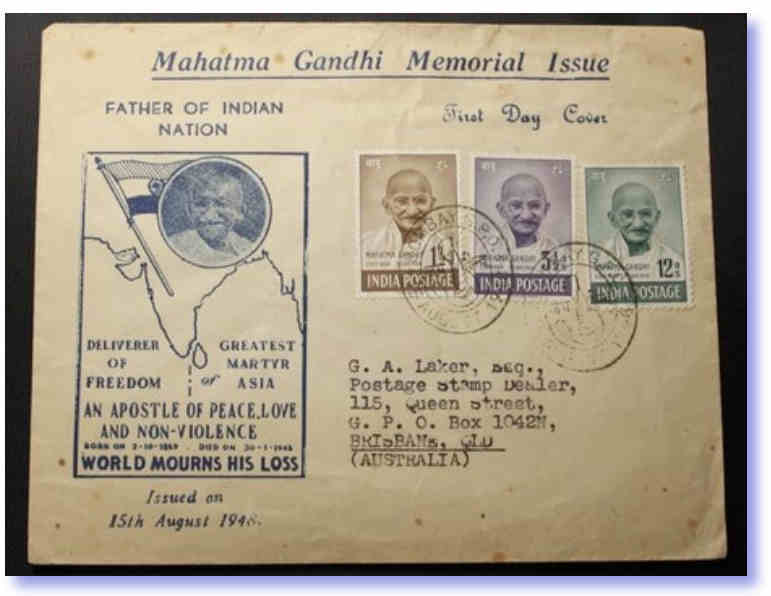 J
unk sold for $US6300 on ebay
Largely a bellhop/lemming mentality right now. "Follow the leader", with not much thought behind it. They will catch up however.

The recent new issue bubble there is a mug's game, and ALL will lose their shirt on them. BIG time.

In the meantime, superb high value REAL stamps from 100 years back, are selling for peanuts.

I recently listed this very high value India KGV shown nearby on my Rarity Page, superb MUH genuine original gum, for $A275.

It sold in one day to an American client. I had 3 or 4 others after it soon afterwards.

This is literally the 1913 £1 Australia Kangaroo face value equivalent. How many MUH will exist?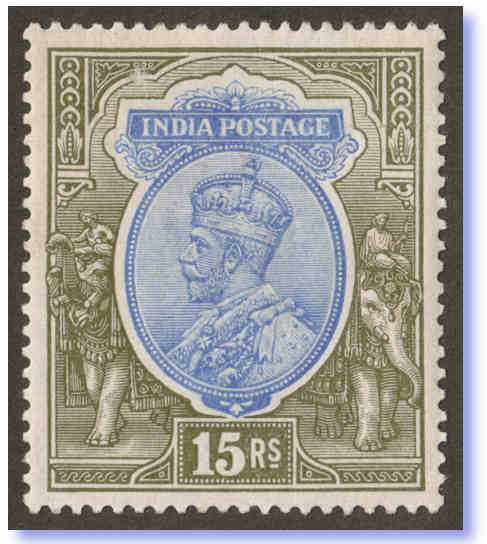 Sock these away now.
That stamp is $A10,000+ retail for MUH, and this one was sold for $A275. Madness.

In 10 years you can probably add a zero to the retail of many India high values of this era in TOP condition like this, mark my words.

The frenzied Bellhops/Lemmings in India paying $6,300 for the Gandhi rag above are FAR better advised to buy 25 or 30 of these, for the same money.

Print out this page, and in 10 years tell me I am wrong.

Indian collectors right NOW are super keen in the Post War issues – the "Independence" period from 1947 onwards.
Buy India 100 year old high vals.
However, the high value Queen Victoria and King George V have been largely overlooked. This WILL change.

I sold the superb bi-colour Queen Victoria 1895, 3 & 5 Rupee high values this week, fresh w/c MVLH, together for about what a PO Annual Album costs here.

Totally incomprehensible low prices these are currently at, and that will change.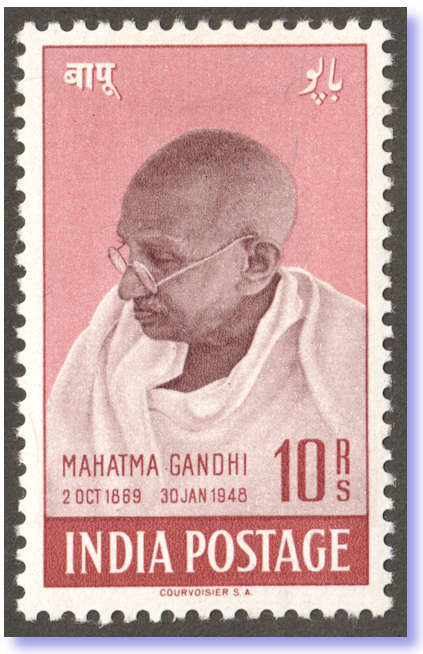 6 times price increase
I recently found a dozen stockcards of India stamps last priced by me in 2006 and not looked at since.

One card had a hinged 1948 10R Gandhi. SG Cat at that time was £45, and I had priced the stamp at $45.

The new SG Catalogue for this stamp mint is £275. Over a 6 fold increase in 6 years. I smiled widely and re-priced it at $A275.

I mentioned it on stampboards that day as it having increased a lot, and an Indian member stated he would buy it for $275, and did so immediately.

Ebay price is over $300 for hinged, and $450-$500 for MUH, so he got a decent deal, and I was happy.

As an example to those who do not update books that $45 price was all I had to work on, if I did not buy this 2013. $45 to $275 is $100 MORE than the cost of the SG!
Check that Kiloware!
Eagle-eyed collectors have been making good money spotting interesting variants on the current design "2nd Class" QE2 Machin stamps in blue.

Some of them were printed with the security background wording reading "ROYAL MRIL" instead of ROYAL MAIL.

And the lettering "MA10" is printed in line with the Queen's eyes on the same stamps.

These were for use by mailing houses, and sold in long rolls of 10,000 stamps.

I understand no stamp dealer was able to secure a roll of these, to break down among the trade, hence no true mint copies have ever surfaced.

As you can imagine this is a rather common stamp in kiloware, and the "MRIL" wording is pretty easy to spot.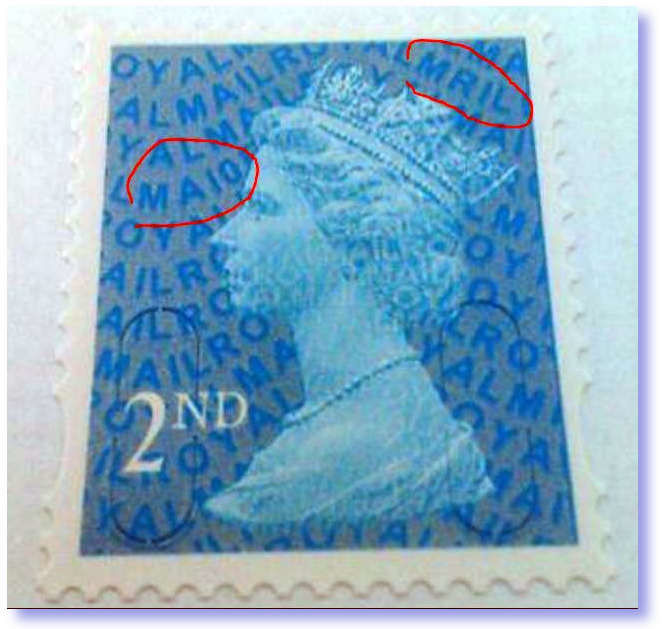 An easy $A325 Kiloware find
Current price on ebay for used stamps is still around £50 each, and they were well into the £100s each earlier year.

Find a MINT one and I can offer you VERY big money for it! The closest anyone has come, as at time of writing I am aware of is the one shown nearby.

It is a 2nd class stamp, that was most likely used on mail, but as with so many modern GB stamps - escaped getting cancelled.

This on paper unused stamp sold recently on ebay for £207.99 posted, and started at 99p. Full detail here - tinyurl.com/MRIL2nd

That sale was September 27, seller was a charity, and the price was about $A325. Pretty nice find in Kiloware.

Royal Mail seem to have got lazy in recent years with cancelling letter rate mail, since they introduced the "U" shape slits into the letter rate peel and stick stamps.

They act like supermarket price stickers – try to peel one off!
New Style "Slitted" Machins
As most readers will know, UK have for a while now been issuing most new Machins in a new style.

Each has two or four "U" shape slits in each stamp as shown on the blue stamp nearby.

The idea is, it is impossible to peel these off an envelope that has not been cancelled, and then re-use them again on the mail.

Official explanation is that this will: "act in the same way as retail price stickers, causing a stamp to rip if you try to pull it off an envelope."

This "ROYAL MAIL" overprint is in a semi-visible layer, more obvious as the stamp is slanted against the light - as with phosphor bands.

The semi-visible layer is an "all-over" print, with the words ROYAL MAIL "reversed out" of the part which is over the dark background (i.e. in "negative".)

However on the Queen's head, the words are smaller, and are "positive", i.e. there is an area over the head which has a clear background, with the words printed in it.
The NEVER aging Queen!
| | | |
| --- | --- | --- |
| | All allegedly have non-soakable PERMANENT adhesive on them, although it appears not as robust a glue as the USA gum. | |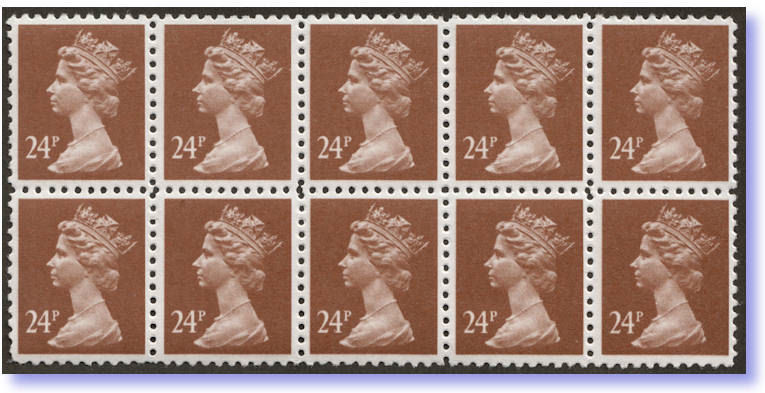 Postal forgery 24p Brown Machin
The "Machin" series has been issued for 45 years now, the first tranche being released in 1967 – the Queen's head design being approved in 1966.

As a testament to the remarkable vanity of our Monarch, Lizzy has magically not aged a single year since then, nor added a wrinkle – the exact same portrait being used now, as in 1967.

I'd hate to think how many denominations and colours they can be found in, and how many billions have been sold.

Certainly they exist from ½d to £5 - and the masses of values in between.

Then you can add endless specialised variations - with various phosphor bands, shades, papers, printers, elliptical perfs and the like, to the list as well.

And FORGERIES too! The 24p Machin was forged, and sold to small business and family convenience/grocery stores etc, at well under face.

I bought a few sheets from an English source at the time, and dealers there are still nervous about handling them, in case of British Police action.

I sell them for $A70 a MUH block of 10 tinyurl.com/Fake24p - see photo nearby, so clearly they are not going to be used on mail to defraud £2.40 of revenue!



Instant Currency Conversion


FREE! Just click here...




If you would like to be notified of updates to this website,
Click HERE.
If have any questions,
or comments regarding my site, please email me at glen@glenstephens.com
| | |
| --- | --- |
| | Search all my 300+ web pages! Simply type in what you are looking for. "Penny Black", "Latvia", "Imprints", "Morocco", "Fungi" "Year Books", etc! Using quotes ( " ) is more accurf used with no quotes. Search is NOT case sensitive. Tip - keep the search word singular - "Machin" yields far more matches than "Machins" etc. |


I am a Dealer Member in Good Standing Of:

Full Time Stamp Dealer in Australia for over 25 years.
Life Member - American Stamp Dealers' Association. (New York)
Also Member of: Philatelic Traders' Society. (London) ANDA. (Melbourne) American Philatelic Society, etc
GLEN $TEPHEN$
Full Time Stamp Dealer in Australia for over 25 years.
Life Member - American Stamp Dealers' Association. (New York)
Also Member - Philatelic Traders' Society. (London) ANDA. (Melbourne) American Philatelic Society, etc

ALL Postage + Insurance is extra. Visa/BankCard/MasterCard/Diners/Amex all OK, even for "Lay-Bys"! All lots offered are subject to my usual Conditions of Sale, copy upon request BIGGEST STAMP BUYER: Post me ANYTHING via Registered Mail for my same-day cheque. Avoid the GENERALLY 40% Auction " Commissions" (15% + 17½ + GST, etc.) AND their five-month delays! Read for details.
"Lothlórien4 The Tor Walk, CASTLECRAG (Sydney), N.S.W. 2068
Phone: (02) 9958-1333&n Fax: (02) 9958-1444 (Both 25 Hours, 7 Days!)
E-Mail: glen@glenstephens.com
Web Sites: www.glenstephens.com www.glenstephens.net or www.australianstamps.net