Click To Go Back To The Main www.GlenStephens.com Stamps Homepage

Welcome! You are visitor
to www.GlenStephens.com




Glen Stephens
Monthly "Stamp News" Market Tipster Column


November 2013

---
Bargains still out there.
As I endlessly type - "Knowledge Is Power".

A large UK dealer had this imperforate stamp shown nearby described as a "Plate Proof" on his website at fixed price, for about $A200.

Now KGV 1d Plate Proofs are fairly common, and they sell for $A200 or so apiece, so his asking price was pretty accurate.

Many dealers - even here, would make the error that it was a plate proof.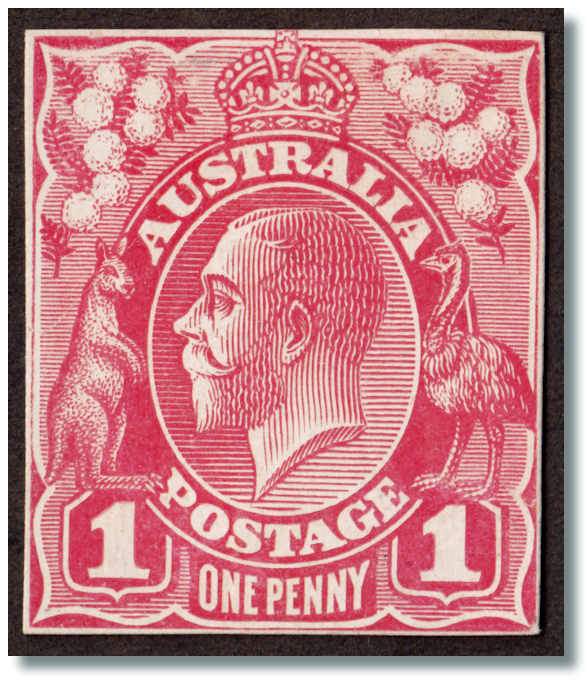 Will pay for my next holiday!
As the name implies, PLATE proofs are pulls on quality paper, taken off the finished metal plate - all completed and ready to print the stamps.

There are a few 1000 of those for KGV about in many colours, including full sheets, hence their rather modest value.

Wide well balanced margins as you can see are usual for these.

The trio shown nearby I sold to a client, and another bought a large part sheet of 1d pale carmine I turned up in the USA - "lost" for over a half century.

As there was one sheet printed in that shade, today's prices are silly at $250 each I'd have to say.
Might have been expensive Dud
Now this UK offer might well have been a misidentified "cut-out" from a postcard or lettercard etc on thin cardboard - in which case $1 was too much to pay - forget about $200!

But I could certainly see from the small photo the dealer had up, that the striking "White Wattles" were not from a "cut-out" or even plate proof, but an experimental DIE proof.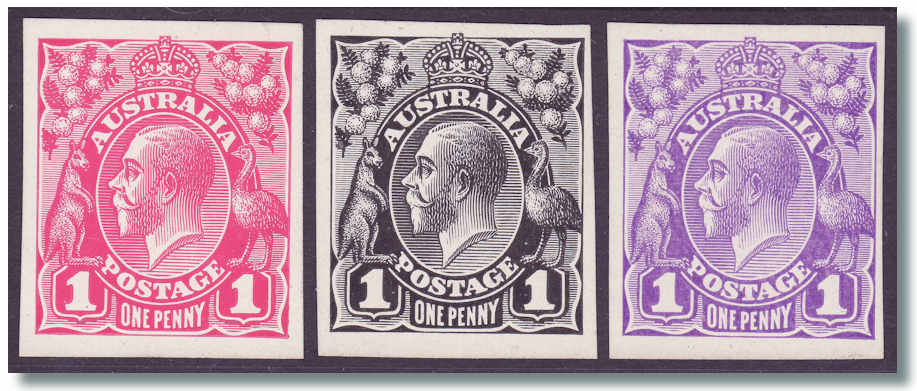 Pretty trio KGV Plate Proofs
The curious accented white "cow lick" detail in front hairline was also a dead giveaway.

DIE proofs are made as the final design progresses, and often have major differences in detail to issued stamps.

I felt pretty sure it was EITHER De La Rue ACSC 70DP(7) in red, (Cat $25,000) for which ACSC say sizes are small - or ACSC 70DP(12)Ce.

One example of each of the 10 DLR states is recorded, fully half of which are stated to be in the AP Chapman collection.

OR, A Perkins Bacon & Co Die Proof State 2 - ACSC 70DP(12)Ce "cut down" - of which ONE copy is recorded. (Cat $A12,500, 6 years back.)

It is on fresh thin glazed card, as are both the proof types, and the shade group of Carmine is right.

It has no evidence of having being affixed and removed from anything - backing card etc, as some other proofs appear to.

Luckily it is very fresh, having been in UK for much if not all of its life, I'd suspect, and undamaged, as both the Terrington shown examples were.

The size for ACSC 70DP(12)Ce is NOT given in ACSC, but I'd assumed was larger than this proof, by the other types given sizes, making it appear more likely to be De La Rue.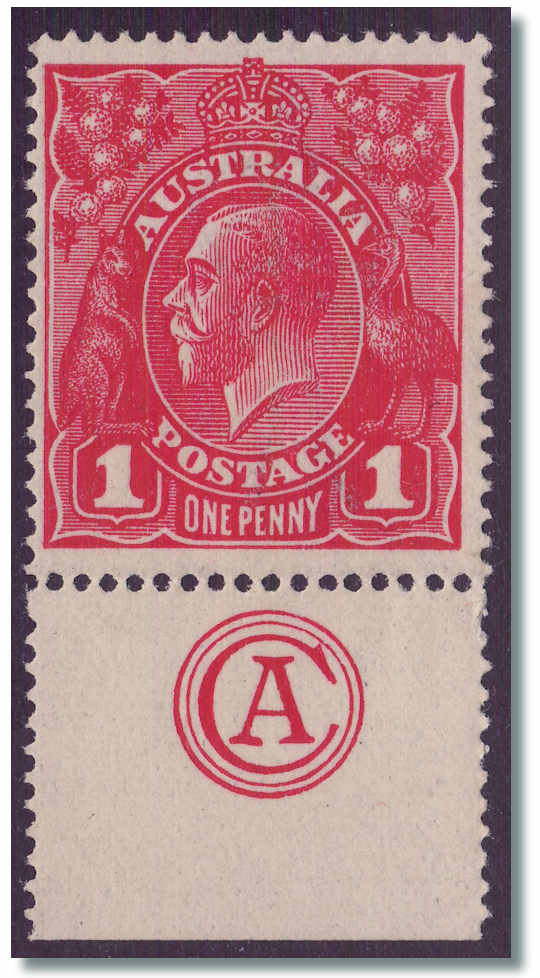 No "White Wattles" here
Die Proofs are generally known in only 1 or 2 copies per design state, and many of those are in the Chapman collection - owned by Australia Post, and the Royal Collection.

Neither institutional collection is shown in ACSC as owning the one recorded ACSC 70DP(12)Ce.
Hardy had ZERO Die Proofs
The superb Stuart Hardy KGV collection sold recently did not have ANY KGV head Die Proofs, of any kind, for instance.

stampboards came to the rescue, with a senior KGV member advising he had re-classified some of the KGV proofs in the Royal Collection exhibit in May.

This specialist, David Terrington kindly posted sharp images of other Die Proofs with identical very tight margins, so the current ACSC notes are not gospel, by any means.

David and others are conducting a survey of all KGV head proofs to update ACSC data, so please contact him if you can add scans or detail to his database.

I mailed David the stamp to examine in person, and he confirms after UV and paper thickness tests etc, it is a Perkins Bacon Die Proof, ACSC 70DP[12]Ce

Tom Carter, long time curator of the Hugh Morgan collection, and signer of countless RPSV Certificates, also concurred with David on stampboards.

So it does show important new discoveries ARE possible, and this one will I am sure, likely pay for my next holiday to Ghana. In BUSINESS Class!
Superman – for Canadians ONLY!
On September 10, 2013, Canada Post commemorated 75 years of Superman's adventures, with the release of six domestic "P" rate Superman stamps.

But they were ONLY legally allowed to sell them to Canadian residents!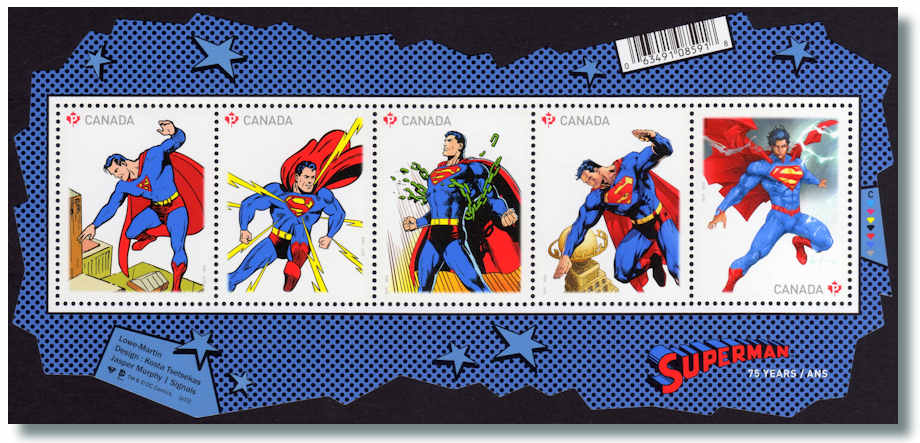 Up, up & away - Local only!
Five stamps, each available in a booklet of ten stamps and jointly on a mini sheet, and a coil, showcased the evolution of Superman's image as it appeared on the comic book covers.

• 1939: Superman #1, cover drawn by Joe Shuster
• 1945: Superman #32, cover drawn by Wayne Boring
• 1971: Superman #233, cover drawn by Neal Adams
• 2004: Superman #204, interior image drawn by Jim Lee
• 2012: Superman Annual #1, cover by Kenneth Rocafort

Due to strict copyright licensing issues the PO was not permitted to mail them outside Canada. Full discussion here - tinyurl.com/SupermanCP

One helpful stampboards member in Canada offered to buy whatever members wanted locally, and mail them direct!

They are "P" stamps (i.e. "Forever") and 3 of them paid for a Foreign letter.

I am not sure if foreign agents of Canada Post will be legally able to supply hem.
"OFFICIAL" Handstamp on Roo
Sometimes strange things turn up, when and where one least expects to find them.

I was sorting through a suitcase of stamps bought over and sold to me today.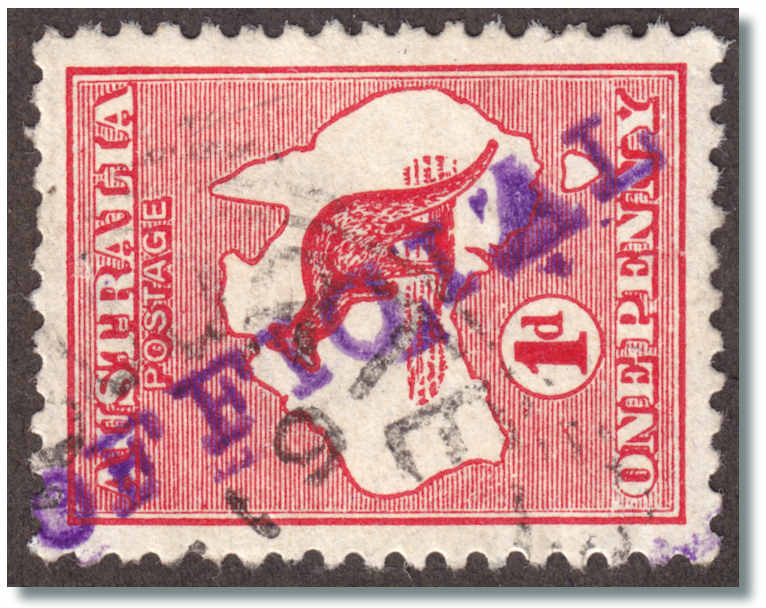 Anyone seen this before?
Formed by the seller's Father and Grandfather, it contained some useful material, but all pretty mainstream.

A page of 1d Roo varieties, like "Two Tasmanias" etc, but none of the very scarce pieces or the high face values.

It had not been added to for several decades, that much was evident - probably 50 years.

Sorting through the page of 1d Roos, I spotted this strange handstamp - a diagonal "OFFICIAL" marking in violet.

It was not annotated in any way in the collection - was just sitting on the page with other 1d 1913 Kangaroos.

Handstamp made of rubber I'd guess. There appears to be a trace of more violet ink at lower left corner.

Stampboards sleuths determined beyond doubt the postmark was a "Naracoorte SA" Squared Circle – a small town in the South East.

I had just been reading the interesting thread on stampboards, where the NZ PO hand-stamped 100s of stamps in the 1930s with a crude "CLEANED" overprint.
Official PO "CLEANED" handstamp.
Why? As some cheeky sod had been chemically cleaning off cancels from older NZ stamps, and offering them in club circuit books as "Unused".

Full details of this very bizarre but true story, and many more photos are here - tinyurl.com/CleanedNZ
NZ Philatelic Society Duds
This con was being done via the Philatelic Society of NZ back in 1936, and the cleaned stamps offered to collectors.

A NZPO Postal Inspector took their circuit books, and 100s of the dodgy stamp contents were thus overprinted.

As they were not being used to MAIL anything, and thus defraud revenue, the PO had no option but to hand back all the Circuit Books to the Society.

Some of these official handstamps ended up in Jim Brodie's fabulous NZ collection.

Some 44 different NZ stamps were handstamped, and a total of 200-250 in all probably done. About half are now accounted for.

Brodie's were sold at the auction marking the RPSNZ's 125th Anniversary Celebration early September, and fetched high prices.

So does any reader have any light to shed on this "OFFICIAL" handstamp on the 1d Roo? Please add any input here - tinyurl.com/Roo1d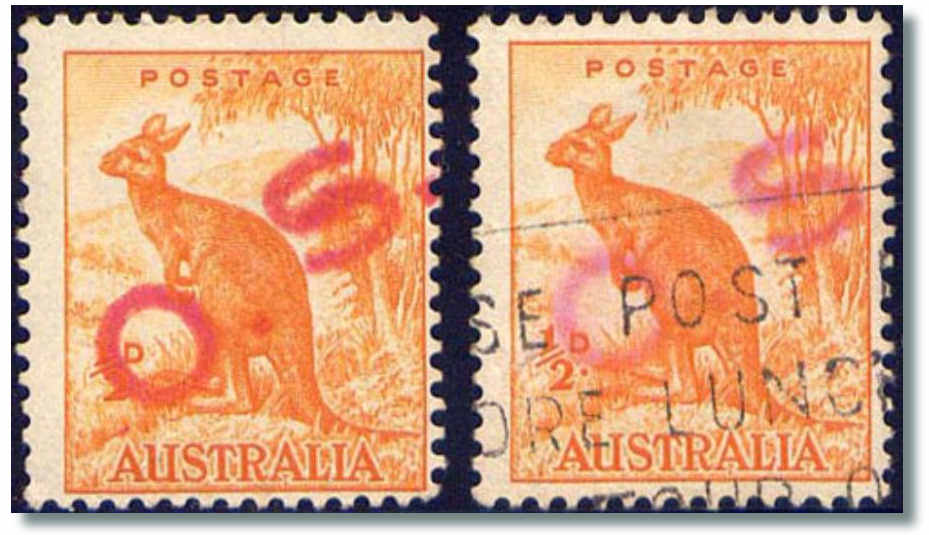 An apparently official usage?
Some odd "stop-gap" measures have occurred over the years with Official stamps.

I saw a few red "OS" overprints for sale in the Millennium Auction of September 18.
Red "OS" Handstamps
There was a mint and used single of this seldom seen overprint, and 3 cut outs from envelopes. They were in 2 separate lots.

The on-piece trio had an estimate of $150 and was invoiced after all add-ons for about $A400.

The description they gave was -

1948-56 No Watermark ½d Kangaroo with large 'O.S.' handstamp in magenta used on pieces with 1950 2½d NSW Stamp Centenary punctured 'G/NSW' at Deniliquin in May 1951 (2), or with 2d and 3d KGVI punctured 'G/NSW' cancelled at Scone in May 1951.

The kind of thing to watch out for in old collections. The ½d "OS" pair illustrated nearby was invoiced for $A210.
1919 Ross Smith "Vignette"
The Australian "Local" item most think of first, is the 1919 Ross Smith First Flight, England to Australia "Vignette".

This is technically more a semi-official stamp issue, than a "Local" or "Cinderella".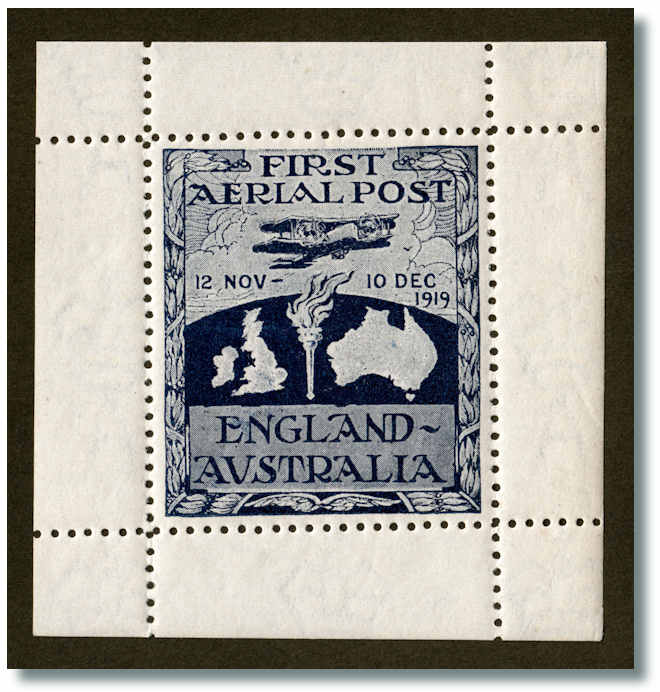 Pricier than most £2 Kangaroos
It was ordered by the Prime Minister's Department (by no less than PM 'Billy' Hughes pesonally!) via the Treasury Department.

It was printed in great haste by Harrison and Commonwealth Note Printing Branch on watermarked paper - the identical paper we find on 1914 KGV heads, or the "Second" Watermark Kangaroos.

A handbook on the Ross Smith Vignette stamp issue has been written by Tom Frommer - author of the last AAMC.

It is 144 pages, and has much previously unrecorded information in it.

Every known cover, stamp, vignette, letter and forgery are illustrated and numbered.

Publisher Charles Leski has made a special post free cheap offer for readers of this column - just email them, and mention this column for details.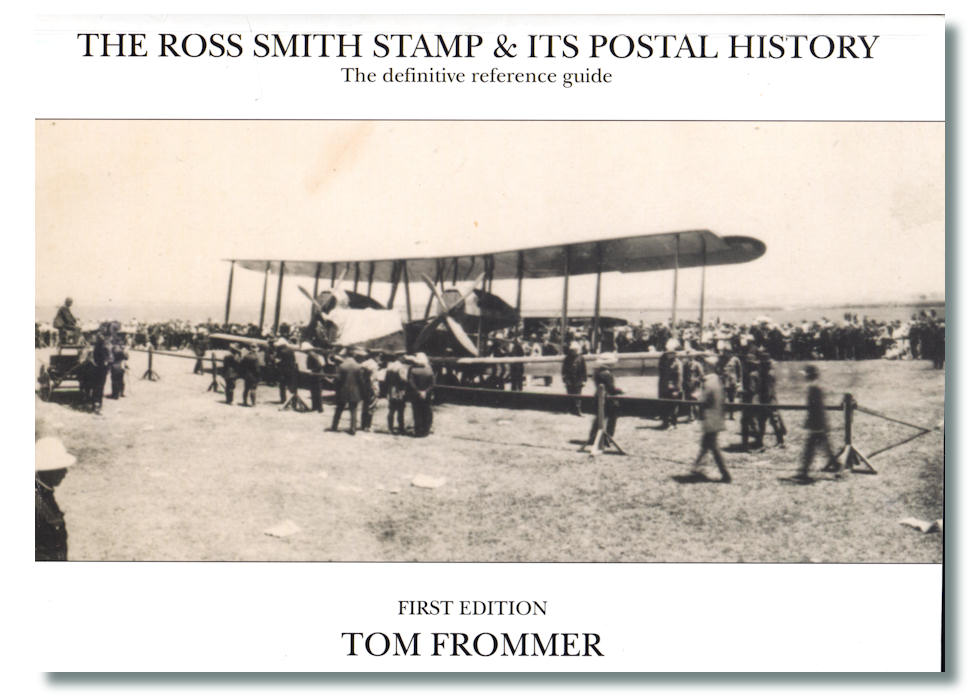 Ask for special Reader Offer!
| | | |
| --- | --- | --- |
| | For the dozen hopeful folks who ask me each year if their "rare" Vignette is really valuable - just hold it up to the light. | |
How to check for fakes
If there is NO watermark, you clearly have one of the many types of reprints done over the years.

Not that such minor detail bothers the 100s of dreamers who list their fakes up on eBay each year as "genuine and rare"!

Some of them are really crude, and some were far better productions. Endless 1000s seem to have been produced over the decades.

Edgar Lewy, long term 'Philatelic Exporter' columnist did some quite decent high grade reproductions via Philart in the UK in the 1970s. Edgar's were by FAR the best "fakes".

He offered me a large carton of these 25 years ago. Well after he died I asked wife Lily if she still had them, and said she tossed them into the garbage bin in London - a shame, as they were nice, and seldom seen.

Some reprints are so roughly printed virtually none of the perf holes are punched out.

And in ALL cases, the colour is quite wrong, not being the deep steel blue of the genuine, as you can see in the photo of my copy above.

It is not a "Local" or a "Cinderella" strictly speaking, but in my view is an officially printed label and should be more correctly termed a "semi-official" production.

Major catalogues like Yvert list and price it as an Australian postage stamp issue. Major album makers like Seven Seas stamps have made spaces for it in printed albums.

Many still exist as mint or used stamps, or on cover. A fine MUH sheetlet generally sells for about $A20,000 these days.

The fresh MUH one illustrated nearby I sold for $15,000 recently. I do not charge that for most MUH £2 Roos!
Highest cover price c$A50,000.
A really striking looking Ross Smith flight cover was auctioned in recent years in the region of $A50,000.

There are still quite a number of these Vignettes existing, either as mint sheetlets as illustrated nearby, or on covers with the outer margins removed in all cases.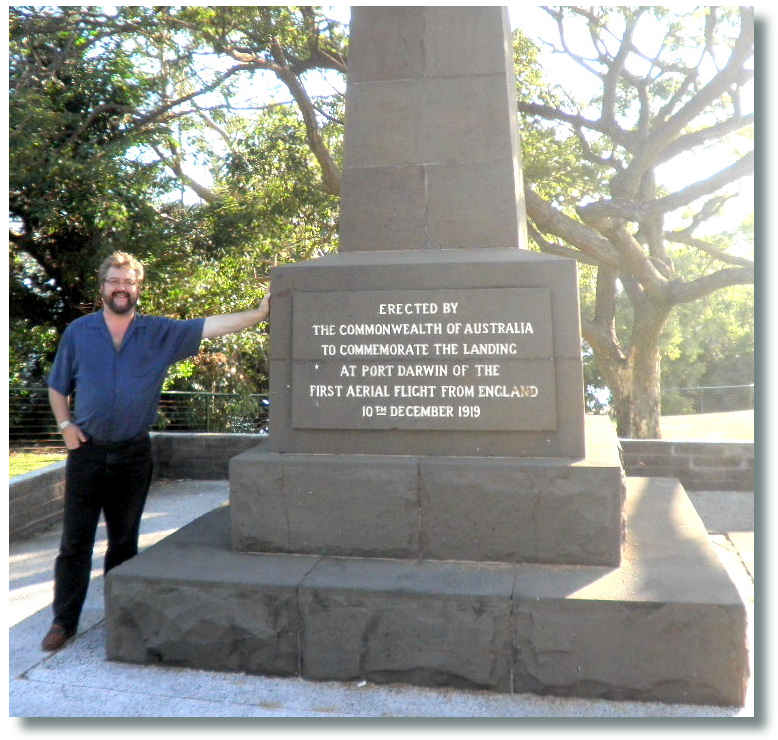 Smith still remembered in Darwin
I was up in Darwin last year, and drove down Ross Smith Avenue, and sought out the little known but impressive cairn marking his arrival in Australia in 1919!

I have a rather interesting cover in stock, that is far removed from the usual 1919 Ross Smith covers.
27 page Army record
Lance Corporal Rupert Sainsbury's AIF 27 page service report is here: tinyurl.com/SainAIF - amazing how much detail they contain!

The records show that the "On Active Service" mail written January 10 and 11 1919, was collected from the AIF 1st Australian Wireless Squadron ex Baghdad.

This "OAS" troop mail was then handed to their Brigadier - General MacEwen.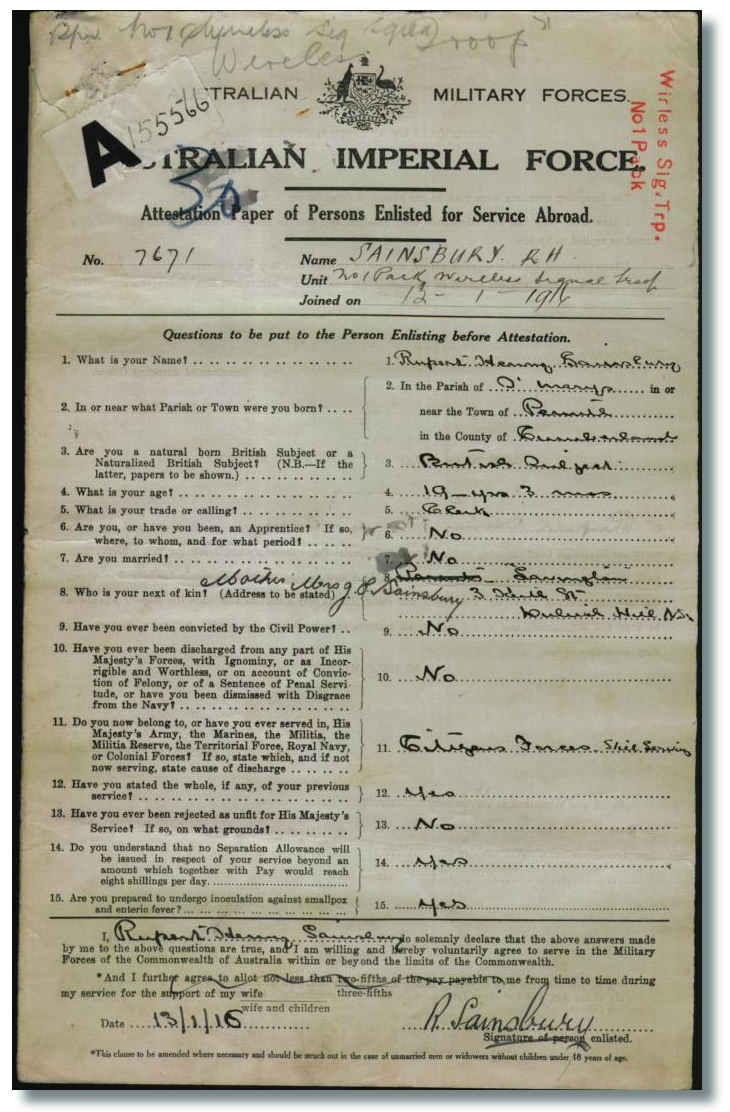 Sainsbury AIF Record
MacEwen handed this mail to Ross Smith in Simla India, knowing he planned a pioneer flight to Australia. Smith duly carried it on the historic flight ex London in November 1919.

Trooper Sainsbury was in fact de-mobbed from the Army, and was safely back in Australia for SIX MONTHS, before his cover arrived in Darwin in 1919!

It then took near 3 more months for his letter to arrive in Melbourne, where the "26 February, 1920" date-stamps were all applied to the hastily affixed Vignette "stamps", and all delivered under separate cover.

So it was probably March 1920 before it reached Dulwich Hill NSW, near 15 months after being written in the Persian desert in WW1.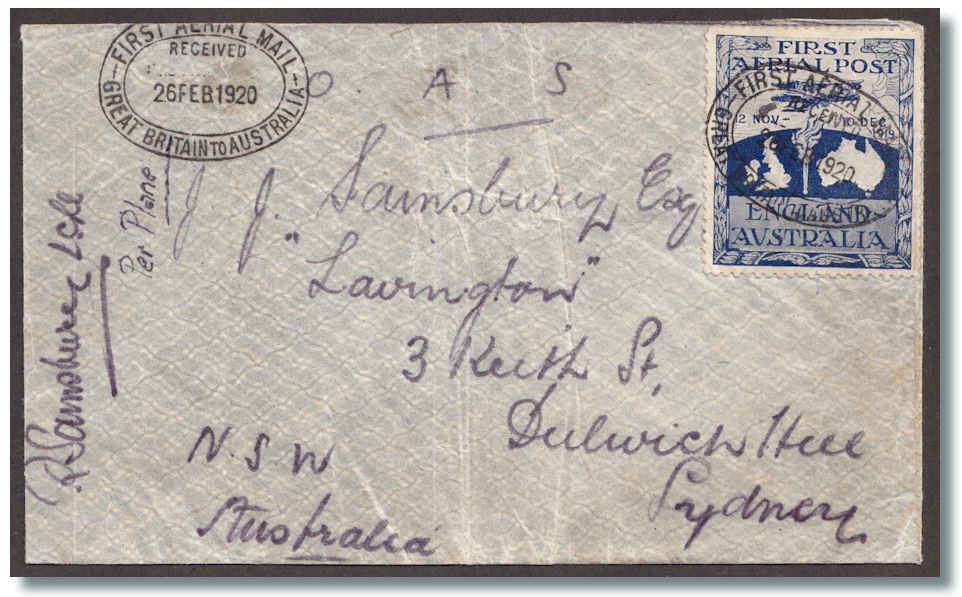 15 months to arrive from Persia!
My cover is signed and dated on back by the Engineer - "J.Bennett, Darwin 12/12/19".

The new handbook says 29 covers are recorded in total signed by Sargeant Jim Bennett. He tragically died 2 years later.

It is also an "O.A.S." (On Active Service) cover ex Baghdad, that AAMC says only 26 covers are recorded from.

Lance Corporal Rupert Sainsbury was in "Baghdad" from 18-9-18, then "Basrah" - returning to Bombay on 5/3/19, then shipped home to Sydney.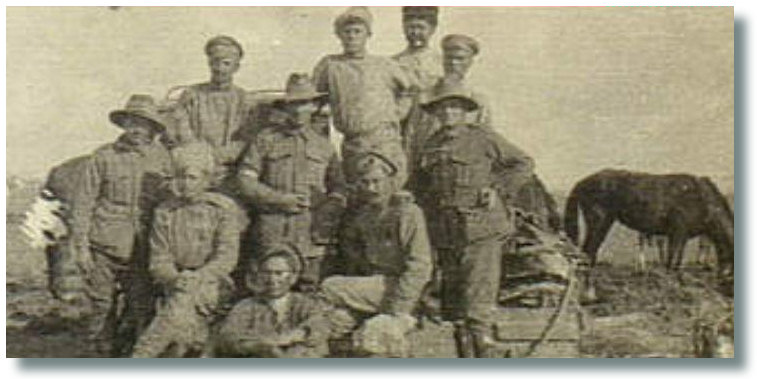 Sainsbury & Russians in Middle East
Sainsbury it is understood, is featured in this fuzzy photo nearby, that he donated to the Australian War Memorial.

The photo shows members of the Australian AIF 1st Wireless Signal Squadron and Russians, in Mesopotamia.

Persian Road, Persia. 1917-12. Informal group portrait of operators with the 1st Wireless Signal Squadron and Russian Partisans (Partizanski) on the Persian Highway. The Russian detachment consisted of volunteers from different regiments under the command of Bicherakov who had chosen to continue to assist the Mesopotamian Expeditionary Force after the Russian Revolution. They had with them a mobile wireless station. A party from No. 1 Wireless Signals Squadron was sent to handle traffic in English. (Donor R. Sainsbury)

I love postal history - this First Flight cover takes on a totally new depth and life when a few hours research are expended.

Written in the deserts of Persia in WW1, hand carried to India, then to the UK. Then 18 months later arrived in NSW via this most famous of all flights.
Survived Madagascar
| | | |
| --- | --- | --- |
| | A number of readers emailed to ask how my visit went last month to Madagascar. | |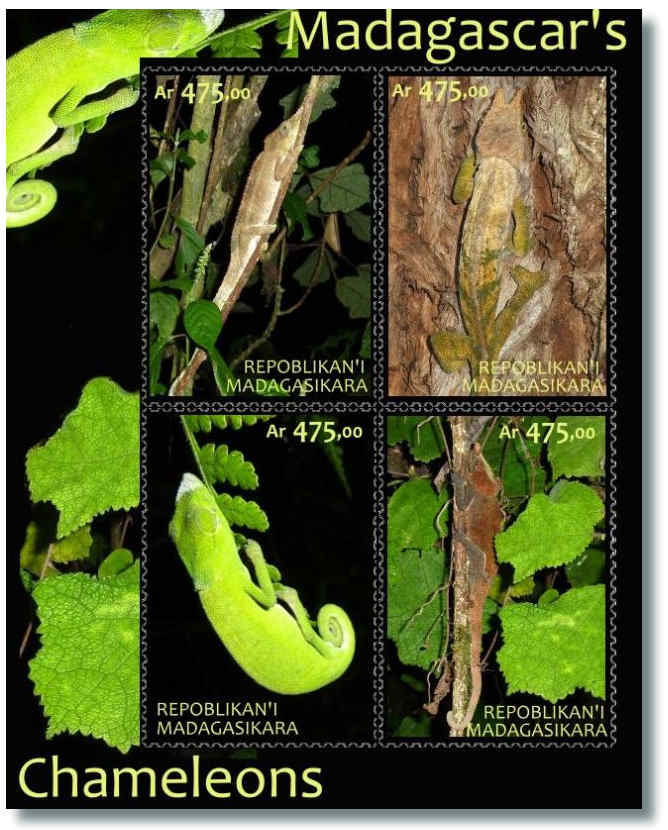 Better than official issues!
Very primitive of course, but that is the joy of travel! Margo got Amoebic Dysentery either there or India - so not such a joy.

Many photos here of the jungles and poverty, and the contrast in a safari Lodge in Africa! tinyurl.com/MadaPic and tinyurl.com/GreatFishRiver

Stampboards member "Allanswood" in Goulburn is quite a whizz with graphics, and created a mini sheet using photos that we posted of Chameleons taken on a night walk!

A better looking end design than many of their official stamp issues I thought. He did the same for the African wildlife - also superb!









Get my regular market update emails FREE. Stamp gossip, price trends, record sale prices, and many one-time stamp specials, wholesale bargains, and exciting offers and breaking philatelic news. A mini stamp magazine in every email! "KNOWLEDGE IS POWER". The ONE stamp list you MUST be on, to keep in touch with the rapidly changing world market. One client made $65,000 profit in a few months after following my specific advice. Sign up securely and quickly by clicking HERE to access my automated data base. And wiser still ADD your home AND work email, if I only have one right now. Add a stamp friend's email address if you wish. One short click and you are subscribed to probably the most read email list in the stamp world!


Instant Currency Conversion


FREE! Just click here...




If you would like to be notified of updates to this website,

Click HERE. If have any questions,
or comments regarding my site, please email me at glen@glenstephens.com



| | |
| --- | --- |
| | Search all my 300+ web pages! Simply type in what you are looking for. "Penny Black", "Latvia", "Imprints", "Morocco", "Fungi" "Year Books", etc! Using quotes ( " ) is more accurf used with no quotes. Search is NOT case sensitive. Tip - keep the search word singular - "Machin" yields far more matches than "Machins" etc. |


I am a Dealer Member in Good Standing Of:

Full Time Stamp Dealer in Australia for over 30+ years.

Life Member - American Stamp Dealers' Association. (New York)
Also Member of: Philatelic Traders' Society. (London)

GLEN $TEPHEN$

Full Time Stamp Dealer in Australia for over 25 years.

Life Member - American Stamp Dealers' Association. (New York)
Also Member - Philatelic Traders' Society. (London) ANDA. (Melbourne) American Philatelic Society, etc


ALL Postage + Insurance is extra. Visa/BankCard/MasterCard/Diners/Amex all OK, even for "Lay-Bys"! All lots offered are subject to my usual Conditions of Sale, copy upon request BIGGEST STAMP BUYER: Post me ANYTHING via Registered Mail for my same-day cheque. Avoid the GENERALLY 40% Auction " Commissions" (15% + 17½ + GST, etc.) AND their five-month delays! Read for details.

"Lothlórien4 The Tor Walk, CASTLECRAG (Sydney), N.S.W. 2068
Phone: (02) 9958-1333&n Fax: (02) 9958-1444 (Both 25 Hours, 7 Days!)
E-Mail: glen@glenstephens.com
Web Sites: www.glenstephens.com www.glenstephens.net or www.australianstamps.net