Click To Go Back To The Main www.GlenStephens.com Stamps Homepage

Welcome! You are visitor
to www.GlenStephens.com




Glen Stephens
Monthly "Stamp News" Market Tipster Column


November 2014

---
Ever heard of a "Tyrian Plum"

A stamp many readers have never heard of, just sold for about $A130,000 at Spink London.

The stamp was the GB May 1910 King Edward VII, 2d "Tyrian Plum". 100,000 sheets – 24 million stamps were printed, but few stamps survived, as the King died a few days later.

Spink invoiced it for £67,200 on September 25, (then about $A130,000) following the London sales, of part of the Lord Vestey Great Britain stamps.

The stamp sold had a few gum wrinkles, and a 1982 RPS London Expert Certificate. Current 2105 catalogue is SG 266a at £115,000.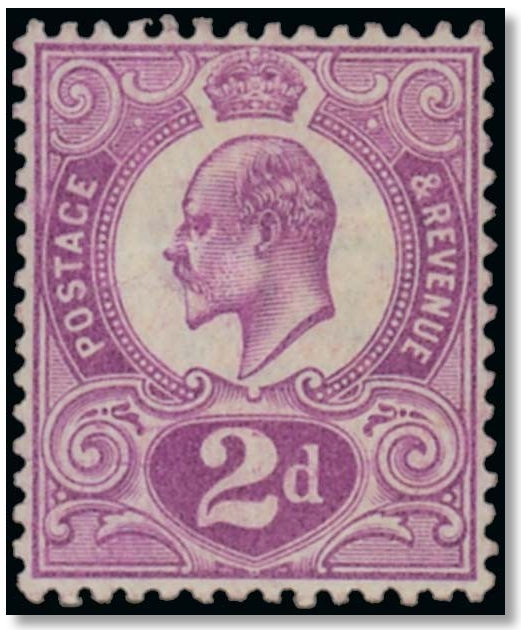 $130,000 "Tyrian Plum" stamp.
Although over 24 million stamps were printed of this 2d Tyrian Plum in early May 1910, and delivered to the Inland Revenue, release to the post offices was cancelled after the King's death on May 6.

The existing 2d bi-coloured stamps were used up instead. All the "Tyrian" stock was destroyed, apart from a few examples which survived from the official records, although a mint copy turned up in a "junk lot" in 1993!
The "Glamour" stamp
This 1910 KEVII 2d "Tyrian Plum" is rated at £115,000 in SG, taking the Gibbons value to around 6 times what it was just a few short years back.

Who said there was "no money in stamps"? Auction results supported the catalogue price rise on SG 266a.

A mint corner of this rare 2d KEVII stamp was invoiced for £102,000 late 2011 by Spink in London.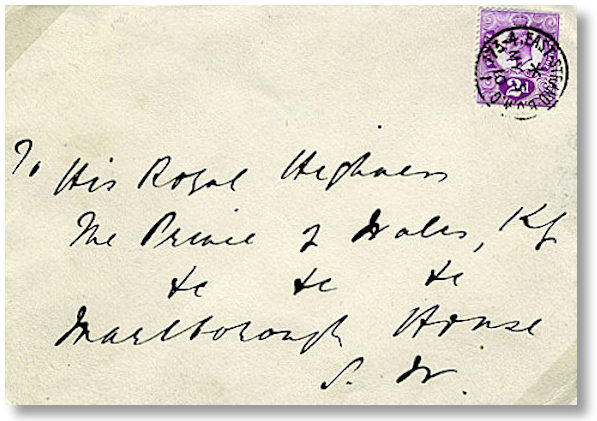 "Prince of Wales &c, &c, &c"
That cover is shown nearby from a very blurry scan ex the Royal Collection, and the "etc, etc, etc" address amused me - "His Royal Highness the Prince Of Wales KG, &c, &c, &c."

Almost all others were destroyed without being issued, when Edward VII died. Only 12 are now believed to exist - three of which are in The Royal Philatelic Collection of Her Majesty, Queen Elizabeth II.

The example offered in the 2011 Spink "Chartwell" Collection was a lower right corner example. With part original gum, it showed a colour dot in right margin.

There were a couple of defects in that copy – a sizeable tear in the bottom margin, and a small mark on Edward's cheek near his earlobe, but it is one of the finest examples of this exceptionally rare stamp.

The Vestey Collection example just sold by Spink was well centred, and quite attractive looking as you can see from photo nearby.
We didn't like KEVII?
Curiously, despite Queen Victoria dying in January 1901, nearly all stamps on sale across Australia until the Kangaroo series was issued in 1913 featured her image - which itself was over 70 years old.

I have NEVER understood why the next monarch was not depicted on the letter-rate stamps.

A person licking a 1d or 2d Queen Victoria stamp onto every letter they mailed for 12 years after she had died, as there was no other design choice, seems incredibly bizarre. If you lived in Victoria or Queensland or South Australia, that Monarch was your ONLY option.

Entirely new designs issued well after her death depicted Queen Victoria - and not the reigning monarch, King Edward VII. I cannot fathom WHY?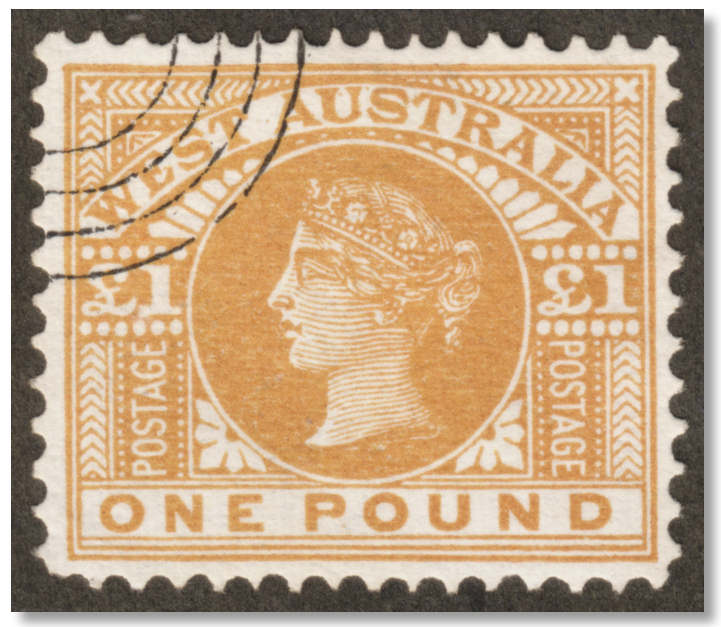 First issued 1905.
The Western Australia 2/6 to £1 quartet were first issued latter 1902 - and all depicted QV, despite her dying nearly 2 years earlier. As were the South Australia vertical "Postage" series issued late 1902. The "Thick" postage new design was not issued until 1904. All depicted Queen Victoria.

The £1 orange shade Western Australia top value shown nearby with CTO cancel was not issued until mid-1905. Why they did not use King Edward VII's portrait is a mystery to me.
Who said women were vain!?
The youthful image of Queen Victoria is about 65 years old - looking very much like the same portrait used on the 1840 GB 'Penny Black'. Who said women were vain about their photos?!

King Edward VII's Coronation was 9th August 1902. Other than the well-known Victoria state £1 and £2 high values, KEVII was not depicted on any other state's postage stamps. (But curiously, was on many Queensland, NSW and South Australia DUTY stamps!)

There were certainly a number of KEVII finished stamp design essays in existence here with the KEVII portrait, from at least 3 states, but none progressed into issued postage stamps.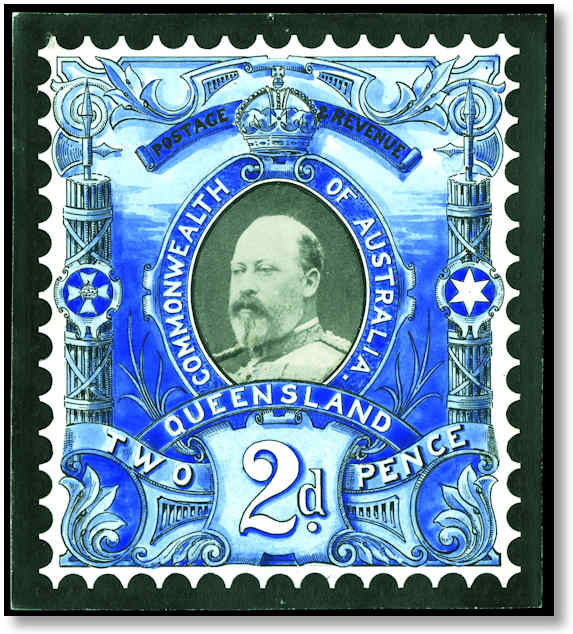 KEVII Stamp Essay fetched $A25,500.
The unique 1905 2d Blue essay shown nearby (ACSC E30) I have always loved. Ex Field, Kilfoyle, Ambromovich and Gray, it sold for $A25,500 in 2007, (Est $US10-15K) despite today's wacko ACSC value of $A15,000.

The South Australian one recorded as ACSC (E20a) was in fact the design basis for that state's 1902 Duty Stamp series to £10 - or so it appears to me anyway.
Issued well BEFORE the Coronation.
Interestingly, the £1 state of Victoria first printing KEVII high value was issued in November 1901, eight months BEFORE his Coronation!

They were only issued as Victoria urgently HAD to have high value 'postage' stamps above 5/- for parcel and telegraph use as the "Stamp Statute" and "Stamp Duty" high value issues were demonetised for postal use on June 30, 1901.

So very clearly new designs COULD be created, engraved, approved and printed with quite commendable speed back then - if the PO wished to act.

Victoria and Tasmania both also issued KEVII postal stationary. KEVII died in May 1910. The "Commonwealth Stamp Design Competition" that gave us the Kangaroo & Map series, was not announced until 1911.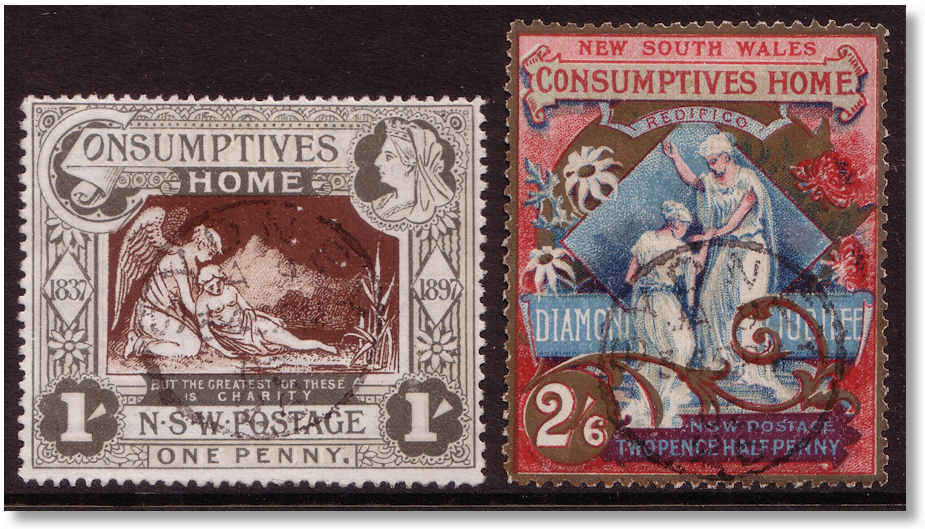 Charity Stamps - low numbers printed.
The oft-given argument that "cost" was an object to issue a new design is totally and completely spurious. The Australian States had discovered around this exact time that new and interesting stamp designs were popular - and highly profitable from the ensuing collector revenue.

The 1897 and 1900 large sized "Charity" issues from 3 different states all quickly sold out. The 1900 Queensland Charity pair had only 6,500 sets printed, so it was clearly economical to print even that small a number, and make money.
Some CTO cancel dates scarce.
Some of the Victoria KEVII stamps can be very scarce. The corner CTO and "OS" are pretty commonly seen, albeit still pricey, but not this one. The one illustrated nearby I have on my Rarity Page this month.

This is ACSC V127D, the May 1910 printing, in Dull Rose, perforation 12.4. Literally an AUSTRALIAN stamp, given only to the 100 or so Federal MPs, so few have survived.

Kellow "Stamps Of Victoria" handbook page 336, tells us that Oct and Nov 1910 CTO cancelled Victoria stamps were given to each Federal MP, to mark the recent Federal Legislation of October 13.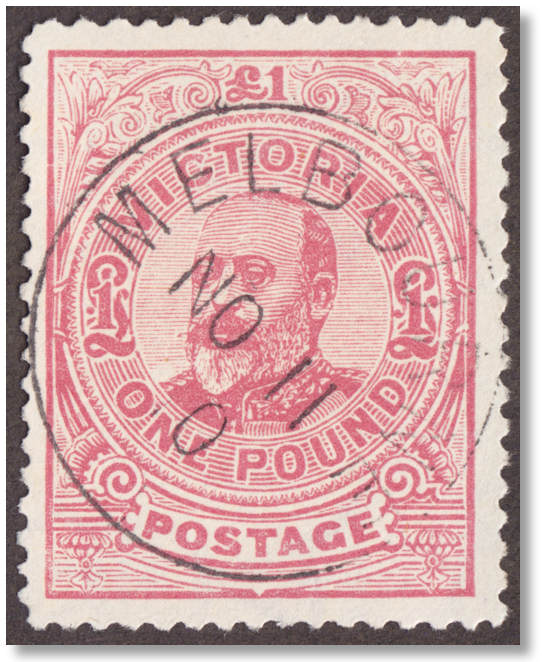 About 100 examples ever made.
Under the law, all State stamps were now decreed truly COMMONWEALTH issues, and were totally interchangeable in all States. There were then 75 Federal MPs, and 36 Senators.

This presentation was the same as the "Dec 5 :13" cancel CTO set with exact same cancel, given to all Federal MPs on issue of the Kangaroo series. (The "Dec 3 :13" identical cancel is of course relatively common on values to 5/-.)

The £1 Kangaroo of that "Dec 5" cancel set is of identical scarcity to this KEVII, and presented to the same persons in near all cases. That is ACSC 51wb, Cat $4,000, over 5 times the asking price of this KEVII stamp.
A 100% "Australian" stamp issue.
As this Victoria £1 is absolutely an AUSTRALIAN stamp issue, the astute will be mindful of that, as this "cusp" period era is not YET widely sought, but one day most certainly will be.

The market for the various official Government CTO cancels on this early era has gone totally ballistic in the past year or so, now they are (mostly) all listed and priced in the recent ACSC catalogue.

Things like 1913 3d Olive Roo are getting $A1,864 at public auction (and were actually more numerous than the KEVII!) with the scarcer type official cancels, as regular readers will be aware. More detail here - tinyurl.com/ozCTOs

Remember in the case of the Federal MPs sets, the nearest young relative was likely given them as a curio for his collection, and of the 111 sets presented, doubtless most are now lost to philately.
Vestey still alive and well



Getting back to the Vestey sales. Sam, Lord Vestey was born 19 March 1941 and is the great grandson of the 1st Lord Vestey, and current head of the family, and Chairman of the Group.

He owns the 6,000 acre Stowell Park Estate in Gloucestershire, valued at about £15,000,000, as well as a villa in Nice France, and an elegant Townhouse in Belgravia London etc.

The Vestey family of course are known to many readers for their early livestock interests in outback Australia and South America etc.

Sam Vestey is very much alive and well - I spoke to him at "Expo 2013" in Melbourne. The Trustees of the stamp collection have simply chosen to divest themselves of parts of it.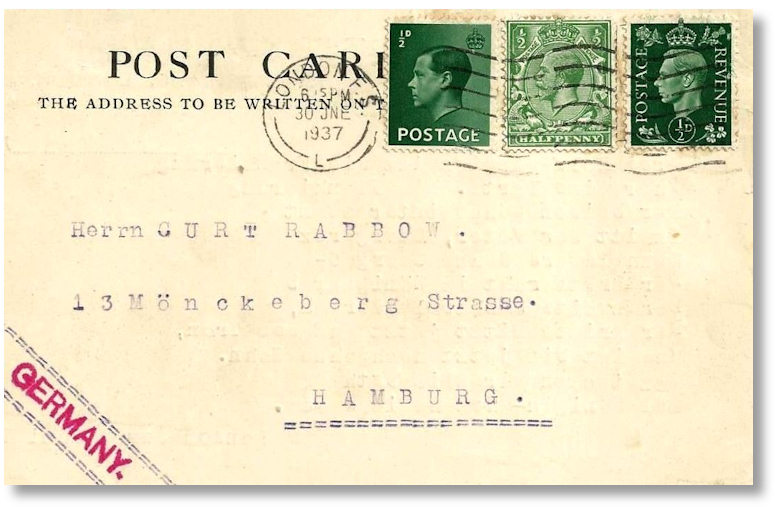 Three VERY recent Kings on 1 card
Another section of the Vestey stamp collection goes under the hammer just after this article was typed - October 16 in London, and contains the Australian material.

Also offered by Spink, it featured some lovely material - with very high estimates I thought for much of it, but we shall see how it goes.

One block of 6 will get a very high price that much is certain. It is shown nearby - also of another "Edward" Monarch - his grandfather was the Edward VII depicted on the 2d "Tyrian Plum" stamps nearby.
The Wallace Simson scandal.



This stamp subject was of course, the unpopular-to-this-day monarch, King Edward VIII - centre of the American divorcee Wallace Simson scandal.

If Edward married Wallis Simpson, a divorcee who would soon have two living ex-husbands, it would conflict with his ex officio role as Supreme Governor of the Church of England.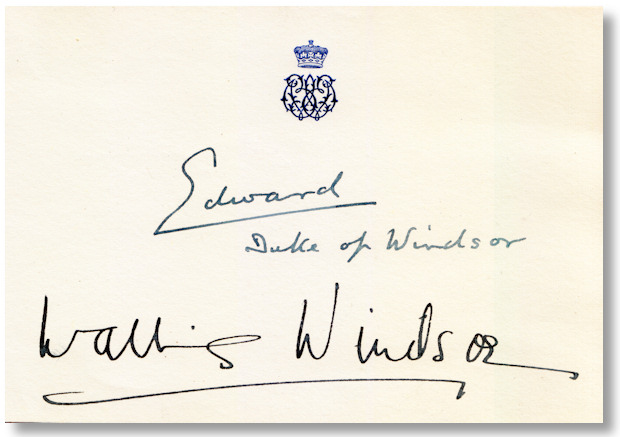 Mr and Mrs "Wallis Windsor"
The fancy raised print card shown nearby I sold in recent times, and is from after the abdication - it is signed by "Edward Duke Of Windsor" and the term Mrs Simpson later adopted - "Wallis Windsor."

Whilst that political storm was brewing 10,000 miles away Australia was to see itself on the edge of it all, stamp wise at least!

The Governor of Victoria had visited the Note and Stamp Printing Branch of the Commonwealth Bank Of Australia when these 2d KEVIII stamps were being printed, on September 29, 1936.
Stamp Freebies to Governor here.
Australian Stamp Printer John Ash wrote to Governor Huntingfield's Private Secretary a month after that visit, on October 23, 1936 grovelling about "His Excellency's visit" and attaching a (free) sheet of the new stamps, as "an interesting memento of his visit."

At Fort Belvedere, on 10 December 1936, Edward signed his written Abdication notices. The following day, it was given legislative form by special Act of Parliament: "His Majesty's Declaration of Abdication Act 1936".

Edward's abdication required the consent of each Commonwealth state, which was duly given. By the Parliament of Australia, which was at the time in session, and by the governments of the other Dominions, whose parliaments were in recess.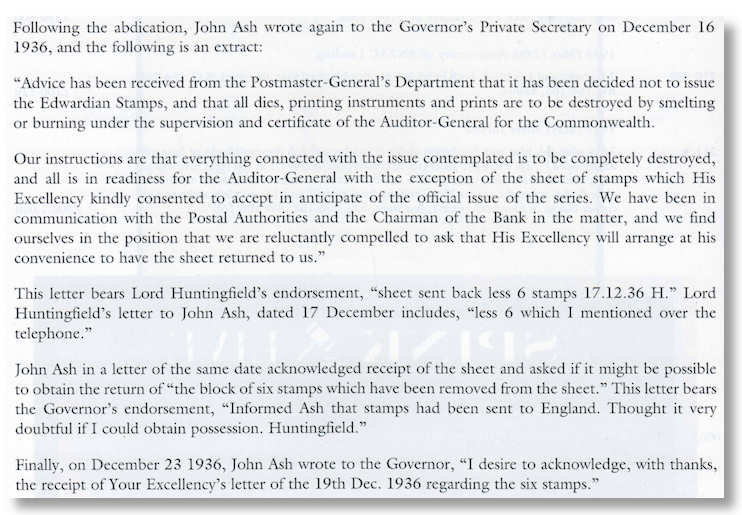 The specific 2d KEVII stamp timeline.
| | | |
| --- | --- | --- |
| | Upon this Abdication Act of December 11 passing, The Australian Post Office was caught on the hop, as a large number of these 2d red letter rate definitive stamps had been printed starting in September, and were just about to be issued. | |
"BURN EVERYTHING"
Memos flew around everywhere here, and the edict went out that EVERYTHING connected to these stamps was to be totally destroyed "by smelting or burning". Plates, artwork, proofs and all stamps etc.

All this to be done under the supervision and signed certificate of the Auditor General of the Commonwealth of Australia - very heavy duty high level supervision.

John Ash frantically wrote again the Governor's Private secretary December 16, urgently asking that the freebie sheet of stamps be returned, so they could be destroyed to comply with this new order.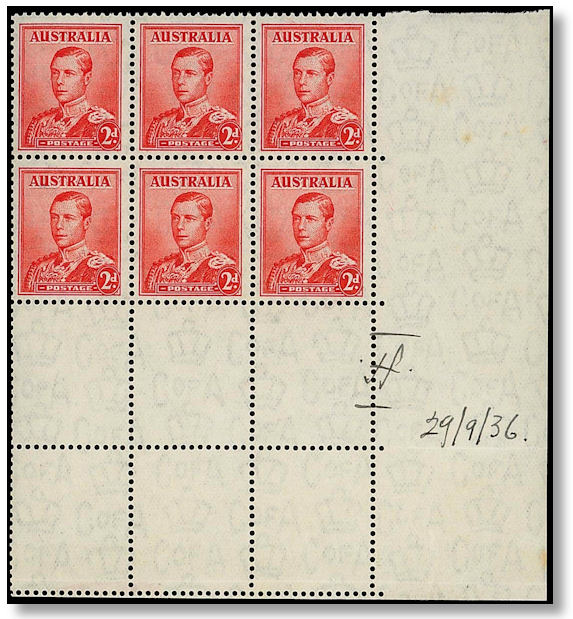 Million dollar KEVIII block?
The Governor complied, but indicated he had already mailed a corner block of 6 to a friend in the UK. (The pen initials "H" on the selvedge, is how Huntington signed things.)

Ash asked if those could be returned to him and the Governor said it was "very doubtful" if he could get them back, and so the matter rested. Stamp Printers do not argue with Governors.

For SIXTY years this block of 6 was not known to exist to the stamp world until 1996. This block has just been sold as you read this. ACSC 174(E)2 – cat $25,000 apiece.

Who it went to in 1936 we do not know, and HOW it was offered complete with all kinds of private and official letters relating to it, is an even larger mystery.
AP and Royal Archives are empty.
To this day I understand nothing remains in the Australia Post Archive collection. No stamps and no proofs. And even stranger, NOTHING of this issue resides in the Royal Collection of Her Majesty The Queen.

Full catalogue value for the 6 stamps shown is $A150,000. What did they sell for? Some predict MANY times that. As you read this you will know, by clicking here - tinyurl.com/2dKEVIII

Stampboards.com had a discussion on the block there, and Rodney Perry guessed the invoice figure would be "North of £500,000" - which is getting up around $A1 million when buyer fees etc are added.

If that figure is correct, it will be about FIVE times full catalogue price. Rod usually has a good feel for this kind of material, so I'll be interested to see how it fares.
Do others see the foxing?
Whatever it gets, Spink are to be chastised for NOT mentioning the plainly obvious rust/foxing patches evident in margin. Very heavy at top and even noticeable to me at lower right corner. Spink call it "very fresh"!

On a million dollar type block not a mention of that, and as this is a "modern" issue, buyers should not expect to see bad foxing, and SHOULD be told of it from all reputable sellers. I'd mention that on a $100 block, much less a Million Dollar one.

Rod also speculated The Queen may be the buyer, as a "must have" item for the Royal Collection. And suggests a few surplus pieces from the Royal Collection could be sold to finance it.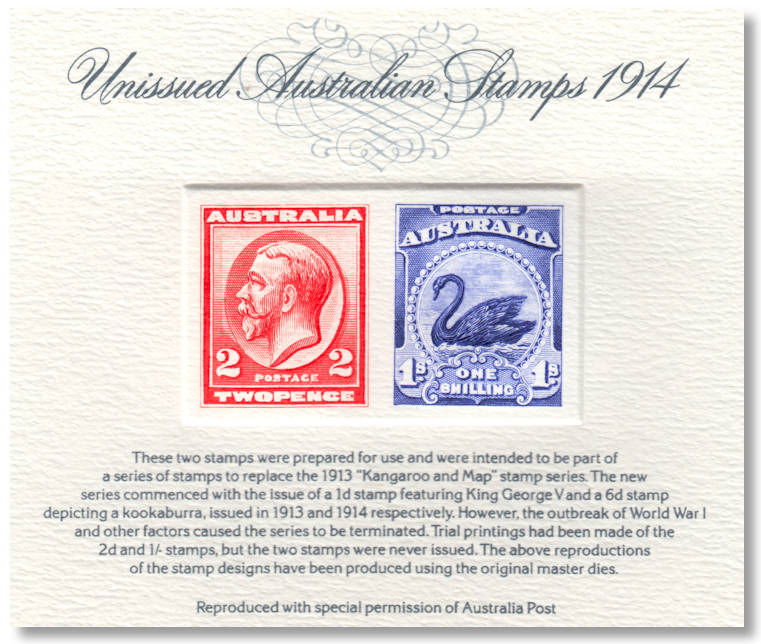 Queen owns complete sheets!
As Rod points out here – tinyurl.com/2dKEVIII - The Royal Collection contains the only known examples of the actual Unissued Australia 1914, 2d and 1/- stamps … and in complete sheets of 120.

ACSC value of each perforated stamp is $125,000 apiece, so a block 4 of those offered for sale would readily pay for the KEVIII Block, and still leave the Royal Collection with 116 "spares" of each!

Rod relates on that discussion a funny story about his previous attempt to prise some of these "unissued" stamps away from the "Keeper Of The Royal Collection"!

He also suggests that Australia Post might well be a "Dark Horse" potential buyer, as they own nothing from this issue, (but that may lead to more PO "Archive Sales") so again this link will tell all, as you read this - tinyurl.com/2dKEVIII
KEVIII stamps a nice sideline.
| | | |
| --- | --- | --- |
| | For anyone looking for a challenging and quite inexpensive collecting field, the stamps depicting King Edward VIII are a perfect field. They were issued in September 1936, and he abdicated in December! | |

Interesting sideline collection.
The ONLY stamps issued anywhere in the entire British Commonwealth were the 4 stamps from GB shown nearby - and some of those were overprinted for Morocco Agencies etc.

None are expensive as mint stamps, and for the UK at least they were pretty widely used on covers, so a decent "usage" collection can be assembled with time and at little expense.

One from June 1937 is shown nearby with the New King's ½d stamp - KGVI, the abdicated King KEVII stamp, and their father King George V who died in 1935. Three Monarchs in 18 months.

I listed up a KEVIII stamp booklet on stampboards recently for $A65 and these short lived booklets as you can see had 3 of the values in there, in varying quantities. Near 80 years old now, prices are most affordable I'd suggest.

As can be seen from the detail photos nearby, these often had attached stamp size "Tabs" with advertisements on them, and MANY different ads exist, so make for a fascinating field.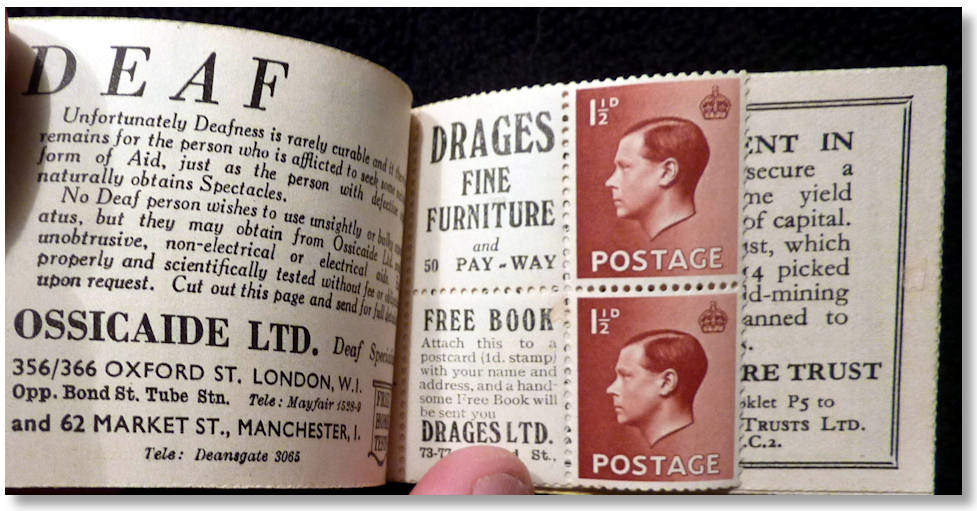 Even KEVIII Stamp Booklets issued.
| | | |
| --- | --- | --- |
| | All the booklet panes also came with Inverted Watermark, and the set also can be found overprinted "Specimen" and a few other printing varieties, so quite a nice collection can be formed, and offers a nice challenge! SG lists them all. | |
Stamp Forgery Costs $5,400!
| | | |
| --- | --- | --- |
| | Sperati Kangaroo forgeries get high prices globally, not just locally. On October 7, 2014, Robert Siegel Actions in New York sold the Sperati forgery shown nearby for $US3,750 hammer price. | |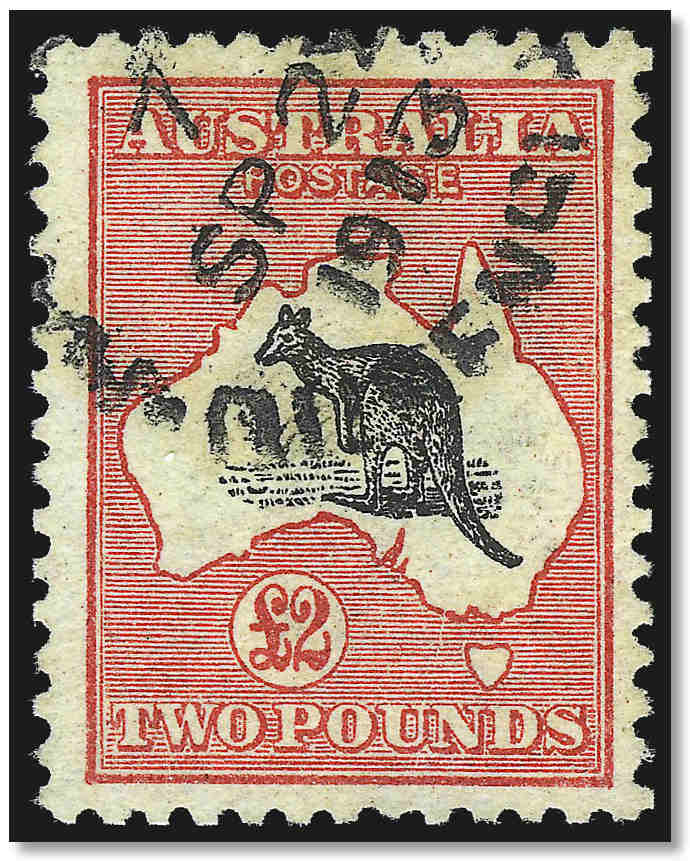 Sperati £2 Kangaroo forgery
With the nasty 15% "fee" added, and their obligatory Siegel 3% credit card fee, it cost the buyer $US4,443 plus shipping. AND to Australia, Siegals charge a minimum $US50 shipping for a single stamp - I kid you not.

Let no-one ever complain about MY mailing costs! Australian banks also now charge local buyers a 3% gouge fee to use any card overseas, and convert at a bad rate too, so that "$US3,750" bid will have cost a local buyer around $A5,400 on their Visa account at the time.
Higher price than a GENUINE £2!
A lot of money for a stamp FORGERY! Full ACSC cat for a genuine used £2 1913 First Watermark Kangaroo is $A5,000 (SG 16 - £3,750) and retail, you would pay less than $A5,000 for a quite superb example.

So the fake stamp shown nearby is worth far more than a rare genuine stamp. It is most likely a World Record Price for a total stamp forgery - can anyone think of a higher price from anywhere?

Jean Sperati was an interesting chap, and the world's greatest stamp forger. I ran a poll on stampboards.com asking members to guess who the man shown was in the photo nearby.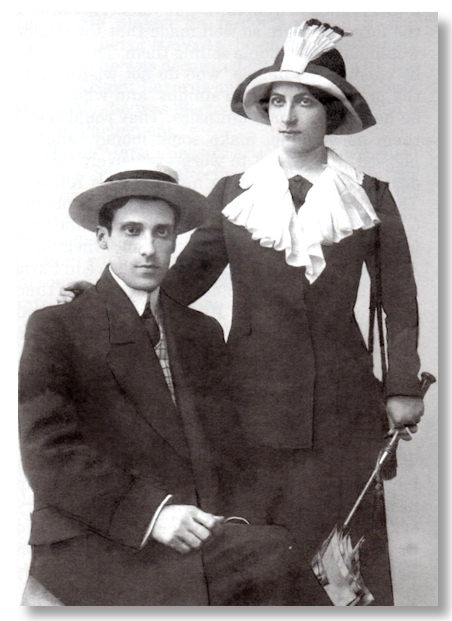 Jean Sperati – Master Stamp Forger.

I offered a list of 50 well known global stamp collectors to choose from, and after 120 votes, the vast majority of voters chose collectors OTHER than Sperati in the photo!

5% of votes nominated Franklin Delano Roosevelt, and 3% of voters said Arthur Gray! Second highest vote was 8% for Count Philipp la Rénotière von Ferrary. Poll is at - tinyurl.com/jeansperati – see how you'd have voted!
BPA calls forgery "GENUINE".
tinyurl.com/speratifake has much more info on the Sperati stamp fakes from this region - they include the Tasmania £1 "Tablet", and the WA £1 QV, and the Papua 2/6d Lakatoi – all worth many $1,000s each.

As you can see there, the British New Guinea 2/6d Lakatoi Sperati I sold had a BPA Certificate signed by Sir John Wilson ("Keeper of the Royal Collection" no less!) stating the stamp was a genuine SG 16, now cat £3,750. I sold it for more the full SG at the time, of the genuine rare stamp!

Sperati started a personal stamp collection - the "Livre D'Or" (Gold Book). These were his own forgeries that were guaranteed genuine by dealers or experts.
Sperati "Livre D'Or" (Gold Book)
| | | |
| --- | --- | --- |
| | Some stamps in his famous album contained as many as six different signatures or guarantees of authenticity. The "Livre D'Or" would eventually contain 125 different expertised stamps. I understand the BNG Lakatoi was among them. | |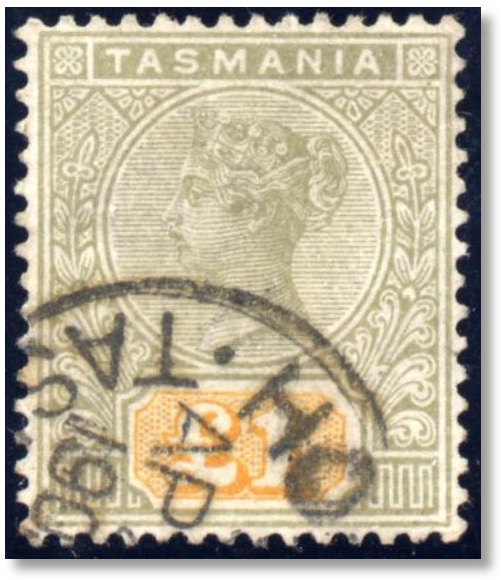 Sperati Forgery Tasmania £1 Tablet
There are just 2 examples recorded of that BNG forgery, and ditto the Tasmania £1 "Tablet". I have sold both of those in recent months for many $1000s each. The one shown nearby I bought off Harold Bynoff Smith, who wrote a wonderful Forgery Book series.

I have owned it several times since, and when Sir Gawaine Baillie unexpectedly popped up with the other copy at Sotheby's (hitherto unrecorded) I bought that too, for a lot of money. 20 times what a genuine used would have cost me.

As with all his fakes, Sperati took a genuine low 1d value stamp from the correct set, and bleached out the design, and printed the higher value on correct paper. Meaning the postmark, watermark and perfs were all correct.









Get my regular market update emails FREE. Stamp gossip, price trends, record sale prices, and many one-time stamp specials, wholesale bargains, and exciting offers and breaking philatelic news. A mini stamp magazine in every email! "KNOWLEDGE IS POWER". The ONE stamp list you MUST be on, to keep in touch with the rapidly changing world market. One client made $65,000 profit in a few months after following my specific advice. Sign up securely and quickly by clicking HERE to access my automated data base. And wiser still ADD your home AND work email, if I only have one right now. Add a stamp friend's email address if you wish. One short click and you are subscribed to probably the most read email list in the stamp world!




If you would like to be notified of updates to this website,
Click HERE.
If have any questions,
or comments regarding my site, please email me at glen@glenstephens.com
| | |
| --- | --- |
| | Search all my 300+ web pages! Simply type in what you are looking for. "Penny Black", "Latvia", "Imprints", "Morocco", "Fungi" "Year Books", etc! Using quotes ( " ) is more accurf used with no quotes. Search is NOT case sensitive. Tip - keep the search word singular - "Machin" yields far more matches than "Machins" etc. |


I am a Dealer Member in Good Standing Of:

Full Time Stamp Dealer in Australia for over 30+ years.
Life Member - American Stamp Dealers' Association. (New York)
Also Member of: Philatelic Traders' Society. (London)
GLEN $TEPHEN$

Full Time Stamp Dealer in Australia for 35 years.

Life Member - American Stamp Dealers' Association. (ASDA - New York) Also Member - Philatelic Traders' Society

(PTS London) and many other philatelic bodies.

ALL Postage + Insurance is extra. Visa/BankCard/MasterCard/Amex all OK, at NO fee, even for "Lay-Bys"! All lots offered are subject to my usual

Conditions of Sale, copy upon request .

Sydney's

BIGGEST STAMP BUYER: Post me ANYTHING via Registered Mail for my same-day cheque. Avoid copping the Now normal 45% Auction "Commissions" (15% Buyer + 20% Seller + GST, etc) AND their five-month delays!

Read HERE for details.

"Lothlórien", 4 The Tor Walk, CASTLECRAG (Sydney), N.S.W. 2068

Australia

Phone 7 Days: (02) 9958-1333

PO Box 4007, Castlecrag. NSW. 2068


E-Mail: glen@glenstephens.com The Number #1 Web Sites: www.stampboards.com

This line is 12 point
This line is 13 point
This line is 14 point