Click To Go Back To The Main www.GlenStephens.com Stamps Homepage

Welcome! You are visitor
to www.GlenStephens.com




Glen Stephens
Monthly "Stamp News" Market Tipster Column


October 2006

---
Know your varieties
The one thing all dealers and collectors dream of doing is stumbling across a juicy error among their duplicates or cheap material - not previously noticed by others.

I very often find things worth 3 figures among apparent total junk, simply as I have an eagle eye.

I certainly have uncovered several 4 figure items over the years, and even a few 5 figure candidates, and it all comes down to being observant.

One thing I always look for when looking at any Australia KGV Head ˝d green stamp is the "Thin Fraction at Right" variety.

This stamp comes in only two watermarks. The 1914 Single Watermark (SG 20) and the 1918 Large Multiple watermark. (SG 48) Both stamps mint or used are very inexpensive as you can see in any catalogue or dealer list.

This "Thin Fraction" error has been priced in Stanley Gibbons catalogues for 80 years, but until VERY recently there had never been a photo of what it looked like. So most folks just stared at the stamp and IMAGINED the right hand numeral on the one stamp they owned was indeed slightly "thinner".

It is simple to pick this error once you have seen a reference copy. The right hand "1" is MUCH thinner than the left hand one.

However over the years I have seen dozens if not hundreds written up on album pages, or mailed in to me for purchase as being this "error" - when they most certainly were not!

I think it is true that if you stare at anything long enough WISHING it were what you hoped it is, that you often convince yourself it is something it is not.

Stare at a lot of 4d orange KGV heads and you may well convince yourself one of them is a lemon-yellow - when it is no such thing.

Legions of dreamers have stared at a 1955/58 GB Castle set and convinced themselves it was the fist De La Rue, and not the far cheaper Waterlow! Or likewise the GB 1959/68 issue and decided the common BW print was in fact De La Rue etc.

Stare for long enough at a common Australian 1d red SG 49/50 1d Large Multiple watermark KGV, and you may well decide it is a Deep Red or a Deep Carmine - both worth $100s even used.

The same is true of countless stamps from a range of countries where one subtle shade variation or plate flaw makes it valuable. It is almost self-hypnotism.
eBay 'Experts'
Sadly in this era of eBay and Trade Me etc, where every daydreaming idiot with a keyboard is a "stamp expert", such non-existent "varieties" and "rarities" clog many of the listing sections.

And an equally large number of idiots with credit cards and PayPal accounts gleefully purchase this mis-described and over-priced junk and salt it away.

Or as often as not, buys material at 5 or 10 times what anyone in their right mind who buys a stamp magazine or stamp catalogue would pay.

As I typed this article on August 24 I noticed on Trade Me web auction a sheet of 100 mint of the common 1970 10˘ horse stamp had sold for $NZ417 - lot 67254125. There were 51 bids on it and it started at $1. This is SG 913 and sells anywhere on earth for a few cents apiece.

I phoned leading NZ dealer Don White owner of Dunedin Stamp Centre and asked why it got such a huge price.

He laughed when he looked up the lot and said: "I'll sell as many sheets of 100, to any of your readers who wants them, for $NZ60 each!"

The old phrase "a fool and his money are soon parted" comes to mind very often when I look at on-line stamp auction results like this one.
Popular Error
Back to the topic at hand! The KGV head "Thin Fraction" error has always been popular.

Even on the Large Multiple watermark (SG 48) where it is fairly commonly found, it gets about $A100 either mint or used.

The 1914 Single Watermark version of this error is quite another ball game altogether. You have a very LARGE four figure sum in store for that watermark if you find one - mint or used.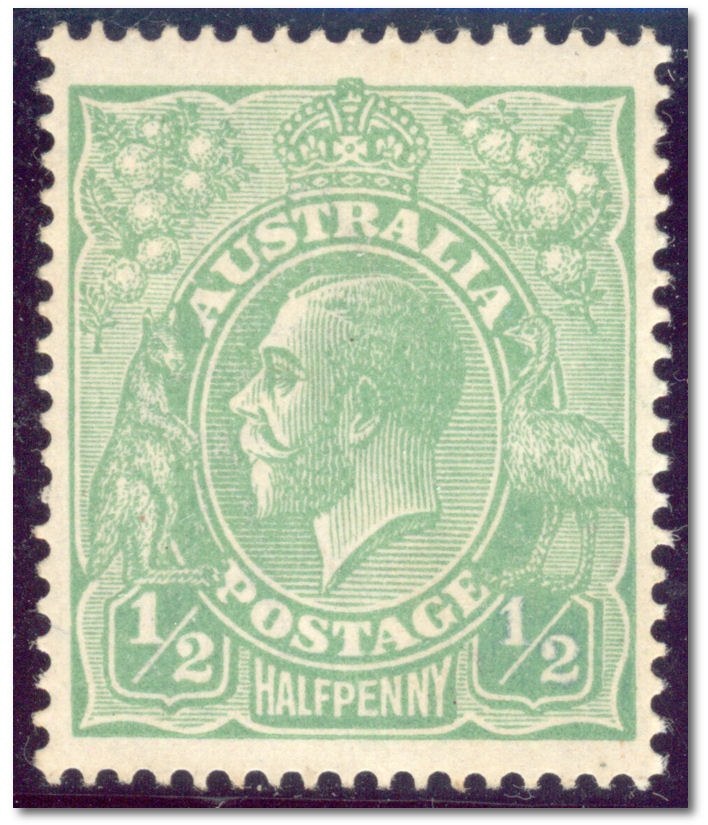 A $25,000 stamp.
Check the photo nearby. It shows this error wonderfully, and it is on the scarce Single Watermark printing.

The example illustrated as you will surely agree is a delightful looking stamp. Error or no error. Centring and appearance you really could not improve upon.

I saw it on Melbourne dealer Michael Eastick's website today and it really took my eye. It comes with an independent Certificate of Authenticity.

Our American friends who are obsessed with numerical stamp grading would I am sure agree this is getting as close to 100 out of 100 as you'll get on a KGV head stamp.

It is not cheap of course at $A25,000, as only a few mint copies exist, but it must surely be the finest looking of those that survive, and this is the grade all savvy collectors or dealers dream of obtaining all their stamps in today.

Best of all for those reading this column to learn something new, the photo shows the error very clearly.

Your right hand "1" must be a LOT thinner than the left one.

Happy hunting ..... both the normal ˝d greens are very common stamps either mint or used, and I am convinced some are yet to be discovered showing this variety.

Let me know if you locate one, and I'll update readers and catalogue editors.




Maori Forgeries
What appear to be forgeries of New Zealand's unissued Maori Performing Arts stamps were recently offered on two New Zealand Internet auction sites.

The original stamp set was to be issued to highlight Maori Performing Arts - or "Kapa Haka".

There were 5 stamps in the planned set - 45˘, 90˘, $1.35, $1.50 and $2 values. They were printed in the usual sheet form, and the letter rate 45˘ was also printed in self adhesive format in rolls of 100, and in booklets of 10.

New Zealand Post pulled this planned Maori Performing Arts stamps three days before their scheduled June 7 2006 issue date because it was thought that the cartoon-style designs might cause offense.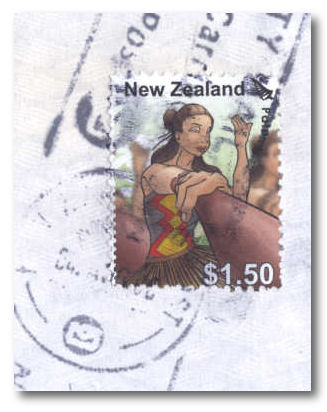 Paste-up
See my column last month for more detail. Fakes were quick to appear.

The forged stamps were withdrawn from the auction sites before they were sold.

What looked like the 90˘ stamp on piece from the set of five was offered on New Zealand's Trade Me auction site in July. This site, at www.trademe.co.nz is as strong or stronger in NZ than eBay is in the United States.

Dealers complained that the 90˘ stamp looked like a fake, so it was withdrawn from auction.

Another "stamp", also presumably a fake, was offered on Zillion, another New Zealand online auction site located at
www.zillion.co.nz

Richard MacLean, New Zealand Post spokesman, said that the stamps offered on Trade Me and Zillion were not genuine.

"Basically they are fakes. We don't have them in front of us, but looking at the images on the web sites, they don't appear to be real," he said.

At least two commercially used covers bearing fakes also are known. One was mailed to the "

Captain Coqk" stamp journal of the Christchurch Philatelic Society.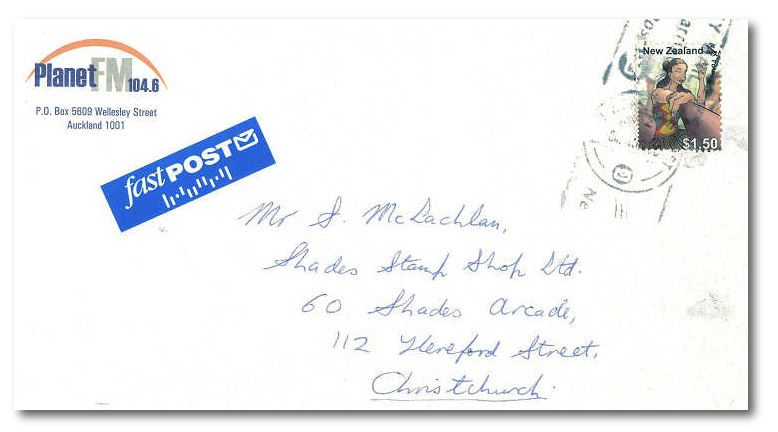 Fake on cover.
Another cover was mailed to stamp dealer Stephen McLachlan in Christchurch. That cover bears a forgery of the $1.50 denomination with an August 4th Auckland cancel. The fake stamp and cancel from that cover are shown nearby.

The forgery was apparently made by adding fake perforations to a colour illustration of the withdrawn stamps. The illustration was from a pre-release folder produced by New Zealand Post to announce the stamps.

This forgery then was neatly glued on top of a genuine postage stamp. The perforation mismatch can be seen on the left hand side of the stamp on the close-up illustrated nearby.



Whodunit?
I believe I know the identity of the person associated with creating these fakes offered on the auction sites, and the fake illustrated on the cover above, and the one mailed to the stamp journal.

He is a well known character on the New Zealand and local scene and despite being behind some clever "locals" and "Cinderellas" over past decades, has made a total nuisance of himself here in my view.

New Zealand Post reported that human error led to some genuine stamps being sold and mailed to eight mail-order customers before the issue date.

New Zealand Post claims they asked the eight customers to whom the stamps were sold and mailed to please return them for refund. I have been advised by a well-informed trade source that at least two customers did, but many of the stamps are still quite legally in the hands of the purchasers.

According to information on New Zealand Post's web site, a total of 480 stamps were sold. Most of them are in full sets of 5 mint.

As of end August as this is written, no genuine stamps had surfaced on the market from the reports I have heard.

Also as I write this, NZ Post STILL have not informed the market as to how many of these 480 "un-issued" stamps were returned to them by buyers.

The New Zealand Stamp Dealers' Association will hopefully keep on asking for that detail to be officially released. I'd be delighted to hear when it is.

This story is not complete until we receive that very important information, and the market remains partially in the dark until we do.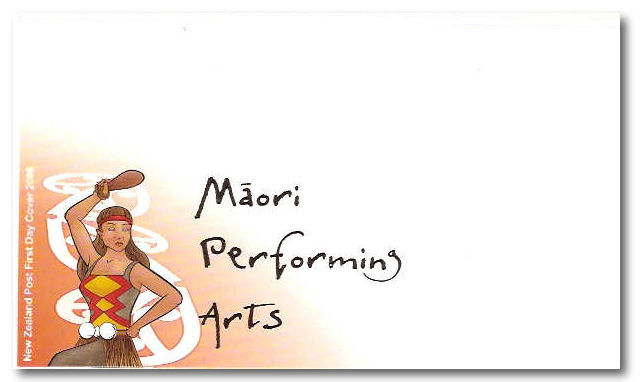 Sold at auction
| | | |
| --- | --- | --- |
| | However, several of the 48 blank first-day envelopes mailed out by NP Post have been offered on the two aforementioned Internet auction sites. One of these envelopes shown nearby sold July 24 on Zillion for NZ$52.51. | |
Sale cancelled

I contacted the Taranaki based seller, member name "xxxoliviaxxx," who told me that Trade Me eventually refused to allow the blank envelopes to be offered on its site, and cancelled her later auctions offering them.

Olivia told me they said: "they do not want that kind of thing sold on there (sic) site."

She sold one for $NZ7, and another for $NZ25 on that site.

Then Olivia received this email from the auction site re a further current listing:

"Your listing for MAORI PERFORMING ARTS NZ POST FIRST DAY COVER 2006 - Listing no. 60240433 - has been withdrawn. Unfortunately the listing above does not comply with the Trade Me terms and conditions, and the product is not permitted to be sold on Trade Me."

Interestingly, Olivia also told me she had received no request from anyone at NZ Post to return the 10 blank FDC's that she had ordered, paid for and received. This seems to be at odds with the NZ Post statement above.

Several blank FDC's were sold on the Zillion website. At web prices ranging for $US7 to $NZ52.51 each I'd imagine they will all turn out to be very astute buys for those who secured them.

The buyer of the blank cover - "kezza28" from Canterbury NZ told me she was delighted with her purchase saying: "there sure are a few bargains on Zillion as people don't yet know it exists."

That buyer Kerry Khokhar kindly scanned the blank FDC she purchased, and it is illustrated nearby.

Rather bizarrely, the NZ dealer who stirred the pot and precipitated the PO to withdraw the stamp issue was a bidder on these lots at Auction. Rotorua based dealer Donald Ion - who labelled the stamps as "disgusting" in the mass media - was clearly not averse in trying to buy them later.

His user name on Trade Me is "donaldo" and I am advised he had active bids on the forged stamp on piece before it was withdrawn.

His user name on Zillion is "donaldon" and he was an under-bidder on the blank FDC bought by "kezza28".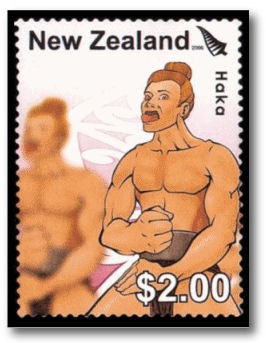 $5,000 a set
I have spoken to many leading dealers in New Zealand and general speculation is that a mint set of five un-issued stamps would sell for about NZ$5,000.

I honestly think that they are worth two to three times that amount. As outlined last month the recent sale of a very similar modern German issue depicting Audrey Hepburn is very relevant as the stories are rather similar.

It sold at auction in October 5-8, 2005 in Dusseldorf for 169,000 Euro (=$A272,000).



Please contact me immediately if you know or hear or see any examples of these MZ Maori stamps being offered for sale, and I'll update the story in a future column.
Economy Air Ends
Sadly, with little or no fanfare, Australia Post quietly abolished the overseas "Economy Air" service on September 4 along with introducing the new higher postage rates.

For many collectors and dealers (and recipients) this will increase shipping costs dramatically on parcels to Europe and North America. Now there is Air Mail and Sea Mail and nothing else.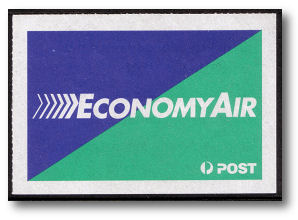 Farewell Old Friend
I sell literally TONS of kiloware overseas each year. Mostly in huge 20 kilo cartons.

If you do a google search on "kiloware" or "stamp kiloware" my web pages come up as match one among all the world dealers, simply as there are so many visitors to those offers.

Right now a 20 kg carton to Europe costs me $A275 by Economy air .. which is virtually fast airmail to most places. It gets to London or Frankfurt or Paris in 3 days is my usual experience.

From September 4 that same carton costs $359.4 ... or $A84.40 more - for essentially the same service offered now.

The only other alternative is by sea which can take 3 or 4 months. Or longer. The term "slow boat" was not coined for nothing.

I mailed a 20 kilo carton of kiloware to Iceland by insured sea mail in April and it still has not arrived end of August as I type this. Quite normal.

Naturally I use light cancelled attractive stamps on all parcels, and this indeed means some parcels have franking that can be sold be recipients for near what the shipping costs them.

Just try FINDING nice stamps to get up to the $360 cost per parcel .... that is my usual problem!

I am always trying to buy high value "International" stamps for this purpose, and not so many are out there on the market in bulk. Let me know if you hear of any parcels of these!
STOP PRESS - I believe I am the first stamp dealer in the world, outside of New Zealand to offer this item.

The un-issued 45˘ "Poi" Maori dancer self-adhesive booklet stamp. I have ten (10) copies of this stamp - and that is it. This is around 10% of the copies that exist worldwide. FAST ordering is recommended as when they are gone, they can't be replaced.

Price is $A2,275 a single self-adhesive neatly cut from the block, or $A4,475 a horizontal pair, which as you can see looks superb, or $A8,750 a block of 4 - if a block is still intact of course when you order! (A block of 4 is a booklet pane - each booklet has 2 panes of 4, and a pair.) Or the complete booklet of 10 for $A22,500.

These figures are in line with (or lower than) NZ retail which is getting higher each month as supply rapidly shrinks, and news of their existence slowly spreads overseas. And the NZ dollar has strengthened a lot against $A in recent months.

(I also have several full sets of 5 for sale MUH at $A13,500 a set.)

If you buy them off me as an Australian resident, you avoid a certain 10% GST impost upon arrival as a highly insured item, and the nasty new 3-4% "currency surcharge" + bad exchange rate your credit card bank will certainly levy.

Far more details here:









Get my regular market update emails FREE. Stamp gossip, price trends, record sale prices, and many one-time stamp specials, wholesale bargains, and exciting offers and breaking philatelic news. A mini stamp magazine in every email! "KNOWLEDGE IS POWER". The ONE stamp list you MUST be on, to keep in touch with the rapidly changing world market. One client made $65,000 profit in a few months after following my specific advice. Sign up securely and quickly by clicking HERE to access my automated data base. And wiser still ADD your home AND work email, if I only have one right now. Add a stamp friend's email address if you wish. One short click and you are subscribed to probably the most read email list in the stamp world!


Instant Currency Conversion


FREE! Just click here... see exactly what my lots cost in your currency.




If you would like to be notified of updates to this website, Click HERE.

If have any questions,
or comments regarding my site, please email me at glen@glenstephens.com


I am a Member Of

Full Time Stamp Dealer in Australia for over 25 years.

GLEN $TEPHEN$

Full Time Stamp Dealer in Australia for over 25 years.

Life Member - American Stamp Dealers' Association. (New York)
Also Member - Philatelic Traders' Society. (London) ANDA. (Melbourne) American Philatelic Society, etc


ALL Postage + Insurance is extra. Visa/BankCard/MasterCard/Diners/Amex all OK, even for "Lay-Bys"! All lots offered are subject to my usual Conditions of Sale, copy upon request BIGGEST STAMP BUYER: Post me ANYTHING via Registered Mail for my same-day cheque. Avoid the GENERALLY 40% Auction " Commissions" (15% + 17˝ + GST, etc.) AND their five-month delays! Read for details.

"Lothlórien4 The Tor Walk, CASTLECRAG (Sydney), N.S.W. 2068
Phone: (02) 9958-1333 Fax: (02) 9958-1444 (Both 25 Hours, 7 Days!)
E-Mail: glen@glenstephens.com
Web Sites: www.glenstephens.com www.glenstephens.net or www.australianstamps.net

Sign up AUTOMATICALLY to my world renowned bi-weekly stamp gossip mailing list!

Click here to see MANY 1000s of stamp lots for sale at low $A Nett prices

Click here for all you need to know re SELLING your stamps for SPOT CASH

Click here for the current Monthly "Internet Only" special offers - CHEAP!

to read all my recent International stamp magazine articles. Click here to get back to the main www.GlenStephens.com Homepage

Click here to ORDER on-line ANY items from ANY of my dozens of lists

Click for all info on Conditions Of Sale, Payments, Shipping, Returns &c

Click here for the complete library of my very unusual world travels!

How to PAY me. I accept EVERYTHING - even blankets and axes and beads!

Australia Post Annual YEAR BOOKS - massive stock - '27% off' discount offer today!



Visit my new page on RARITIES - Roos & other expensive photo items.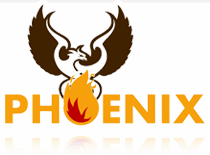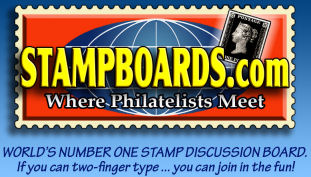 Instant Currency Conversion


FREE! Just click here...



E-mail me at glen@glenstephens.com -

Every credit card shown is accepted WITHOUT fee.
Earn Frequent Flier points while buying at bargain prices!
ALL prices are in weak Ozzie Dollars. I charge NO nasty, nasty
"Buyer's Commission" on stamps like nearly every "Auction" does.