Click To Go Back To The Main www.GlenStephens.com Stamps Homepage


Welcome! You are visitor
to www.GlenStephens.com




Glen Stephens
Monthly "Stamp News" Market Tipster Column


October 2007

| | | |
| --- | --- | --- |
| | | |
---

World Record Revenue Price?

Revenue and fiscal stamps used to be the "ugly ducklings" of the stamp world.

They were generally inexpensive, and for something Australasian to sell for a 3 figure sum from this field was fairly unusual.

How things have changed in recent years.

These days seeing Australasian Revenue stamps get 4 figure sums is commonplace, and one just sold for a healthy 5 figure sum of $A11,650 .. which I imagine may even be a WORLD record price for any revenue stamp?

That stamp is illustrated nearby.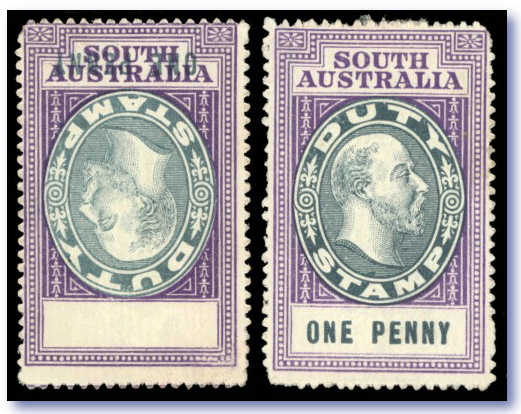 The stamp was in the September 1 auction of Prestige Philately in Melbourne. It is a South Australia 1902 KEVII 1d Stamp Duty stamp with inverted centre. The central King's head vignette and the value panel is inverted as you can see.

At least 7 are recorded, which in the "scarce" Revenue orbit is a rather large number usually. Often items with only a couple of copies known to exist still change hands for rather modest 3 figure sums, when compared to their "postage stamp" cousins. A large part sheet of this stamp is rumored to exist.

The estimate was $A4,000. The Buyer bid $A10,000 which with all the ubiquitous auction add-ons and GST saw it invoiced to him for $A11,650.

Managing Director Gary Watson told me after the sale: "it was part of a deceased estate out of Adelaide - not Victor Bullock. The under-bidder at $9,750 may be quietly cursing, as he also missed the one at Stanley Gibbons earlier this year which sold for $A8,912.

"The buyer is overseas and also owns the very valuable and unique KGV 2d red tete-beche pair, and the 6d W.A. Lake Lefroy Cycle Mail tete-beche pair" Watson concluded.
World Record Price?
I feel sure this $A11,650 is certainly a world record price for any Australasian Revenue or Duty stamp.

Watson went on to say: "even more remarkable was the result for NWPI Lot 978. This little "nothing" stamp is catalogued at £90. We estimated it at $A250 which is over full catalogue. It attracted 10 pre-sale bids - three of them over $1,000. It was invoiced for $A3,728 to an Australian collector. That's about 15 times estimate which, I repeat, was more than full Gibbons! "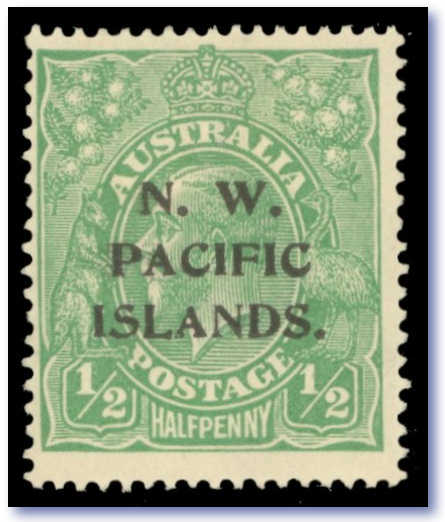 NWPI sold for 15 times Gibbons
That stamp is illustrated nearby. It is the plain looking 1915-16 KGV ½d emerald KGV "NWPI" with watermark inverted, SG 65aw, with hinge remainder - SG cat £90.

Sir Gawaine Baillie's "ABC" setting strip of 3 sold for £483 at auction early this year of this invert. The buyer of THAT got the bargain of the year it appears.

So readers - check your NWPI inverted watermarks! Who would think the lowest value of this set could be worth 15 times full Gibbons?! Many other examples mint and used are most certainly out there - let me know if you locate one
Lick This!
Stamp dealers are always dreaming up new ways to get attention.

I have certainly tried many of the things in the marketing manuals. And many things not in manuals.

However one thing I have never done is glue thousands of stamps to my car to get publicity!

A Berlin stamp dealer did just that last month. I saw a report on stampboards.com that German dealer Scharam Farahbakhsh had done that to his vehicle.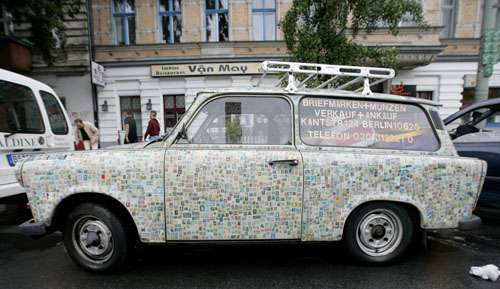 Mobile Stamp Advertising

The vehicle is photographed nearby parked in a Berlin Street. The car is the infamous "Trabi".

The Trabant 601 car was produced at the former East German VEB Sachsenring Autowerke Zwickau. These "Trabi" cars are infamous for being incredibly unsafe, ridiculously basic, and they all polluted excessively.

However, there is quite a cult following for these cars within Germany, which is why I imagine this model was chosen?

Anyway the dealer glued on thousands of world stamps and then covered them all with a special clear car paint. As you can see from front detail, every square inch of duco was covered with stamps!

I'd be fascinated to see what kind of trade-in value he eventually gets! .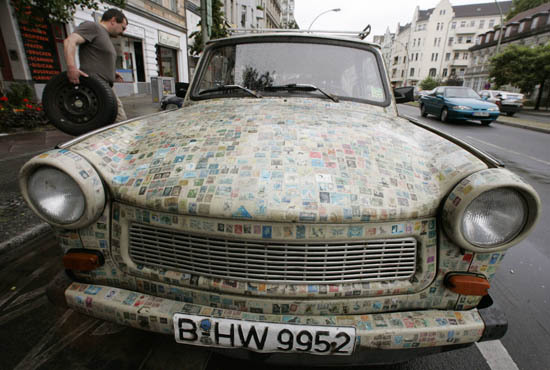 Every inch covered
Gibbons Auctions to be Mowbrays
Also on the Australian auction scene is the news that from 2008 there will no longer be Stanley Gibbons Stamp Auctions in Australia. Those auctions will then trade under the name "Mowbrays Australia."

John Mowbray from NZ owns the auctions, and I understand Gibbons London chose not to renew the auction license arrangement under which the Stanley Gibbons name has operated here for decades now.

No reflection at all on the hard working local outfit I understand - just a UK board decision to keep Gibbons Auctions in London only, and wholly and solely Gibbons owned and run from now on.

It clearly will be a major loss in some ways locally, as the Gibbons name was VERY powerful for marketing purposes. However having heard the rumored annual license fee that was paid, I am sure it frees up plenty of extra dollars to market the new concern.

The local agency for Stanley Gibbons catalogues and albums and accessories in Australia was un-connected with the auction name, and will be un-affected as far as I know.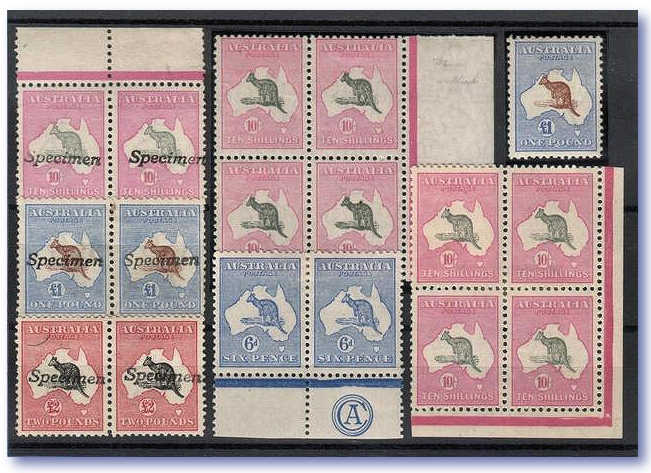 A Lionhearted Assembly
The first "Mowbrays Australia" sale – held February 1 and 2, 2008, in Melbourne will be an absolute blockbuster.

Already consigned are huge swathes of "Lionheart Collection" material, which I believe to be part of that assembled by billionaire industrialist Sir Ron Brierley.


Brierley has spent countless millions on stamp purchases over the decades, and a decent chunk of it looks like it will be sold next February.

A few morsels already in the auction are illustrated nearby. Gibbons have posted many more photos of goodies on stampboards.com

Speaking of Gibbons Australia, their September 5 Auction in Sydney got one result that amazed me.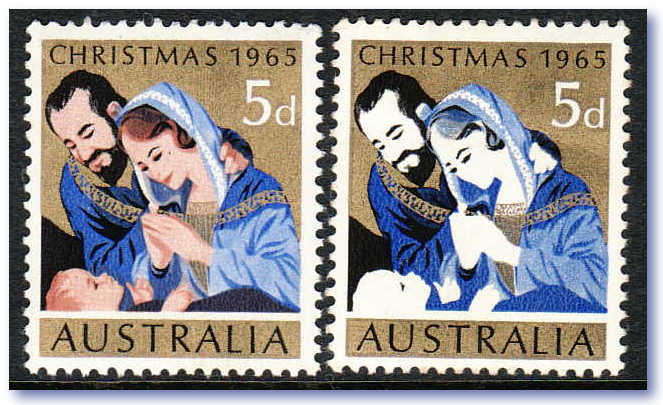 $9,635 "Missing Brown"

In the midst of the totally over the top APEC lock-down due to George Bush's unexpected early arrival, one's heart went out to anyone running a stamp auction in the Sydney CBD that day!

One lot that sky-rocketed was the nearby illustrated 1965 5d Christmas. This may be a common stamp normally, but this example had the brown colour omitted - traditionally known as "flesh omitted".

This stamp was estimated at $2,500 and after much bidding it was invoiced for an astounding amount of $A9,635 when all commissions and GST were added!

ebay scammers - again
And PLEASE folks be careful about buying this same 5d Xmas 1965 stamp on ebay (or elsewhere) with "Gold Omitted". Any reader can create 10 per minute with a Q-Tip dipped into methylated spirit.

However sellers on ebay keep offering them as "Gold Omitted - Rare" - and clueless idiots keep bidding silly amounts on them. stampboards.com highlighted one such seller mid September - using the ebay handle "kellylives"

This seller had a Ned Kelly bushranger helmet and the words "stand and deliver" as part of their logo which is MOST appropriate. The cunning description on lot 170145565107 said this below, and it sold for $A102.50 and had 14 bidders.

"1965 XMAS GOLD COLOUR OMITTION #RARE VARIETY# - CV in 2004 was $1500 - Be sure to check all the pics & ask ALL the questions you need BEFORE you place a bid! Items offered in the condition shown. All items are sold AS YOU SEE THEM! "

The photo shows the same effect I suggest any reader will get with a Q-Tip dipped in Methylated Spirit. As you can see just that in the lot photo, no returns would be accepted I am sure due to the clever wording.

A fool and his/her money are very soon parted – especially on ebay!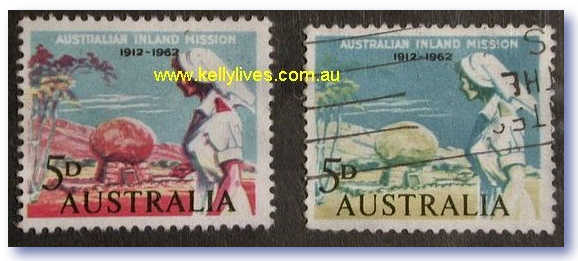 The same "Ned Kelly" highwayman ebayer offered this absurd faded or bleached nonsense shown nearby at the same time as "rare missing red" - as lot 170147670898

Real world value - zero. But on ebay it was $A81 with 6 bidders, and still had FOUR days to run as I typed this! The mind truly boggles as to the IQ of the bidders. The ACSC clearly states that *NO* genuine missing reds are known on this stamp.

Both auctions were cunningly set up as "private sales" - so no-one can see who the winner or bidders were - or who were the totally clueless under-bidders in these cases also.

I can almost bet the gang of under-bidders gets a "second chance offer" of the same errors at a little cheaper than auction price. "Errors" that in either case, could be created in seconds by anyone so inclined.

And this is not a newbie ebay seller - they have over 3,500 feedbacks. ebay really needs to wipe the accounts of folks who are knowingly conning buyers for large sums like this via "private sales".

This seller was alerted to both items being apparently bogus by other ebay members well before the auctions ended.

The same seller regularly offers colour photocopies of Seven Seas album pages to 1984 - (with the stamps photocopied onto them!) i.e. lot 170135404689 which sold for $A142, and one wonders if the Seven Seas lawyers might like to get busy with copyright matters?

Ugly 2/- Kangaroo
A small quiz - which may be instructive for some readers.

This ugly looking 2/- Kangaroo stamp shown nearby was bought from a very large Melbourne dealer for $3, and sold recently for over $1,100 at auction recently. The stamp is 3rd watermark.

Why it got $1,100 is evident from looking at the photo. i.e. there is no inverted watermark type issues. Study it for a moment before you read any further perhaps.

Over to you. WHY did it sell for $1,100? Study the photo carefully. If you are truly stumped - read on.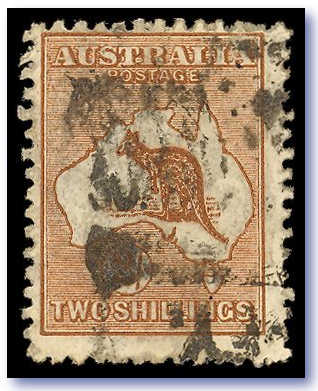 $1,100 for THIS?!
The stamp was offered at the 21st Century Auction of September 1 in Melbourne. The estimate was $300. Strong bidding drove up the price to $950 plus the 16½% commission meaning the buyer paid just over $1,100 for it.

In my view it is an incredibly ugly stamp. Horrible perfs, centering and cancel. HOWEVER it is in the scarce aniline brown shade.

Anyone with a collection of NWPI overprints on Kangaroos will most likely have this stamp, as it is common in that format.

The ACSC catalogues this aniline shade on non-NWPI at $1,000 used and $3,000 hinged - so keep your eyes open - you never know when you will see one offered cheaply by a careless dealer or auction.

"Knowledge is Power" as I have typed 100 times in this column over the decades. The "aniline" brown shows well on the back of this colour variation.

This stamp was recently purchased for $3 from one of Australia's leading dealers. The dealer even had it sitting in his 6d brown roo stockbook section - that's how sloppy his filing was.

The observant buyer at $3 now has an $1,100 profit, so be careful when checking otherwise common looking material in dealer books!

My thanks to the Managers of Prestige and 21st Century Auctions for passing on these striking results above. Many auctions and dealers have similar outstanding success stories but never bother telling me - so please - my clairvoyant powers are limited!

One Auction owner took me to task on this earlier this year. When I asked if his firm routinely advised me direct of their successes, or forthcoming gems he thought for a moment and said "probably not". I still hear nothing, so the message seems to have fallen on deaf ears.


Most readers I am sure soak their stamps, and then air dry them on tea towels or a sheet of newspaper as they always have. The stamps then never stay flat, and any light creases stay as light creases - or even worsen. Many collectors are discovering a cheap accessory that stops both these things occurring.

Drying books. I bring these back from overseas when I travel. I'll get another bunch soon - as you read this I am in USA/Europe/Africa. I have only 6 in stock now, and bought back 50 last trip mid year. They just seem to sell via word of mouth.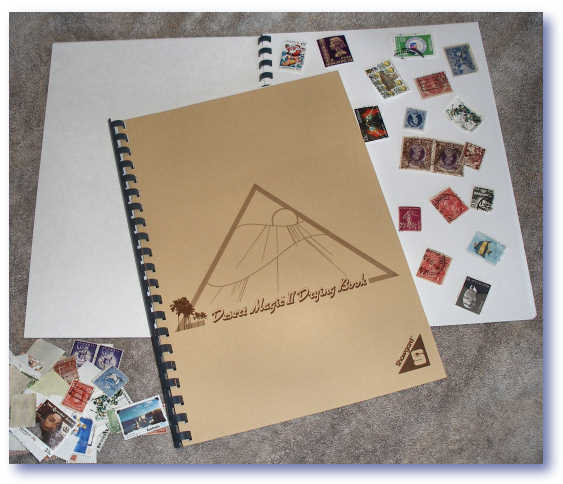 Collector's Friend
They are a large A4 sized book (about stockbook sized) with thick white Spiro edge binding, that as you can see in photo allows them to lay flat. (There is a "half size" one which in my view is near useless!)

The pages are of REALLY thick blotting type paper. i.e. really thick and rigid heavy cardboard thickness. It has some special "fast release" formulation they claim ... no idea what they use, but it really does seem to work!

There is then a special smooth plastic coating on one side of the "Desert Magic" brand I import. That's the secret.

So you wash your stamps - and if you leave them to air dry on tea towels or blotting paper or newspaper, all light creases and bends will always stay there.


If they are placed into this book when just touch damp (not sopping wet) and left there with the gum side to the plastic side, and the front of stamp to the blotter side, they dry perfectly flat. Many light bends and creases vanish too.

Nearly all of them disappear. It is amazing the difference they make, which is probably why I sell so many books! Just put your stamps in, pile a few heavy books etc on top and forget them for a week. Most collectors have two or more drying books, as that is the secret - do NOT touch them for a week, and let them dry slowly under some weight. Most important.

The special formulation plastic coated side is super important, as otherwise many stamps stick tight to blotter if damp between just 2 sheets of blotting paper, with a weight on top. These do not.

Again it is some special coating they have figured out, which seems to work perfectly for this specific job. With the high incidence of self adhesive stamps these days that nearly always have traces of yukky sticky gum, this is worth keeping in mind.

Almost any other kind of plastic sheet you may try to experiment with at home will leave a real ugly mirror like "sheen" on the gum side if placed in damp, under weight. That looks really stupid and un-natural, and really shows what you have been doing. These do not.

The books last for decades. They really do. There are VERY similar looking books made by Lighthouse in Germany and Davo in Holland, but the ones I have seen of those do NOT have the special plastic coated sides.

A 10/- C of A Kangaroo used and lightly creased copy will be $100 retail, and one that is nice and flat is $200. So the cost of the book is paid 3 fold with just one stamp that is saved.

Shameless plug, as most local dealers do not carry this brand - the books sell from me for $A55 for 2, plus shipping - which is minimal.

A good product to try if you soak a lot of stamps. Dozens of members of www.stampboards.com have bought these books, and if you go there and use the word "desert" in the search box at top, you will see stacks of glowing first hand reports - often from admitted sceptics!

Australia Post the new Cuba or Togo?

In 2006 Australia Post issued 215 gummed sheet stamps, plus 352 main "variations" = 567 stamps total.

The 215 gummed sheet stamps cost $A282.20 face value. The 352 main variations cost $A1,901.30. Total to buy the 567 stamps was therefore $A2,183.50.

As you can see from the graph nearby it seems the stamp issue numbers have DOUBLED in just a year or two.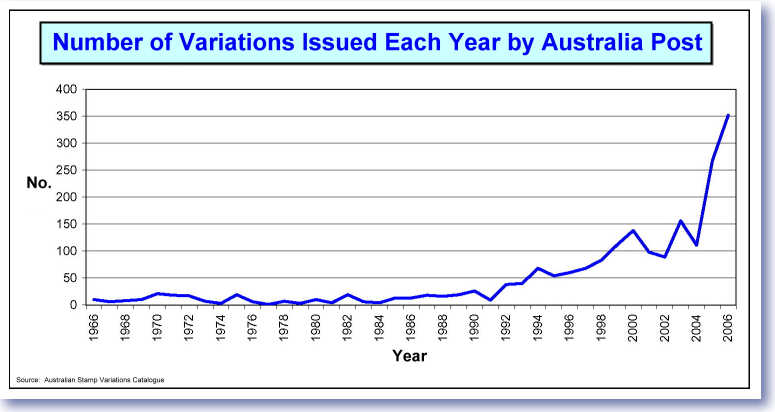 Stamp numbers issued gone mad
I read this amazing statistic above on stampboards.com and it was posted by "Stamp News" columnist David Mallen. He produces the "Australian Stamp Variations" catalogue - a new edition I understand he is finalising now.

The 12 main "variations" that he lists in his catalogue are:

Blocks, strips and pairs, Gutter strips, Image, Imperforate, Minisheets, Overprints, Paper, Perforation, Self-adhesive, Sheetlets, Size and Tabs.

For a collector to buy one of everything and spend near $A2,200 annually is just crazy. And this is without FDC's, packs, and hard cover product to add to the carnage.

It is interesting that the Scott Catalogue "only" lists 143 Australian stamps issued in 2006 according to David. I wonder which ones they are missing?

"Jury Duty" Stamp!
Boy, I thought I'd seen stamps covering EVERY subject possible in the past - but this one was a "first" for me.

The USA issued this on September 12. A 41¢ first class letter rate stamp promoting "Jury Duty" of all things.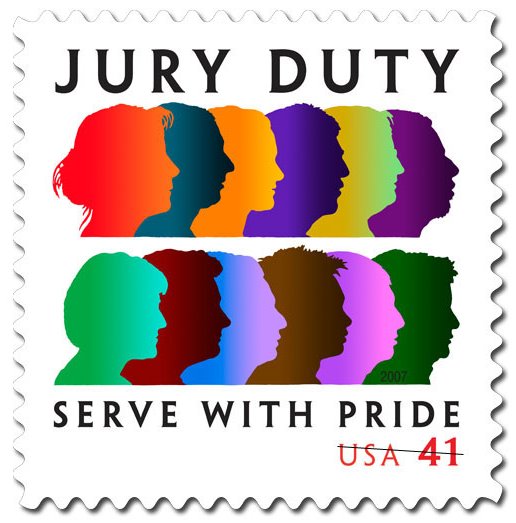 40 million printed.
"With this stamp, the U.S. Postal Service calls attention to the importance of jury service, a cornerstone of democracy in the United States."

"By showing a diverse group of twelve representative jurors in silhouette, art director Carl T. Herrman and stamp designer Lance Hidy emphasize that the American jury system provides for trial by one's peers."

Some 40 million stamps were printed. Does any reader know of any other country to have issued a stamp with this subject matter? Please let me know if they have.

Spink Buys Shreves USA
I got two emails early September, just 15 minutes apart, from both Shreves of New York and Spink London announcing this move.

A shame (in my view) to see a superb STAMP ONLY operator like Shreves get gobbled up by a multi faceted, olde-worlde non stamp focused UK outfit like Spink.

I am sure the $$$$'s were absolutely massive, or the Shreves would not have been interested.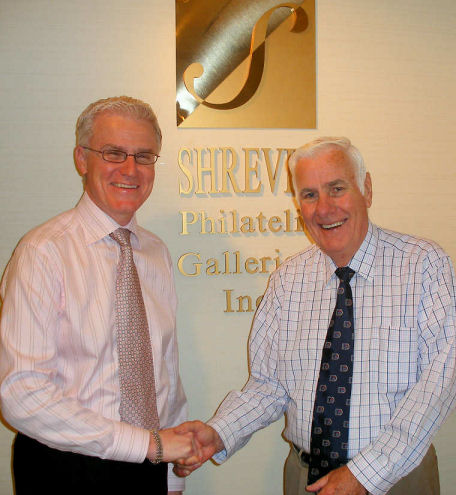 Charles Shreve and Arthur Gray

Here is an account of my personal experience of attending Shreves in NY from February this year for the Arthur Gray $A7¼m Kangaroos sale -

And here is my personal experience of dealing with the bumbling IDIOTS at Sotheby's Accounts Dept a few months ago, who sadly many feel are not far removed from Spink and their olde-worlde thinking and systems in some ways -

The smooth professionalism and innovation on all fronts from Shreves in every way was something all parties involved with at the Gray sale universally commented on - dealers and vendor alike. And that was a tough crowd to please.

However Spink/Shreve have between them auctioned about $US50 million of rare stamps in the previous 12 months, so it will be a most formidable alliance. I hope it works well.

Spink London are auctioning the Gary Diffen Victoria "Half Lengths 1850-1859" on November 14 - which is bound to set a few new price records.

This is all VERY fortuitous timing I imagine. Especially after the rather unexpected and rapid cessation and expunging from all public records, of the once massive "Greg Manning Auctions" trading name this year, due to the ongoing Afinsa mess in Spain.









Get my regular market update emails FREE. Stamp gossip, price trends, record sale prices, and many one-time stamp specials, wholesale bargains, and exciting offers and breaking philatelic news. A mini stamp magazine in every email! "KNOWLEDGE IS POWER". The ONE stamp list you MUST be on, to keep in touch with the rapidly changing world market. One client made $65,000 profit in a few months after following my specific advice. Sign up securely and quickly by clicking HERE to access my automated data base. And wiser still ADD your home AND work email, if I only have one right now. Add a stamp friend's email address if you wish. One short click and you are subscribed to probably the most read email list in the stamp world!


Instant Currency Conversion


FREE! Just click here... see exactly what my lots cost in your currency.




If you would like to be notified of updates to this website, Click HERE. If have any questions,
or comments regarding my site, please email me at glen@glenstephens.com
| | |
| --- | --- |
| | Search all my 300+ web pages! Simply type in what you are looking for. "Penny Black", "Latvia", "Imprints", "Morocco", "Fungi" "Year Books", etc! Using quotes ( " ) is more accurate for multi word searches - i.e. "Australian FDC" gives FAR more specific matches than simply Australian FDC if used with no quotes. Search is NOT case sensitive. Tip - keep the search word singular - "Machin" yields far more matches than "Machins" etc. |


I am a Dealer Member in Good Standing Of:

Full Time Stamp Dealer in Australia for over 25 years.
Life Member - American Stamp Dealers' Association. (New York)
Also Member of: Philatelic Traders' Society. (London) ANDA. (Melbourne) American Philatelic Society, etc
GLEN $TEPHEN$
Full Time Stamp Dealer in Australia for over 25 years.
Life Member - American Stamp Dealers' Association. (New York)
Also Member - Philatelic Traders' Society. (London) ANDA. (Melbourne) American Philatelic Society, etc

ALL Postage + Insurance is extra. Visa/BankCard/MasterCard/Diners/Amex all OK, even for "Lay-Bys"! All lots offered are subject to my usual Conditions of Sale, copy upon request BIGGEST STAMP BUYER: Post me ANYTHING via Registered Mail for my same-day cheque. Avoid the GENERALLY 40% Auction " Commissions" (15% + 17½ + GST, etc.) AND their five-month delays! Read for details.
"Lothlórien4 The Tor Walk, CASTLECRAG (Sydney), N.S.W. 2068
Phone: (02) 9958-1333 Fax: (02) 9958-1444 (Both 25 Hours, 7 Days!)
E-Mail: glen@glenstephens.com
Web Sites: www.glenstephens.com www.glenstephens.net or www.australianstamps.net

Sign up AUTOMATICALLY to my world renowned bi-weekly stamp gossip mailing list!
Click here to see MANY 1000s of stamp lots for sale at low $A Nett prices
Click here for all you need to know re SELLING your stamps for SPOT CASH
Click here for the current Monthly "Internet Only" special offers - CHEAP!
to read all my recent International stamp magazine articles.
Click here to get back to the main www.GlenStephens.com Homepage
Click here to ORDER on-line ANY items from ANY of my dozens of lists
Click for all info on Conditions Of Sale, Payments, Shipping, Returns &c
Click here for the complete library of my very unusual world travels!
How to PAY me. I accept EVERYTHING - even blankets and axes and beads!
Australia Post Annual YEAR BOOKS - massive stock - '27% off' discount offer today!
Visit my new page on RARITIES - Roos & other expensive photo items.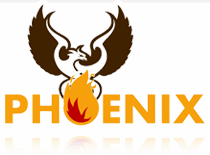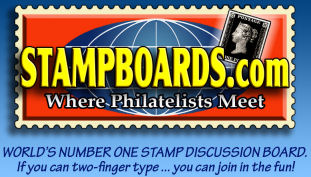 Instant Currency Conversion


FREE! Just click here...


E-mail me at glen@glenstephens.com -
Every credit card shown is accepted WITHOUT fee.
Earn Frequent Flier points while buying at bargain prices!
ALL prices are in weak Ozzie Dollars. I charge NO nasty, nasty
"Buyer's Commission" on stamps like nearly every "Auction" does.