Click To Go Back To The Main www.GlenStephens.com Stamps Homepage


Welcome! You are visitor
to www.GlenStephens.com




Glen Stephens
Monthly "Stamp News" Market Tipster Column


October 2008

---
The Kangaroo stamps were first issued nearly 100 years back, and MILLIONS of research words have been written on them since. Entire rainforests have likely been pulped, publishing works on the flaws and varieties!

One would imagine then that the most visual and most obvious constant flaws would all have been reported and recorded many decades back.

The ACSC "Kangaroos" volume is 100s of pages thick.

Not the case. On stampboards.com this month a German member "josto" posted up images of not one, but TWO 4d's he had found with a large, coloured "island flaw" off the WA coast.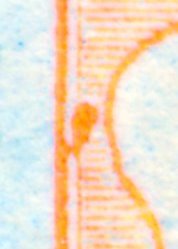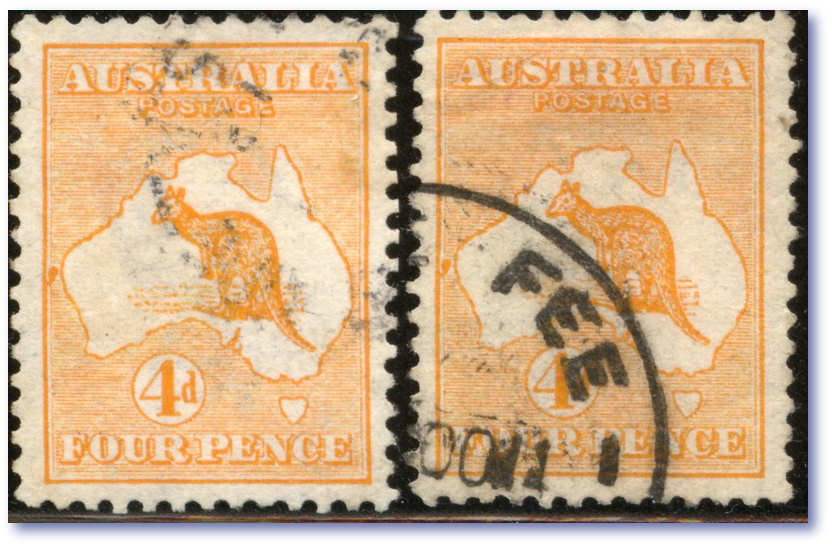 "Dirk Hartog Island" Flaw
Both appeared identical. Then a collector from rural Victoria whose stampboards handle is "austcollect" posted up a nice looking strip of 3 with right hand interpanneau selvedge, the left stamp of which had the same flaw – and allowed the position to be "plated".

Not to be outdone a member from Ontario Canada, called "Greg Ioannou" added his copy. That example is illustrated nearby.

Ioannou had posted this photo a few times before ….. because it bears what is believed to be the earliest known date recorded on a 4d Kangaroo – "Feb 15, 1913".

Neither he not any other member had noticed the large flaw in the past! See all the photos and chat here – www.tinyurl.com/5hhamn

The ACSC records that the 4d stamps were dispatched to Sydney on February 17, and that 2 covers cancelled February 19 are known. Why the latter data is at all relevant for ACSC purposes is anyone's guess, as they are neither FDC's, nor first day of national sale, or even close.

One of these covers was included in the Arthur Gray Kangaroo sale in a group carelessly described as "earliest known useages and First Day Covers". The covers were in appallingly foxed condition overall, but sold for $A78,750 to a Melbourne dealer in the room.

There were in fact no First Day Covers (plural) in the lot - the 1d being the only actual FDC.
Earliest Known Date
| | | |
| --- | --- | --- |
| | The ACSC clearly notes that copies of the 4d were sent to Tasmania on February 12. The copy shown nearby from Greg Ioannou is the earliest known use I have little doubt, and hopefully the ACSC will one day focus on real-life known early dates, and not vaguely early dates! | |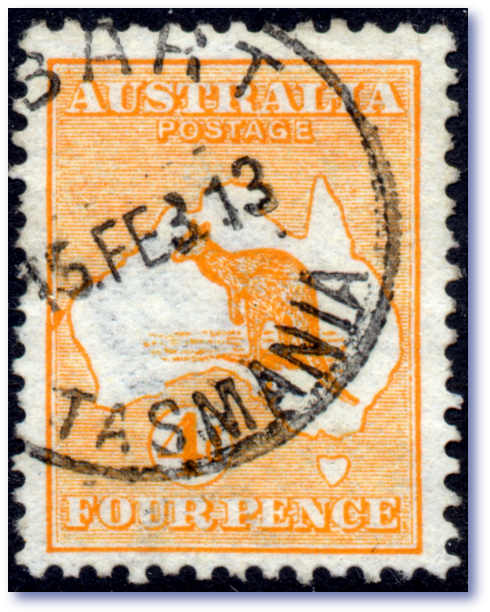 Earliest Date?
So on just one bulletin board there are shown 4 different copies, on 3 continents located of this flaw. I am going to suggest ACSC editor Geoff Kellow considers naming it the "Dirk Hartog Island" flaw.

The 4d has only a few flaws listed in ACSC, and half of those are pretty much flyspecking at best, compared to this one.

That island group does exist at that same spot on the map. We know from the Australia 1966 4c stamp, Dutch seafarer Hartog left the earliest evidence of landfall on this continent in 1616, via a pewter plate left on this island.

The nearby drawing of the wording on the pewter plate shows he spelt his name as Hatichs, so work that one out! "Skipper - Dirck Hatichs, of Amsterdam." Foreign spelling of surnames usually are adhered to closely in English.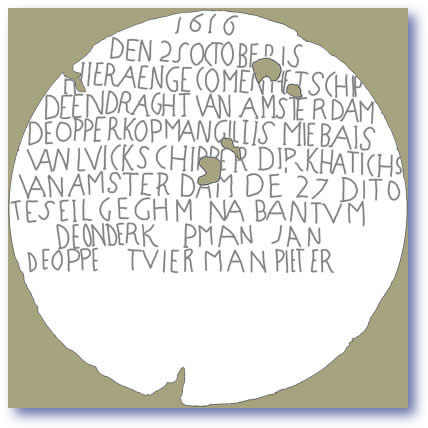 Hatichs a.k.a. Hartog
I had always assumed Hartog was the first European recorded as setting foot on this continent, in 1616. No so it seems. Willem Jansz in 1606 appears to hold that honour – a decade earlier.

Jansz (or Janszoon) charted about 320 km of the Queensland coastline near Weipa, thinking it was part of New Guinea! This was all news to me, and why we do not commemorate 1606 more widely is a mystery.
The Columbus MYTH!
Seeing 95% of Americans assume Christopher Columbus discovered the USA I can be forgiven I guess … they even have an annual Columbus Day holiday, despite the fact he never went even close to landing on, or sighting any part of the USA.

And the USA have issued Columbus stamps since the long 1893 series, but I do not believe they have issued a Vespucci stamp. Many other countries have of course.

When in the USA I often ask locals whom America was named after. About 80% have no idea whatever, which is pretty surprising seeing they are usually very good on their own (and only their own!) history.

I then suggest they look up the word "Vespucci" on google and one still gets blank stares. Curious.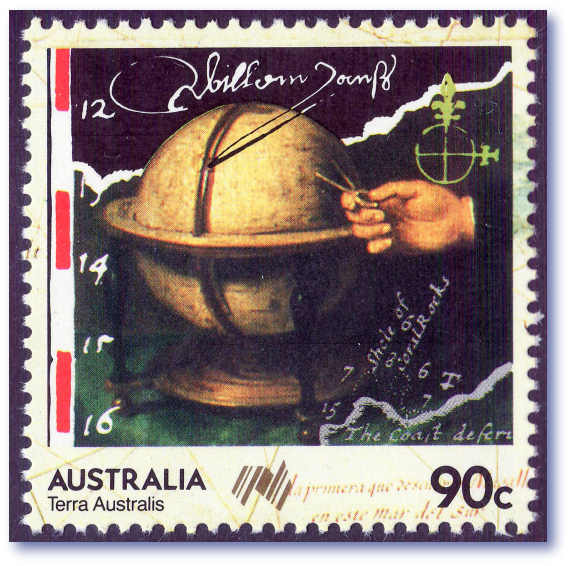 Poor forgotten Jansz

| | | |
| --- | --- | --- |
| | Australia as far as I can see have only issued a single stamp for Jansz in 1985 - and then only with Jansz's signature on it .. and no others stamps that I can recall. | |
Ballarat Boys
The history of mankind shows that after several beers or diet Pepsis, much interesting information is passed on at stamp dealer dinners.

In New York February 2007 for the phenomenal Arthur Gray Kangaroos Auction, a few of the dealers got to talking over dinner about things other than stamps - a most unusual occurrence.

Somehow the subject of places of birth was raised.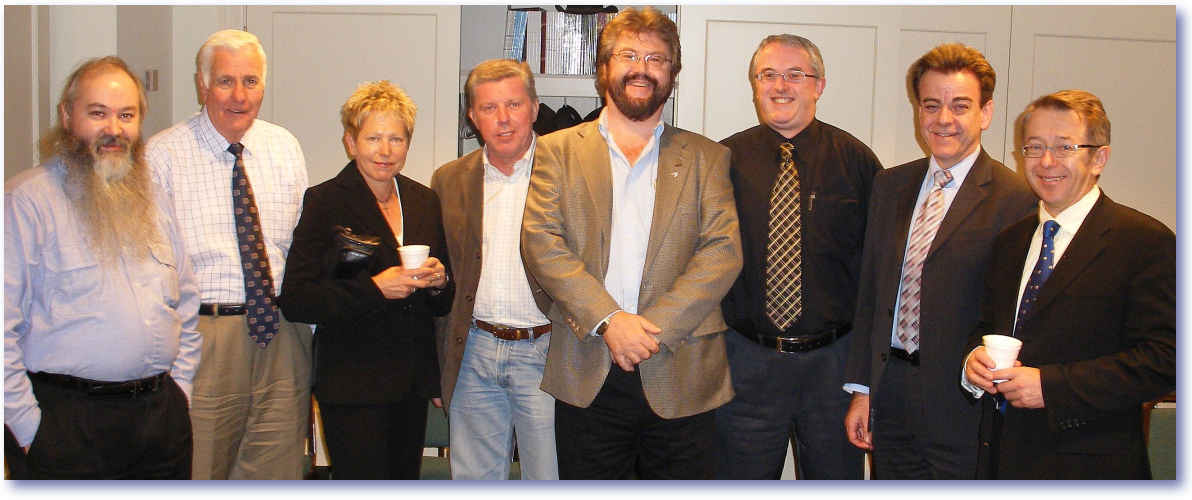 "The Gum Leaf Mafia"
Leading Melbourne dealer Richard Juzwin mentioned he and his brother Andy were born in Ballarat, Victoria.

Gary Watson owner of Prestige Philately volunteered he was too. Steward Wright owner of Status International Auctions and I.S. Wright piped in that he too was born in Ballarat.

This columnist Glen Stephens was also born in Ballarat.

I have no idea what was in the water back then (watermark fluid?) as we are all very similar ages, but 5 of the largest dealers in Australia were all born in this regional town.

The "Gum Leaf Mafia" photo of the Aussie dealers in New York is nearby. Stewart Wright is at far left, and Richard Juzwin is at far right. Gary Watson has the black shirt to right of Glen Stephens, in the centre.
Seven Million Dollar Man
I'll let readers work out which one by his hair colour is the "seven million dollar man", Arthur GRAY!

The fact that the Peter Lalor led Eureka Stockade rebellion was staged in this area might be prophetic in some way?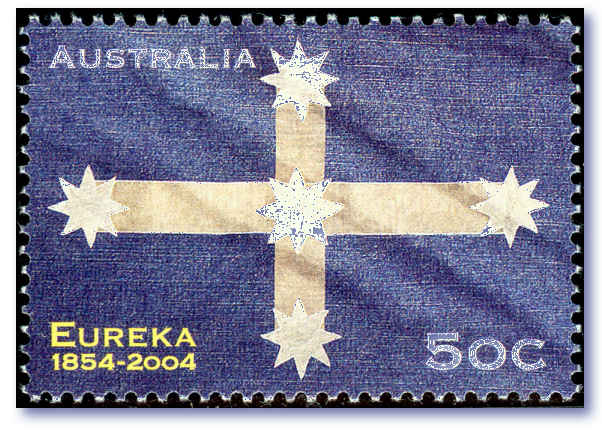 New National Flag?



When the new government asks me what our new national flag should be (they have not done so yet for some reason!) as a Ballarat Boy I am voting for the Eureka Flag, depicted on the 50¢ commemorative stamp of 2004 illustrated nearby.

Heck my birth Certificate even has the town spelt the old fashioned way "BALLAARAT" - with 4 x "A"s.

I have more hair than the other 4 dealers born there, (if one discounts Stewart's beard!) so lets hope their Birth Certificates have the same spelling too, as that dates me somewhat!

I am sure a postmark collector or historian reader can come up with a date when the name formally changed spelling to the present three "A" version of Ballarat?
REAL Football
Being a Ballarat boy, and growing up in South Australia, the one and only football code to follow was Australian Football – or Aussie Rules.

So each weekend I am glued to all the games shown – not very easy if you need to do it via free-to-air TV in Sydney, as some run until 2am.

Stampboards.com decided to start an AFL tipping weekly contest. The same kind of thing as most larger offices have here. However ours was truly global.

We had Brits, Americans, Kiwis, Asians and Canadians all adding their selections each week. Not to mention lots of folks from NSW and Queensland etc who were simply guessing.

The winner was a member called "clino" aka Peter Larson from Idaho USA. Peter took the lead from round 6, was never headed, and ended up with an impressive 124 points.

Despite competing with a bunch of AFL football Aussies who live and breath this stuff, he out-tipped them all, and admitted he had never even seen a game – not even on television!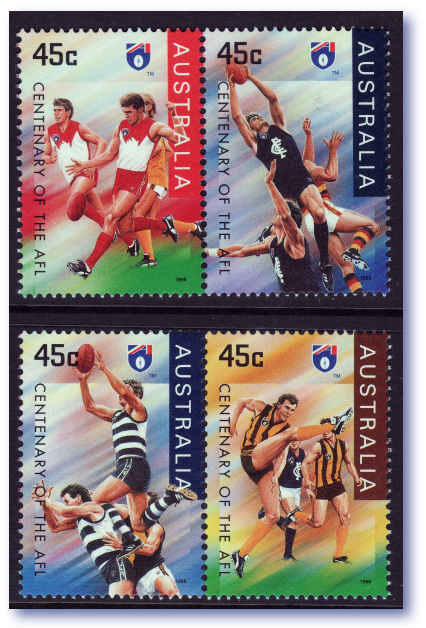 Lots of Guesses!
Second place went to "Lakatoi4" – a NSW resident who also has never seen an AFL game. All the results are here – www.tinyurl.com/5oq8jc

Ringmaster and chief cat-herder was a member from Lara Victoria, "fromdownunder" and Norm had the satisfaction of seeing his beloved Geelong romp in the season with only 1 defeat.

There were valuable prizes, and good fun from all involved, and it really does show knowing NOTHING about a sport is no hinderance to accurate guesses!
Post Box Arthur
One finds all kinds of things trawling around on the internet. I discovered that Isle of Wight electrician Arthur Reeder is the proud owner of near 200 UK pillar post boxes!

Reeder is a member of the Letter Box Study Group, an international organisation which celebrates, investigates and supplies information on these pieces of street furniture which go unnoticed by many.

A number of members have travelled hundreds of miles to visit Arthur and his collection - addresses in his visitors' book include Ireland and Switzerland.

Reeder refers to his 190+ strong box collection as the "Isle of Wight Postal Museum" but while he welcomes visitors, it isn't a public collection.

"I haven't acquired these things for show" he says.

"I've acquired them for myself. I wouldn't mind if no one ever came to see them" said Reeder.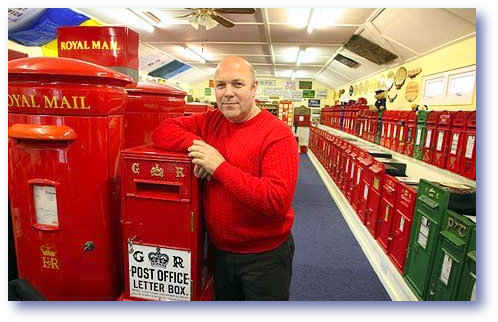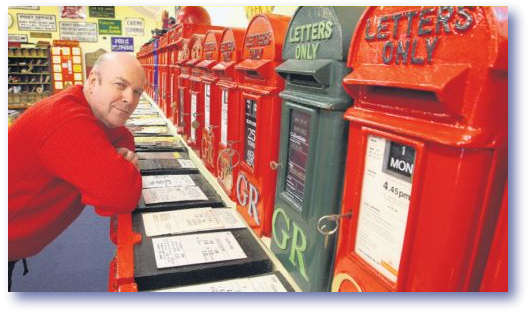 A huge shed full
However he does love showing people around, and although he is self-employed, will happily miss out an afternoon or even a day's pay to show his collection to visitors.

Perhaps surprisingly, post boxes are the first thing that Arthur has collected.

Father-of-three, Mr Reeder, became captivated by post boxes in 1990 while out taking photographs of his first love - telephone boxes, in Rhyl, North Wales.
£20 started him
He spotted an historic, but broken wooden post box lying in a rubbish skip outside the town's train station, and bought it for just £20.

Since then his collection has grown and is now regarded as the UK's biggest private collection of post boxes.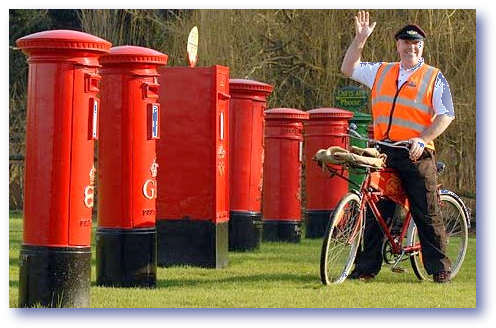 Take your pick.

The oldest wall box in his collection dates back to 1856. His most modern is a brand new pillar box built by Scottish firm Machan Engineering in 2007.

"I'm not a hoarder," he says. "I used to chuck stuff away rather than hang onto it. But with letter boxes I've started to look at things differently. I give talks about post boxes and one of my themes is that just because something is old that doesn't mean it isn't capable of doing its job."

"I have been called eccentric, mad-cap, crazy - the lot, but I don't care what other people think about my hobby" he said.

Reeder, 52, admits it took him a while to tell wife Kim, whom he married four years ago, about his collection.

Most of the boxes are stored in a huge warehouse size structure outside the marital home in Newport, Isle Of Wight, and on the lawns.

"The postal service is what bound the Empire together. These post boxes should never, ever be allowed to go because they were the cement that held the British Empire together - and still holds the UK together in many respects" he concluded.

The $500,000 Robes
As we are all undoubtedly aware, August 1 saw the Coronation of Tonga's new King, George Tupou V.

And of course a set of stamps was issued. One of which was a miniature sheet, showing King George in his rather expensive Coronation robes.

I was interested to read what this coronation shawl cost. If you guessed about $A500,000 you'd be right on the money.

The Tongans spent 5 million Tongan Pa'anga on the Coronation, and about 15% of that was of this over-the-top set of Coronation Robes. The tailored robes came from Gieves & Hawkes, at 1 Saville Row, in London's Mayfair.

By tradition such robes are trimmed with ermine fur, which comes from the winter coats of stoats, and are used as a symbol of purity or virginity.

All very nice. Now I've been to Tonga on holiday, and trust me, $500,000 would probably buy you the largest building in the country.

Tonga is a very poor country - indeed one of the poorest on earth.

"VERY, VERY, IMPORTANT"
The Coronation festivities lasted a week, and included three coronation balls. And here I quote from official Tongan sources - "one for very, very important people" (VIPs), another for 'very important people' and another for the common people."

I swear the above is true – word perfect.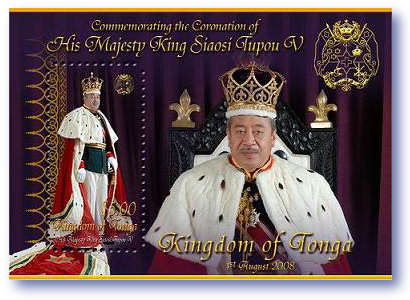 Robes YES : website NO
I tried to get a sharper image of the stamps from the Tongan PO website - www.pmo.gov.to - a couple of weeks after the wedding.

Sadly I got this message - "Bandwidth Limit Exceeded - The server is temporarily unable to service your request due to the site owner reaching his/her bandwidth limit. Please try again later." This lasted for days.

A shame to see a tiny fraction of that $500,000 for the Robes was not spent on buying the government websites a tad more bandwidth. Tonga is a very poor country, and to see such obscene extravagance rather saddens me.

Many readers may recall in recent years that the Kingdom was nearly bankrupted, when some smooth talking US snake-oil salesman talked his way into the old King's ear, and "invested" much of the country's funds, most never to be seen again.

American businessman Jesse Bogdonoff was financial advisor to the Government of Tonga, and was also literally appointed "Court Jester" to the Tongan Royal Court - as the old King liked him greatly.
The Court Jester

In early 2000's Bogdonoff was accused of losing about $US24 million of the country's money - which represented 40% of the government's annual revenue.

Much of that money had been accumulated by Tonga's bizarre practice of essentially selling passports to wealthy Hong Kong residents – few questions asked.

These folk wanted a second valid passport in case the Chinese takeover cracked down too heavily on capitalism, or movement of citizens overseas etc.

To quietly pay $US50,000 or so, to get a hassle free second British Commonwealth passport was cheap "insurance" many of them clearly believed.










Get my regular market update emails FREE. Stamp gossip, price trends, record sale prices, and many one-time stamp specials, wholesale bargains, and exciting offers and breaking philatelic news. A mini stamp magazine in every email! "KNOWLEDGE IS POWER". The ONE stamp list you MUST be on, to keep in touch with the rapidly changing world market. One client made $65,000 profit in a few months after following my specific advice. Sign up securely and quickly by clicking HERE to access my automated data base. And wiser still ADD your home AND work email, if I only have one right now. Add a stamp friend's email address if you wish. One short click and you are subscribed to probably the most read email list in the stamp world!


Instant Currency Conversion


FREE! Just click here...




If you would like to be notified of updates to this website, Click HERE. If have any questions,
or comments regarding my site, please email me at glen@glenstephens.com
| | |
| --- | --- |
| | Search all my 300+ web pages! Simply type in what you are looking for. "Penny Black", "Latvia", "Imprints", "Morocco", "Fungi" "Year Books", etc! Using quotes ( " ) is more accurf used with no quotes. Search is NOT case sensitive. Tip - keep the search word singular - "Machin" yields far more matches than "Machins" etc. |


I am a Dealer Member in Good Standing Of:

Full Time Stamp Dealer in Australia for over 25 years.
Life Member - American Stamp Dealers' Association. (New York)
Also Member of: Philatelic Traders' Society. (London) ANDA. (Melbourne) American Philatelic Society, etc
GLEN $TEPHEN$
Full Time Stamp Dealer in Australia for over 25 years.
Life Member - American Stamp Dealers' Association. (New York)
Also Member - Philatelic Traders' Society. (London) ANDA. (Melbourne) American Philatelic Society, etc

ALL Postage + Insurance is extra. Visa/BankCard/MasterCard/Diners/Amex all OK, even for "Lay-Bys"! All lots offered are subject to my usual Conditions of Sale, copy upon request BIGGEST STAMP BUYER: Post me ANYTHING via Registered Mail for my same-day cheque. Avoid the GENERALLY 40% Auction " Commissions" (15% + 17½ + GST, etc.) AND their five-month delays! Read for details.
"Lothlórien4 The Tor Walk, CASTLECRAG (Sydney), N.S.W. 2068
Phone: (02) 9958-1333 Fax: (02) 9958-1444 (Both 25 Hours, 7 Days!)
E-Mail: glen@glenstephens.com
Web Sites: www.glenstephens.com www.glenstephens.net or www.australianstamps.net