This lot I bought, had the dealer name Miller Brothers on one folder. Not an overprint .. they clearly went and found the PO's pack printer and had them make their own pack in a very different cover design.

The inside appearance matches the PO types exactly, so I assume they sourced the PO printer and duplicated the style?

I sold the lot for $A40 apiece, and in years to come that will be shown to have been an absurd pittance!

In 30 years in stamps I had never seen or heard that this Miller Brothers special pack even existed. This empty pack alone should be worth $100s if these are ever listed out.
We do know Millers were infamous for being cunning, in conning the lazy PO staff - and ordering for instance 160 "Specimen" packs at 4pm on a Friday etc.

Clearly nothing like that number would be made up, and on hand at PO, as they sold so slowly - a few 100 per year even at major GPO's.

Millers would – it is said - helpfully suggest the PO staffer handed over the full sheets of 160 in CTO and Specimen, and their staff would helpfully undertake the enormously time consuming and tedious job of ripping up the 30 sheets of 160 stamps.

Lazy PO staffers it seems clearly thought that was a great deal, (for them) and agreed.

Miller's cunning trickery is the sole reason nearly all of the pre 1950s Imprint and Monograms and multiplies exist today in CTO or Specimen.
Only source of CTO Blocks.

They were not silly - they KNEW they would get a premium for them - more so than had they ended up with only single stamps!

Anyway this special Miller pack in the lot I bought above makes it very clear that they sold the packs with their own name printed on it .. a wonderful new discovery - to me anyway.

I had assumed they simply used the standard type PO packs to add the torn up stamps into - after they ripped out the imprints and monograms etc.

The ACSC now lists and prices EVERY CTO stamp that appeared in these packs. A very common stamp like a 1913 1d Kangaroo is cat 25 DOLLARS with Melbourne CTO cancel, but sells for 25 CENTS with a normal cancel etc.

Anyway, I am sure other readers have these early packs to show me .. hopefully different designs to these may exist? Let me know if you do.

If we get some useful input and comment, editor Geoff Kellow might be able to list these pack designs in a future ACSC.
NOT all packs are original.

I sometimes see packs that have 10 or 20 or 30 or so CTO and "Specimen" stamps inside.

These contents in 99% of cases are NOT as were originally in there.

Often there is a bizarre mish-mash of unconnected reigns, series, and part sets. Dealers often placed random CTO stamps that arrived into stock over a period into an empty pack, and then sold it "as is" when near full.

I have VERY seldom over the decades bought totally original packs from the pre war era. Probably only a half dozen in all.

Guaranteed ORIGINAL overprints!
One was last year, and I bought the superb condition pack illustrated nearby - still in an original brown PO outer envelope.

That pack had among the original contents of 19 stamps, the 1938 £1 'Robes' Definitive overprinted "Specimen" - along with the far cheaper 10/- and lower values down to the ½d orange.
This overprint is very heavily forged, so obtaining it via such a pack is to be honest the ONLY way to be certain it is genuine.

Most "Certificates" on these are at best – educated guesses. It was only sold in these "Specimen" packs during part of 1944 - hence the scarcity today.

The only Post Office sold multiples of this stamp still existing are a pair - and a block of 4.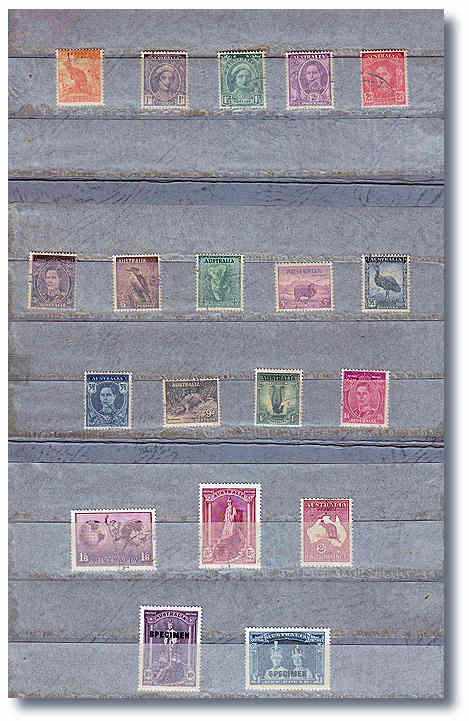 Contents of the "Robes" Pack
| | | |
| --- | --- | --- |
| | The ACSC suggests these multiples came from Miller Brothers. The unique block 4 is on the front cover of the current KGVI ACSC Cat. It would sell for $10,000 today is my guess. | |
Printer's Waste Hoard
Downies in Melbourne auctioned several very heavily ink smeared printer's waste blocks about 5-10 years back that had not been on the market for about 60 years.

As I recall they came from the estate of Ararat Victoria dealer Leslie Grant, and various other "printer's waste" from the 1940s era was mixed (and not described!) among the bulk lots of his material offered.

It was pretty funny seeing cartons of stuff estimated at $100 or so, get many $1000s! Even then, the faint threat of Federal Police raids was not attractive, so it was sold un-described.


A Miller Brothers "Special"
As an example of the Miller Brothers legacy shown nearby is one block of 8 Roos they undoubtedly sold.

C of A watermarked 5/- Roos are not scarce SINGLY in CTO condition. I have 30 or so in stock, and they are about $30-$50 each, depending on centering etc.

HOWEVER, in a large BLOCK with Melbourne CTO cancel they are rare ... as the Miller Brothers trick is the only way they could have occurred.

I sold that block this week to a client for $750 -- so that is about DOUBLE what 8 x single stamps would fetch.

I bought it from the "Arthur Gray" Kangaroo collection when in New York, and even there it went too cheaply, obviously.

Often used BLOCKS of 4 of things can fetch 10 or 20 times a single stamp price - i.e. not 4 times.

And the market in Australia for USED blocks is growing madly -- possibly as I keep urging folks to buy them.

However one day they will thank me, when the ACSC lists and prices them all in USED blocks - as they surely will
New Queensland Cancel Book
My mantra to readers for 30 years of writing columns has been – "Knowledge Is Power".

Collectors HATE buying literature in general terms – no idea why.

Publishing philatelic literature is NOT the path to financial success - that much I do know for sure.

Luckily collectors keep on publishing, and by their efforts we all benefit. Numeral cancels are plentiful on the Roo and KGV head issues.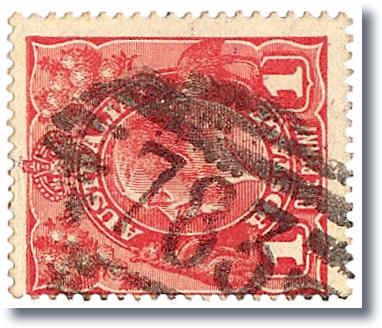 Would you glance twice at this?

Nearly everyone reading this column has stamps from this era with numeral cancels on them.

Most of you have no idea whether they are worth 10 cents, 10 dollars, or $100 dollars. Or often a LOT more!

The question is - just how do you know WHICH one you have?

Unless you buy a few reference books, you will not. (The 1d KGV head shown nearby is worth about $300 for instance.)
Freeman/White book a "Must"

My column 5 years back on the quite superb Hugh Freeman hard cover book on VICTORIA numeral cancels emphasised this point – www.tiika.notlong.com

I still have a few copies in stock of these magnificent books at issue price of $150 – and as you can see, locating one half decent cancel pays for the book several times over.

This "1697" cancel shown nearby is only rated "RRR" in there ... imagine what the scarce RRRR are worth! And a "NNR" rating ("number not recorded") obviously trumps that again. Value without that "1697" cancel - about 2¢!

The stamp illustrated sold for over $400 at auction .. near THREE times the cost of this book!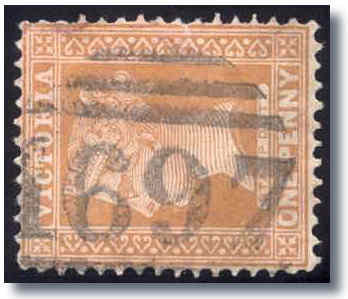 Sold for over $400
The Freeman/White book illustrates around 2000 actual cancels on stamps and covers - not drawings as other state handbooks have used. The central section is in full colour.

Reproduction quality of illustrations is quite superb, and the detail and background to the listings is exhaustive. All cancels are rated in 8 specific rarity classes - or "non-rated" meaning they are reasonably to very common.

The book also rarity rates and illustrates the earlier Victoria "Butterfly" and "Barred Oval" cancels - also a very useful data base on its own.

EVERY dealer in the world should own this book, and it goes without saying ALL collectors of Victoria need to have one too.

Stumble across even one half decent cancel in your entire lifetime, and it is more than paid for.

The hard-bound Freeman/White large A4 book comprises over 420 pages, with eight colour plates.
Following on from that great work comes Bernie Manning's new QUEENSLAND opus.

Bernie had Hugh Freemans's active input into it, and follows a rather similar style.

The great innovation in this volume is the rarity ratings of the same cancels on three distinct stamp issues –

Queensland Chalon Heads

Queensland sideface Queens

Australian Commonwealth issues

This is most interesting, and was one of the failings of the Freeman book – not separately rating strikes on Commonwealth issues.

What this means is that a numeral cancel that for instance might be very common on sideface issues, is decidedly rare on Roos or KGV heads.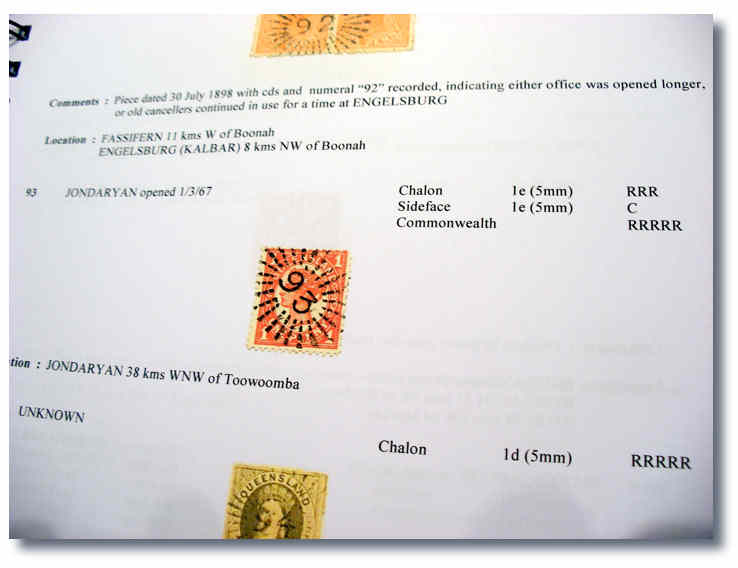 Find this cancel on a 1d Roo!
So as we can see nearby, a nice strike of "93" on a sideface as illustrated is "C" = Common. However on a earlier Chalon issue the same "93" numeral is very scarce and rated "RRR" - and better still on a Roo or KGV head it is rated "RRRRR".

Did you know that before reading it just now?

Value of the latter – several $100s very easily. Cost of the book – HALF that – or $A150.

Great new era breakdown.
| | | |
| --- | --- | --- |
| | Manning does the logical breakdown for the FIRST time - rating the same number on Chalons, side-faces and Commonwealth issues. Generally giving wildly different ratings. | |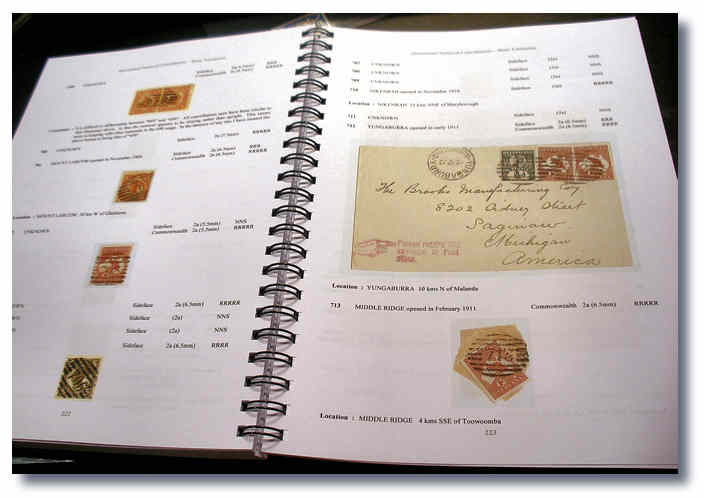 How much for this "713" Roo?
There are lots of Commonwealth era stamps illustrated. The "713" cancel on a common 1d roo shown nearby is worth many $100s.

Likewise the common 1d red KGV head with the "783" cancel illustrated nearby.

Manning rates both these 1d reds as "RRRRR" and either would sell for several $100s. I can bet 99.99% of the readers of this column would not look twice at them if on an album page, or in a stockbook etc.

The 1d Roo "291" on the front cover of book has the same rating. Again, who among would have looked twice at it before this book was published?

Any collector or dealer NOT owning this new work is foolish. An otherwise 10c stamp can be worth $300 or so IF you spot the good cancels.

I've sold a dozen or so books already at $150 - and other dealers who stock literature should also have stock.

"Queensland Numeral Cancels" by Bernie Manning is wire spiral-bound, 257pp with a loose insert of a massive fold-out facsimile of a 1906 Qld Railways map.

This brand new book is a vast improvement on the coverage provided by Hugh Campbell in his "Postal History of Queensland".

Bernie Manning has worked with a number of other enthusiasts to access as much material as possible to, in turn, ensure that both his coverage and his rarity ratings are as accurate and reliable as possible.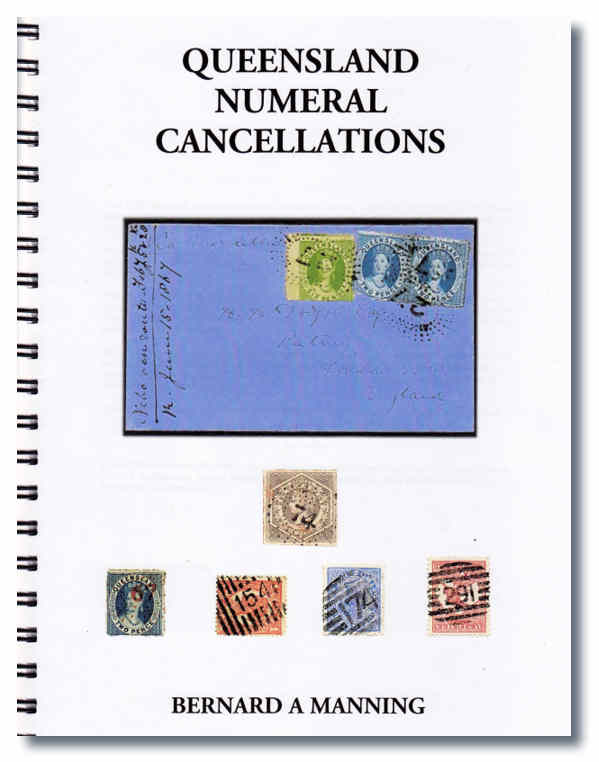 A new "Must Buy" Book
The book is extensively illustrated entirely in colour, using the best available strikes of the postmarks. This will greatly assist collectors to identify any questionable markings.

Use of colour also means that you would have to pay $250+ (and take hours) to copy the book if you borrowed from a friend!!

Inclusion of the quite massive railways map is a valuable bonus. It will assist students to locate the numerous tiny settlements scattered throughout the second-largest of the Australian Colonies/States.

A great new release book. Large A4 size, with great wire binding, so it stays FLAT when working on your desk.

Just finding ONE off the very many "RRRRR" and "NNS" listings here will more than likely readily pay for it.
Being a Ballarat boy, and growing up in South Australia, the one and only football code to follow was Australian Football – or "Aussie Rules".

So each weekend I am glued to all the games shown - not very easy if you need to do it via free-to-air TV in Sydney, as some (indeed many) games run until 2.30am.

Stampboards.com last year decided to start an on-line AFL tipping weekly contest. The same kind of thing as most larger offices have here. However ours was truly global.

We had Brits, Americans, Europeans, Kiwis, Asians and Canadians all adding their selections each week. Not to mention lots of folks from NSW and Queensland etc who were simply guessing.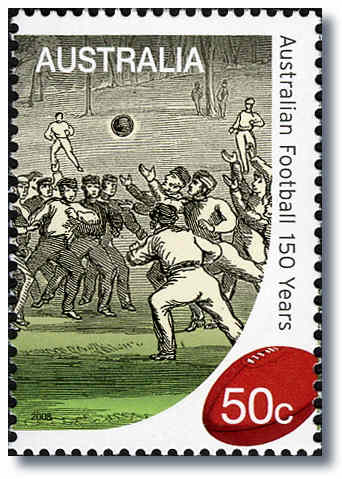 Australia's July 2008 issue
The 2008 winner was a member called "clino" aka Peter Larson from Idaho USA. Peter took the lead from round 6, was never headed, and ended up with an impressive 124 points.

Second place went to "Lakatoi4" – a NSW resident who also has never seen an AFL game.

The results for 2009 were the SAME 2 collectors - but in reverse, coming first and 2nd respectively!

Despite competing with a bunch of AFL football Aussies who live and breathe this stuff, these two out-tipped them all for TWO years, and both admit they have never even seen a game – not even on television!

Ringmaster and chief cat-herder was a member from Lara Victoria, "fromdownunder" and Norm had the satisfaction of seeing his beloved Geelong again romp in the season with a strong finish.

All the results and discussion is here – www.pipaiv.notlong.com

There were valuable prizes, and good fun from all involved, and it really does show knowing NOTHING about a sport is no hinderance to accurate guesses!
New Gibbons Catalogues
The backbone of the stamp collecting hobby are the Stanley Gibbons Catalogues.

The new "Australia" book is an absolute essential for anyone collecting or dealing in this region.

This latest edition is in a new far more sensible and smaller B5 size format, and this one I use every day.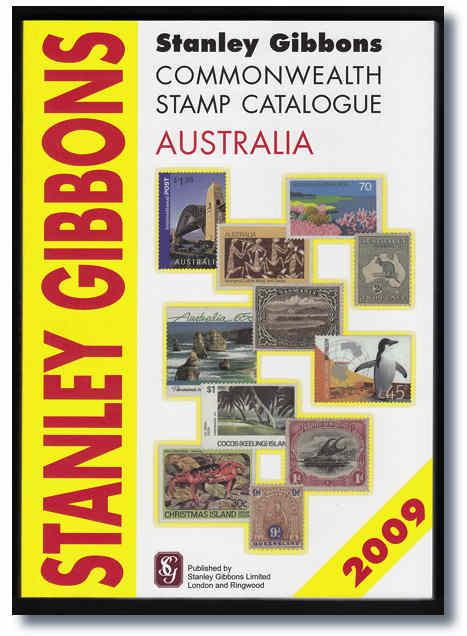 New Edition is 272 colour pages

Now in full colour on bright white paper.

It includes all the Colonial ("State") issues, and all the stamps of the Commonwealth of Australia including the 1946 British Occupation Force (Japan) overprints.

And all booklet issues – and dies, inverted watermarks, and major plate varieties etc. And prices for on-cover copies.

Then the Australian Antarctic Territory, Christmas Island, Cocos (Keeling) Islands, Norfolk Island and the pre-independence Issues for Nauru (to 1968), New Guinea, Papua and Papua New Guinea, GRI/NWPI etc.

Prices are extensively revised with many significant increases since the 4th edition. I sell them for $A70, and all dealers should have it - and for 272 full colour pages that represents excellent value in my view.










Get my regular market update emails FREE. Stamp gossip, price trends, record sale prices, and many one-time stamp specials, wholesale bargains, and exciting offers and breaking philatelic news. A mini stamp magazine in every email! "KNOWLEDGE IS POWER". The ONE stamp list you MUST be on, to keep in touch with the rapidly changing world market. One client made $65,000 profit in a few months after following my specific advice. Sign up securely and quickly by clicking HERE to access my automated data base. And wiser still ADD your home AND work email, if I only have one right now. Add a stamp friend's email address if you wish. One short click and you are subscribed to probably the most read email list in the stamp world!


Instant Currency Conversion


FREE! Just click here...



n="center">


If you would like to be notified of updates to this website, Click HERE. If have any questions,
or comments regarding my site, please email me at glen@glenstephens.com
| | |
| --- | --- |
| | Search all my 300+ web pages! Simply type in what you are looking for. "Penny Black", "Latvia", "Imprints", "Morocco", "Fungi" "Year Books", etc! Using quotes ( " ) is more accurf used with no quotes. Search is NOT case sensitive. Tip - keep the search word singular - "Machin" yields far more matches than "Machins" etc. |


I am a Dealer Member in Good Standing Of:

Full Time Stamp Dealer in Australia for over 25 years.
Life Member - American Stamp Dealers' Association. (New York)
Also Member of: Philatelic Traders' Society. (London) ANDA. (Melbourne) American Philatelic Society, etc
GLEN $TEPHEN$
Full Time Stamp Dealer in Australia for over 25 years.
Life Member - American Stamp Dealers' Association. (New York)
Also Member - Philatelic Traders' Society. (London) ANDA. (Melbourne) American Philatelic Society, etc

ALL Postage + Insurance is extra. Visa/BankCard/MasterCard/Diners/Amex all OK, even for "Lay-Bys"! All lots offered are subject to my usual Conditions of Sale, copy upon request BIGGEST STAMP BUYER: Post me ANYTHING via Registered Mail for my same-day cheque. Avoid the GENERALLY 40% Auction " Commissions" (15% + 17½ + GST, etc.) AND their five-month delays! Read for details.
"Lothlórien4 The Tor Walk, CASTLECRAG (Sydney), N.S.W. 2068
Phone: (02) 9958-1333 Fax: (02) 9958-1444 (Both 25 Hours, 7 Days!)
E-Mail: glen@glenstephens.com
Web Sites: www.glenstephens.com www.glenstephens.net or www.australianstamps.net