Click To Go Back To The Main www.GlenStephens.com Stamps Homepage

Welcome! You are visitor
to www.GlenStephens.com




Glen Stephens
Monthly "Stamp News" Market Tipster Column


October 2011

---
Modern Disaster Mail
Post Office miscellaneous markings seem to be almost never seen in the modern era.

All I ever seem to see with any regularity are "MISSENT" markings of various types.

Back 100 or so years, some of the instructional markings and handstamps were truly diverse, and often fascinating.

Stampboards recently saw Melbourne dealer Torsten Weller post up a photo of an interesting item from his stock that is shown nearby.

It was a normal $1.50 airmail cover to Christchurch NZ dealer Paul Wales, mailed from Shepparton South Victoria on February 17, 2011.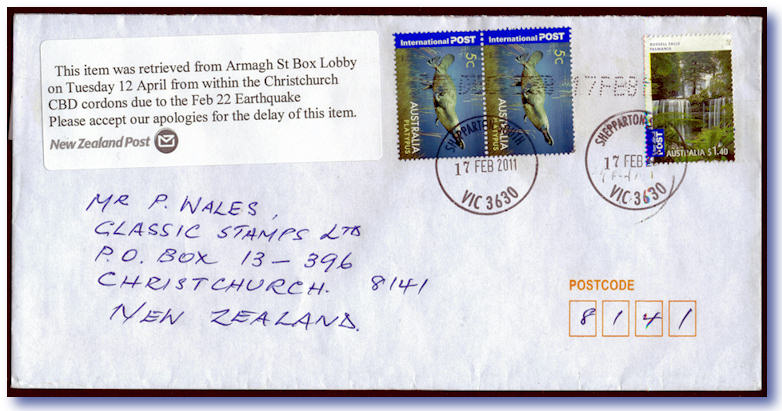 Christchurch Earthquake Cover


Utube movie clip of the earthquake.



As most readers will recall, Christchurch NZ suffered a catastrophic earthquake on 22nd February, with near 200 fatalities.

Significant sections of the city centre collapsed, and were cordoned off by Authorities for safety reasons due to the unstable buildings.
Took 6 weeks to deliver
This mail piece arrived at the PO just prior to the earthquake striking, and as can be seen, the evacuation of the area meant the mail was not cleared and forwarded until April 12 – some 6 weeks later.

Addresses Paul Wales, whose business was downtown, advises he received several mail pieces with this official New Zealand Post sticker, but this was the only one from Australia.

"This item was retrieved from the Armagh Street Box Lobby, on Tuesday 12 April, from within the Christchurch CBD cordons due to the Feb 22 Earthquake. Please accept our apologies for the delay of this item"

History shows that most recipients of such markings do not realise their philatelic importance, and simply bin the outer envelope.

An important cover for the future, and only one collector will be able to own this one. From Australia it may well be unique?

As Weller posted – "I was half-tempted to keep this one in my "glory box" but decided it was too nice to hide away"
Not dissimilar to Crash Mail.
The other area one often sees markings on, or associated with, are "crash" covers.

I listed up a once sodden 1938 "Calpurnia" cover recently, where the recipient had retained the original PO outer, and the attached PO letter - tinyurl.com/Calpurn

Empire Flying Boats left the UK with commercial mails for Alexandria Egypt, where Australian and New Zealand mail was loaded on the Empire flying boat "Calpurnia" G-AETW.

The flight from Alexandria was to Tiberias on the Sea of Galilee, and from there to Lake Habbaniyah near Baghdad, Iraq.

On November 27 1938, in the dark, and during a sandstorm, the "Calpurnia" crashed in Lake Ramadi (12 miles from Lake Habbaniyah).

It is reported the crash killed the four flight crew: Pilot Captain Attwood, First Officer Spottiswood, Radio Operator Bayne-Rees, and Flight Clerk Ubee.

The RAF retrieved a large part of the mail from the water. An attempt was made to dry the mail before it was sent to Sydney. The New Zealand mail was sent on to Auckland where it was dried further.

The cover I offer was clearly sodden. The stamp had washed off, and the pen writing from the letter inside has bled into the envelope paper.

All flaps of course are now ungummed which is lucky, as it now can be opened out flat, fitting a Hagner or album page.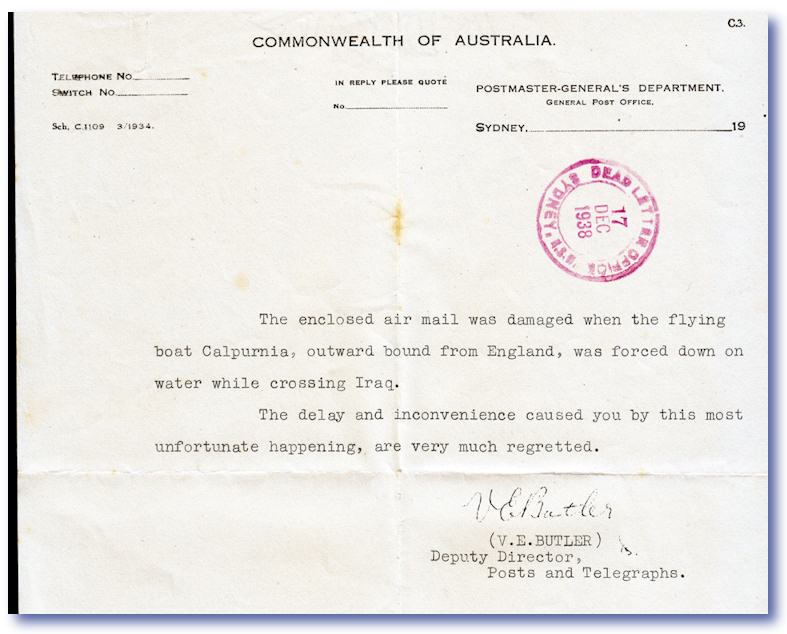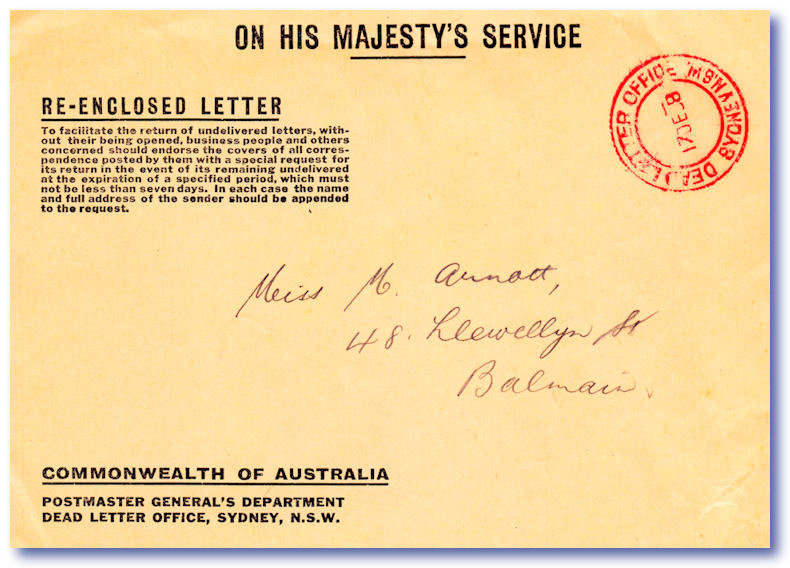 1938 "Calpurnia" Crash Mail.
| | | |
| --- | --- | --- |
| | Best of all - the original PO letter had been retained, and even the outer OHMS cover that both arrived in - in good condition for 73 years old | |
Different "Dead Letter Office" stamps
The latter and outer both have DIFFERENT pink "Dead Letter Office Sydney" handstamps - one with date in 3 lines, the other in 1 line.

Only a few sets of PO letter and outer cover have survived, as recipients had no idea to keep them. Like the Christchurch cover.

Remember all "Calpurnia" mail was COMMERCIAL mail not philatelic, so the public at large did not even retain the crash covers, much less the covering letter and outer cover!

Price of this trio is the same as the Christchurch cover estimate, and both go to show the benefit of retaining interesting markings and official attachments.
Please use STAMPS!
Readers of my columns over the last 30 years will realise that this subject is one of my pet "hobby horses". And I make no apology for raising it again!

This column is a "primer" for how we all hopefully should mail packets and sendings to each other. No matter WHERE you live!

Nothing bugs me more than receiving a parcel that cost $20 or $25 to mail from a dealer or collector, and seeing two near worthless $10 definitives on there as franking.

Or far worse still, a white "Supermarket" type white self-adhesive meter frank label – value to anyone being ZERO.

This makes my blood boil. How on earth are future generations going to source FU copies of short issue stamps unless WE all try and use them postally today??
Simply Poor Manners
Not only is it very poor manners to another member of the stamp fraternity - it is often costing YOU money, as most times I do add on something decent for the nice frankings, when folks are sending me material to purchase.

And if I pay postage for an auction sending or something, I can GUARANTEE you will get a rocket from me, if you expect me to pay for junk defins on my packet.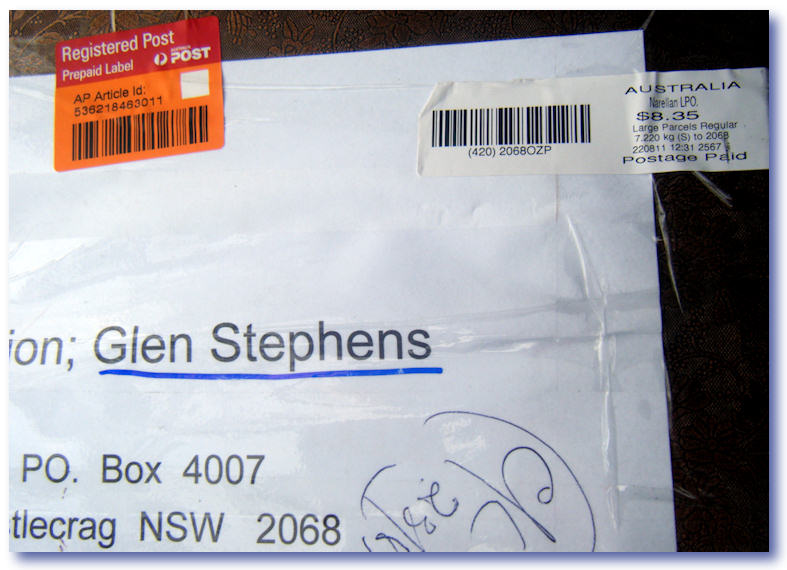 Please ask for STAMPS!
The parcel front shown nearby cost some thoughtless collector $8.35 to mail to me last week – and they allowed the PO to affix a "Supermarket" type white frank label - value zero.

My blood pressure is sky high before I even open up such parcels, and trust me the sender gets FAR less, than had they used some nice STAMPS.

Why can't Australia Post boffins use some BRAINS and have a pictorial designs on these annoying label blanks – exactly as the UK does with the birds below?

Send some letters in folks – someone in there may actually take notice, and they then MAY be collectible one day.

The secret of course is to outline clearly to the PO clerk BEFORE you start the transaction, that you are sending your packet to a stamp collector, and you WANT them to use stamps on the sending "please".

Most of the time they use the white labels by automatic force of habit, as they are faster and easier. Clerks often claim they cannot void the label output once printed – nonsense.

Read instead: "Voiding this label will take me 30 seconds, and I cannot be bothered to do that".
"I want STAMPS please"
So be clear right up front you want them to use STAMPS. And you will never then have issues with them doing so in my experience.

I find the same in the USA or Europe or Canada when I post parcels to clients, which is often when I am visiting those places – the same approach works.

Tell the clerk CLEARLY you want real stamps and they usually are happy to be co-operative. In fact it occurs so seldom, they often get right into the pantomime with you!

Or pre-affix roughly the stamp value needed before you leave home for your PO, and problem solved. Use up some surplus mint stamps.

Foreign mailers … even large Auctions - CAN use current stamps - if you ask, and IF they bother to try.

I bought something for a client last month from the large Eastern Auctions in Canada, and they advised me Registered mail was about $C20.

I asked politely if they might bother using the current MASSIVE $10 Whale stamps in a complete sheet (of two!) as my franking.

They obliged, and it even got a nice cancel. A member of stampboards gladly offered me $30 for it as he collects Whales on stamps, so I made money on the mailing, and he was delighted. "WIN - WIN".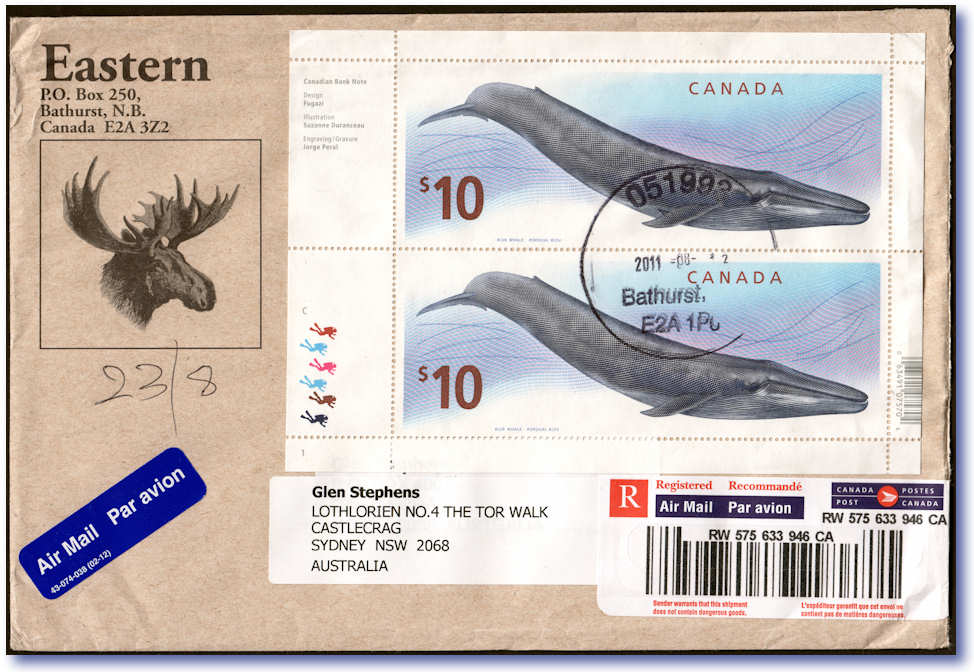 Top marks to Eastern Auctions Canada.
Sending parcels long distance within Australia has got horrifically expensive in recent times.

The last round of price hikes in Australia means a heavy ROAD mail parcel from Sydney to Perth is $64.55 plus fees, and over $73.55 to Darwin. Even to Hobart is $52.55.

The increases in recent years in this area have far outstripped inflation, and that should be illegal being a government owned body.

AP Express Air Post costs are now insane - to Perth is $224.45, and to Northern WA it runs $367.45 for the same heavy parcel.
SG Cat to Asia costs $53.45
The Stanley Gibbons "Part 1" catalogue we are all familiar with – and that weighs well over 2 kilos. As does a stockbook full of stamps. $A53.45 to mail either to Asia cheapest way these days.

The ACCC here gets to ratify the domestic LETTER RATE increases, but otherwise it does seem clear AP is given a free hand to gouge whatever it wants to for overseas and domestic parcel mail.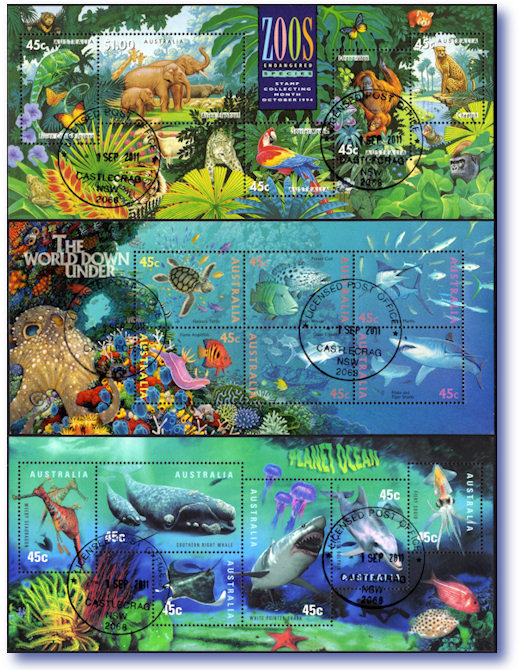 "FREE POSTAGE!"
One Canadian recipient kindly posted up all the CTO franking I used on his recent parcel on stampboards.

Three of the mini sheets he got as part of his franking are shown nearby, all with September 1 cancels. Used well after issue date I agree, but far nicer to receive these than a $10 Definitive - in my view!

His parcel cost about $40 postage, so as part of the ridiculous postage cost, I used a range of CTO'd mini sheets and sheetlets of 10, illustrated nearby.

As an example the "Zoo" mini sheet SG MS1484 is Cat £4.50 used with a face of less than $A3. Nicely used like this it would readily sell well over face retail, as would all these items.

Indeed I often use stamp booklets of 10 for mailings. The same "Zoos" set, $4.50 face value booklet (SG SB86) is cat £15. The "Wetland Birds" booklet – SG SB121 from the same era is cat £25 etc.

As you can see from this portion of his postage received, he got something worth well over what he paid, all with nice cancels. Indeed he liked them so much, he scanned all the blocks upon receipt, and posted them on stampboards.com - - tinyurl.com/VFU-CTO to show others!
No Stamps Possible
For REGISTERED letter post overseas, for many years stamps sadly (and inexplicably) have been banned from use. You can INSURE things, but only if they exceed 500 grams - or about 1 pound weight.

You can now registered overseas mail up to 2 kilos maximum, but weight is 500 gram minimum – or $27 to Europe. But stamps CAN be used on that. A newish system and many (even PO staff!) simply do not know it exists.

For Registered letter post overseas, the ONLY option still these days is to use the pre-paid red, white, and blue envelopes as illustrated nearby. They cost $13.20 for the small one shown, and $21.45 for a large one that will hold a few Hagner sheets etc.

Neither may weigh over 500 grams, or exceed 5mm thickness, or they are returned from mail centres, (trust me I know this first hand!) and it does not take very many Hagner sheets or album pages to exceed either.

Indeed technically stamps should not be sent in these envelopes, as they state on them they are good for: "letters and documents only, and may not contain valuables."

For foreign recipients the good thing is these envelopes pass through inwards customs checks without incident 99.9% of the time, most dealers report.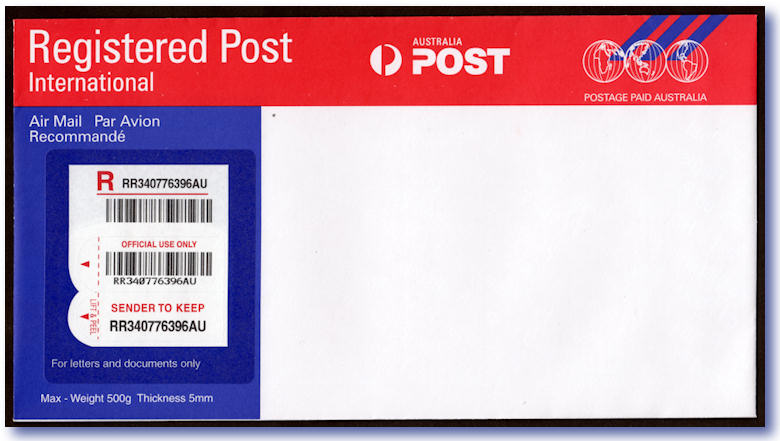 Your ONLY overseas option
In countries with horrific 20% to 25% VAT/GST rates etc like the UK, Germany and Scandinavia, the recipients really would rather forego the $13.20 of FU stamps, than pay say $250 import duty on a $1,000 Kangaroo.

So these high costs mean we must ALL try and "game" the system - quite legally - by using franking that has some substantial value in the hands of the recipient when neatly cancelled.

To give you an example, I have been mailing cartons of stockbooks all over the place in recent months

Shameless plug - I am running an internet only special at just 80c a page for the new Deluxe "Lighthouse" black page books, and have sold 100s in recent months - tinyurl.com/LH-SBs

But they are HEAVY, and a carton clearly costs a bomb to mail outside NSW. I have discovered the perfect type of stamp to use for this dispatch.
$5 "Colonial Heritage" Sheet
In May 2010 Australia Post issued the first stamp in its "Heritage" stamp series, which highlights items from the old "Colonies".

As I often type - the "First" of anything that will become a long series, is often the one to buy up. So I did. I bought 1,000 x $5 sheets to use on client mailings.

They also came in small $50 sheetlets of 10 x $5 stamps that I often use on overseas parcels.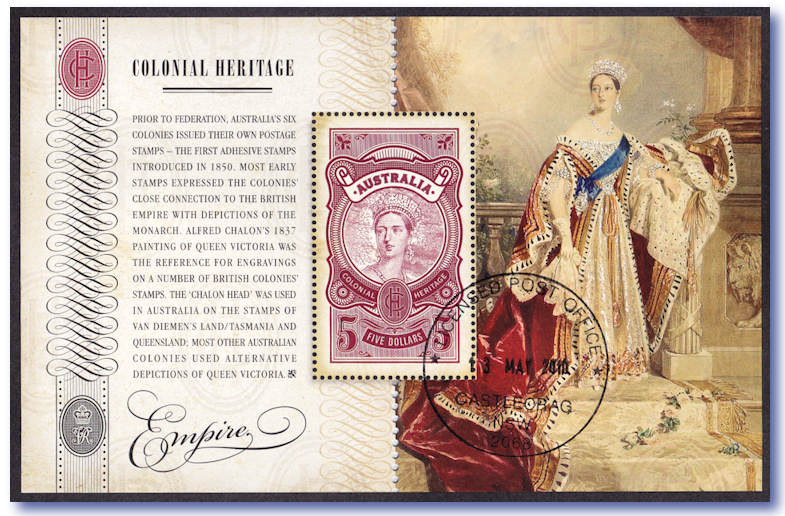 A gem for parcel use
These kind of limited print stamps are PERFECT for us all to use on philatelic mail. These will be catalogued higher USED than mint history tells us, – and at well OVER face.

Clients just love getting these on mail. Must be 20 years since I bought so many stamps for postage from Australia Post. One chap bought a catalogue recently, "only" as he wanted a few of these VFU sheets for his collection he told me!

One buyer of a stockbook carton of 10 lived in Perth. These cost $40 to ship Registered Post to him – a not uncommon postal charge these days.

So I used 8 of these sheets, all CTO with the crisp local cancel, and he was a lot more delighted to get them, than 4 x $10 Waratah Defins – or a white Meter frank!

A UK client needed a parcel of Pacific albums sent by air and the cost was $150. I neatly cancelled 3 sheetlets of 10, put them in a plastic outer cover, and he got them all superb CTO full gum.

Effective post cost to the UK on his $150 carton – NIL – as he sold them on ebay for $55 each average.
Retail more than face value.
Nicely cancelled, these kind of stamps and sheets generally have a retail value of MORE than $5 each. And AP issues several such goodies every year. Why more folks do not use them is a mystery.

As I often demonstrate, postage of a heavy carton across this country (indeed globally) can effectively be 'FREE' - if we use some common sense, and a little bit of thought and planning.

My guess is 50% of the world's used copies of this Mini Sheet down through the ages will bear postmarks of - "Castlecrag NSW 2068" !

I am often lucky to be able to apply the cancels myself when the postal staff are not busy, and still get a kick out of placing the postmark right in the centre of the stamp as I did on the one shown illustrated nearby.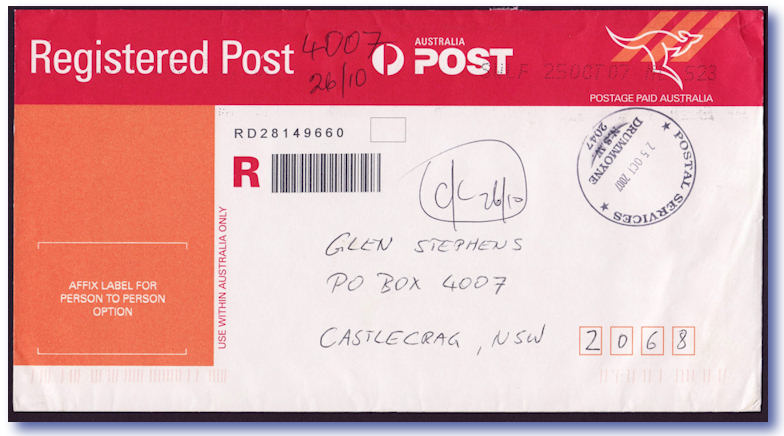 These things infuriate me
The one thing that is guaranteed to INFURIATE me, is to mail me something in a prepaid DOMESTIC Reg'd envelope.

These cost $3.70 for the small ones shown nearby, and $4.90 for the larger sized ones.

When mailed by a collector or dealer to a philatelic recipient, they show a total contempt for the recipient - in MY opinion. I toss them in the bin.
These go straight in my bin
So for that never-ending stream of folks each year mailing me a stamp(s) to get a free expert opinion on, please make a small mental note!

These folks nearly always omit to provide return postage, so be forewarned - my opinion of you and your forebears is well formed, before I even OPEN your sending, if you choose to mail these useless pieces of rubbish!

Senior collectors, exhibitors and Judges use them to me – often folks who seriously collect postal history, so I am gobsmacked they do not use real and current stamps at every opportunity.

Sheer laziness and total lack of consideration, is all I can put it down to.

The POLITE way to write to any stamp dealer or collector via Registered mail is to take your envelope to the PO, and sweetly ask they affix a real STAMP, or selection of nice stamps to it.

Indeed I am astounded that all collectors do not have a stash of mint interesting stamps laying around their stamp den, to be used for writing to other philatelic addressees. Here is one to buy for that purpose.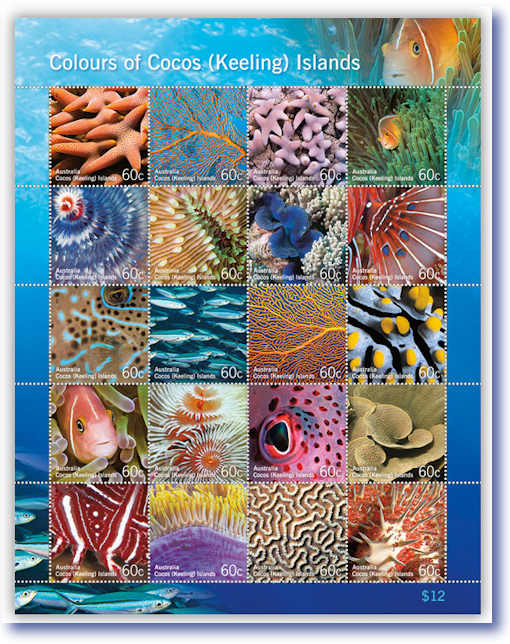 Buy some of these and USE them!
Stampboards had a discussion this week on the superb new September 2011 Cocos Islands new issue shown nearby. Twenty x 60c current letter rate, so face value is $12.

Totally valid for useage within Australia, each can be used as a $12 parcel sending, or for 20 normal letters, or several overseas letters.
Use these on your 2011 mailings!
Yes you CAN legally use non "International" inscribed stamps for foreign letters. In theory 10% extra needs be added, but in practice these days few senders seem to bother, foreign collectors report.

This was a truly weirdo aberration of the GST being introduced 11 years back. As so few mailers pre-frank their sendings, I suspect most PO staff today would have no idea of that odd rule.

As a "rest or world" standard airmail letter is $2.35, a block of 4 x 60c of these would look terrific to any recipient. Collector or not.

Please - we ALL need to do out little bit to generate nice used stamps for the albums of the next generations. Order a few sheets today – product ID is 16950671.

I had a young lady contact me last week buying my standard offer of $500 MUH stamps in PO packs for $400 - tinyurl.com/CheapPost

She was having a big Italian wedding later year, and the invites were large and ornate, and needed the $1.80 oversize postage rate.

She had heard she could buy 1980s mint stamps well under face value, saving her not only $100 but giving her guests a range of strange and pretty stamps on the invites.

Many of the Commemorative sets of the "glut" 1980 era add up to around $1.80 or less, so a full set on such mail works really well. The Dogs/Trains/Ferries/Aircraft sets are still around in quantity in packs.

Oddly some still have high cat as used stamp, The 1980 "Dogs" set of 5 (face $1.85) is cat £2.50 mint, but £4.25 used. As dealers sell these way under face, a good option to use on mail.

I told her I had about 30 packs of the 1981 Charles/Diana Royal Wedding pair (24c and 60c) and asked did she want those too. She went into raptures, and said she'd use those for her "special" guests and family.

She was really excited about it all, and it just shows that the non-collecting public can get interested in stamps IF pointed in the right direction!
Gold is where you find it
A stampboards member recently attended a Sydney suburban general auction, and bought a number of albums of stamps.

There were thick albums of Kangaroos, KGV, pre decimals and Decimals. He had almost no competition, and bought them all for an absolute pittance, relative to their real value.

The Auction was not publicised via an ad in magazines like "Stamp News" and had it been, the vendor (Public Trustee) would have likely realised about $75,000 extra for the estate, than the puny amount they got.

A scandal really, but that is what occurs when collectors make no notes in their wills about where THEY want their stamp collections disposed of, to best effect, as I regularly urge readers to do.

The buyer sold off a few nice Kangaroo pieces for about $40,000, I bought some 5/- Bridges, he kept a lot of stuff himself, and is offering some of the more modern variety pieces at Prestige Auctions in mid-November.

A $10,000+ Bonus find
| | | |
| --- | --- | --- |
| | One of them is illustrated nearby, a strip of 6 of the 1970 6c flower coil. Along with several other nice pieces he bought, it recently got a clear RPSV Certificate. | |
A doubtless unique strip 6
This coil strip is a lovely piece. The magenta colour is totally missing from 2 stamps of the 6, as readers can see.

The stamp is ACSC 534cc, cat $6,000 for a used single in the way out-dated 2002 "current" edition. Why list just a used single price? Well the ACSC states:

"One example with magenta printed omitted, used on piece cancelled at Sydney has been recorded. This error was previously listed and priced mint, but no evidence has been found for the existence of mint examples"

Stanley Gibbons also have the same note re the "Magenta Missing" being known only on a used single. Oddly that is unpriced by SG.

$5,000 plus 16.5% commission is $A5,825 – an amazing price in 2002, for a VERY ordinary looking thing, then catalogued at only $1,000 - the low rez scan of that is shown nearby.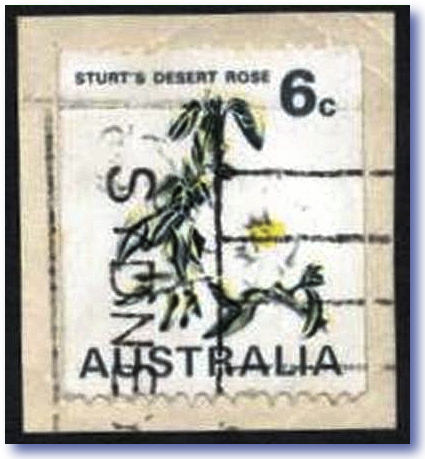 $A5,825 for this VERY ordinary looker!
This mint strip was purchased decades back from a large NSW dealer, and the purchase invoice was with the collections. The last seller of the used single was Gary Watson in January 2002, and he told me this week:

"We sold the John Sinfield used copy for $5,000 plus commissions in January 2002, when the catalogue value was only $1,000, so that is where the current $6,000 ACSC figure comes from.'

"We are probably going to estimate this strip 6 conservatively at $10,000, and I have little doubt it will do rather better than that when auctioned in mid-November at Prestige."
Don't GIVE your stamps away!
So the moral of the story is to leave CLEAR instructions in your Will re disposal of your stamps, that prevents your family losing up to $100,000 as in this case – more precise details here - tinyurl.com/StampWill

If this strip 6 is invoiced for $15,000 as I suspect it will be, the original heirs will be furious. A 2/- Kangaroo Harrison imprint pair sold for over $30,000 alone from this lot.

I see instances of this stupidity every month. You may as well walk down Main Street with a briefcase of $100 notes, handing them to passers-by, than leaving your stamp material to the Public Trustee to sell, in many cases.
GB Birds fly high
| | | |
| --- | --- | --- |
| | I must confess the recent spate of UK "Birds" labels has me totally confused, but what is not in doubt are the PRICES they get! | |

Cost £4.21 ex PO. £60 the next day!
At the big London Stampex show mid-September these strips of 6 shown nearby were being sold by the PO for £4.21 and then were being re-sold (in large numbers, and were really selling) on ebay for £60 a strip the next day!

I have no idea WHY, but that is a fact. They appear to call these things "faststamps". The whole area seems very murky to me.

UK dealer Ian Billings from Norvic Stamps seems to be on top of what is going on, which is just as well, as many are totally confused!

Billings stated this he is advised – "retail prices for the set of 30 Birds Faststamps 1 (i.e. 6 birds, 5 different values each) is now £200".

These are part of "Set of 30"
What a "set of 30" is, I truly could not work out, and not sure if it included the Stampex 6 shown nearby, or if they cost extra on top of the 200 quid?

The strip of 6 shown above is stated to be part of the "set of 30" if that is any help to anyone!

Anyway tinyurl.com/Faststamps contains the constantly updated discussion on these strange things, if you collect modern GB.

Good luck making sense out of the constant flow of these, and Queen's head emissions of the same oblong sticker design, but there sure are lots of them, and prices are often nuts!

Stamp collecting is constantly changing and morphing, and these may well be the stamps of the future.


Instant Currency Conversion


FREE! Just click here...




If you would like to be notified of updates to this website,

Click HERE. If have any questions,
or comments regarding my site, please email me at glen@glenstephens.com



| | |
| --- | --- |
| | Search all my 300+ web pages! Simply type in what you are looking for. "Penny Black", "Latvia", "Imprints", "Morocco", "Fungi" "Year Books", etc! Using quotes ( " ) is more accurf used with no quotes. Search is NOT case sensitive. Tip - keep the search word singular - "Machin" yields far more matches than "Machins" etc. |


I am a Dealer Member in Good Standing Of:

Full Time Stamp Dealer in Australia for over 25 years.

Life Member - American Stamp Dealers' Association. (New York)
Also Member of: Philatelic Traders' Society. (London) ANDA. (Melbourne) American Philatelic Society, etc

GLEN $TEPHEN$

Full Time Stamp Dealer in Australia for over 25 years.

Life Member - American Stamp Dealers' Association. (New York)
Also Member - Philatelic Traders' Society. (London) ANDA. (Melbourne) American Philatelic Society, etc


ALL Postage + Insurance is extra. Visa/BankCard/MasterCard/Diners/Amex all OK, even for "Lay-Bys"! All lots offered are subject to my usual Conditions of Sale, copy upon request BIGGEST STAMP BUYER: Post me ANYTHING via Registered Mail for my same-day cheque. Avoid the GENERALLY 40% Auction " Commissions" (15% + 17½ + GST, etc.) AND their five-month delays! Read for details.

"Lothlórien4 The Tor Walk, CASTLECRAG (Sydney), N.S.W. 2068
Phone: (02) 9958-1333&n Fax: (02) 9958-1444 (Both 25 Hours, 7 Days!)
E-Mail: glen@glenstephens.com
Web Sites: www.glenstephens.com www.glenstephens.net or www.australianstamps.net

Sign up AUTOMATICALLY to my world renowned bi-weekly stamp gossip mailing list!

Click here to see MANY 1000s of stamp lots for sale at low $A Nett prices

Click here for all you need to know re SELLING your stamps for SPOT CASH

Click here for the current Monthly "Internet Only" special offers - CHEAP!

to read all my recent International stamp magazine articles. Click here to get back to the main www.GlenStephens.com Homepage

Click here to ORDER on-line ANY items from ANY of my dozens of lists

Click for all info on Conditions Of Sale, Payments, Shipping, Returns &c

Click here for the complete library of my very unusual world travels!

How to PAY me. I accept EVERYTHING - even blankets and axes and beads!

Australia Post Annual YEAR BOOKS - massive stock - '27% off' discount offer today!



Visit my new page on RARITIES - Roos & other expensive photo items.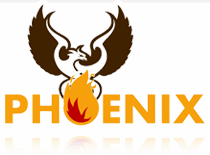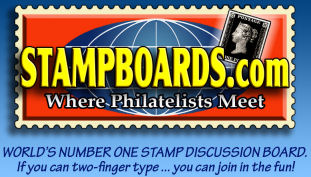 Instant Currency Conversion


FREE! Just click here...



E-mail me at glen@glenstephens.com -

Every credit card shown is accepted WITHOUT fee.
Earn Frequent Flier points while buying at bargain prices!
ALL prices are in weak Ozzie Dollars. I charge NO nasty, nasty
"Buyer's Commission" on stamps like nearly every "Auction" does.