Click To Go Back To The Main www.GlenStephens.com Stamps Homepage

Welcome! You are visitor
to www.GlenStephens.com




Glen Stephens
Monthly "Stamp News" Market Tipster Column


October 2012

| | | |
| --- | --- | --- |
| | | |
---
NSW Postmark Catalogue

I am pleased to review for the first time anywhere in print, the superb new book - "Numeral Cancellations of New South Wales" by Hugh Freeman.

This is a large and heavy hardbound book, weighing in at near 400 large size A4 pages, on acid free, low sheen archival paper.

Hardcover, with thick heavy-duty dust jacket. Each is individually printer numbered, from a tiny edition of just 220 copies worldwide.

About half the number that the global market will require.

Totally in colour
So if you need one, be quick to secure a copy, as it has been a sell-out since the issue in early September.

All 220 were pre-ordered, and pre-paid, and no extras were printed. My small stock was near sold out as this was typed.

Clearly 100s of potential buyers, especially overseas, have no idea of its release, so supply has yet to meet demand I'd say.

The Robert Gibbs "G.R.I" handbook is a good example of what occurs when too few copies of a popular stamp book are printed.

The Tim Ryback Auction sale example in recent times got $650 plus 16.5% fees = $757.50 - on estimate $250, for his second-hand Gipps "G.R.I" book.

I was later offered $800 for mine by a client, but declined.

That was half the size of this tome, but again, only a couple 100 done, and not all in colour, but supply meets demand.

This book selling for double issue price in a year would not surprise me one iota.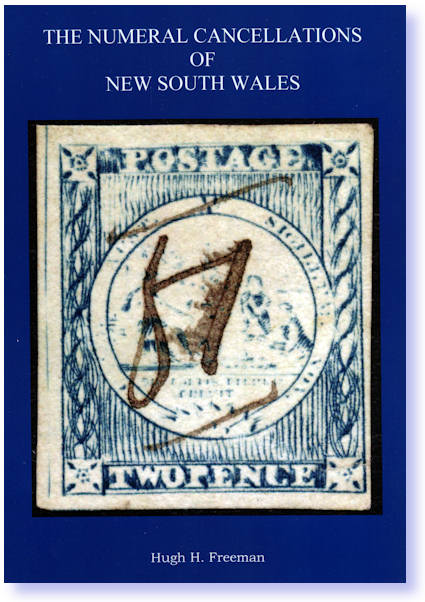 Many years in the making
This book follows the same style as the excellent - "Numeral Cancellations of Victoria" by Hugh Freeman & Geoff White, Volume #17 in the superb RPSV. "J.R.W. Purves Memorial Series".

I have sold cartons of that book – literally, and still have some stock.
A new stamp Challenge?

For any reader looking for an exciting new challenge, this is one to take up.

These numerals are found in 99% of cases on cheap, letter rate type stamps.

They also are widely found on early Australian Kangaroo stamps up until 1917, when the new PO reprimanded Postmasters (again) for still using them.

NSW issued 2099 numeral postmarkers, between #1 (Ryde, not Sydney) and 2099 of Toolejah, a tiny office that existed 7km from Gerringong.

Hugh Freeman opines that it is assumed Victoria mimicked NSW. Victoria also had 2100 different numerals.

He feels that NSW numeral 2100 existed – probably issued to Parragundy, but never seen.

Right now the highest recorded numeral is 2099 of Toolejah, – the unique strike is shown nearby.
Unique "2099" of Toolejah
The sad story of how this "2099" and several other unique higher numbers on 1d Roos came to exist, is well worth telling.

In 1913 and 1914 – near commencement of WW1, two brothers wrote to Postmasters of all small PO's, and enclosed SAE envelopes with a 1d Red Roo stamp affixed.

PMs were asked to please neatly cancel the cover with their circular cancel, and their numeral, and mail it back.

These later ended up in the collection of Norm Hopson, one of the PHILAS founders, and for a long time Postmaster of Clarence Street.
Never returned from WWI
His cancel collection was left to PHILAS, where it still remains. The 2 brothers went to Europe to fight in WWI, and never returned.

A very sad story, but many otherwise unique strikes are due to their enterprise and initiative, with their pocket money pennies.

So it is possible many of the smaller PO higher numerals exist in Roo collections, not NSW collections.

Of these 2100 numbers - despite an army of collectors scouring the earth over several generations – a goodly number of numerals have never been sighted.

Many numbers of course exist in a myriad of styles, variants, designs and sub-types. All are clearly illustrated and rarity-rated in this book.

For instance "217" of Major's Creek is RRRR as Type 2, but is "Not rated" as type 3 on NSW stamps.

However the same cancel type is RRR rated on Kangaroo issues. All 3 are photographed for easy ID.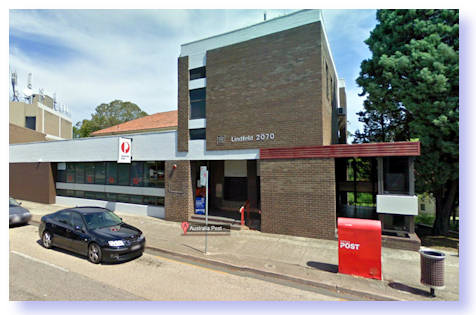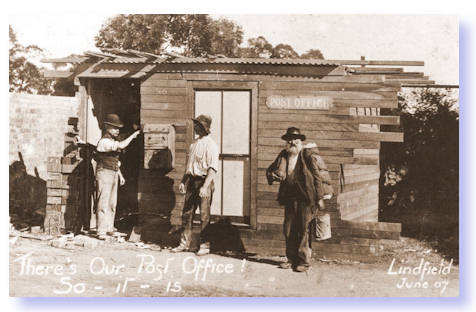 Lindfield PO 100 years apart
Hugh Freeman certainly has had a mass of NSW material to sift through, in his half century long search.

I first met him well over 30 years back when he founded and ran Status Stamp Auctions in Sydney, along with Barry Cooper- who lived in the next street to me.

He had worked for stamp auctions in Sydney well before that time as well - Kevin Duffy appointed him Auction manager in 1969/1971.

"Penny Black Postal Auctions" in the 1970s, run from Lindfield (see current PO photo nearby) will be remembered by many.

The large Lindfield PO today is in a very well-heeled Sydney suburb, right on the super busy Pacific Highway - so the old 1907 photo is a giggle to look at.

After Status, Hugh later went on to be Managing Director of Stanley Gibbons Auctions in Australia in 1991, for several years.

Despite working in the trade, he was always a keen collector - winning Gold at national level, and he qualified as a national stamp judge.

After handling probably many millions of stamps from NSW, the fact LOTS of numbers are still unseen by Hugh and other specialists, offers a challenge to all readers of this article.
Collected NSW for ~50 years
Hugh has collected NSW numerals for near 50 years, and near all the examples illustrated in this book are from his personal collection.

Several other extensive collections were examined in detail - and this work contains actual, not theoretical Rarity Ratings from those sources.

This book illustrates well over 2000 actual full colour cancels, on stamps and covers - not drawings, as some other state handbooks have used.

Reproduction quality of illustrations is excellent, and the detail and background to the listings is also good, with open/close dates of PO's, their locations, and name changes.

There is a great index at back, pages of maps, period sepia photos of old Post Offices, and even a CD Rom at back!

All cancels are rated in 9 specific Rarity classes - from "not-rated" meaning they are reasonably to very common, to "NNS" – number not seen.

EVERY dealer and Auction house in the world should own this book, and it goes without saying ALL collectors of NSW need to have one too.

tumble across even one half decent cancel, just once in your lifetime, and it is more than paid for.

Stampboards has a ton more discussion on this book - http://tinyurl.com/FreemanH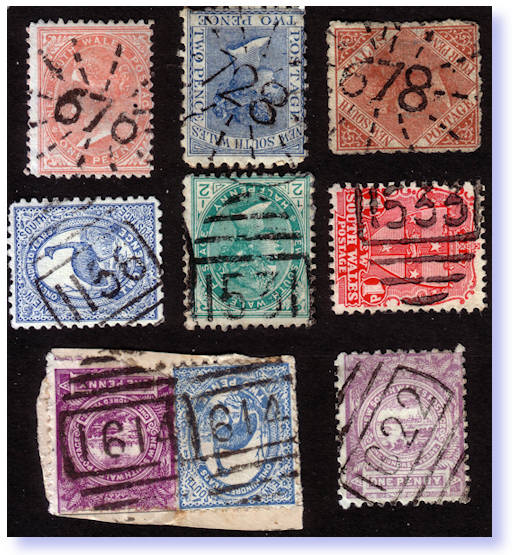 Probably a $5,000 stockcard
As an example of how often the rare cancels occur on common stamps, Hugh kindly did this scan for me today of the 9 ordinary looking NSW stamps shown nearby, all with "RRRRR" cancels.

I suspect each of them would sell for very many $100s, each one more than doubling the cost price of this book. Many are the unique recorded strikes.

And if this group were offered at $4,000-$5,000 they'd very likely find a new home to a keen collector, due to rarity, and lovely clear strikes.

Each is the type of thing that could turn up un-recognised in any kiddie's album, or for 5c in a junk lot at a stamp fair, or on a club circuit sheet etc.
Highest so far is $A825
After doing quite a bit of research today I can advise highest price so far paid for a NSW cancel was $A825 for an indistinct "971" of Mount Poole, on cover to Melbourne.

Mailed in 1881, it had the common 2d blue DLR QV franking. The cover was daggy, defective and had the flap missing.

It was in the PHILAS auction of July 9 2011, and there was a tiny and really blurry monocolour photocopy of part of the cover in the catalogue.

Estimate $180, it got invoiced at $A825. Rarity rating of "971" is RRRRR.

I spoke to the $800 underbidder today, and he tells me he has "not got around" to buying this book. Amazing.

So the small range of superb "RRRRR" strikes from Hugh shown nearby may be worth even more than $5,000?

A superb book, and with the assistance of Barbara Hancock, Geoff Kellow, and others named in the book - an opus work of which they can all be very proud.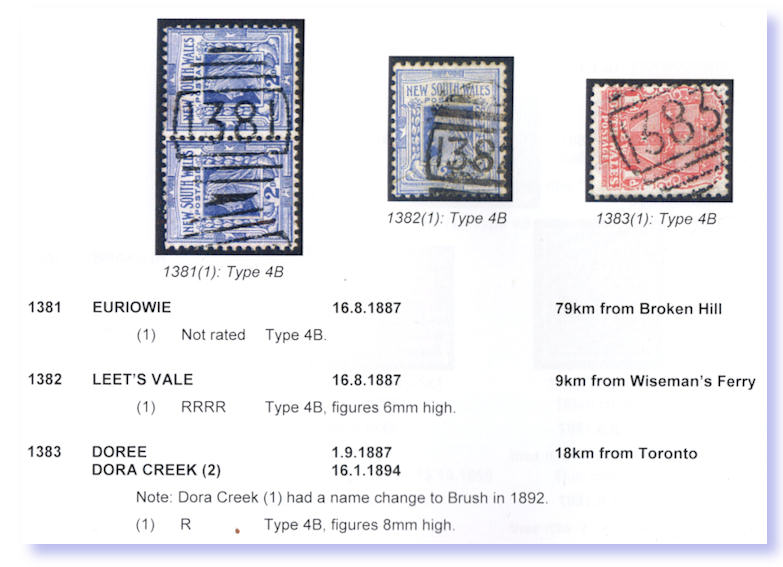 Sample of the listings
NSW numeral postmarks are an emerging field. Nothing has yet exceeded $1,000 a cancel. Great "new" field to start on.

That figure is commonplace for the scarce Victoria numerals. As the Victoria book has been out since 2001!

A lot of readers own or handle or encounter the common letter rate Australian States material from the 1890s -1910 era, that are very common.
Still available in bundleware
These usually have a value of a few cents each used. Indeed they are often still sold for peanuts as "bundleware".

However many of them have town or numeral postmarks on them, that make them worth many times more than a FU £1 high value from the same State!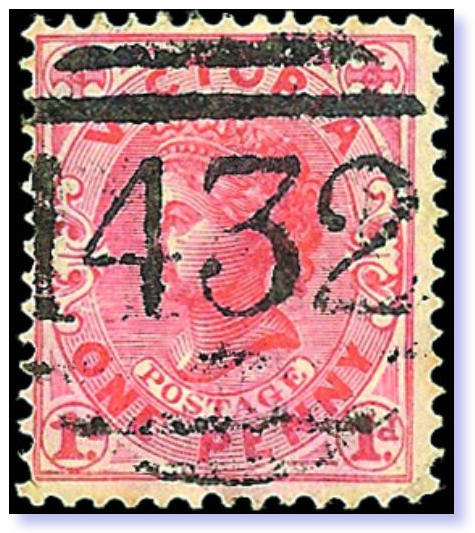 Would you spot this one?
I have noticed a few selling recently for terrific prices, and I record them here for the possible interest/profit of others.

This Victoria "1432" cancel shown above was invoiced in late November 2011 for over $2,000 on an estimate of $300 by Phoenix Auctions in Melbourne.

Numeral "1432" was allocated to Glenmaggie, and later renamed Dawson. A very nice find by someone!

At the same November 2011 Phoenix sale, someone ran up an invoice for more than $A1,500 for this well struck scarce cancel illustrated here - "276" of Freshwater Creek.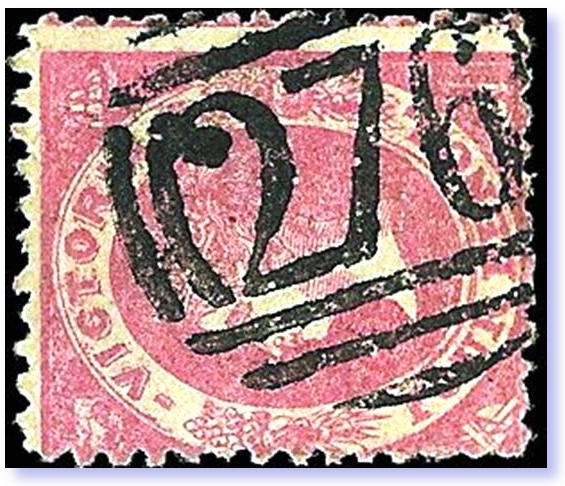 An over $1,500 cancel
It also had a pre-sale estimate of $300 ... so again got very keen interest from those with far sharper eyes and deeper pockets than mine.

Please excuse the rather garish scans of both – best the Auction could supply me with.

Big prices. Both of them got FAR more than a superb MUH 1932 5/- Sydney Harbour Bridge stamp would sell for – yet probably cost the owner zero.
Gandhi Fever
Most readers will be aware that for many Indian buyers, ANYTHING to do with the India 1948 Mahatma Gandhi set is highly collectible.

Absolutely silly prices are often getting paid, and of course as they are often unsophisticated buyers, forgeries are easily foisted on them.

Stampboards.com has had several discussions re the official "SERVICE" overprints on these Gandhi stamps being offered on ebay as total forgeries.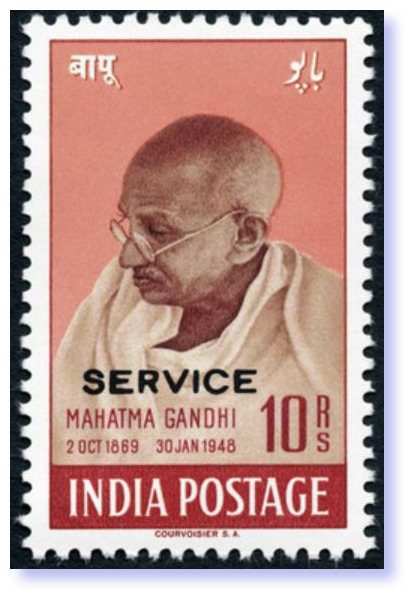 Sold for $1,000+ on ebay
The example shown nearby sold for $US1,009 on a start of 99c. Both the stamp and the overprint are totally fake.

Only on ebay.

Getting back to the genuine stamps, the set of 4 stamps on First Day Cover are keenly sought.

Beware Fake Gandhi FDC's

However be warned, fake FDI cancels on genuine stamps - on once blank FDC envelopes are appearing more and more.

Shown nearby is how the recent hand drawn fake ebay FDC cancels can be spotted – the fake is top left. Some idiots have paid $1,000s for these.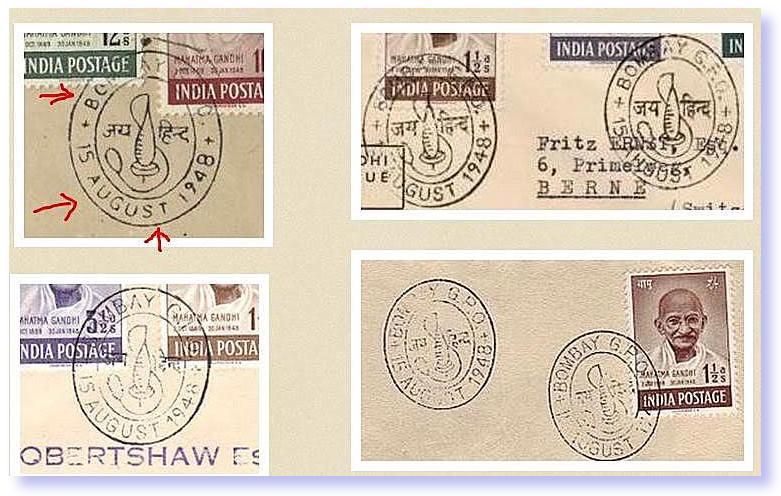 Fake cancel is top left.
Any commercial Gandhi cover to Australia seems especially popular as it is an "exotic" destination to "usage" collectors.

A client of mine placed a genuine Gandhi FDC of the short set 3 on ebay. Addressed to Australia.

He had purchased it for $A51 a short time earlier, as he had read on stampboards that Gandhi covers were "Hot".

Condition was really appalling as you can see. Toning, foxing, and many creases and bends, and I'd have gladly taken $50 for it.

The blurry fuzzy photo of this cover shown nearby, was all that was loaded onto ebay.

The 3 stamps are catalogued less than £10 used in SG – the scarce one is the 10 Rupee – not on this cover.

His detailed ebay description said - in full – in the usual unique ebay ugly all caps "SHOUTING"style, bad punctuation, with 'Ganghi' spelling error etc -

"1948 FIRST DAY COVER INDIA MAHATMA GANGHI ,A FEW TONE SPOTS ON COVER ,A VERY NICE COVER ,RARE ."
Stamps cat £9½ as used
I repeat the 3 stamps that are there, are only catalogued £9½ as used off cover in the current SG.

When it reached $US2,000, the owner emailed me, and asked if he should maybe take it off ebay, and keep it: "for an investment."

I told him I'd have gladly taken a nominal sum for it in a heartbeat, due to the dreadful condition.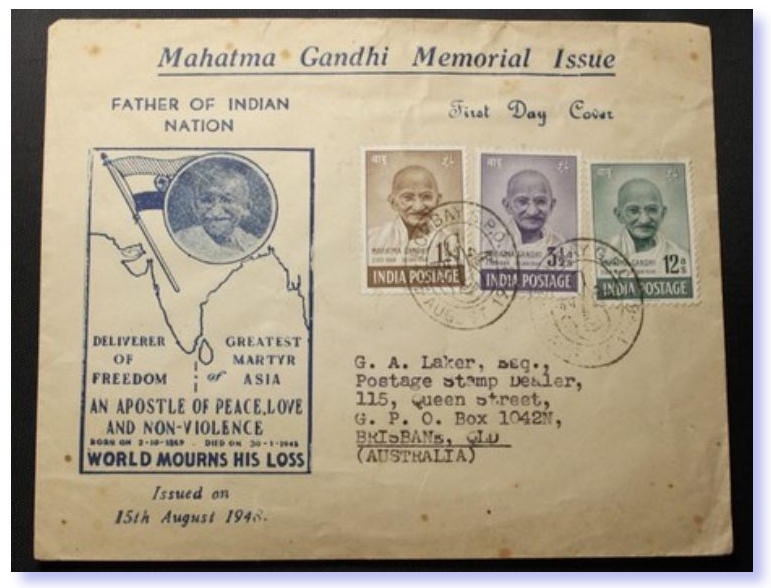 Gandhi FDC sells $US6,300
Advised him to cheerfully accept whatever silly sum the fevered ebay Prize Bunnies punted his way, even if it did not get one more bid.

It went on to sell for over treble the price from when he contacted me. For $US6,300. Ebay SUPER Bunnies.

I then ran a poll among stampboards members - without telling them the price it got – asking what they felt such a cover was worth.

After 100 votes, when I closed the Poll, way over half - 57%, agreed with me saying it was worth $250 or less in their view .

In fact of the 100 votes about 10% voted for $10 value, or $25, or $50 value respectively – poll is at - tinyurl.com/GandhiTrio

And the seller confirmed today to me he DID get paid for the full $US6,300 - plus shipping and insurance.

Asia payment issues ebay
There is a high incidence of Asian and sub-continent ebay bidders just not paying for lots, so he must be relieved.

Many seem to regard a final ebay bid as a STARTING price for haggle negotiations after the sale on pricey lots, it is widely reported.

One of the reasons I do not bother with ebay. Too many time-consuming headaches of that nature.

For low value topical/thematic lots, things seems far better with Paypal, but for pricier material like I sell, it is a potential nightmare.

For BUYERS Paypal is a dream, as seller bears all costs of the fees, and will near always get their money back if they claim goods never arrive.

There is a fast growing global epidemic of "goods not received" claims by ebay buyers in recent years that stampboards members, and dealer friends report.

This usually means the seller has the cost of the goods removed from his paypal account, and those funds sent to buyer – including all shipping costs!
Paypal "Goods not received"
Seller is then out the stamps he sold, AND all shipping and Registered costs.

And on ebay in recent times, the seller literally CANNOT leave a negative, or even a neutral feedback, to warn others in future.

Indeed the ebay feedback system is a joke these days - a buyer can ONLY have 100% feedback.

Abusing, stealing from, or lying to sellers cannot be addressed via negative or neutral feedback, as always was the case in the past.

If a buyer does this 100 times, no future sellers can be warned by the negatives/neutrals, to be careful that a pattern of abuse and theft exists.

And this silly policy does not just apply to ebay sellers - but to ANY seller who accepts Paypal.

As an example I recently sold an unissued 1968 Buddha stamp of Ceylon off my website, to a buyer Colombo Sri Lanka recently for $A40.

This was printed, but withdrawn BEFORE issue date, as the sole of the feet image apparently offended many.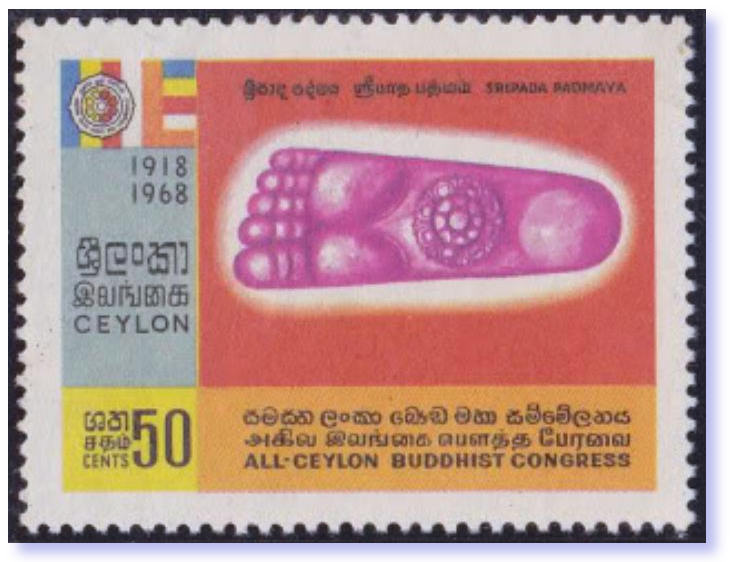 "Not received" in Sri Lanka
Some were sold in a few small rural post offices. It is scarce and the SG note has not been changed for decades.

The leading UK "Stamp Magazine" has this stamp on their - "World's Rarest QE2 Stamps" Page!

The exact stamp I mailed for $A40 is shown nearby – fuzzy scan, but if you see it for sale somewhere, it is MINE!

Buyer oddly asked me to Register it, which I did – extra $13.20 and he paid me $53.00 via paypal. (I advised him normal mail was just $2).

Buyer later claims he did not get it – and files a refund request via paypal. Paypal ask me to submit proof of posting - which I do.

Registered docket, date-stamped on day of mailing. Waste a half hour doing all this with scans, and typing up their time-consuming reports etc.

Absurdly Australia Post do NOT offer the sender any evidence online that the item went anywhere overseas.
"No events found. Product not trackable"
Typed in my receipt number, and get the "No events found - Product not trackable" absurdly unhelpful response. As I get on all these.

Months later, ask my postmaster to type in the same number, and he gets the precise time in early am, that it was loaded onto a plane to Asia.

However incredibly, neither Paypal or I can access that existing clear proof it had left Australia – what on earth do we pay the $13.20 for then?

So, Paypal finds in his favour, as I cannot "prove" it left Australia, and takes the money back off me.

I completed a PO "lost item" form (another 15 mins wasted time) and eventually get a note back from Australia Post HQ months later.

That stated Sri Lanka Post advised it was signed for there, BEFORE this crook made his "non-receipt" claim.

All too late now to have Paypal overturn it, so I am out the value of the stamp, AND the very real $13.20 cost to me of the overseas registered pre-paid envelope.

AND another $50 to $100 of totally wasted time in this pantomime, and raised blood pressure re crooks in Sri Lanka, and a stupid Australia Post.
Ripped off for $6000 Paypal
I avoid Paypal like the plague unless absolutely essential, for these reasons. One Indian guy ripped me off for $6,000 for a similar "non-receipt" bogus claim.

Incredibly, paypal also sided with his cock-and-bull version of "non-receipt" – and proof of Registered posting seems to mean zippo to them. Be warned.

Luckily I have credit card merchant facilities in place, and none of them fall for this sort of nonsense.

I generally insist all sales are via credit card direct, or bank transfer.

Whilst writing on overseas Registered, I am annoyed the price of these envelopes has skyrocketed in recent years, and still can't be on-line tracked to our borders.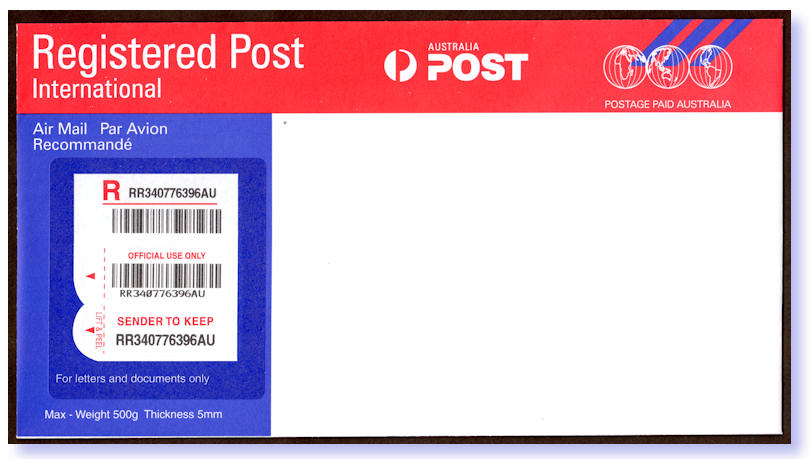 Cost $13.20 but un-trackable
These small letter size ones are $13.20 each, shown nearby - and the large size ones (also only good for only 500g) are $21.45.

When someone overseas orders a few Hagners or album pages off me worth a few $100, the only realistic way to mail it is in the $21.45 large envelope.

Why the APF and APTA can't lobby Australia Post to ask that STAMPS be able to be used for overseas sendings sure beats me.

That was the case for about 150 years - that stamps could be used for overseas Registered, and it worked well enough then.

Let's get some letters in to try and get back to that situation. The current pre-paid envelope tracking system is totally broken.

November 2012 Update: The Freeman "NSW" book was a massive success, as only about half as many were printed as there was world demand for – as I predicted. 220 numbered copies GLOBALLY,

Status International Auctions ran one in their November 1st 2012, auction - Lot #90, and it was invoiced with all fees etc, for around $A430 after a bidding battle – SEVERAL times the reserve, and many times issue prices - to the owner's great delight I am sure.

If anyone wants it for researching cancels, I have a few high resolution CD Rom of the many 100s of pages catalogue, exactly as it appears in the printed version, with all colour photos etc. I offered some clients free shipping if they allowed me to retain the CD to sell later. Price is $A40 plus $A5 airpost globally if anyone needs it – please contact me. (Mention stock number 637KT)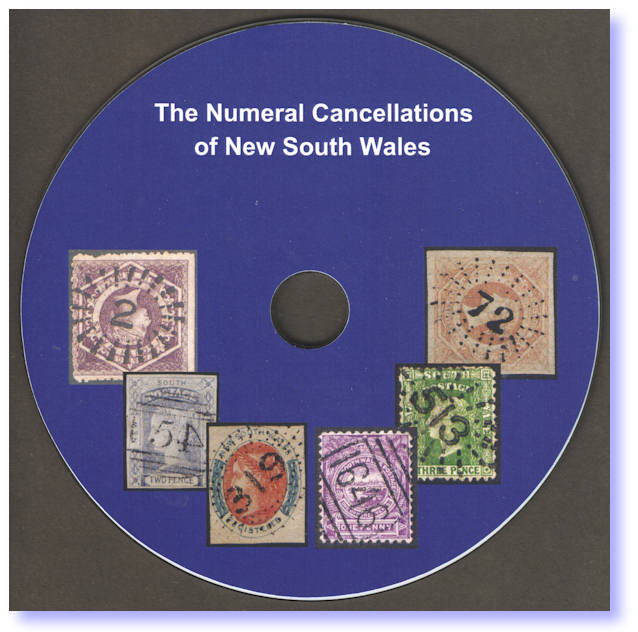 Get my regular market update emails FREE. The home of - Rare Stamps. Postage Stamp Rarities. Scarce and Unique world postage stamps. All time Philatelic Classics. Scarce Postal History. Stamp Errors, Stamp Varieties, Stamp Freaks, Stamp Missing Colours and Stamp Imperforates, Stamp Investments, Stamp Classics, and Stamp Collections at bargain prices. Bookmark THIS page and you'll very likely see them offered here eventually!


Instant Currency Conversion


FREE! Just click here...




If you would like to be notified of updates to this website,
Click HERE.
If have any questions,
or comments regarding my site, please email me at glen@glenstephens.com
| | |
| --- | --- |
| | Search all my 300+ web pages! Simply type in what you are looking for. "Penny Black", "Latvia", "Imprints", "Morocco", "Fungi" "Year Books", etc! Using quotes ( " ) is more accurf used with no quotes. Search is NOT case sensitive. Tip - keep the search word singular - "Machin" yields far more matches than "Machins" etc. |


I am a Dealer Member in Good Standing Of:

Full Time Stamp Dealer in Australia for over 25 years.
Life Member - American Stamp Dealers' Association. (New York)
Also Member of: Philatelic Traders' Society. (London) ANDA. (Melbourne) American Philatelic Society, etc
GLEN $TEPHEN$
Full Time Stamp Dealer in Australia for over 25 years.
Life Member - American Stamp Dealers' Association. (New York)
Also Member - Philatelic Traders' Society. (London) ANDA. (Melbourne) American Philatelic Society, etc

ALL Postage + Insurance is extra. Visa/BankCard/MasterCard/Diners/Amex all OK, even for "Lay-Bys"! All lots offered are subject to my usual Conditions of Sale, copy upon request BIGGEST STAMP BUYER: Post me ANYTHING via Registered Mail for my same-day cheque. Avoid the GENERALLY 40% Auction " Commissions" (15% + 17½ + GST, etc.) AND their five-month delays! Read for details.
"Lothlórien4 The Tor Walk, CASTLECRAG (Sydney), N.S.W. 2068
Phone: (02) 9958-1333&n Fax: (02) 9958-1444 (Both 25 Hours, 7 Days!)
E-Mail: glen@glenstephens.com
Web Sites: www.glenstephens.com www.glenstephens.net or www.australianstamps.net