Click To Go Back To The Main www.GlenStephens.com Stamps Homepage

Welcome! You are visitor
to www.GlenStephens.com




Glen Stephens
Monthly "Stamp News" Market Tipster Column


October 2014

---
Perth is the Hot Spot

We flew over to Perth in late August for the annual weekend Perth Stamp & Coin show, well organised by local dealer Ian Bolton, who also trades as Ace Auctions.

They kindly offered stampboards.com a stand, and we had a lively discussion leading up to, during, and after the show, all found here - tinyurl.com/Perth14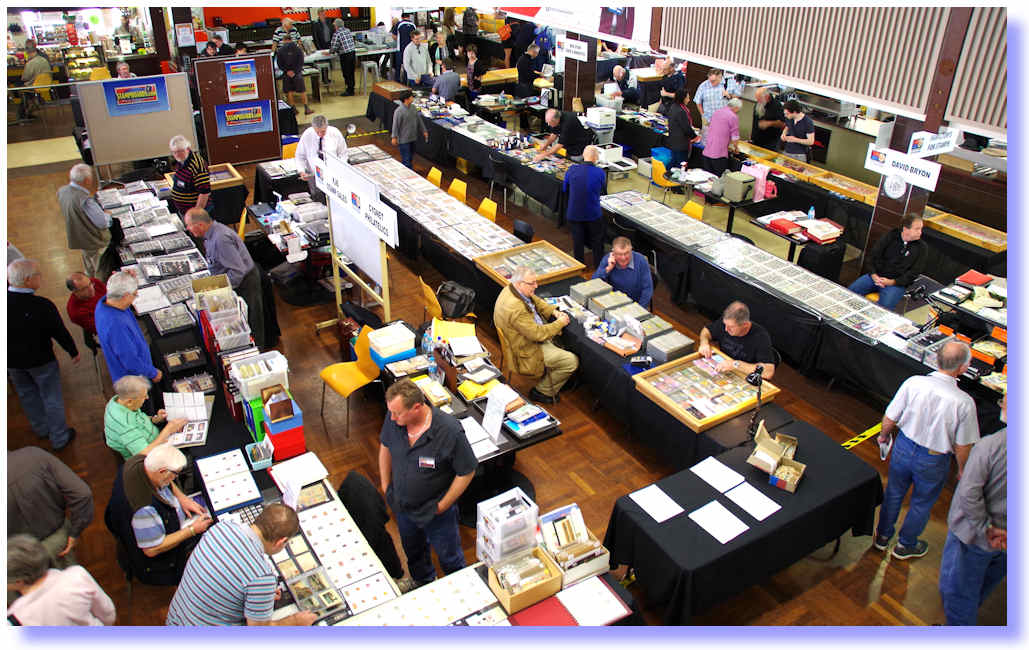 Perth Stamp & Coin Show
An awful lot of active and cashed-up stamp buyers these days are WA based, and the show seemed like a great success from those dealers and collectors I spoke to there.

They have a very clever idea where local collectors and smaller dealers have an area upstairs, at a pittance $40 table rent, to offer their material, and that seemed a big hit as well.

The Boulton Team run a very smooth, professional show in the University of WA complex, and it seems to be very well promoted locally. Far more so than most APTA and ANDA shows, several dealers advised me.

Ian worked for 12 years at Stanley Gibbons London. Managing the Mail Order Department and Business Development Unit, and eventually becoming a Board Director in 1999, and Sales Director in 2000.

Stamp Dealers flew in from as far away as New Jersey USA, and many Queensland, Victorian and NSW dealers also attended, and do each year, like Richard Juzwin etc.

Paddington Realty organised an entertaining Trivia Question night for the well attended Saturday evening dinner, and the stampboards table roundly whupped the assembled dealers.
Mark down August 1-2, 2015
So for anyone in WA, or for those who want an interesting weekend away interstate, please mark your calendars for August 1 and 2 in 2015! We hope to get over again.

Virgin runs several daily wide-body huge Airbus A330 flights from MEL and SYD, and that makes these 5 hour flights a dream. Used some miles to go Business Class, and with lie-flat bed Suites and French Champagne, a very painless transcon!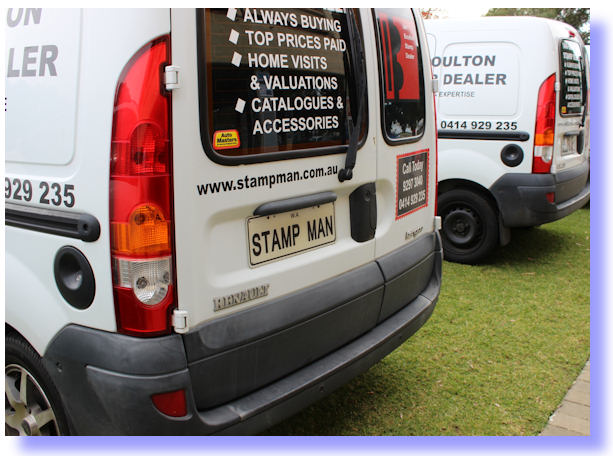 Taking over the stamp world!
One thing that puzzled me was that Ian has a fleet of THREE Renault heavily signposted vans. NO dealer or auction on this planet has 3 vans, so he must use them for something!

Anyway good to see some "new blood" emerging in the staid world of Australian stamp dealing, and do hope the entire stamp fraternity there keeps on supporting these shows fully.

Entry is FREE, and table rents are low, and that seems to be a magic combination for both the collectors and dealers, and both keep coming in larger numbers each year.
Kangaroo forgery for $US7,500.
A nice collection of Kangaroo and Map stamps will be auctioned in the USA, just after this magazine is published.

Siegel's of New York will offer the "Goldfarm" Kangaroo collection on October 7, and it contains some major pieces. I imagine they have an ad in here with contact details.

The owner bought interesting items from several of the important Roo sales of the past decade, including the Arthur Gray, Lord Leonard Steinberg, Hugh Morgan and Stuart Hardy collections.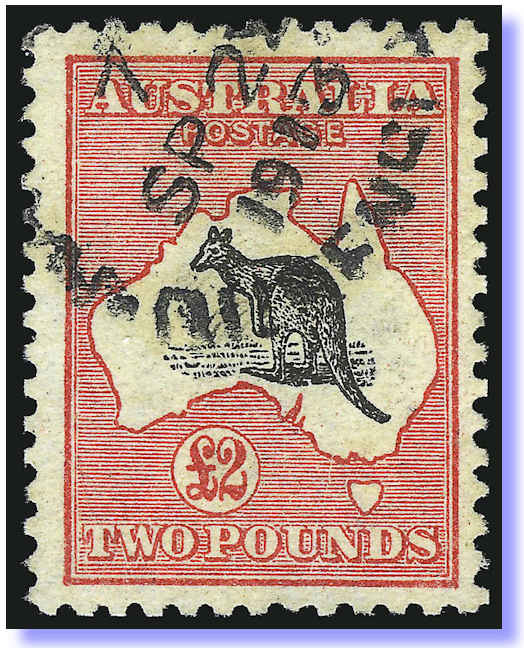 A fake stamp: Est $US7,500!

The stamp illustrated nearby is one all collectors should look for when inspecting images of "normal" £2 Kangaroos - the Jean Sperati stamp Forgery.

The Siegel estimate for the Sperati forgery is $US7,500 plus buyer fees - far more than a GENUINE SG 16, 1913 First Watermark Kangaroo in used condition. A rare stamp in itself.

Note the tiny white line scratch from Melbourne to "UN" of Pounds - that is the best visual test for the Sperati £2 Forgery. Some are bound to be in collections as normal stamps.

The cancel, perforations, watermark and paper are of course all totally genuine. Sperati was a master forger - he took a common ½d green used Kangaroo, and created this.

I flew over to New York to buy the Arthur Gray Sperati £2 Kangaroo forgery in 2007, along with MANY other Gray gems, and have handled that same stamp twice since.

The Gray Kangaroos were invoiced for an amazing $A7,158,974.00, and being a part of it was one of those experiences of a stamp lifetime. Arthur is smiling nearby at the lavish dinner auctioneer Shreves threw for the ozzie dealers.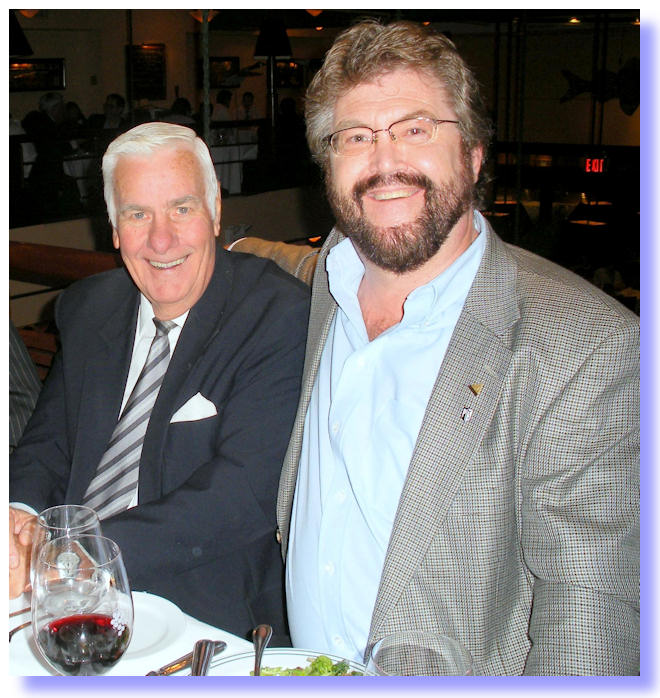 Arthur Gray and author in NYC.

Rodney Perry in his magazine summation of that sale regarded that Sperati £2 as one of the "Top 10" buys of the sale. It cost me about $A3,000 at the time, so I'll be interested to see how this one fares.

Top end Kangaroos are still in enormous demand, especially the very scarce items, and anything attractive in fine condition, sells within days I find.

New MEDAL Book
"Why on earth is a medal book being discussed in a stamp magazine column" - I can hear some readers asking out loud.

Good question. A LOT of my clients collect medals and tokens, as they are not dissimilar to stamps and coins I suppose.

The problem has been, that until recent times, with Australian medals, there has been no priced guide to use for guidance. That has all changed.

And boy has it changed in a big way. Renniks/Lighthouse have recently published their second edition of a quite superb hard-cover book on this very subject.

It has the rather unwieldy title: "Australians Awarded - Australian Military and Civilian Decorations and Awards from 1772."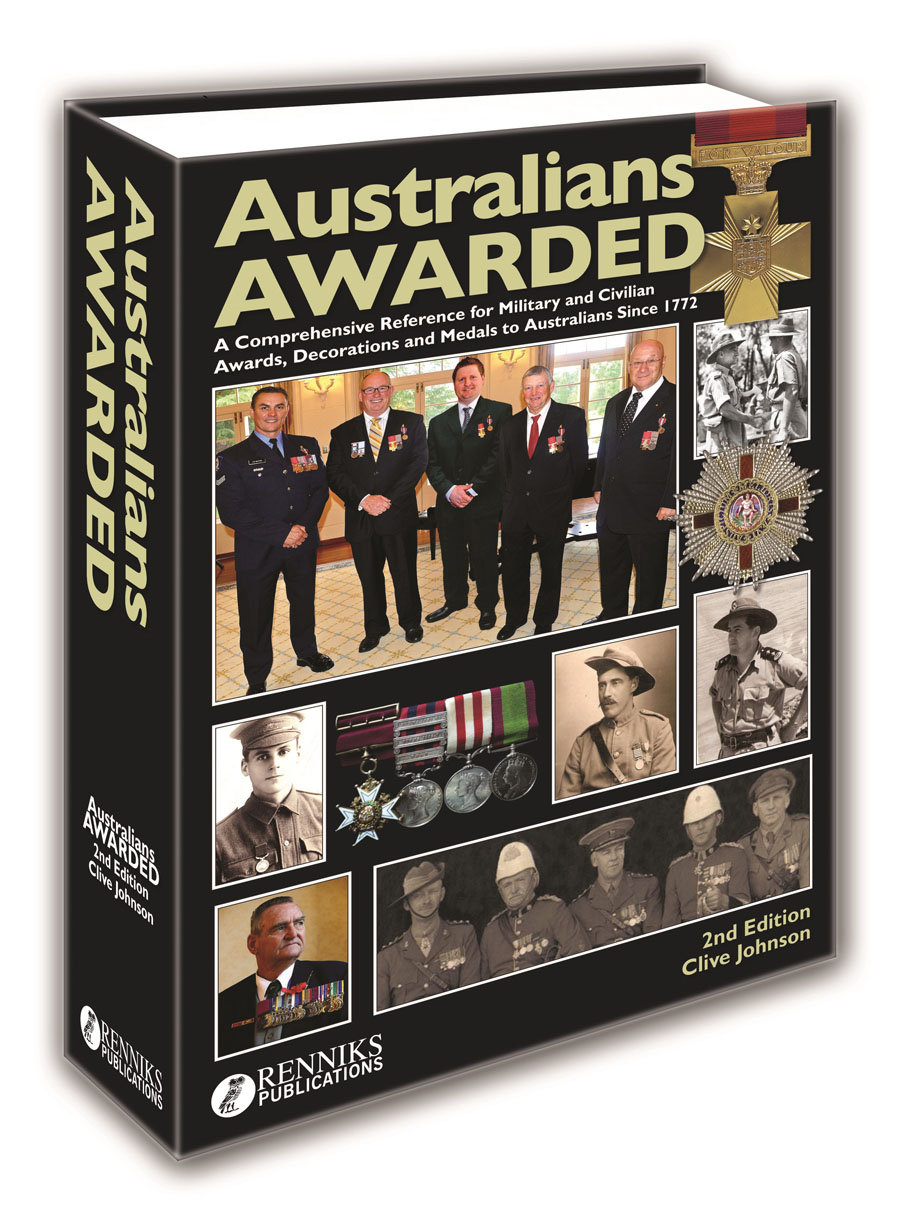 Great buying for $80.

After years of research, editor Clive Johnson has now completed the Second Edition of this definitive work on all Australian Medals and Awards, both military and civil, from 1772-2013.

This very impressive new tome provides information on civil awards and decorations to Australians which had never before been previously listed. Adding much new data to the first volume.

Renniks sent me one to review, and a box full for stock, and I have to confess I spent an hour or two reading though it with awe. It was like opening a whole new field for me.

First up, this is a huge book - near 800 pages with thick hard cover, on high grade paper, with literally 1000's of colour photos. At just $A80 it is HALF the price of stamp books of the same size and quality.

I had absolutely no idea so many medals were out there. Did you know that the Government issued "Bushranger Medals" to NSW Police in the 1860s? I certainly didn't, but if you locate one they are worth up to $680,000 each!

I knew Victoria Crosses existed of course, but had no idea there was an AUSTRALIAN version of this - starting from January 1991. (Our eligibility for UK issued VC ceased then.)

Several have been issued for gallantry and bravery in the last few years, for enemy actions in the Afghanistan War zone.
Simpson for Victoria Cross?
Why on earth John Simpson Kirkpatrick - "Simpson On His Donkey" has not been awarded a Victoria Cross posthumously is a total mystery.

Selflessly transporting the wounded by donkey under constant Turkish fire at Shrapnel Gully Gallipoli for 24 days, would seem to exhibit valour beyond belief. There is no doubt he personally saved hundreds of lives.

A perfect posthumous recipient who for some reason the British overlooked twice for this honour for: "pre-eminent valour or self-sacrifice in the presence of the enemy."

You'd think this wording would have covered him, of all soldiers. Australia even issued a stamp set of 3 values in 1965 depicting Simpson for goodness sakes.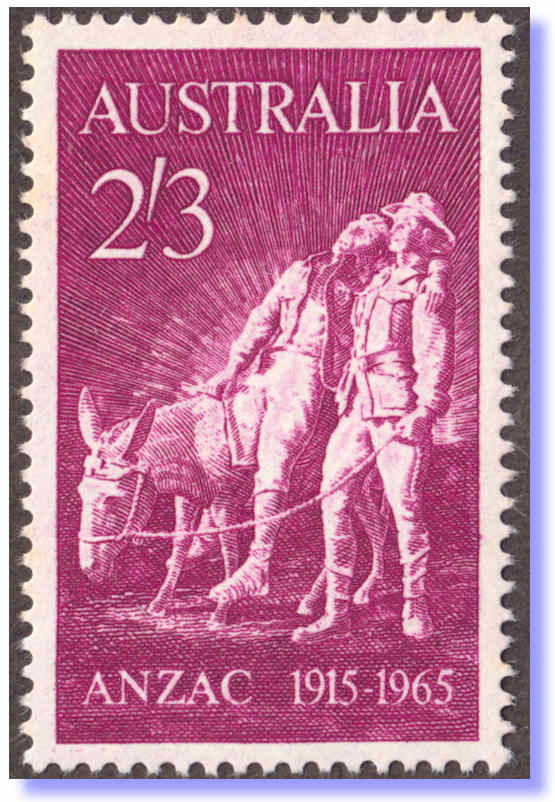 Simpson And His Donkey

If anyone has the email address for the Minister Of Defence, please contact him and suggest this. Please remind him 2015 is the CENTENARY of the Anzac Cove Gallipoli landing.

This Australian issued award has existed since 1991, so awarding them to someone of this historic importance after near 100 years of bureaucratic naval gazing is one century overdue.

My research shows that although Simpson was recommended for the (British) Victoria Cross TWICE, and the Distinguished Conduct Medal, he was never decorated for his heroic actions. Absurd.

It was announced on 13 April 2011 that 13 cases of valour would be examined posthumously by the Australian Government's Defence Honours and Awards Appeals Tribunal.

The Tribunal first debated "the eligibility of the 13 to receive the Victoria Cross, the Victoria Cross for Australia, or other forms of recognition," before moving on to discuss the individual cases.

The recommendations of this inquiry were ultimately submitted to Federal Government on 6 February 2013, advocating NO awards be made. Sir Humphrey Appleton inertia stuff.
Contact the Defence Minister.
These thick headed bureaucrats on Federal Committees need a rocket. The Minister can make these awards, and I hope stamp collectors and those with an interest in medals contact him.

This new book lists and prices not only Military decorations but an incredible array of civilian ones like Police, Fire and Ambulance. The big surprise to me at least was that many of the most innocuous looking medals from this area are worth around $1,000 each.

As a stamp dealer who buys mostly estates, I get a LOT of medals through my hands. Often if Grandpa Jones passes away, the family bundles up his stamps, coins, and related material, and brings or mails it all to me.

Not only do I often get medals and stamps and coins sent for purchase - but passports, Birth Certificates, family and wedding photos, Wills, Divorce Decree Nisi's and other such material - you'd be amazed.

I always have known Military medals had value, but honestly had no idea an Ambulance 10 year service medal had any interest much to anyone except family.

I now know many such plain looking things are valued at $1,000 each. Even the most innocuous awards like 10 year service medals for State Police forces are typically $250 each!

The Royal Humane Society of NSW has issued "Galleghan Award" Medals since 1996 – value "$5,000+" each this new book tells me.

In the past I left such things in boxes of junk, but will know better now. Valour and higher medals of course for the emergency services are valued far higher – sometimes into the 5 figure region.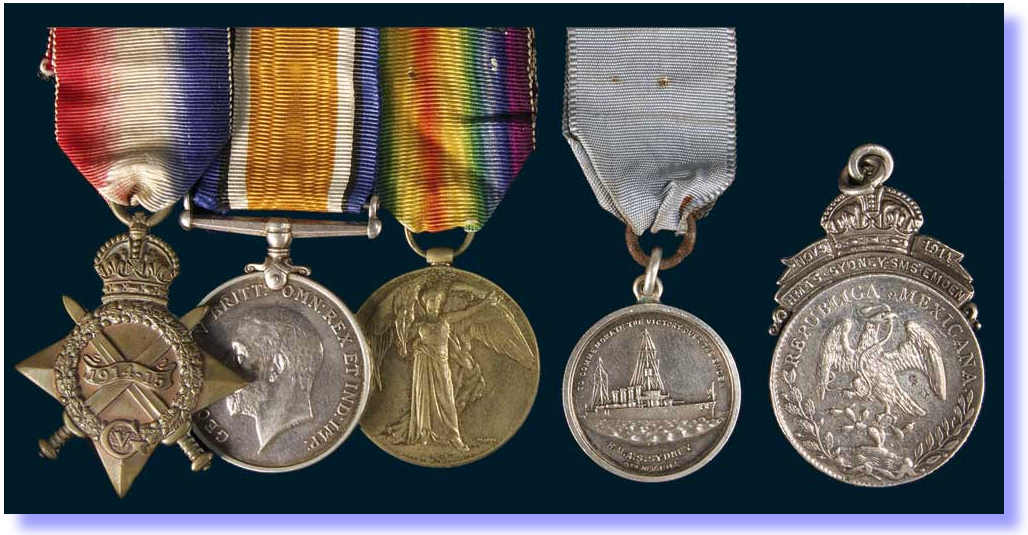 Sold for over $12,000

| | | |
| --- | --- | --- |
| | We all know that any Australian awarded Victoria Crosses get up near 7 figures at public auction etc, but often groups of otherwise ordinary looking groups get strong prices. | |
"HMAS Sydney" Collectibles.



A local stamp dealer colleague collects all things related to "HMAS Sydney" and purchased the group of medals shown nearby, at Noble Numismatics auction in Sydney for way over estimate.

They were awarded to Able Seaman Harry Pearce, who simply served on this vessel. About the lowest rung on the ladder in the Navy, so not awards connected with a Captain or Admiral, or bravery etc.

The "standard" trio of 1914-15 Star, British War Medal 1914-18, Victory Medal 1914-19 are unremarkable, and all active service sailors would have received those three.

The fourth was awarded by the WA Government to all sailors on the "Sydney", and the last was created by Sydney jewellers W. Kerr for the same distribution to crew.

So this group of 5 medals cost him about $12,000. If they were offered singly (as often happens when a family splits up medal groups) they'd get only around half that.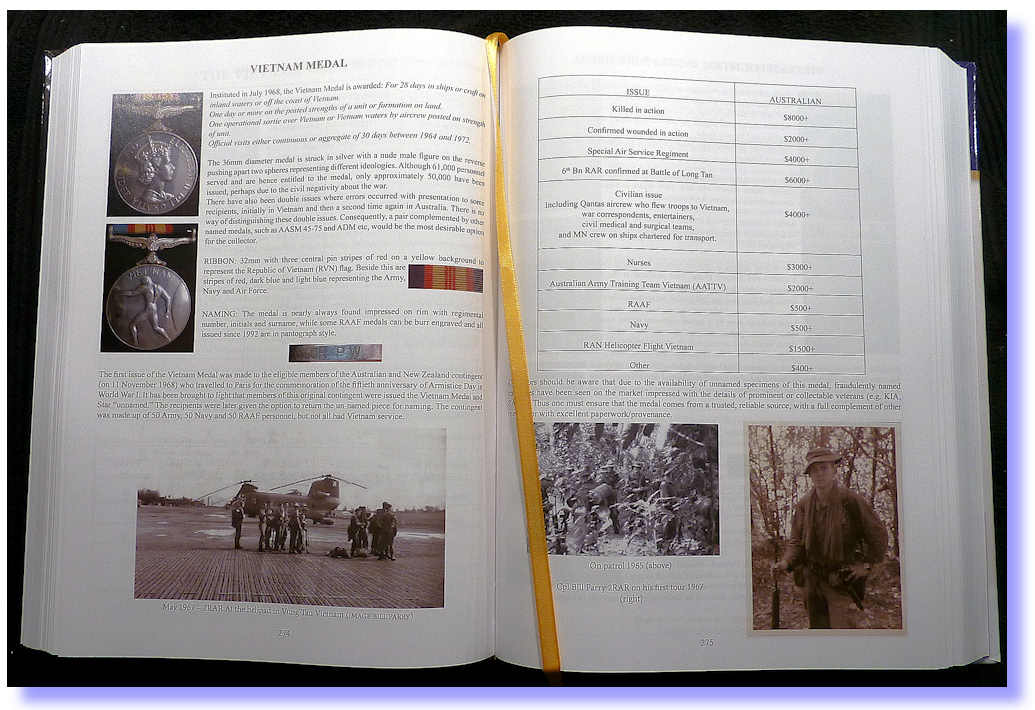 over 50,000 Vietnam Medals
I was surprised to read that over 61,000 Australians were eligible to receive a Vietnam Service medal, and oddly only about 50,000 have applied for one.

Much of our armed contingent was based on a Conscription "lottery" based on birth date, which I was perhaps fortunate to miss out on "winning", in the early 1970s.

For some decades it was not a popular conflict in the eyes of most of the public of course. The value of these Vietnam Medals range from $400 to $8,000 as is shown on pages nearby.

This book is for anyone with a passion for Australian military history, the enthusiast or specialist, the professional, the amateur, the collector, the dealer, or simply anyone who has ever been - an "Australian Awarded".
Cricket A Huge Topical.



Cricket collectors keep paying "funny money" for all things connected with their favourite stamp thematic.

And the buyers are not just Australians or Brits - the buyers of these covers for multi $1000s in recent times, have been from small towns in Texas and Holland!

A First Day Cover of the Australia 1977 Cricket set of stamps sold at Prestige Auctions in August for $A4,194. That is the price of a Mint £2 Kangaroo!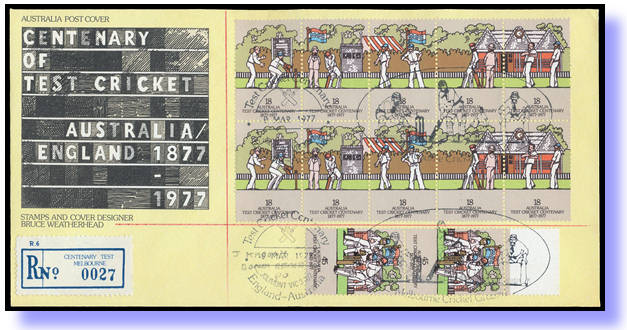 Prices hit for SIX!
Please excuse the blurry image nearby - that is the best Prestige have on their website, but it gives you a general idea of what was on offer! It had estimate $A2,000, and was invoiced for $A4,194.

Cast your mind back to this Centenary Test Cricket match. The "old rivals" battling it out exactly 100 years from the first Test in 1877. The biggest sporting event of the year in Australia.

The Post Office had issued the attractive se-tenant strip of 5 x 18¢, and single 45¢ stamp, and hoped to reap substantial extra revenue by marketing this set of 6, and associated souvenirs, at the cricket ground.

A fancy temporary Post Office was erected at the MCG, built to replicate a 19th Century bush Post Office. All Australia Post staffers manning it dressed in period costume, to add to the "1877" visual effect.

This PO was open from March 9-17th, outside the Member's Stand. The Post Office also produced a special registration label, worded "Centenary Test Melbourne" to affix to all registered items posted over the 9 days.
Only 56 Registered done.
The special pictorial cancel illustrated on cover nearby was a hit with collectors, and over 100,000 items bearing this cancel were serviced.

However only 56 of these 100,000 mail items were sent Registered, hence the extreme scarcity of this special Blue label. Value of this cover with NO label – about $5 retail.

I understand the lowest number seen of this Registered label is 0005, and the highest is 0040. The one on latest cover is 0027, and a close up of 0031 is nearby.

Only 23 different label numbers are recorded, all on cover, and all have the applicable backstamp, and all except one are cancelled First Day Of Issue for the stamps.

There was NO publicity whatever given by the Post Office or the stamp magazines, or PO "Bulletin" to this label at the time.
Cricket stronger than ever.
It was then PO practice NOT to produce such printed special Registration labels for temporary post offices. Collectors had no idea or inkling that it even existed.

It was assumed a "Jolimont" Registered label would be used, that being the closest PO to the MCG. (Jolimont Post Office in Melbourne no longer exists.)

Label #27 achieved the highest price ever paid for an Australia "Cricket" related philatelic item, and is clearly a world record price for any Registration label.
World Record Price.
Well other than the WWI. "G.R.I." overprinted Registration labels from New Guinea. Those of course were designated official postage stamps, with a specific face value overprinted as well.

Cricket specialists tell me even a single Registered label off cover could fetch around $A500-$1000 at auction, given the international interest in this item. Check your old labels!
New SG "Australia"
New editions of this SG "Australia" have been appearing each year or so now, given the inexplicable vacuum left to them on a plate by inertia at Seven Seas Stamps.

This latest SG "9th" Edition continues in the far more sensible and smaller B5 size format adopted for recent editions, and this book I use nearly every day.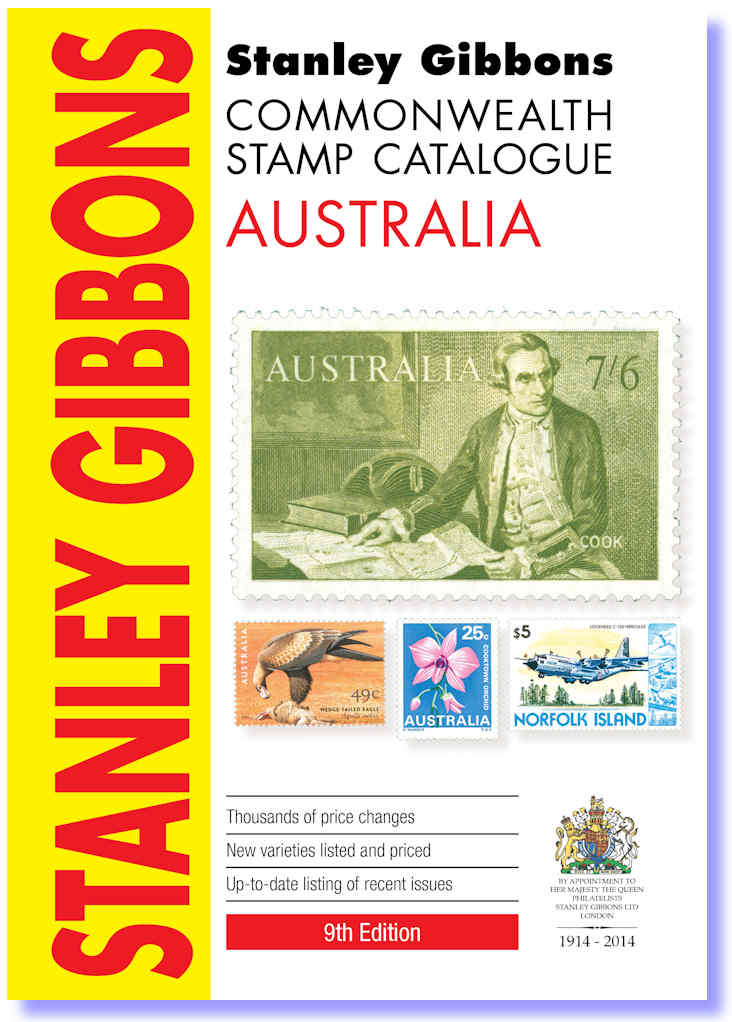 New Edition 360 colour pages
For folks who have not bought SG catalogues for a while, these new editions are now in full colour, on bright white paper. Superb.

This volume includes all the Colonial ("State") issues, and all the stamps of the Commonwealth of Australia, including the 1946 British Occupation Force (Japan) overprints.

And all booklets and booklet issues - and dies, inverted watermarks, and major plate varieties, Postage Dues etc. And prices for on-cover copies for them all etc.

The new issues go well into 2014 - most impressive for a UK printed catalogue I had in my hands in September.

Also included are issues from the Australian Antarctic Territory, Christmas Island, Cocos (Keeling) Islands, and Norfolk Island.

And also the pre-independence Issues for Nauru (to 1968), New Guinea, Papua and Papua New Guinea, and the popular GRI/NWPI etc
Extensive price revisions
Prices have been extensively revised in line with market - with many 100s of significant increases since the last edition. Starting at SG1, right through.

How on earth editor Hugh Jefferies gets the now vast swag of Stanley Gibbons Catalogues out, is anyone's guess.

This new catalogue is most reasonably priced at $A70 given the very recent weakness of the $A against Sterling, and the sheer weight of it now.

I offered advance copies in my newsletter at a discounted $A80 mailed anywhere in Australia, and sold a lot of books. Air freight stock copies arrive early October.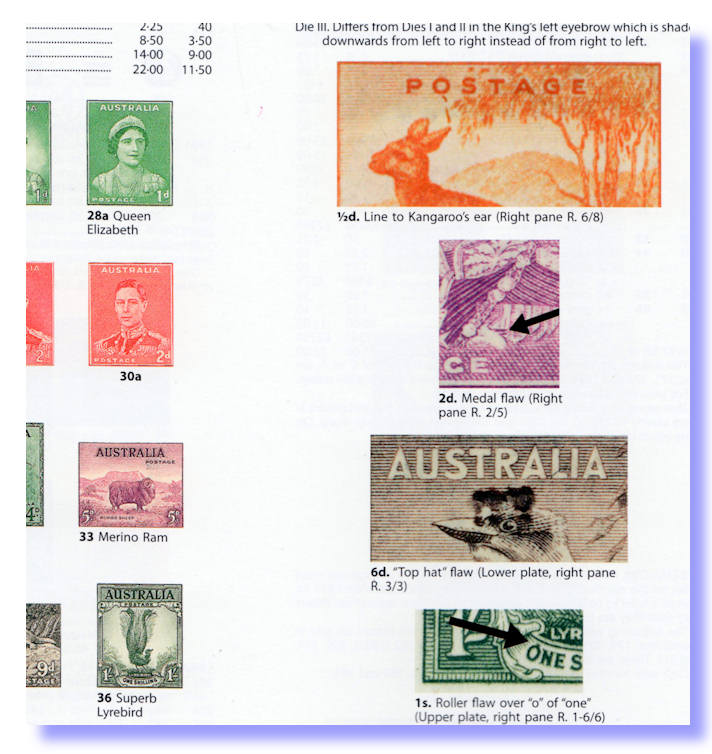 Varieties in detail.
| | | |
| --- | --- | --- |
| | Major plate flaws are being added and priced all the time, as is shown in the page close up nearby. New varieties appear again this edition. | |
German New Guinea now listed.
The most significant new addition is a comprehensive listing of the stamps of German New Guinea, including prices for German stamps used in the colony 1888-1897.

There are further improvements to Australian States and in the KGV period the 4½d Multiple watermark without surcharge is given a full listing for the first time.

The opportunity has been taken to improve a number of illustrations, and in Papua, the Thin "d"' variety on the 2½d Lakatoi is now illustrated and listed etc.

No other single reference on earth cover the "States" so widely, and using other foreign catalogues for them is all but useless. There are over FIFTY pages on them.

Managing Director Ian Pitt, of the Australian agent told me today - "our sales of these increase heavily issue by issue - SG really are on the ball for producing these annually."

360 full colour pages for 50% less than the price of a current PO year book, represents excellent value in my view. A "one stop" buy for local collectors.
MORE Australia Post Increases.
| | | |
| --- | --- | --- |
| | They seem to be never ending. On October 6, a whole new raft of increased charges for overseas mail, local and foreign Registered, Express etc, will take place. | |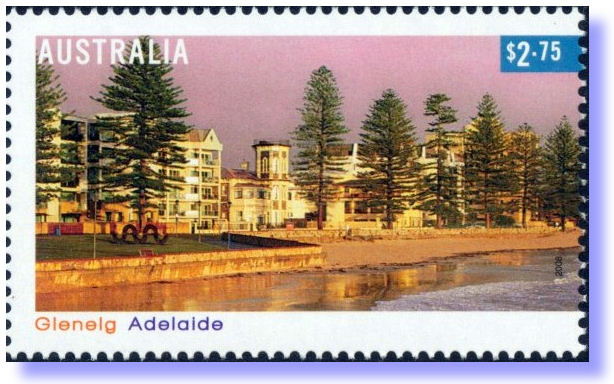 Now costs this for a postcard.
The cheapest letter post overseas now, to anywhere except Asia and NZ, will be $2.75 - ridiculous. Even a POSTCARD to Europe or the Americas costs $2.75.

The smallest domestic Registered envelope goes up to $4.50, and cheapest overseas Registered envelope is $A14.90 - for a pathetic $100 Max cover which has been unchanged in value for 30 years.

The larger size overseas Registered pre-paid envelope now costs $A22.90 (same weight limit as the $14.90 one!) and also offers only $100 compensation. If I mail a Hagner sheet or album page etc, it costs $22.90.

The last hikes were only 4 months back on June 2, for the exact same products. More details of the new rates and discussion on them can be found here - tinyurl.com/2014Stamp









Get my regular market update emails FREE. Stamp gossip, price trends, record sale prices, and many one-time stamp specials, wholesale bargains, and exciting offers and breaking philatelic news. A mini stamp magazine in every email! "KNOWLEDGE IS POWER". The ONE stamp list you MUST be on, to keep in touch with the rapidly changing world market. One client made $65,000 profit in a few months after following my specific advice. Sign up securely and quickly by clicking HERE to access my automated data base. And wiser still ADD your home AND work email, if I only have one right now. Add a stamp friend's email address if you wish. One short click and you are subscribed to probably the most read email list in the stamp world!




If you would like to be notified of updates to this website,
Click HERE.
If have any questions,
or comments regarding my site, please email me at glen@glenstephens.com
| | |
| --- | --- |
| | Search all my 300+ web pages! Simply type in what you are looking for. "Penny Black", "Latvia", "Imprints", "Morocco", "Fungi" "Year Books", etc! Using quotes ( " ) is more accurf used with no quotes. Search is NOT case sensitive. Tip - keep the search word singular - "Machin" yields far more matches than "Machins" etc. |


I am a Dealer Member in Good Standing Of:

Full Time Stamp Dealer in Australia for over 30+ years.
Life Member - American Stamp Dealers' Association. (New York)
Also Member of: Philatelic Traders' Society. (London)
GLEN $TEPHEN$

Full Time Stamp Dealer in Australia for 35 years.

Life Member - American Stamp Dealers' Association. (ASDA - New York) Also Member - Philatelic Traders' Society

(PTS London) and many other philatelic bodies.

ALL Postage + Insurance is extra. Visa/BankCard/MasterCard/Amex all OK, at NO fee, even for "Lay-Bys"! All lots offered are subject to my usual

Conditions of Sale, copy upon request .

Sydney's

BIGGEST STAMP BUYER: Post me ANYTHING via Registered Mail for my same-day cheque. Avoid copping the Now normal 45% Auction "Commissions" (15% Buyer + 20% Seller + GST, etc) AND their five-month delays!

Read HERE for details.

"Lothlórien", 4 The Tor Walk, CASTLECRAG (Sydney), N.S.W. 2068

Australia

Phone 7 Days: (02) 9958-1333

PO Box 4007, Castlecrag. NSW. 2068


E-Mail: glen@glenstephens.com The Number #1 Web Sites: www.stampboards.com

This line is 12 point
This line is 13 point
This line is 14 point