Click To Go Back To The Main www.GlenStephens.com Stamps Homepage

Welcome! You are visitor
to www.GlenStephens.com


October 2016


---
Photo Census of Scarce Stamps
Many quite scarce stamps are out there, which everyone recognises are elusive, and not often seen on the market - but no-one has any real idea of how many examples exist in collector hands globally.

We all know how many British Guiana 1856 1¢ Black on Magenta exist - ONE! Or the Western Australia 1854 4d Blue "Inverted Frame", and the 1918 USA 24c "Inverted Jenny" airmail stamp errors etc, etc.

The numbers recorded for these very scarce stamps above, are well known, and catalogue prices and retail prices in all markets are adjusted accordingly, based on those figures. A very accurate and time proven system.

It gets more arbitrary with things that clearly are not MEGA rare, but medium to quite scarce. In reality, for most things that clearly exist in the "hundreds" - nobody knows whether that means that 200, 500 or 900 etc exist out there, in the collector world.

And any attempt to count or track the copies known gets very tricky, if hundreds are involved, as they turn up often enough globally. Any accurate count is near impossible to compile, as the same stamp invariably gets counted several times over decades etc.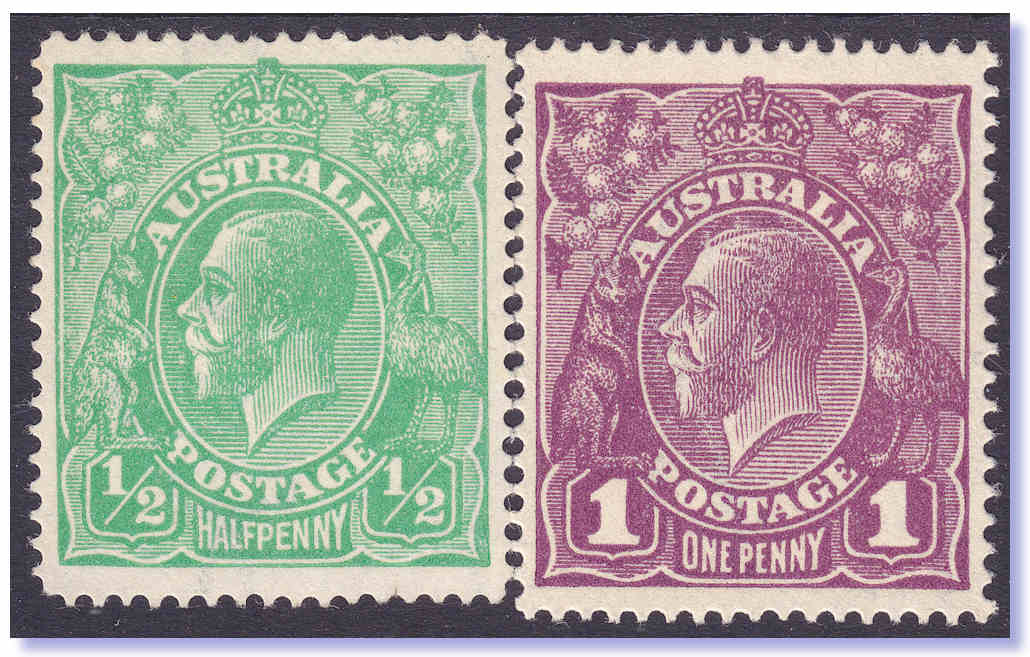 WHY is this ½d KGV cat £11,000?
| | | |
| --- | --- | --- |
| | Stampboards.com is near 10 years old, and has over 16,000 members in 150 different countries, so is a unique resource that can attempt to compile a list WITH images, of such stamp varieties, so as to offer a very realistic "stocktake" of recorded examples. | |
6½ Years of Hard Work.
One such huge project was untaken 6½ years back, when a British stampboards member calling himself "The Pom" took up the challenge to document all the known copies of a scarce Australia 1915, ½d Green KGV head stamp. The Single Line Perf, ("SLP") Stanley Gibbons #20a.

Adding new finds, and images from often ancient stamp catalogues into a central place, has proved most helpful, and those reports and images have now re-written the catalogue notes on this one stamp. The discussion has had ~50,000 page views so far, proving the interest in the subject read it here - tinyurl.com/GreenSLP

Copies of long forgotten auction catalogues and dealer lists were dug out, and many private collections were tapped into for photos. ACSC Editor, Dr Geoff Kellow assisted with many illustrations from his extensive sale catalogue files and data, and other senior KGV specialists chipped in too.

Members from several continents added to the photo database, tracking the numerical CENSUS of this error. There has never been a publicly viewable project like this, for any Australian stamp. "People Power" at its finest, and it has worked wonderfully well.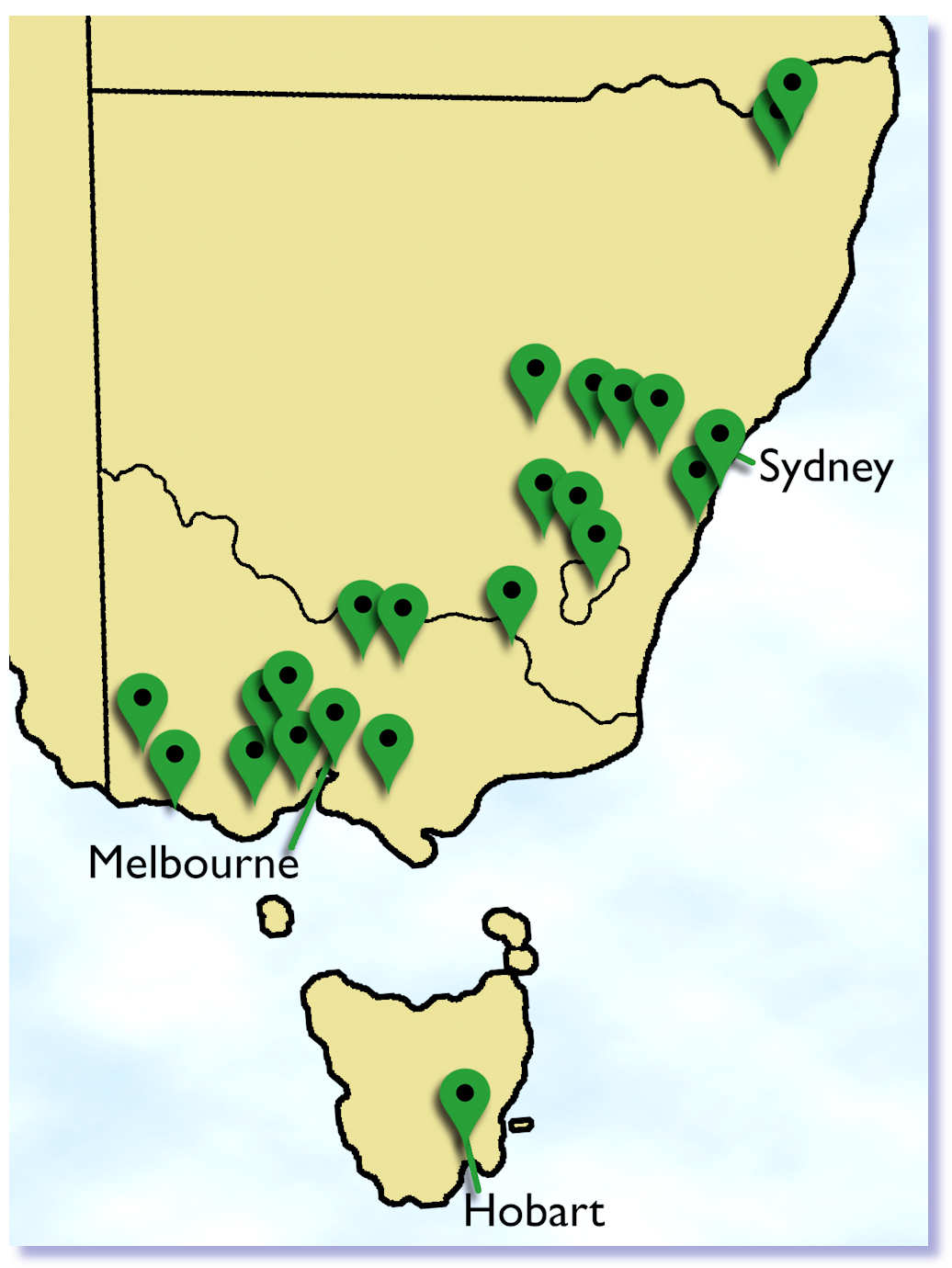 Where some of the ½d were used.
The current 2015 Brusden White "KGV" ACSC states: "it is suggested about 150-200 used copies exist." They also say they were mostly used in Victoria, but states "outside Victoria the only usages seen, are Sydney and Cessnock NSW". Stampboards member research and images, have re-written that belief totally.

So far about 235 stamp images are shown, and the range of postmarks on them is incredibly diverse. One is from Hobart Tasmania, and the cancels are also spread all over country NSW, right up to the Queensland border in tiny hamlet Deep Water, and Tenterfield. Also Yass, Queanbeyan, Bowenfel, Bathurst and Young etc.
235 different now logged.
A UK stampboarder ran up the map nearby, showing some of the cities that were identifiable by the postmarks on used copies. Where several copies were recorded within a few miles apart they are shown as just one flag. Many postmark names were not discernible, and only firm strikes were tagged.

A detailed compilation listing of every postmark recorded on this ½d green KGV "SLP" issue is of course on the "CENSUS" discussion at tinyurl.com/GreenSLP

This stamp was a small printing in 1915 that was perforated with the single line perforation equipment, line perforated 14.2 gauge on both sides. The common version is comb perforated 14 x 14.25 and is of minor value mint or used. The normal stamp SG 20 is cat £3.75 mint and £1 used - i.e. packet material basically in used.

Line perforated KGV heads are rather easy to pick. The 1d Red and 5d Brown KGV heads with the single line perforations were done in fairly large numbers, and each of those has only a small price premium over their normal comb perforated versions.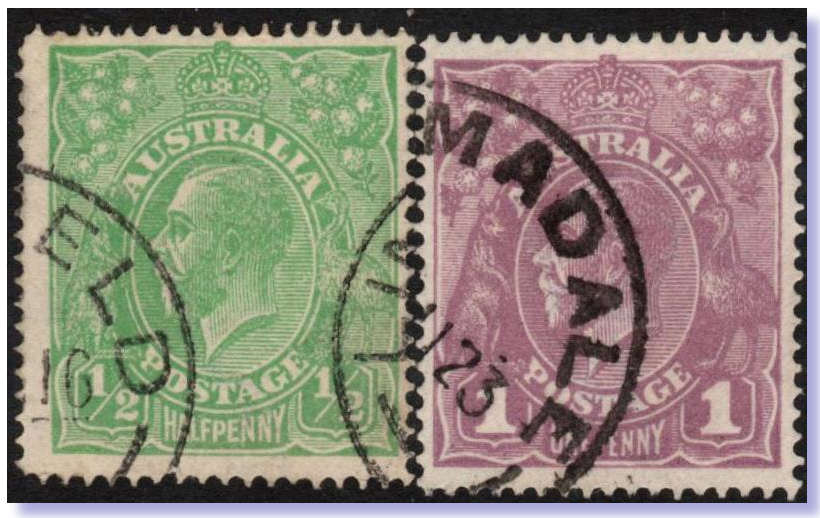 How to ID this rare stamp.

The obvious question is, how does one sort apart single line perforated stamps of the 14.2 gauge, from a comb perforated version, is what many readers will ask. Even a speciality perforation gauge will not help much, as we are talking a truly MINUTE variance here, of p14 versus p14.2.

HOW to quickly spot them is easy. First, the corners are usually in strange looking shapes, as one would expect for straight line perforated stamps. The SLP perf pin holes were larger diameter, so all the perf tips are thinner at the end, i.e. they often come to a SHARP point, as you can see on stamps nearby.
A CERTAIN ½d SLP Test.
A sure test is to place a possible ½d SLP next to a 1d Violet KGV (which is course MUST always be comb perf!) and observe if the perf tips vary in alignment, as you can see from the 2 photos nearby. They start off touching tip to tip at top, and slowly fall out of alignment down the 2 stamps, and end up well out of synch.

Now finding one of these in junk lots is VERY possible, if you know what you are looking for, but 99% of collectors do NOT know how to detect this stamp, so they are just always "assumed" to be the common version worth 20c apiece. "Knowledge Is Power" as I type incessantly!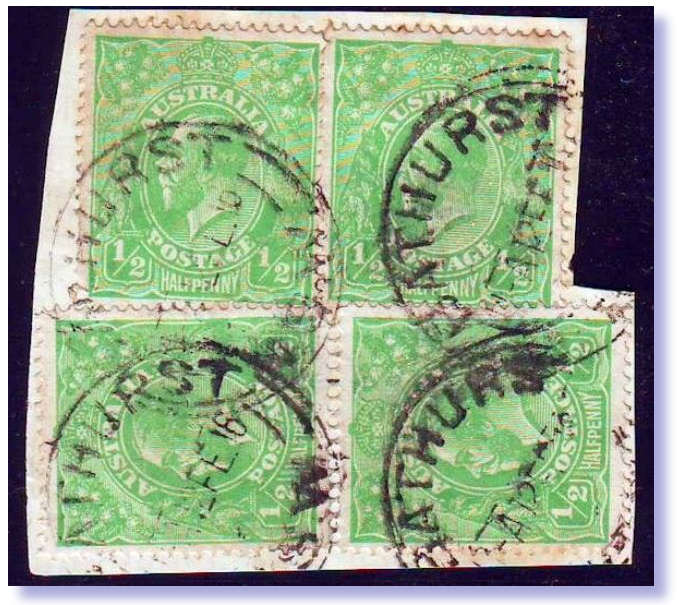 FOUR copies in a Kiloware lot find!

Many stampboards members report here finding multiple copies of this scarce stamp. "The Pom" alone has found a half dozen or more in junk lots. As you can see here - tinyurl.com/ItalyFind - one stampboards member in Europe found over FIFTY copies in a large wonder hoard of KGV heads on piece he bought in fairly recent times.

That unchecked KGV on piece hoard contained all kinds of KGV gems, and for this ½d SLP, he discovered multiples, monograms, state and private perfins, and also "OS" officials, and other major flaws and varieties. FOUR copies on one small piece are shown nearby from the find.
Mind boggling Kiloware find.
| | | |
| --- | --- | --- |
| | Some of the 1d Red KGV in this hoard were mind boggling. He had HAGNERS of Pre-Substituted and Substituted Clichés! The strip of 5 x 1d Red Single Line Perf of Die 1 and 2s shown nearby from that same hoard, was invoiced in the Arthur Gray sale for $A21,762. | |



Kiloware piece 1d Red fetches $21,762.

This ½d stamp is ACSC #64 - cat $A20,000 mint and $A10,000 used, SG 20a £11,000 mint, and £600 used, and Michel 28XCa €10,000 mint and €550 used. Scott does not list it at all, hence near all Americans collectors and dealers have zero clue this rarity even exists! Typical.

As can be seen from the catalogue valuations above, mint copies of this scarce perforation are highly priced, and are rare, with only a few recorded. But some 100s of used copies are recorded. There was NO mint example of this perforation in the Stuart Hardy, Hugh Morgan or Lord Vestey phenomenal collections.

I bought a lovely centred fresh mint copy years back, shown nearby, which even had an ACSC listed plate flaw. I then promptly lost it in the rubble here for a few years. Arthur Gray demanded he get first refusal whenever it surfaced, as he only had a faded, off centred no gum example, and wanted to upgrade his Large Gold KGV Exhibit.




Arthur Gray KGV set essential.


Arthur sadly passed before that ½d green surfaced here recently, but even his not so great, faded, no gum, poor centred example was invoiced for about $8,000. In MINT condition, these ½d green CLP are clearly very rare stamps in any condition.

The lavish mossgreen "Arthur Gray" 2 volume set of that world beating KGV collection, are a totally essential reference book duo for every collector of KGV heads, and KGV era commems.

Superb KGV era Reference set.

The used 1d strip 5, Salmon Eosin block 4, and mint "CNE" here, are from that sale. Features HUGE photos of most errors, that are an essential reference. I still have a couple of sets here, so let me know if you need them.

Hopefully the ACSC notes can be updated in next edition of "KING GORGE V" whenever that may be. The good thing about ongoing research, is that even for 100 year old plus stamps like this, new info is constantly appearing. Pretty surprising, given this series is the most studied stamp issue on this planet apparently!

For many decades, for the sought after 1d Salmon Eosin Pink shade, it was believed that was only the Singleton area NSW, and Bairnsdale Victoria country PO's got a "few sheets" of this distinctive "eosin" ink printing, a pinkish shade very evident under UV light.

Sold for $42,315 to a dealer.


Alec Rosenblum states the above as recently as 1968, in the last ACSC he edited. It is now known (largely due to the Europe find above) that 1d Eosin pink shades exist postmarked from the 5 mainland states, and copies are known even from capital cities like Sydney.

Clearly the number of 1d KGV Salmon Eosins issued was infinitely larger than the "few sheets" once accepted as correct. My guess is tens of thousands were sold and used, as the rule of thumb survival rate of 5% points to a large number printed.

Why they get the prices they fetch, totally mystifies me, but they do. The mint block illustrated nearby was invoiced for $A42,315 at the Arthur Gray sale I attended. It sold in the room to a large Melbourne dealer, who of course would have onsold it higher. A ton of money for a 1d red shade!

"Missing Fraction" Roo error popular.

Who says nice perforations are important? The Roo nearby sold recently by Harmer International Auctions in New York for $US15,340 invoice. Over $A20,000. A stamp with rather ugly "woolly" or "fluffy" perfs, as can readily be seen, but all the same, the price was rather healthy.

Printed in 1919, this 2½d transient "Missing Fraction" error was caused due to a temporary ink clogging, the same origin as the KGV 1d red "CNE" flaw shown nearby, and must have existed on quite a few Post Office sheets.





Ink clogging means BIG bucks!


| | | |
| --- | --- | --- |
| | At least 3 mint and 12 used copies, including 3 x "OS" perfins are recorded. As about 5% is the general rule of thumb of stamps that survive from this era, at least 300 sheets were printed, plus all the "NWPI" sheets, which also show this error. | |

SG cat £35,000 Used.

The 2½d sheets overprinted "NWPI" for New Guinea also had this transient ink clogging. The Australia stamp error is SG 36ba, cat £55,000 mint, and £35,000 used. The "NWPI" overprinted version is SG 107a, £14,000 mint and £17,000 used

Arthur Gray's far superior example, with excellent perfs and centering, and a neat dated cds fetched $A27,000 at a time when the SG value was way less, and a dealer bought that one. So, clearly - attractive perfs DO count!

The same temporary ink clogging aberration caused one of the most famous and most collected flaws on the ever popular Australia 1d Red King George V head series. The well-known "CNE" Flaw that is often offered, but is near always fake.

This error occurred on a small number of 1d Red KGV sheets printed in latter 1915 .. in the midst of World War I, when many skilled stamp printers signed up to serve overseas, and quality checking standards understandably dropped in some areas of our printed stamps.

This error is the second most valuable printing flaw in the popular 1d Red head issues, and has high catalogue value ACSC #71(4)q, at $10,000 for a mint stamp worth only a few dollars WITHOUT the error! This error is topped only by the "Rusted Clichés", and the off centred Gray mint block of those sold for $A85,000.

Arthur Gray's 1d Red "CNE" variety.

Naturally such a simple error can be readily faked with a red Pentel pen dot or two, and near all offered on ebay etc, are fakes. NONE of these have Certificates, and no-one sane (except ebayers!) buys any of these errors, or the 2½d Kangaroo nearby, without a Certificate or dealer Guarantee.

I purchased Arthur Gray's mint "CNE" Flaw, which had a Michael Drury Certificate, and have been interested in establishing if there are other characteristics that occur on the variety stamp, that proves it must be the position the "CNE" occurred on. To guard against fakes being sold, this info is essential.

Many fakes of "CNE" Flaw.

So rare is this error, with apparently no positional pieces being known, it took nearly 100 years for collectors to deduce exactly what stamp position on the sheet it occurred on. Robert Vadas is credited with establishing in recent times it occurred on Pane VIII, stamp number 45, on that pane of 60.

The ACSC states at page 4/82 "several mint examples exist". Two of those are in The Royal Collection, and the Australia Post Archives Chapman collection. They are rare. There was NO mint example of this "CNE" error in the Stuart Hardy, Hugh Morgan or Lord Vestey mega collections offered in recent years.

Sir Gawaine Baillie's example of "CNE" sold for $7,475 in 2005 - 11 years ago by Sotheby's. At that time, the full ACSC value was just $1,000 mint, so it fetched 7½ times then full cat - or $75,000 on today's ACSC relativity. A very strong price, indeed far higher than I placed the Gray example into stock at!

I see no good reason why the "CNE" should not be listed in Gibbons, as a number of the minor 1d Red plate flaws are now priced, and the 2½d Roos have been in SG for many decades. I have passed that suggestion on to the Editor for possible consideration.




How to detect a "CNE" Flaw.


Stampboards members added to the knowledge pool, and a summary of known mint and used copies with certificates were assembled in photos, and a few minor flaws were shown to be present on stamp VIII/45, that will allow in future all buyers to be CERTAIN they do not have an ebay fake. All here - tinyurl.com/KGVCNE

As can be seen from the photos nearby, there are 3 small plate flaws that occur on the stamp 45 which suffered the temporary ink clogging. As no faker is likely to have access to Plate VIII stamp 45 examples, any fake is readily spotted.

The stampboards thread shows clearly that all genuine stamps have 2 or 3 of the following small flaws. Small red dots in the SW and NE outer corners, and a white patch behind the King's ear, the latter being a very simple and large visual ID. The tiny SW corner dot does not appear on every genuine copy being so small.

SG "AUSTRALIA" 10th Edition

A "Must Have" book. For folks who have not bought SG catalogues for a while, these new editions are now in full colour, on bright white paper. Superb production and finish - New SG "AUSTRALIA" Stamp Catalogue 2016 - about 390 pages.

This new 10th Edition volume includes all the Colonial ("Australia State") issues, and all the stamps of the Commonwealth of Australia, including the 1946 British Occupation Force (Japan) overprints etc.




Near 400 pages these days.


Also all booklets and booklet issues - and dies, inverted watermarks, and major plate varieties, Postage Dues etc. And prices for on-cover copies for them all. The new issues go well into 2016. Also included are issues from the Australian Antarctic Territory, Christmas Island, Cocos (Keeling) Islands, and Norfolk Island.

This new book also covers the Pre-Independence Issues for Nauru (to 1968), New Guinea, Papua and Papua New Guinea, and the popular WWI GRI/NWPI overprints etc. If you have not updated for a while, do so this year!

Extensive price revisions

Prices have been extensively revised in line with the market - with many 100s of significant increases since the last edition. Starting at SG#1, right through. How on earth editor Hugh Jefferies MBE and team, gets the now vast swag of Stanley Gibbons Catalogues out, is anyone's guess.

This new catalogue is at $A75 in Australia, and given the sheer weight and size of it - 390 pages now, it is certainly value for money. This is Edition 10 since 2002, nearly one a year, and Gibbons Editor advises me "AUSTRALIA" is by FAR their largest selling sectional. Canada comes in a distant #2, with Edition 6 just out.


"Long Wing" now listed in SG.

Major plate flaws are being added and priced all the time, as is shown in the page close up nearby. Photos of more of the very early stamp booklet covers have been added, once again from Arthur Gray's collection.

New varieties appear again this edition some of which I suggested, such as the 1929 3d Airmail "Long Wing To Plane". At £250 mint and £150 (= $A300) used, and find one of EITHER in a junk lot or club circuit book, and this catalogue is easily paid for - TWICE.

The new 10th Edition includes new watermark and perforation varieties in Australian States, and there are revisions to the New Guinea 'Huts' definitives. Prices have been carefully reviewed, with increases in states, varieties, postage dues, officials and Papuan 'Lakatoi' stamps.

German New Guinea now listed.

A significant new addition for those not updating for a couple of years, is a comprehensive listing of the stamps of German New Guinea, including prices for German stamps used in the colony 1888-1897. Long overdue.

There are further improvements to Australian States in many areas, and in the KGV period the 4½d Small Multiple watermark without surcharge ("Die 2") is given a full SG listing number and pricing these days.

No other single reference on earth covers the Australian "States" so widely, and using other foreign catalogues like Scott for them is all but useless. SG is the global reference, and keeps updating the data and listings. There are over FIFTY pages on these alone.


Portion of SG "Australia" page.

Managing Director Ian Pitt, of the Australian Stanley Gibbons agent told me today - "our sales of these "AUSTRALIA" books increase heavily issue by issue - SG really are on the ball for producing these sectionals annually."

390 full colour pages for WAY less than the price of a current Australia Post PO year book, represents excellent value in my view. A "one stop" buy for local collectors. A strong Gibbons is essential for the hobby, so do support these new books.

A new listing 1d KGV - £50,000!

Lots of constant plate flaws, and booklets are now listed. And lots of inverted watermarks - find just a really medium one from a country like Australia, and the entire book will be readily paid for! They are often many £1000s each, and many new finds occur each year.

The recently discovered 1d Red KGV with "sideways watermark" is listed here for the first time. Over 100 years since being printed. SG 21cz is listed at £50,000 used - not bad for a stamp found on an album page, among several other common KGV stamps. "The last word is NEVER written in Philately."

A "must buy" new catalogue for all collectors of this entire region, 1850 to 2016. With New Guinea, Papua, NWPI, Australia States, Cocos, Christmas Island, AAT, Norfolk etc. Just $A75 plus post, for near 400 full colour pages. Full detail here - tinyurl.com/SGoz16 - hint at it for a gift!


Kookaburra "Top Hat" flaw soars!

Did you know the "Top Hat" flaw on the 6d Kookaburra is now cat £1,300 mint - up from £550 just 2 years back? A very rare flaw, and very seldom offered. Buy off someone using last year's outdated SG, and YOU win BIG time!

Or the "Man With Tail" on 1937 2d NSW is now rated £700 mint and £140 used. I found 2 used copies recently in a kid's collection - those 2 literally paid for this catalogue THREE times. An easy error to spot with the naked eye, and very popular.

Were you aware a ½d Orange Kangaroo Coil Block of 4 is now Cat in SG at £950 mint? "Knowledge Is Power" - as I have typed here 1000 times! Did you know the 1941 1/- Lyrebird with inverted watermark is Cat £5,000 mint, and £4,000 used - but just 10p in normal used etc?



Get my regular market update emails FREE. Stamp gossip, price trends, record sale prices, and many one-time stamp specials, wholesale bargains, and exciting offers and breaking philatelic news. A mini stamp magazine in every email! "KNOWLEDGE IS POWER". The ONE stamp list you MUST be on, to keep in touch with the rapidly changing world market. One client made $65,000 profit in a few months after following my specific advice. Sign up securely and quickly by clicking HERE to access my automated data base. And wiser still ADD your home AND work email, if I only have one right now. Add a stamp friend's email address if you wish. One short click and you are subscribed to probably the most read email list in the stamp world!






If you would like to be notified of updates to this website,

Click HERE. If have any questions,
or comments regarding my site, please email me at glen@glenstephens.com




| | |
| --- | --- |
| | Search all my 300+ web pages! Simply type in what you are looking for. "Penny Black", "Latvia", "Imprints", "Morocco", "Fungi" "Year Books", etc! Using quotes ( " ) is more accurf used with no quotes. Search is NOT case sensitive. Tip - keep the search word singular - "Machin" yields far more matches than "Machins" etc. |


I am a Dealer Member in Good Standing Of:

Full Time Stamp Dealer in Australia for over 35+ years.

Life Member - American Stamp Dealers' Association. (New York)
Also Member of: Philatelic Traders' Society. (London)

GLEN $TEPHEN$

Full Time Stamp Dealer in Australia for 35+ years.

Life Member - American Stamp Dealers' Association. (ASDA - New York) Also Member - Philatelic Traders' Society

(PTS London) and many other philatelic bodies.

ALL Postage + Insurance is extra. Visa/BankCard/MasterCard/Amex all OK, at NO fee, even for "Lay-Bys"! All lots offered are subject to my usual

Conditions of Sale

, copy upon request .

Sydney's

BIGGEST STAMP BUYER

: Post me ANYTHING via Registered Mail for my same-day cheque. Avoid copping the Now normal 45% Auction "Commissions" (15% Buyer + 20% Seller + GST, etc) AND their five-month delays!

Read HERE for details.

"Lothlórien", 4 The Tor Walk, CASTLECRAG (Sydney), N.S.W. 2068

Australia





Phone 7 Days:

(02) 9958-1333

PO Box 4007, Castlecrag. NSW. 2068




E-Mail:

glen@glenstephens.com

The Number #1 Web Sites:

and www.stampboards.com